I've been feeling nostalgic. Between laps at Woods Valley, I spent my holiday downtime watching old ski and snowboard movies. Cult classics like Ski School and Out Cold had me longing for the good old days. Can I say that? I'm not even 30 yet.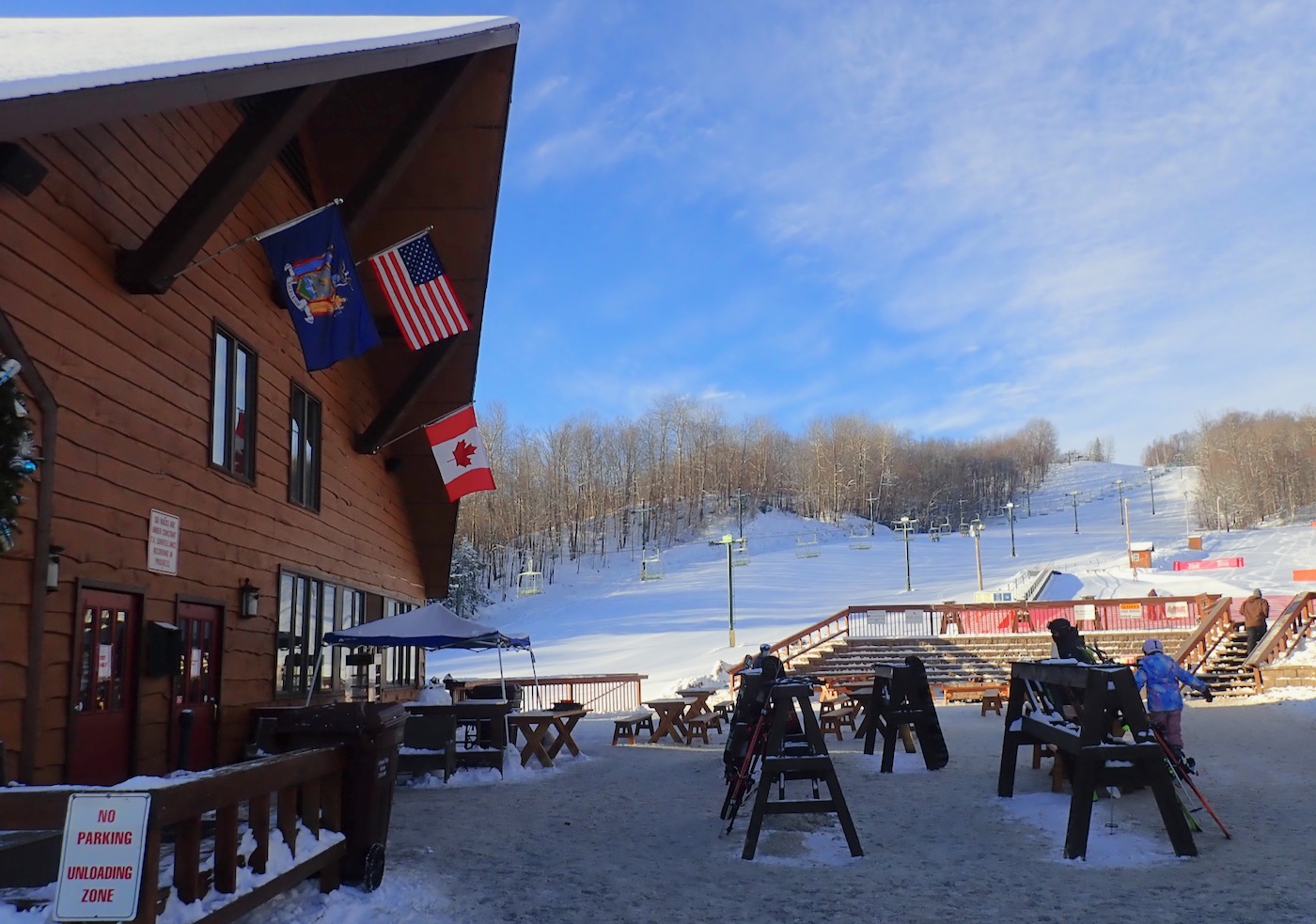 I'd heard Titus Mountain had that old school feeling, and this past weekend, when the rain returned to Central New York, it was clear where I needed to go, as far north as possible.
It was a 3-plus hour drive up to Malone NY. After a late start in the freezing rain, we made it around 1pm. The snow was coming down lightly as we hurried to get our tickets. The lodges gave off an old school vibe and classic rock was blasting over the speakers.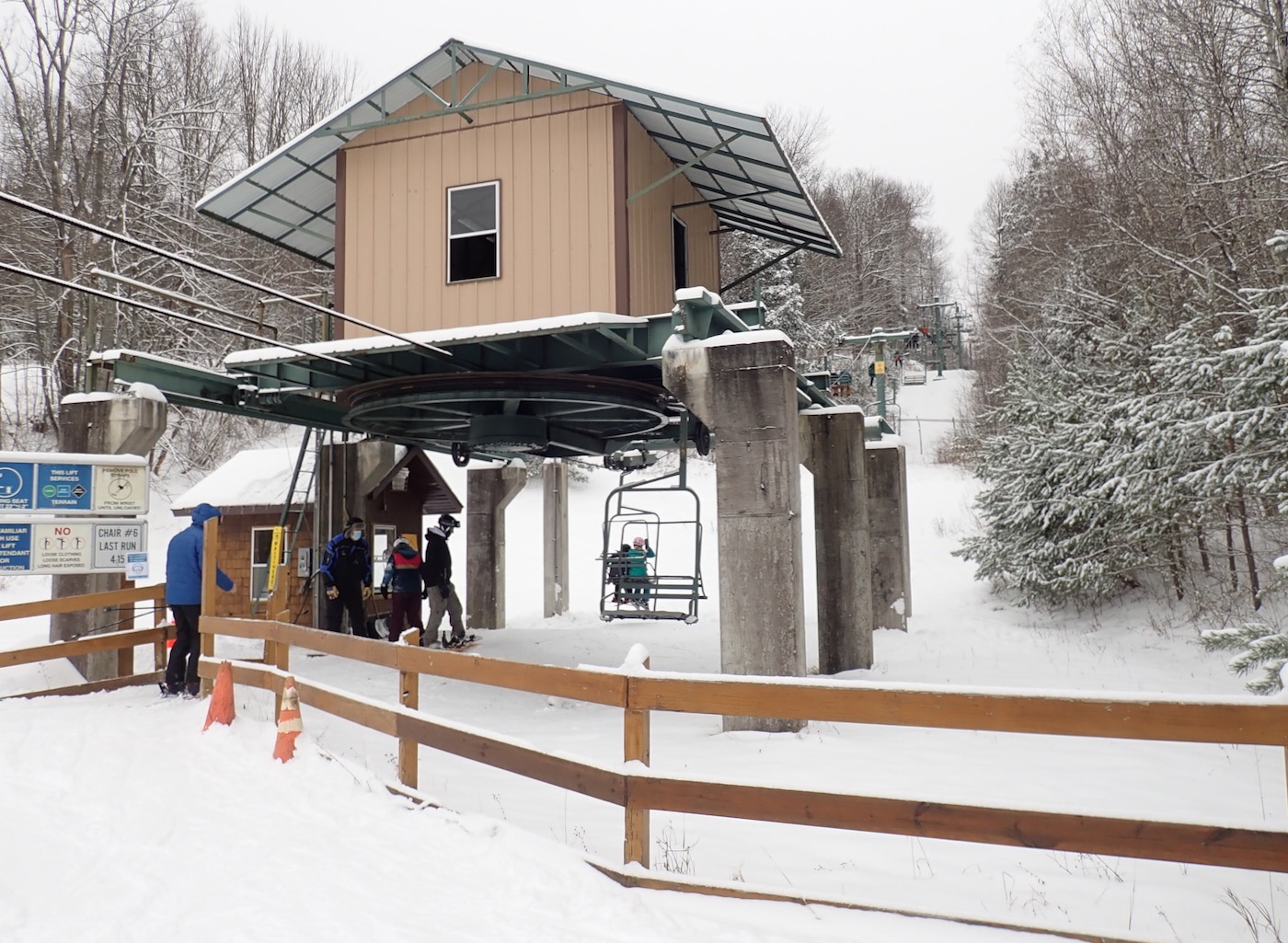 Families and friends were outside enjoying themselves around picnic tables and the firepit. We quickly got our tickets and made a plan. The Lower Mountain has lights for night skiing, so it was obvious to start on the Middle Mountain which did not.
The new snow had opened almost all the trails between the Lower and Middle Mountain. We headed up Chair VI, our excitement building as we made it to the top. We had seen more than enough untracked stashes and even saw kids break the first trail under us.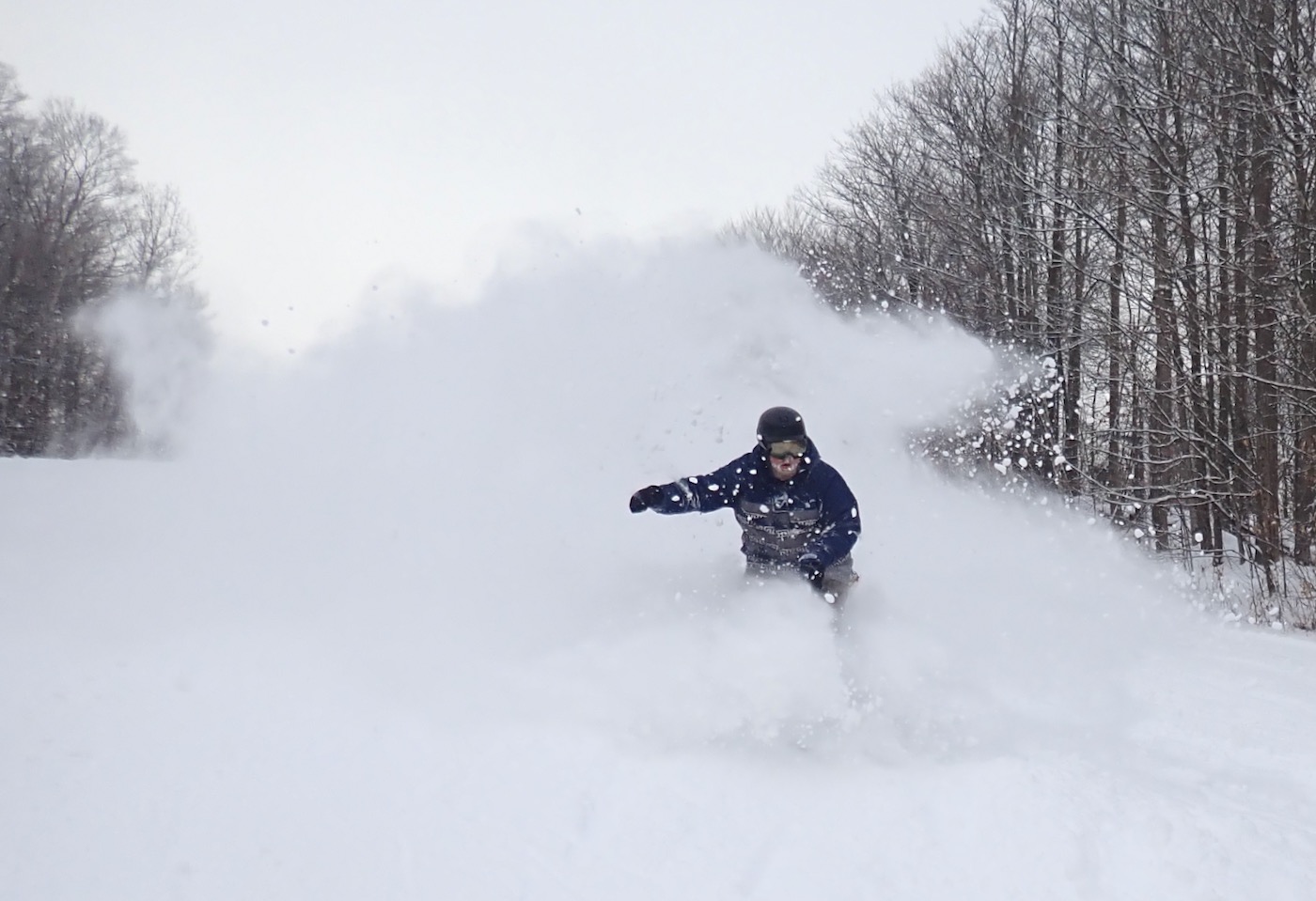 The reported 7 inches that had fallen felt like more especially on trails with a manmade base. After a few laps and hard splashes on the runs under the chair, we found our way into Mo's Stash Forever Wild Park. The park features all natural wood features and jibs, similar to 'The Stash" at Killington.
With only a natural base not everything was in play, but I still got to have some fun on a Rainbow Rail and Y Shaped Log Jib. It's definitely something I want to come back to ride again. We exited the park through some mellow green glades and headed back up.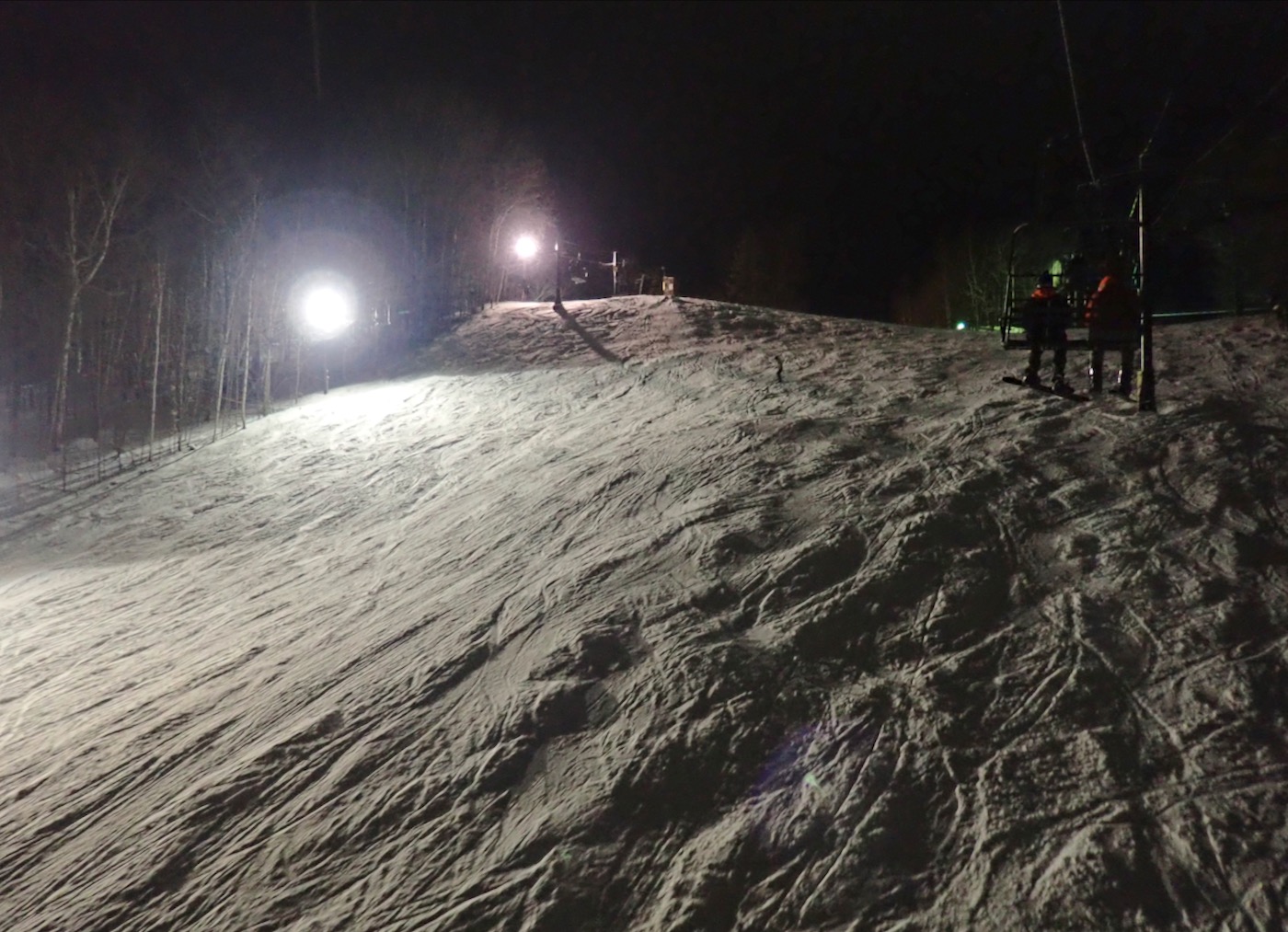 After a few more runs we were satisfied that we'd fully tracked up Middle Mountain, so we shifted our sights to Chair I with the idea of finding more fresh lines. The Blues and Blacks under the chair delivered, and we even found ourselves dipping into the steeper glades like Barkeater and Mon Dieu! Coverage was good other than the occasional bare spots at choke points.
As the lights came on we shifted back to the main face of the Lower mountain and took it easy. We rode until 6 before grabbing some food and heading to our Airbnb "downtown." Our plan was to get up early for the first chair on Sunday and crush some fresh corduroy to make up for our late start.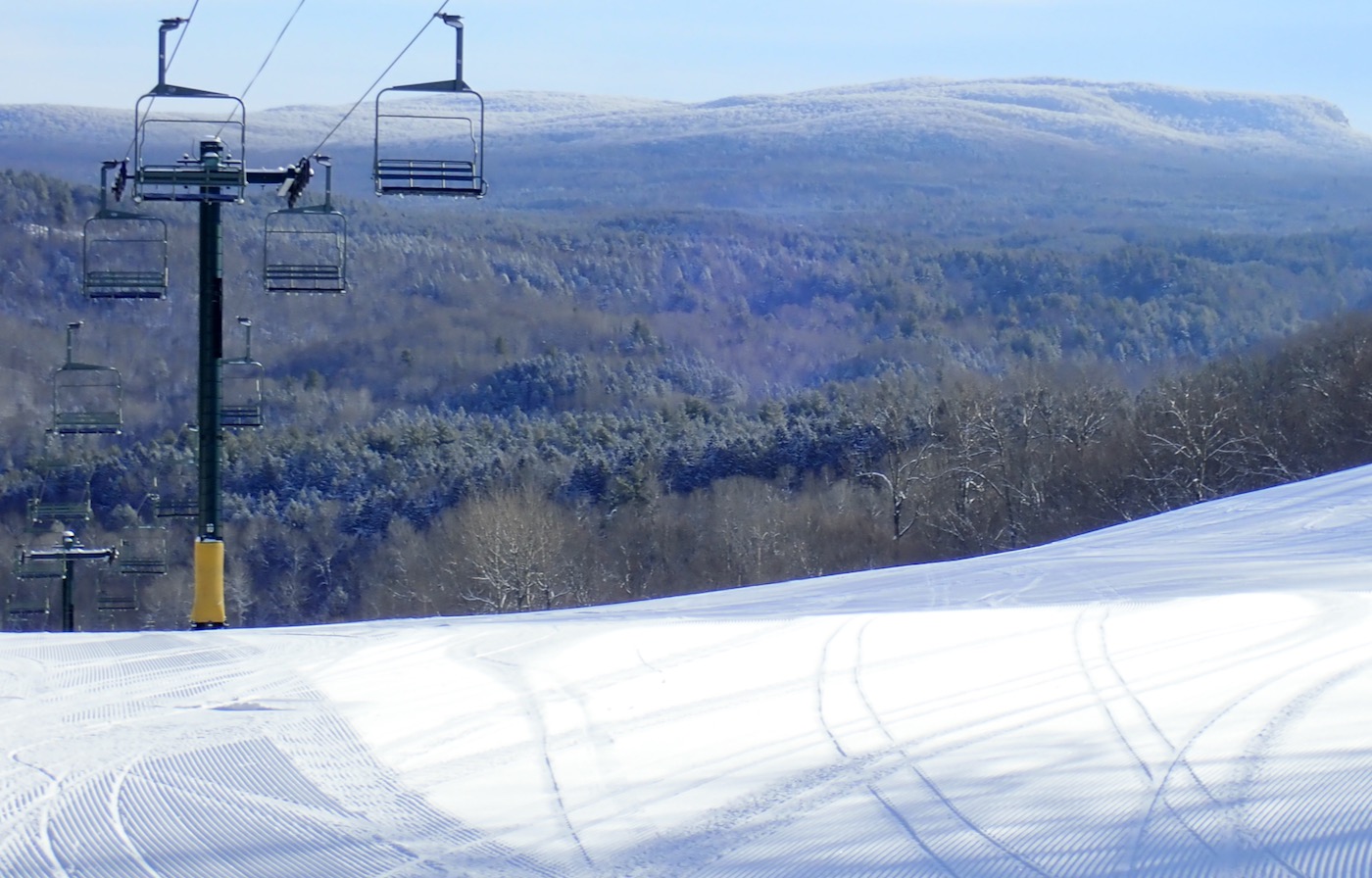 We pulled in the next morning to bright blue skies and most of the fresh snow groomed to a T. Our first run we went for it, right down the face leaving deep trenches in the snow. We carved as low as we could go. It was smooth and edged like a dream leaving a cloud behind us.
We retraced our tracks from the night before, occasionally stumbling on a trail we hadn't seen in the dark. One such trail was Sweet Sugar Lou over on the Middle Mountain. It's probably overlooked because access to the trail requires going down a green. Other than 10 feet of packed powder in the middle of the trail it was mostly untracked. The snow had firmed up overnight and was an even better natural base. Between the fresh groomers and occasional pocket of freshies life was good.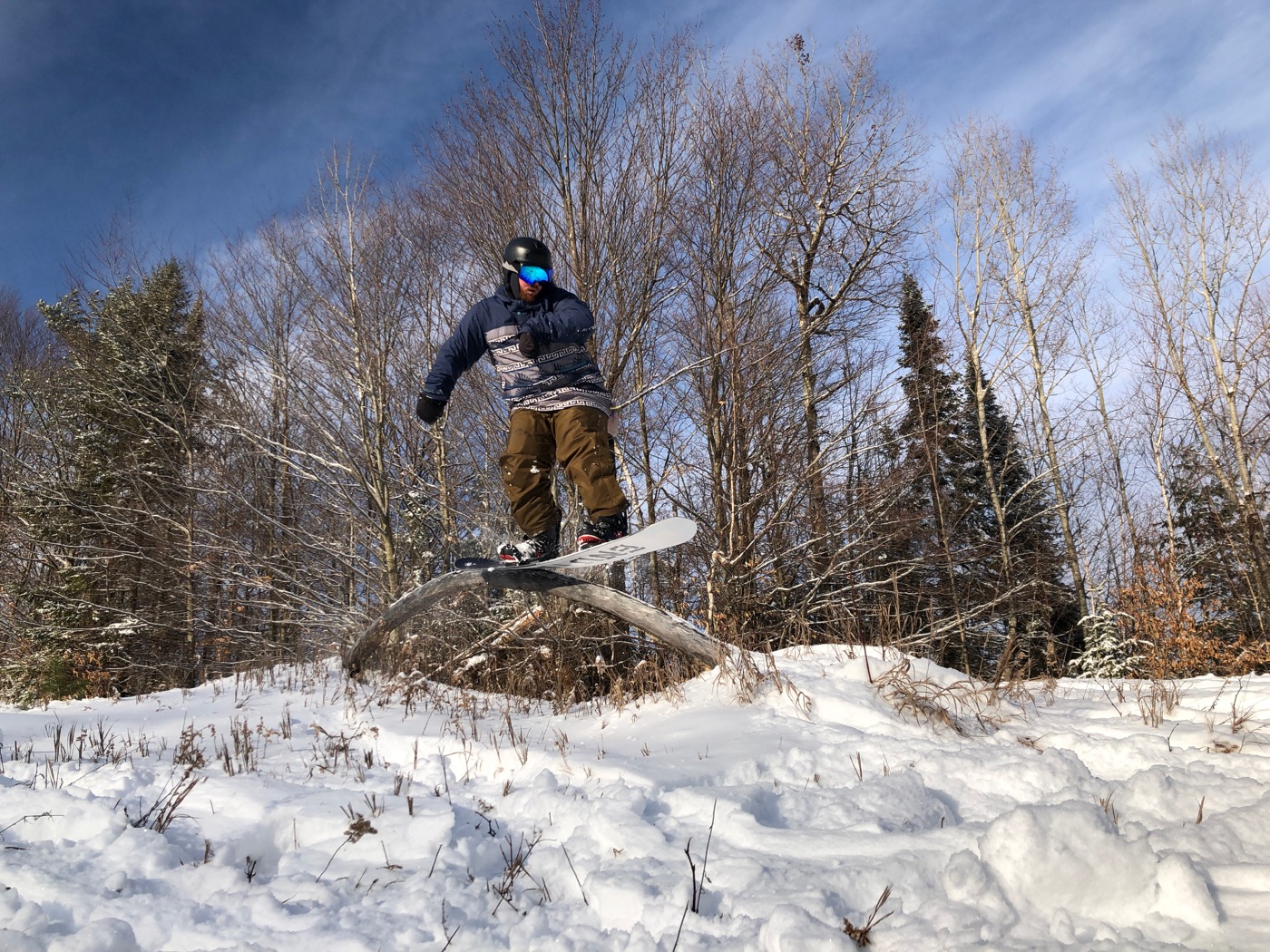 By 2pm our legs were shot and the blue skies started to turn grey. We relaxed at the base soaking the last bit of sun before hitting the road.
I want to come back. There's a whole 3rd mountain I haven't ridden and I never did get to try the maple syrup that's collected and processed on site.
Maybe a bright spot in the pandemic is that it has encouraged me to ski new places in New York that are beyond my normal routine. Titus is special.