That is one sweet fish. The photo was recent posted in our forums as part of a couloir skiing trip report, and it brought back memories of days when I used to wet a line.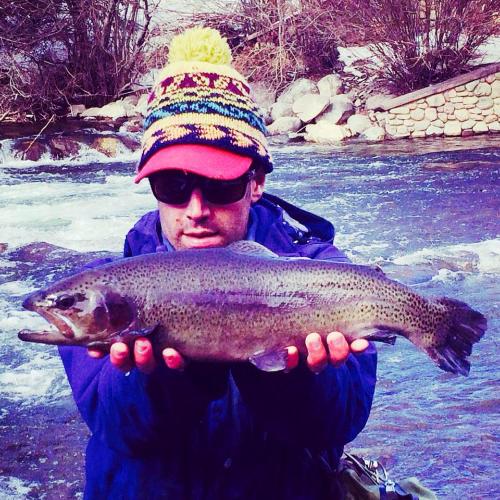 Everybody wants that one big fish. And if you've every gotten one, even just one, it's enough to keep you going for a long time.
The only really big trout I ever caught was in a tiny Adirondack pond. It was just one highlight in a sweet adventure in the Pharoah Lakes Wilderness Area. It's 60,000 acres that's packed with beautiful hills and small ponds. We camped, bushwhacked, hiked and fished for two consecutive weeks.
Before this trip, I 'd always fished for fun, releasing almost everything. But on this trip we were living on backpacking grub and trout was our only source of truly fresh food.
One day, near the end of a long day of hiking, we were almost back to our campsite. We passed a pond that was really small, but it had a rock promontory that was surrounded by deep water.
It was almost dark and I made a few casts trolling my spoon deep and slow. A few minutes later, I was sure I'd hooked a piece of wood that I was slowly pulling up to the surface. But near the top I felt a tug and I saw the flash of belly in the fading light.
I was without a net as most of the fish we were catching were under 12 inches. As I gingerly reeled this one in I knew it was the biggest trout I'd ever hooked, way beyond the test rating for the line I was using.
When I got the lunker to the surface I put up a trial balloon for my partner. "Going to throw this one back. It's more food than we can eat, it's almost dark and we're a mile from camp."  I waited only a fraction of a second for a response.
Linda: "You are NOT throwing that fish back!"
Harv: "You'll carry it back to camp, and help me eat it, until it's all gone?"
Linda: "Yes I will!"
I pulled it out of the water and whacked his head with a rock.  I held him up and he was as big as my forearm which I later measured to be seventeen inches.  I estimated three pounds of meat.
Linda dutifully carried her payload with stick through the gills all the way back to camp.  In the dark I built a small fire, wrapped him in tinfoil with some olive oil and some seasoning. True to her word, she did her part as we ate the entire fish.
I really don't get to fish anymore. Time and money are in short supply and all that I can muster goes to skiing and blogging. But that big brookie, well let's just say I just can't push fishing from my mind. Got a fishing tale? Post in the comments or join the forum and post it in The Fishing Thread.