The Annual Flower Skate Shop Park Jam at Snow Ridge became my favorite event when launched in 2021. Now in its 3rd year the event has been getting better with a tight park setup and good vibes all around. It's been an awesome community event with loads of familiar faces each year.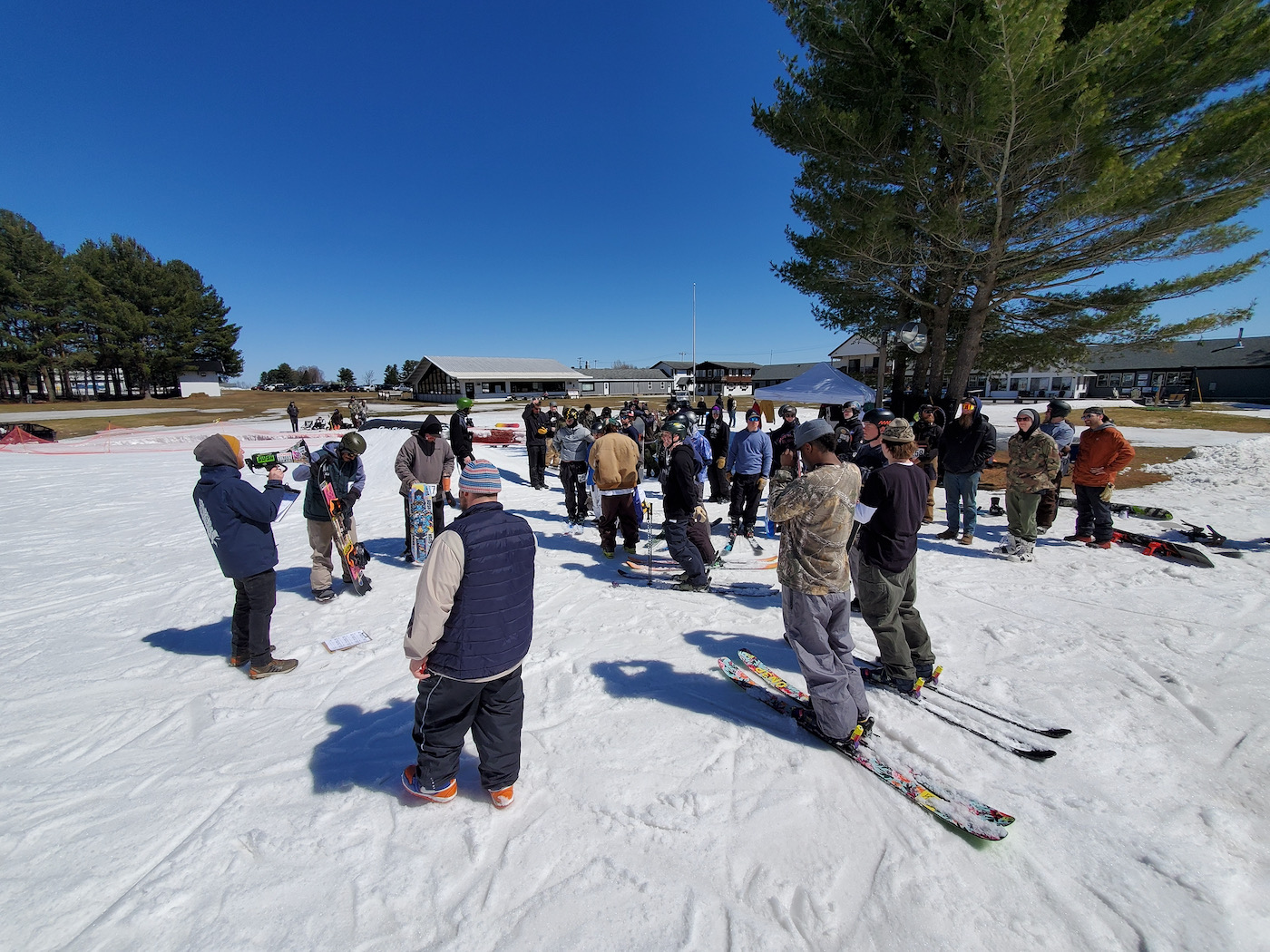 I've watched as my Woods Valley crew and other local groups have congealed together around this one event. Although my dreams of winning such an event have faded, it's still a blast to ride and push myself with all the homies cheering me on. You can bet I have this event marked on my calendar each year; when the date was confirmed I pulled out the park board one last time and got ready for Saturday.
If you believe in Ullr or a snow deity then know it is a big fan of this particular event. For 3 years in a row the weather has been perfect. The boys built the setup on Friday, it froze overnight allowing the features to set and then on Saturday sun returned to grant soft conditions.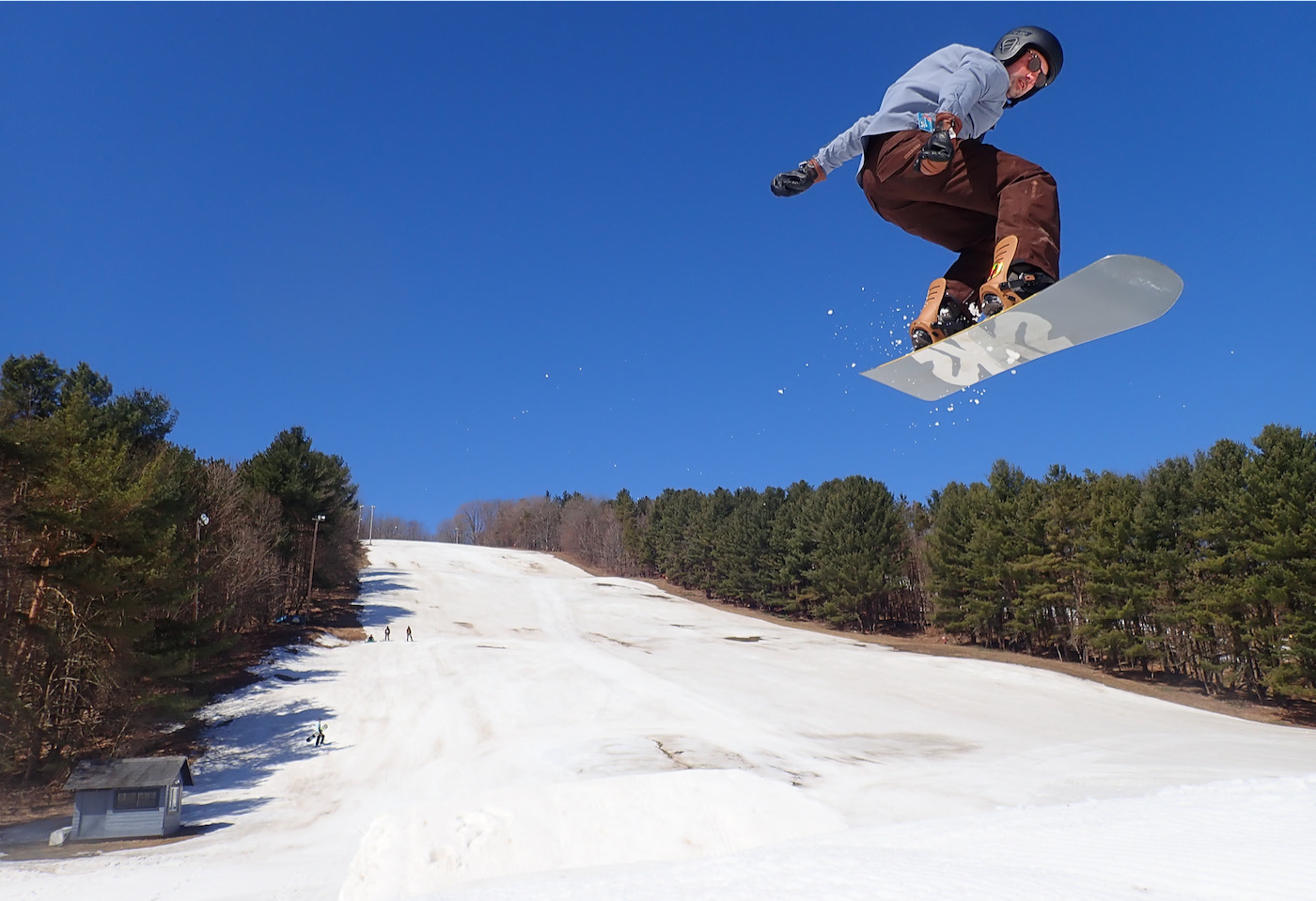 You couldn't ask for better weather. I pulled in just before 10 as things were heating up. I linked up with some friends and we started taking warm laps. This year the riders had multiple lines to choose from, as the park utilized both sides of the magic carpet area.
To the right a single rail transitioned into a two rail train track set up. After that was a corrugated tube feature with a gap between the tubes. At the bottom a flat rail with a 55-gallon drum to bonk at the end. The left side was bigger, featuring all of Snow Ridge's beautiful rails including the kinked rail, rail with a creeper ledge and everyone's favorite the down flat down. At the bottom a gas tank buried in the snow perfect for stalling.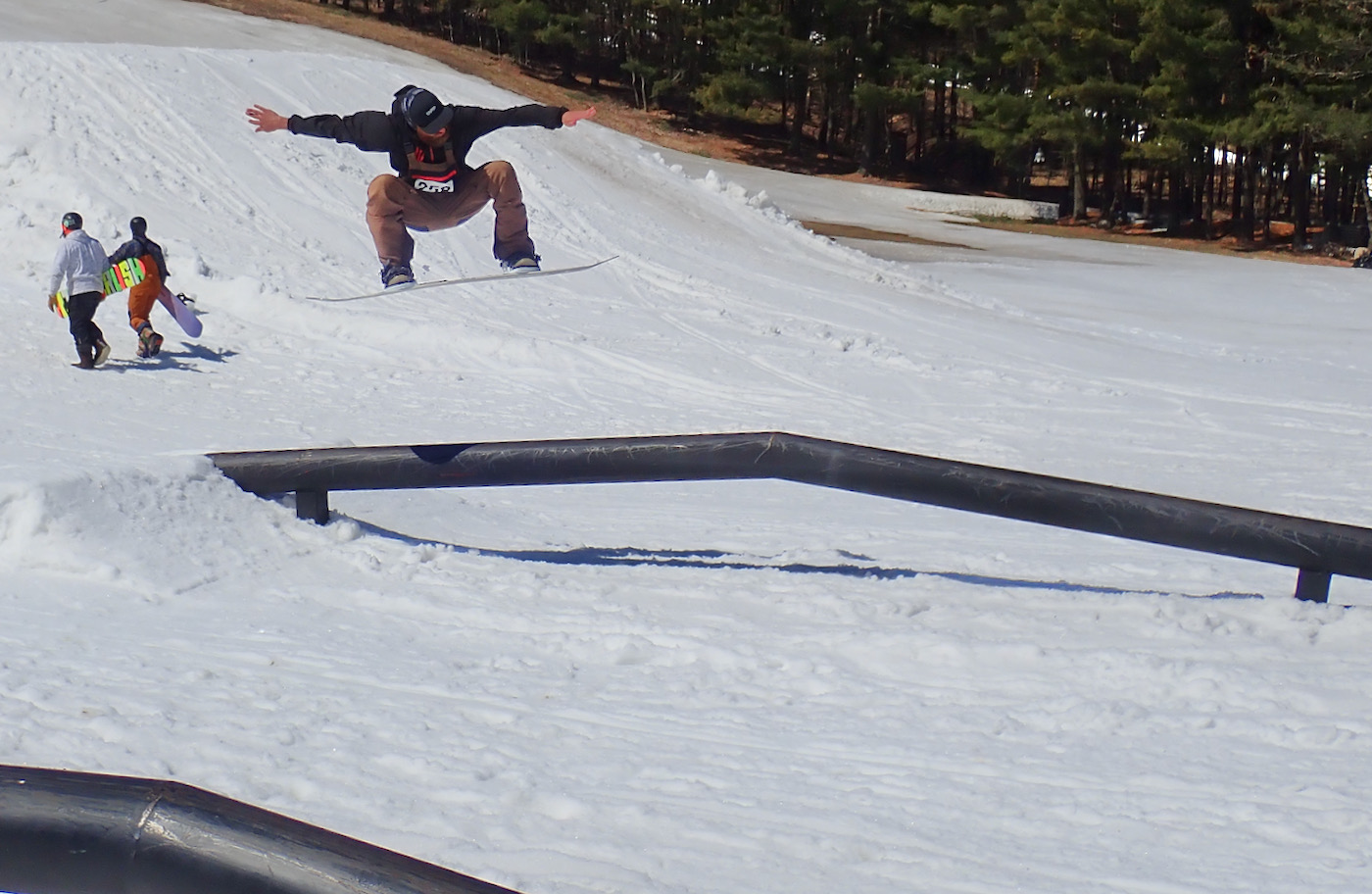 At 11:30 the am division kicked things off, and I decided to kick back. The mac and cheese was staring me down from the concession table that was set up at the base, so I was content to eat and let others ride. The kids were absolutely sending it and it was awesome to see the more veteran riders cheering them on or giving advice on how to stomp a trick.
After the 30-minute session it was time for the "Pros" to ride. A mass of people ascended the magic carpet and climbed the drop in. Last year I took a stinger to the knee on my first drop in and had to sit the rest of the day out. This year I took a more reserved approach. I just wanted to build some confidence and familiarity before going bigger. It paid off as I managed to land most of the tricks I wanted without getting too smashed up.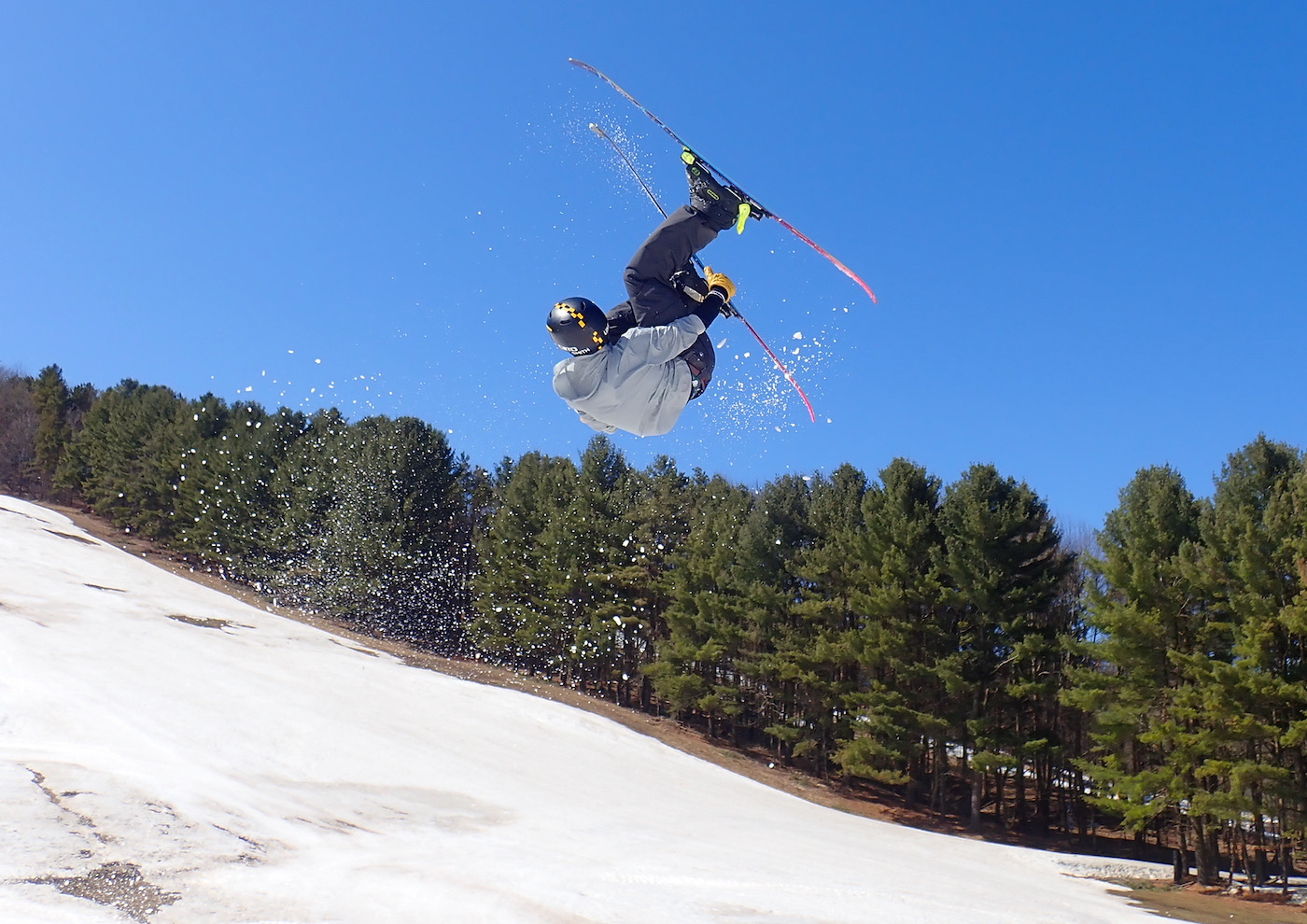 Around me everyone was throwing down, and props were given each time a sick trick was landed. After 30 minutes, five finalists were chosen and the park was given to only them for another 15.
Despite it being a competition it never feels like that. It's just five guys pushing themselves and each other to go bigger. In the end the homie and Woods Valley local Matty B locked in the gold with a huge back lip followed by an even bigger 270 over a kink to the downrail. It came as no surprise to me because I've been riding with Matt all year and he's been killing it. Even Lucas Magoon the guest judge, was hollering when Matt stomped the landing. I know I will miss a few names but shoutout to Steve B, Mark M, Dave, and of course Lindsay the only female competitor who was easily the most fearless rider out there.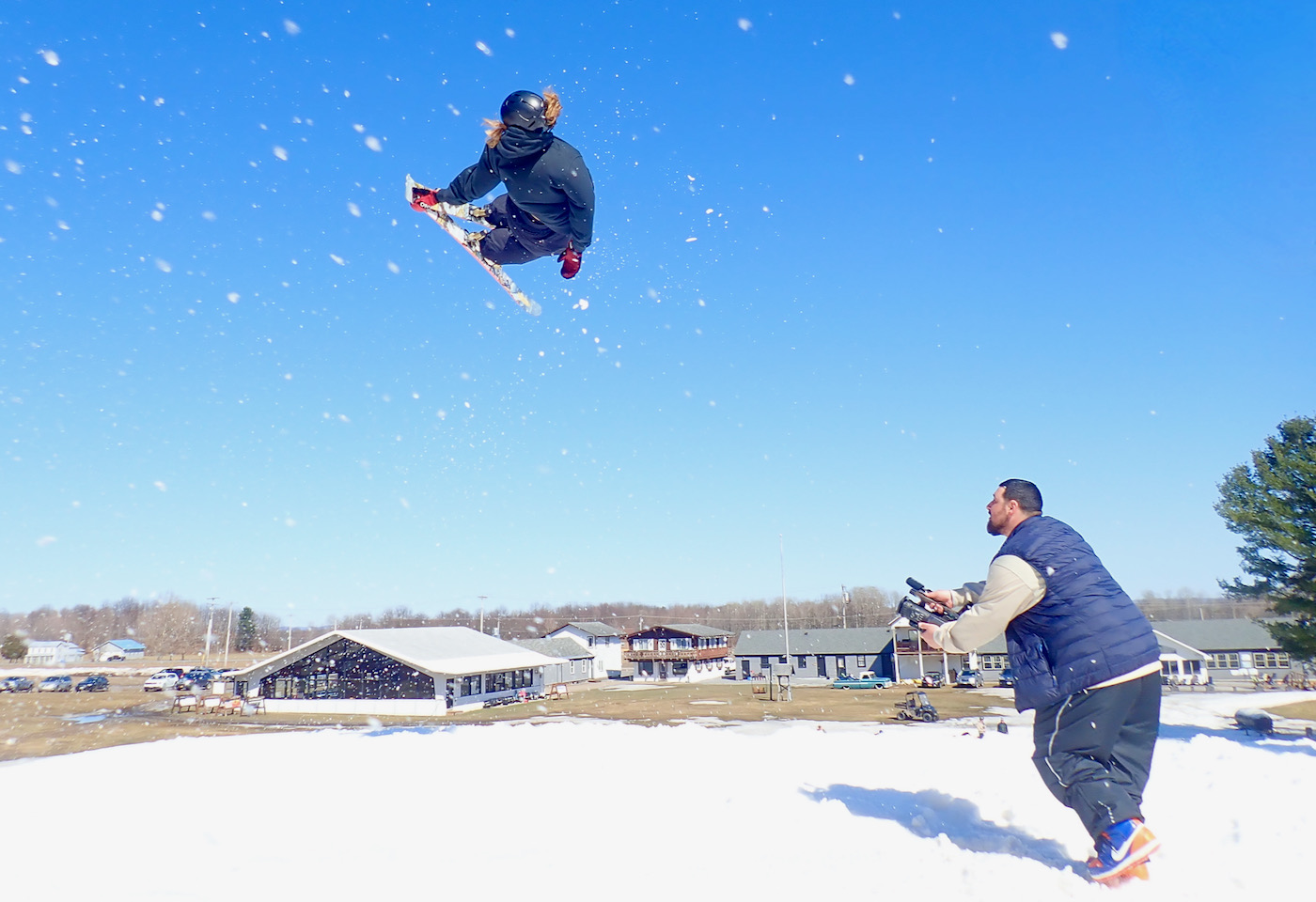 With the awards for the rail jam handed out it was time for the big air event. I cherish what's left of my knees so I was definitely content to hang out with the Flowers guys, watch and take some pics. It was a picturesque finish to the day, as boarders and skiers hucked themselves over the 20 foot gap in the name of free gear.
I soon said my goodbyes, making summer plans of golf and boating. I can be a tough person to track down in the winter, but on the second Saturday in April you know where I'll be.