This winter, I bought season passes for myself and my two sons at Catamount Mountain in Hillsdale, NY. Deciding what pass to buy is never easy but I was confident that we would get our money's worth this year.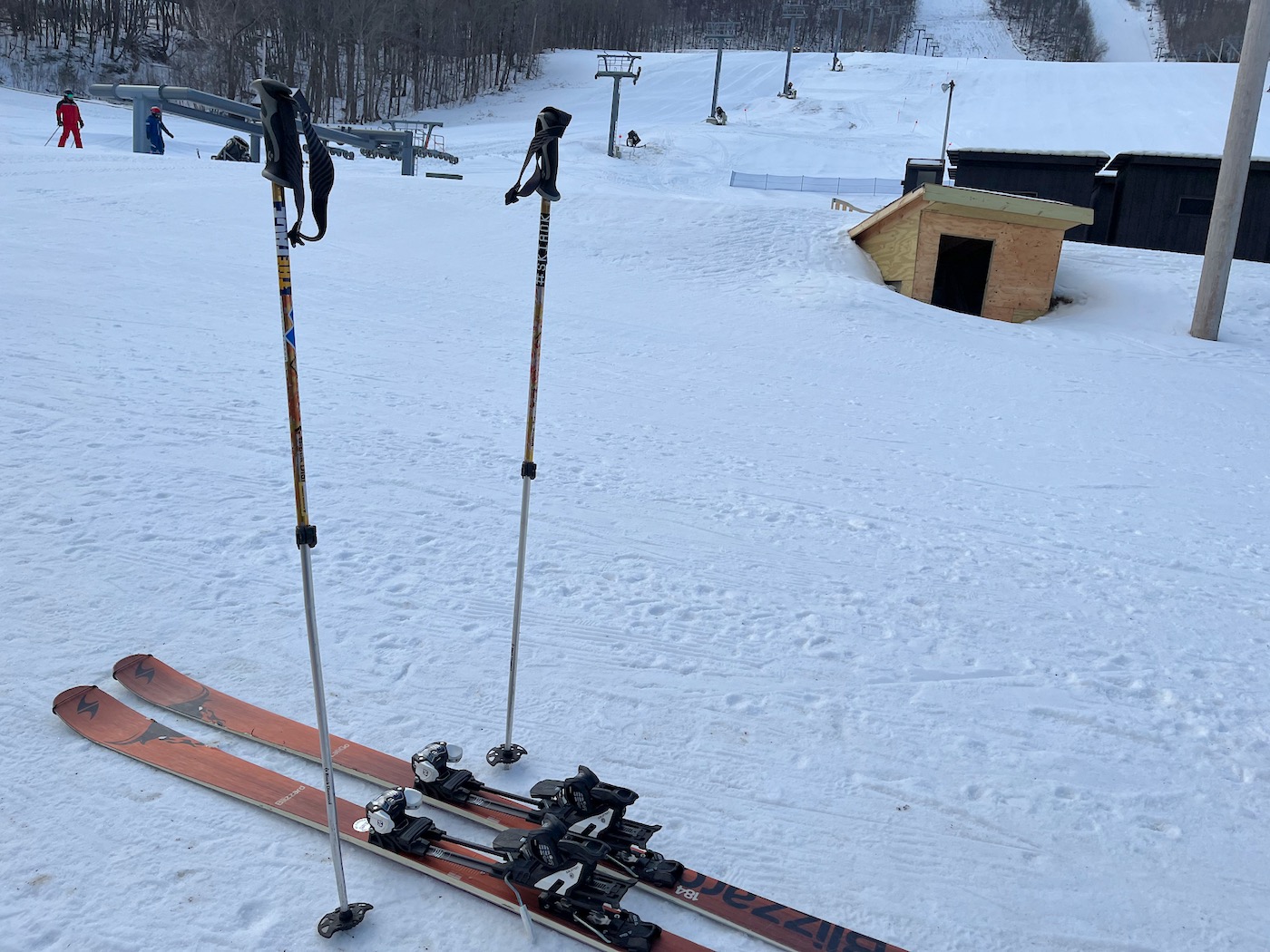 In addition to Cat, the pass gives me access to Berkshire East (which I love) and Bosquet (which I've never skied).
Even better is the fact that Cat is on the Indy Pass so you can buy an add-on that gives you a couple days each at lots of other northeast resorts like Greek Peak, Magic Mountain and Jay Peak.
And it's relatively close to home. A typical Catamount day for the Brownski crew starts at the civilized hour of 7 AM, if not later. We might get to the hill around nine or we might just take our time and show up a little later. Sometimes we even stop for breakfast on our way.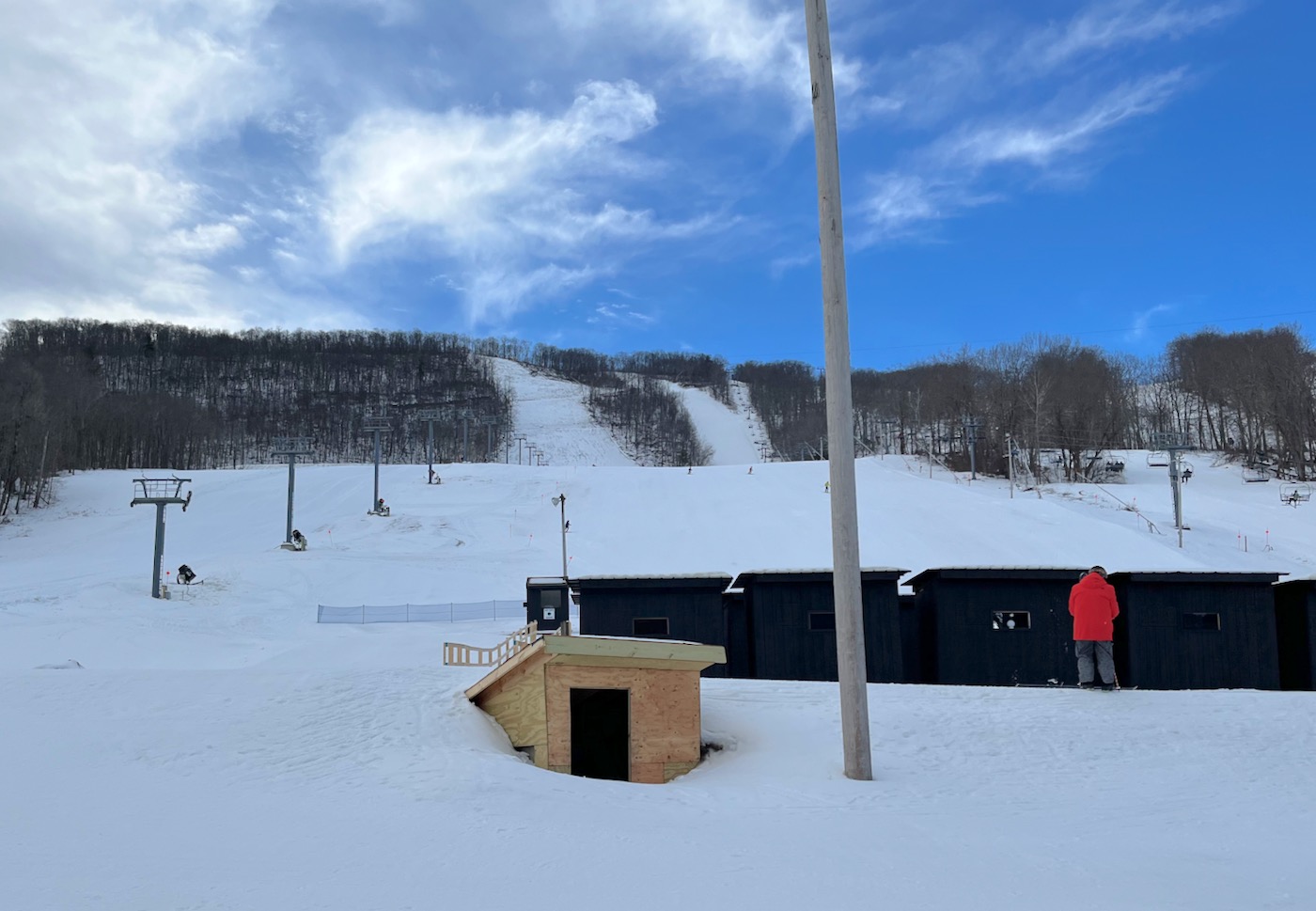 Catamount has night skiing Wednesday through Saturday so even if we show up at noon, we can get a full day of skiing. It's a fun, laid back place and I have been trying to conform to local norms. I can always use more laid back fun anyway.
You may not know this but last Friday was Lincoln's Birthday (observed). Not a lot of people get Lincoln's Birthday off but the guys who drive the trucks for my company belong to a very powerful union. Some times I think they just insist on these days off as a way to flex their collective bargaining muscle. It doesn't matter. It's a day off in February when almost everybody else is at work of course I go skiing. Catamount was the choice.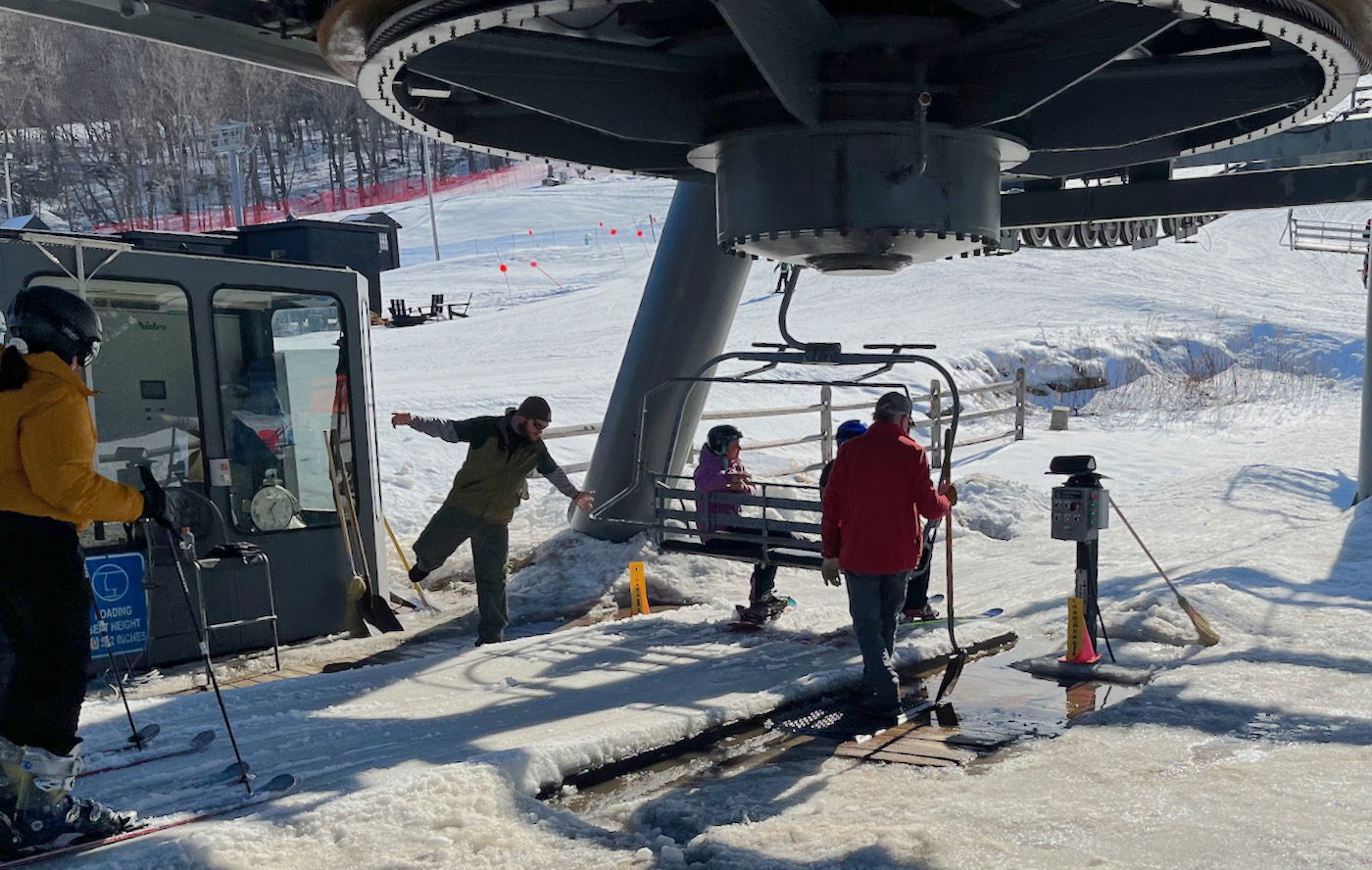 I dropped off Dangerboy at school and headed up the Palisades Parkway and across the Bear Mountain Bridge. Through Cold Spring to the Taconic Parkway and then north to the Claverack/Hillsdale exit where I caught Route 23 east to the Massachusetts border. I know the route like the back of my hand. It's a really pleasant drive.
I decided to do a little uphill before availing myself of the lifts. I wouldn't call myself an athlete by any means but I've been trying to exercise more. Last Friday I reminded myself why this is important. Catamount is not a huge mountain but I wiped myself out skinning up the Massachusetts side.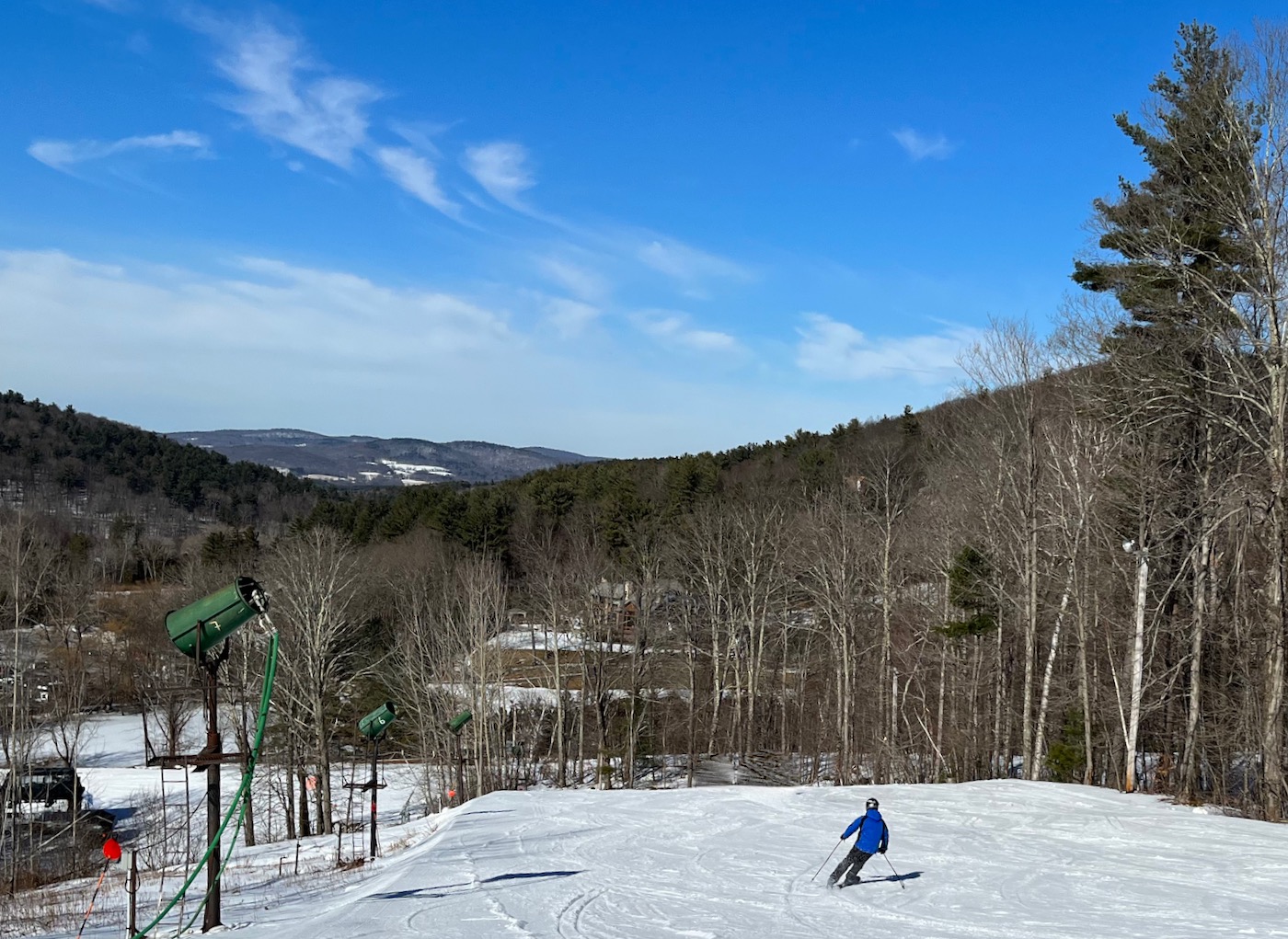 Truth be told I gave in before summiting. A good workout and a little bit of practice putting the skins on and off was enough for me. I slid back down to the Meadows triple chair and jumped on for some lift served fun. I didn't get off at the mid station but waved to the liftie, the same one who seems to work there every day, an eternally cheerful woman who keeps upbeat music blaring from a boom box in the shack. It's normally classic rock but Friday was Taylor Swift.
From then until I quit, it was pure solo- springlike- groomer- zoomer fun. I took a nice mellow warmup run down Walter's Way and Esplanade and held onto enough speed to get past the triple's loading area so I could coast back to the Ridge Quad.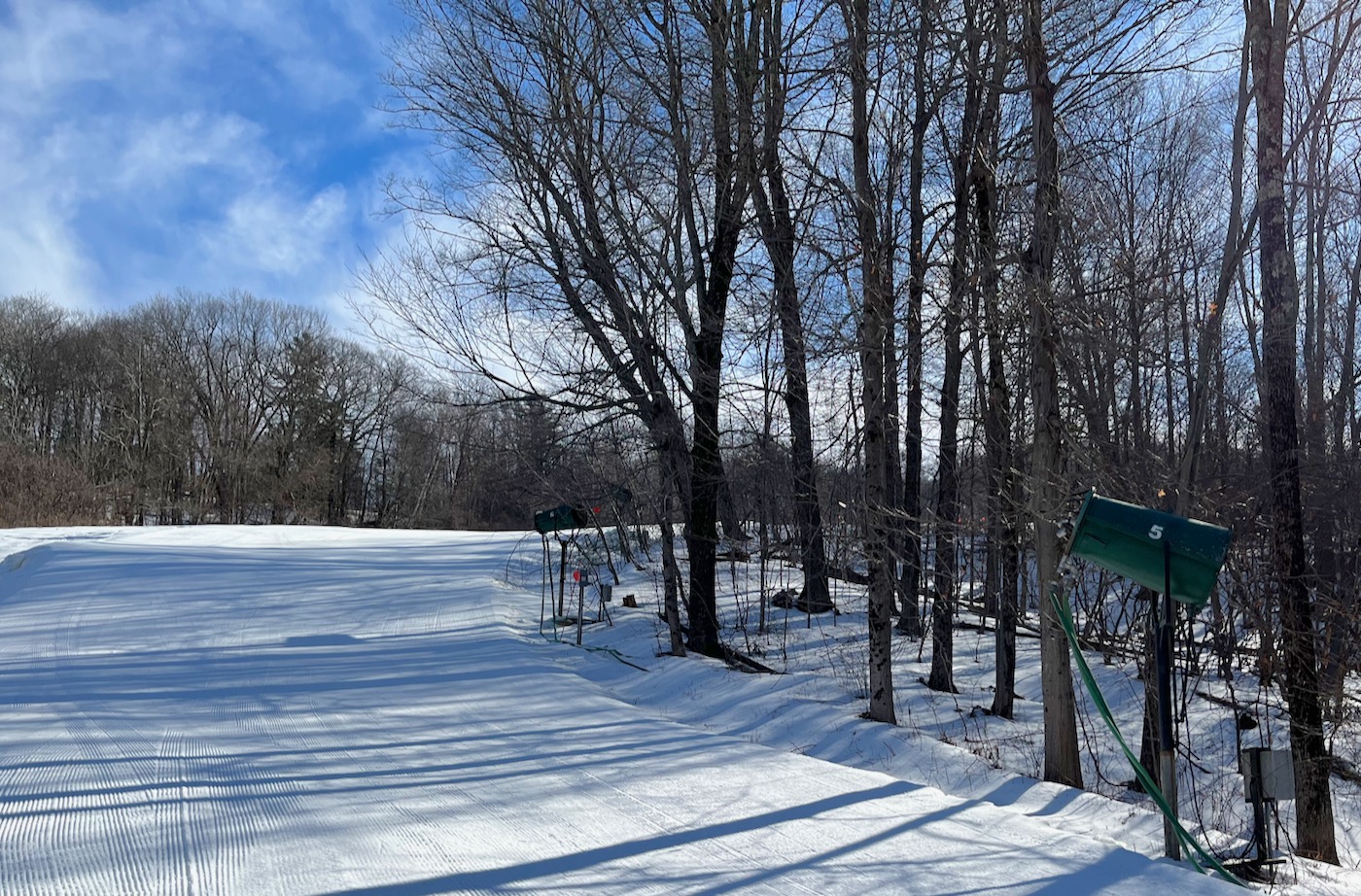 I hopped on the lift with an older couple who were skiing with a group of visiting Butternut employees (the wife is a Mountain Ambassador). I wished them well at the top and headed to turned left off the lift to ski Catapult, one of Catamount's classic steeps. It was a warm day and the snow was soft. Awesome run.
That's how the day continued, one fun bomber run after another, with short pleasant lift conversations with strangers in between. The sun was out, the air was warm and the vibe was mellow. It was the perfect solo ski day. I skied everything that was open at least once with a few extra helpings of Catapult and Sidewinder.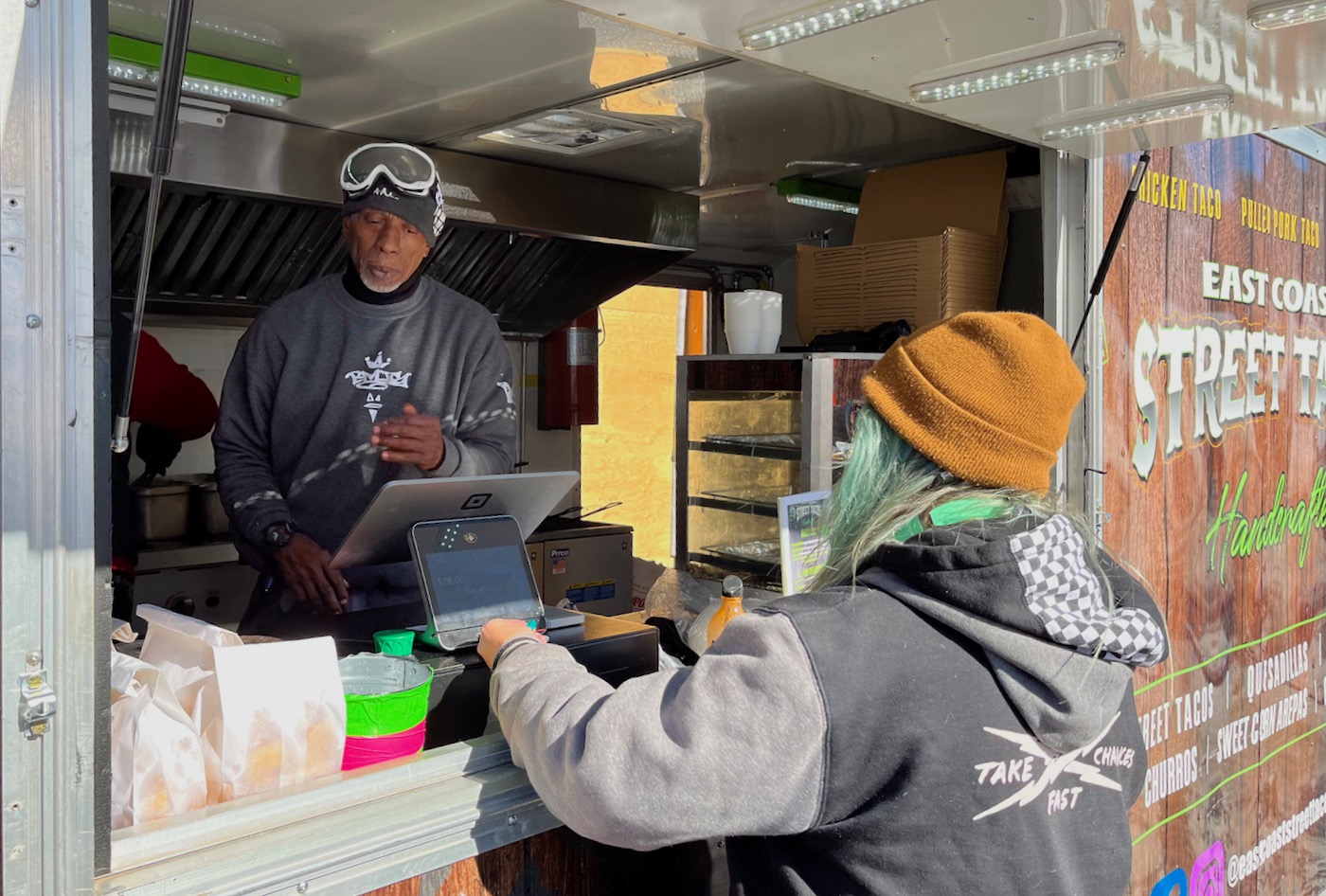 I popped into the lodge for a quick break around noon thirty and noticed a bunch of racer families suiting up. Lucky kids, I thought to myself, getting out of school early to ski. I stuffed a water and a beer in my anorak's front pocket and headed back out.
After another couple runs, I was ready to eat. There was a Taco truck positioned below the Quad's loading area; it had been calling to me like a siren all morning so I finally gave in. I asked the guy running it which menu item would be most convenient to carry up the lift.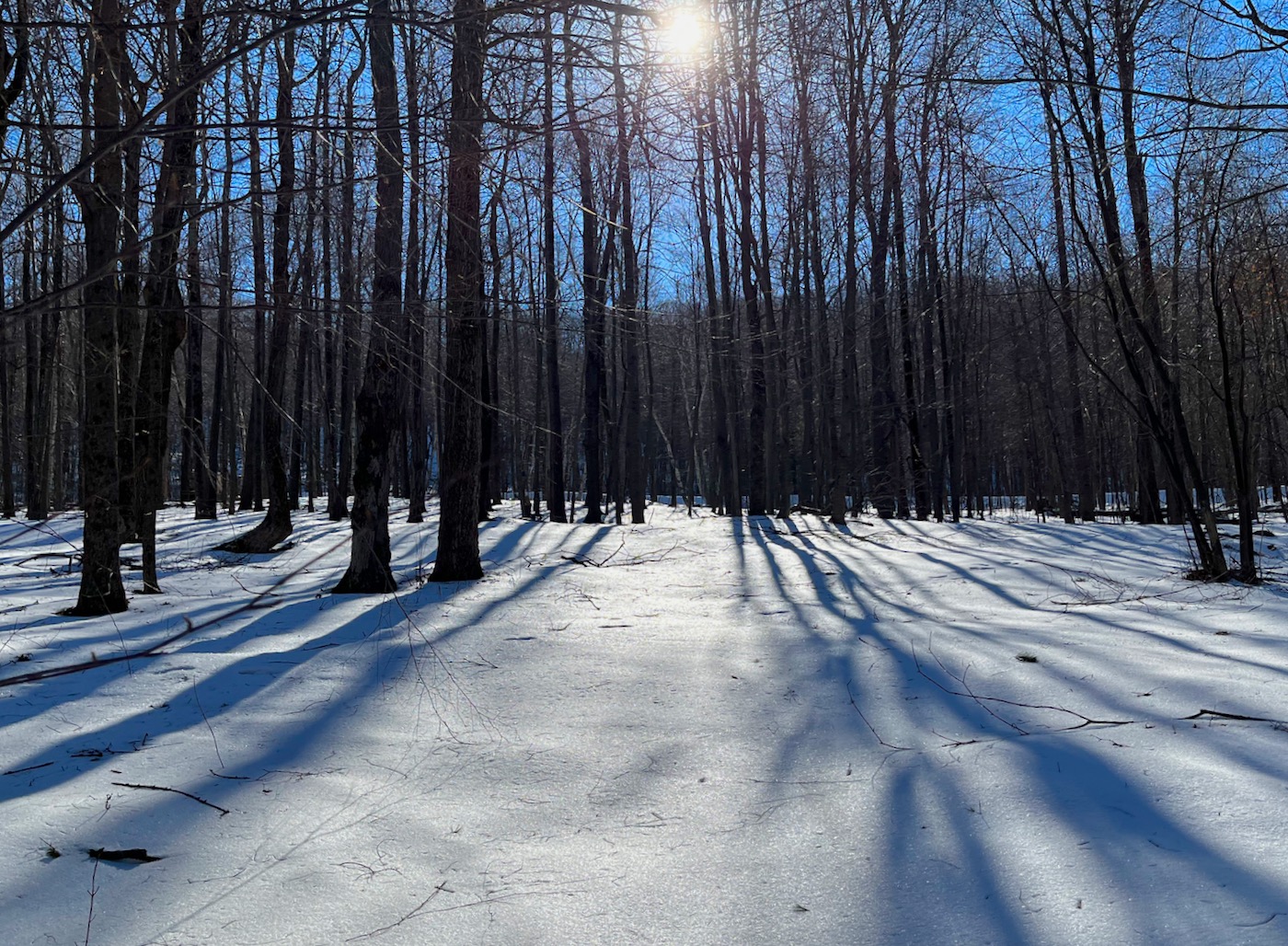 Quesadilla was the answer. A few minutes later, I found myself skating gingerly out to grab a chair with a HUGE chicken and pork quesadilla balanced in my left hand. As I turned to spot the oncoming chair, the Chicken Man skied up next to me.
Catamount skiers will know who I'm talking about. For the rest of you, there's a guy that skies at Catamount dressed up like a chicken with a bunch of feathers attached to his helmet. Honestly I always thought he looked more like a turkey but I've always heard him referred to as chicken man.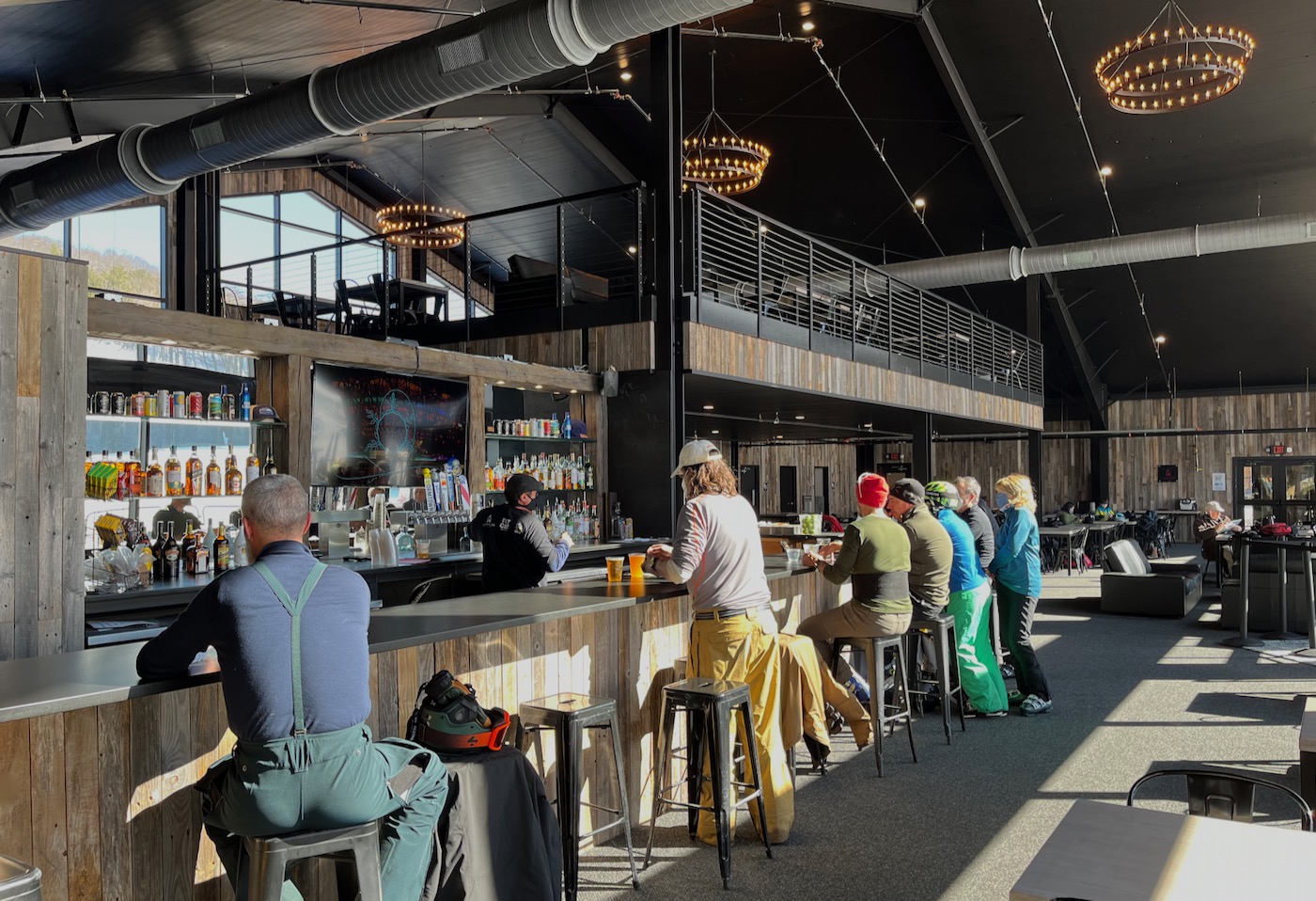 The guy is a real hoot. He started by complementing my lunch but didn't stop there. The lift ride was a blur of wide ranging stream of conscientious. I laughed along and inserted a comment or noise of agreement whenever I could but chicken man didn't give me many openings.
He covered skiing, deer hunting, the weather, Catamounts lift system, local politics, turkey feathers (I was right), pickup trucks, how to detach the bed from a pickup, and I don't know what else. Meeting the chicken man was definitely the lift ride of the day.
At the top, I wished him a good day and cruised around the corner to my chosen lunch spot, a little rock near the top shack of another lift line. I sat and ate my delicious lunch, sipped my pocket beer and contemplated the clear blue sky, the warm sun, the meaning of life and the simple joy of mindless, solo ski days.
Later on I made my way over to the Massachusetts side and cruised the mellower trails for awhile. I got off at the mid station to explore some thin covered twiggy glades, just in case they melt put before I get back. Hopefully it snows some more so that doesn't happen but J guess we'll see. It was a good day.
---
NYSkiBlog is joining with The Indy Pass to bring exposure to independent mountains.
This piece is part of our effort. For more information visit the Indy Pass.
---