"I just signed up for the Shawangunk Ridge 30."
There was silence on my end of the phone as I took in what Freebird had said.  I attempted to deflect: But, we did that last year. He responded nonchalanty, So it will be easy.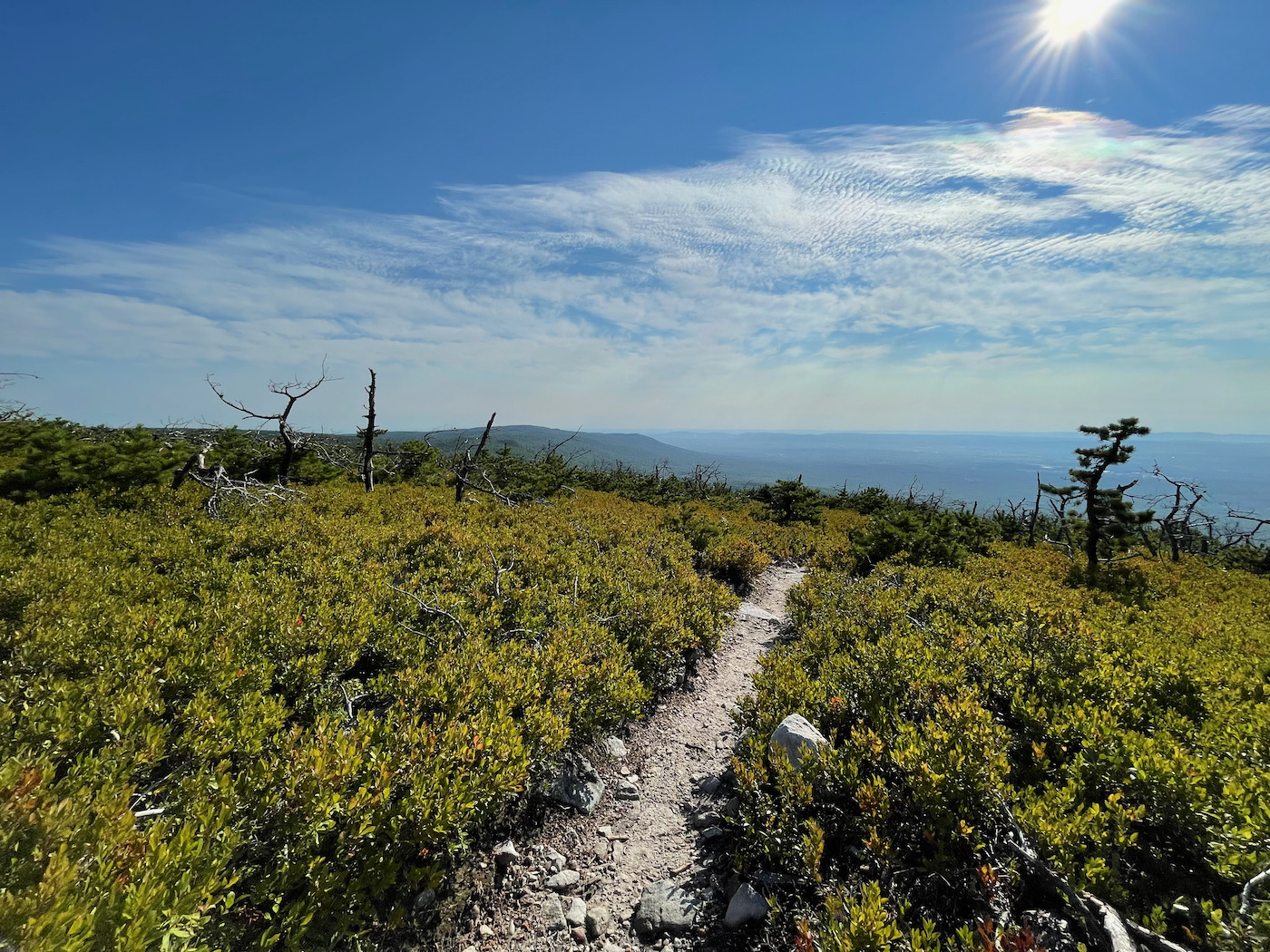 The Shawangunk Ridge Trail (SRT) is a 70 mile hiking trail that traverses the entire length of the Shawangunk mountains. The not-for-profit Run Wild Inc. created an event to celebrate the preservation of this incredible open space by encouraging people to come out and see its natural beauty. Directed by long distance runner/hiker and barefoot guru Ken Posner, the SRT Run is self-supported with an emphasis on minimalism.
Participants choose 13, 30 or 70 miles. There is also a special 'barefoot' pin if completed in sandals, Vibram Five Fingers or nothing at all. With its generous cutoff times, volunteers at checkpoints and Search and Rescue on standby just in case, the run appeals to many. It's an adventure buffet with some hungry patrons returning each year to feast. We went back for a second helping of the 30, wearing shoes again.
Freebird picked me up in the early morning for the hour drive to Rosendale. I was out with my family the night before celebrating my sister's birthday at a Mexican restaurant. The margaritas and quesadillas were now conspiring against me with my pre-race jitters. On the way, I wolfed down some oatmeal with honey hoping that would help glue things together.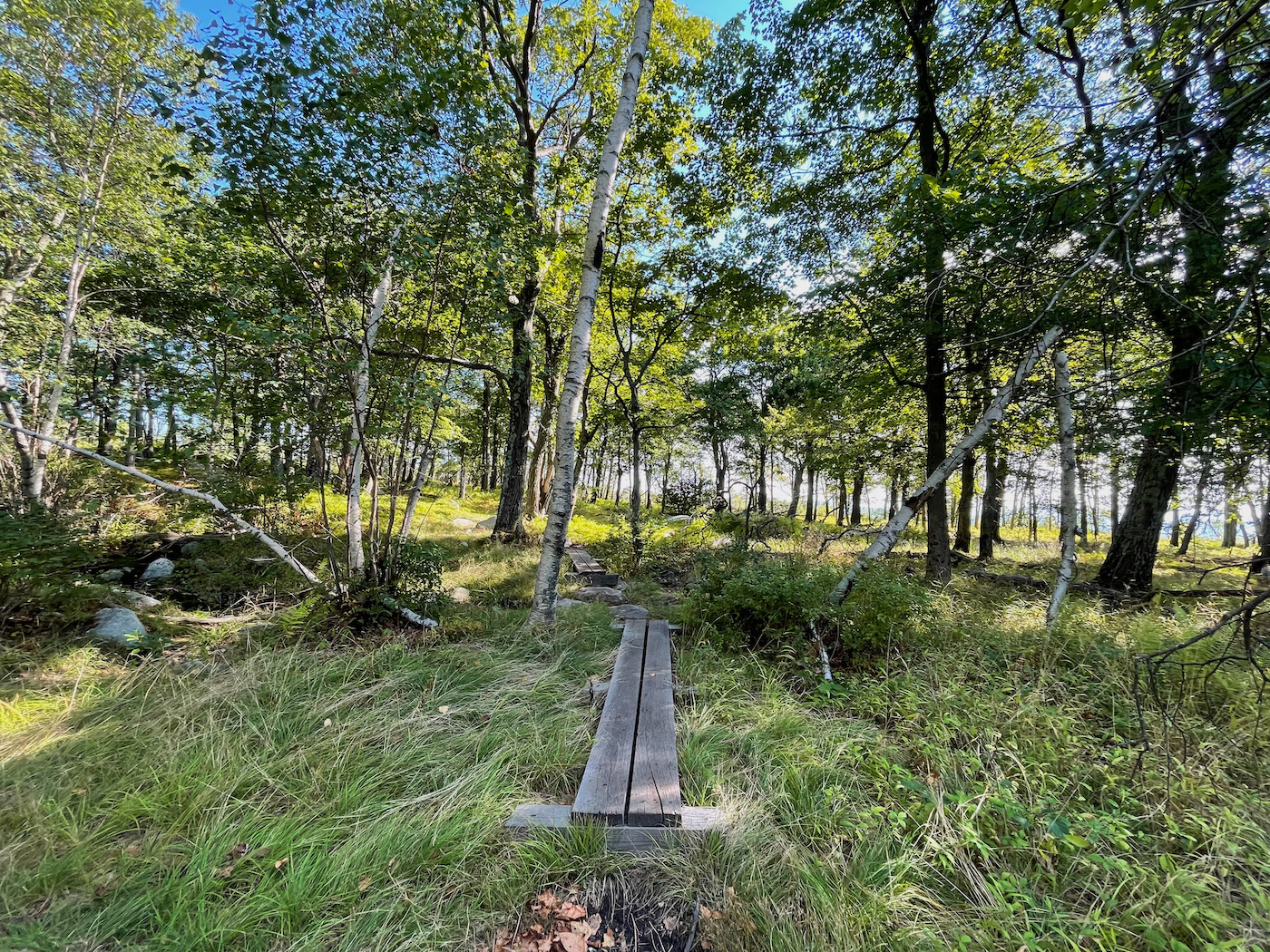 The restored train trestle in Rosendale is the finish, where we parked and where there was a school bus waiting to take us to the start. Two gents popped out of their car next to us wearing skimpy sandals. I later learned that they are father and son 70-mile veterans from last year, when it was the father's 50th birthday and the son had earned the special pin. Apparently they were back for the 30, with both now going for the pin. I tried to wrap my head around moving through the landscape that way, as I cranked up the BOA closures on my state-of-the-art Altra running sneakers.
We hopped on the bus for the ride to Ellenville and Sam's Point for the start. On the way, the fire scar was visible on the mountain from the freshly extinguished Napanoch fire. We assembled at the visitors center for a pre-race meeting. A quick glance around revealed some fit looking individuals with well worn race packs. Maybe I had been a little too cavalier in my straight-off-the-couch approach. It was too late now. We were off at 9am.
'Run your own race' is a well known expression. It's often advice for people who are slower than others, but giving it their best. I thought about this as I walked up the hill to Sam's Point watching Freebird and his pack kick up their heels and disappear. Last year my goal was to simply finish, preferably without a headlamp, which I did.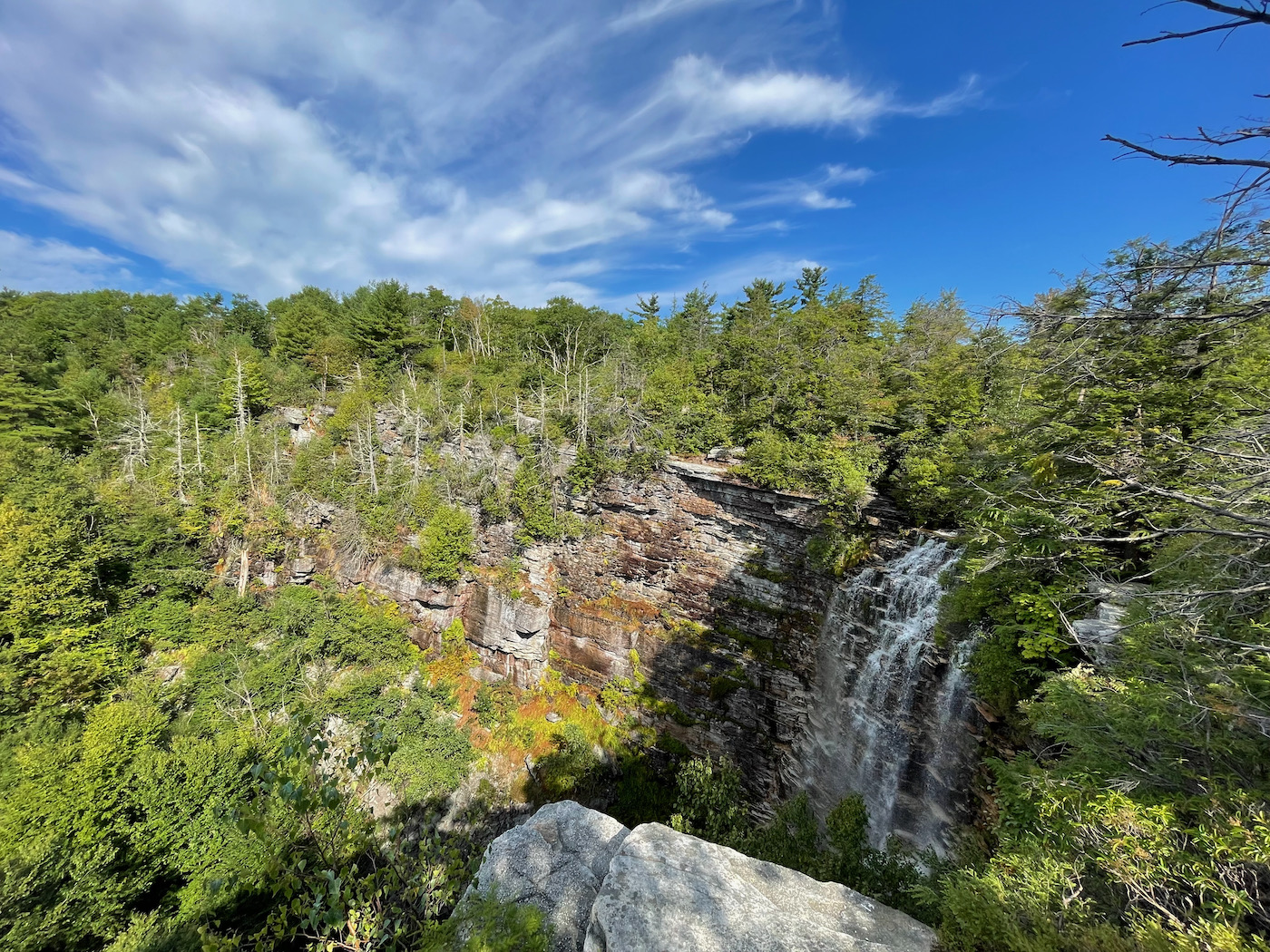 This year I wanted to finish in better shape. Halfway through, blisters and knee pain had crippled me and I wanted to avoid living that again. I lingered in the back taking in the views and enjoyed the morning. I figured I'd walk the first 10 miles and see how I felt.
Well, it felt great. The weather was perfect, the fires were out and the park reopened. The landscape had rebounded from drought after abundant rain. The single track disappeared into the heath with ridges of bare rock in the distance hinting of its direction. I had a long way to go and all day to get there. September in the Shawangunks, there's no place I'd rather be.
Alone now for quite some time, I chilled at Verkeerderkill Falls. Then I wandered through the mossy bush up to rocky expanses overlooking the Badlands. The trail at Haseco Lake wasn't flooded like last year and I was grateful to not have to change socks. It was there that I could hear what sounded like someone yelling at a bear. I yelled back to see if all was good and then waited. Out of the thicket emerged a 70-miler who was having quite a time of it. He had gotten his pack hung up in the laurel trying to avoid the muddy section and was expressing his frustration. We made fast friends and got back to it.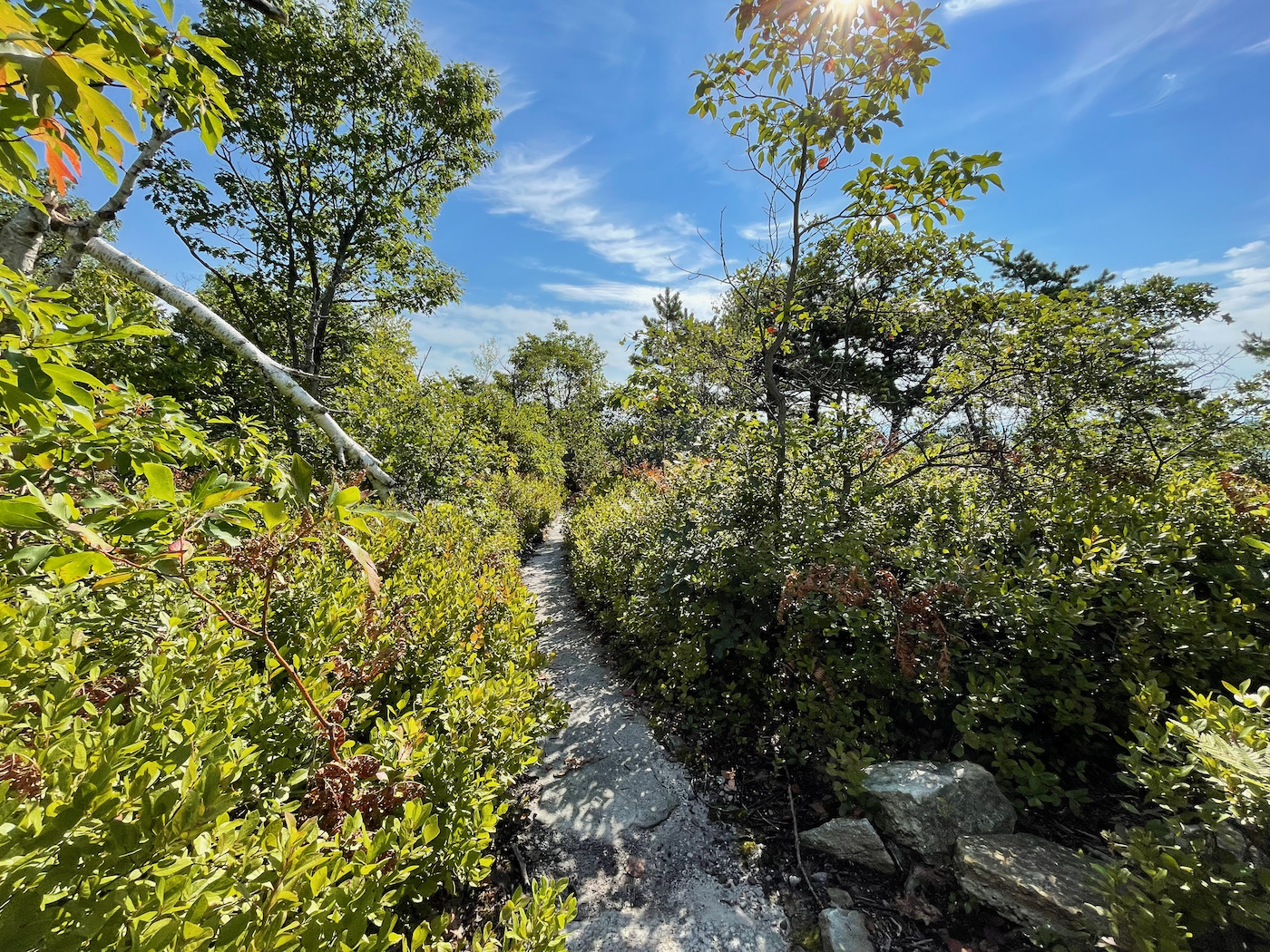 He told me about starting the night before. How the blood-orange full moon lit up the woods. Seeing the sunrise from the mountaintop and how he'd never forget it. It was inspiring. This was new terrain for him. The longest distance he had done previously was a marathon and he had never been on this trail. Amazingly, he had done well over 40 miles and was keeping the same pace as me who just started. We picked it up for a bit and ran along the cliff edges. We plunged down the cliffs and he took a stop so I kept on and eerily squeezed through a cave by myself.
At the intersection of a carriageway I felt confident which way to go. Another runner checking the GPS on their phone had me second guessing. I pulled mine out to check out the downloaded map and I couldn't even tell what I was looking at. It made me kind of dizzy and wasn't helpful since I didn't have the ability or desire to concentrate on the screen. I was seeking a more acoustic experience anyway so I tucked it away and took off on instinct.
A blue SRT trail disc reestablished my confidence and I made the climb to Castle Point finishing with some rock climbing moves to an amazing view. I ran down the carriageway passing a group of 30-milers a few years my senior. I made sure they knew of the right turn I blew by last year and scampered ahead. We leap frogged as I stopped to snap some pictures and again as I made my way past Litchfield Ledge. I was in a hurry to get to Rainbow Falls.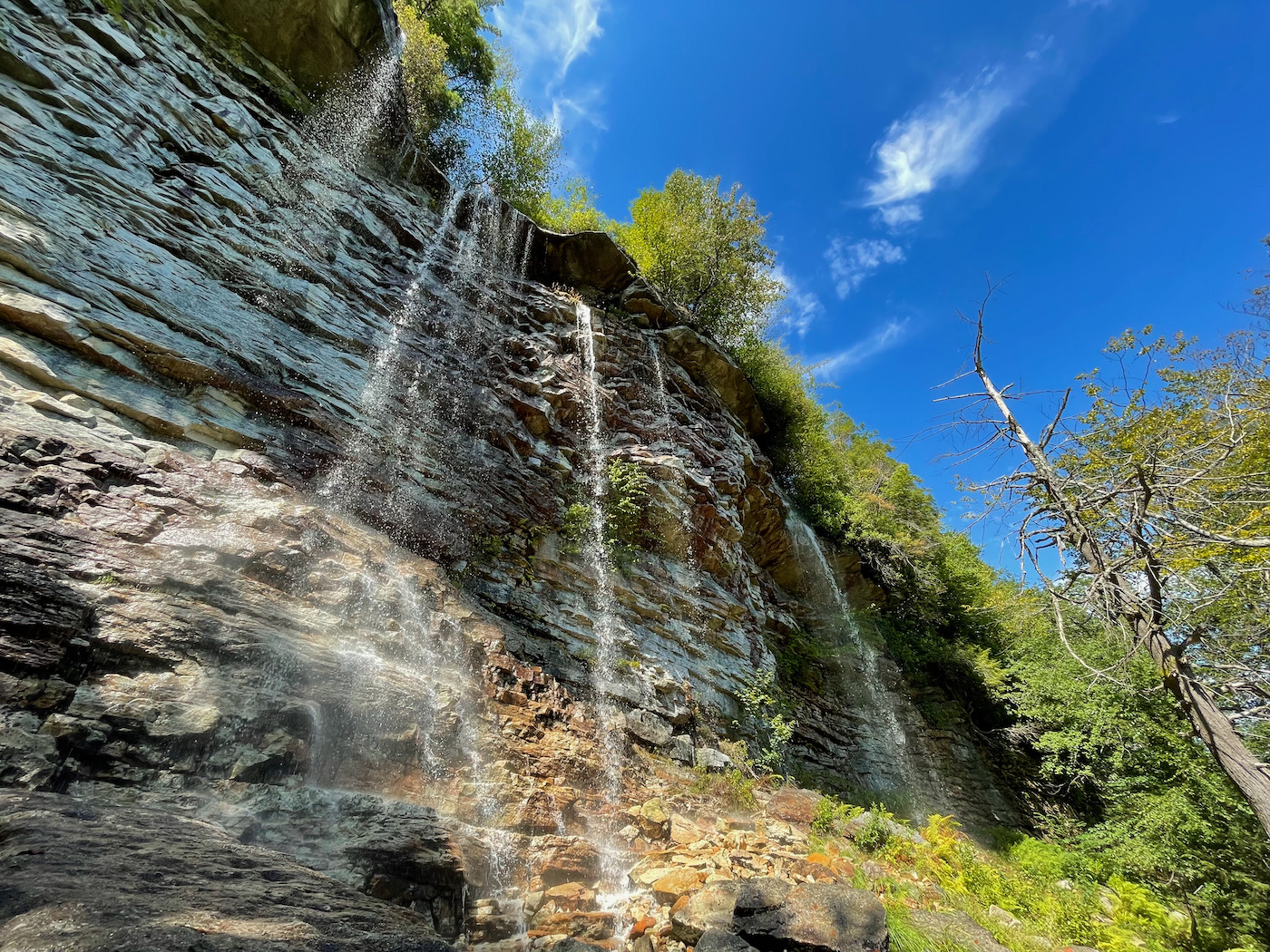 I was there by myself for a long time before anyone showed up. The 30 mile group came and went as I struggled with a slow water filter. My 70-mile friend appeared with another 70-miler. Replenished by the cool water we made the climb together out of Huntington Ravine. The newly completed stone work of the Jolly Rovers is impressive. More impressive was the effort of the two young men climbing out of there, now almost 50 miles in. I've never seen anything like that. It gave me new appreciation for the human mind and body and the untapped potential in all of us.
I soon caught up with the 30-mile guys again. I congratulated one when I noticed the 3500 Club patch on his pack. It is given to the hearty souls who hike all of the Catskill High Peaks. I asked about the infamous Neversink 9 and he recommended that I talk to another guy in the group who was also in the club and had done them in the Winter as well. He was working on the Grid which entails hiking them all in every month of the year. Even crazier, a third gentleman in the group was completing his 318th ultramarathon!
How do they do it? I contemplated the consequences of this lifestyle and grew concerned that this behavior might be contagious. I sped off on my own again. With killer views of the distant Catskills I thought maybe someday I'll get them done. Who was I kidding? I was already infected. I figured if I tanked I could always hang back with them and hear some cool stories.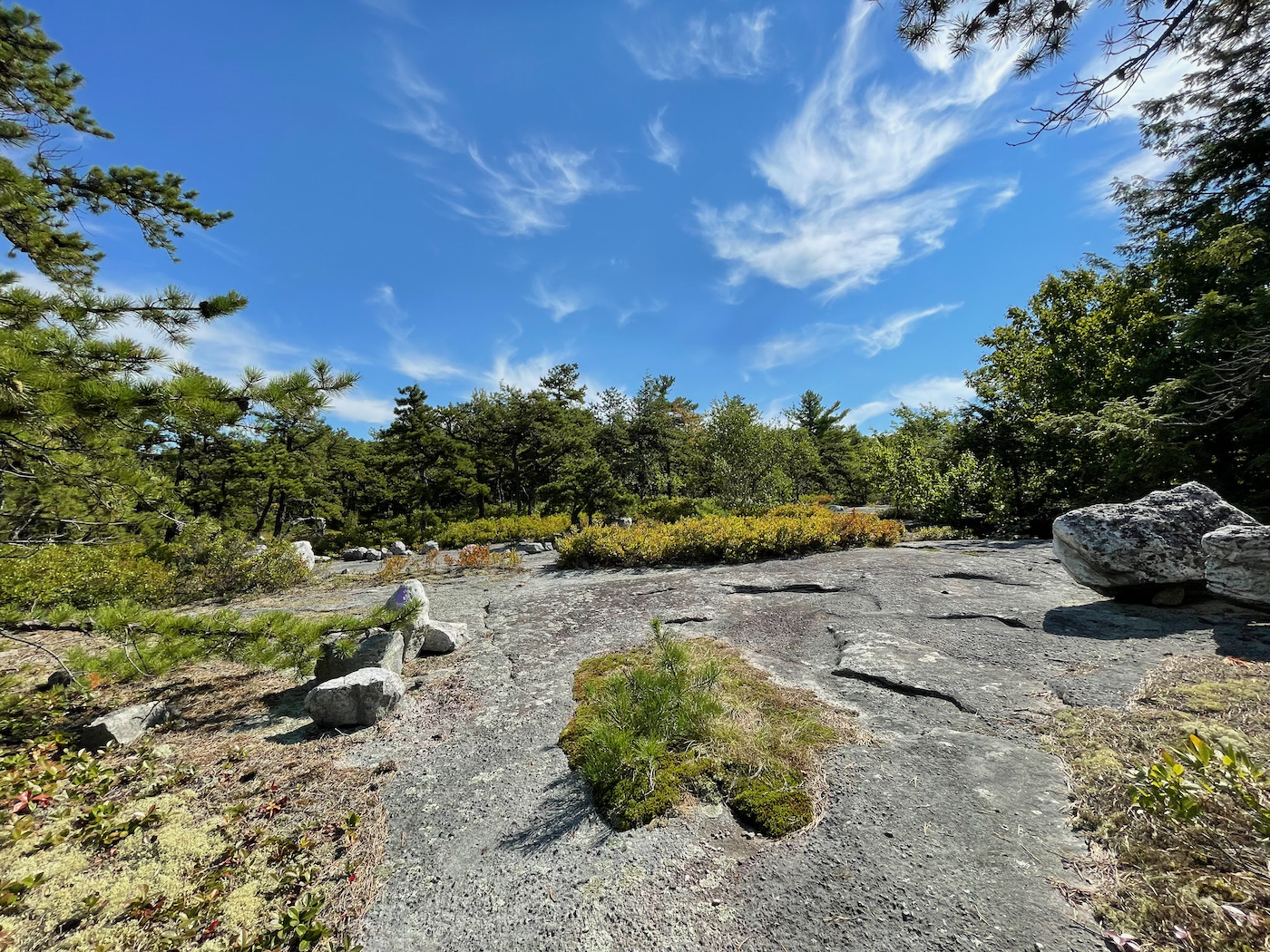 Since I was feeling good, I picked up the pace. My plan was to get progressively faster throughout the day. I jogged the carriageway detour around the closed Stony Kill fire area with ease. A parked excavator reminded me of the much needed reclamation efforts. The Blueberry Run single track led me back up to the SRT following the Jenny Lane Trail and I soon found Checkpoint 1 and its cheerful volunteers.
I filtered some more water from the small feeder stream of the Sanders Kill and took off after rejoining with my 70 mile friend. I bonked trying to eat and hike on the way up out of Jenny Lane as we pushed through the scratchy barberry, a telltale sign of abandoned farmland. My energy was restored when the dark chocolate kicked in over the High Peterskill Trail. We crashed down into the coolness of the mossy glen.
We crushed the 500ft climb over Dickie Barre and found our way past Lost City. On the descent I ran into master photographer and 3500 champion Steve Aaron, volunteering his time taking photos of the race. His camera looked pretty serious and had me questioning the ability of my greasy iPhone tucked into my sweaty pocket. We quickly chatted and I left hoping to ski together some day.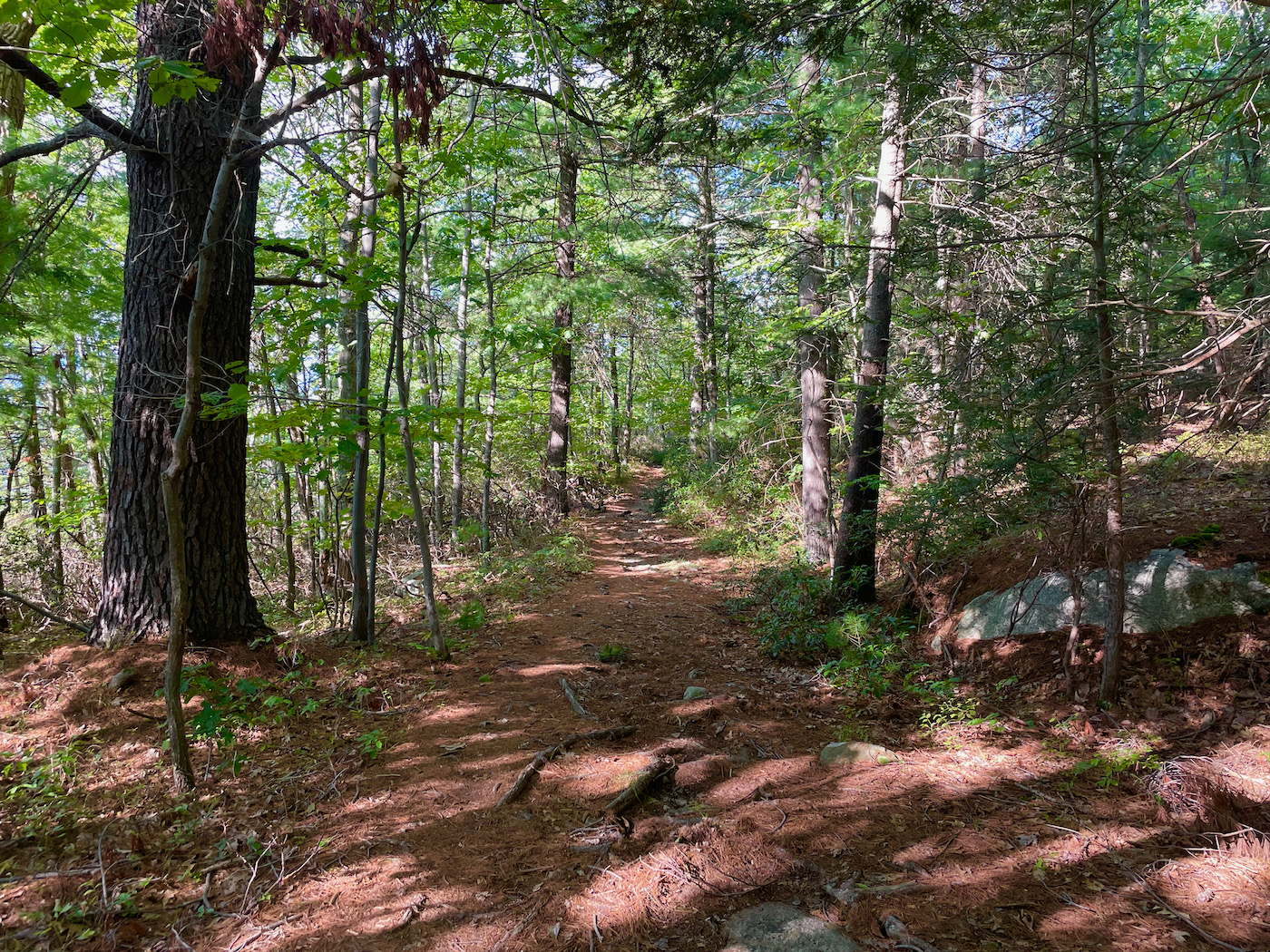 'Water is life' I remind my four year old daughter, Peanut, each day. I filled my bottles up for the last time and dunked my shirt into the cold water of the Coxing Kill at Split Rock. With Checkpoint 2 behind me I set out on the Old Minnewaska Trail catching up to another participant. It was a 70 mile veteran now going for the 30. I was concerned about cutoff times at Spring Farm and she assured me there wasn't an issue. She knew all about them from other failed attempts. Her long legs made beautiful strides while my stumpy ones had to make many more steps to match her speed. I made even more and shimmied past.
Alone again, this part, like last year, was a blur. It felt as if I was just hovering. Now 20+ miles into the journey I was moving fast and in the zone. Maybe too much zone as I blew past the Undivided Lot Trail with lots of momentum. Two women with their dogs having a smoke at the overlook called to me to say I had just missed the junction. Back on track the trail was a pleasure. I hardly saw anyone after that. There was a happy couple walking with a newborn and that's about it.
I passed the Chapel and went up through the fields. Into the woods and back out again I emerged to find the final checkpoint at Spring Farm. The enthusiasm of the two volunteers gave me a much needed boost as I made the climb towards Bonticou. I called Freebird and he was already sleeping in his truck at the finish. I called my wife and Peanut who said they were on their way.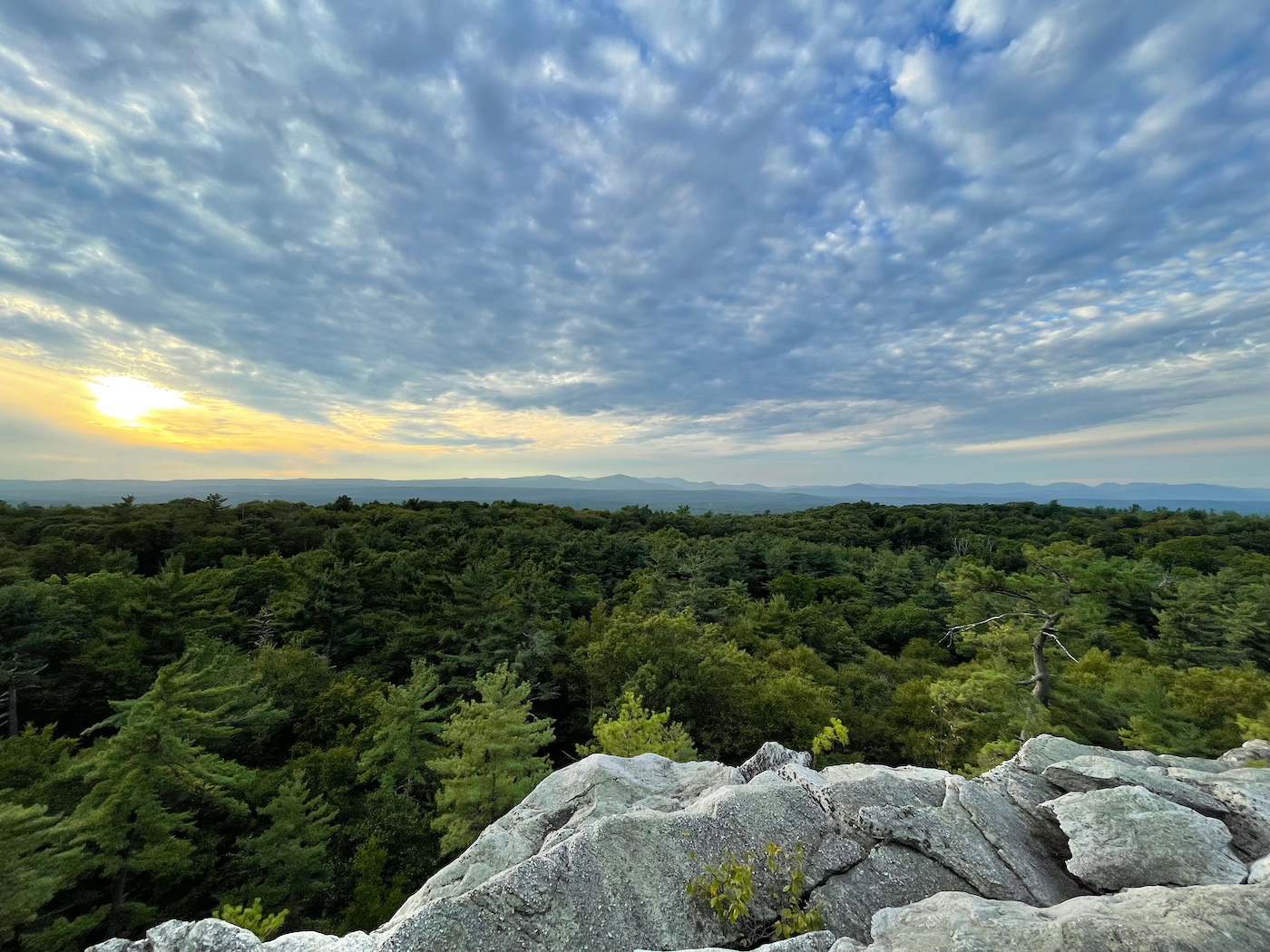 Out on the Northeast Trail I was back to hovering. This is one of my favorite parts of the Gunks and what I call the Outer Reef. Still alone, I slowed to take in the sunset and the enormity of the day. The course traverses private property with permission granted for the run.
Now dipping over the mountain away from the setting sun put me in its shadow and it was quickly getting dark. My eyes started playing tricks on me. I saw a weasel looking badger forest creature, that was real. I was jumping over snakes which were not, they were roots. I heard a commotion behind me coming out of the swamp. My 70 miler friend! At first I was bummed because he had a headlamp on. I didn't want to ruin my night eyes. I rushed to stay ahead but realized I might hurt myself hurdling all of the snakes so I let him pass.
Some tribal screaming and yelling helped deliver us to the rail trail and the final push. I congratulated him as we ran across the trestle. A complete badass and I was his witness. On the other side I met my wife and Peanut who was so psyched to run with me. We ran the final stretch holding hands over the finish line. "You won the race!", said Peanut after the wooden medal was placed around my neck. The first place finishers were long gone with their prized tomahawks. I went on to explain, "Well I didn't win THE race but I definitely won my OWN."