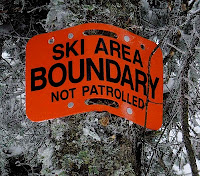 This NCPR Story is an interview with Steve Ovitt, ranger for the Siamese Ponds Wilderness. He discusses Sunday's rescue of six skiers who went out-of-bounds off the Chatiemac side of Gore.
Darkside Shaman is not a member of Gore Patrol, or Search and Rescue. He's an accomplished and fit backcountry skier, who owns a pair of fat skis and climbing skins, and was in position to help:
"Six people, a 17 yr old, 2 twenty-somethings, and the Father and 2 kids all went in ABOVE the s-turns on Chatiemac, roughly parallel with the Rumor goat path over on Hawkeye.
This decision by all of the individuals shows that they had no clue at all as to where they were going as they were doomed from the start to be on the wrong side of The Highline. There was NEVER a conscious decision that they were going to go to Rt 8.
The 17 year old used his cell phone to call and say he was lost. He then met up with the twenty somethings, who were also lost, and then they all met up with the Father and kids. The first "group of 3" decided that they were going to ski towards some lights that they saw out towards Chatiemac Lake.
They were eventually tracked down by the NYS Rangers at around 6pm, and led out to safety. The father and the 2 kids had previously split apart from that group, and the father then called his wife to tell her he was lost, and they were eventually tracked down by Jeff and Tara.
As Jeff and Tara tried to evacuate them, it was obvious that the kids were spent, and Jeff made the decision to split the group and go for more help. This decision, in my mind, saved the kids' lives.
Jeff finally made it out to Tannery near lift 10, but this was no easy venture. For a few hours, Jeff toiled his way through deep snow with the Father in tow, with only the aid of fireworks noise, and groomer back up alarms as a guide. It should be noted that other patrollers, and the NYS Rangers were all out searching for both parts of the group during this period as well.
When Jeff made it out, 3 Rangers backtracked on his route up to the other group with food, water, and warm clothes for the kids. The Rangers were also able to start a fire which additionally helped the kids to rejuvenate for their rescue.
These Rangers were able to communicate their coordinates, and the final rescue was mapped out. At approximately 10pm, another group of us headed to the summit, and out The Highline. The group was found and evacuated to a waiting groomer on Chatiemac at around 1:45am.
As a BC skier and someone who participated in the rescue, it's my opinion that the father is to blame for this situation. He "thought" he knew what he was doing because he has "woods on his property in Westchester." I say fine them, but the law is vague in NYS in these instances.
Those kids would have died IMO due to hypothermia, dehydration, and exhaustion, if not for the efforts of Jeff and Tara, as well as the NYS Rangers and the numerous locals. I am curious of how the law would handle a situation like this if someone were to be seriously injured or to die, due to someone's negligence.
Just one more side note. To say that I was impressed by the professionalism displayed by Gore Mountain patrol, the Rangers, and all of the local volunteers would be the understatement of the year. We are very lucky to live where we do!"