The last few hundred meters of the Jenny Lane trail were wet and squishy as it dead-ended into Lower Awosting Road. Three 20-something women that I'd passed on the carriage road earlier were looking at the trail sign.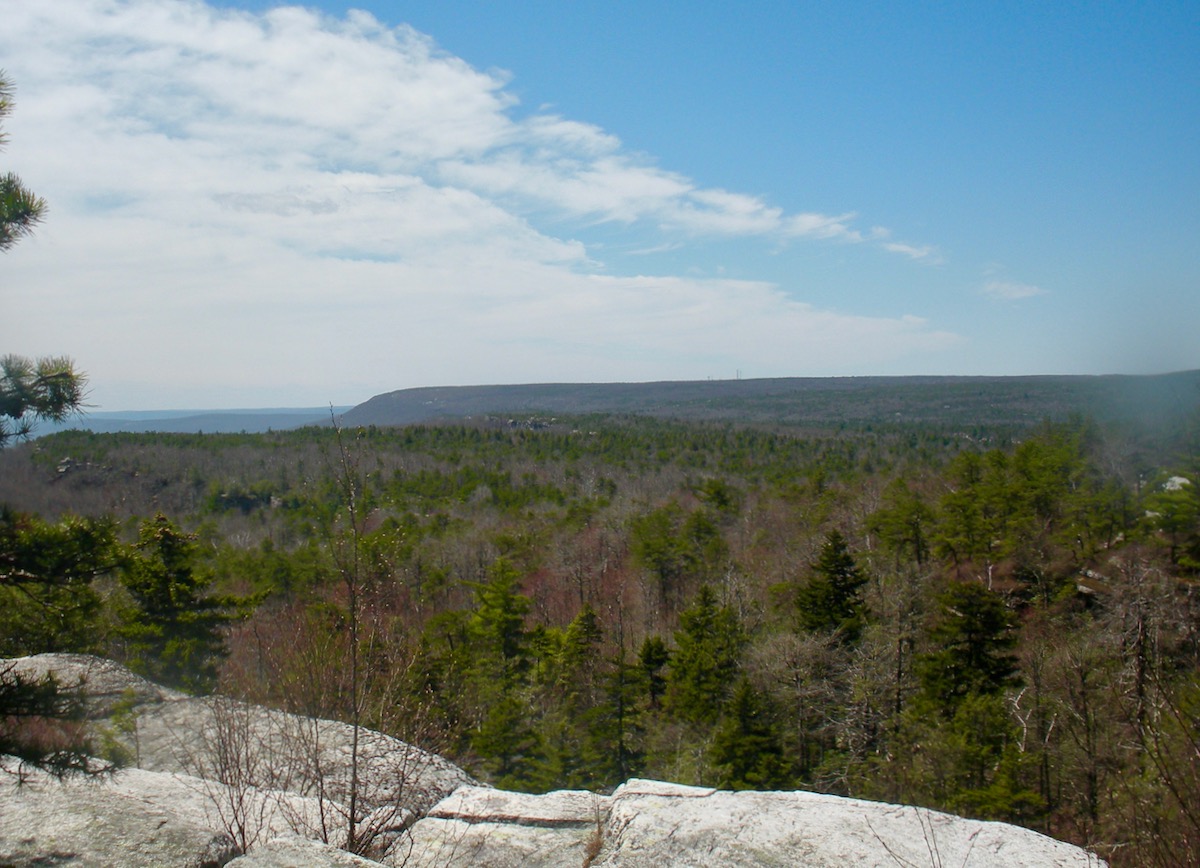 "Is this the way to Gertrude's Nose?" one of them asked.
A rocky outcrop just north of Lake Minnewaska, Gertrude's Nose offers commanding views towards the Hudson River and beyond. Unfortunately for the three wayward hikers, our encounter was at the junction of the Jenny Lane trail and Lower Awosting Road, diametrically across Lake Minnewaska State Park from Gertrude's Nose.
After seven weeks where I traveled no more than 10 miles from my house, I was stir crazy, especially from doing my long Sunday run in the same place. (More on that later.) With a face mask, a full tank of diesel, and a brown-bagged lunch, I figured I set out to minimize contact with humans. On Sunday, I left at 7:30 AM for Lake Minnewaska.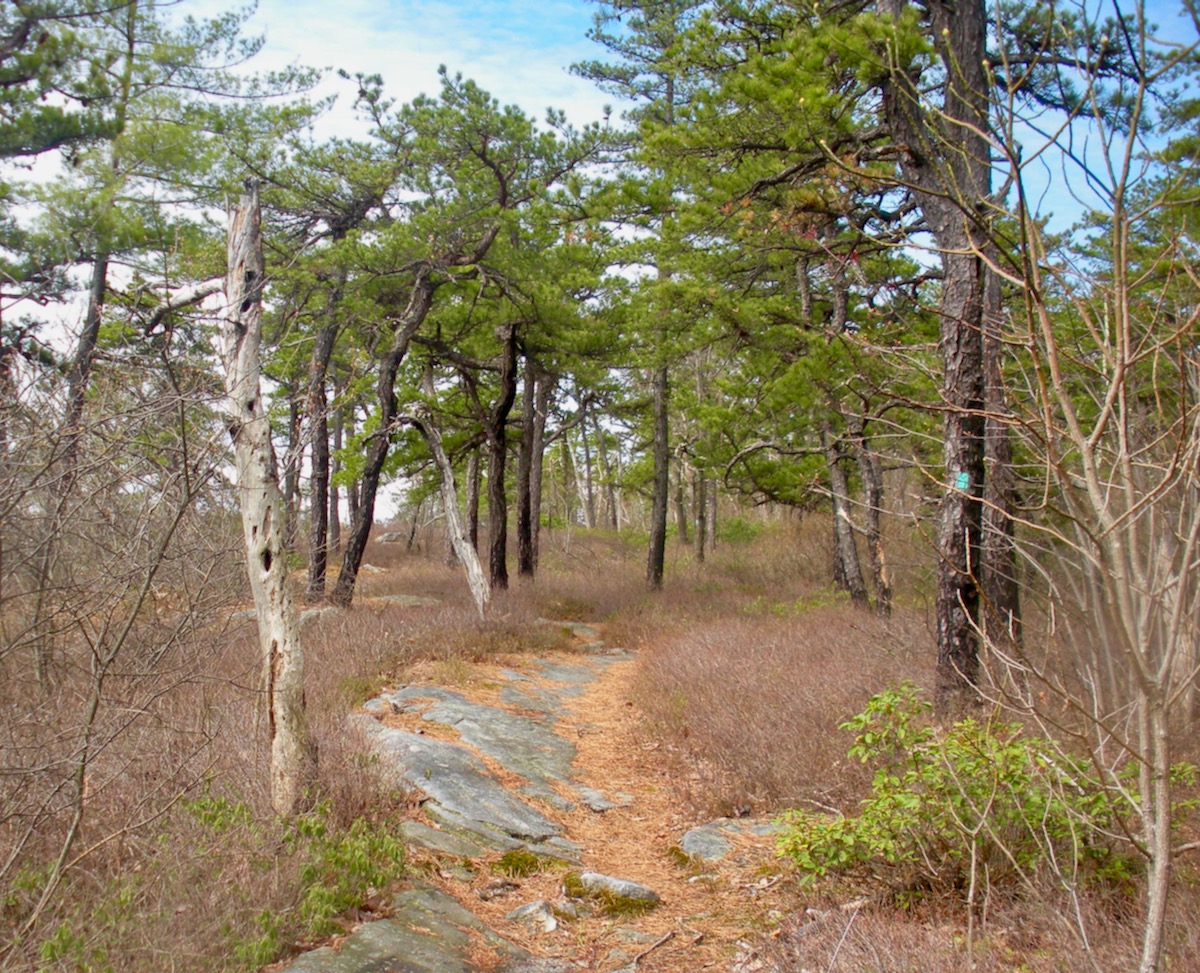 Arriving just after 9 AM, I had to wait several minutes to get into the park. The rangers were restricting cars to half the parking capacity to allow for social distancing.
The encounter above occurred about two miles in from the parking lot.
"We don't have a map," one of them said.
Brilliant.
I fished my map out of my hydration vest and described a possible route. After wishing them luck, I continued on my way.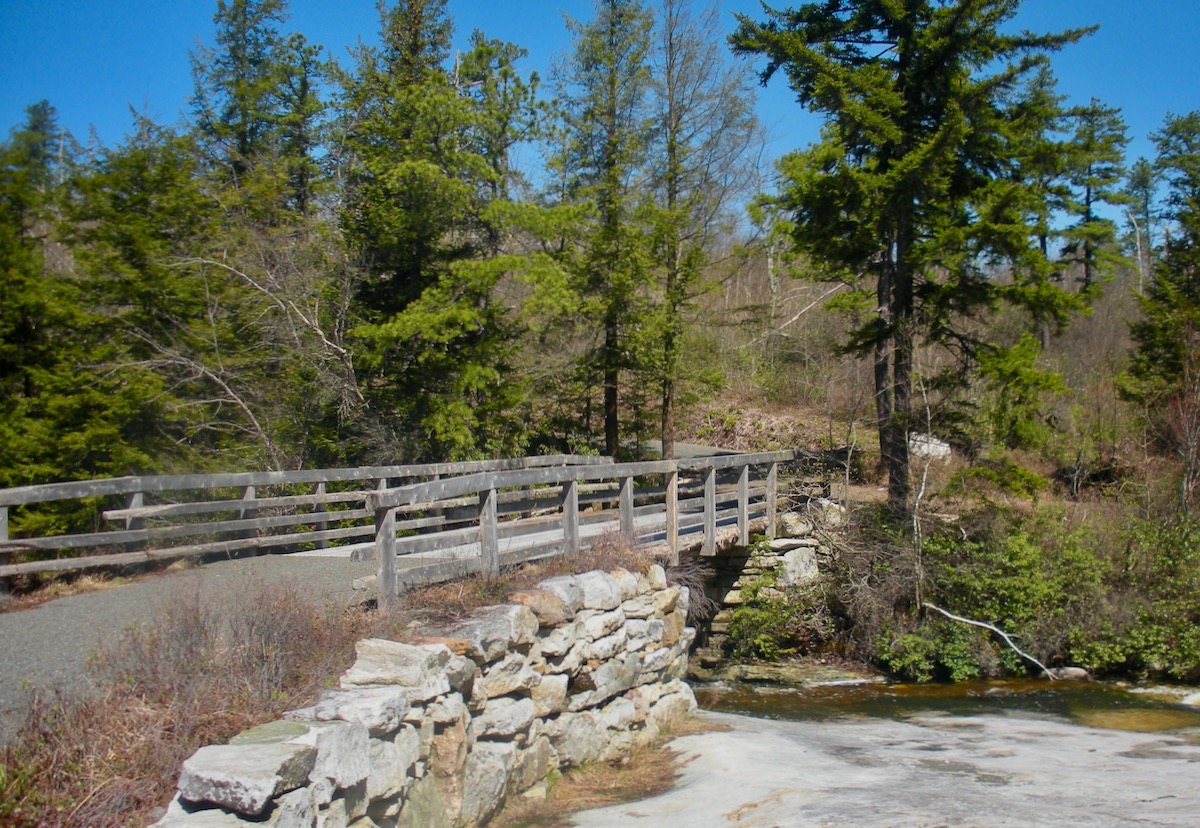 When I set out, I had only an inchoate plan to run the southern terminus of the Smiley Road, hoping to finally reach the Four Mile Post. After that, I'd be shooting from the hip.
A few hundred meters down the trail, I arrived at Lake Awosting. Running alongside it a bit further, I saw the abandoned ranger station and Smiley Road. Up I went. I got to the Five Mile Post, and a little beyond, the Stony Kill. In the 1930s, the Smiley brothers dismantled the bridge over the Stony Kill to prevent berry pickers from coming further into their property to cut wood.
In the book The Huckleberry Pickers Marc Fried allows that back in the day Five Mile Post wasn't as populated as points further north. With a preponderance of pitch pine and mountain laurel, and precious few berry bushes, I could see why.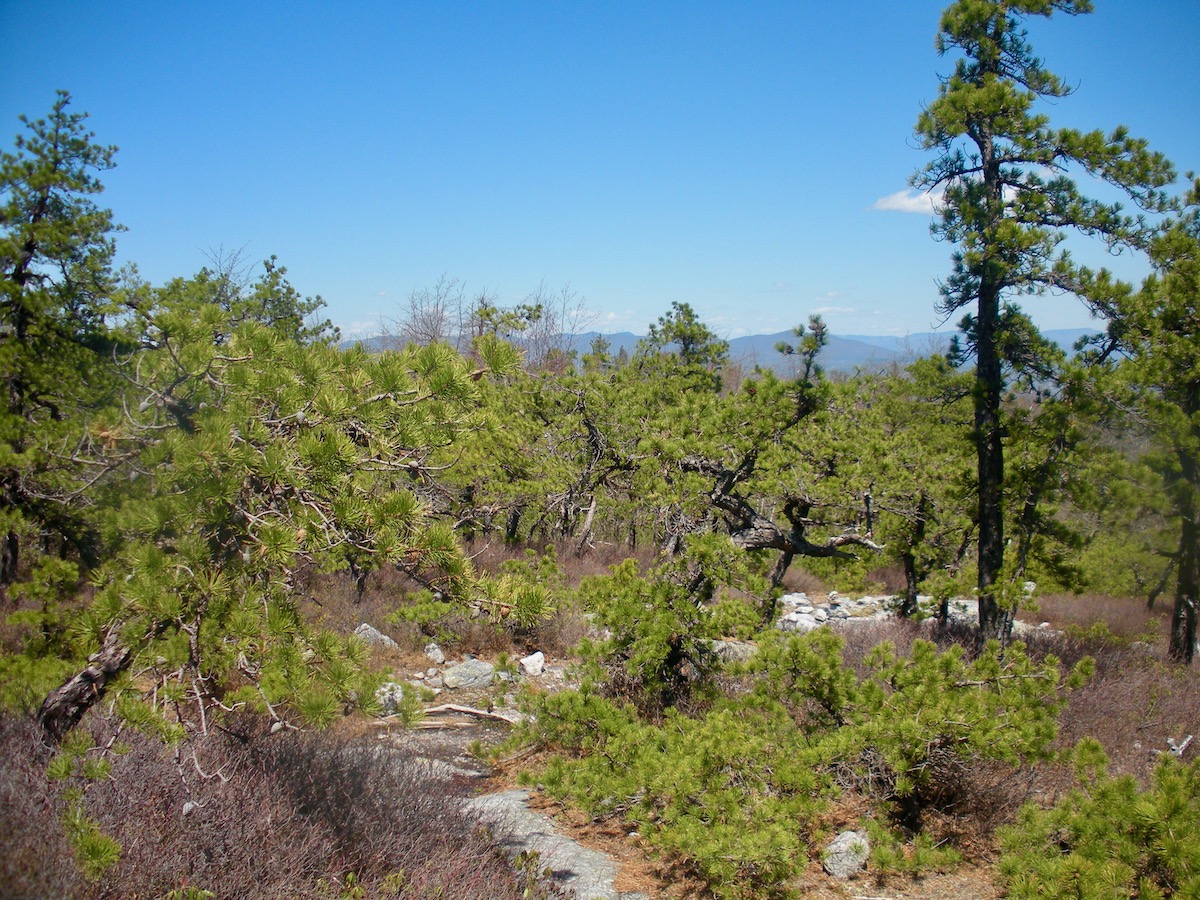 Perhaps a mile short of Four Mile Post, I turned around. I wanted to make some kind of loop. Approaching the Stony Kill bridge, I saw a trail to the left that I hadn't noticed on the way up. An old sign read, "Stony Kill Carriage Road." Maybe it was a carriage road at one time; now, it was significantly grown in. I'd heard people refer to this trail, but it's not on the map.
Back down to Lake Awosting. After stopping at the rangers' post to eat a Clif Bar, I headed around the west end of the lake to the Castle Point trail. At the top of Castle Point, the Blueberry run would get me back down to Lower Awosting Road.
Wide, graveled, and smooth, Minnewaska's carriage roads let you eat up miles without working too hard.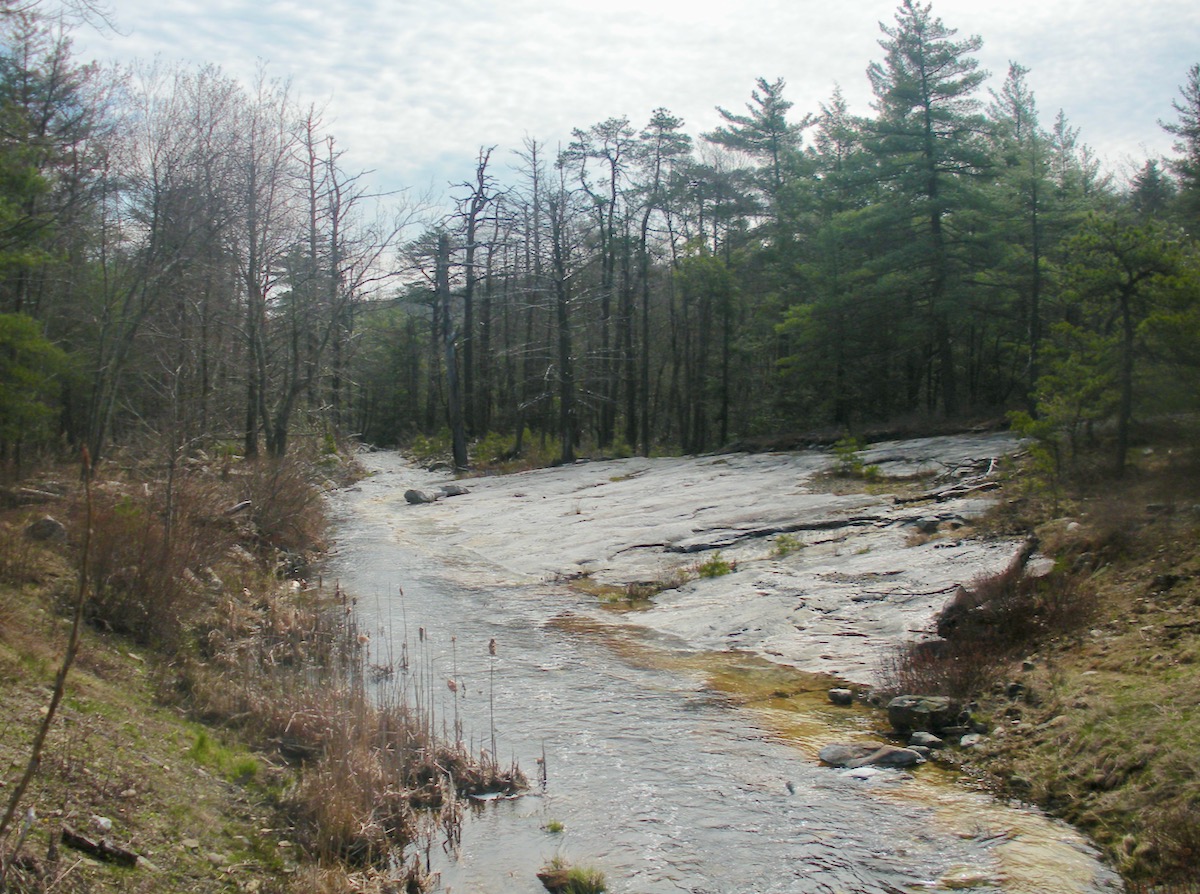 Blueberry Run is gnarly single track taking the direct route through all the various terrain encompassed the park. From pitch pine, open rock faces, the 'Gunks version of desert, down to expansive pine forests. A dearth of trail markers had me guessing here and there. The lower I descended, there were more and more boggy trail sections. Thank goodness for dry socks when I finally arrived at my car, 13 miles and four and a half hours later.
If you go to Lake Minnewaska during social distancing, you'll want to plan ahead. At this writing, neighboring Mohonk Preserve is closed until further notice, making Lake Minnewaska the only large park in the area. Plan on arriving before 9 AM: although it officially opens at 9, a ranger told me they actually opened the gates around 8:40 because of cars jamming Route 44/55, waiting to get in.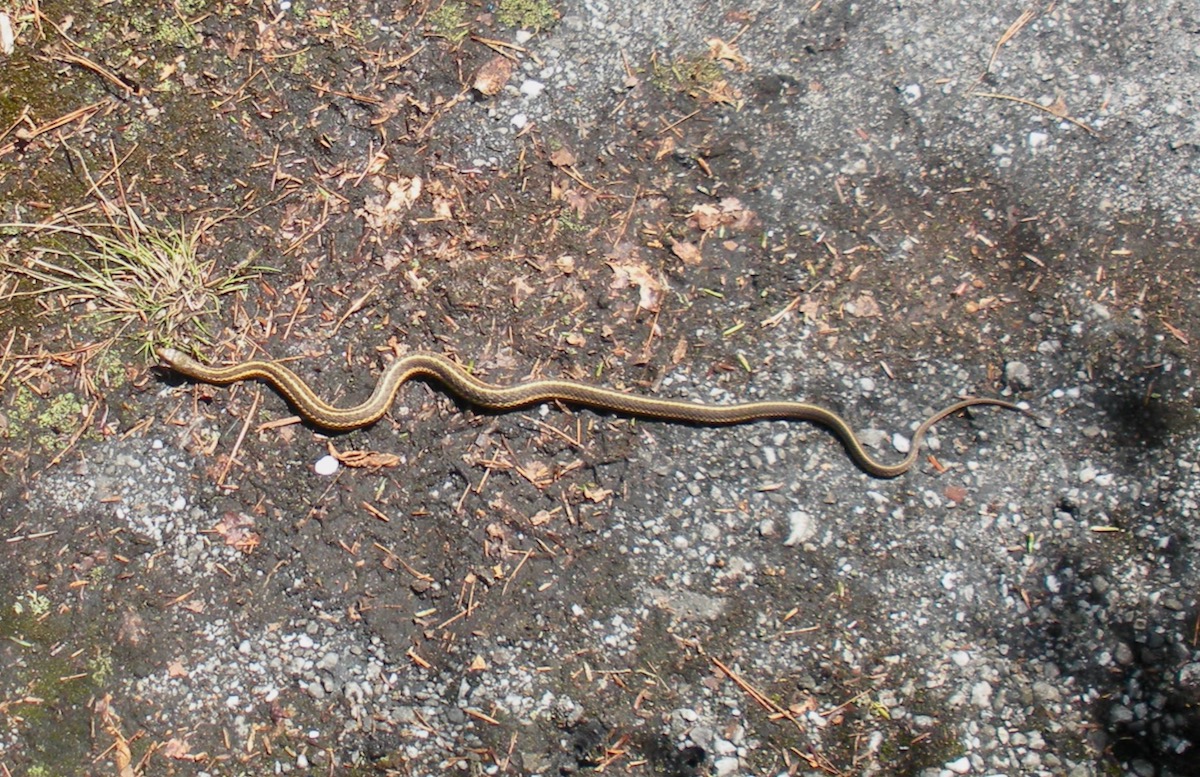 While most people put on masks when you approach, only one group that I saw had the sense to get into single file on the other side of a carriage road when I approached. The rest of the time, it was "I'm outta the house, I'm gonna spread out."
Be sure to bring plenty of water. Even though it was only 63 degrees or so, much of the trail here is exposed to the sun and you can dehydrate.
Almost the only thing I haven't done here is circumnavigate Lake Awosting. That might be next.