This past weekend was, for many ski hills, the day they opened the lifts to day ticket holders. It was kind of an experiment to take it to the next level. From what I saw last weekend at Whiteface and Gore, the way to avoid a crowd in line was to ski after lunch.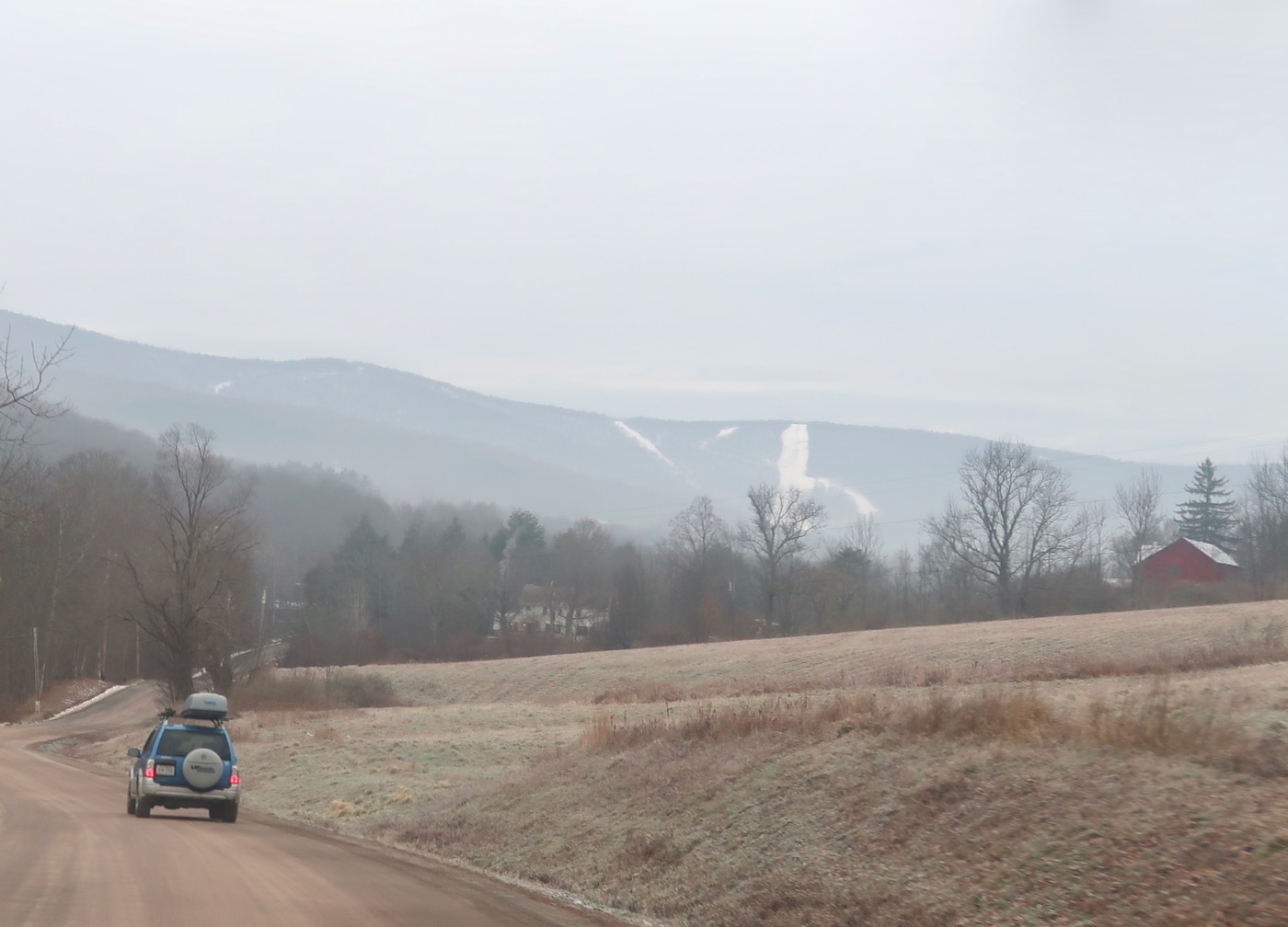 I thought about using my SKI3 at Belleayre on Saturday afternoon, before the forecast weather came in. It's a long drive for half a day, but it's skiing, and let's face it, who knows how long this season will last. As it worked out,I was looking for something to do in the morning. I spoke to Laszlo and he said it was tower pad day at the mountain. Time to get all the pads in place, in anticipation of opening day next Saturday.
I knew from past experience that tower pad day could present an opportunity to check out the progress that had been made on snowmaking. There had been a big hardware upgrade in just the last few days, and I was curious.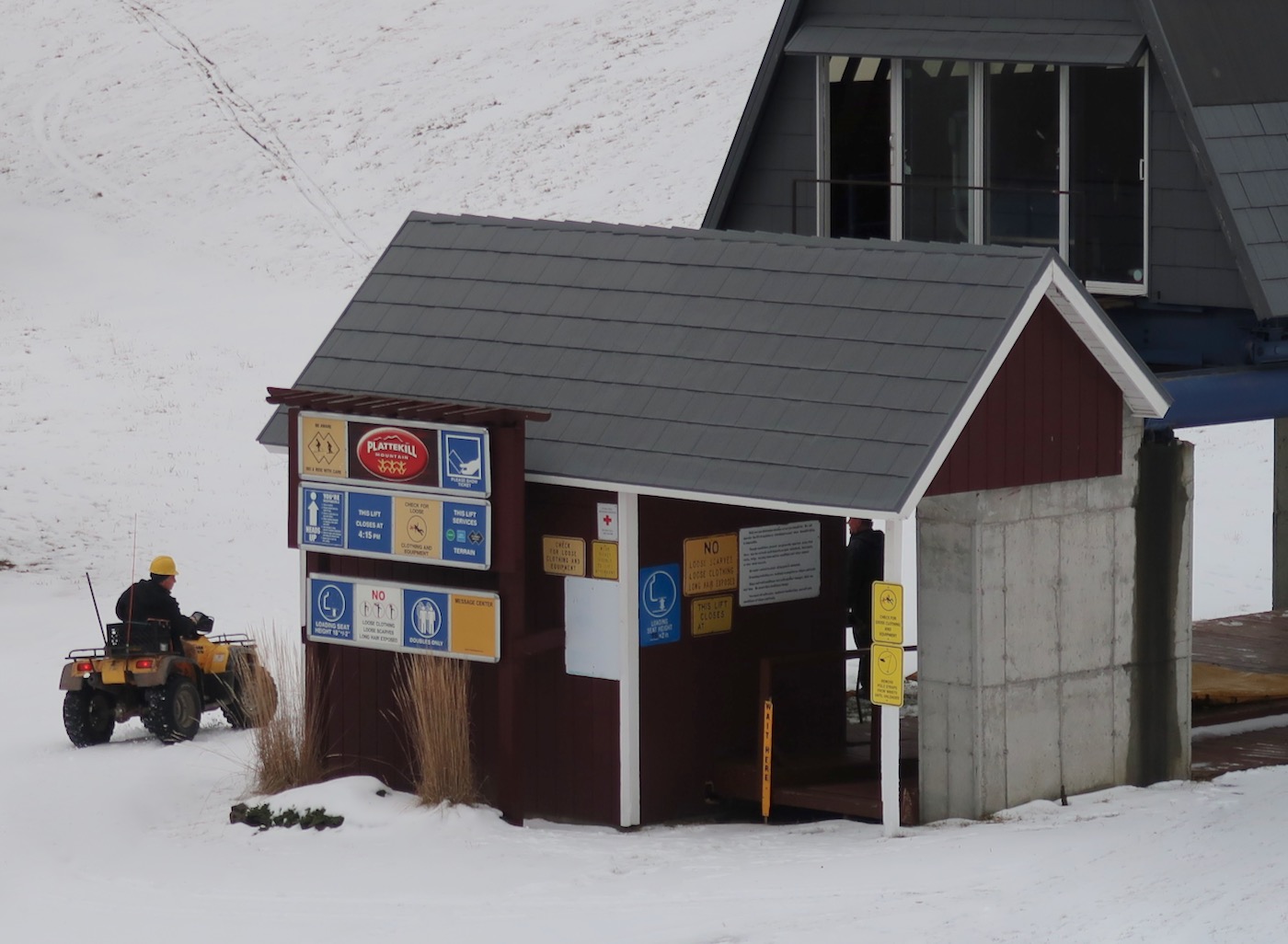 I spoke to Scottski who'd already racked up 4 weekdays at Hunter; he was planning on sitting it out for the weekend. He'd found mid-morning lines midweek, and wasn't feeling any need to ski Saturday. I convinced him to come out to Roxbury, since I hadn't seen him since late spring.
We agreed to travel in separate cars, and meet at the hill around "first chair." That's a funny concept with no lifts scheduled to spin, but that's how we roll I guess. We both arrived at 8:30. To our surprise, there was frost as it had dropped below freezing overnight.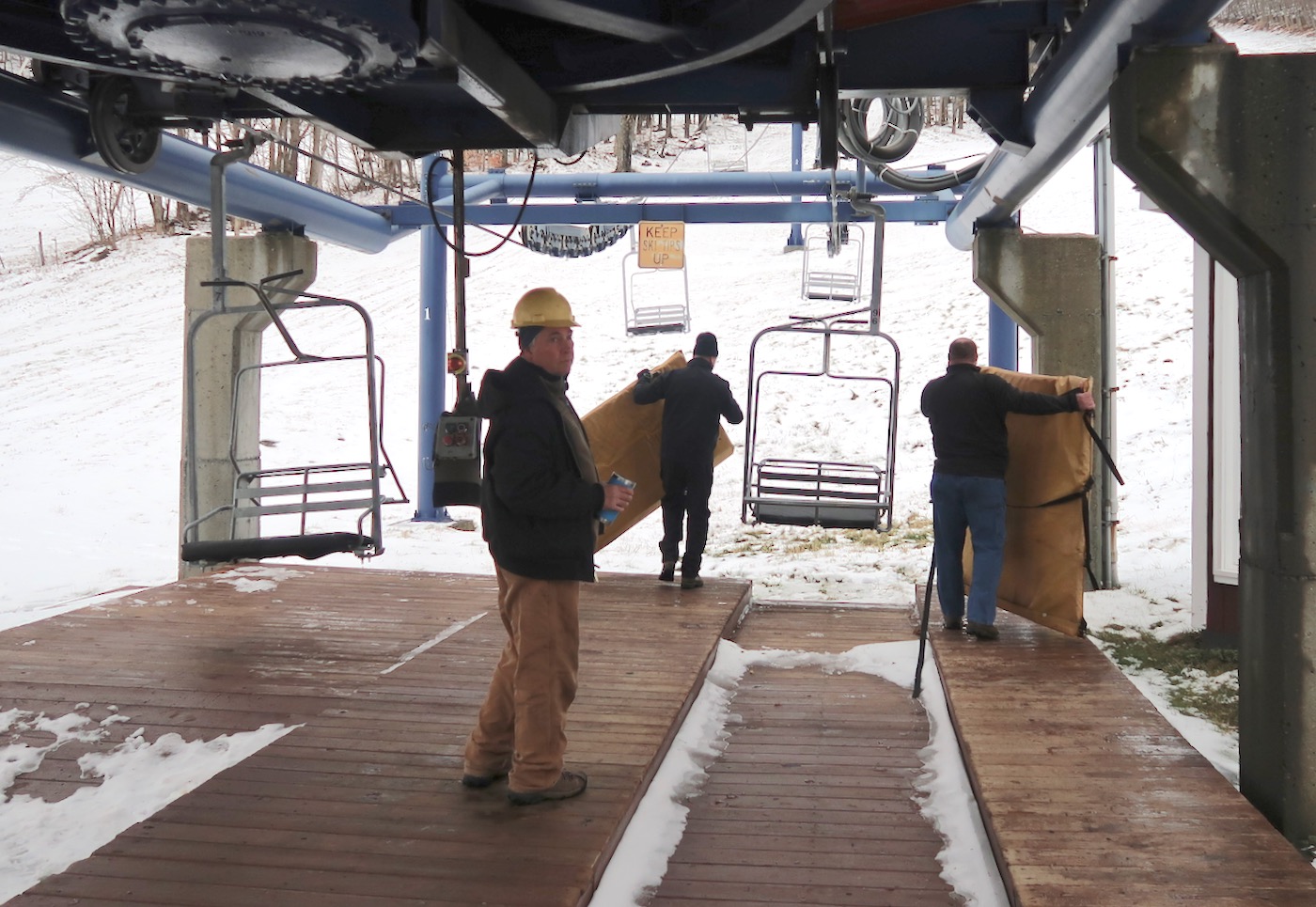 Plattekill Ski School instructors got started early with a meeting outside, and we listened in on the the director's welcome to his team. He spoke primarily about how things would be different, compared to a normal year. To start, ski school is only going to schedule private and semi-private lessons. All lessons will be booked online, with the possible exception of lesson extensions, which will be handled on a case-by-case basis.
Next we headed off to tower pad school down at the double for a refresher course. We were shown the drill, and they did slow the chair down a bit for the old guy — me. The job is actually very simple, don't drop the pad until the right moment and don't fall off the chair. Sounds easy, but it can be a lot of pressure for a rookie.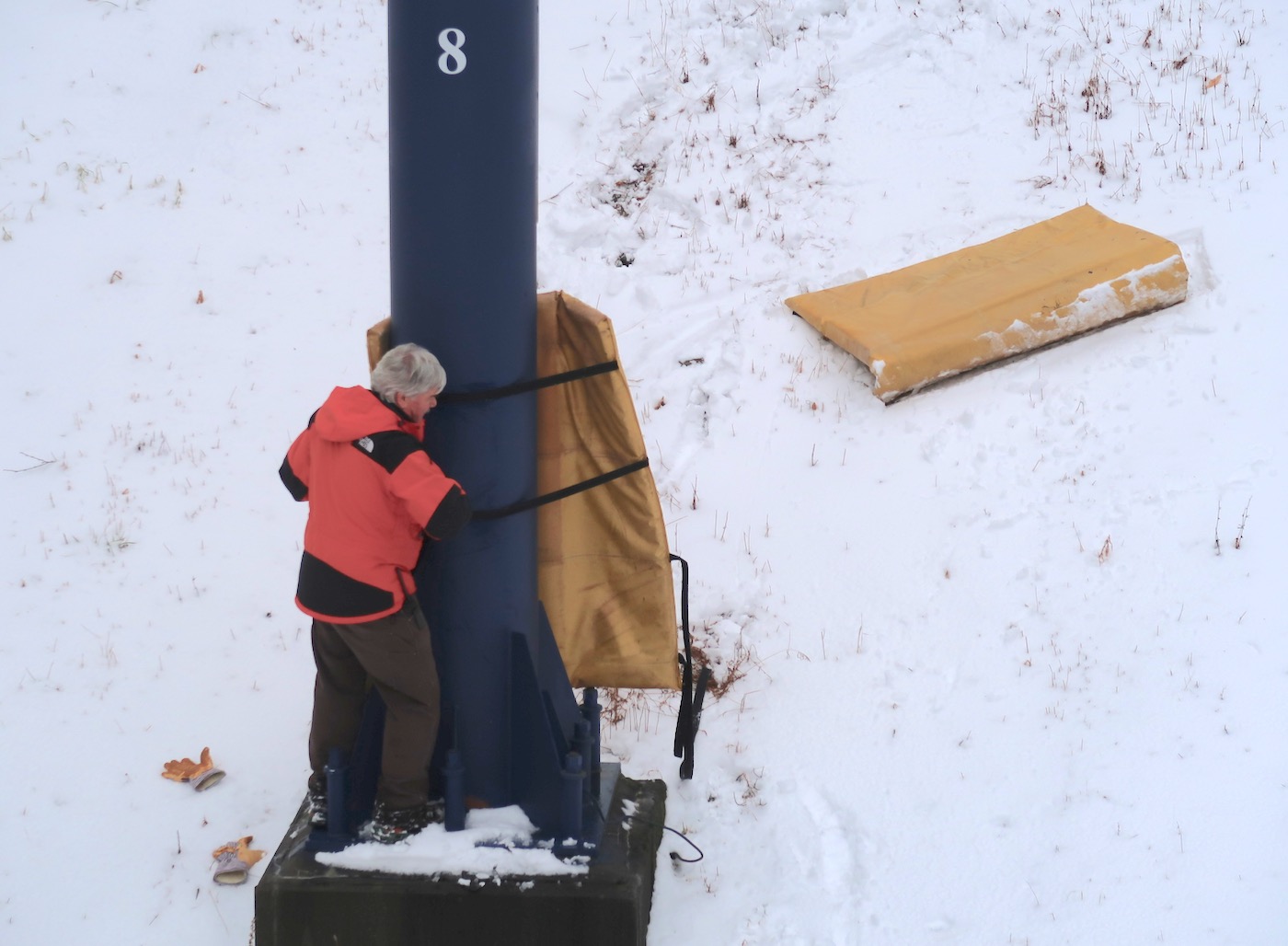 Riding up the lift we could see that the work was already in progress. On this pass, Scott was assigned Tower 7 and I was given Tower 6. Scott nailed it. I dropped mine too early leaving patrol a bit of extra work. We rode the rest of the way up and took in the view.
We decided to traverse across to the triple, to use the new manmade snow, to get back down. We chose Bumps over the other options for it's more consistent pitch. The top required a light touch, but after "the headwall" it was pretty wide open.  With temps right around freezing, the snow was still cold enough to support us, just a little bit frozen.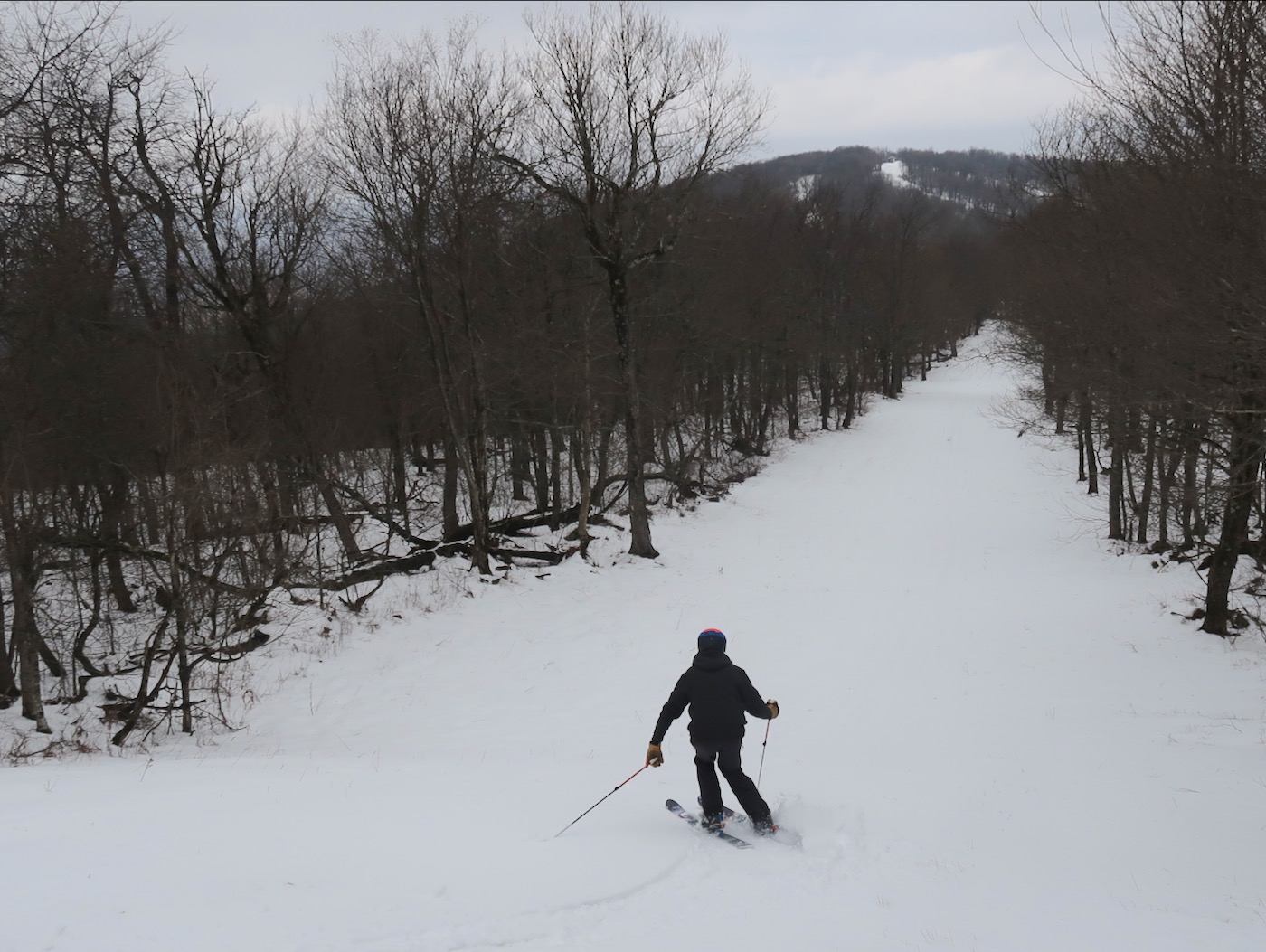 We skied down to the bottom of the saddle and then climbed our way back up to the triple. It was the strangest thing, without any special attention paid to my wax, I was able to freeheel the entire traverse. I only used a herringbone for that final pitch. The whole experience was so civilized.
We arrived just bit down from the top on Sundown. There were several whales sleeping, waiting for their moment next week. After a few days of warmth, Monday and Tuesday look cold, and there could be some new snow during the week. It feels like a good setup for opening day.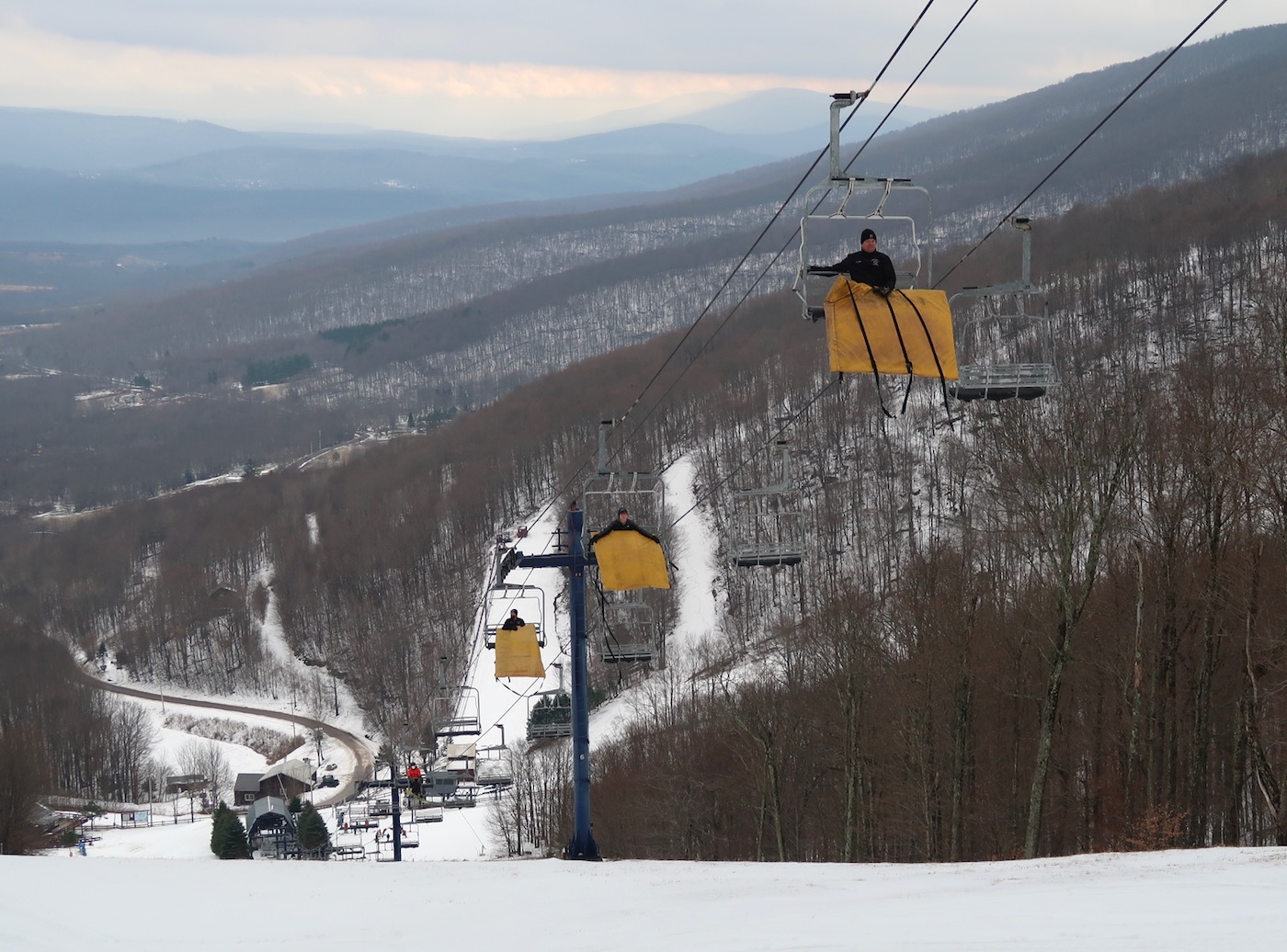 We hiked to the top to check out the stockpile. Then we skied down, skidding our way down the back side of these long and desert-like sand dunes of snow. When we got to the mid-mountain landing, we looked up, and we looked down. The Pad Patrol had already started, and if we wanted another lap, we knew we'd best hurry.
We arrived just in the nick of time. Scott was given Tower 3 and I got Tower 2. Scott had another good drop and this time I nailed it too. When we got to the top it felt, for a moment, like the world was our oyster.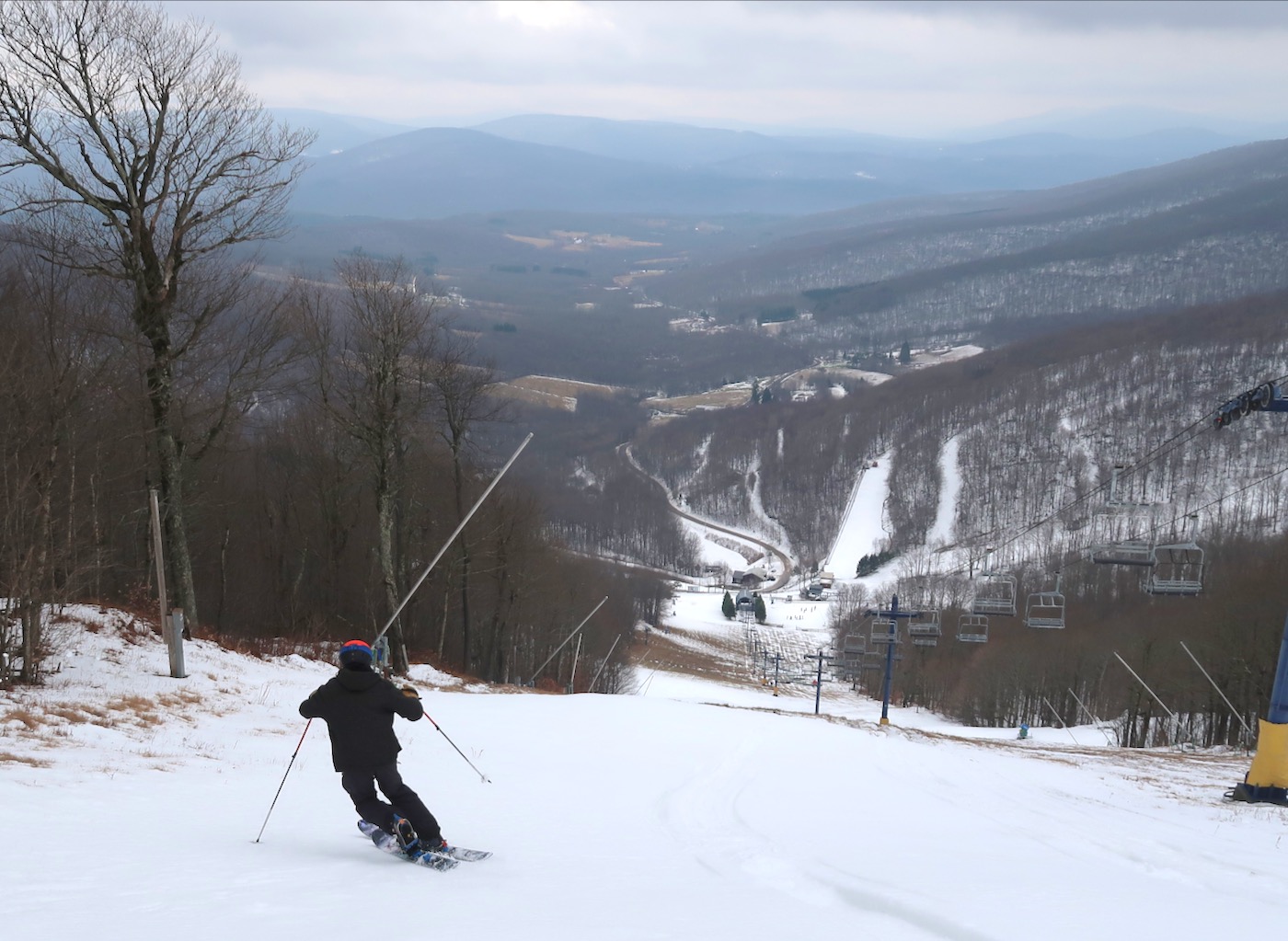 Laz told us he'd only had six or eight hours to blow on Upper Face before it got too warm on Friday. From what we'd seen from below — decent size mounds separated by some grassy cover —  we felt it was certainly worth a shot. We stayed out of the snowmobile tracks and sliced it up as best we could.
Instructors were using the triple, so Laz kept it running. We piled up a few more runs on the sunny side and then decided to do a recon on the bottom of North Face. From the parking lot it looked to have the best cover on the front side.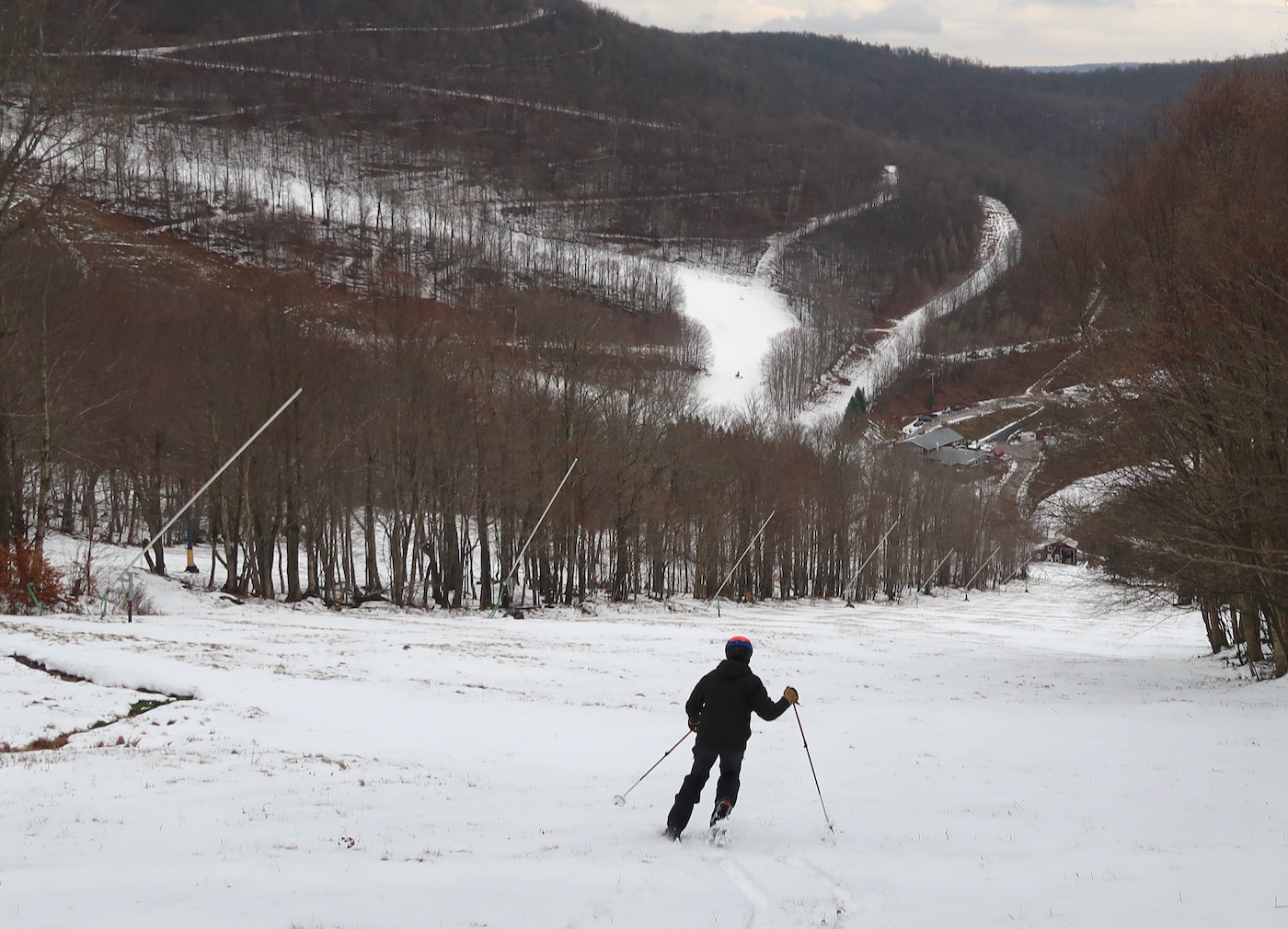 Scott and I went down Sundown, cutting over on Bail Out and Switch Back. He wasn't convinced North Face would be any better than Freefall. I made my way across first and waved him over. We dropped in so I'm calling it "skiable."
After another run down The S — Sundown to Shredded Moz — we called it a day. I headed inside to start a new tradition, a gift from NYSkiBlog to the Ops Team, for the snowmaker's season opening toast to Ullr. See the scene in Snowfarmers for more.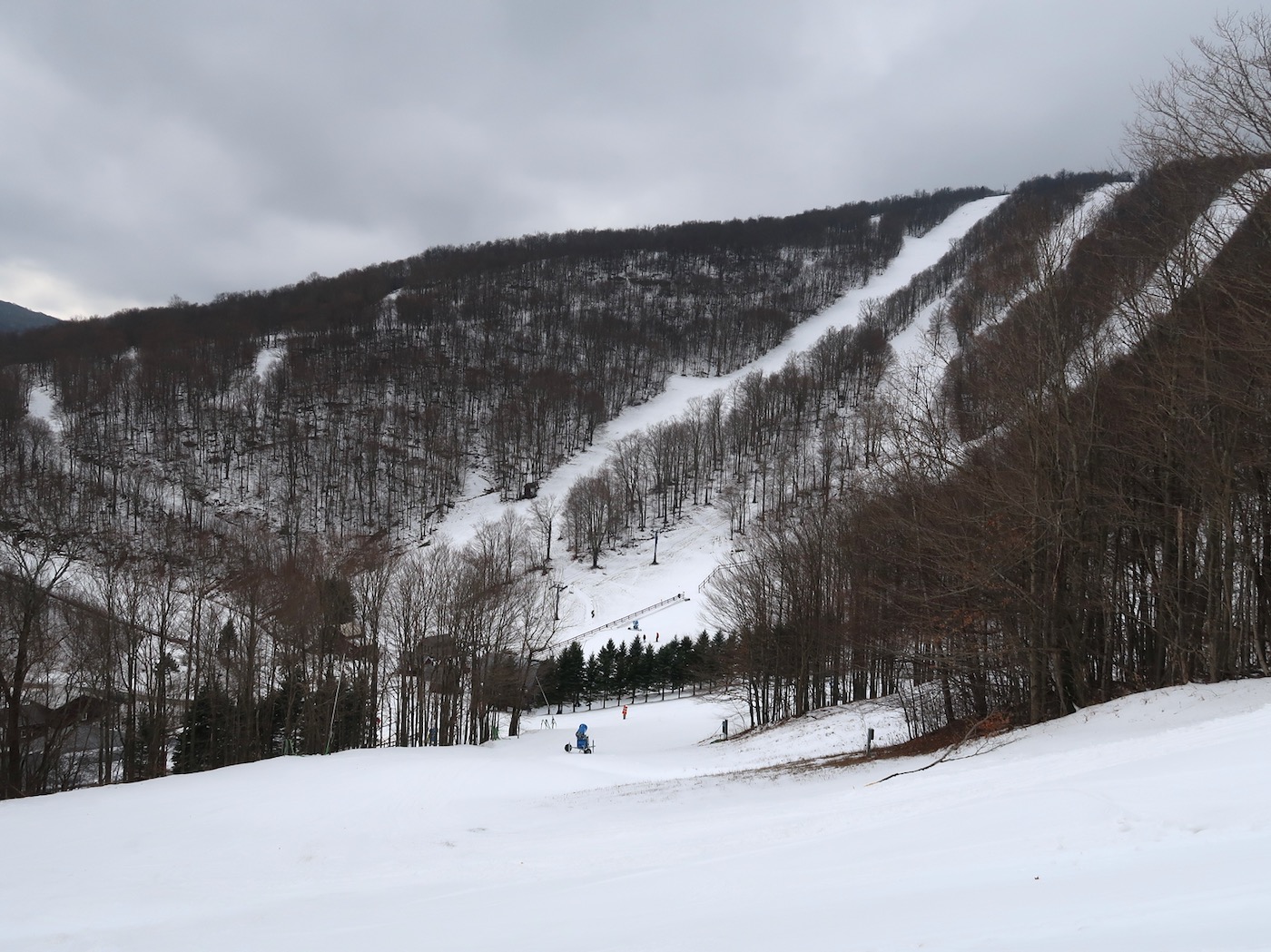 Laz and I got talking about snowmaking and everything else. The new pump that he dropped in last month is a kind of a big deal. The logistical challenge is moving water into the snowmaking pond and then back out again to the guns. The way he explained it, this will double his peak capacity. And it's all about peak capacity. When it's cold enough, when you get a window, you go all out, covering as much terrain as you can.
No doubt there was a general sense of excitement, and challenge, surrounding the upcoming season. As a self-appointed member of the marketing department, I'd be remiss if I didn't ask you to reserve a spot at Plattekill. Hope to see you out on the hill.