On the last Sunday in June, I returned to the Catskills for another dose of torture. After mulling various options, I parked the shooting brake at Notch Inn Road, off Route 214 north of Phoenicia, and set out for Plateau and Sugarloaf.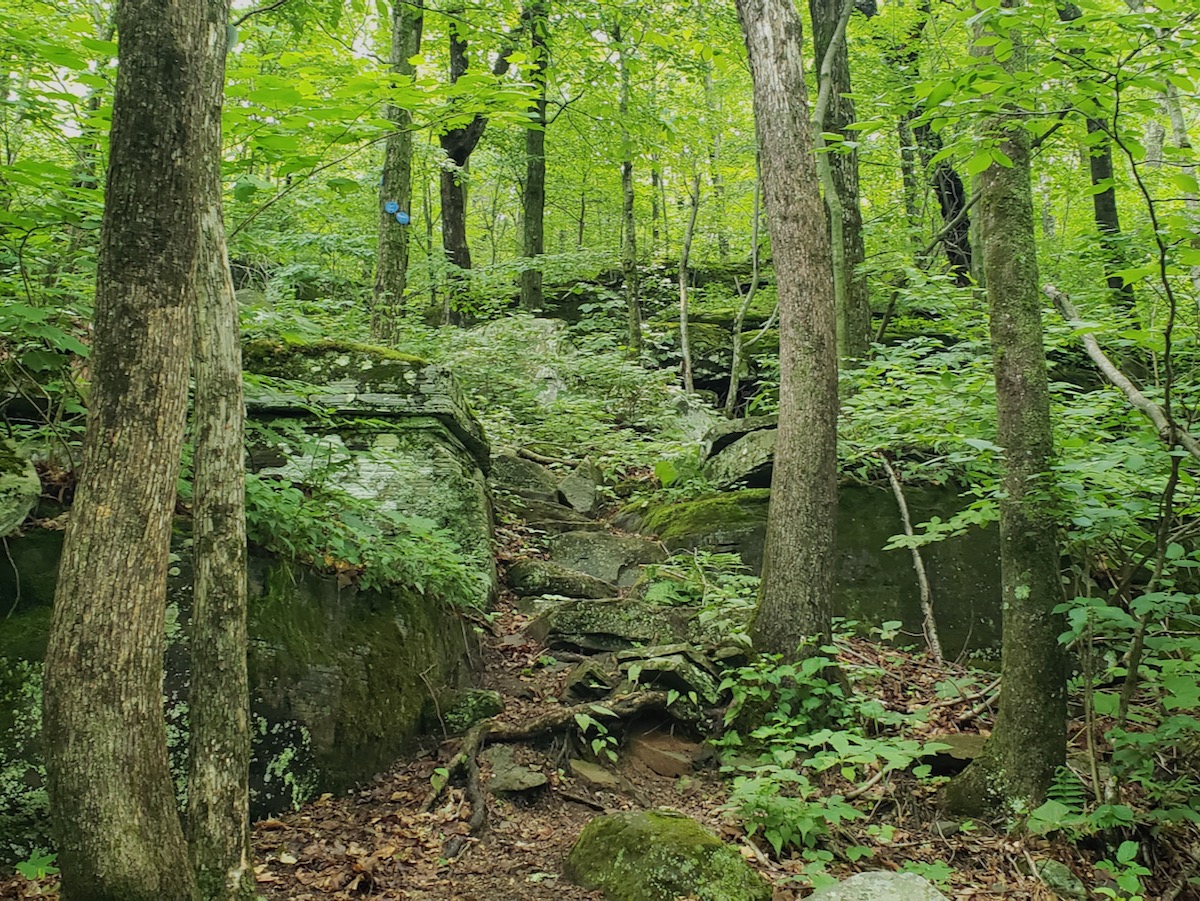 In the northeast that weekend, the weather was sketchy. On Saturday, I threw down a hard rollerski workout and beat the rain. With a 50% chance of thunderstorms and a chance for hail Sunday afternoon, I was cautiously optimistic.
I kitted up and set out. Notch Inn Road is a private road, with property owners granting an easement for access to the state forest preserve. At the end of the road, in an unmarked gap in the trees, was the trail head.
For almost a mile, the unnamed connector followed a stream bed until it dead-ended into the Warner Creek Trail. I took a left and headed towards the Devil's Path.
I was doing it backwards from the race direction. As I climbed up the stiff parts of Warner Creek, I was thinking, damn, people are running full tilt down this stuff?
My route was part of the Manitou's Revenge, 50-mile ultra-marathon route. It links the Escarpment Trail and the Devil's Path in an epic route. It's one of the few 50-mile races that gives one 24 hours to finish, and can earn you qualifying points towards the granddaddy of them all, the Ultra Trail du Mont Blanc. No, I haven't done either of those. And my ultra marathon days are over.
Three miles on Warner Creek, and I hit the Devil's Path. At this point, I was on Plateau's summit ridge, then summit a half mile off. It was easy running and hiking through dense evergreens. Moss-covered deadfall carpeted the forest floor. In the sky, the sun was fighting to come out and I thought, yeah, I've got this! I beat the weather!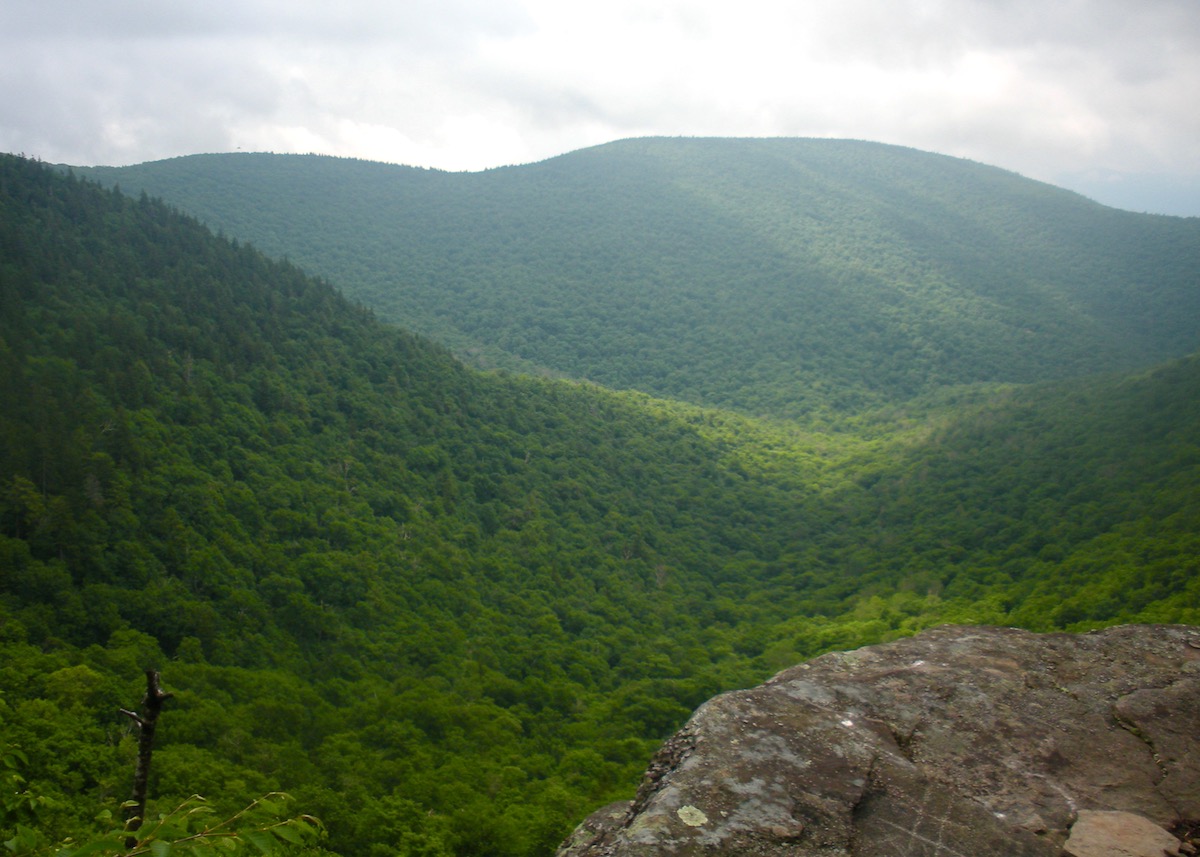 As we shall see, this was a rather hubristic thought.
Plateau's summit was covered in trees, with view points on either side, a hundred vertical feet below the summit. After pausing to check the view, I continued. I'm pretty sure I've never been east of the summit of Plateau, and it was a wakeup call. I picked my way down a series of dramatic rock steps in what has to be some of the wildest country in the east.
The trail finally flattened out and I passed a spring. As I approached Mink Hollow, I couldn't avoid seeing a beer keg 6 feet off the trail. Not one of those tall skinny kegs you see in micro breweries, but a jin-you-wine, 'Murican half keg of beer. I went over to it and shook it. Empty of course.
Thirty feet further down the trail, there was an illegal campsite right on the trail at the Mink Hollow intersection. The makeshift fire was cool to the touch. Some clown fools had contrived to haul a full keg up Mink Hollow, and they were too goddamned lazy to haul away the empty. I may be rethinking my position on capital punishment.
The sign said, Sugarloaf, one mile. Back the way I came, it was 1200 vertical feet and a mile back to the summit of Plateau. I set out for Sugarloaf, but I was having my doubts about whether I'd summit.
I hadn't climbed Sugarloaf from Mink Hollow in many years, but the scenery all came back to me like I'd been there last week. The big rock steps, the jumbled boulders I picked my way through. The huge, shiplike rock formations.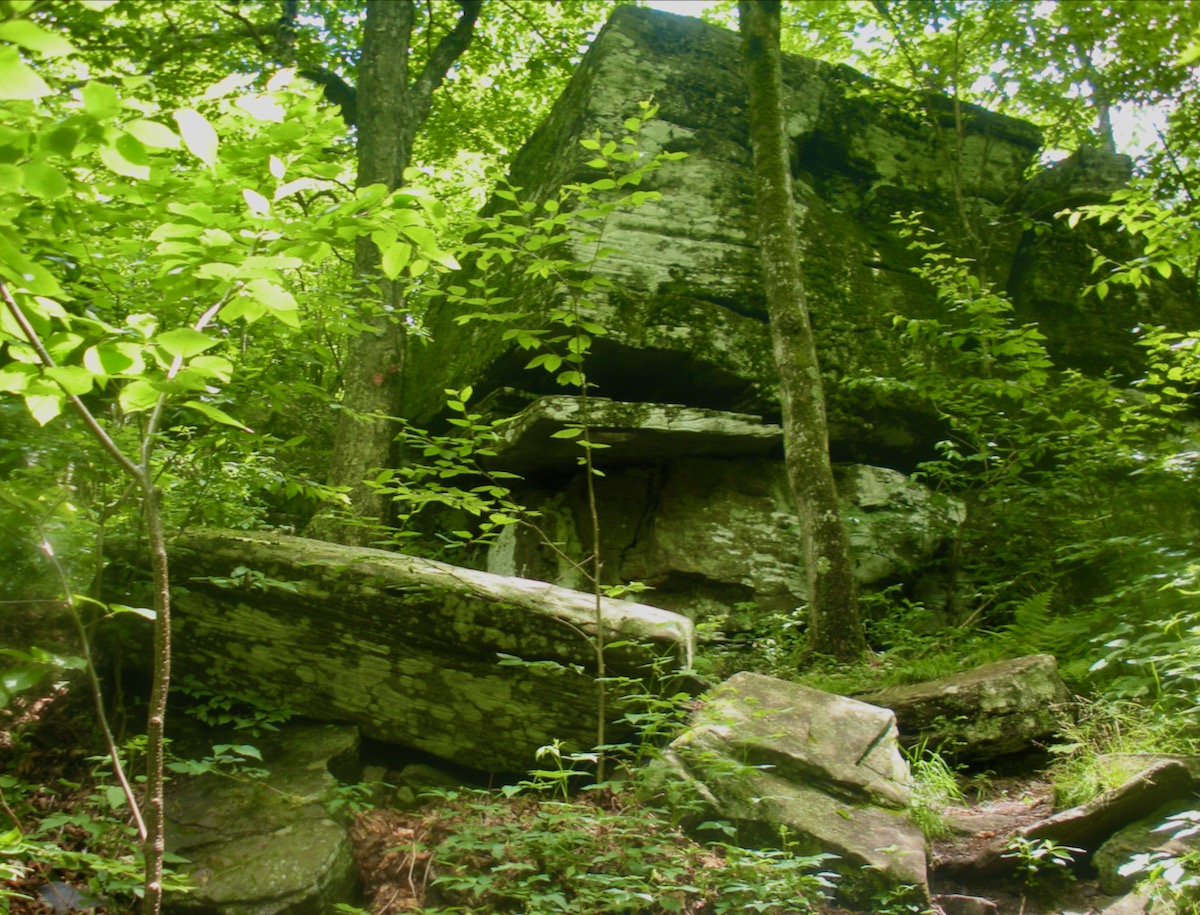 About halfway up, I came to a magnificent rock face. The trail went up a cleft, a rock step of 20 feet or more. I stopped again. With the pandemic, all my adventures have been solo. Although I felt good, I was into my fifth hour, and I still had to get back out. If I'd been traveling with someone, we probably would have gone for it. But I had concerns about descending back down alone and fatigued. (Pro tip: almost all the big mountaineering disasters happen AFTER they hit the summit.)
Sugarloaf would be there for another day. I turned around and headed back towards Mink Hollow. Again, I marveled at the idea of Manitou's Revenge competitors descending Sugarloaf, then climbing Plateau, more than halfway into their race.
It was just as well that I turned back. As I left Mink Hollow, a soft breeze enveloped me. After the spring, the climb up Plateau was relentlessly steep. Hand over hand, three-point contact almost all the way, 1200 vertical in a mile. It took me a little over an hour.
As I clambered off the steepest bit of the climb, the breeze freshened. Weather was coming in; it was a matter of when. Thunder pealed in the distance. A couple of minutes later, another bit of thunder.
I jogged over Plateau's summit and back to the Warren Creek trail. The upper part of this trail is relatively runnable. As picked up the pace, the sky darkened to the point that I wished I hadn't left a headlamp in the car.
The first raindrops fell casually, a few here and there. Big deal: if it stayed like that, it would be like no rain at all. But the rain intensified, and the thunder howled closer. Lightning lit up the trail. I counted to estimate how far away it was. Lightning strikes hit between a mile and two miles away.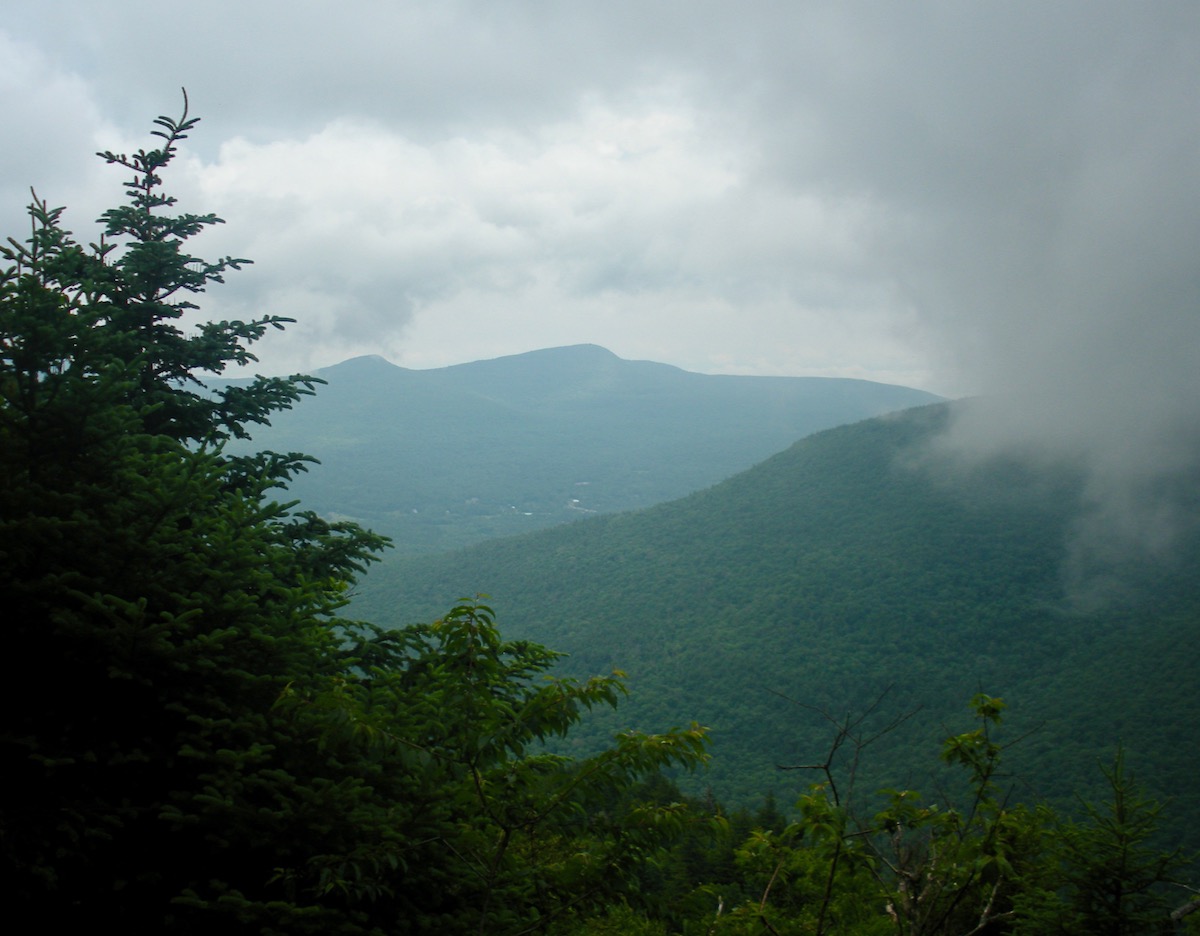 A bolt of lighting hit right in front of me, and before I say the first one of "one-one-thousand," lightning crackled. Don't tell my wife.
Way closer than I would have liked, and a reminder of the 2008 running of the Escarpment Trail Race, when a storm cell stalled over the Escarpment. 100 lightning strikes every 15 minutes for over two hours. Lightning continued to strike steadily, but that was my only close call.
By this time, I was thoroughly soaked, as I was in 2008. While I wasn't running through puddles as I was in 2008, the rocks were treacherous, compared to my recent outing in the Blackhead Range. When the trail slipped downhill, I throttled back and picked my way down.
In 45 minutes, it was all over. When I made it to the Notch Inn Road connector, thunder receded, and with it, the rain. I was again developing body heat.
When I returned to my car, I dried off and changed into dry clothes before making the ride home. In Phoenicia, the Woodstock Brewery looked tempting, but I'm still people phobic at this point. The storm had swelled the Esopus Creek to a roaring cascade.
If you want to try this route, be prepared for a big day. I was out almost seven hours. There are two places to get water. Park on Notch Inn Road close to Route 214; stay in from of the big stone pillars. Sugarloaf will have to be from another direction.