After poring over maps and calculating mileage Saturday night, I had to make a decision.
One option was the Catskills' Blackhead range, dropping down to Maplecrest, and climbing Windham High Peak for a counterclockwise loop. That would be 17 miles, including a three-mile pavement slog back to my car.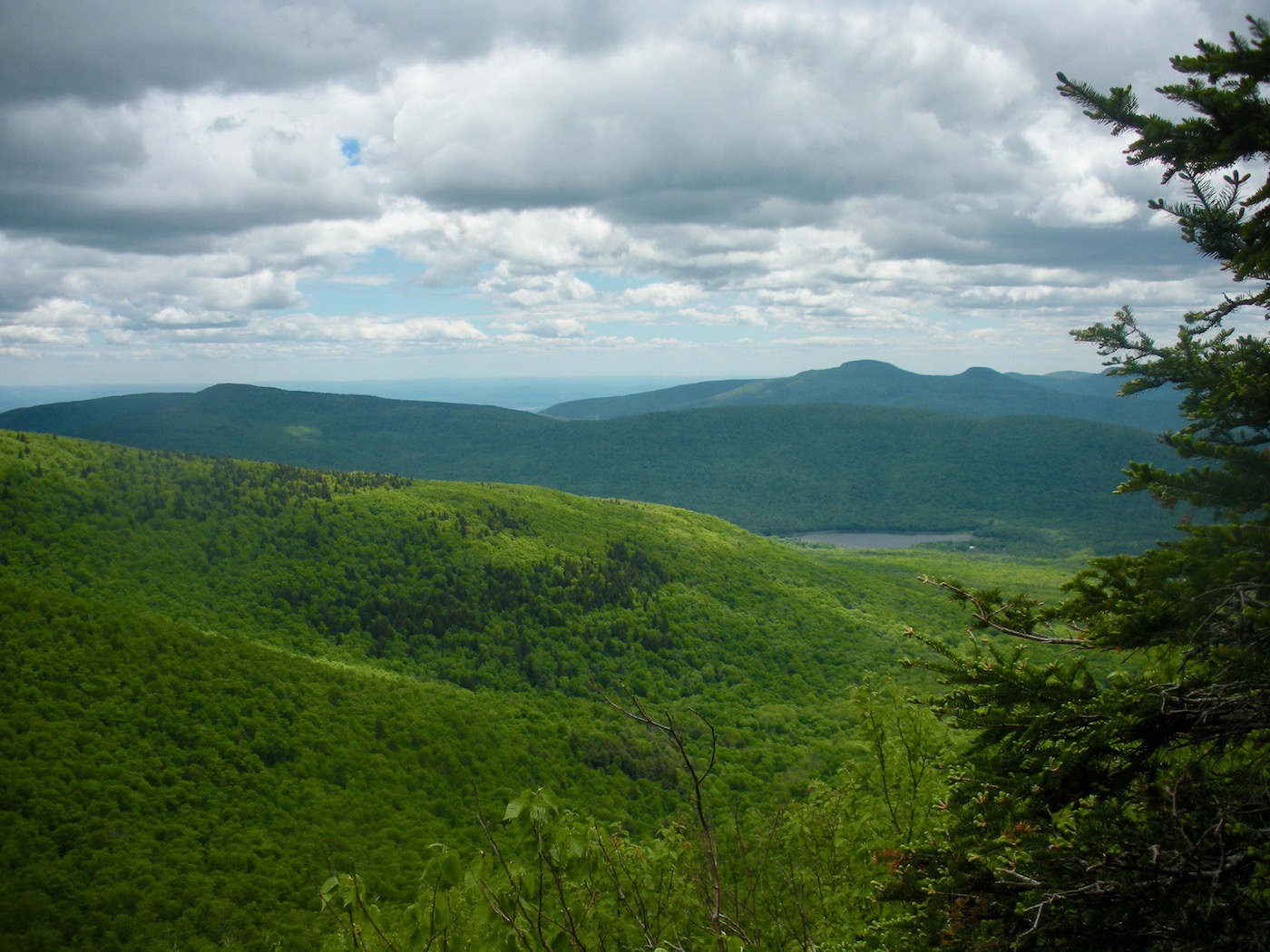 Option two was to go over Black Dome, descend the Black Dome trail and come up the steep side of Blackhead – the route used by the Escarpment Trail Run, returning back to the trail head on Barnum Road. An out and back with a small loop at the end, and a seemingly doable 11 miles.
Back in the day, I'd run the big loop, but I was light years younger and a bit faster. The more moderate day won out. Sunday was perfect weather for a ramble. Cruising through Haines Falls and Tannersville, lilacs were in full bloom in people's yards. Ours had pooped out a couple of weeks ago.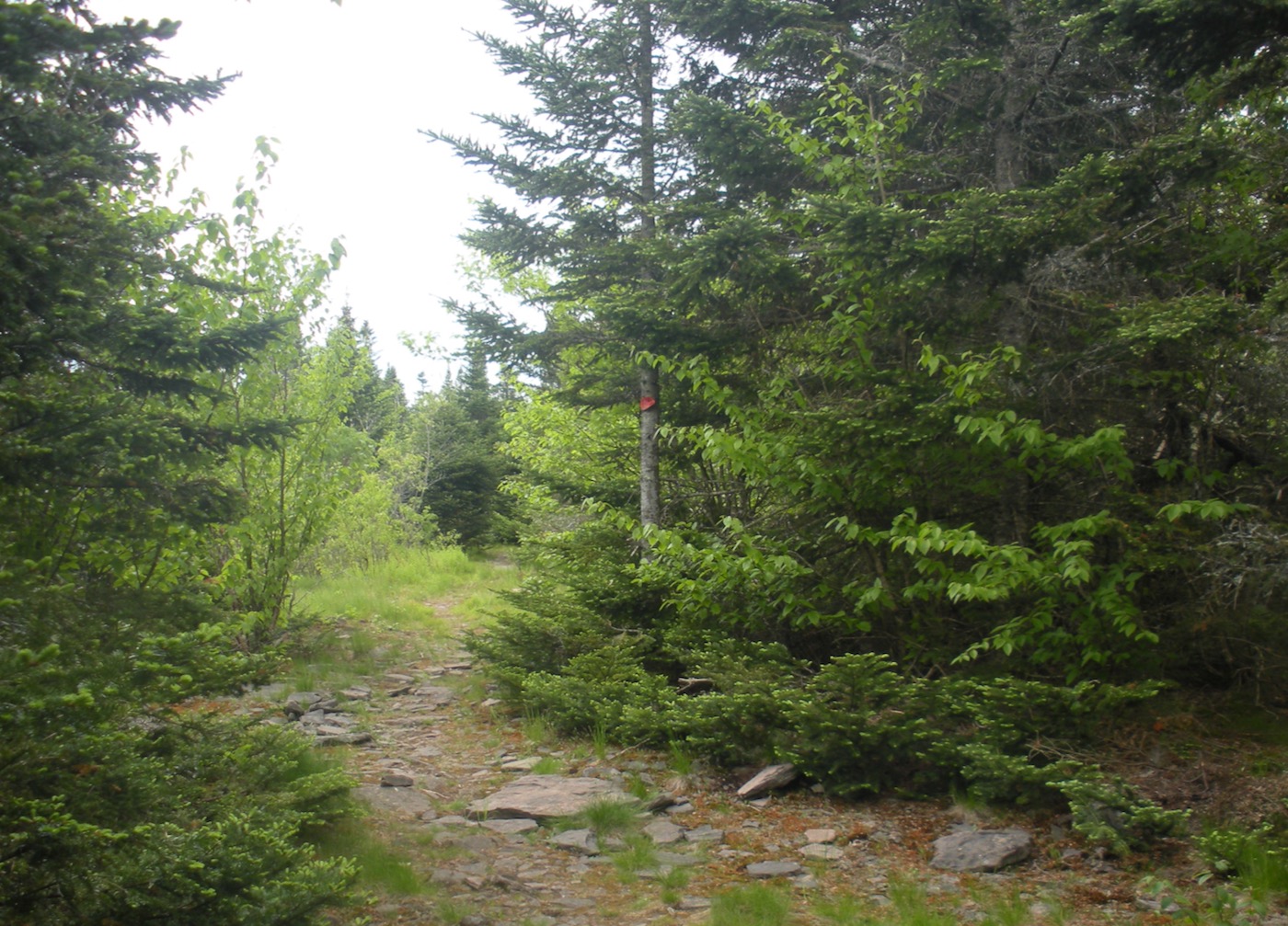 The first time I'd done this trip was in my 20s with my two closest friends. On an October day, the light shafting through yellow beech leaves we returned to the car after a big day. The quality of autumn light has an awesome, powerful vibe. Today's spring light was more like Tigger. Brighter, bouncier, all "Let's just have a great time and rock this joint!"
After missing a turn in Tannersville, I found the trail head at the end of Barnum Road. Crossing private land on an easement, you take a hard left and begin climbing right along the park boundary. The trail goes at a steady grade. It's not straight up like Becker Hollow , but for the most part, it's too steep to run without your heart rate going to the stratosphere. I had to scramble a couple of big rock steps, but that's par for the course in these mountains.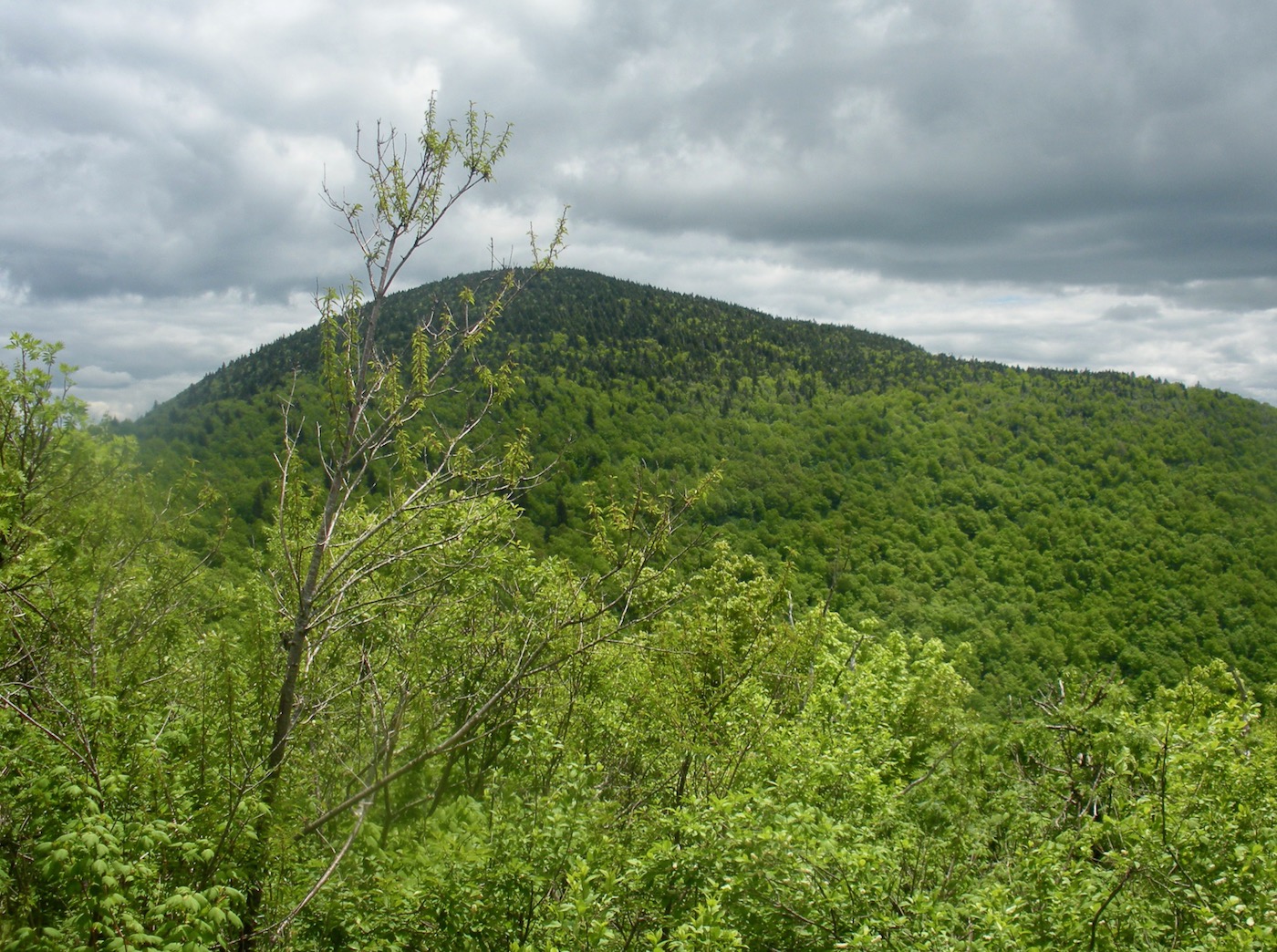 Good views can be had on this trail; just not from the summit of Thomas Cole. At two miles, I stopped to take photos on Camels Hump before continuing on. Windham High Peak rose across the valley to the north, and in the far distance, beyond the plains around Albany, lay the Adirondack foothills.
In another mile or so, a flat spot adjacent to the trail and a couple feet higher marked the summit of Thomas Cole. Named for the founder of the Hudson River School of landscape painting, it was quiet with dense pine trees and no view.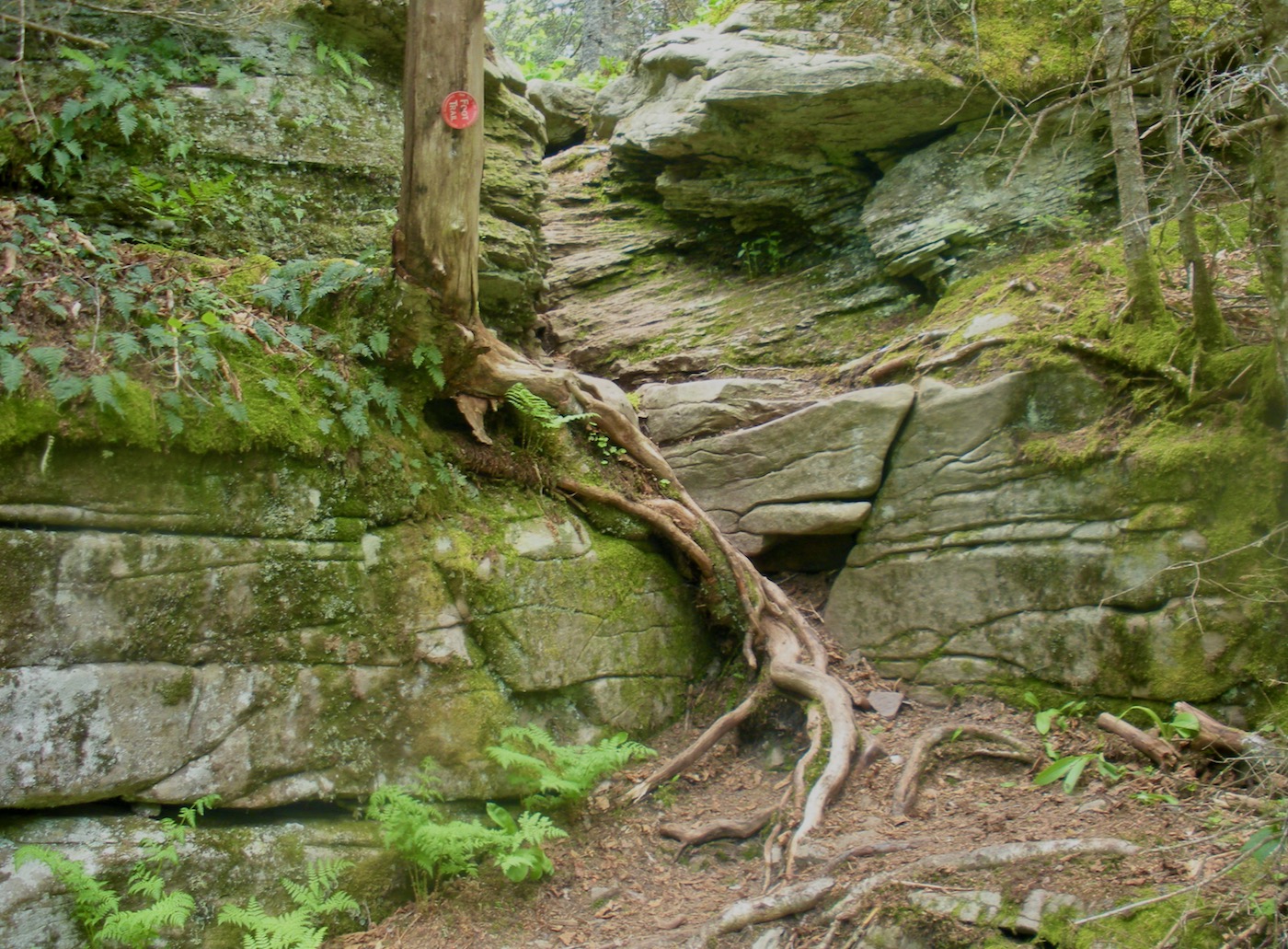 While Cole painted scenes elsewhere, including a European tour, his Catskills paintings are masterfully evocative. Trees clinging to deep rock clefts, dramatic crags, sweeping views across valleys and crenelated mountainscapes mark his works. All that featured in the day's hike.
Eight tenths of a mile further, with additional up and down, I summited Black Dome. On the south side of the trail, a small ledge afforded views. A family and a couple with a dog were there, but we managed to keep a reasonable distance apart. I snagged a couple of photos and continued.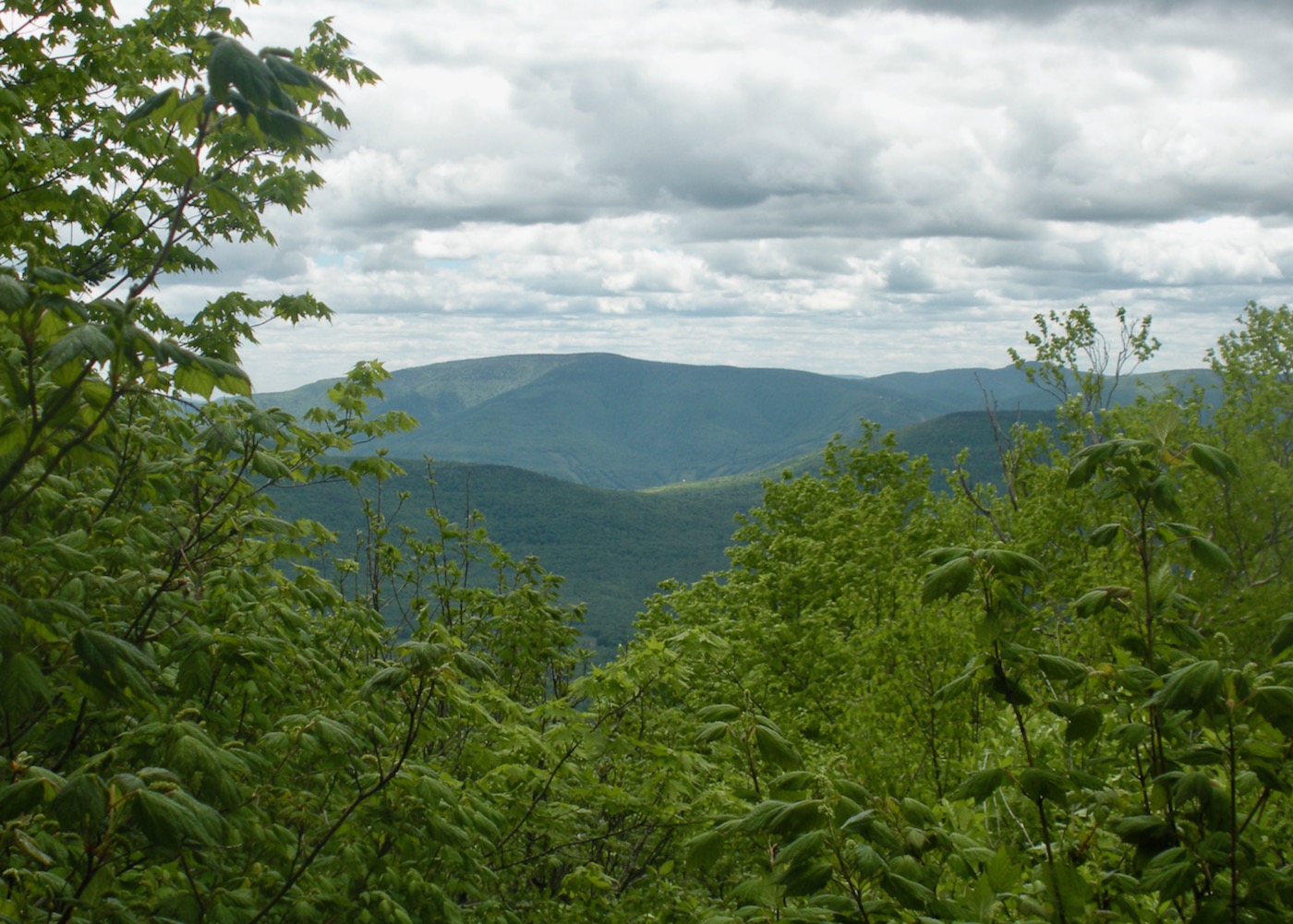 As I descended to the notch between Black Dome and Blackhead, I paused at another outlook. At 1:45, the loop I'd planned after reaching Black Dome was dubious at best. Just doing the summit of Blackhead was two additional miles round trip, with descent and ascent. Given that I had to fix dinner when I arrived home, I decided to turn. Note to self: a 7:30 departure does NOT count as an alpine start.
It was probably just as well that I bailed out. On the return trip, my right hip, which has given me problems off and on for years, felt weak. The big rock steps that I'd negotiated earlier required four-point contact and circumspection while descending. I ran where I could and walked where necessary. At 3 PM, I was back on the road home.