When you think about paddling in New York, you probably don't think about the state capital, Albany. There's good reason for that. There are many paddling destinations in the state that are more exciting, more challenging and more picturesque then the Hudson River along the Albany waterfront.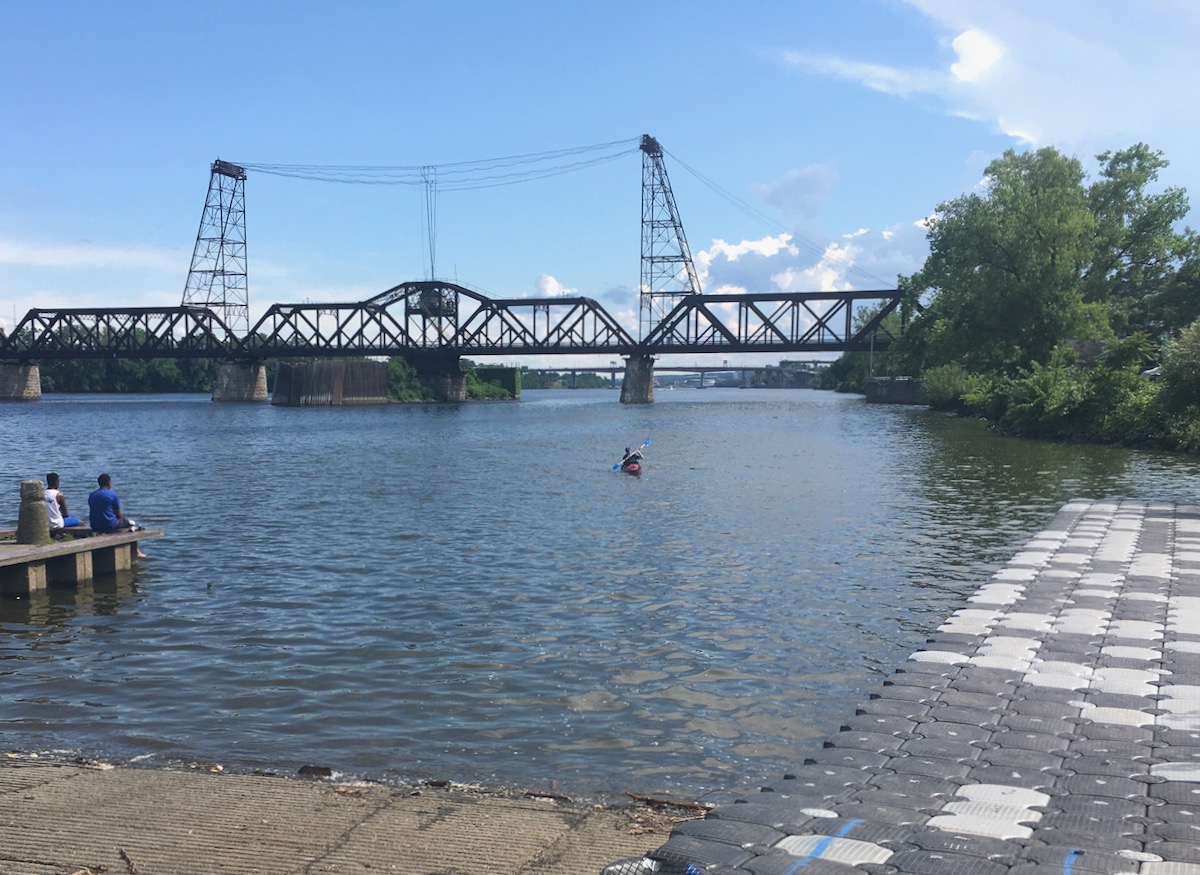 Why would anyone paddle Albany? Well, it's there. Really, it's right there. If you're in Albany county, paddling the Hudson River is really convenient.
Recently, on a visit to see family, I brought Junior and my kayaks north with me. It had been a long time since I paddled this part of the river.
We parked by the boat ramp underneath Route 787, among the boat trailers and racks of rowing shells that belong to a local crew program. After parking, I noticed a guy sitting behind a folding table off to one side. There were a bunch of signs about invasive species and pamphlets on the table.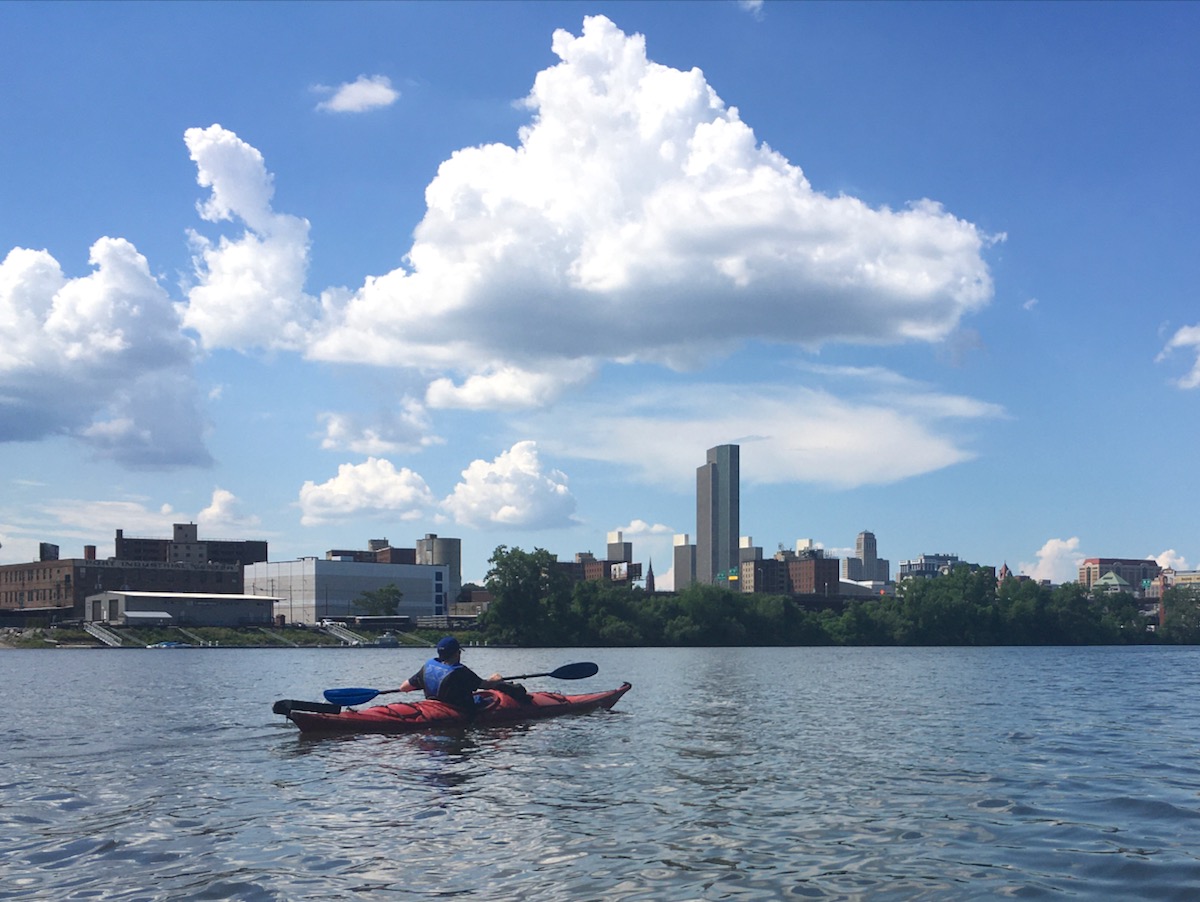 As Junior and I took our boats down and started bringing our paddles, PFDs and other gear down to the water, the guy from the table came over and started yammering at me. He explained very sincerely that he was there to educate people about invasive species and asked to inspect our boats.
I let him do his thing as I got everything situated, doing my best to yes him back to his table. I guess we were nicer about it then most people cause he thanked us profusely for talking to him and gave us a couple of free hand towels with an invasive species awareness message printed on them.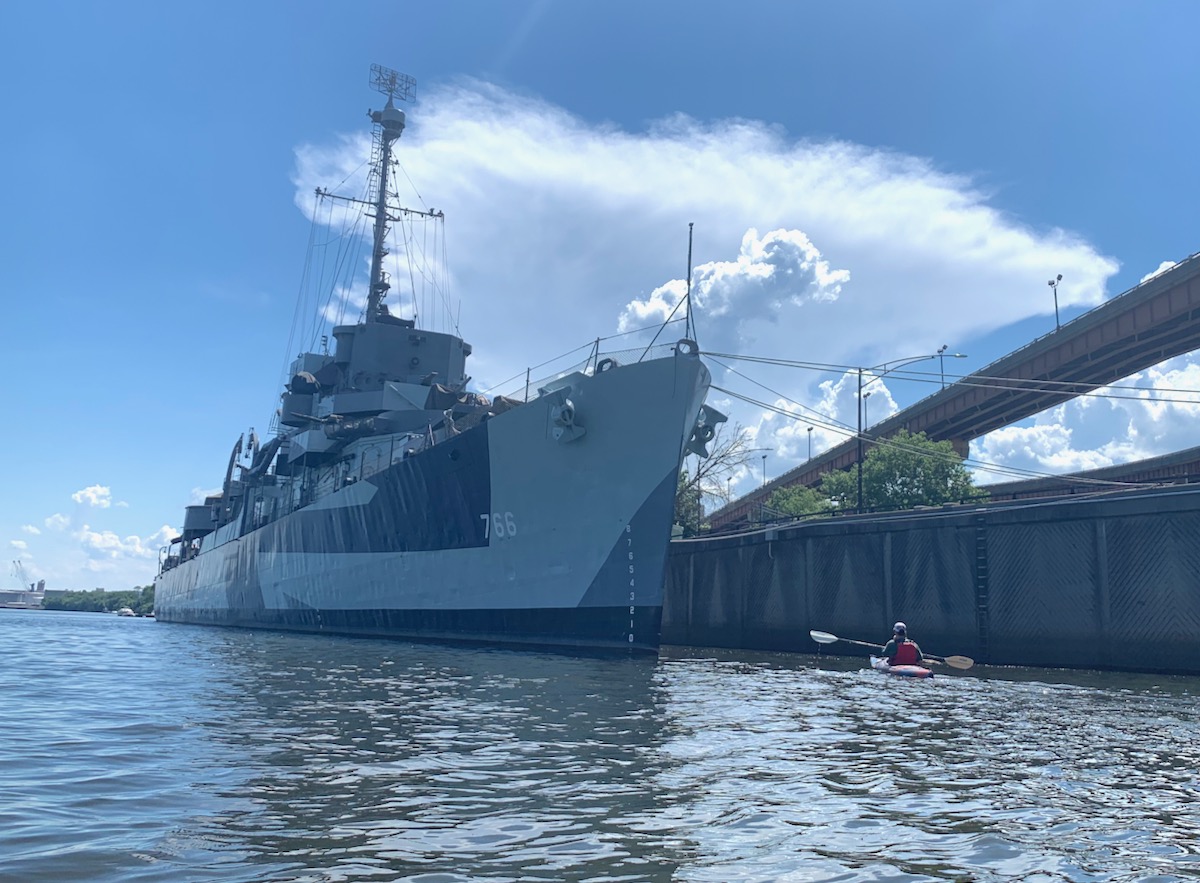 A few minutes later, lecture completed, I pushed Junior out into the river. The Hudson River in Albany is a much gentler animal then it is where I normally paddle. There is a bit of chop, and the tides still slosh back and forth a couple times a day, but overall it's a pretty permissive environment other then the occasional jet ski or asphalt barge traffic. It's just not wide enough for the wind to build up the bigger waves you see further to the south. On this day, it was pretty calm. I hadn't done any pre-paddling research but I think we caught the river near high tide.
We headed south towards the Albany waterfront's coolest point of interest, the USS Slater. The Slater is a World War 2 Cannon Class Destroyer Escort that has been restored as a floating museum. The United States built lots of ships like the Slater to protect shipping from German U Boats. When you look up the Slater's stats, she doesn't seem like much — displacing only about 1200 tons and armed with just a few small guns and torpedo tubes plus a good supply of depth changes and various systems to launch them.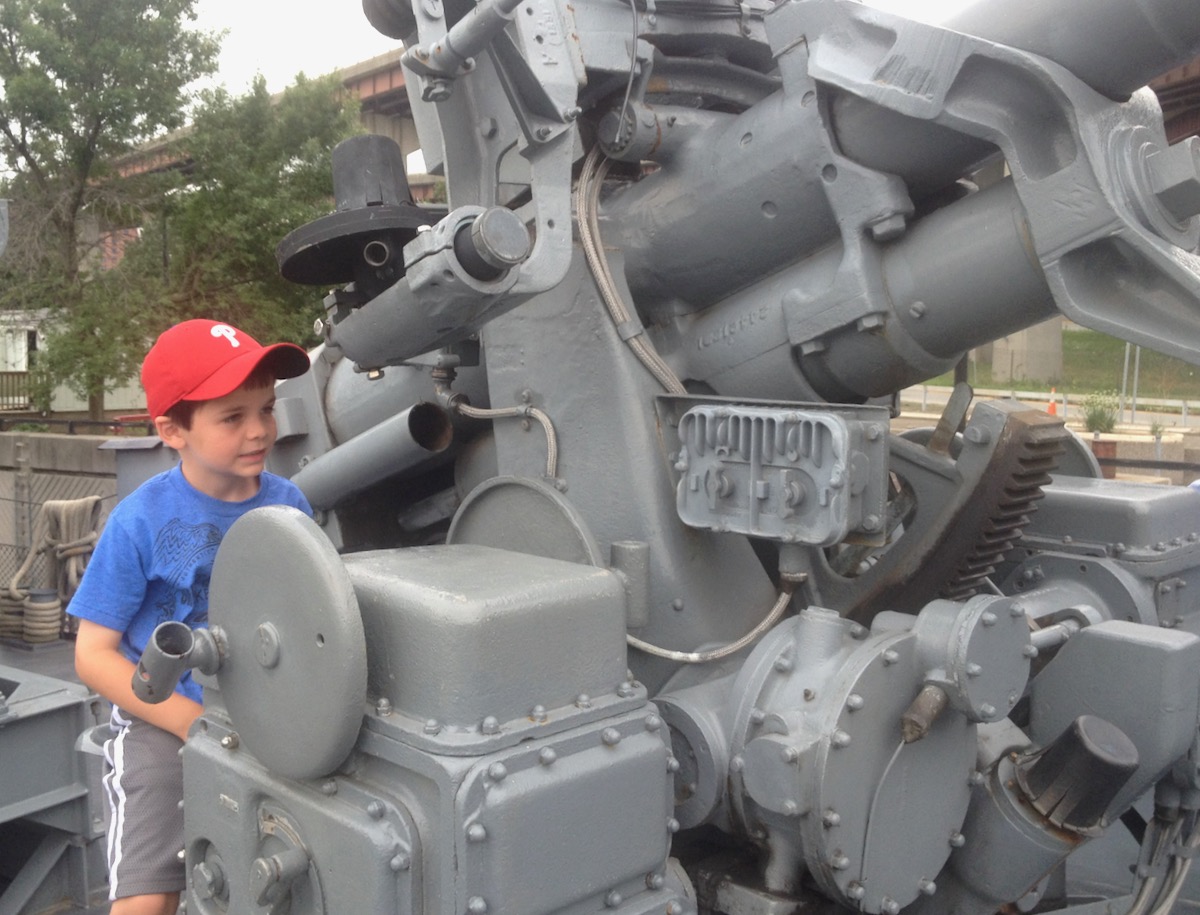 But when you consider that the technology of the day required her sailors to be out on deck during the winter in the North Atlantic, you realize they must have been a tough bunch. She had a crew of over two hundred which doesn't sound like much until you consider that the more modern Oliver Hazzard Perry Class, which fulfilled the same escort role was crewed by about 175 sailors yet displaced over 4000 tons. The quarters on the Slater must have been nearly as cramped as on the submarines she hunted.
We hugged the Albany side of the river until we reached the Slater. She is small for a warship but still impressive from the seat of a kayak at water level. We paddled in between the Slater and the pier to get an up close look. I pointed out the deck guns to Junior and asked if he remembered sitting in the gunners position years ago during an earlier visit.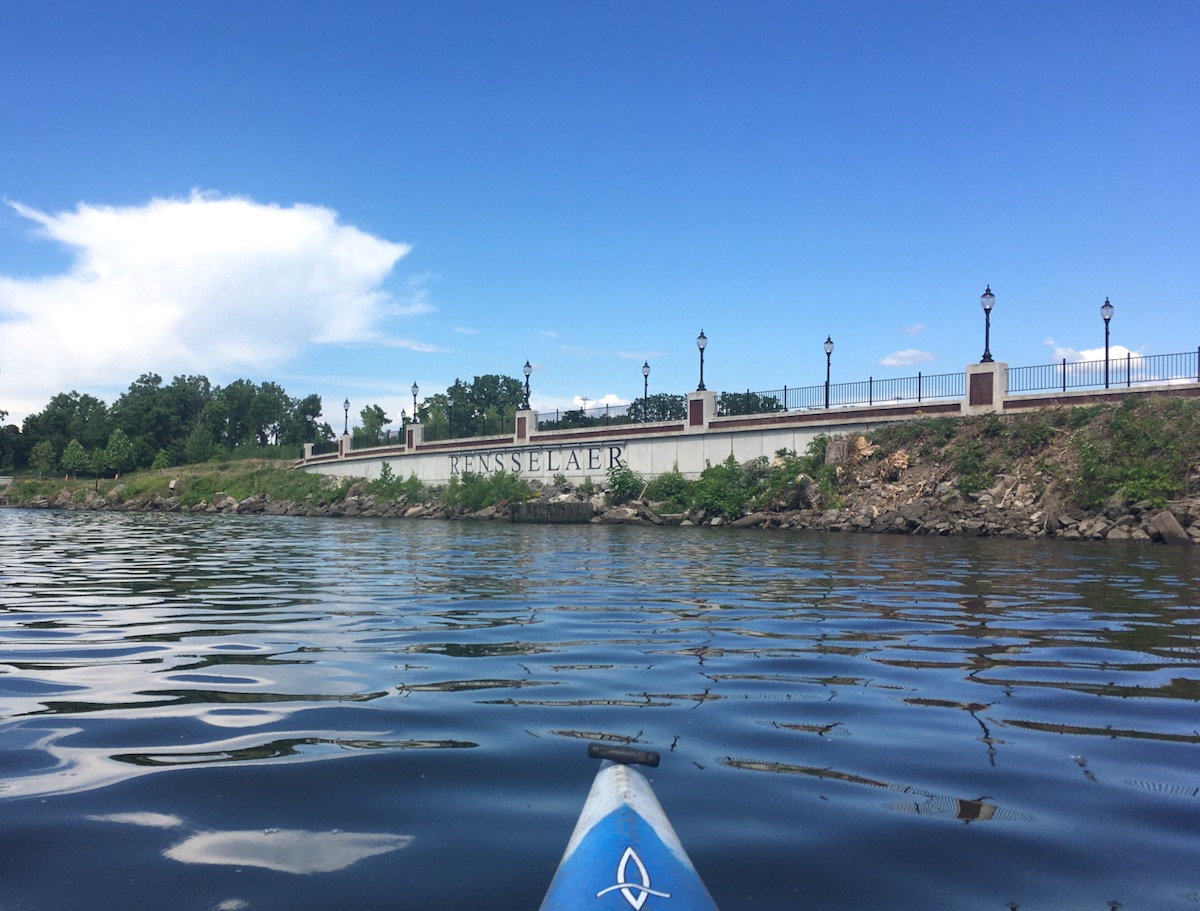 We made our way down past her stern to check out the depth charge racks. I remarked on the good condition of the ship in spite of her age. She looked like she'd been painted that morning. After a few minutes we continued on south along Albany's waterfront, such as it is.
When I felt like we'd gone far enough we crossed over to the east side of the river and turned north to paddle along Rensselaer's shore for the return trip. This side of the river is the perfect picture of upstate New York in all its dignified shabbiness. One old building after another followed by a marina with a mix of old and new pleasure boats. Some shine as bright as the Slater, showing how much pride their owners take in them and others look like they might sink later on that evening.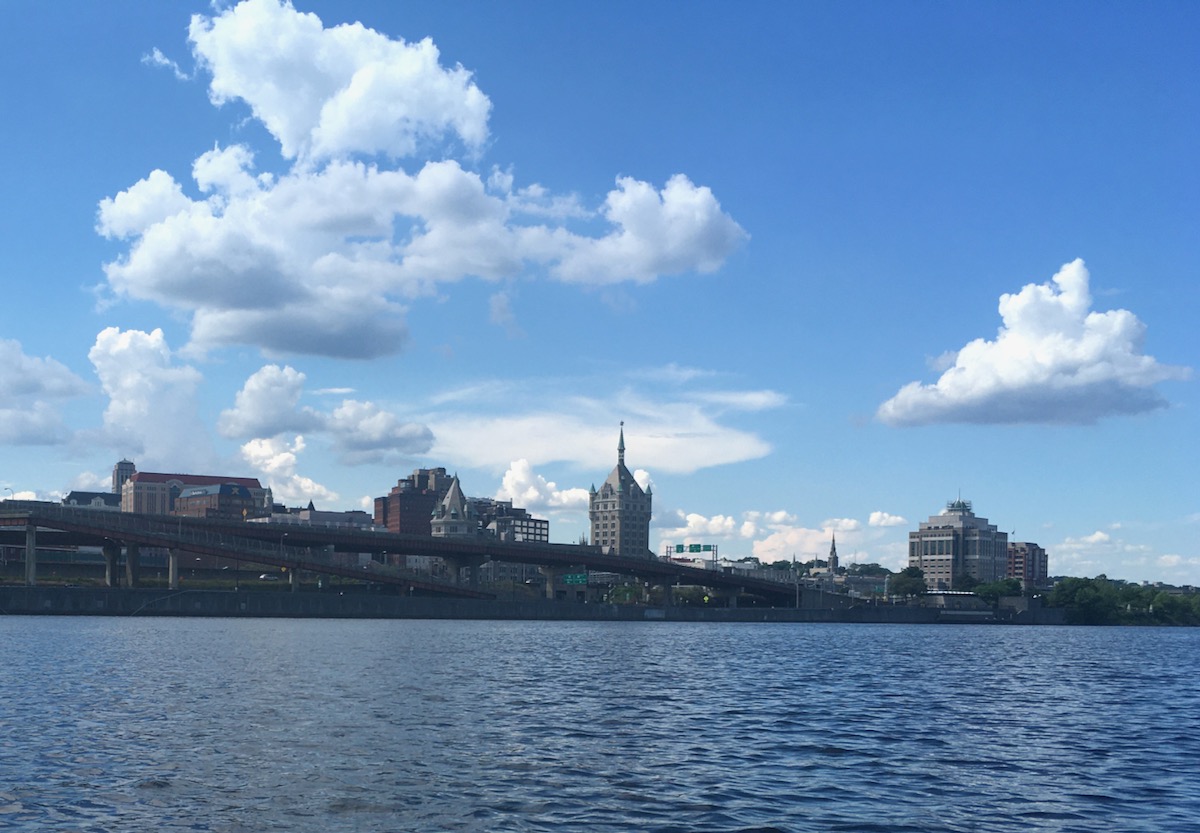 We flushed some ducks as we passed a wooded area near the mouth of a creek. From this side of the river we could get a better view of Albany's skyline, including its one tall building and a few older looking ones. We couldn't quite make out The Egg from our low vantage point as it was obscured by twisted spider web of 787 and it's various on and off ramps. Junior was more impressed by the UHaul truck mounted on top of a drab warehouse near the highway.
We kept on our northerly course until it was time to turn west, back to the boat ramp under the highway. We were only out for a little over an hour but we got a decent workout and had fun. We got our kayaks out of the water and back on top of the truck. Before we knew it we were back on the road and headed out of town.
---
Note: At the time of this post, the USS Slater is undergoing maintenance in Staten Island, but is expected back in Albany around August 5, 2020.