Most of my paddling is what can be called "flatwater" kayaking. I put my boat in the water someplace, paddle for a while, turn around, and then get off the water in the same place I launched. It's not that the water doesn't move, just that there's no overwhelming, one-way current that prevents me from returning to where I started. Even when I get on the waves with my surf kayak, I can return to my parking spot. Where I put in is where I need to take out.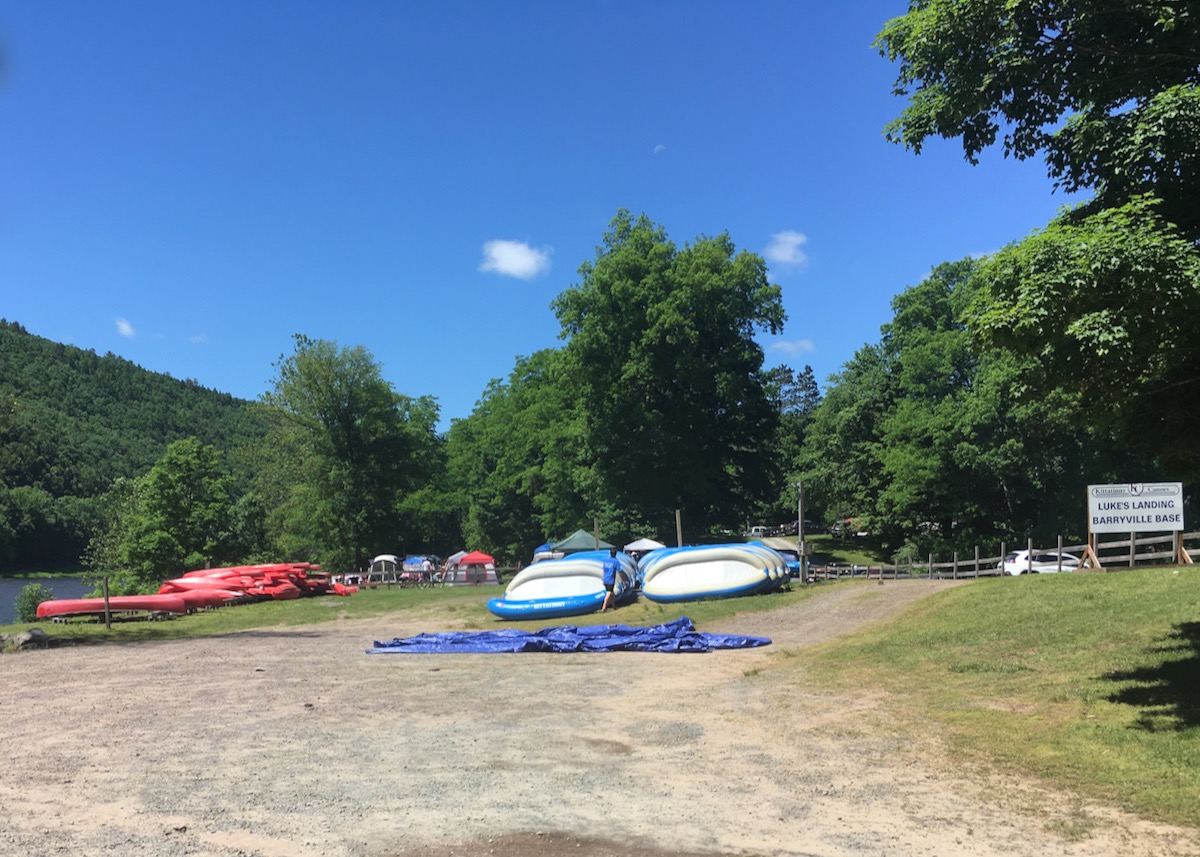 Whitewater boaters leave a vehicle where they plan to end up, then drive upriver to their launch point. Two vehicles and drivers opens all kinds of possibilities. My only experience with this was years ago when I brought my sit-on-top surf kayak on a Lake George vacation with me.
I got my wife to drop me off on the Loon River and then meet me downstream a few hours later. It wasn't serious whitewater but it included a few small rapids and was a lot of fun. Of course, as much as she loves me, driving me and my kayak back and forth in the mountains isn't my wife's idea of a fun weekend so that system wasn't a realistic long term model.
Another option, especially useful for non-locals or beginners, is to hire a rafting company to take you downriver or rent a boat from one. This eliminates a lot of work. You don't have to lug your raft, canoe or kayak to the river in the first place. You don't need an extra vehicle or driver. You show up, are provided with boats and gear, take your trip and get a ride right back to your car.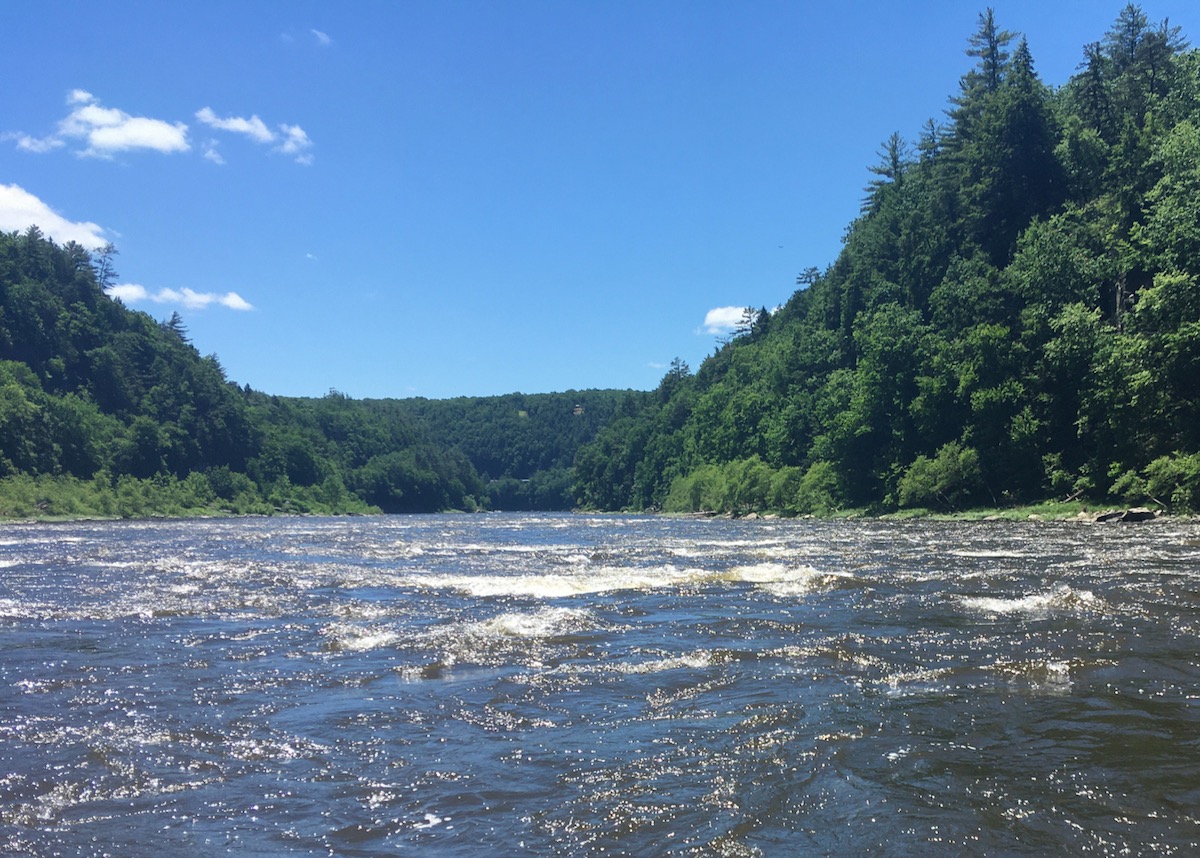 On bigger whitewater, these companies provide a guide to instruct and captain the boat or, some times, to do the rowing and navigating for you. Rafting is a blast. I've taken guided trips over the year, mainly when I spent time in Alaska as a young man. Guided rafting trips never disappoint.
Since my older son got his driver's license, I have again been thinking about getting into some form of down-river paddling. While the Hudson River is practically in my backyard and lots of fun to paddle on, switching to a two-vehicle model brings lots of additional streams and rivers into play.
With this in the back of my mind, I decided the time was right to explore a little bit of gentle whitewater again. I chose the Barryville to Pond Eddy stretch of the Delaware River. It's relatively nearby, has some relatively gentle rapids and has multiple professional outfits from which to rent canoes or rafts.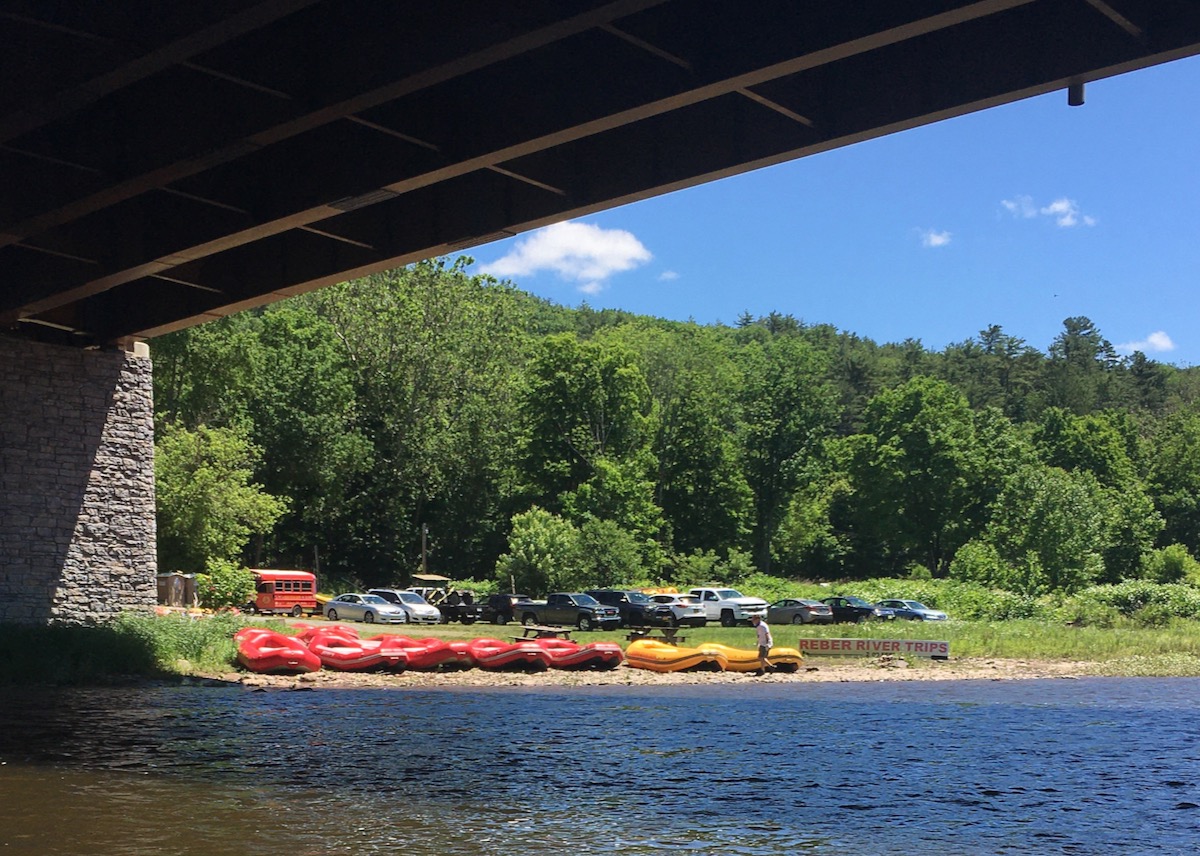 Since it was going to be a family day and I didn't want to risk capsizing on our exploratory outing, we opted to rent a small inflatable raft instead of bringing our own canoe. There was plenty of room for the four of us and a cooler with lunch and drinks.
We had a reservation with one of the bigger rafting companies to launch at 11 AM so we didn't have to get up crazy early. We got there in plenty of time, checked in, and headed across the street to the river. We got some nominal safety advice from the staff and pushed off.
My very limited experience in a raft made me the logical captain. I positioned junior in the back with me. My wife sat in front of Junior and I put our 13 year old — Danger Boy — in front of me. With the crew assigned their positions, we experimented with paddling forwards, turning left, turning right. We did a couple of inadvertent circles in the river as we worked things out. Before I knew it, we were headed down stream, more or less under control.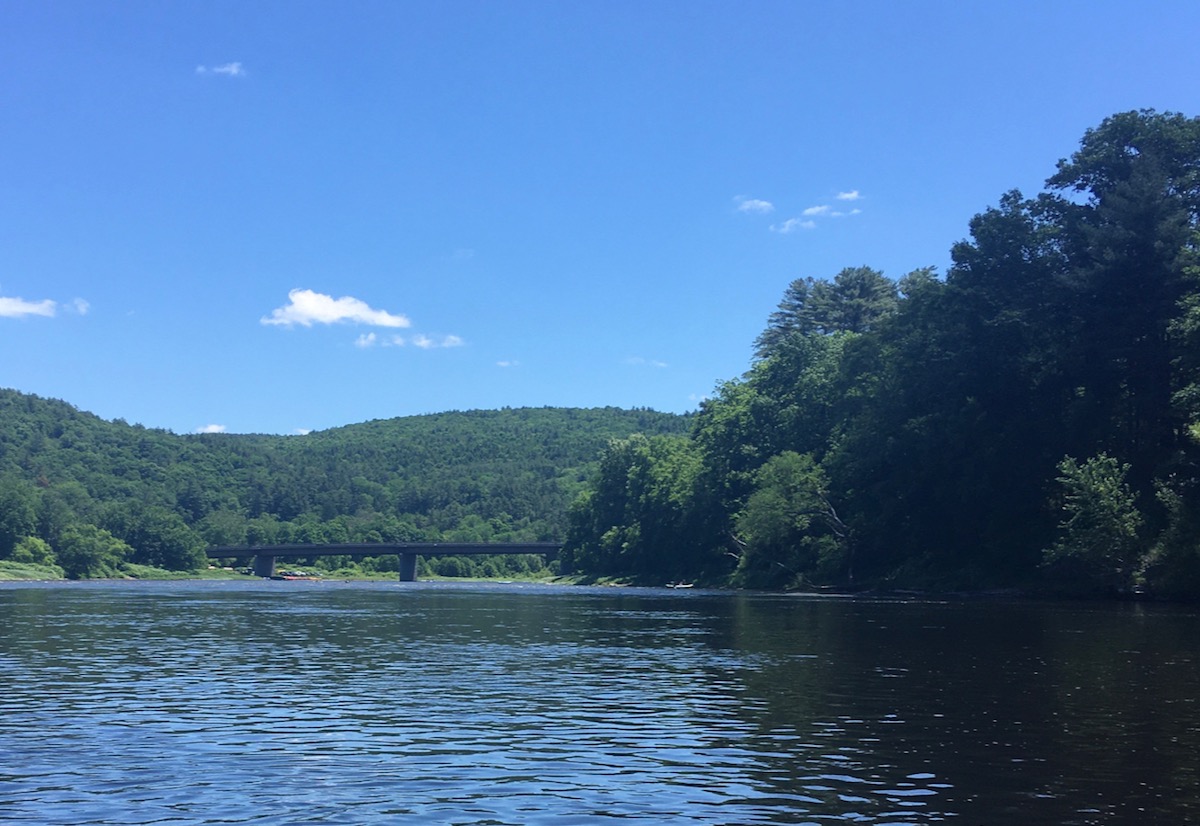 The first rapids came up quickly. I had a little trepidation but we got ourselves positioned well enough. I was confident we wouldn't get into any trouble as long as we kept the raft straight as we went through the rougher spots. Getting all four of us coordinated enough to paddle forward in a controlled wasn't easy, but I could always dig in with a good draw stroke from my spot in the rear, or instruct Junior to do so on his side.
That was a sure way to point the nose of the raft where we wanted it, just at the cost of forward momentum. Killing a little speed as we entered a rapid was no problem so we kept that one in our back pocket. If we were getting a little sideways as we got to a wave or a rock, I'd reach back and rudder us straight as we bumped through. It was fun.
On the flat stretches, we worked on our team paddling skills, we experimented with different positions and strokes. We never quite achieved the level of maneuverability that we are capable of in our canoe, but we did okay.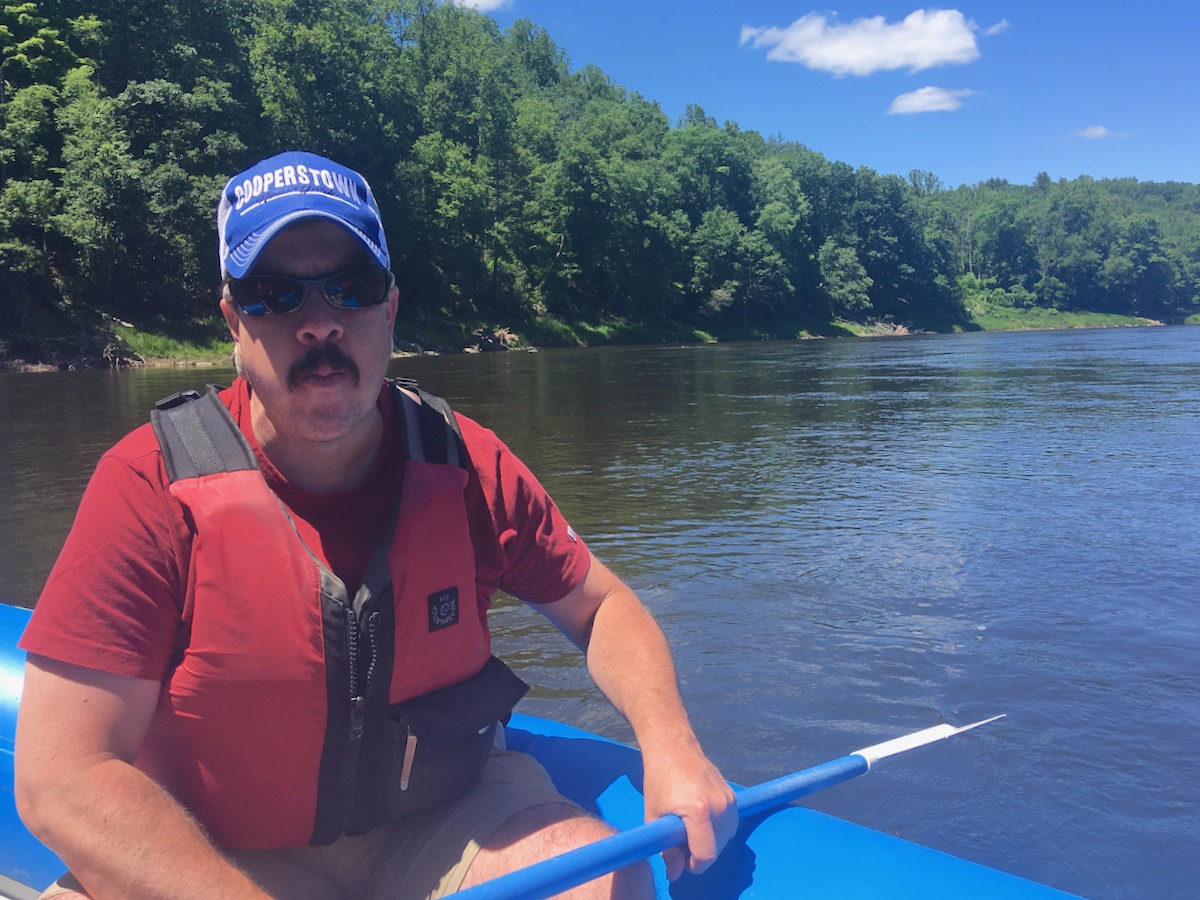 The rafting company said the trip we selected was supposed to feature class 2 rapids and take about four hours. I'd say the class 2 was accurate. The rapids we navigated were pretty tame. The four hours might be accurate for normal people but we did it in under three.
In spite of our work-in-progress paddling style, I noticed that we were repeatedly passing rafts and groups of kayaks that had launched ahead of us. Maybe the Brownskis are a little bit too type A for our own good. The relative speed of the current was deceptive. A few times when it almost felt like we were standing still, I looked over at the shore and realized we were actually going pretty fast.
At one point, we did take a break to let Danger Boy jump in the river. I hopped out with him and promptly sank a foot into the muddy silt on the bottom. It felt a little gross so I got right back into the raft.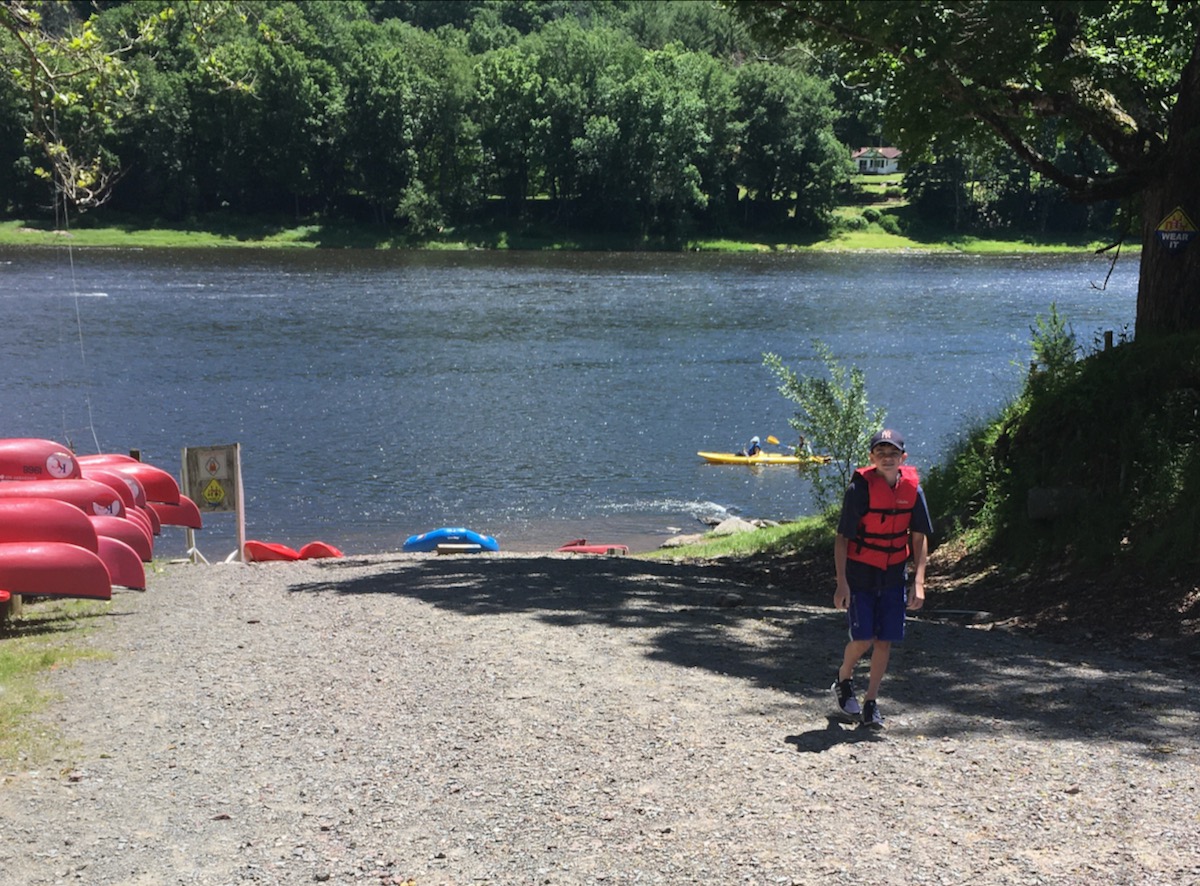 We spent a lot of time looking at the scenery along the side of the river. It was beautiful. I was pleased to spot the remains of an old tow path, built out of stone, that was presumably part of the D&H Canal in the 1800s. I'd explored bits of the canal on the Rondout's Creek and Walkill River over on the Hudson side of the canal so spotting a bit of the Delaware side was pretty cool for me.
Before we knew it, we'd reached the take out. We got ourselves and our gear onto shore and Junior helped me pull the raft up behind us. At that point, all we had to do was return our paddles and walk up the hill to an old school bus that was was waiting to bring us back to where we'd parked.
Everybody had fun. We grabbed some ice cream in town and we're on our way home before you knew it. It couldn't have been easier.