During this 2016 offseason Gore has continued the move toward snowmaking efficiency and improved early season operations. At the same time nordic trails are being developed at Ski Bowl Park.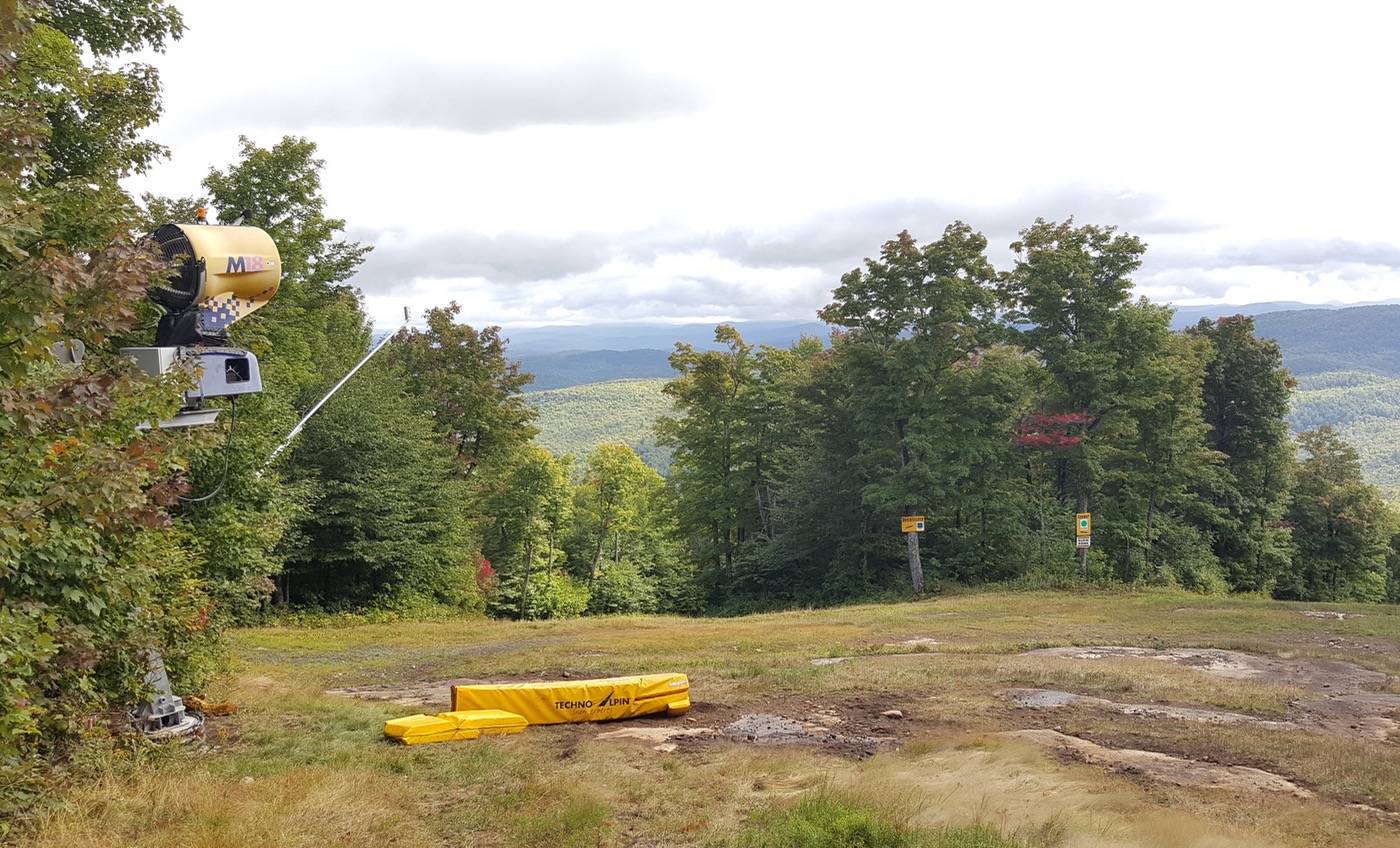 Sixty (60) new Ratnik Baby Snow Giants have been purchased to replace the aging fleet of Ratnik ground guns.
These guns are spec'd to produce at temperatures up to a wet bulb of 31 degrees, while using 40% less air versus a traditional Ratnik ground gun.
In addition five new fan gun receptacles and one fan new gun have been added on the East Side.
A new pipeline has been run into The Arena. Hydrants with fan gun receptacles have been added to each of the gondola towers and an HKD tower gun has been added where 3B enters to The Arena.
A fixed Technoalpin M18 fan gun added at the intersection of Sunway and Quicksilver. Another fan connection has been added where the Adirondack Express crosses Sunway, above Foxlair.
All of these spots are a critical, especially in the early season, when Sunway to Quicksilver is one of the first routes to open.
North Creek Ski Bowl
Working together, ORDA and the town of Johnsburg are adding a nordic ski course in Ski Bowl Park. The partnership has developed six loops that comprise a 4.3 kilometer network of trails.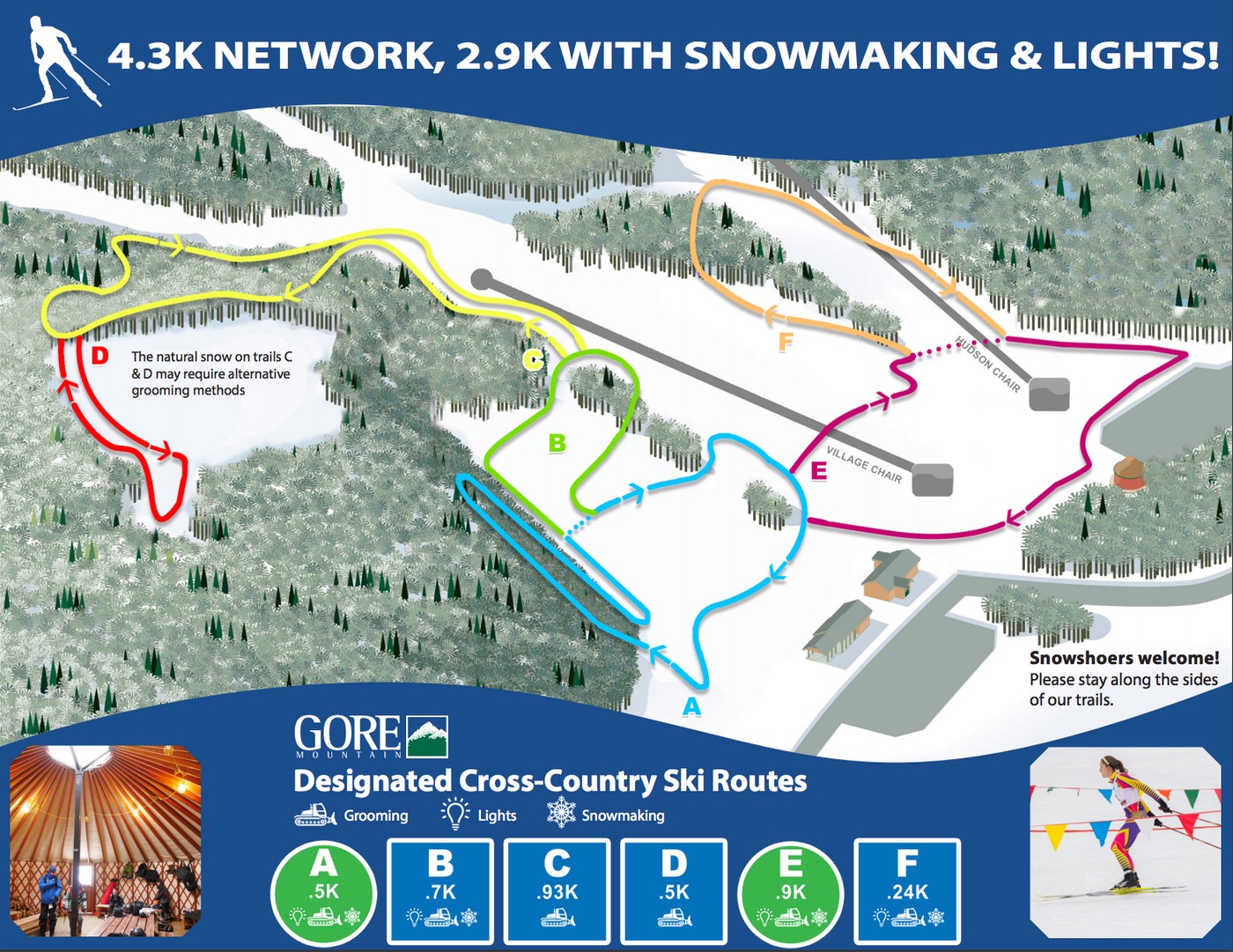 For the 2016 season, Gore will groom 3.75 kilometers of trails, with 2.5 kilometers equipped with lights and snowmaking.  Plans to expand to full snowmaking are slated for future seasons.
The are six loops, with two of those are rated easiest. The competitive course options this year will consist of multiple 1.5k sprint courses for differing ability levels, and a 2.5 k course.
A nordic adult pass for this season is $159, and a day ticket is $16. Nordic rentals are available. All Gore season passes grant holders access to the nordic trails.
Ski Bowl Land Acquisition
Those who follow Gore in the offseason have probably seen the map — issued by Front Street — that shows trails on the 35 acre Ski Bowl tract recently acquired by the town of Johnsburg.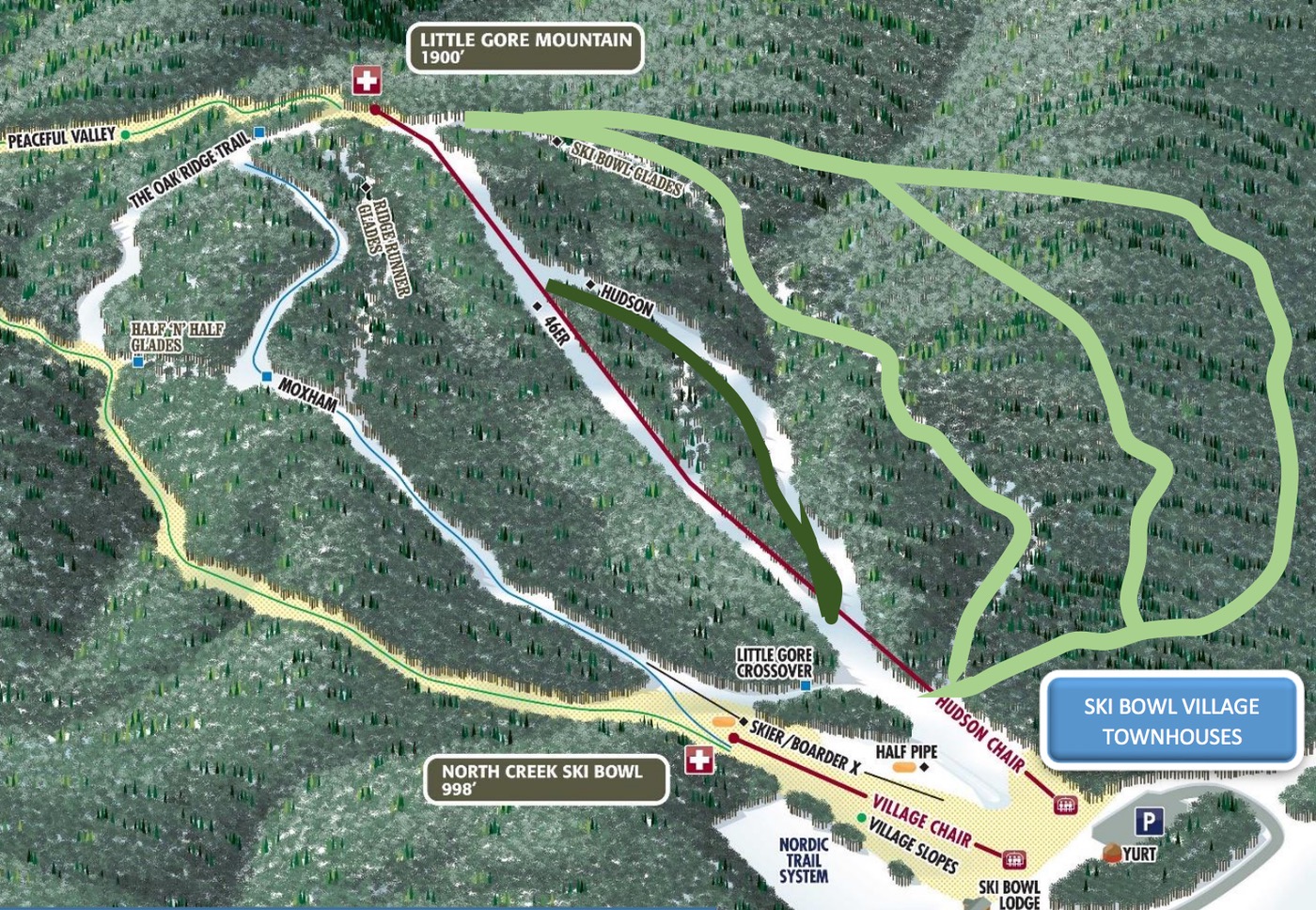 There was grumbling in some quarters about the drawing as it showed one of three potential new trails obliterating some prime tree skiing.
While the map was eye-popping click bait for Gore skiers, it may have caused some confusion. This news is best characterized as a relatively modest event that could pay off in the long term future.
By charter, Gore can only conduct operations on State or Town of Johnsburg land. This deal opens up the possibility that ORDA could make snow, operate groomers and patrol terrain on this tract in the future.  In addition it may eventually lead to connections with the Rabbit Pond Trail sidecountry.
It is our understanding that there is currently no plan to clear any glades on that slope.