When I wanted to get in a few hours of paddling last weekend, I picked a spot which required no guidebooks, websites, GPS or research of any kind. I decided to put my kayak into the water in a place I've known my entire life, in Crescent NY, on the north bank of the Mohawk River, right next to Route 9.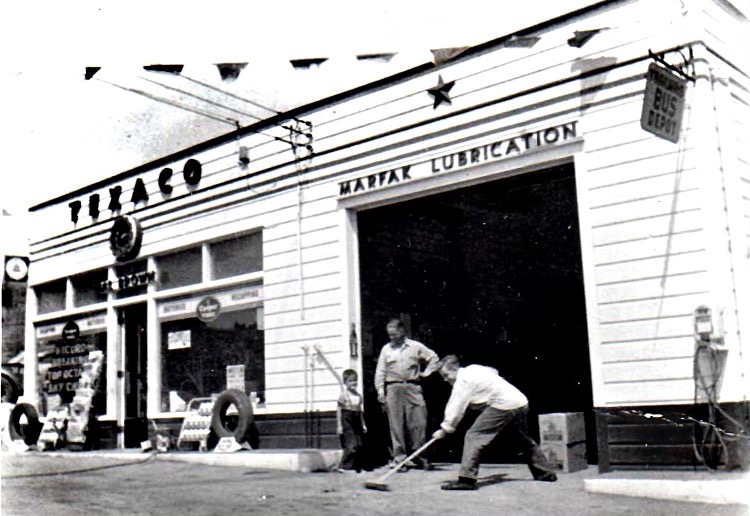 My grandfather used to own a gas station there. He bought it in 1946 and lived there in a house attached to the back of the station until he passed away in the late 70s. A few years after that my grandmother sold the place and it became a Stewart's, which is still there today.
My grandfather was a special guy. He had to rebuild the gas station multiple times for various reasons. He did it himself. At one point he decided it would be nice to have a swimming pool so he just dug one. Then he built an extension onto the house that enclosed the pool so he had an indoor pool. Pretty luxurious. We used to visit a lot.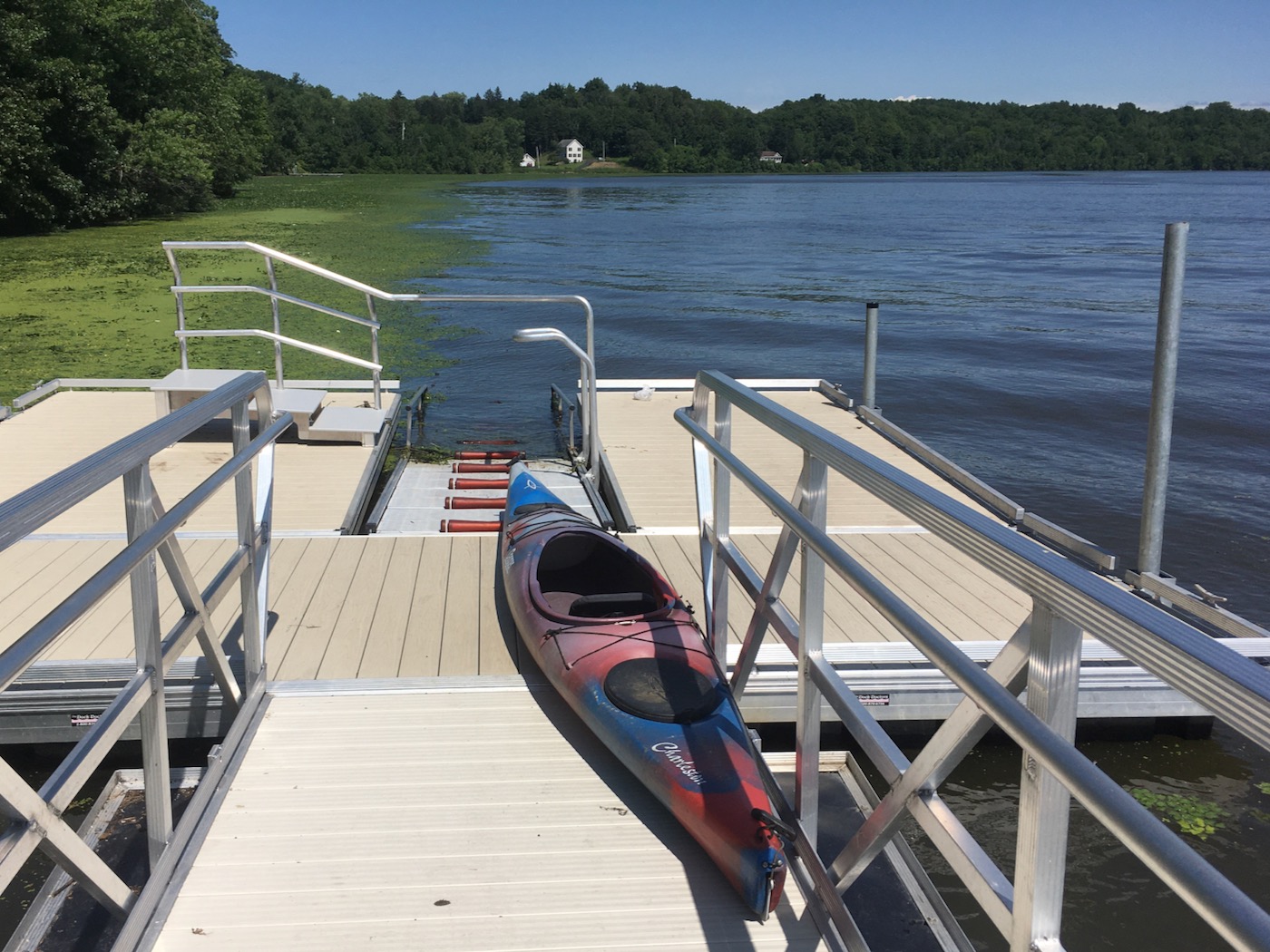 I can remember fishing off the pier, just down the hill, and standing there during the winter, watching the local maniacs driving their cars and motorcycles on the ice. It occurred to me that it would be a great place to launch a kayak.
I found myself back in the Capital District recently so I figured it was a good time to revisit my grandparents' old place. It's been a long time. When I got there, I discovered some things had changed. The town had installed the nicest aluminum kayak dock I've ever seen. It even had rollers installed to make launching and landing a breeze. I had been planning on a scramble through some brush and rocks to get down to the water but instead I was presented with the most civilized launch possible.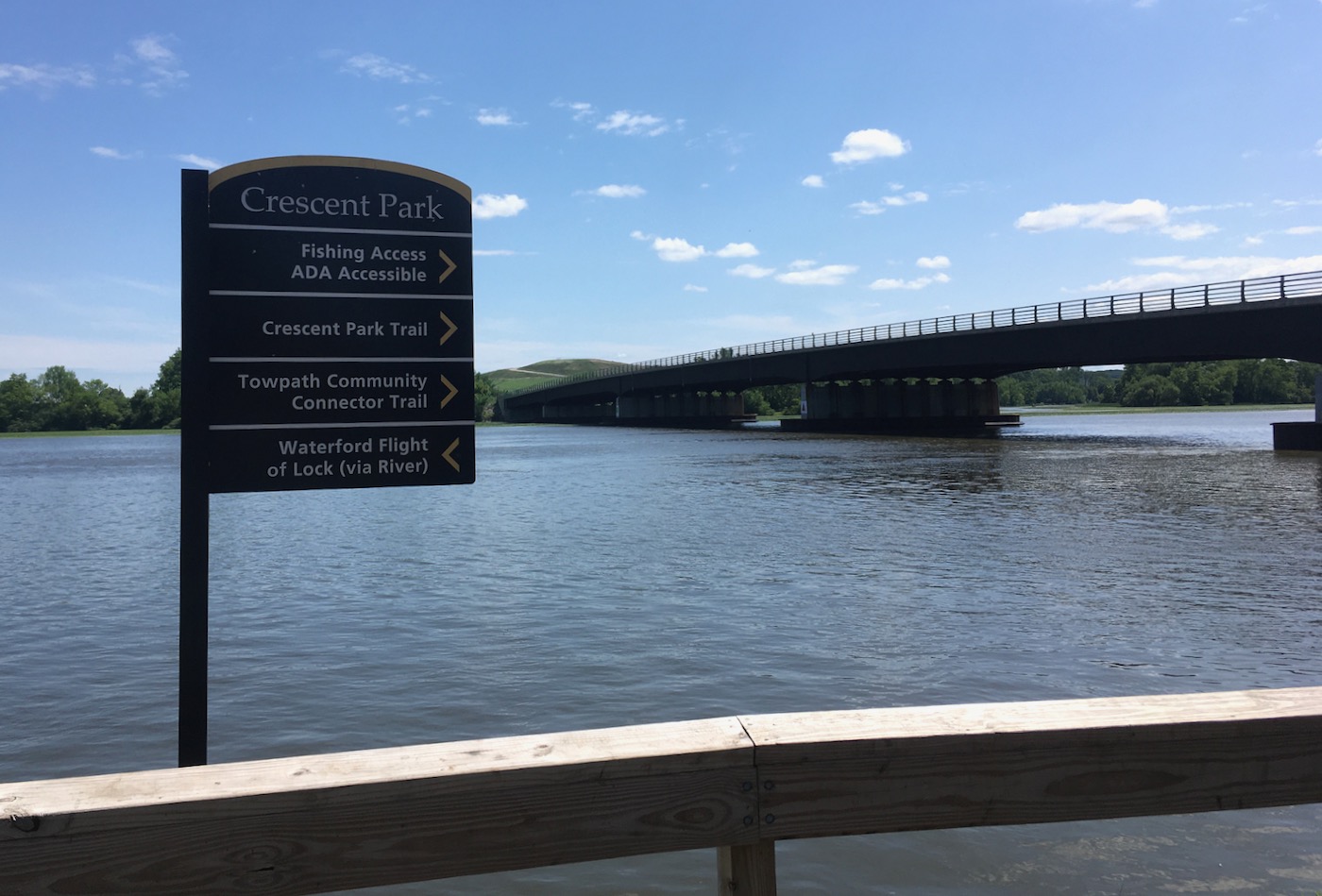 Next to the new dock was a rack of self-serve kayak rentals. There were a couple historical markers now and a sign indicating that it was part of the New York State Canalway Water Trail. The pier itself was unchanged, concrete construction with massive iron bollards. I'd never seen any vessels tied up there but my understanding was that they used to secure canal barges.
Another thing that caught my eye was a little flower arrangement by the edge, a memorial to a drowning victim I assumed. It reminded me of a story my father had told me. Soon after they'd moved there, a family was fishing at the pier and their daughter went to take a nap in the back seat of their car, parked up the hill.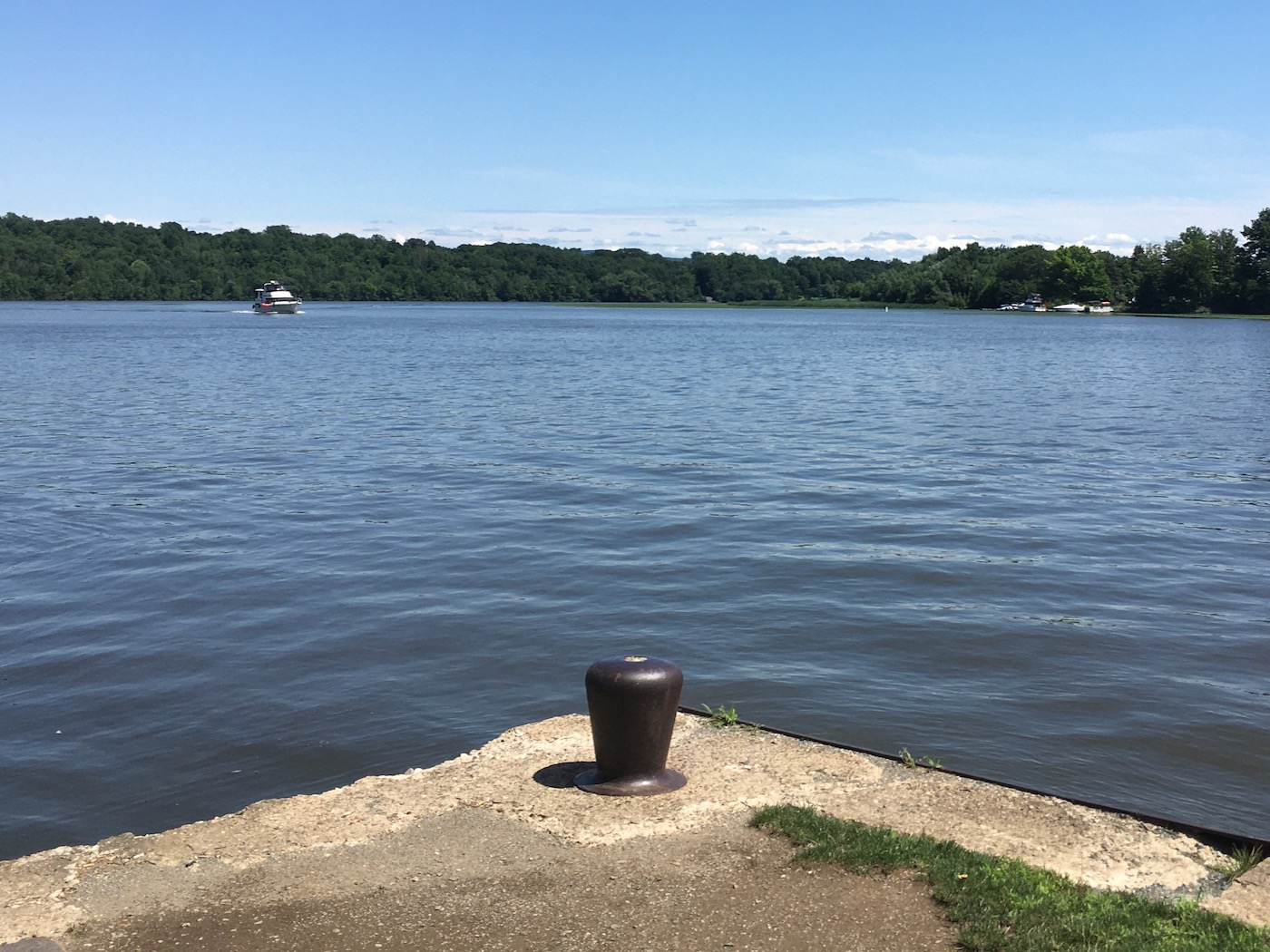 At some point the parking brake failed and the car rolled down the hill and into the deep water. My grandfather immediately backed his tow truck up to the edge and dropped it's cable to try to hook the cars bumper all the way down there on the bottom. He tried and tried but could not succeed in getting the cable attached to that car's bumper.
By the time the fire department got there with better gear, it was too late. My grandfather was really broken up about not being able to save that girl. I can't imagine how helpless he must have felt. There is a line of boulders along the edge of the parking now, preventing people from driving off. That's good at least.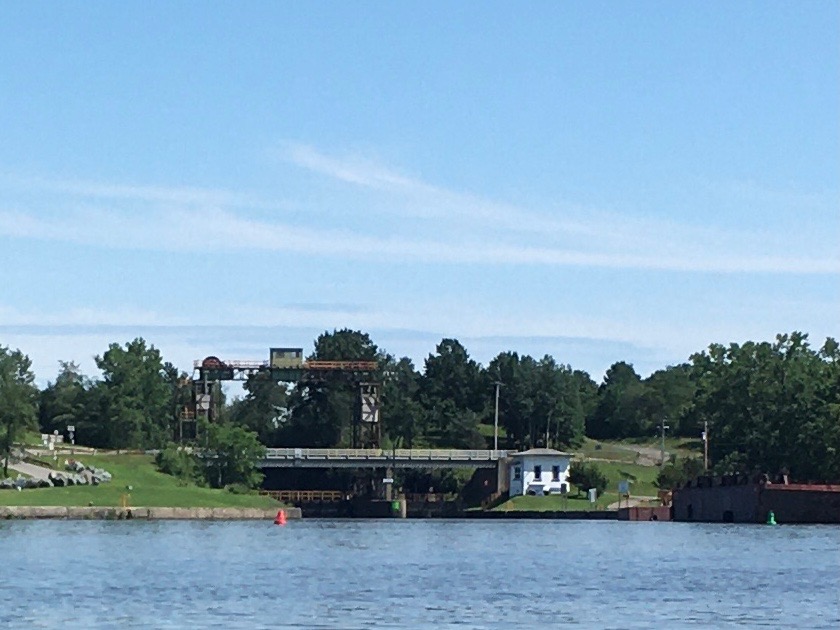 I got my kayak down and launched myself from the rollers; no need to even get my feet wet. From the dock I turned left and started paddling. I knew there was a dam and lock this way, part of the Barge Canal. I used to think it was part of the Erie Canal but one of the historical markers indicated that the original Erie passed OVER the river here via an aqueduct. That must have been cool.
I paddled along the shore, checking out the trees and houses and other things of interest along the way, including what looked like an outhouse at the top of some wooden stairs. River traffic was light, just a few jet skis and a pontoon boat. The bank was mostly wooded.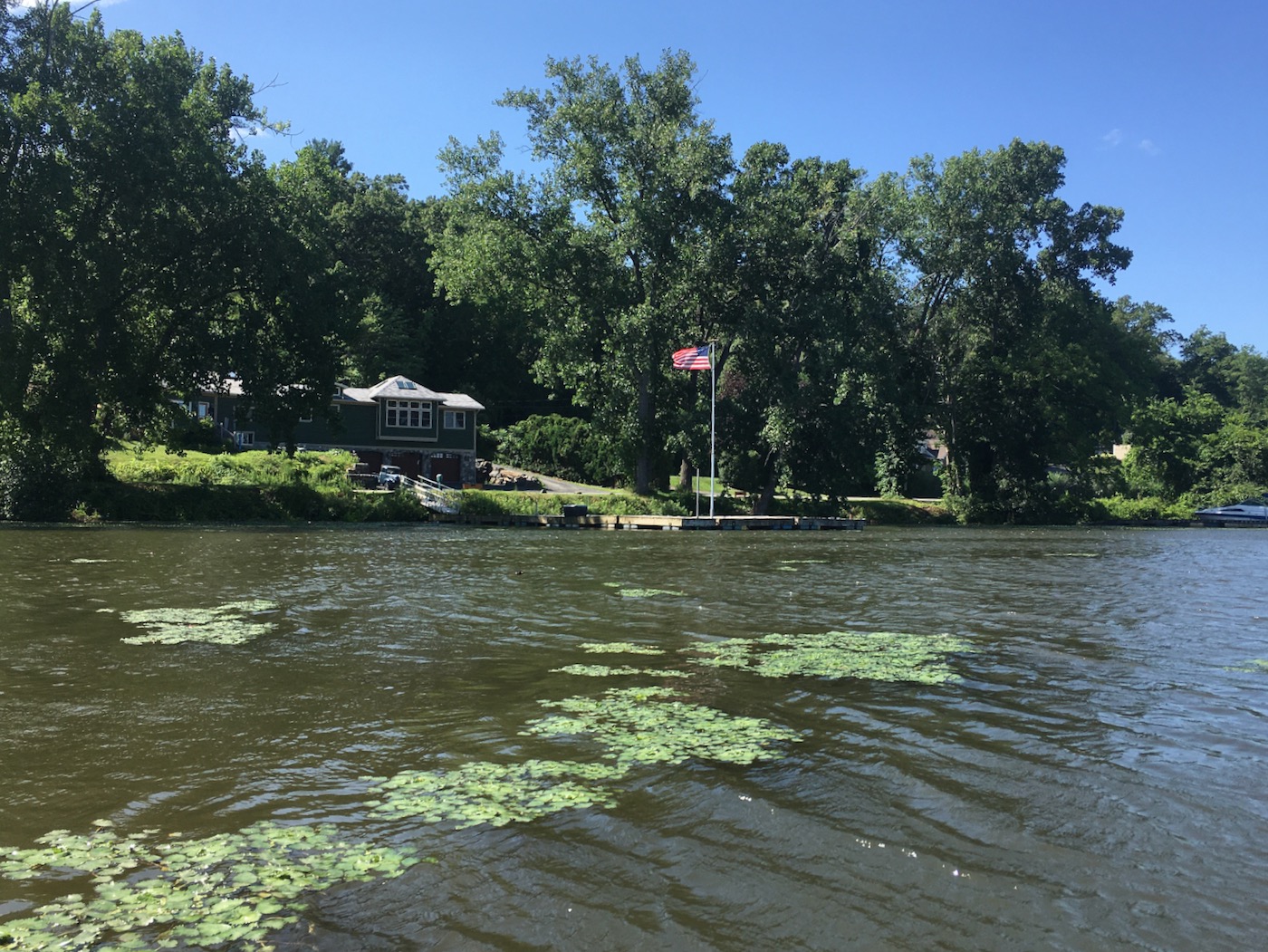 Long sections of the shoreline were choked up with invasive water chestnuts. Recent rain storms had deposited a lot of twigs and logs and other debris in the swollen river. The smaller branches had gathered together in rafts along the sides. I made it down to the Crescent Dam in about a half hour. I noticed a group of anglers in bass boats clustered together just north of the entrance to a series of locks — called the Waterford Flight — which connect to the Hudson River.
I crossed over to the other side above the dam and locks and started back in the other direction. That side of the river was the same; more water chestnuts and floating detritus. I took my time. When I got back to the Route 9 bridge, I paddled underneath and kept going west. It was around this time that something started bothering me. I texted my sisters to ask what year my grandmother had sold the gas station.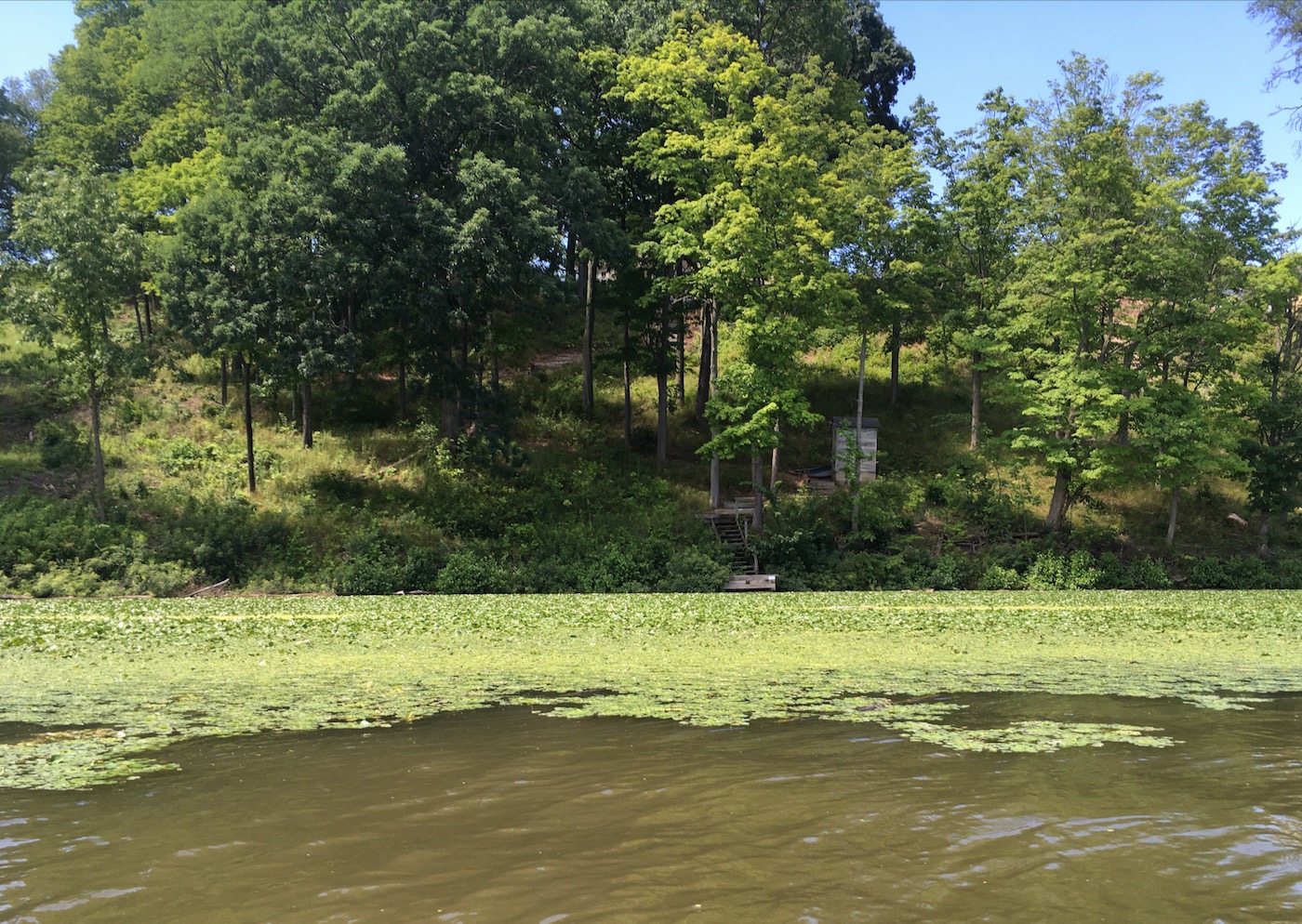 I kept on for a while longer but didn't make it all the way to the Northway's Thaddeus Kosciusko bridge. Instead I crossed back to the north side of the river and paddled back toward my starting point.
Now there was a pontoon boat tied up under the Route 9 bridge and there were some teenagers swimming nearby. I passed under Route 9 again and then I was back where I'd started. I pulled myself up the rollers onto the aluminum dock and got out, once again keeping my feet dry. It took no time to put my boat up and reposition my car to the Stewart's parking lot.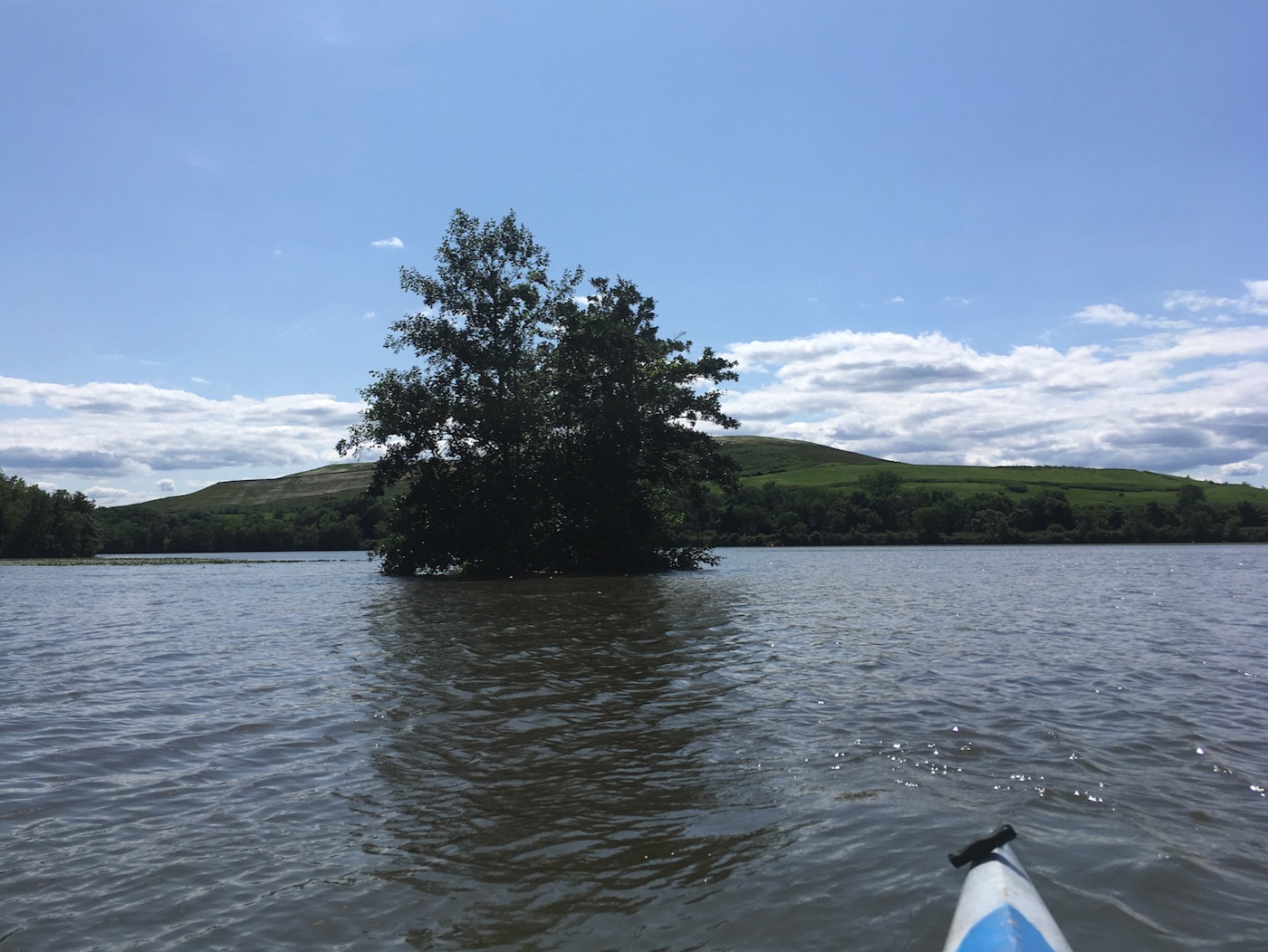 I didn't bother telling the clerk inside about my grandparents. I used to do that whenever I found an excuse to stop in but all I ever got in return were weird looks when I told them "there used to be a homemade indoor swimming pool right over there." Instead I just bought an iced tea for the ride home and got moving.
One of my sisters texted me back that she thought my grandmother had sold the place in 1981. Somehow that place has already been a Stewart's longer then it belonged to my grandparents. I was a little staggered. Time flies for sure.