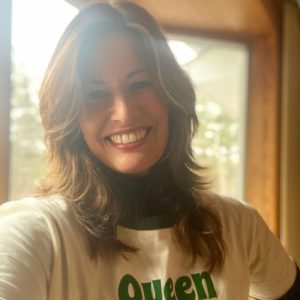 We'd never known of Julie McGuire until the pandemic changed everything. All of a sudden it seemed she was all over Facebook ski groups like Ski the East and Skiology posting pictures of the Catskill backcountry, sharing adventures, stoke and her love for great beer. Based in the Hudson Valley, with a thing for Bearpen, she became known as The Queen of the Catskills, with a t-shirt to prove it.
Her irrepressible smile, open-book approach to her own personal struggles and unquenchable thirst for adventure are unique and hard to ignore. When she let it slip that she had the Haute Route on her resume, we reached out to interview her.
---
NYSkiBlog: When, where, how old, what mountain did you first start skiing? Did you like it right away?
Julie McGuire: My parents first took me skiing when I was ten years old. They aren't really outdoorsy people, they just had this vision that successful adults ski and so they wanted me to learn. My parents have had a house in the Catskills since the early 80s and Windham was where I learned.
I liked skiing, but when I was on the lift, I saw people on snowboards. I turned to my dad and said, "I want to do that." He responded, "Uhhhh… Julie, it looks like only boys do that." And that's how I became a skier instead. My parents didn't take me often, even though our home was 15 minutes from the mountain. But it was enough to get me to an intermediate level.
In my teens and early twenties I didn't ski at all. When I was 27, I broke up with my boyfriend of five years. I wanted to do the things that my ex didn't let me do (it was not a healthy relationship, obviously). One of those things was skiing. I just had this urge. I went on a rainy day and I loved it so much I just kept doing laps over and over. My underwear was even soaked but I didn't stop. The liftie said, "Man, you got a lotta heart." Ever since that day skiing has been my greatest passion.
With Hunter and Bearpen going in on a joint pass, I assume you are in? Where else do you like to ski?
LOL I used to ski resorts, but now the backcountry is my passion. I love skiing the Catskills because I can take the things I've learned on big mountain tours and apply them here. I don't need a partner to ski the Catskills as I would if I were in avalanche terrain or bigger mountains with more hazards. I feel independent.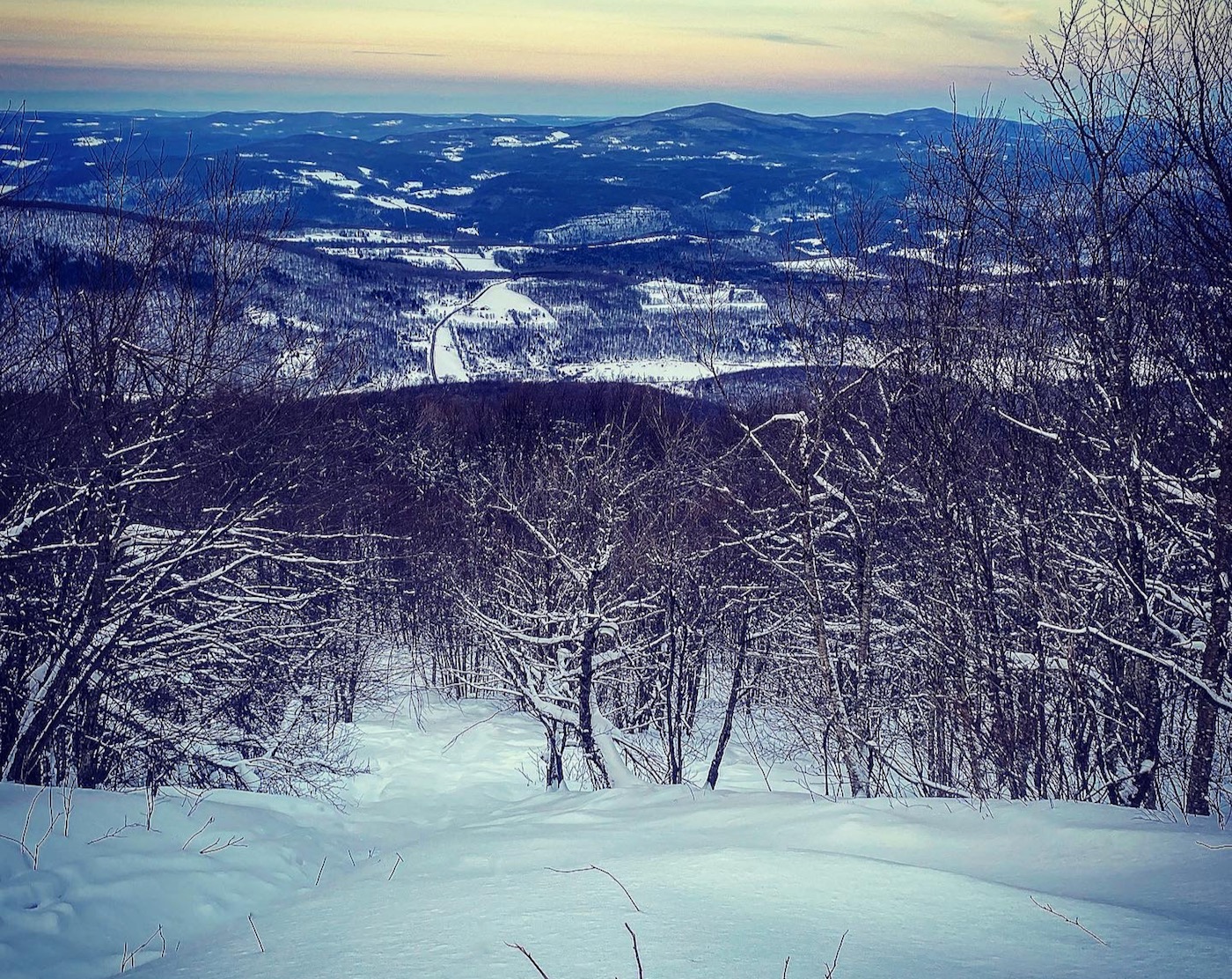 I really love exploring the Catskills. I have a strong personal connection to these mountains. I went through so much while climbing and exploring them, especially these past few years, that I feel they are intricately connected to my personal growth and development, as a skier, and a human.
I love skiing all over the world. I've backcountry skied 4 continents in the past 3 years. I would like to do more tours in the Alps and I loved the Haute Route because it's a journey. It's not just about finding the best snow. It's about facing challenges and obstacles as you travel on skis and figuring out how to deal with these issues in the safest manner possible. You feel a little like Odysseus.
I have my sights set on doing mountains which will require acclimatization. That's the next frontier for me. I have a trip in mind, but I want to bring my girlfriend's skills up, so we can have that adventure together, safely.
How did you get to be Queen of the Catskills?
It's funny, I wore a shirt from Catskill Outpost that said Queen of the Catskills and I took a picture of myself with it. Ever since then, people just call me that. I don't think I am the most badass woman in the Catskills or anything like that. There's a 5 year old that just got her 3500 Club winter patch and is almost done with the AllTrails Challenge. That's a Queen right there. I may be skiing these mountains on a more consistent basis than other women, but who knows?
I like bringing visibility to women who get out in the mountains. Backcountry skiing is a male-dominated activity, but there are women who are active too and if they shared that more on social media, it could inspire other women to follow suit. Being immersed in nature (especially through skiing) has helped me heal traumatic events in my life. I want to encourage everyone to get out there and try it because maybe it will work for them too.
You've developed quite a following on social media.
People see social media as an ego thing. They think posting pics is self-aggrandizement. With a lot of influencers, it can be. But it can also be inspirational. There are so many women I follow because their adventures inspire me to do bigger things. I encourage women to promote what they are doing, even if it seems small to them.
Who inspires you?
I'm an introvert and I often get my inspiration from within. But there are people I have come to really respect for various reasons — most of them are skiers. Shane McConkey was a huge inspiration. I watch his films in awe. I didn't know it was possible to do those things on skis. Ingrid Backstrom was in many of those movies with Shane and it was the first time I saw a female doing the same things the boys were doing. My dad was wrong when he said, "Only boys do that." Girls can do these things too and there is no logical reason why they can't. If you can overcome the fear, you can do it too.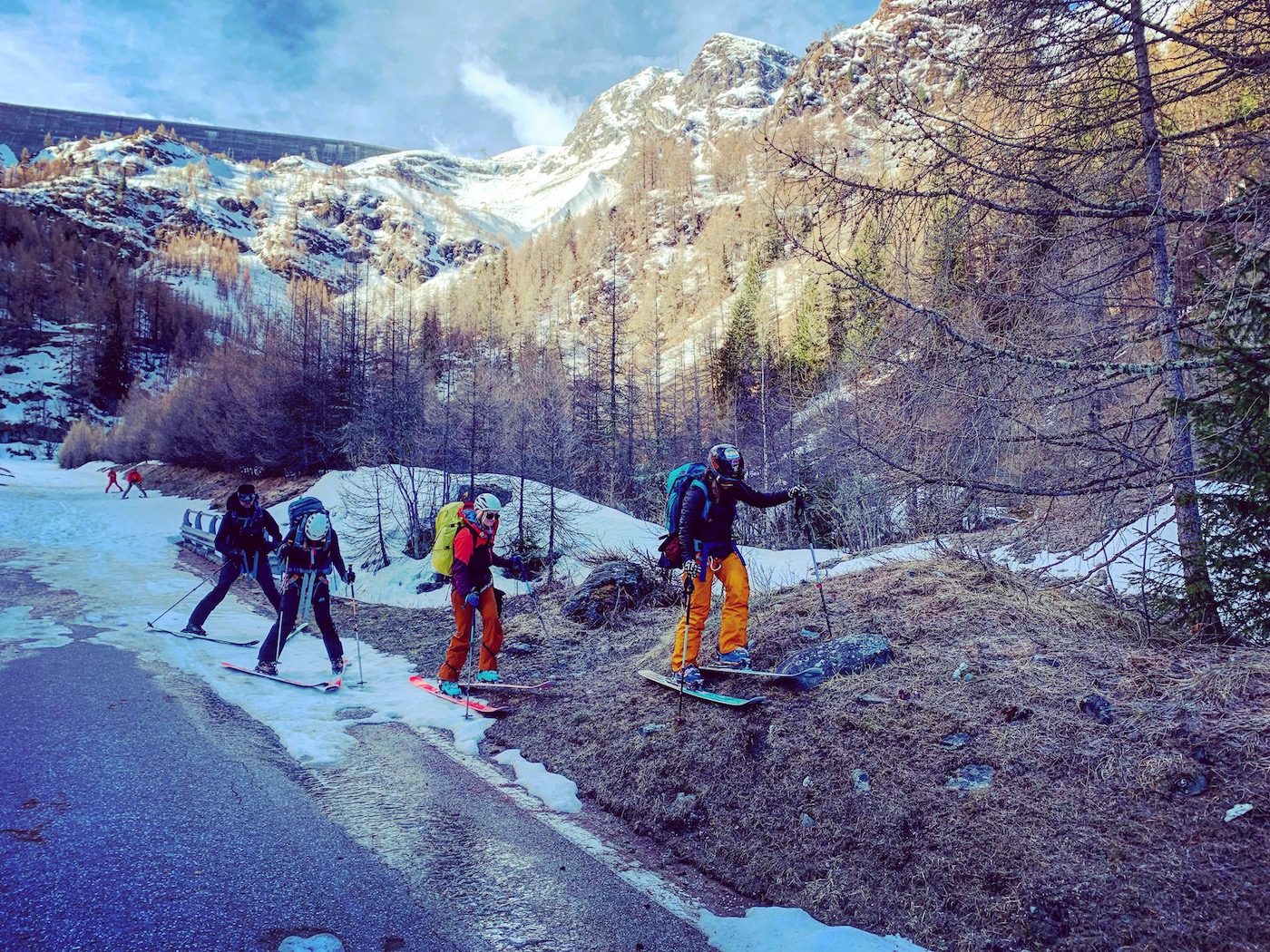 On a more personal level Rachel Burks, Jess McMillan and Caroline Ware George are all people I have skied with and admire. They have so many accomplishments as skiers and mountaineers and it's a whole other level of inspiration when you get to know them, ski with them, and see them in action. That's another great thing about skiing is that you can meet the elites in your sport as opposed to, let's say, basketball where you'll probably never play with Lebron James.
When you get to know these athletes on a personal level, they are even more inspiring. It makes things seem more attainable in a way because you hear the challenges they have had too. Things might come easier to them because of their talent, but nothing great comes easy to anyone.
Tell us about the Haute Route. How did you decide to go? What was the hardest part? What surprised you the most?
When it comes to skiing and my exploits in nature, serendipity has played a huge role. It's as if something guides me either through internal inspiration or happy coincidence and discovering the Haute Route was one of them.
I went in 2019. I had a shit year because I was going through a divorce and in the midst of a breast cancer scare. My mother wanted to do something for my 40th birthday, so she was looking at trips for me. I didn't know what the Haute Route was at the time and my mom knows almost nothing about skiing. She had found a backcountry trip to Iceland and called them up. She was about to make arrangements, but then they were suddenly booked. She needed to find a plan B. I have to ask her how this happened, but somehow she found the Haute Route in the Alps.
I remember looking at the description of this trip and being pretty intimidated. This would far exceed any of the adventures that I had done before. Just getting the equipment I didn't have was a journey. They are very specific about what you need and make it known that you should not deviate from that. Even my skis were kind of an issue because they were 108 underfoot and they recommend something closer to 100.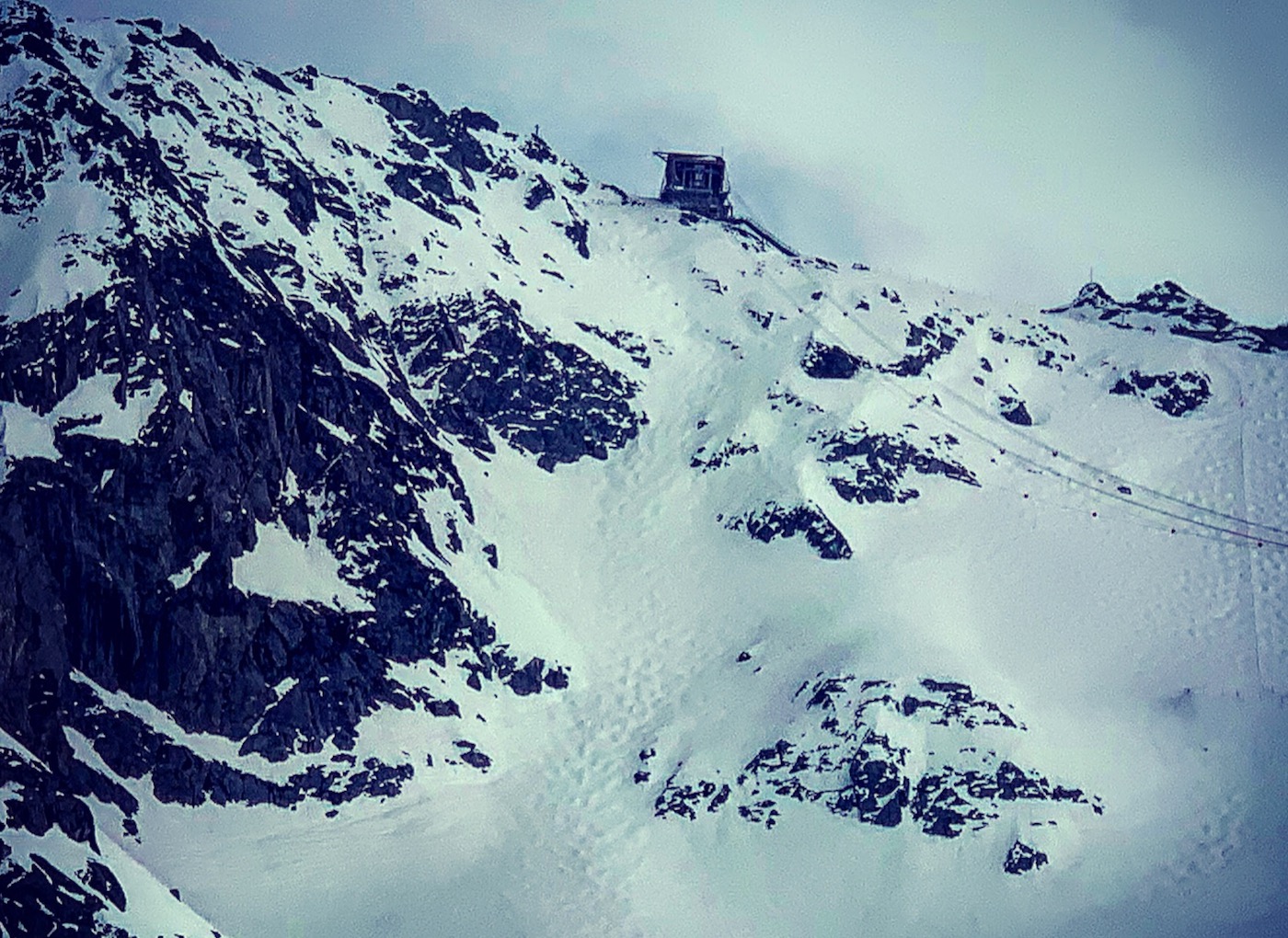 The skin tracks in Europe are narrower. You definitely do not bring your pontoon skis on a Haute Route trip. You need something more versatile. People in the U.S. think wider is better for backcountry, but you are not going to necessarily have great snow. You want something that will perform well on ice and hardpack. Some wider skis like my Volkl 108 Ws and DPS 106 Zeldas are quick edge-to-edge and surprising good on ice, but I doubt your 135s will work. You'll be in narrow couloirs at times so keep that in mind as well.
I had to get a lot of mountaineering gear that I didn't have yet, even special sunglasses. I remember spending hours trying to find the perfect weight of a baselayer. You are traveling from hut-to-hut with everything on your back: toiletries, food, avalanche gear, first aide, change of clothes, etc. This is a backpacking trip, in the mountains, on skis. It's about the journey not necessarily finding powder stashes.
You have to deal with a lot of wind and changing routes. Avalanche danger is also very real. There were a number of times we had to pick our way down an avalanche path strewn with huge chunks of debris, then bushwhack through a tight forest, skin on a road and on grass. It's just an epic journey. We had some days of great snow, and some days where it was northeast conditions.
One woman brought her noodly powder skis and really struggled. She eventually dropped out. Another guy dropped out after we skied the line beneath the tram at Verbier. I think he might've been freaked out by the steepness. I was freaked out too. It wasn't a powder day. It was slick, one of the steepest lines I'd ever skied, and extremely bumped up. I was afraid I would slide to my death. I've had epic slides of that magnitude before, so it feels very real to me. But it ended up being one of the things I was most proud of accomplishing for myself. It was type 2 fun for sure, but I think those make the greatest adventures.
The Northeast trains you for these conditions. The bumps in Verbier were frozen, deeply trenched, and steep. Hunter Mountain isn't as steep or as big, but it trained me for this. I remember thinking, "This reminds me of Hunter." I have said this to myself a million times listen to Johnny Drama, "If you can Ski Hunter, you can ski anywhere."
What single word describes you as a sportsperson?
I'm torn between intense and growth. There is also a component of humility.
I want to learn everything I can and develop as a skier and mountaineer. People think once you get to a certain level that some things are beneath you and a waste of time. People scoff at the size of the Catskills and the Northeast in general. Some people won't ski anything besides perfect powder days, which confuses the hell out of me.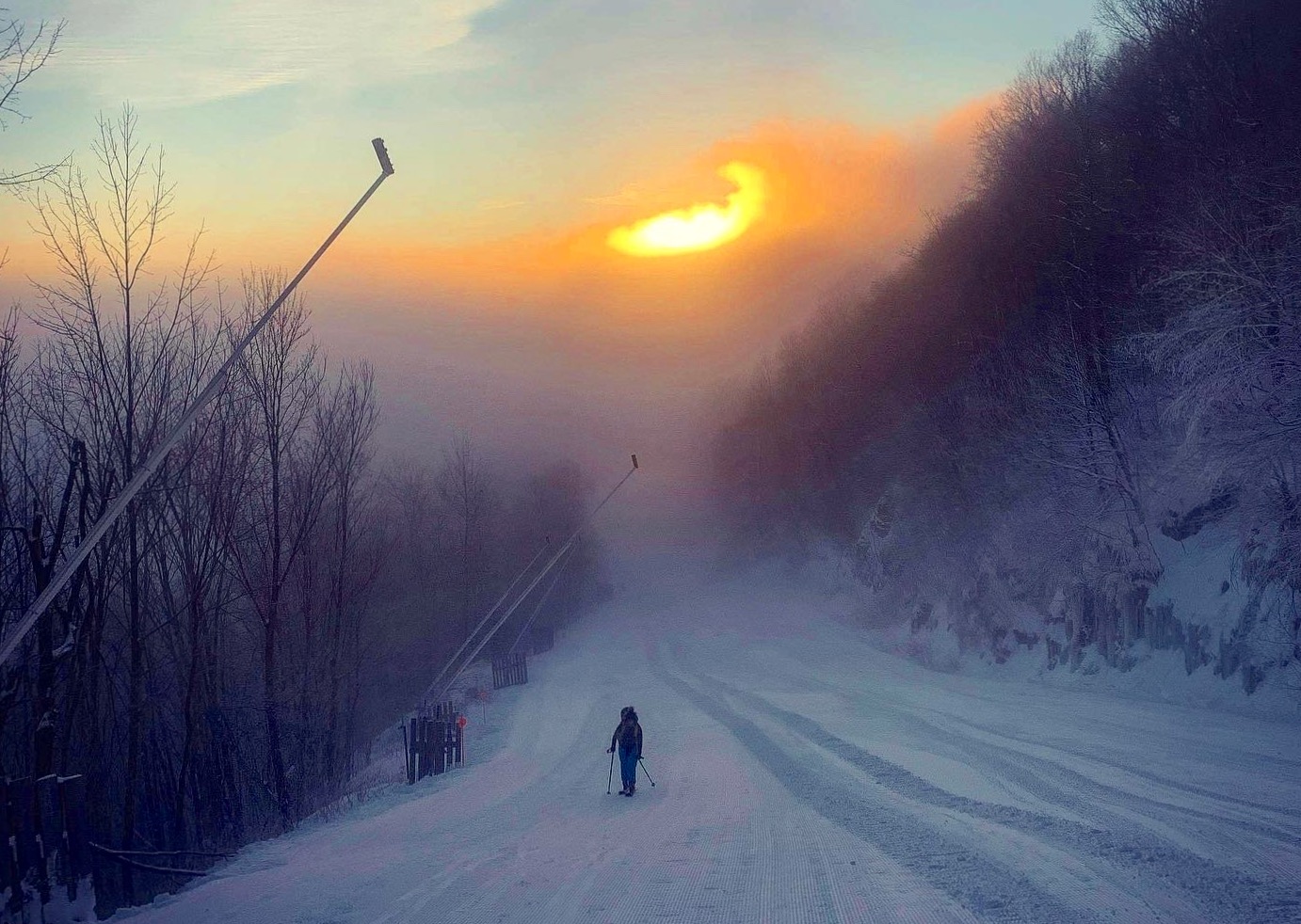 If I thought that only big adventures were worth the effort then I wouldn't have developed as a backcountry skier in such a short amount of time. There are people I have toured that have been backcountry skiing for much longer than I have. The first time I went out with them they were ahead of me in terms of knowledge and comfort. Next time I skied with them, I was on par with them, the time after that my knowledge and experience had exceeded theirs. This didn't happen because I did so many big mountains. It happened because I did what I could where I was and never said, "This is too small for me."
If you want to be the best that you can be, then you have to get experience. Get out there as much as you can. Small scale adventures WILL translate to big mountains. I believe that with every cell in my body. All my experience in the Catskills has served me on my big tours and taught me new things. Even going to Big Snow can develop you. Just get out there as much as you can and start thinking creatively about what can be skied and how to ski it to develop your skills.
You skied 80+ days last year, that can't be easy. What is your secret?
Last year was an unusual year for me because I was working remotely and living in the Catskills full time. So after work I could climb a mountain and ski down. During a normal season I still get around 60 days in. I work as a teacher in NYC so on weekends I ski, as well as on my long breaks.
You've been open to sharing the challenges you've faced. Has skiing, adventuring and storytelling changed your life?
I'm 42 and skiing has been my greatest passion since my mid-twenties. Whenever things in life have gone wrong and I've felt at my lowest, I could always go skiing. It's not only fun, but it gives me a way of developing new skills and builds my self esteem. Plus, there's something really curative about being immersed in nature. Every traumatic event since my twenties has been healed with the help of skiing.
The storytelling was a way to chronicle this amazing year and a half I had in the Catskills where I got to live life in a way that brought tremendous fulfillment. It was also a way to share conditions reports and stoke with people in hiking and skiing groups. A lot of people seemed to enjoy them so I kept posting. I struggled a lot with loneliness after my divorce a few years ago. Posting my stories made me feel a sense of community, even if it was just online. Eventually started meeting some people in real life. I even got into a new relationship because of these posts, so it has changed my life tremendously! For the first time, I feel a sense of belonging or fitting in.
What advice do you give to northeast skiers?
If you're a backcountry skier, take your AIARE 1 and 2. Also, don't ski Mount Washington without bringing your boot crampons, ice axe, beacon, shovel, and probe. I know people want to keep their packs light, but it's foolish to take those risks. Whenever people post questions in Facebook groups asking if they need those things, I get furious at those boasting about how they climbed it without the aforementioned equipment.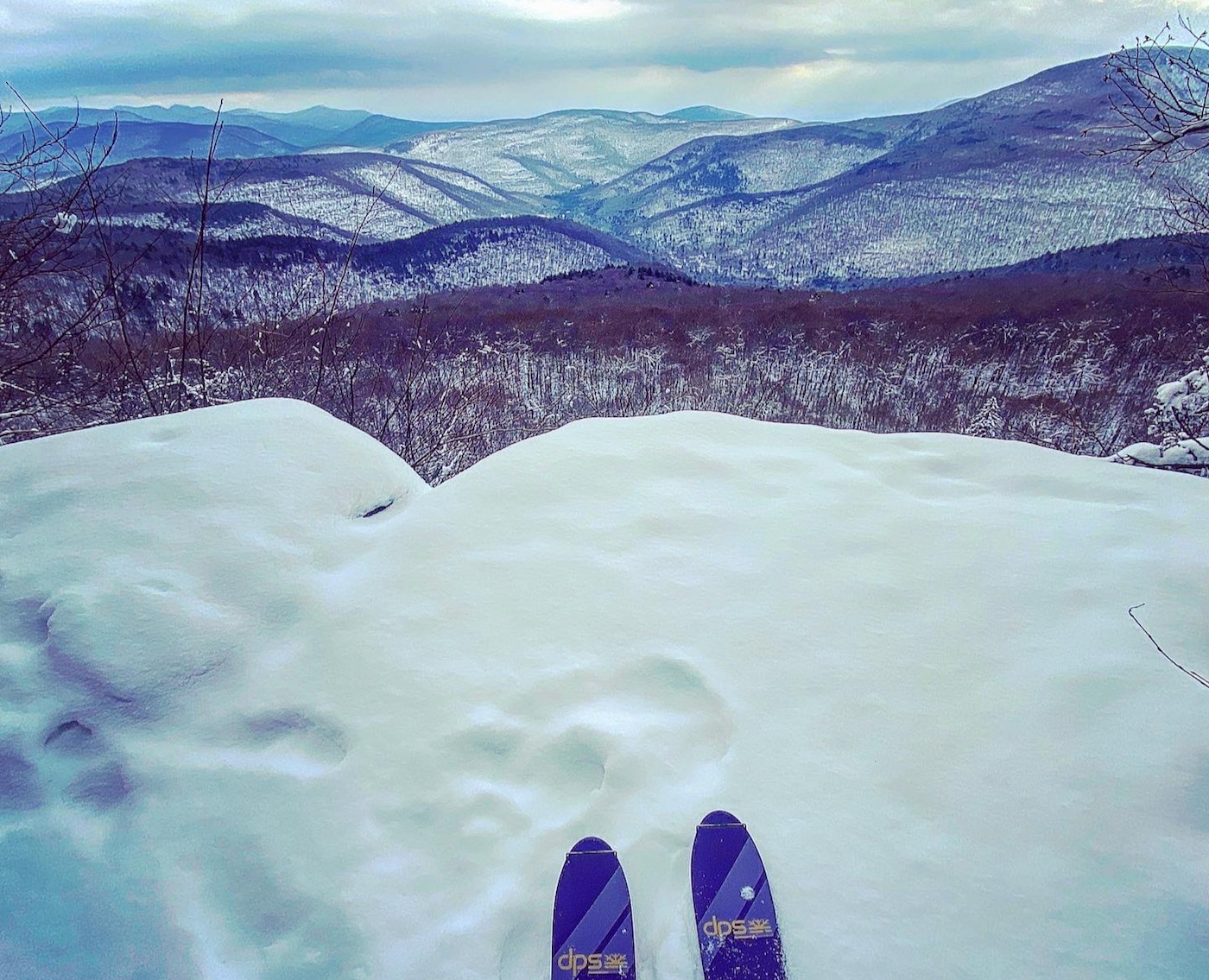 Maybe that day you were able to do that and got lucky, but it's reckless to tell others they don't need it. It's either inexperienced people giving bad advice or people who would rather show off that they did something risky and got away with it instead of caring about the safety of others. Take calculated risks so you can stay safe and have fun. As someone who has had very serious injuries and accidents due to skiing (brain trauma, collapsed lung, broken ribs, ACL replacement) danger is real and mountains are not to be underestimated, ever.
Will you come to Plattekill next year?
Everyone says I should go so I will make that a priority. I love mountains that have a real ski culture vibe and people told me I'd love it for that reason.
If you were forced to drink only one beer, what would it be?
Heady Topper has always had a special place in my heart, but I feel like it tastes different from the way it did a few years ago. So, I'm going to say that I think Catskill Brewery's Devil's Path IPA might be my current choice. You can't go wrong with that. However, the lack of variety would make me kind of sad.
Thanks for your time Julie.
You're welcome.
---
Thanks to Ripitz for his help with this interview.
---