It was ski-on just about all day. There were small crowds, cheap(er) tickets, no reservations required. There was plenty of natural snow, a variety of terrain to choose from, fun low angle trees… three cool old fixed grip chairs and a T bar. I discovered that Labrador Mountain in Truxton, NY is awesome. The only thing I couldn't figure out is how I'd gone this long without checking the place out.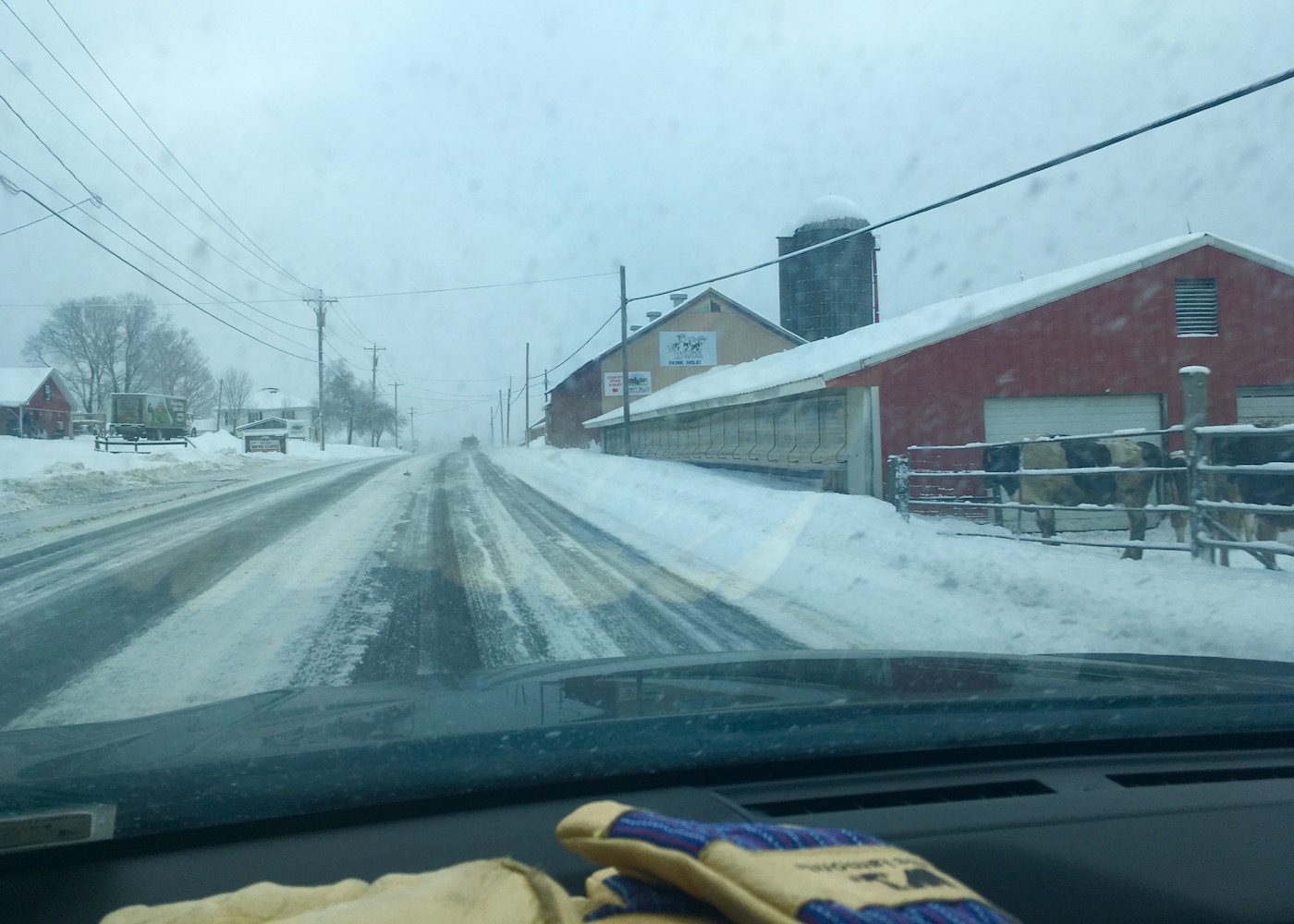 When I got home from my first visit there, I decided to do some research. I pulled out a couple of books I have on ski history and was surprised to find no mention of either Labrador Mountain or Truxton, NY. I turned to Wikipedia and was astounded to find that there was no page for Lab.
Maybe that's why I'd never been there before. Lab seemed to fly completely below the radar. Eventually I figured out that Labrador was opened in 1957 by a family named Wilson but I had to dig for that little bit of information.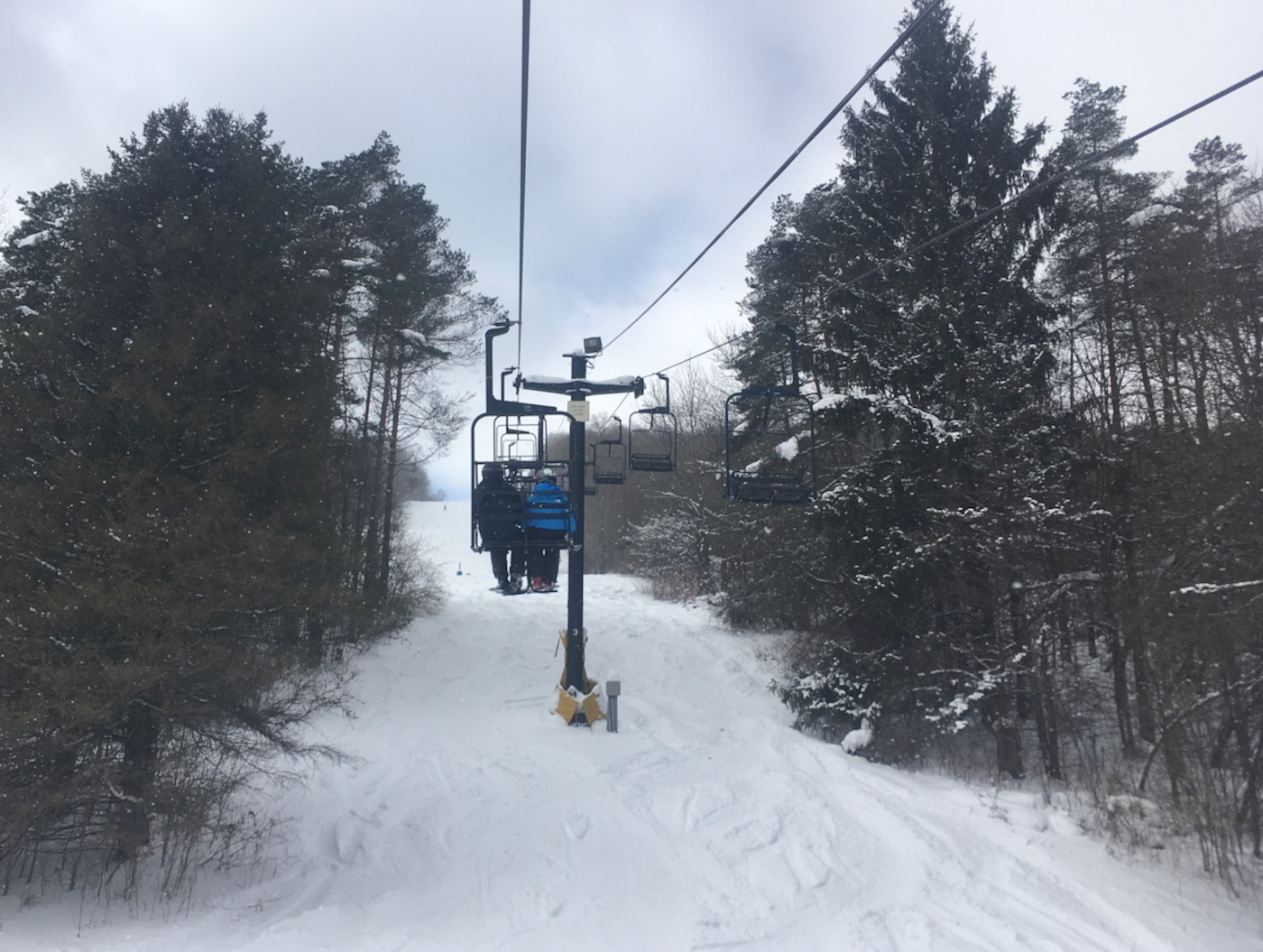 I'd never even considered skiing Lab before. The uniqueness of this ski season has inspired me to stick to smaller resorts and seek out some of the upstate hills I haven't been to before. Central New York demanded a closer look. Of the three ski areas clustered north of Cortland, Lab looked to be slightly bigger then Song or Toggenburg, so I decided we'd check them out first.
The boys have had it with the early wake ups; I let them sleep in until 5:30. Oddly enough, they both went right back to sleep once in the car. For the first half hour of driving I got sucked into George Norrie interviewing a psychologist talking about the history of Tarot cards and explaining how Tarot readings could be really accurate. They didn't convince me but the history was interesting. After that, I pulled up "This is The Who" on Spotify and that got me most of the way out Route 17.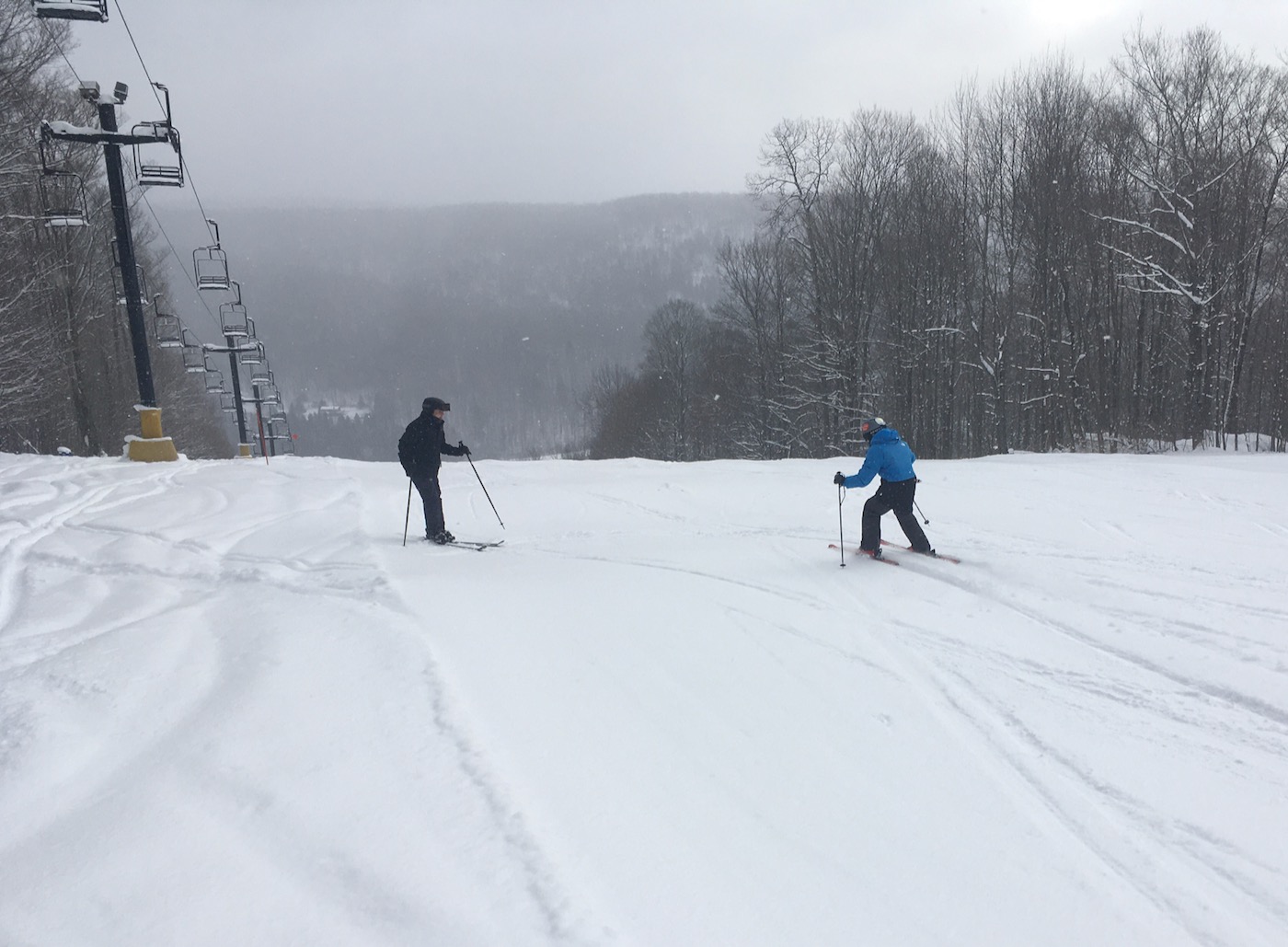 The sun came up in my rear view mirror around Monticello as the temps hovered around 15 degrees. We arrived at Labrador at 8:50 with a light snow falling. The triple chair next to the lodge was turning and there were a few cars in the parking lot but nobody seemed to be in a big rush for first chair. We booted up at the car and crossed the street to the base area. The vibe was as chill as the air temperature. Before I clicked in, I already liked the place.
On the first chair ride up, I spotted some nicely spaced glades on the other side of the main trail. My sons both agreed they looked fun so that was our first run. We liked them so much we did a repeat for our second. Danger Boy has been developing into a bit of a powder hound the last few years so the fresh snow really pleased him. A few times after taking a fall, he explained "Falling is no problem if you land in deep snow." I told him to be careful anyway.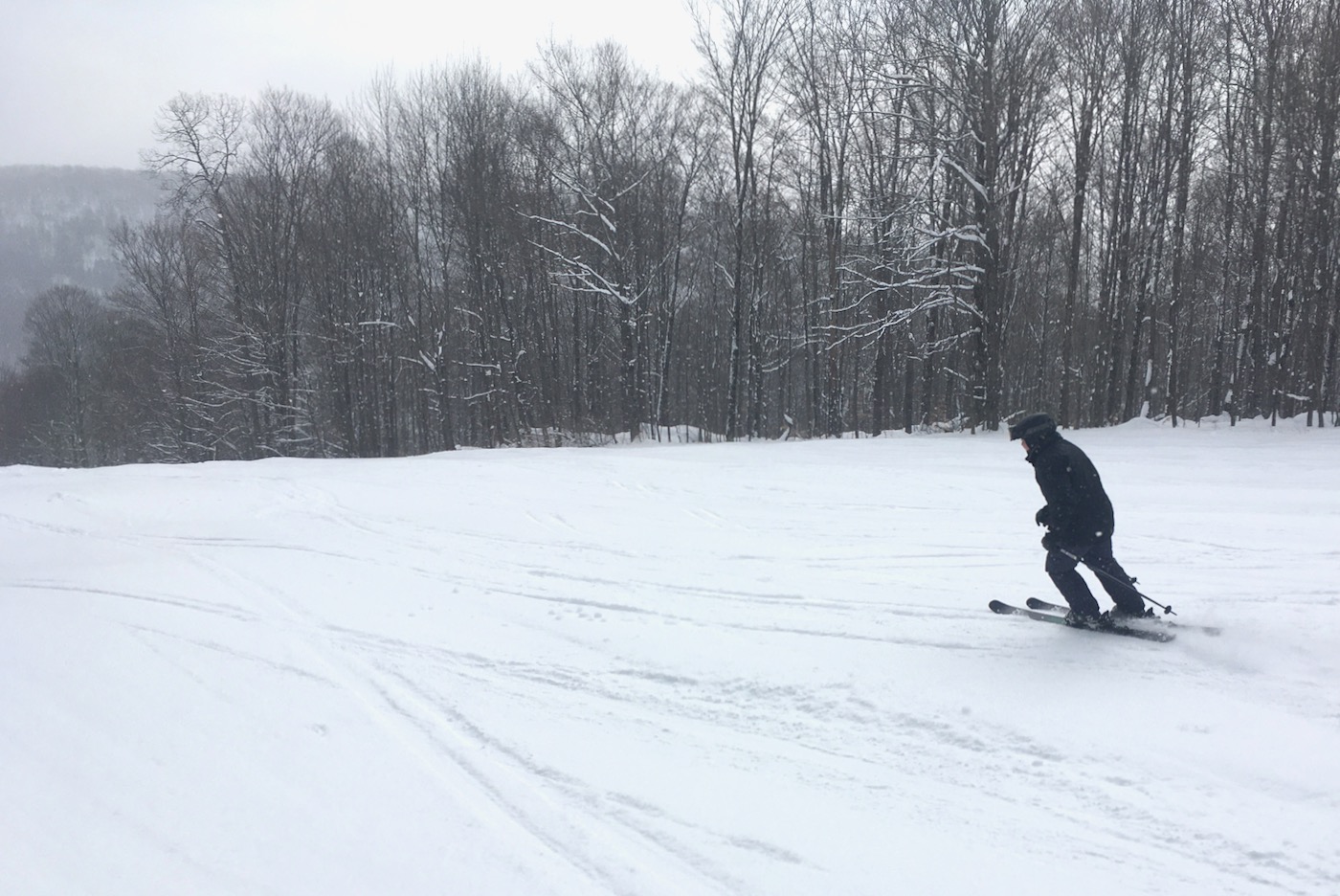 We turned the other way off the top of the triple and found some steeper terrain with fresh snow on it. I think we skied Ptarmigan on that run. I hadn't picked up a trail map yet, and we ducked in and out of the trees throughout the day so most of the time I didn't know which trail we were on. After a while, I noticed that the double chair on the other side of the lodge was running so we headed over there to explore some more. We came across a terrain park and Junior hit a few jumps. It was all fun.
To say the crowds were light at Labrador isn't accurate because there really were no crowds at all. Most of our chair rides were ski-on regardless of which lift we were using. When we stopped for a chili break some time after 11, there was plenty of room for us sit in the lodge while maintaining a social distance. Skiing at Lab was a zero stress experience in every way.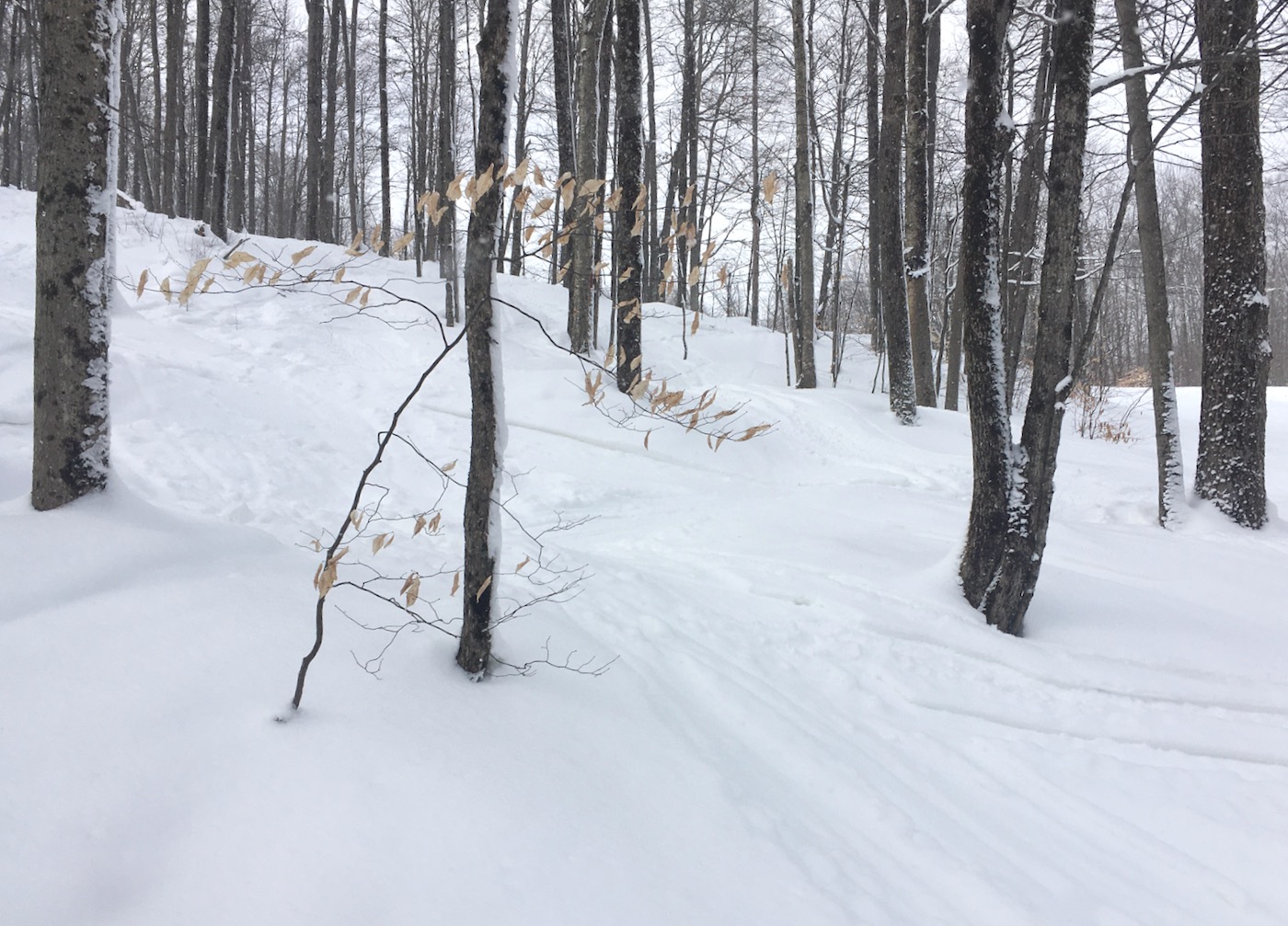 The afternoon went the same way as the morning. When the third lift started running, we were able to explore the trails we hadn't gotten to in the morning and found some more glades to get into over there, more soft snow. The flurries that fell most of the day further improved the conditions. It wasn't really a powder day, but everywhere we went we found little pockets of un-disturbed snow. The sun even peaked through the typical upstate overcast a few times.
I still can't figure why Labrador doesn't get more attention from the skiing public or why there is such a scarcity of information about the place online. Somehow they have managed to stay below the radar. Maybe that's how they like it. But now I know the secret.