I had a decent season, but some big omissions kept it from great or all-time status. I never had an over-the-top deep powder day, and somehow, as hard as it is to do, I missed out on a perfect spring day too.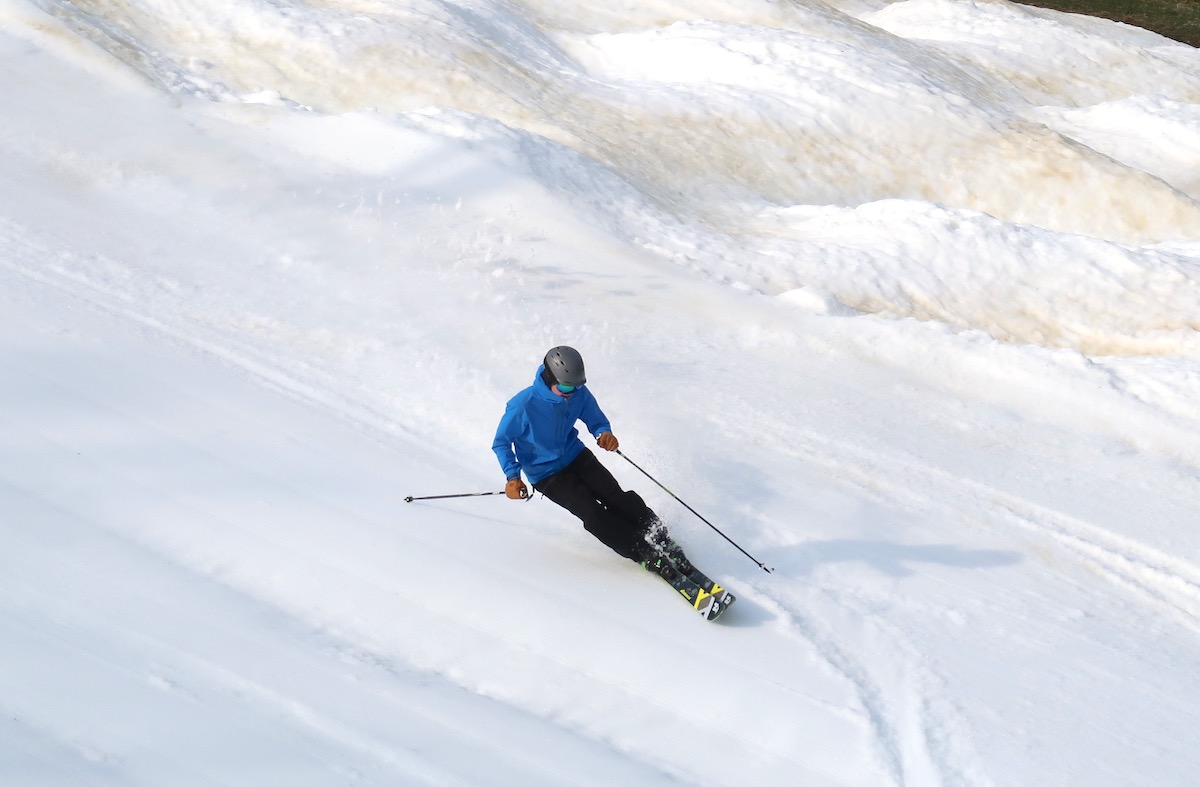 Deep powder is something that you — or more accurately I — might not get in any given season. Apparently.  It's a fact of life: powder comes when it will and often doesn't last long.
But spring is more durable.  Or it's supposed to be. Each year some snow falls the sky and some is made by man. Eventually it all melts. The days become sunny and warm and the skiing is good. On occasion, these days fall on weekends too.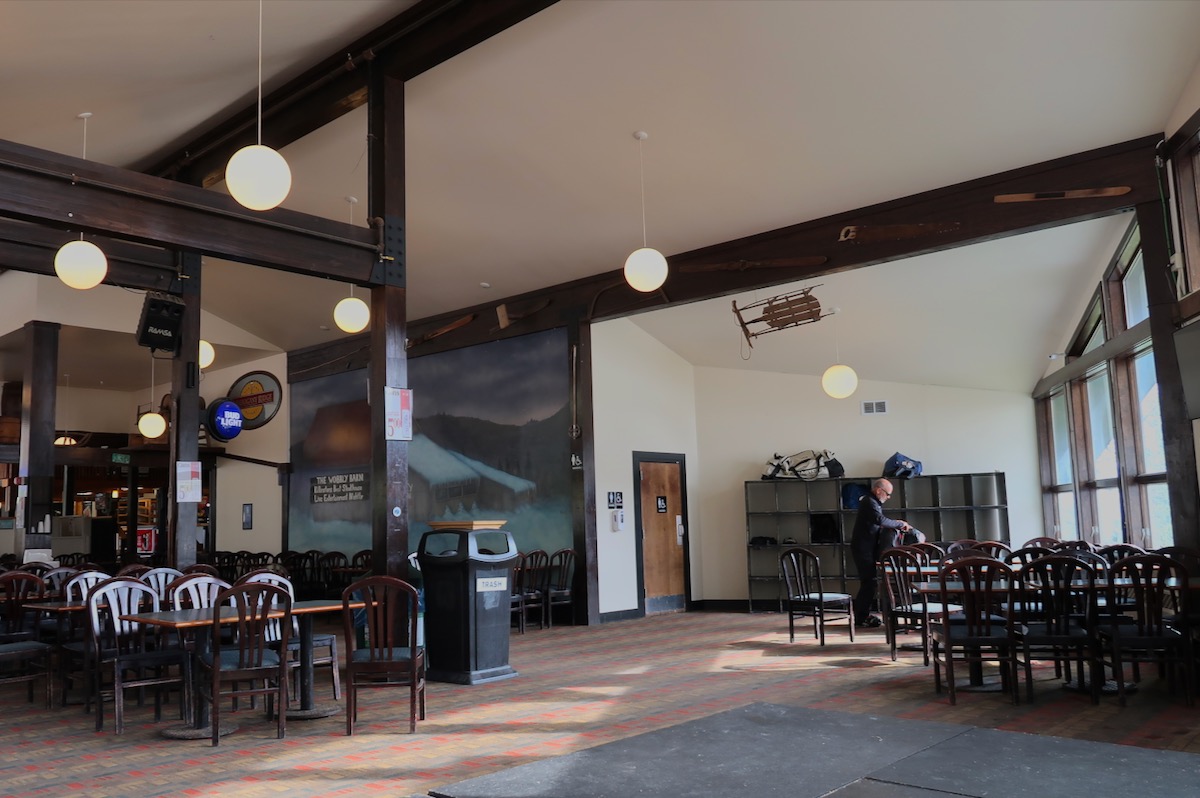 This year it didn't work out that way for me. I've skied six days since March 30 when it started to warm up. I never skied any truly hard snow, but on a three consecutive days at Gore, lack of sun or warmth kept conditions "on the hook." On two other days, new snow from the day before made skiing sticky.
Even those sticky days were fun, but the iconic pow and corn moments, those memories are missing. Looking back, '18-19 was not great until March. But I'll always remember several of those late season days — both pow and corn — for many years. My brain now considers last season to be a great one. Fast forward to the present.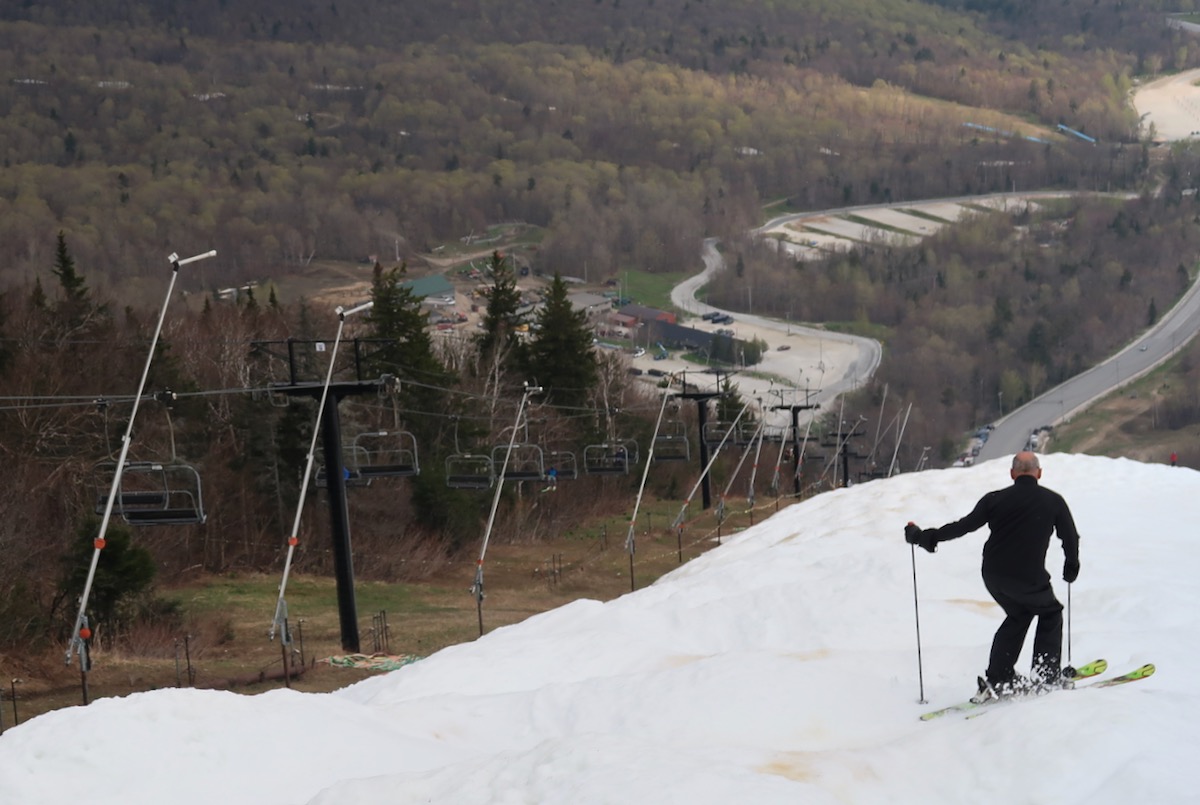 On Friday I headed to our place in the Adirondacks, to chop down a tree, split some wood, find a special birthday present, and grab one more ski day, Day 35. Saturday looked to be the day to be at Big K, with partly to mostly sunny skies in the forecast. Sunday was to be cloudy and maybe a bit wet.
But my plans for Saturday were set: cut, split and stack a big downed birch and choose a route for a zipline. On Sunday I was planning an early rise and drive to Killington with Duck. We'd ski Big K and drive home in the afternoon. I wouldn't be skiing in Saturday's sunshine, but it was less driving for me, and more time in our woods.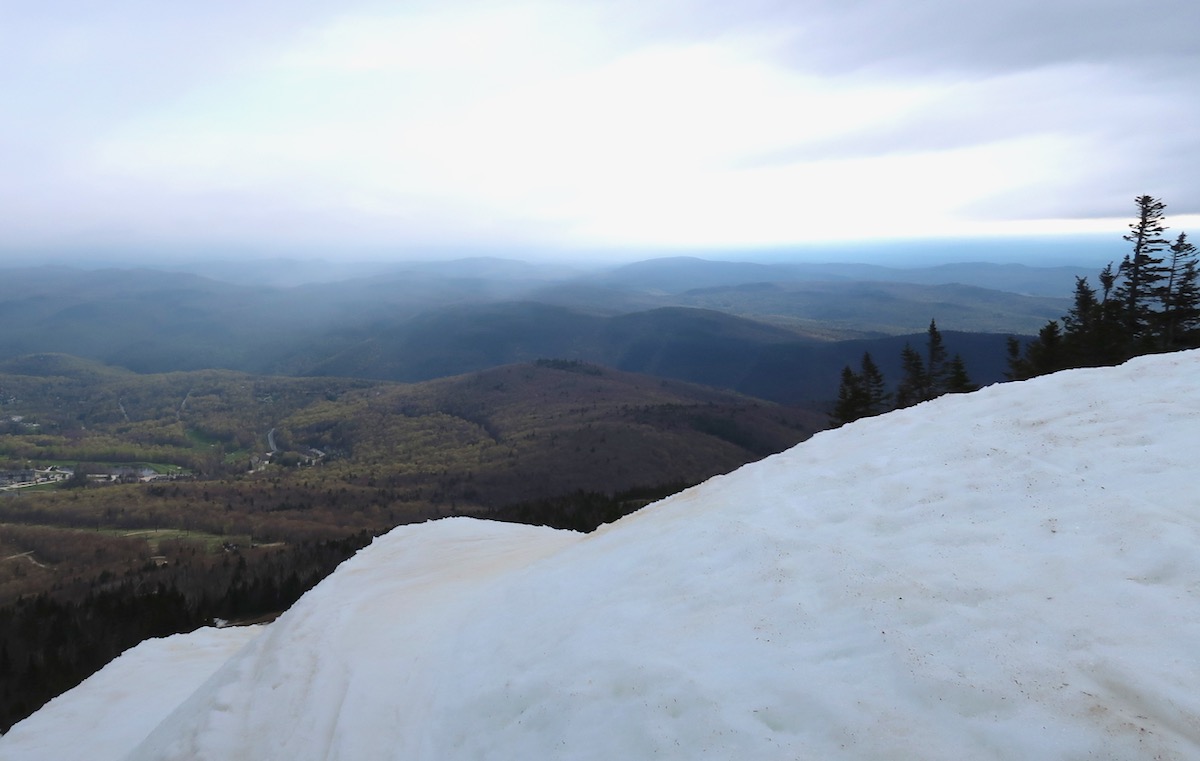 I met Duck at the (perfectly located) Lake George ParknRide at 6:30 am. We shook hands for the first time in several weeks. He put his skis in my car and we headed east to Vermont. On the way over, the sky was alternatively dark and then brighter at times, and it did sprinkle for a bit.
We parked near the K1 Lodge and went in to boot up. It was pretty deserted. Both Duck and I managed to swing a $35 ticket; I love Killington for making it affordable. We didn't quite make first tracks; we were halfway up the lift line when we saw the first wave of skiers below us.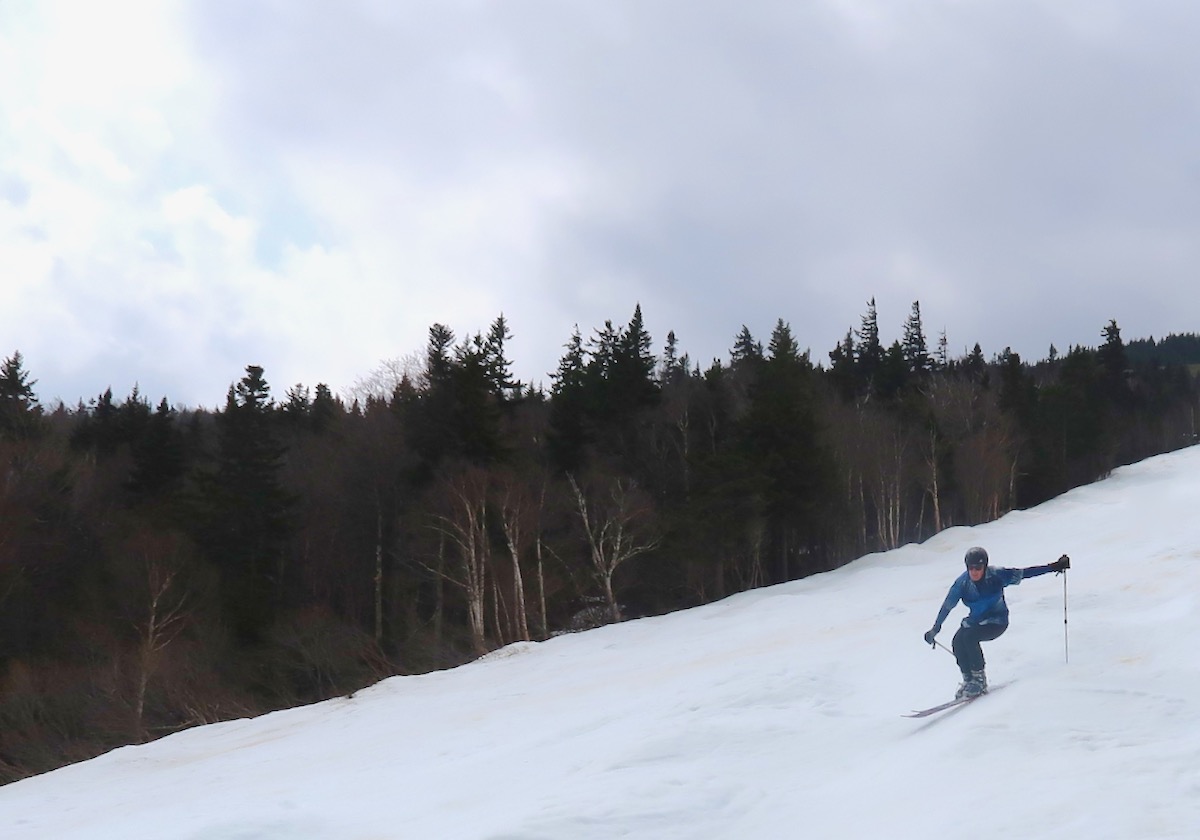 My last ski day had before Sunday was April 4. At that time I was in mid-season form, I could ski all day if conditions warranted. Now on May 19, I was skiing hsq top-to-bottom vert on steep and bumpy terrain. In, basically, pre-season form. One good thing, I was with Duck, he waits for me, most of the time.
The cord scraps were very nice and the second run was also very manageable. By my third lap, I knew I would never ski all day. To mix it up we walked over to Ovation which was actually open.  There was no rope, and a sign that said "walking required." It was skiable, but with limited sun it wasn't soft.  Superstar seemed to face the "sun" just a bit more directly. And uh yeah, the grooming helps too.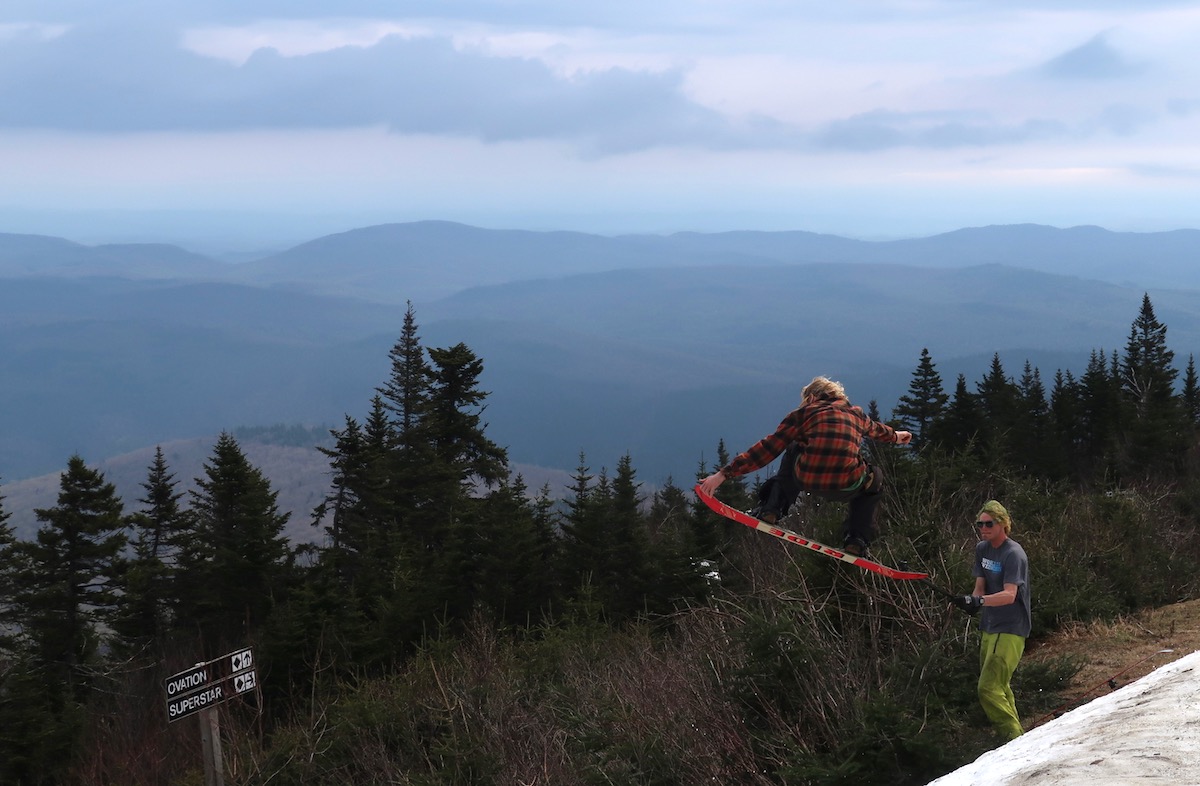 We skied down until the snow ran out, and then walked back over to Superstar. Someone called out from above, it was Jeff with Beth and Daniel.  It's been a while since I've seen those guys, and my legs were starting to max out. I skied slowly down to the lift and waited.
Jeff and Beth got a place close to the mountains and their ski days show it. I think Jeff said he was close to 60, I'm jelly of that, fo sho.  They are all improving too, and as expected, Daniel is a ripper. Would have been nice to see Sylvie ski.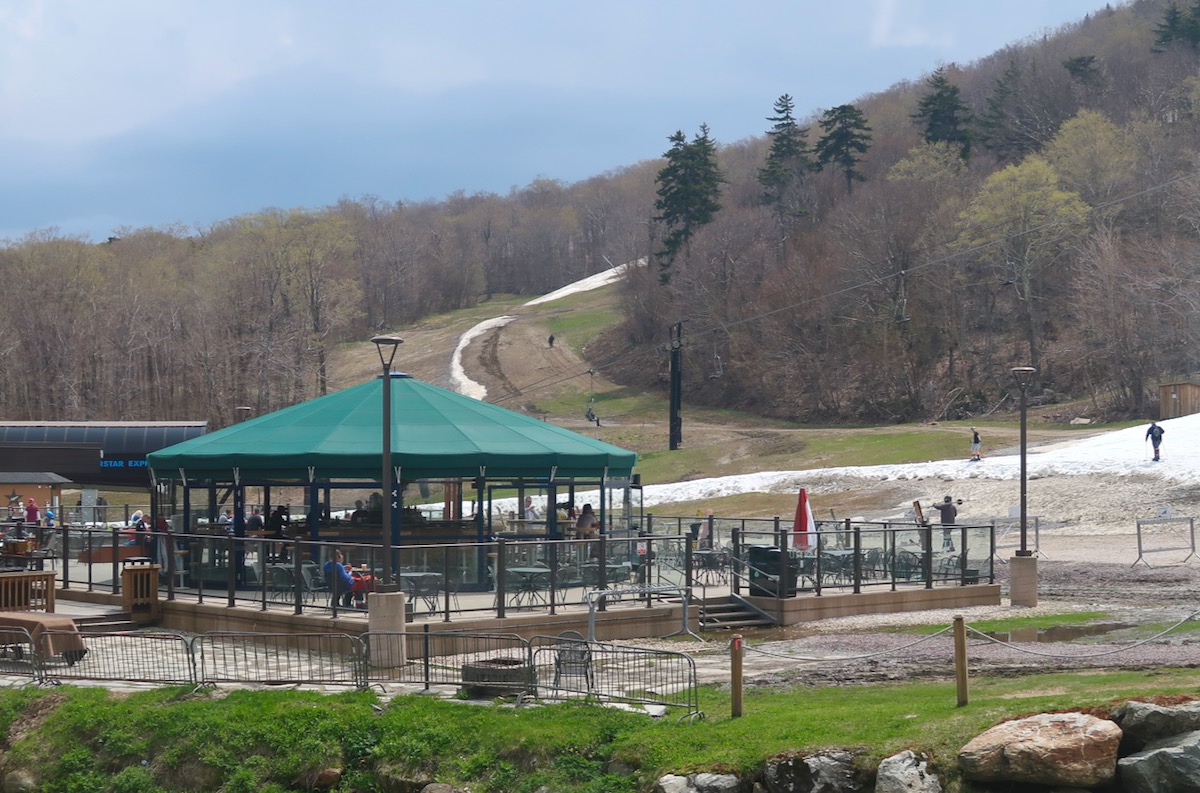 To misquote the advice of my high school cross country coach: "Ski as hard as you can for a long as you can."  Maybe I made it until 11:30.  I let Duck 2-for-1 me at least once. The "sun" did poke out a few times, and it was great to be there.
In the end, I'm looking for memories. That's what I want from each season. I believe one reason we love pow and corn so much, is because they reliably help us make memories. This year I learned it on mlk weekend, if I'm open to it, I can create all kinds of memories.