On Saturday morning, eight of us met behind a deli in the Pio Costa industrial park in Fairfield to canoe the Passaic River where it traverses the Great Piece Meadows. We'd hustled canoes down to the river bank and loaded our gear. Now three of us were waiting for the others to spot cars at the takeout twelve miles downriver.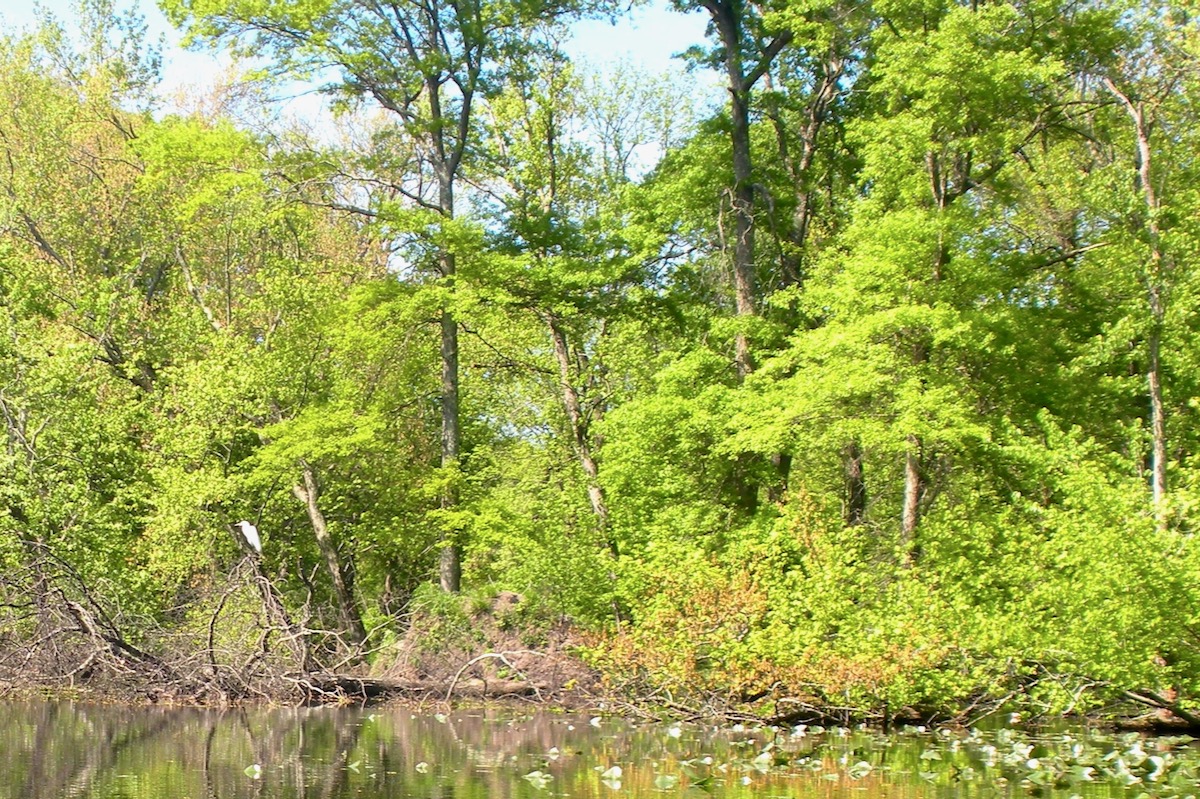 The waiting is the hardest part.
If you live in northern New Jersey, it's almost certain that you've driven on Interstate 80. And you've probably traversed a seven-mile stretch of I-80 that cuts through the Great Piece Meadows.
For years, I've gawked from my car window at the huge expanses of water flooding the meadows in winter and spring, and I've wondered what it would be like to explore. I don't own a canoe or a kayak, but I do appreciate getting out on the water. When my friend Barclay called me about this trip, I jumped at the opportunity.
With 7100 acres spanning portions of Fairfield, Lincoln Park, and Montville, Great Piece Meadows serves as a reservoir absorbing excess water during heavy rainstorms or snow melt. The US Environmental Protection Agency calls it a "priority wetland."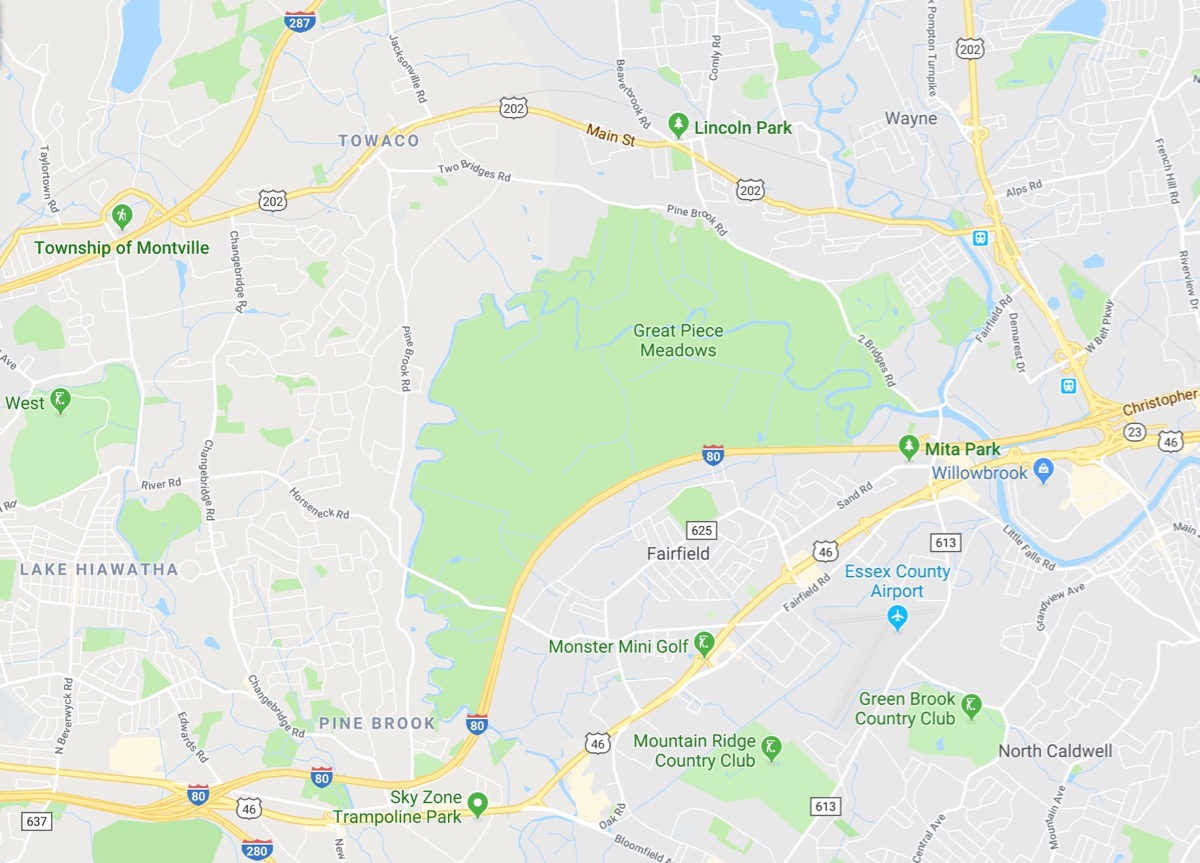 Although the NJ Natural Lands Trust calls it an "open meadow wetland," engineering efforts to curb flooding have caused what was once largely meadow to evolve to sweetgum and red maple forest. Regardless, it's a significant habitat for all sorts of wildlife, and plants, endangered and otherwise.
Barclay and his twin, Andrew — my oldest friends, we've known each other since we were 15 — returned along with the others, and we shoved off. A group of kayakers was preparing to depart as we passed them. We ducked under Route 46, the languid current pushing us along. Maybe 20 minutes later, we went beneath Route 80. As we paddled away, the roar of the cars faded, and we disappeared from civilization.
"This is like water world," Andrew marveled from the stern of our canoe.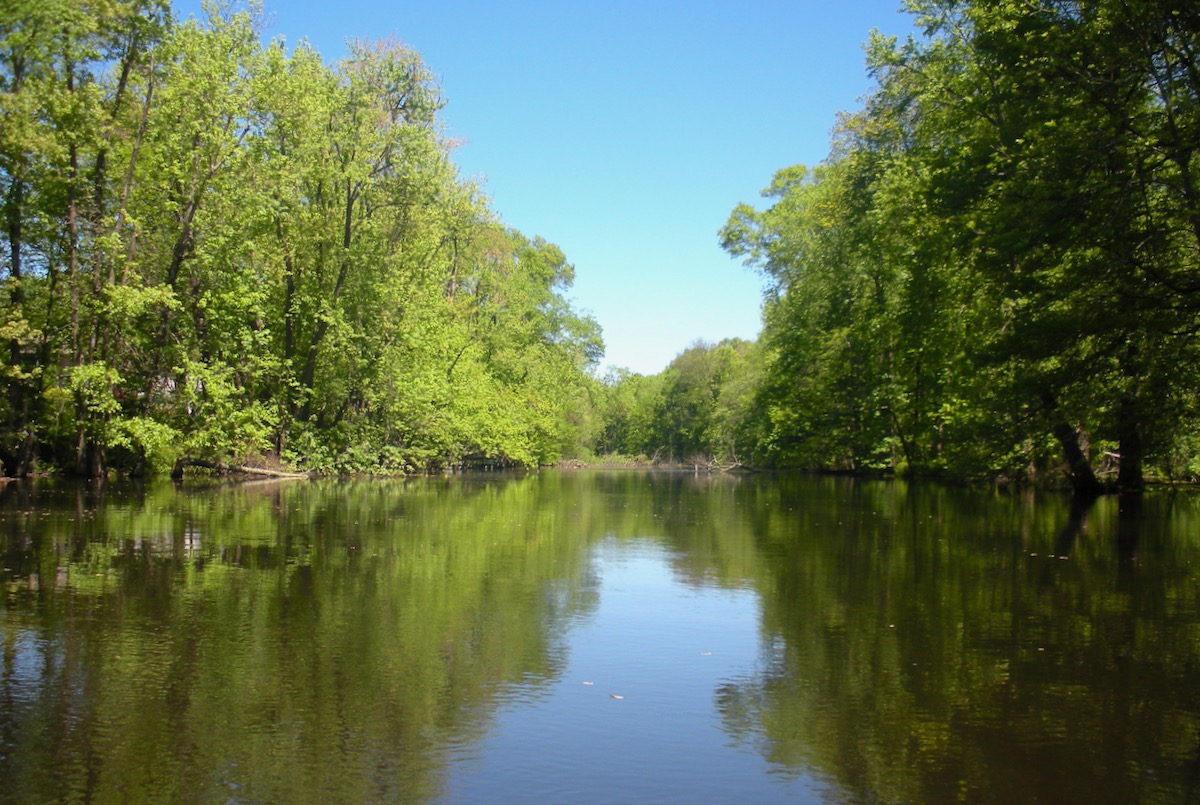 Water, water, as far as the eye could see. While we went through a few shallow spots, overall I couldn't tell how deep it was, or how tall the trees really were.
A guy named Bruce deftly paddled solo in a 103-year-old canoe. He'd stroke, then let the paddle trail in the water, steering his boat. Like skiing, canoeing requires technique, as well as muscle. He estimated that it was the highest he'd seen the water here.
We saw blue herons, egrets, red-winged orioles, and all manner of other birds as we paddled. We came back to civilization, paddling alongside Horseback and Hook Mountain roads in Montville, and we left civilization behind again. All we heard were birds singing, and the occasional small plane heading for the airport in Caldwell.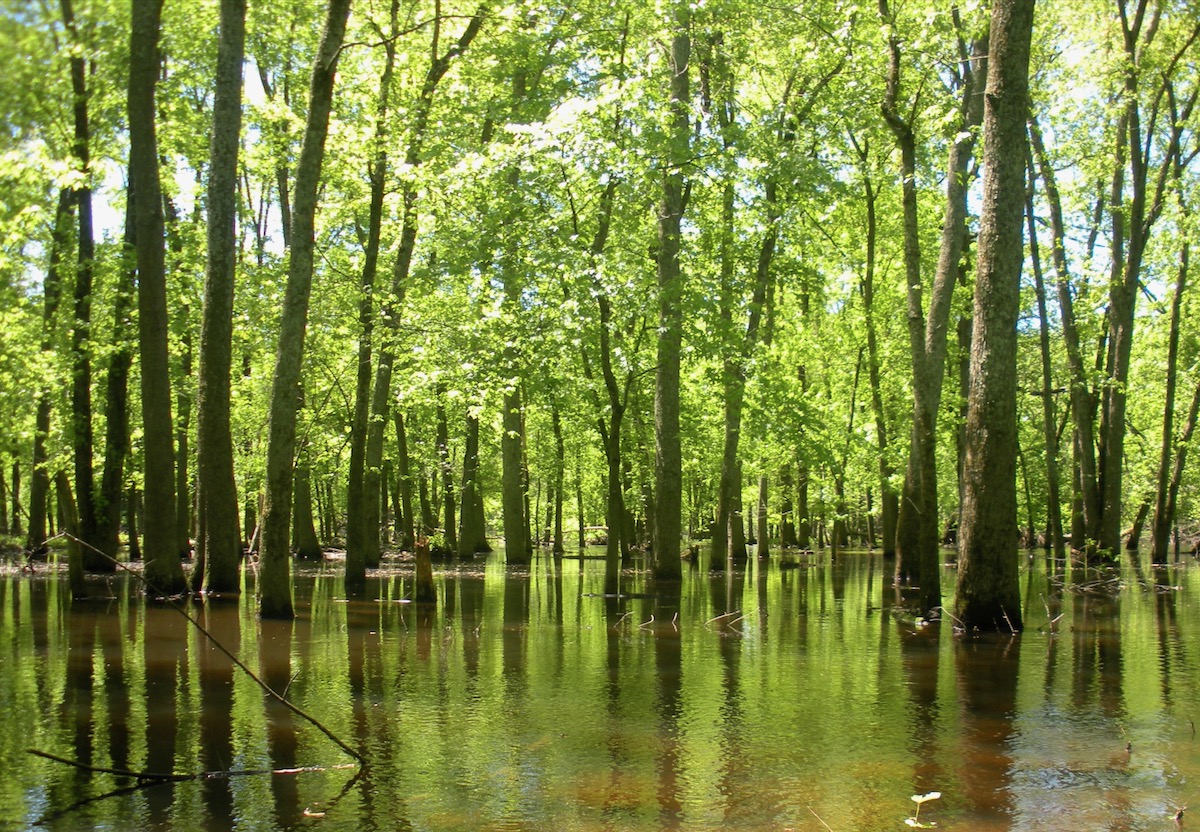 I couldn't get over how far the water extended. Smaller tributaries also flowed into the Passaic. For me it was the same as running or skiing: I see a junction in the woods, and I think "damn, I want to explore that!"
But there aren't any trail markers, and the sameness of the landscape could be treacherous. Mike, the other solo canoeist, tried paddling through a stretch of trees, but it wasn't easy maneuvering a 14-foot canoe in tight quarters. If you had a standup paddle board and a GPS, you might be able to stray from the river.
The trip reminded me of days when we were in our teens and early 20s. Andrew and Barclay grew up in a house by the Passaic River in Florham Park, and we spent more than a few spring afternoons in inflatable kayaks, exploring the flooded freshet.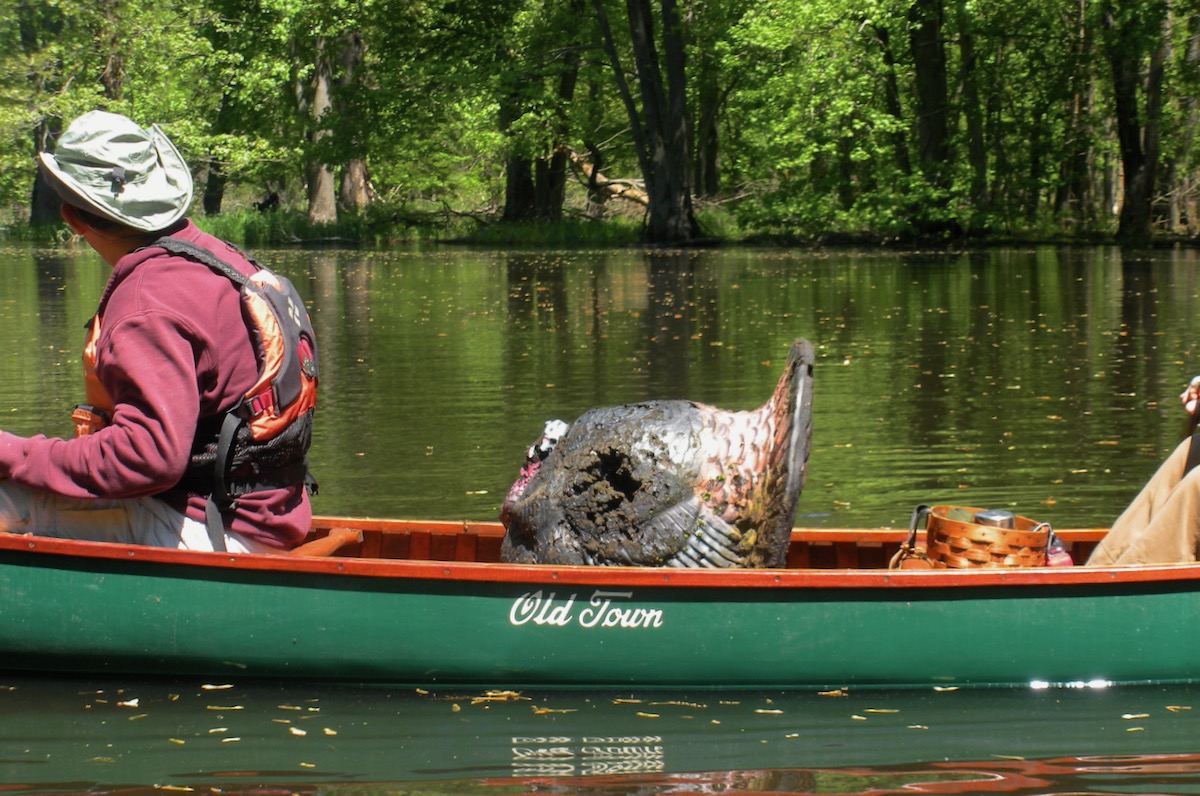 As we scouted for a landing spot for lunch, Barclay let out a shout. A wild turkey archery target was lodged against a tree branch in the river. An accomplished archer, he and Felix wrestled it into their canoe. Around 1:30, we abandoned looking for a take out spot and hove to. I cheated on my diet with prosciutto, soppresata, bleu cheese and spinach.
After a break, we continued. Andrew spotted a half-submerged speedboat in the trees. As the others headed around the next bend, we paddled over to scope it out.
"There's no motor," Andrew said. "Maybe they poked a hole in the hull before setting it adrift. Then they collected the insurance money."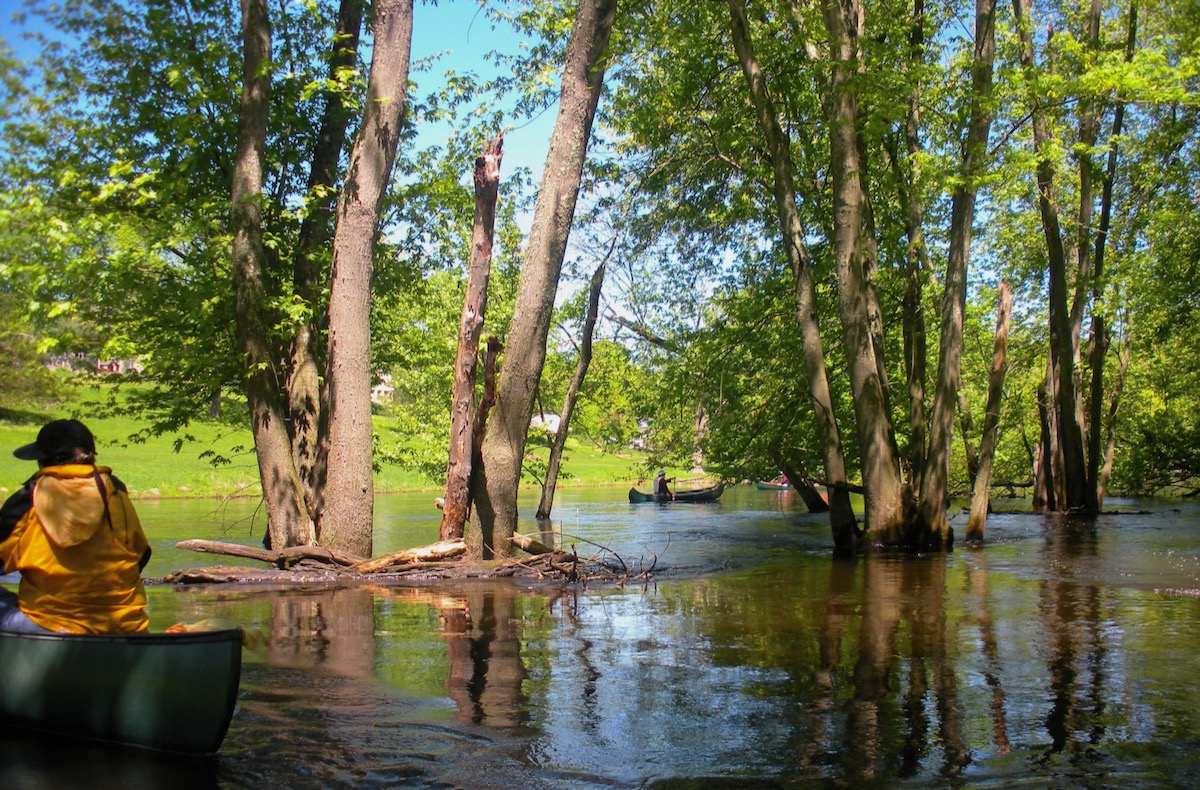 He clambered onto the bow for a photo, then we went to catch up with the others. The distant noise of cars grew closer. One more bend in the river, and we were alongside I-80 again. We left the highway but saw hints of civilization. Houses at the river's edge, with boats snugged up to a shore.
The river widened, and we approached a bridge. Two Bridges Road, our takeout spot. On the other side of the bridge, the Pompton River flows into the Passaic. We made a left beyond the bridge, and there was our takeout spot.
As much as I love the Adirondacks and Catskills, I can't be up there every weekend. I feel fortunate to have this bit of wildness in my own back yard, in one of the most densely populate parts of the most densely populated state. I will continue exploring the out-of-the-way parts of northern NJ when I can't actually get away.