This weekend I set out to ski at two very different Vermont ski areas, Killington "The Beast of the East" and Mad River Glen "Ski It If You Can." I expected two very different ski experiences, but there were some unexpected surprises along the way.
Killington, VT: Saturday 1/23/10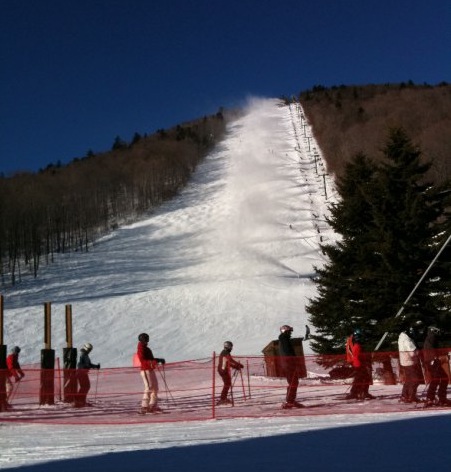 Since we decided to ski Killington on a beautiful Saturday, crowd avoidance was key. "The Beast" can see more than 20,000 people on a busy day. With years of Killington Ambassadorship under my belt from my ski bum days, I've got the beta to beat the crowd. For starters, we bypassed the Killington access road and drove over to Bear Mountain.
At 9 am, we pulled up to a man-made snowstorm on Outer Limits. We scored a great parking spot. It was sunny and warming, so we booted up in the lot. Wished we hadn't forgotten the lawn chairs. It did not seem very busy. We took advantage, and spent the morning working the goods at Bear.
The first run had to be under the guns on Outer Limits, Killington's premier showcase mogul run. The snow was soft and sweet. It was the best man-made snow we skied all day. Then off to explore the road less traveled, looking for less manicured, more natural terrain.
My old haunts have names now, like Growler, Devil's Den and Centerpiece. They were in excellent condition, with only a few rocks to dodge here and there. We were thrilled with the snow quality as the sun shined through the old birches. There was hardly anyone in the trees and there was never more than a minute wait at the Quad. By 11 am, the Sky Peak Express had a huge line, so instead of jumping into the crowd we headed over to the South Ridge triple.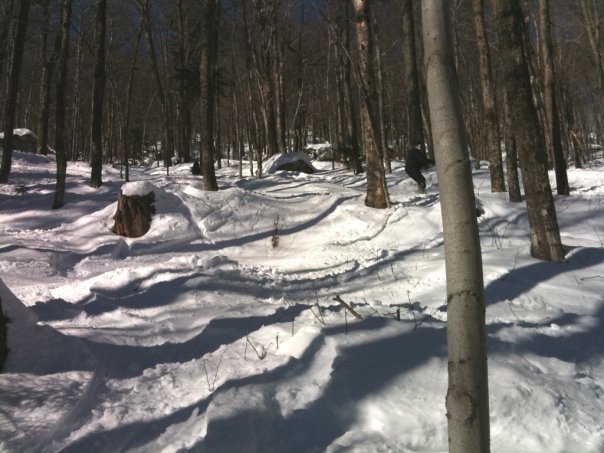 Parts of South Ridge are "off the beaten path" and had some nice snow. Breakaway, The Jug and Jug Handle were a hoot. We headed down for lunch after our foray on South Ridge. We never set foot in the lodge. We skied right to the parking lot where we had a tailgate lunch.
Nate Bryant from SkiVT-L caught up to us and we all headed up to explore the other side of the ski area. Nate took us into some un-named woods off Skye Peak. We rode the Skyship from mid-station. The Stairs off Vertigo is now my favorite glade. The SuperStar woods skied very well, rounding out our foray in the glades of Skye Peak. It was time to ride the K1 gondola.
The view from Killington Peak was stunning. That beautiful haze is actually pollution from wood stoves and furnaces. But it looks pretty anyway.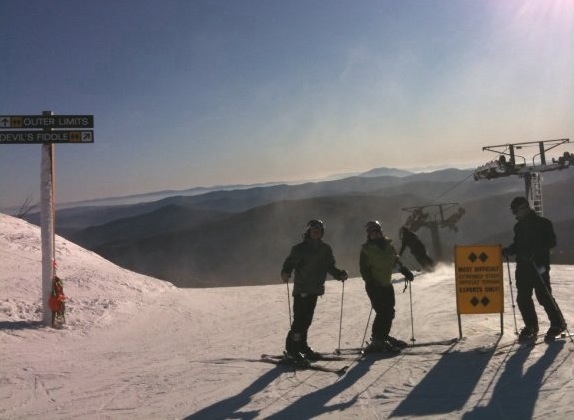 We skied two tree runs in the Canyon before it was time to work our way back to Bear. This ski area is just too big to ski in a day. Everything was skiing beautifully, packed powder just about everywhere, though the groomed trails with the man-made snow were pretty scratchy. This is why we chose to stay on natural snow as much as we could by skiing in the woods and the paths less traveled.
On the way back we hit a classic New England style trail called Roundabout. It's narrow, with all-natural snow, bumps and it oozes into a lovely glade on skier's right of the original trail. The next part of the run down to Bear Mountain is a trail that was formerly called Falls Brook Trail, now called Bear-something has a steep drainage down to the open running water of Falls Brook on skier's left. Nate stopped at an opening that had about 100′ of steep, narrow, untracked vertical down to the creek. He dropped in and we watched him hop-turn all the way down, taking a lot of snow with him.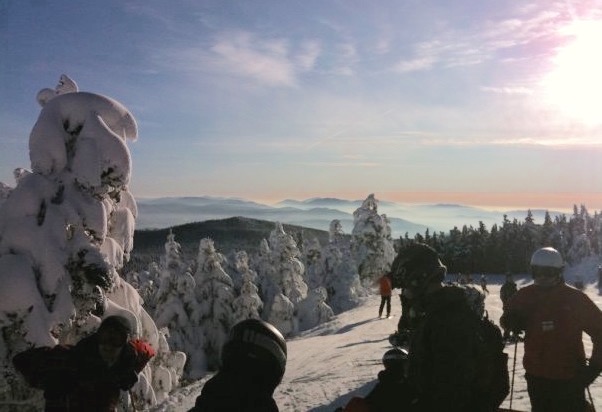 This shot reminded me of a chute we skied at Snow Ridge that I hopped into and took all the snow with me, leaving only rock and leaves. We knew that committing to that line would not only be sketchy, now that he took most of the snow off of it, but a long slog out. Feeling badly about leaving Nate, we rationalized that he chose to ski it before we even had a chance to make an assessment. Nate texted us to let us know that we missed out on a sufferfest and he was ok and made it back.
We finished the day at the tailgate, toasting to one of the best (non-powder) days at Big K. Everyone was really satisfied and thoroughly exhausted. The Gore Mountain men headed back to the Adirondacks. Pam and I went up Route 100 in search of something very different, at Mad River Glen.
---
Mad River Glen, VT: Saturday 1/24/10
While Mad River Glen is a nationally known ski area for it's challenging terrain, it has a mystique all it's own. It feels like a local's mountain, not a destination resort. In this part of Vermont, local folks are raised on skiing, and this is their mountain. This shareholding cooperative provides a feeling of community.
While many of the people you talk to at Killington are from urban areas, Mad River skiers seem to be from Vermont or are transplants who escaped the metropolitan babylon for a quieter, more down-to-earth lifestyle in the Green Mountains. Only truly serious skiers will make an investment like that in their ski local ski area, and it shows. We did not see many tourists here, but we did see a lot of families with children enrolled in ski programs.
Eric Friedman's message is "Don't be afraid." Mad River Glen certainly has it's share of gnar, but there are some nicely groomed trails in the Birdland area and some beautiful, easy trails that wind their way around the mountain. One thing you won't find at Mad River Glen is the big wide steep black diamond groomer. Steep trails are left natural.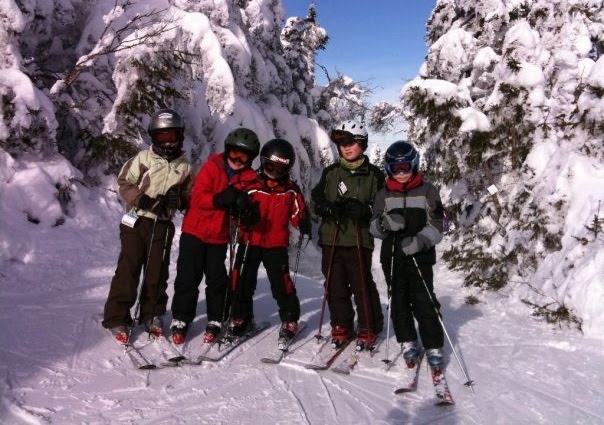 There were kids in a number of different ski programs. There was a race on the practice slope and packs of small children were all over the mountain ripping it up. They breed skiers at this mountain.
Eric took us into the Ski School Glade which is a short shot from the top of the double. It's interesting that MRG takes ski school kids into this steep glade. Most resorts leave children on the manicured fairways, like Snowshed and Ramshead at Killington. You see them skiing in a snaking line on broad thoroughfares.
Eric is definitely proud of this mountain. He led us through glades, woods, and into Paradise. Like the ski school tots, we jumped off waterfalls and other ledges along the way.
We grabbed lunch at the basebox and took it out to the deck to eat in the sunshine and people-watch. We ran into some friends from the SkiVT-L and headed up for a few more runs. We actually found softer snow in the woods off Lower Antelope. The skiing there was better than we had seen in the morning.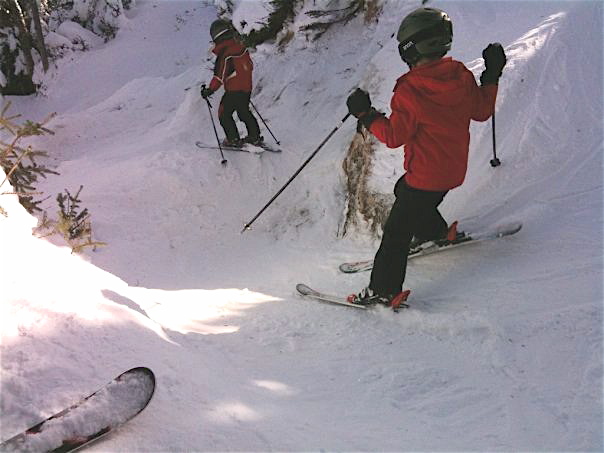 At MRG, instead of cutting down trees to make glades, they protect young trees on trails and turn them back into glades. There are patches of small birches roped off for protection in these areas, notably on some of the steeper trails that have had rock slides. Trees stabilize the slope.
MRG has an environmentally sensitive approach to trail maintenance. Many trails at Killington have been widened over time and instead of regenerating, they seem to be mowing down more of the forest over time. In fairness to Killington, you do need wider trails to handle 20,000 people in a day.
The trails at MRG are quite narrow in comparison. It's classic New England skiing. The snow on Sunday at MRG was well beaten, old and used. Plenty of rocks and ice to dodge, both on and off-piste. General Stark Mountain is certainly much better when there is fresh snow.
There are no gondola's or high speed quads, or any quads or triples even, at Mad River Glen. There's a single chair, and 3 double chairs. The ride up is beautiful, and the rest is much-needed.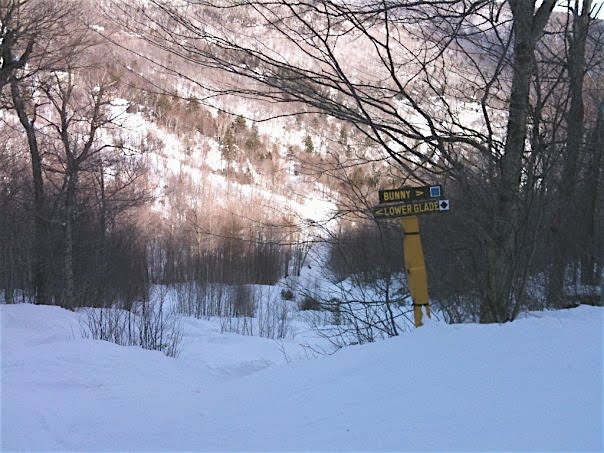 A run can take over 30 minutes, dropping 2300 feet. You can meander on easy trails, or off the trails into the steep and gnarly woods. We did half as many runs at MRG than we did at Killington and felt just as tired.
If you like to ski bumps and trees, dress lightly. You will work up a sweat. There is no shortage of steep and difficult terrain at Mad River Glen, ski it if you can. Killington and Mad River Glen both offered up good skiing this weekend. The main difference between the two mountains is the vibe. There is a variety of terrain in both places, and like any ski area, you need local knowledge to get to the good stuff.
Killington has almost too many choices of lifts, base lodges, trails and glades, and definitely too many people, for my taste. It's like a city. Getting around is a task. If it wasn't for my years of experience in the red jacket, we'd have wasted precious time riding lifts and searching for suitable terrain. But like any city, it has it's amenities.
At Mad River, if we hadn't been with locals, we might have been skiing icy trails all day. It was smaller and intimate, more like a village. While I may prefer the vibe and the more natural state of Mad River Glen, I was surprised at how much I enjoyed The Beast. On both mountains, we found all the things that add up to a super day of skiing, except, of course, for fresh powder.