When you ski Hickory you are going in a different direction. For me it's most noticeable when I'm driving south on Route 28 and the SUVs with roofboxes are all headed north: zoom, zoom, zoom.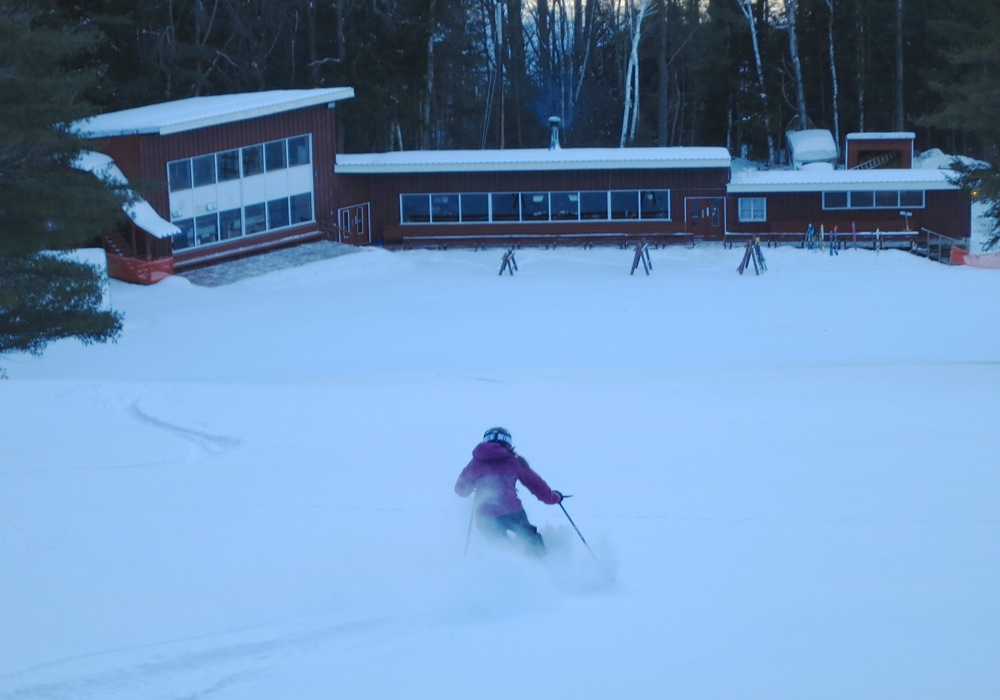 Thoughts of skiing Hickory are always there, lurking beneath the surface, rising to the top when there is a favorable storm track promising new snow.
All is possible when two things come together: snow and more snow. I use Facebook to say in the loop. When those stars align, Clarence will post: It's on!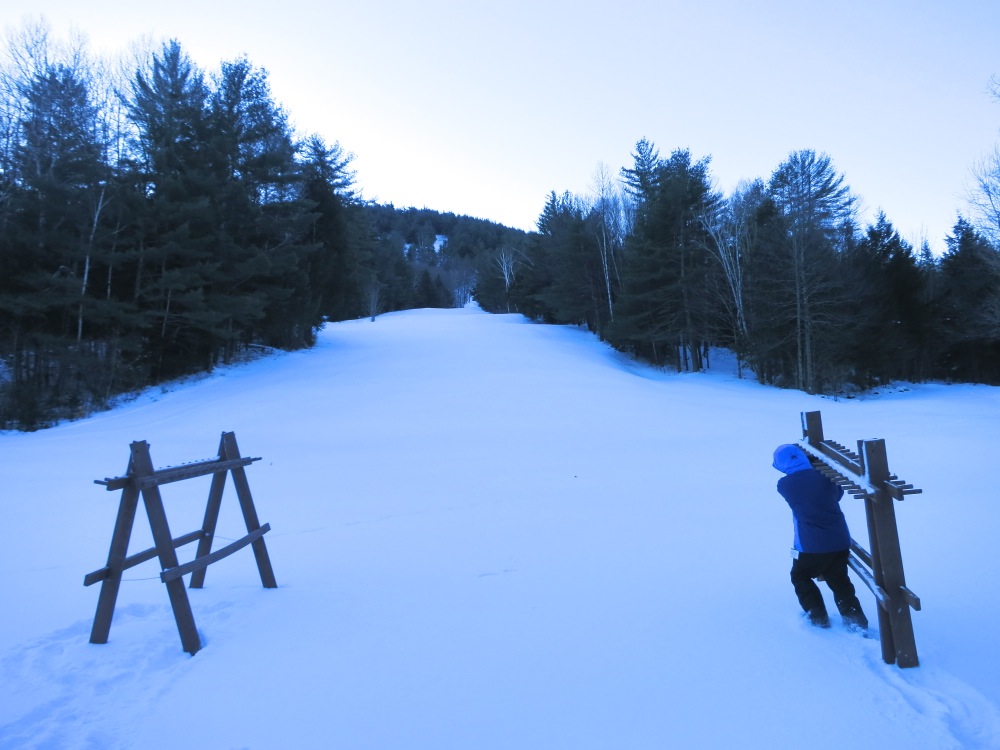 When I woke on Saturday it was ten below zero in North River. Both Gore and Whiteface forecasts featured winds and chills that made the choice to ride Hickory's surface lifts downright logical.
I arrived early, finding the lodge open and warm with a lone pair of women's teleboots on one table. Chelsea came in, then Clarence and Val arrived, followed by the families who call Hickory home.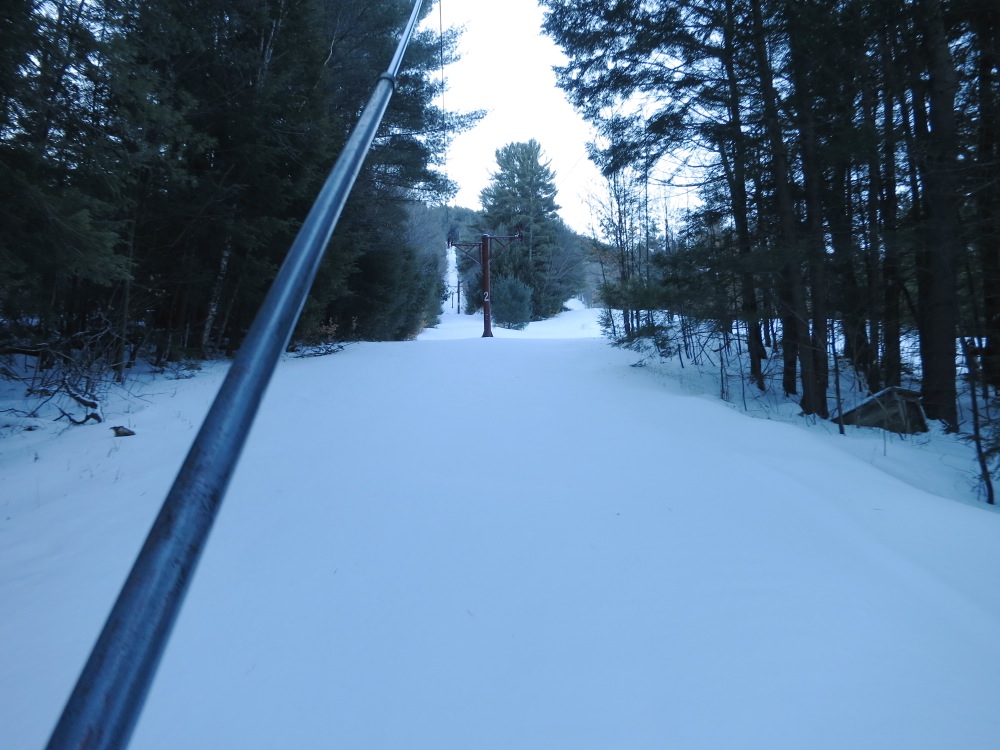 Anxious to get after it, I booted up, got my ticket and headed out to meet and greet and see. After you've line up for first chair at a ski area a few times, you recognize the early-rising regulars, and this day was no exception.
Chewing the fat with patrol, and I talked my way onto the first poma disc. It's hard for me to explain the excitement I felt going up first, breaking trail, with the lift doing most of the work.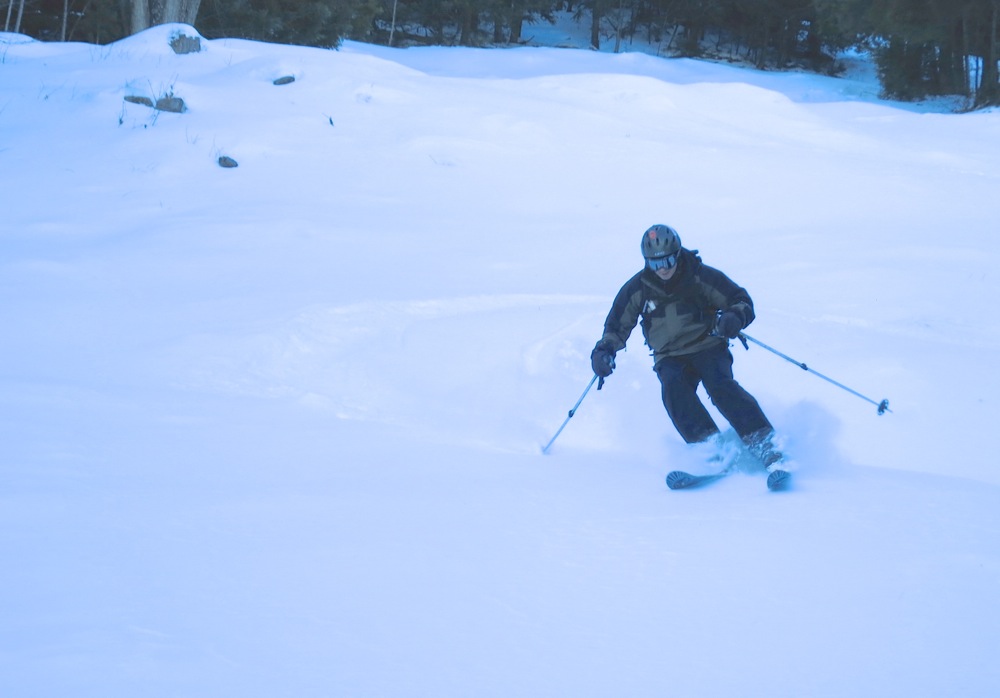 When we came to the top, we waited for patrol. Once again I was able to convince them to let me go first. I don't often push it like that, but I wanted to get a shot of Jack Rabbit's fresh canvas.
I kept to skiers left, leaving the others a big open space for dreaming. As I bounced down, I realized we were skiing what felt like a foot of dense snow on top of a crust.
I think I handled it pretty well. Sometimes when I'm focused on shooting my skiing suffers, but not this time. Maybe it was adrenaline from having so many good skiers watching me.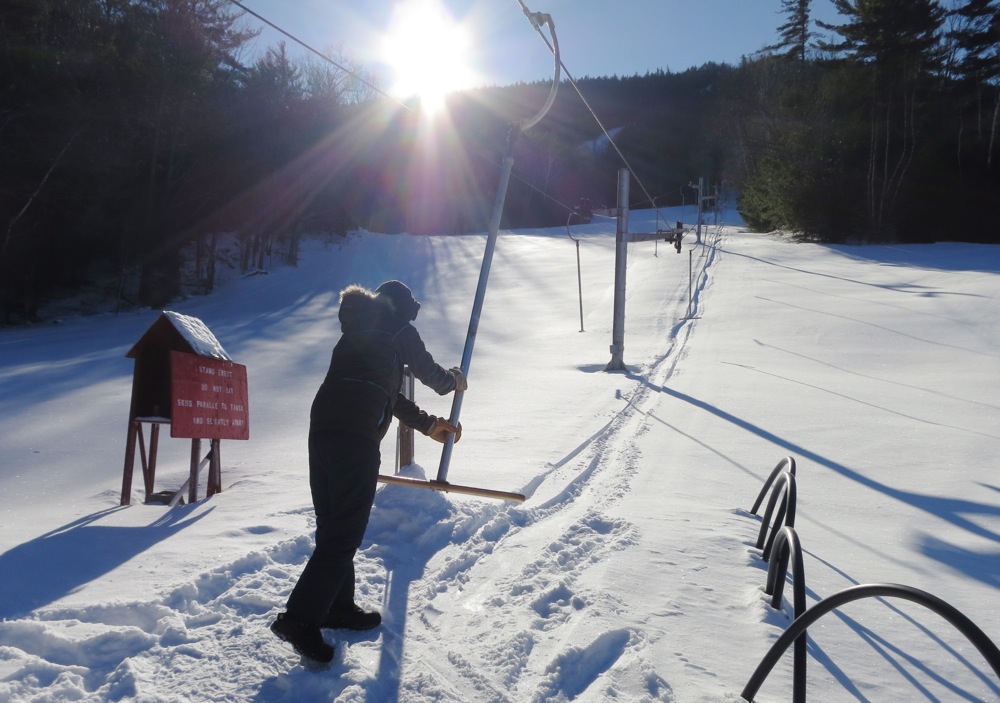 There was a lot of nice snow off Poma 1.  As seems to be tradition, Jack Rabbit was first.  As Hickory's best black diamond for thin cover it's the choice for accessing snow depth and conditions.
The run on Jack Rabbit wasn't easy, but it one of the best of the day.  Top Notch was definitely scratchier, but even so it had the best cover I'd seen on it in two years.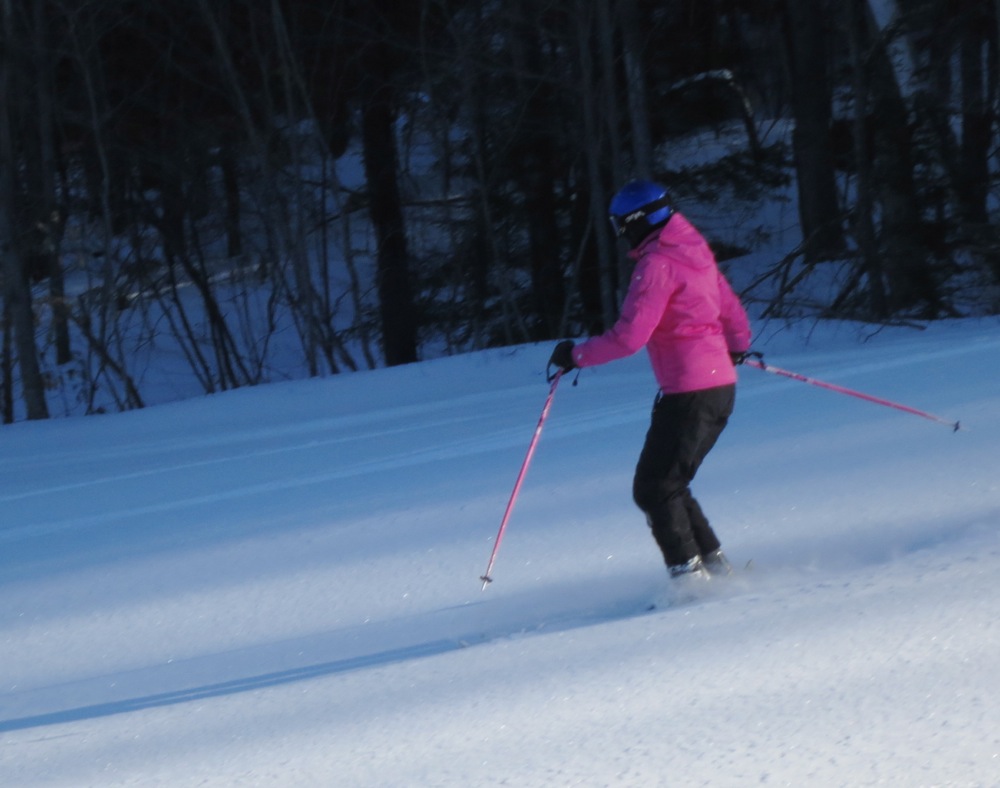 With a handful skiers in front of me at the Poma, I floated down into the sun to ride the Tbar. The moderate pitches served by the lift were still mostly untouched and I was pretty excited.
I wanted a shot at all that terrain and welcomed a later start for Poma 2. Word on the street was that the summit lift was going off at 10:30, so I had the better part of an hour to sample the low angle goodness.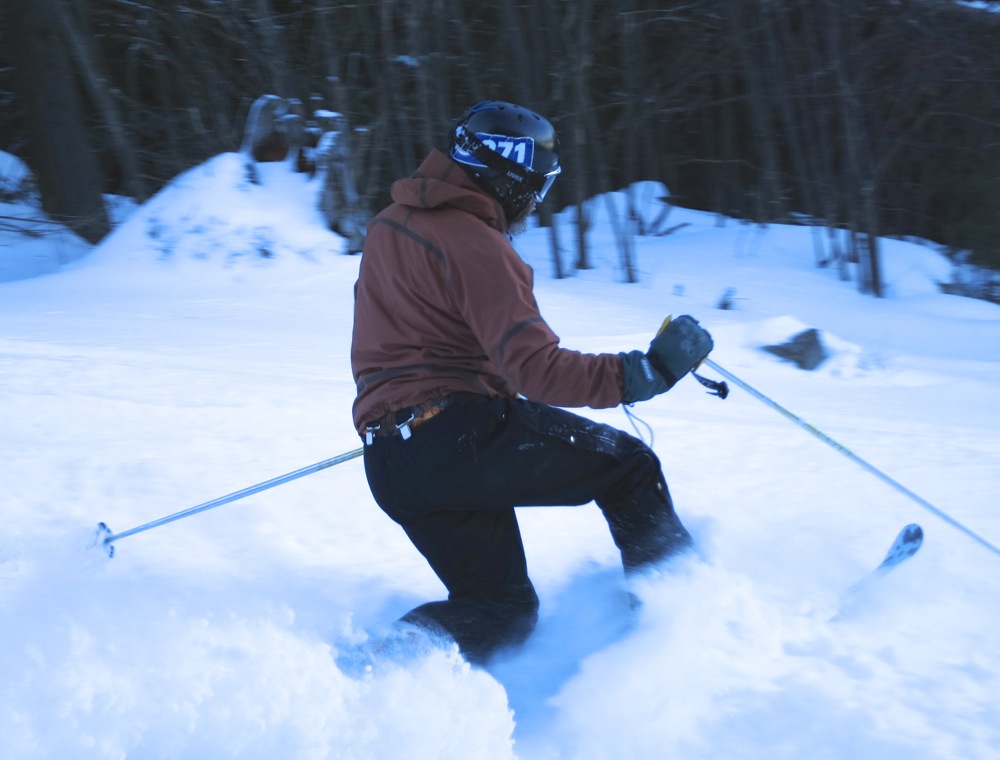 When I finally joined the line up at Poma 2, a patroller name Don, sort of adopted me. I had my mind on the pow fields up on Ridge Run, but he convinced me to follow him onto Winfall.
Winfall — one of the steepest runs on the hill — serves as the tow path for Poma 2. The snow looked nice most of the way up, but at the top the headwall was another story; windblown rocks and ice.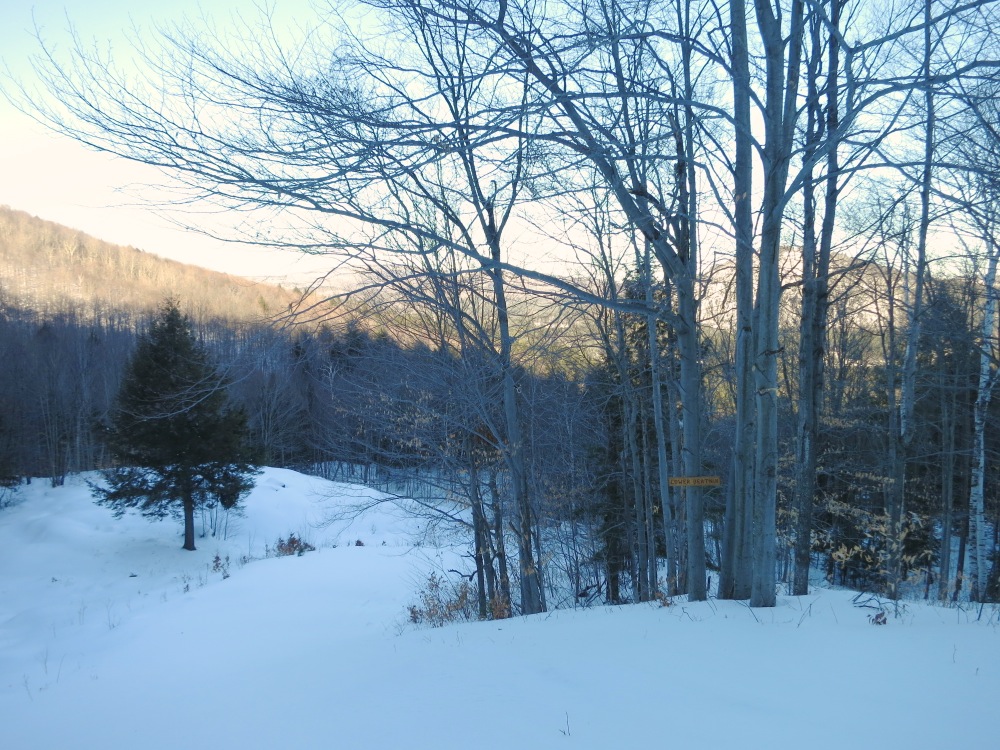 Don convinced me that the reward waiting below was worth the risk. I went for it and was a bit surprised that we made it to the promised land unscathed.
On the next run we finally got to Ridge Run. It skied the way I remember it, as we bounced through big soft piles of cutup snow.  It was some of the best skiing of the day, and I did four laps.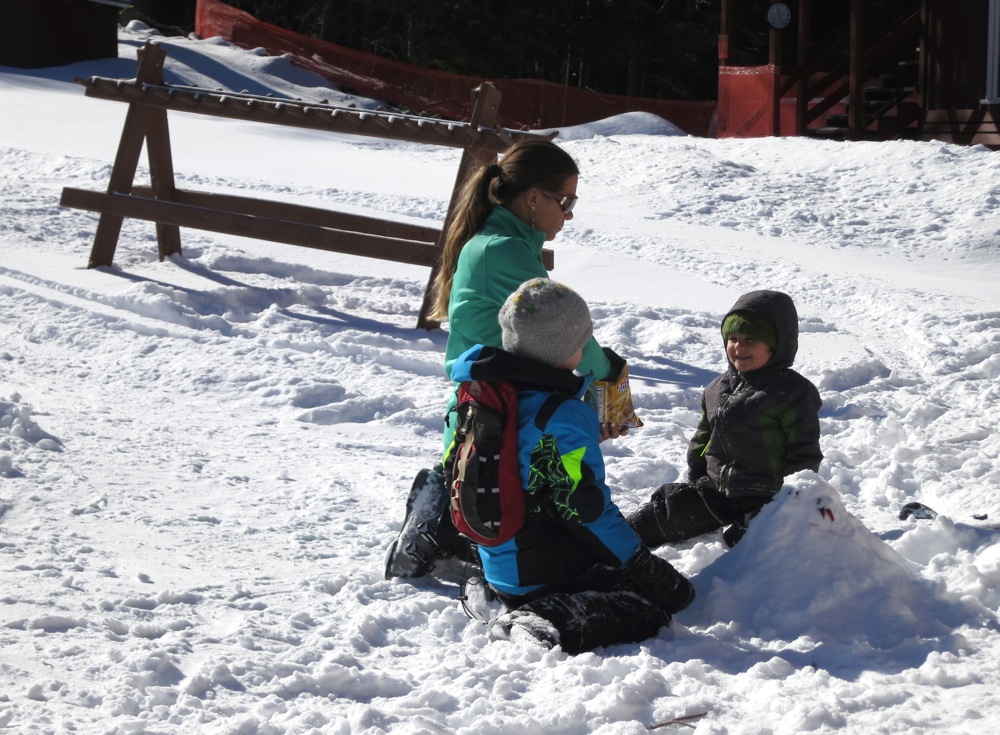 By 1pm I was whipped. I headed down, but when I skied past the Tbar, I rode it again, three more times. No matter how tired I am, I can't hardly resist the low-angle, untracked pow. I quit for real after 2pm.
Every time I ski Hickory, I wonder what I can possibly write about the experience that I haven't already written several times. Nothing really. It's just that I like going in the other direction. I ski it, I blog it and I like it.
Next weekend should be off the hook.