I skied with Mike Pratt this afternoon. I asked him several questions about snowmaking. What follows is a breakdown on snowmaking capacity at Gore Mountain.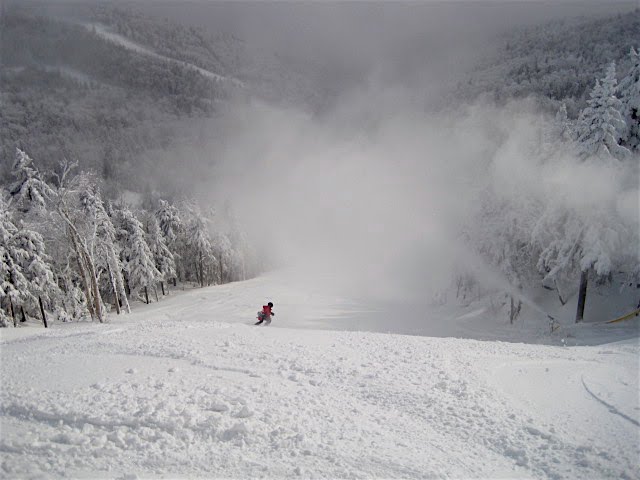 Ten years ago Gore used 80 million gallons of water per season. Last season Gore water consumption was over 300 million gallons.
The limit on the system is the ability to pump water uphill. There are two pump systems currently. Upgrading means more than adding pumps. When operating at full capacity the current "plumbing" is also maxed out. New systems are a big expense. Both Gore systems, cranking at full production can put out 7 million gallons in 24 hours.
If total seasonal output is 300 million gallons and you can pump 7 million a day then you are planning on blowing the equivalent of 45 days at full capacity.
---
By the Numbers
7 million gallons will cover 15 acres with one foot of snow.
Showcase is 18 acres of trail. So with all resources pounding Showcase for 24 hours you could almost put a foot of snow down.
It's the most efficient use of manpower and water to blow on two trails at a time for a longer time. Put one trail on the output of one system, and another trail, on a different part of the mountain, on the other.
The more different trails you blow on, the more water you waste. This is why crews sometimes take a while to get to isolated trouble spots. All that extra effort uses more water and manpower. Today Lies was done, and tonight the are moving it all to Rumor. Big chunks make more snow on the hill from the same amount of water.
---
Why does Gore blow on only two trails at a time?
It the most efficient use of the most limited resource: uphill water capacity.