Today was an "interesting" day. I had some serious equipment setbacks. I'm not going to detail them, because I have a ton to post tonight, and that's the least interesting or fun part. But suffice it to say, it took a positive attitude to shake it off and have a good time.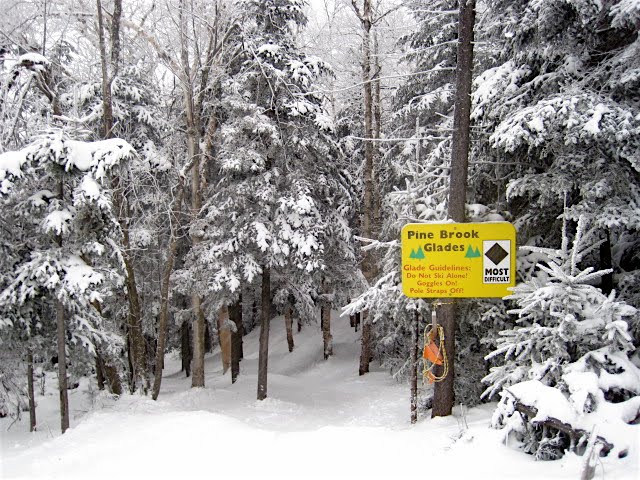 BUT, I did have a good day. I know you're shocked right. Borderline great really. Had a bit of a love/hate thing going on with PineBrook today. But it wasn't because of the surfaces. The constant drip drip of days of flurries seems to be adding up.
The mountain has made big progress on surfaces. Clearly Hawkeye had been pounded. On a scale of 1-to-10 Hawkeye went from a 2 last Saturday, to a 7 today. Lots of nice manmade in big piles across most of the trail above the ChatieHawk cutover. The headwall still had some tough spots, but it was certainly skiable by an expert. I did ok too.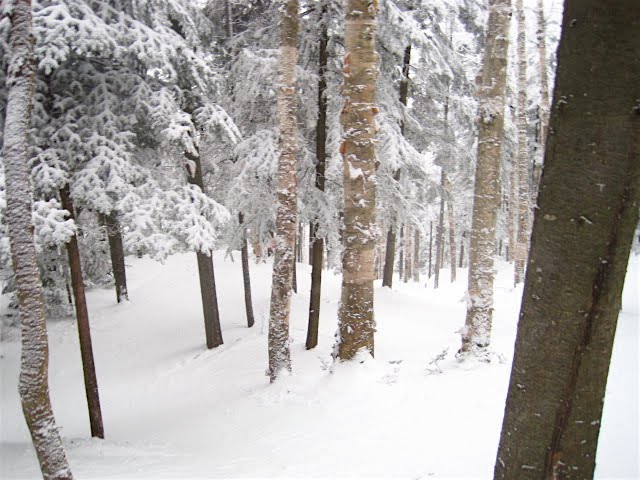 I was supposed to meet Mike Pratt, at an undetermined place, sometime "in the afternoon." At 11:45 I was at the top of the Straightbrook Chair thinking I should go down and find him. Problem was that just as I shuffled past Lies… they dropped the rope. I can honestly say it was the most carvy, fun run I've ever had on Lies. Two days of snowmaking poundage and at least four inches of natural snow up at that elevation.
Every turn tele, straight down the fall line, continuous top to bottom without a stop. There were three guys in ahead of me, and they were basically jumping up and down with exuberance when I got to the bottom. I hit it twice. The second time it was getting bumpy and cutup, but still good enough to hoot-n-holler.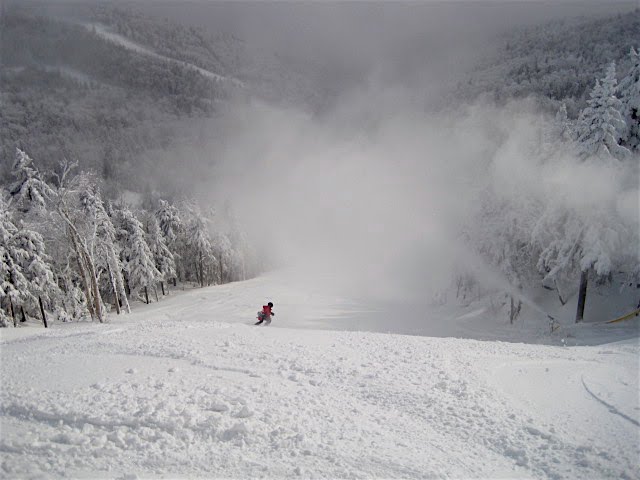 I headed down to the Northwoods Lodge to find Mike. He was in a meeting, so I read the paper, chilled out and warmed up. He came out in a couple minutes and said he could get out for a few runs. We hit the triple. He's a lower mountain guy – his favorite trail is Showcase. Not that he's not a really good skier… he just likes to cruise. I liked the idea of getting him alone on a chair vs with a crowd in the Gondi, so I could continue to ask all kinds of questions.
Mike had his eyes on Twister. He said patrol was ready to open it up. We may have gotten there a little while before they were ready, but it was not a problem. The guns were blasting, and snow was falling. The surface was as good as the surface on Lies, but there was a MILE of it. It was fantastic. Lots of loose on top – a mix of manmade and natural that was easier to ski than either manmade or natural.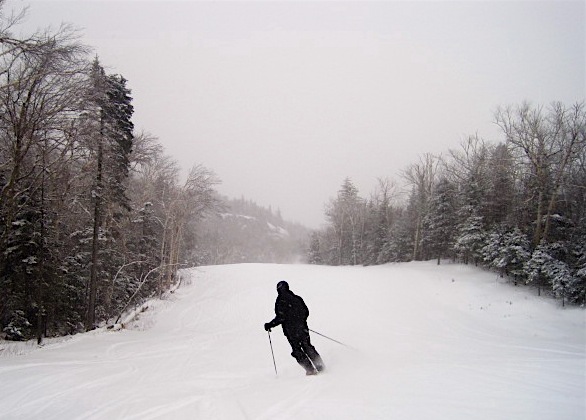 Mike wanted to get at Twister, because tonight – the whole thing is going to get mowed down, for a race tomorrow. We did two runs on Twister sandwiched around a run into Tahawas Glades. Tahawas Glades was still a little crunchy but much better than last week. We ran into Chuck, Jimmer and the gang and chatted for a while.
At the bottom of the Tahawas run, Mike explained the strategy for the new trail that will connect the top of the BRQ and the bottom of the North. Mike answered so many questions that I think I'm going to do yet another entry entitled – "Things I Learned From Mike" – in addition to the conversation piece.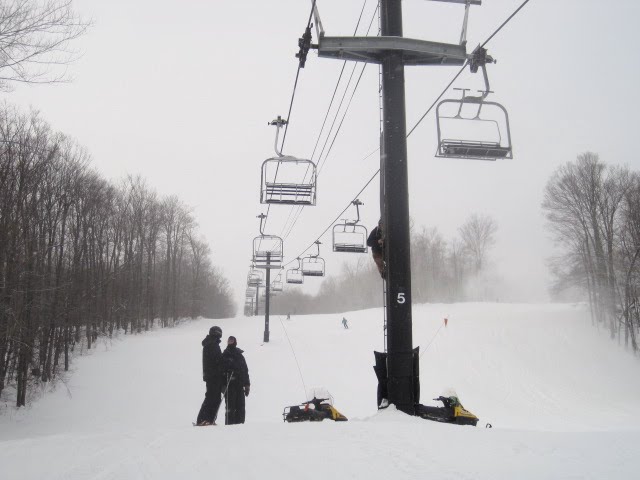 One piece of exciting news – a new glade called "Barkeater" will connect the top of the BR Quad and Pipeline. Can't wait. There are some sweet hardwoods back there.
I understand more about why Gore blows snow the way they do. Mike pointed out one gun, as a perfect setup for a day with a light crowd the wind was carrying all the snow, down Twister, wasting almost nothing.
On our last ride up the triple, Mike noticed something amiss on one of the towers. He can carry on a lively conversation, and make mental notes about maintenance issues at the same time. At the Saddle he got off the lift and spoke with the liftie in the booth. I didn't hear what he said, but when we got to the bottom, he bid farewell and connected with these guys to address the issue.
A fantastic day even with all the challenges. I'll remember the great parts for a long time, and forget the rest soon.