I thought I had done pretty good getting to Gore by 8:40 AM but no; the upper lots were already full. I dumped Junior and our gear near the lodge and parked in Lot E. Once our tickets were squared away, we headed up the hill in a full gondola cabin. A few of our fellow snow enthusiasts chatted with us about plans to ski out west while sipping their morning coffee.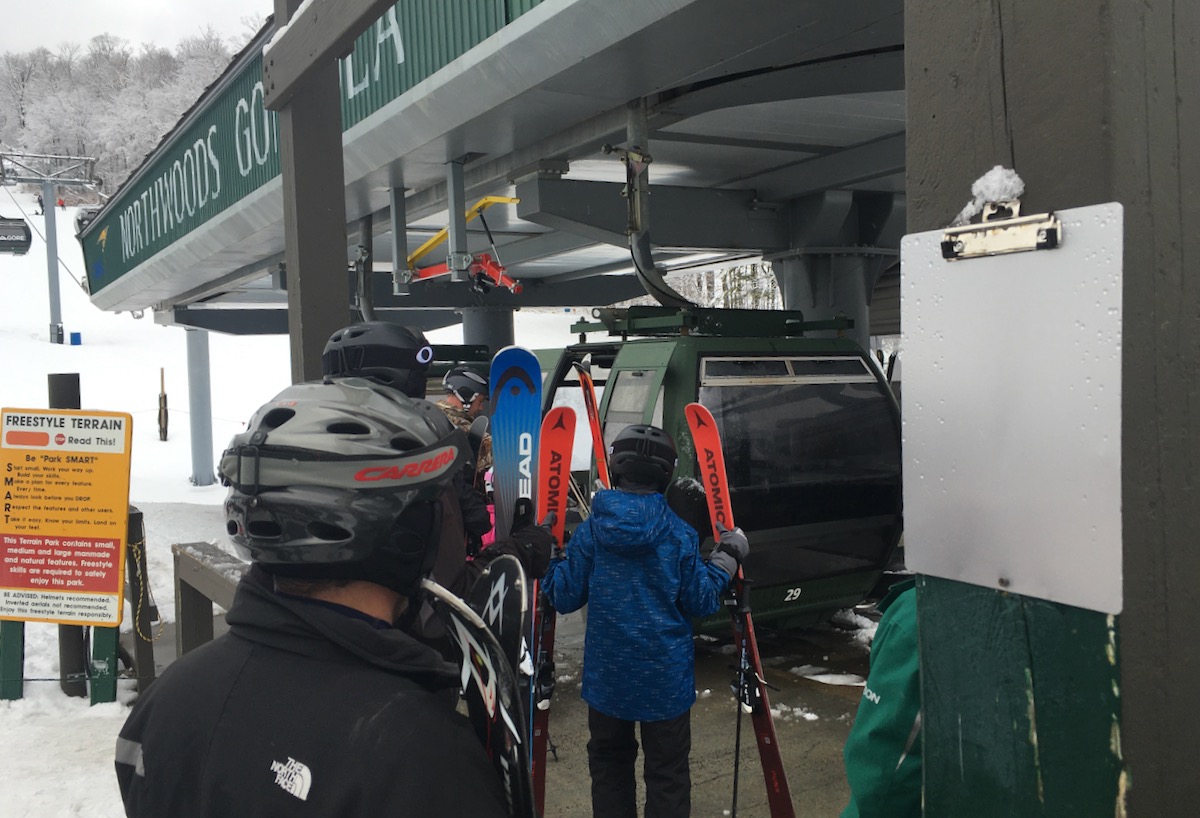 It smelled really good — a hint of chocolate maybe? One of them confirmed that they had mixed in a shot of hot chocolate. You have to make sure it's just a shot or it'll be too watery, he explained. I was only half in the conversation. My eyes were focused outside, checking out the snow.
I was thinking that I had made the right call this time. Still, the deliberative process that had gotten us there was more agonizing then normal, a result of just having too damn much weather data available to me.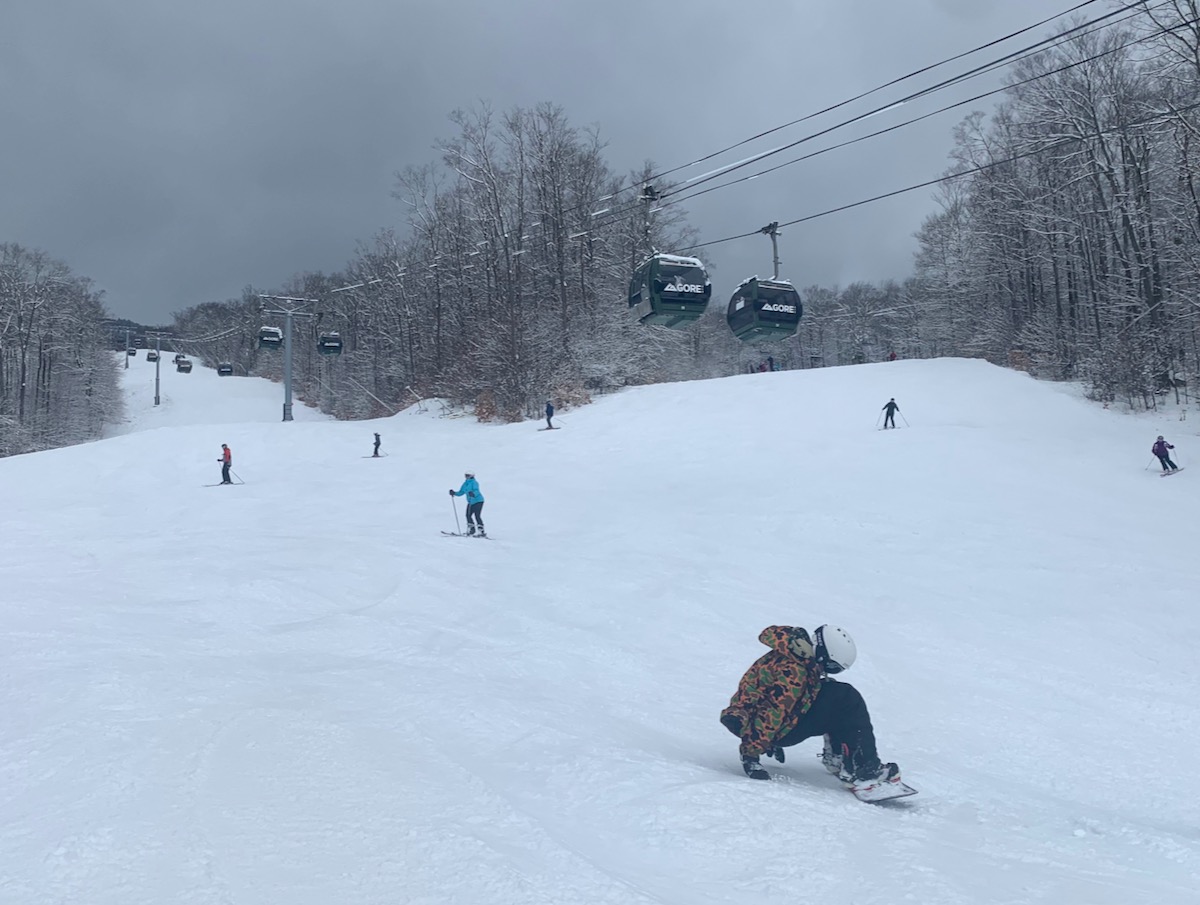 My original plan was to leave the house late Saturday morning, ski at West Mountain until close and then head up to Whiteface for Sunday. Both hills are on the Champlain Valley Ski Card and it looked like Whiteface had the best chance for a primarily frozen event.
As the weekend arrived, my plans went to hell. I got a cold, the forecast went bonkers and my son decided that he wanted to ski and attend his school's last home hockey game of the year on Saturday night.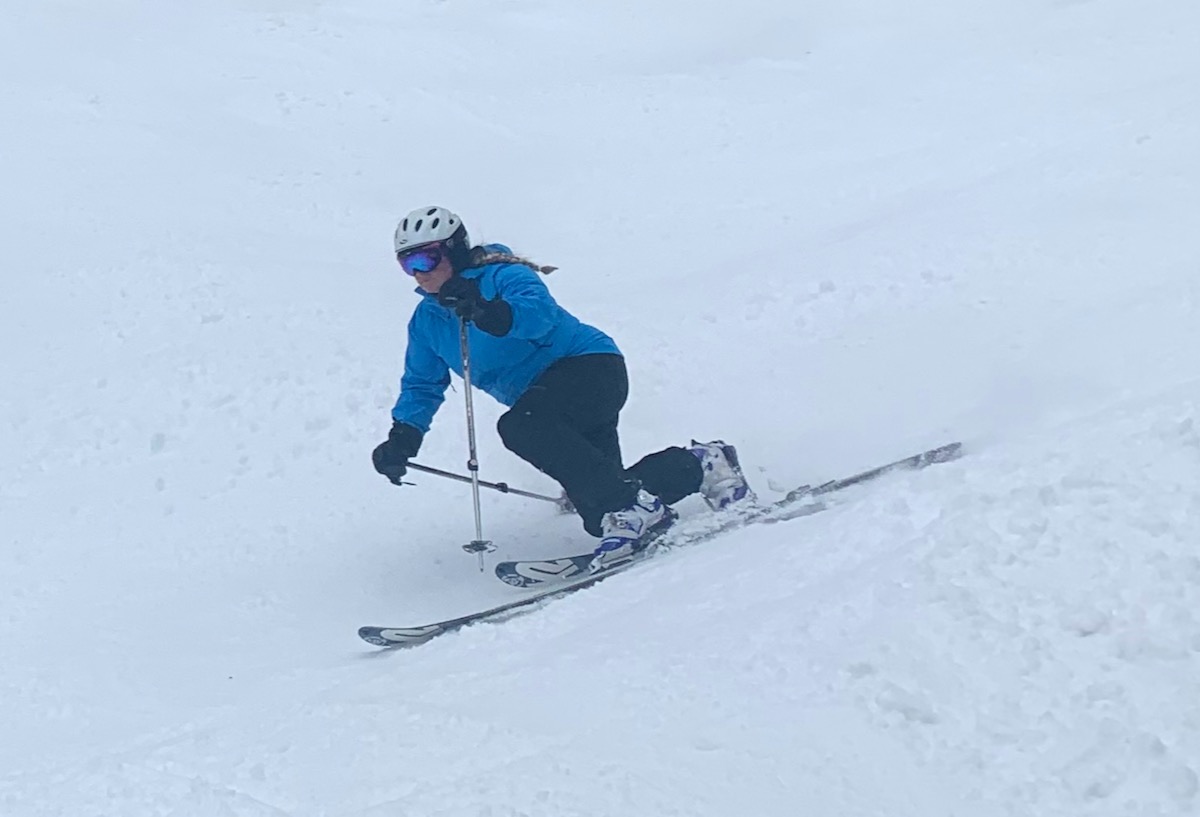 In the old days, life was simple. I didn't worry about weather. I would go to one of my favorite hills on a discount day and ski what was open. Now I look at projected snowfall maps and ask dumb questions on internet forums all afternoon. To accommodate Junior's school spirit, I spent Saturday blowing my nose, consuming Vitamin C and refreshing four different weather pages on my iPad.
I assimilated the data I'd collected and decide with scientific certitude that Gore, not Whiteface, was my best bet for soft snow on Sunday morning. It's also on the Champlain Valley Ski Card so our plans were locked in.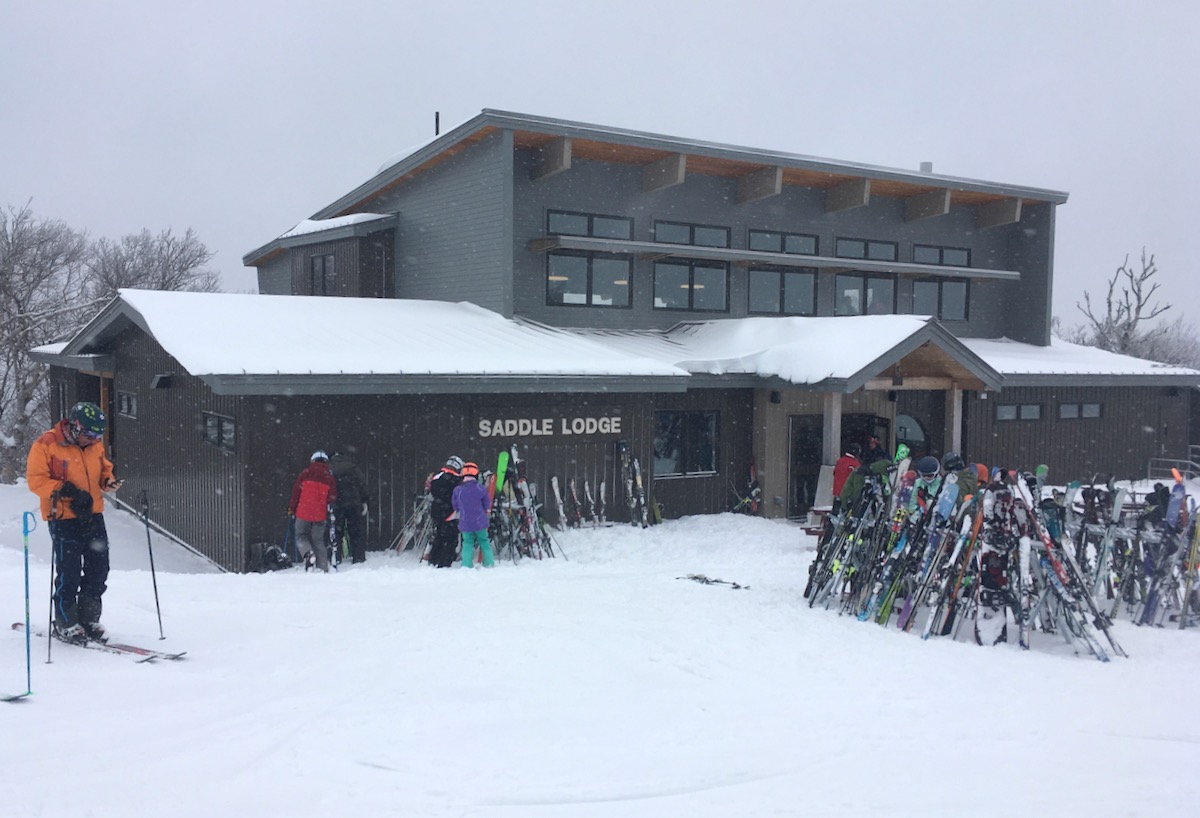 I packed the car, filled a thermos with hot coffee and went to bed, early. On Sunday I awoke close to the appointed time, got Junior out of bed and headed north. If made the right choice, so did thousands of other people. Like I said, we made it into Lot E. When we left for the day, cars were halfway down the access road.
At the top of the gondola, I asked Junior what he wanted to ski. He didn't hesitate for a second: Lies. To Gore's steepest open terrain; down to the Straightbrook quad, up to and over the top.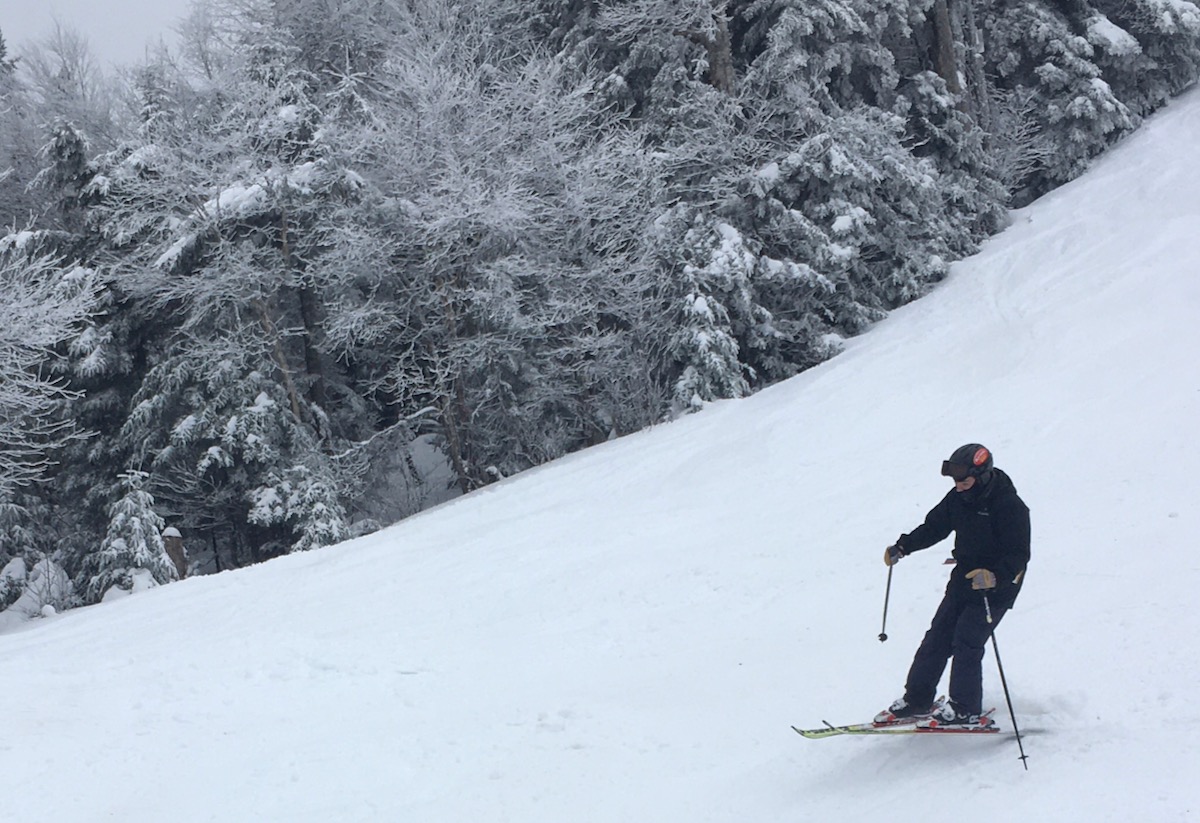 It was already pretty chopped up by 9:15 or so, at least at the top. Junior's aggressiveness was slowed a bit by a couple of bare spots on the head wall, but I thought he handled it great. We stuck around there for a little bit. We found both Hawkeye and Chatiemac were closed for race training. Open Pit skied great, really nice.
When we made our way down to the High Peaks Chair we were surprised to find a big line so we bypassed it, following Woodout down to the North quad for a couple more runs. We made a quick stop in the Saddle Lodge for some water and snacks.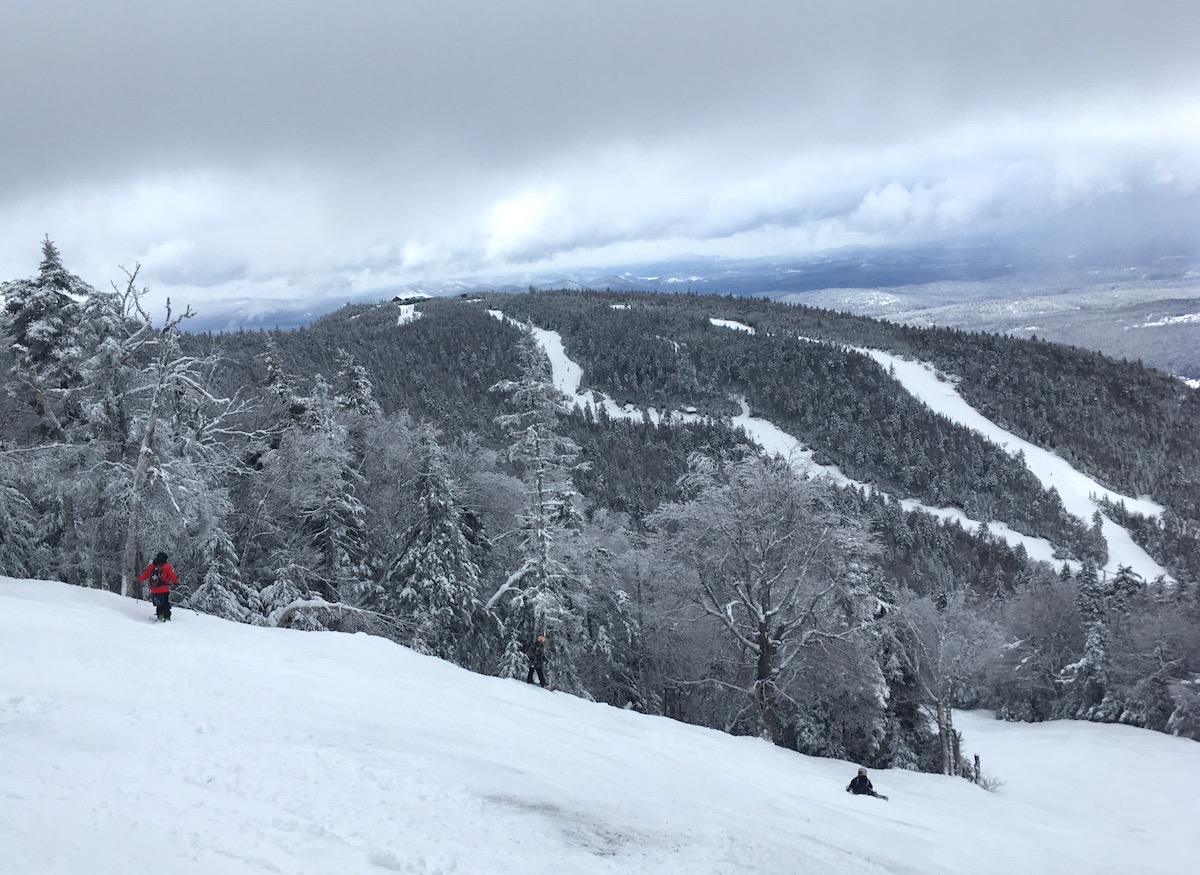 After a fast run down Showcase and another ride up the gondola, we went back to the top. Chatiemac was still closed but Hawkeye was in great shape in spite of being used for race training half the morning. Next I led Junior to the Topridge triple and it was also excellent.
To close it out, we headed back to the lower mountain to slow things down a little. Showcase, Quicksilver, Twister and Upper Sleighride all still had good snow on them. Our leg muscles were getting pretty warm at this point.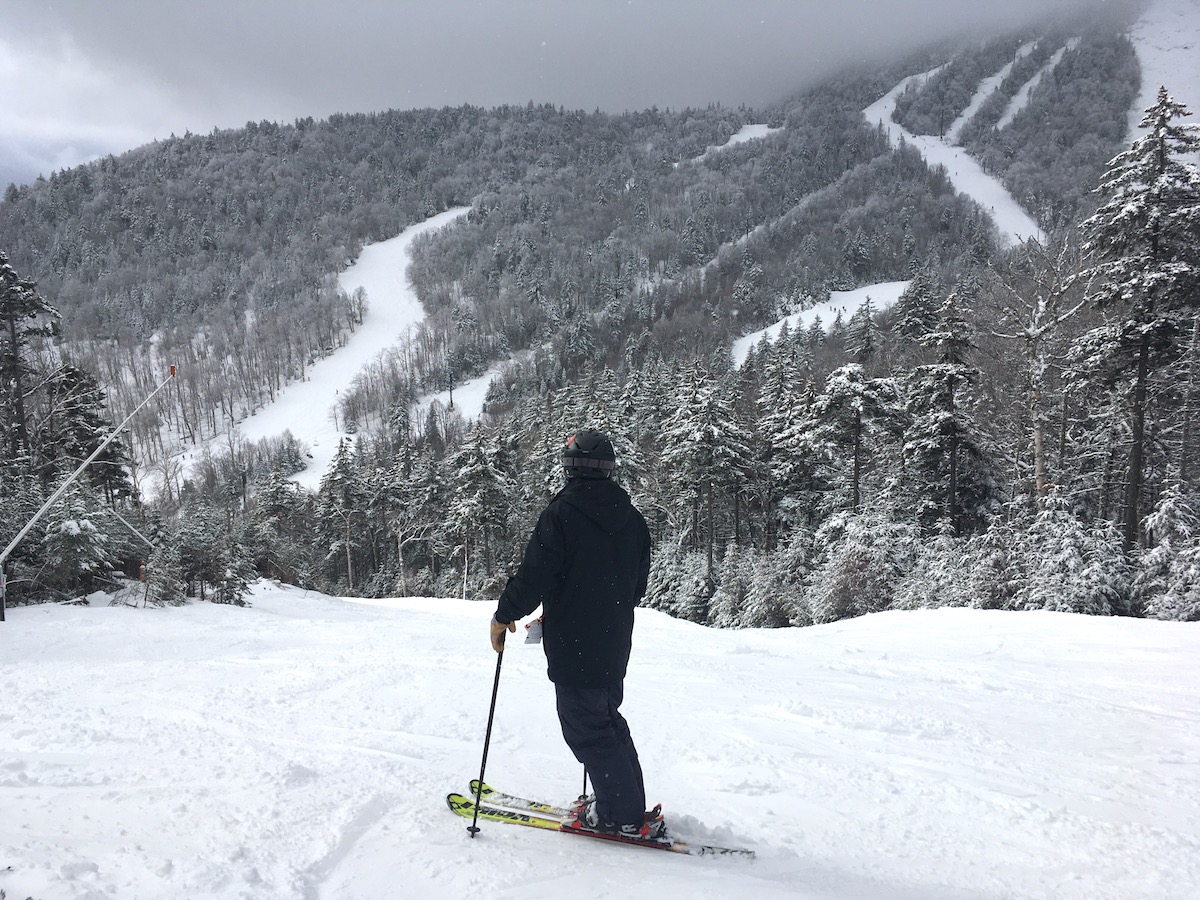 It was hard to leave, conditions were top notch. I'm at a loss for superlatives, but I don't think we stood on a lift line longer then four or five minutes all day. Gore really absorbs crowds like no place else, other then maybe Killington. People spread out and find their favorite area.
I've had challenges this season getting the right day off. But this time I was in the right place at the right time. It wasn't a powder day but there was a couple inches of soft, fresh snow on the ground that skied great.