I got up at 6:15. It was 5 degrees. Made some coffee, oatmeal, did some shoveling and headed down Harvey Road at about 7:30. Listening to Neil Young's Sugar Mountain. Sun coming up over George's farm on Harvey Road, Gore and Pete Gay in the distance: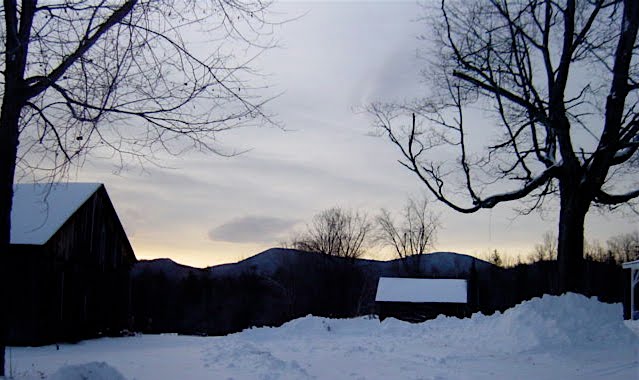 The plan was to try to meet Adk Keith somewhere on Topridge in the morning. Normally those kind of loose plans are pipedreams, but with limited terrain, odds were improved.
I was in the first Gondi with guys that I see over and over. When you are intent on being the first one up the mountain, you always run into the same characters. A guy I've seen a million times introduced himself and I immediately forgot his name. Hate that.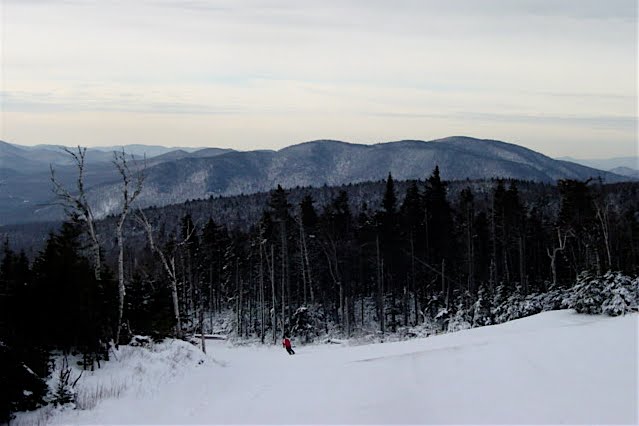 The Bear Mountain trails were still roped off, so I did one run on Sunway. For the most part, Sunway was it's typical corduroy perfect self. At the very bottom there were some funky water bars and sno-whales. Topridge had thin spots up top and good coverage down low.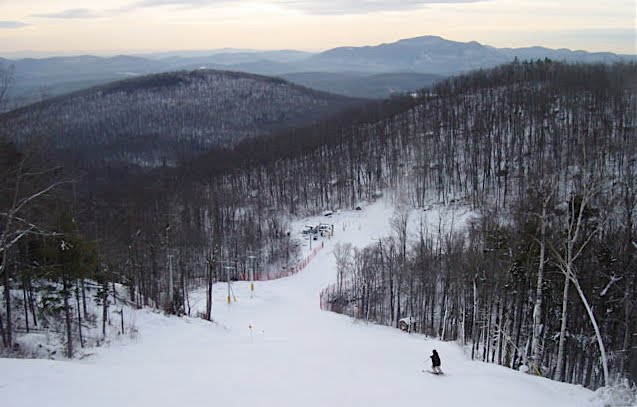 I rode the Topridge Chair with a couple guys who went down Pine Knot, when the rope was (accidentally?) left down. Apparently there was an incident that involved multiple skiers, snowmaking equipment and a WROD.
This telegirl was teaching a friend how to tele. And ripping it up: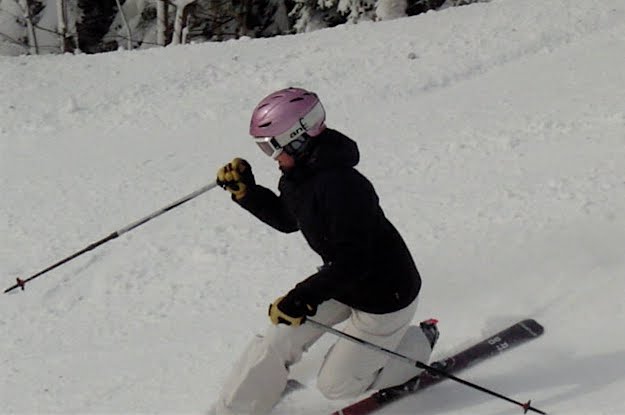 Keith and I connected around 10 or so. We lapped Topridge which softened into nice bumps, when it got up to about 20 degrees…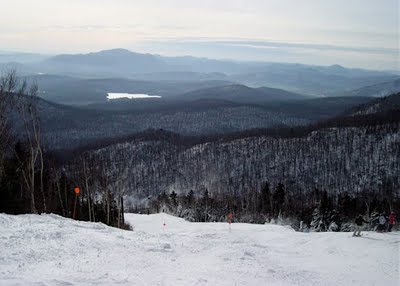 I really thrive in IRREGULAR bumps. Not sure why. We hit it and yakked a bit, skiing socially. We heard someone say that Showcase was pretty good on all natural snow. It was actually a combination of things, that, to me, were very fun to ski. All natural moguls, mixed with areas of snow making, no gak.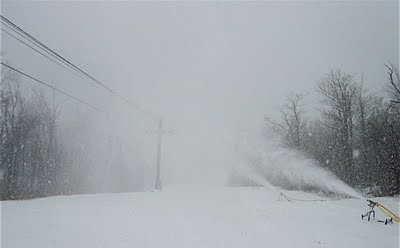 We connected with Steve C and his buddy. We were just standing there … he skis up and says … "you just can't beat the all natural." He's totally right. EVERY SKIER NEEDS a pair of skis they can let run in thin cover. I was definitely on some second string skis today. It is nice to have older skis that you can ski hard on in those conditions. Keith had to split around 1. It was just starting to snow.
Around 1:30 is just started dumping. Not quite puking, but moderate to heavy snow for about 2 hours. We got about 3 inches in those two hours and maybe 4 inches total. It's all good dense base builder and …. once again … some Gore magic came into play.Watching the radar and it really looked like we dodged any mixed precip.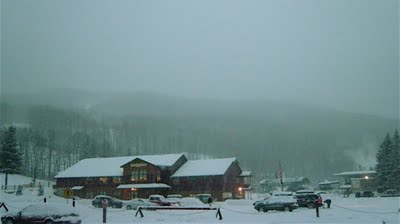 I tried to take pictures that would show how hard it was snowing, but they just didn't show it. I rode the Gondi and Topridge two more times each. On the bottom … QuickSilver, Sunway, Otter Slide, Showcase were all good. By 2 pm it was just a skeleton crew skiing. And with new snow, you could find those 4 inches here and there to ski in. In some spots that was on top off the untracked 14″ from the other day. You really had to work when you were dealing with multiple layers, first storm, snowmaking and today's 4 inches. By 3:15 I was riding the Sunway Chair. Some good stuff under it:
A long, cold, snowy winter ski day. It's the best.