Today was an absolutely beautiful day, by any objective standard. Cold overnight, warming to 25 during the day. Not a cloud in the sky. Soft manmade snow all around, good coverage on almost all of the trails.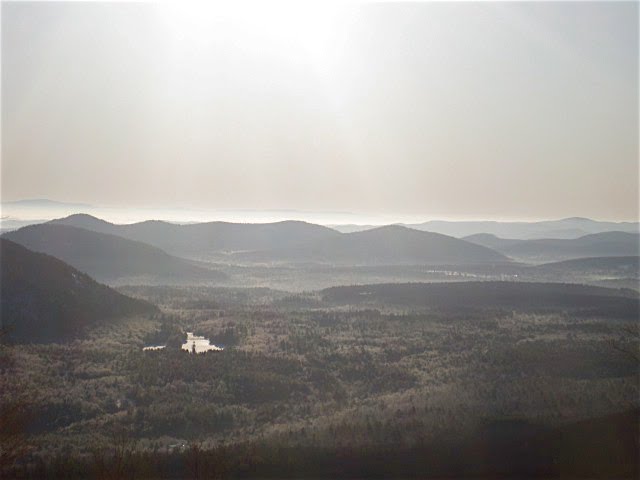 The big news at Gore today was the 2010 debut of Sagamore — the long, steep, liftline run that was added to the trail map last year. It's a mile, with 1400 feet of vertical, and it's serviced by a deluxe quad that takes less than nine minutes to deliver you to the top. More on that later.
We had a bunch of objectives today, and I think we achieved most of them. Get Neve to her 8:30 lesson. Get some front side runs in. Move Neve from her lesson into daycare (not as easy as it sounds). Connect with Jeff and his wife Beth. Ski Burnt Ridge and especially Sagamore.
We did connect with Jeff and Beth and decided to warm up on the North Side. Gentle terrain, soft snow, and a Quad that would allow us to stay together.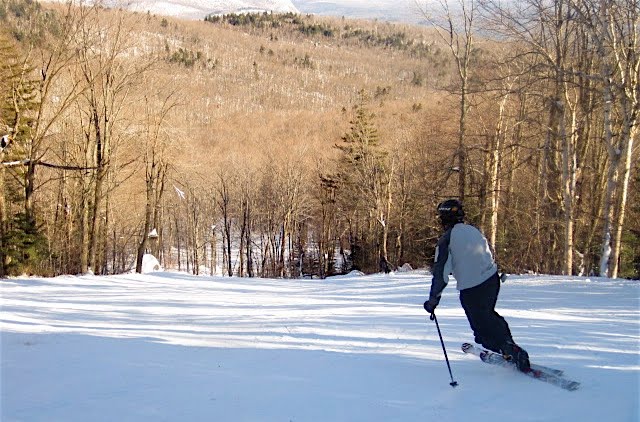 After runs on Sleeping Bear and Tahawas, we went into our tucks on Wood Out and arrived at the High Peaks chair. Jeff and I hit Lower Steilhang and went into the Dark Side. Lower Steilhang want big oddball shaped bumps, carveable and nice.
The coverage in the trees was actually decent. I'm not saying the tree skiing was great, but considering the drought we've been having, I was surprised at the coverage, and fun we were having.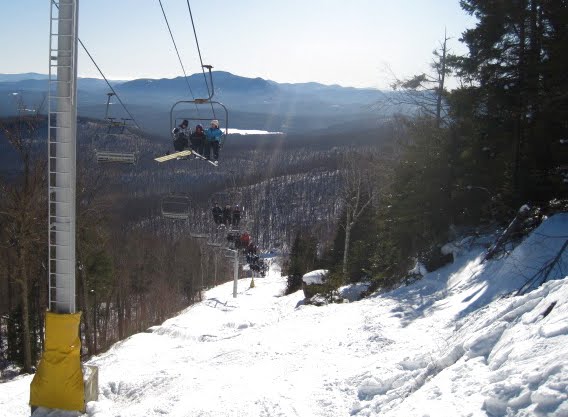 What we hit up top had good manmade, with good coverage. Cloud, Open Pit, Headwaters. Jeff and Beth had to pick up Daniel out of Mountain Adventures, so we rode Tannery to the Topridge Chair. They went down, and Zelda and I stayed up for one last run. I'd been eyeing High Pines under the Topridge Chair all season, and it was open. I'll always take thinner all natural cover over any manmade except maybe BRAND NEW unskied manmade. I only had one run on High Pines but it was excellent.
Zelda and I had lunch in the Saddle and then took Twister down to access Burnt Ridge without any skating. Twister is like the girl that plays hard to get. Twister's always closed for racing. And now it's definitely the best way to access Burnt Ridge too.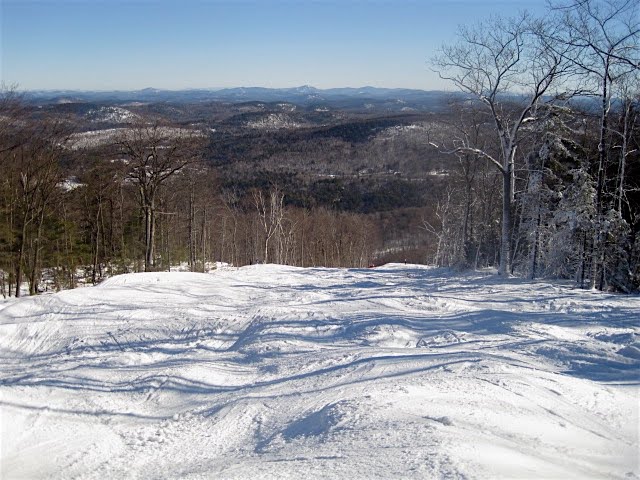 Twister had really good snow with lots of extra on the sides. We bombed down to Cedars and got over to the BRQ without skating or poling. While I couldn't see any new grading, it definitely seemed like less work to get over there. Love the way Gore lets you have at new manmade without grooming it.
Up at the top Zelda took Echo and I had at Sagamore. No question it was the highlight of the day. Soft snow and nice bumps interspersed with huge whales. No need to go into the terrain park, jumps were everywhere.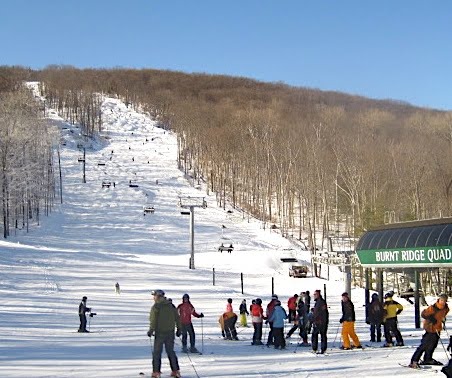 We spent the rest of the day back and forth between Twister, Echo and Sagamore.
There a lot of people who think Gore should never have expanded their terrain over on to Burnt Ridge, without a major upgrade to snowmaking. There's merit to that argument. But Sagamore and Echo are awesome trails that add so much to the mountain. To me, Sagamore is like the unplanned child that you'd never give back.