For a variety of (planned) reasons we got to the mountain much later than usual. About 8:30. Just one thing about parking. I made good on my promise to Emily to try the drop off routine. It really isn't a bad solution, if you've got two adults.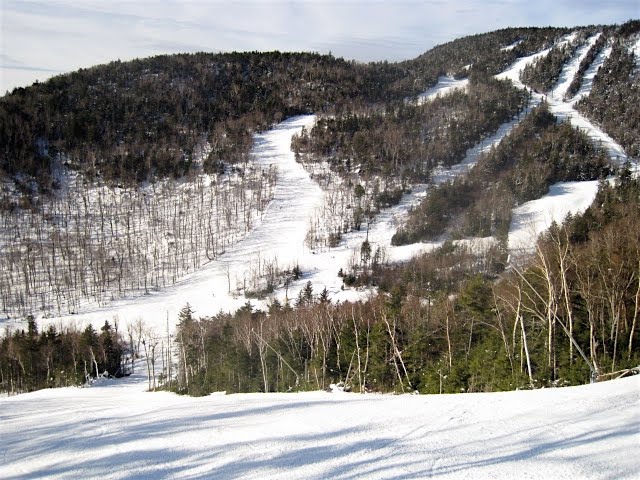 Skiing today was really really good. Neve's lesson was at 10 instead of 8:30 as usual. Zelda hung out with Neve, and I boarded the Gondi at about 8:55.
I never really got up top yesterday. A report from AdkSara in the Ski Adk forum said that Lies was one of the best things on Saturday, so that was my destination. First I came down Uncas. It was firm, but carvy.
Lies was groomed out, firm, with small death cookies, but even more carvy than Uncas. Skis were edging in at least and inch or two, with no trace of scraping.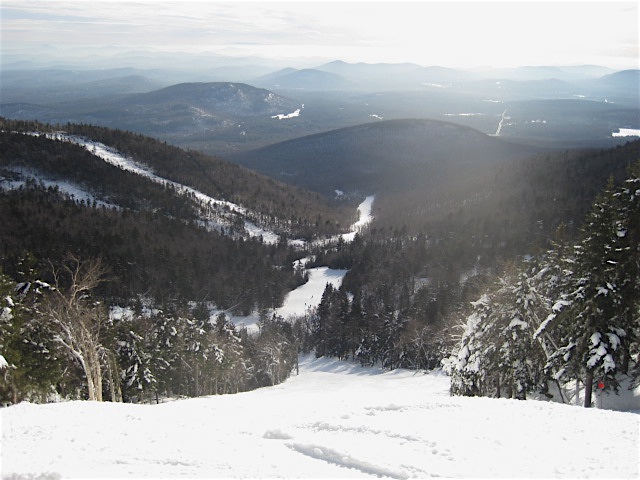 My next ride up the Quad, I pondered Rumor – I hadn't been on it yet this season. I'd heard Rumor was chunky and funky. But then I had a terrible thought. I knew there was bad juju coming our way. What if I passed up Rumor and, well, I just can't put it in print.
I took Hawkeye down to the Rumor "cheater" catwalk that by-passes the headwall. The headwall wasn't open so technically I wasn't cheating. Rumor was incredible. Medium-sized bumps, TONS of soft snow everywhere. I lapped it twice. Two of my best runs ever on the steepest trail on the hill. The pic does not do it justice.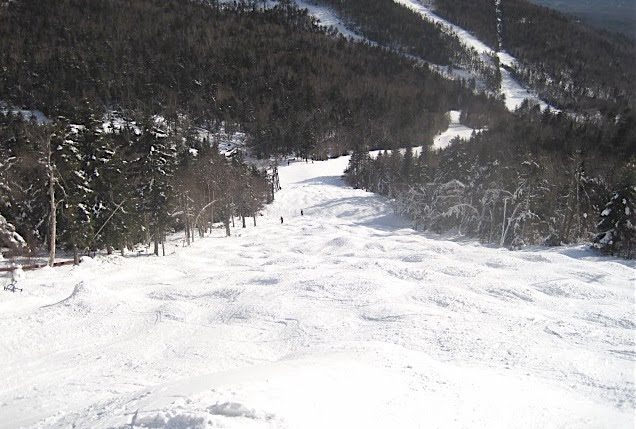 Since Zelda handled the front-end getting Neve into her lesson, it was my job to do the ever delicate transfer from lesson to daycare Bear Cub Den at 10:45. I blasted down Tannery and rode Topridge. I had enough time to snag a lap on High Pines before bombing Foxlair, to Sunway, to connect with Neve at the end of her lesson.
I made the transfer, ran Neve's ski gear out to "warmup band" land, and connected with Zelda in front of the Gondi at 11am. Plan was to take the triple up, hit Twister, to Little Sister to Echo – and bomb Gully down to the Burnt Ridge Quad. Yesterday was fantastic on both Echo and especially Sagamore. Gotta get me some more of that!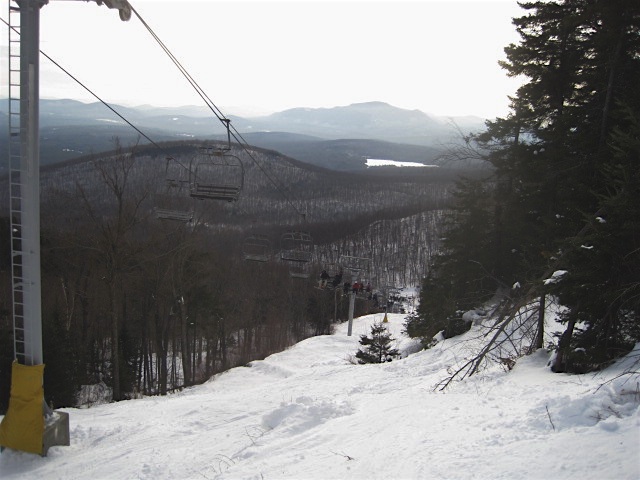 If anyone is listening… I know technically Twister is "open" when there is race training on it, but come on. I suggest, instead of a X for "open" next to Twister on race days, how about using a BIG "R" to indicate training with a note that says opening later?
We came to the Twister REJECTED sign, and made our way down Sleighride to Showcase. For the first time ever, we did the full length of Cedars. It's not really that bad. Maybe the grading was done on the part we've always skipped by cutting over to Echo.
Our plan was to see if Sagamore had been groomed. If it had been Zelda and I'd ride it together. If not, she laps Echo, I'm on Sagamore. The four times we've now done the Echo/Sagamore split, each time we pulled up to the BRQ at the same moment. Kismet baby.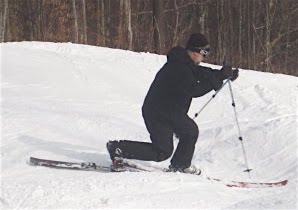 THREE CHEERS for Gore, the skier's mountain. Sagamore was ungroomed. We did two laps. Sagamore was actually better than Rumor. The snow may have been a bit better on Rumor, but the length and irregularity of bumps and whales on Sagamore made for some of my best skiing this year. I love all of Burnt Ridge: Echo, Sagamore, The Cirque Glades, and the eight minute ride to the top.
Zelda headed back to chill and call it a day. I did two more laps on Sagamore. I decided to live in the moment, and leave the camera in my pocket.
Until I ran into EDeO. Last night, Powderqueen sent me pics from her day at Killington with EDeO and his gang. Seven separate emails each with one attached jpeg. No text at all. Except in one email there was a pic of EDeO on a lift and the caption "Gore Peeps want more pics of EDeO" so I snapped this one of him ripping through the whales.
Awesome day, even if it was done by 1pm.