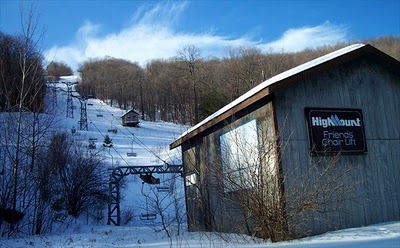 With Jason e-mailing all sorts of gloom and doom prognostications for our upcoming NCP event (he seems to LOVE to convey bad meteorological news), I felt that I should get in one more trip before our day of reckoning arrived. So up I went to the Catskills, which are still in the same weather mode as the last time I was there one week ago: dry, sunny, seasonal temperatures.
Belleayre got five inches on Monday, but it didn't do much to improve things — any trails that hadn't been snow-gunned recently were hard and fast. It was especially disappointing to head down Cathedral Brook, which was so beautiful last Saturday, and find that the snow had stiffened considerably. But on the positive side, Belleayre Run was in perfect shape and the bumps on Upper Seneca were soft and succulent.
While temps in the shade didn't get above 33, the sun was so intense, it almost felt like mid-April… everyone was out on the deck enjoying the sun, drinking beer, and predicting a Jets win tomorrow. So while the skiing was, as a whole, mezzo-mezzo, it was a fun day. On my way home, I swung by the base at abandoned Highmount next door (see pic above) and thought about the Phoenicia Times article I'd read earlier in the day, about ongoing calls for New York State to make draconian, across-the-board budget cuts, this time by an Albany-based think tank.
Belleayre gets a special mention: "The state owns three ski areas —Belleayre in the Catskills, and Whiteface and Gore Mountain in the Adirondacks—which compete to a degree with private operators. The Belleayre ski slope in particular, located within a few hours' drive of the New York City metropolitan area market, would be a prime candidate for a long-term lease to a private operator."
This is not the first time we've heard cries for Belleayre to be leased out (similar to Sunapee in New Hampshire) by the "get government out of our lives" crowd, but last time I checked, it would take an amendment to the New York State Constitution to enable this. In other words, this is a very unlikely possibility. But in the next couple days, I'll be back (possibly in the form of an interview with a much better informed source than I) to discuss Belleayre's future.