The average annual snowfall in downtown Albany NY is 60 inches. The lowest recorded total for the city was 13.8 inches in the winter of 1912-1913. The highest recorded total was 112.5 inches in 1970-1971.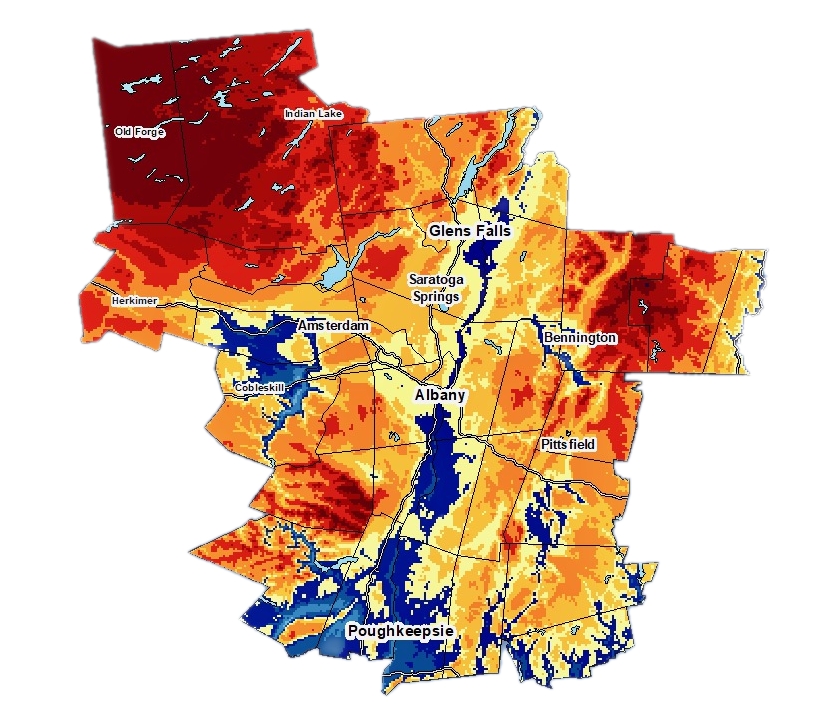 ---
The NWS Albany County Warning Area (CWA) includes the Southern Adirondacks, most of the Catskills and Southern Vermont.
The story of snowfall in NY state is dominated by the discussion of lake effect snow. In contrast in South Vermont, the narrative is about orographic lifting and the effect of the topography of the Green Mountain spine. While that effect is strongest farther north, South Vermont peaks are definitely impacted, and get the most snow in the Albany CWA. Mount Snow, Stratton Okemo and Magic all get 180 inches of snow or more each year.
The most consistent snow in the New York portion of Albany CWA falls in the South Central Adirondacks.
As skiers, we want to dig deep into the snowfall forecasts and maps. We're looking for snow that falls on hills, that have lifts, if possible.
McCauley is the lift-served option in the area with the highest snowfall, recording 180 inches of snow, on average, each season. Next for snowfall would be Plattekill (technically just outside the Albany CWA) at 180″ and Gore in the northern most tip in Warren County coming in at 150 inches.
The Albany average snowfall map above — from NWS ALY — is an experimental product that is a significant upgrade from the previous map.
---
Albany CWA Snowfall Averages
| | | |
| --- | --- | --- |
| Location | Snowfall" | Days of Snowfall |
| Albany | 59.1″ | 34.8 |
| Poughkeepsie | 32.8″ | 13.5 |
| Saratoga Springs | 63.4″ | 26.8 |
| Glens Falls | 68.0″ | 31.5 |
| Old Forge | 177.3″ | 69.5 |
| Slide Mountain | 94.5″ | 39.7 |
---
Sources:
• www.weather.gov/aly/
• www.ncdc.noaa.gov