A very significant coastal snowstorm impacted the northeast on March 14th 2017 featuring extremely heavy snowfall and blizzard conditions. Winter Storm Stella was regarded as the largest snowstorm to impact the region since the Valentines Day Storm of 2007.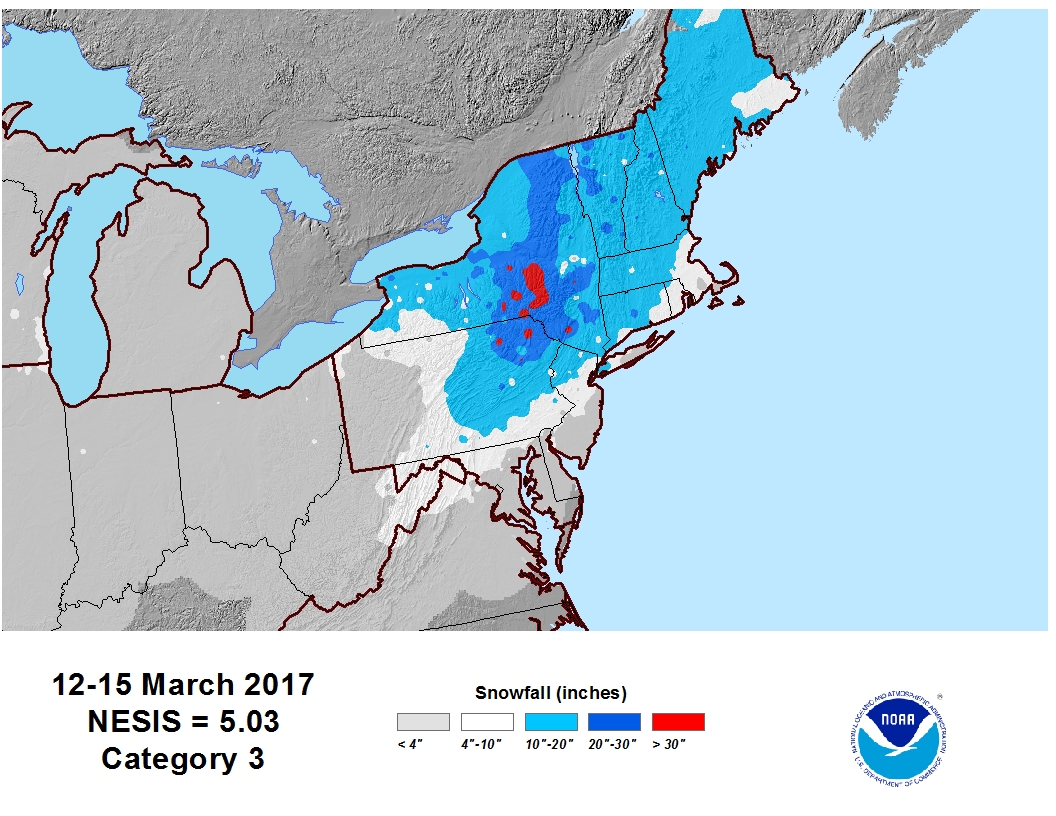 Snowfall reports ranged from 1 to 3 feet, with some portions of the area picking up 36 to 42 inches of snowfall. The snow fell at 1 to 4 inches-per-hour for much of the day. A particularly heavy band of snow rotated northward across the region during the late morning into the early afternoon and stalled out over portions of the Mohawk Valley, resulting in an incredible report of 11.5 inches in 2 hours in Herkimer County. At the Albany International Airport 17.0 inches of snow accumulated making it one of the greatest March snowstorms on record and set a new daily record snowfall for the date.
There was a widespread public impact, with roads severely impacted and schools closed for two days. A state of emergency was issued for all New York Counties, and tractor-trailers were banned on most interstates. Numerous counties issued travel bans on county roads. The governor of Connecticut issued a statewide travel ban on state roads. Travel restrictions were issued for the Massachusetts Turnpike. Much of the train service across the region was cancelled, and all flights were grounded at Albany International Airport. The weight of the snow resulted in two barn collapses in Schoharie County, one of which was a 20,000 square-foot structure housing 150 cows. In addition to the snowfall, gusty winds up to 40 to 50 mph resulted in near-zero visibility and blizzard conditions across the Mid-Hudson Valley, Catskills, Capital District, Taconics, Lake George-Saratoga Region, Berkshires, Litchfield Hills and much of southern Vermont. At higher elevations across the Berkshires, winds gusted as high as 74 mph. The winds brought considerable blowing and drifting of snow.
NESIS: Category 3 – Major.
NYSkiBlog's coverage of the storm.
---
Sources:
• www.ncdc.noaa.gov
• weather.gov/aly/