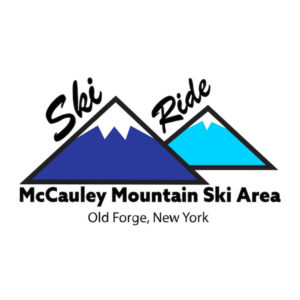 McCauley Mountain Ski Center is in Herkimer County, New York, located just outside Old Forge, in the western Adirondacks. It is owned by the Town of Webb and operated for the benefit of the community. All school age children in the town ski for free.
McCauley is many things to many different kinds of skiers. What follows is NYSkiBlog's perspective.
If you're a powder hunting NY skier you might like McCauley. The mountain is in good position to catch lake effect snow that will never make it as far east as Gore. McCauley has a respectable base elevation and often gets more snow than Gore. We watch McCauley weather all season, but especially after a rain storm, when the lake effect can bring it back to life more quickly than some larger mountains.
The entire mountain is served by a classic lift, a Hall double chair, that is maintained like a museum piece. The hill's 600+ feet of vertical skis bigger than you might think. The front three — Helmer's, Olympic and DeCamp — are the real deal; expert terrain that is often left ungroomed. Helmer's, the classic lift line, to our knowledge, is never groomed. In addition there is a significant amount of tree skiing. The biggest contiguous section, off Challenger, is a wide-open blast.
If all of this seems like an unusual way to describe a small community hill, it is. While McCauley appeals to the powder hounds in us, it's really a warm family place that just happens to have good terrain and excellent snowfall.
Check out our McCauley Blog for more.
by Harvey
---
McCauley Mountain Trail Map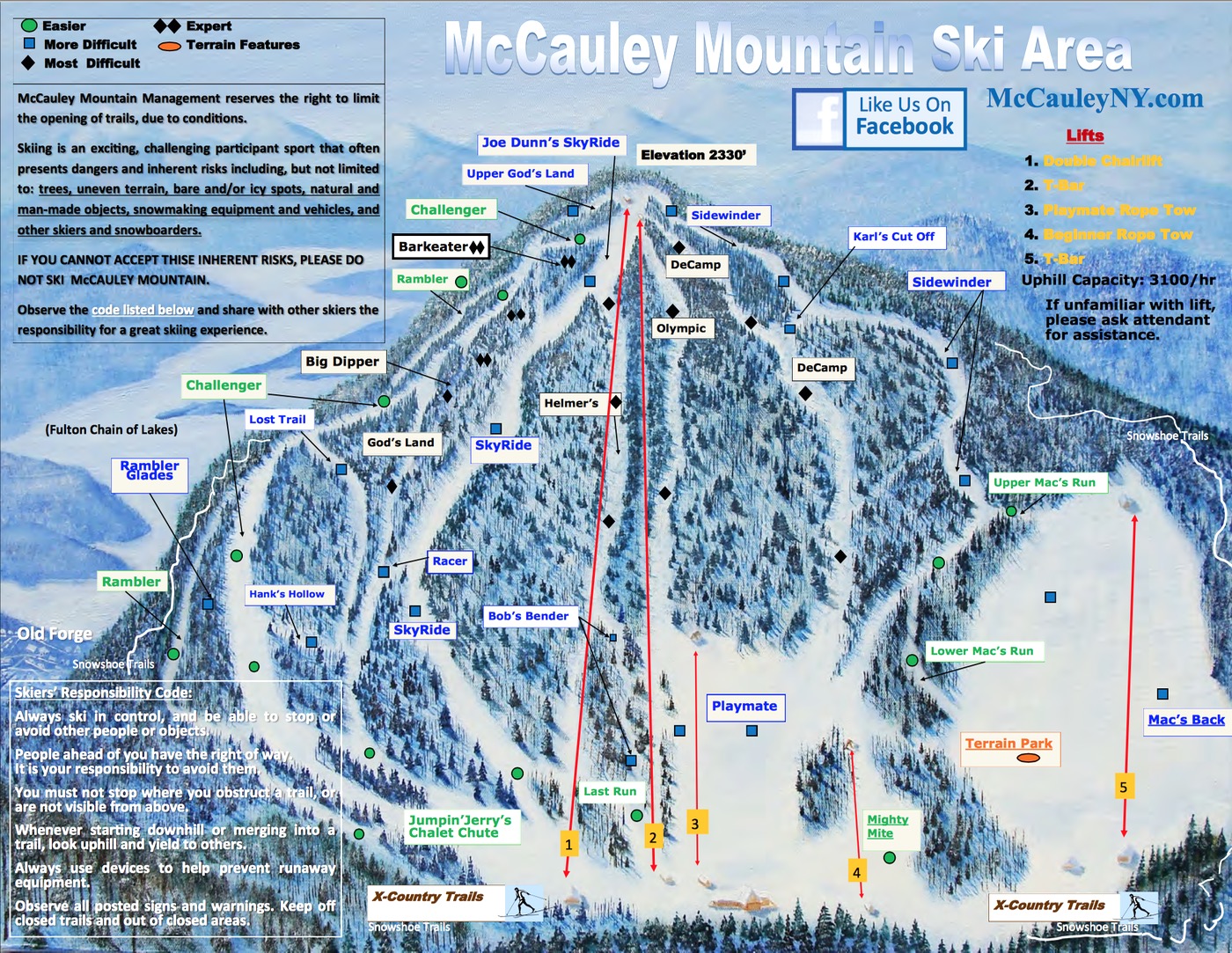 ---
McCauley Vertical Drop and Stats
| | |
| --- | --- |
| Summit Elevation | 2,260 feet |
| Base Elevation | 1,627 feet |
| Vertical Drop | 633 feet |
| # Trails | 21 |
| Trail Miles | 7 miles |
| Longest Run | 4,000 feet |
| Skiable Area | 75 acres |
| # Lifts | 5 |
| Uphill Capacity | 3,100 / hour |
McCauley Snowfall
| | |
| --- | --- |
| Annual Snowfall† | 180 inches |
| Old Forge Avg‡ | 178 inches |
| 10 Year Avg* | 114 inches |
| 10 Year High** | 171 inches |
† Advertised annual snowfall
‡ usclimatedata.com
* Average reported seasonal snow total 2012 – 2022
** Highest reported seasonal snow total 2012 – 2022
---
McCauley Ski Day Essentials