On Friday 2 August, I set out on a long-anticipated trip to Vermont. Saturday was the App Gap Challenge, a 7.2 kilometer roller ski race heading west on Vermont Route 17, past Mad River Glen to, you guessed it, Appalachian Gap. Sunday, I planned to climb Mount Mansfield.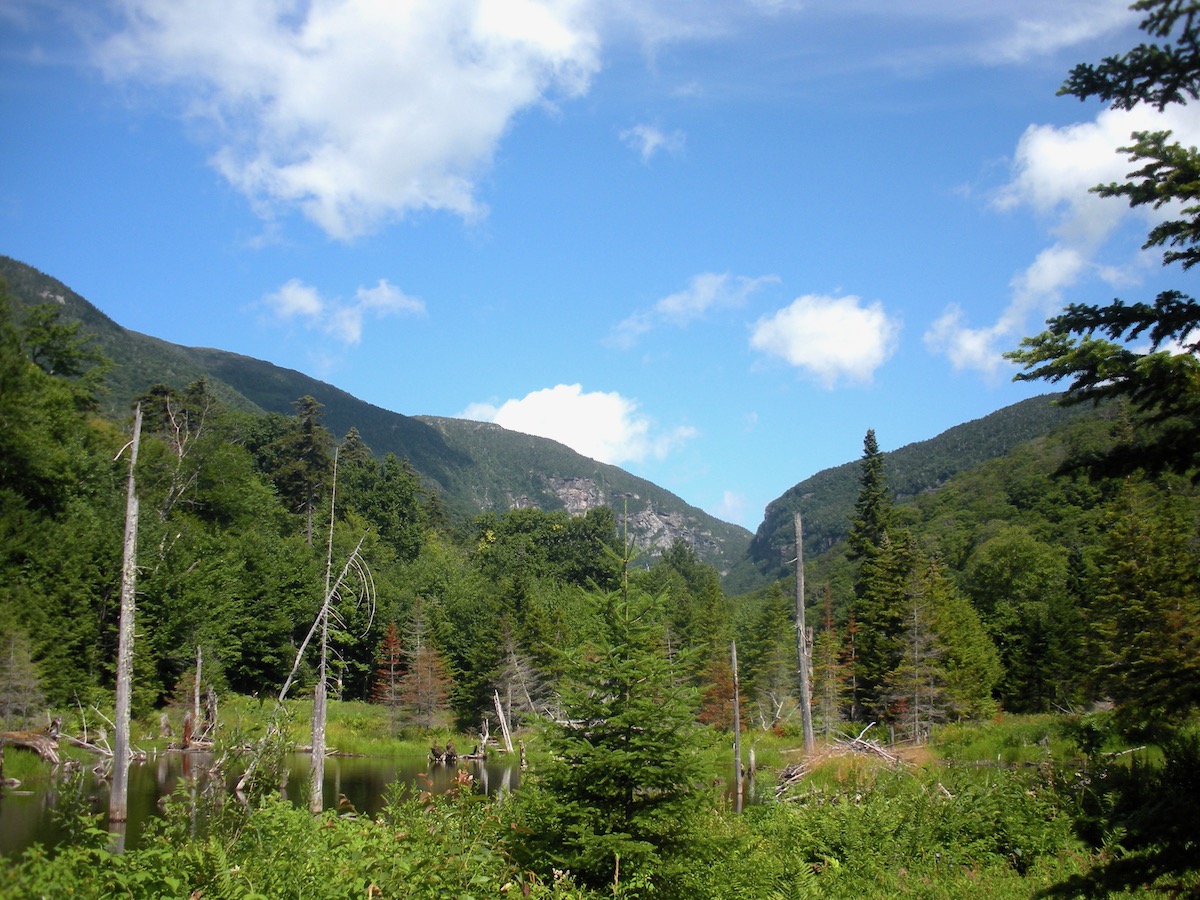 For many years my wife and I had gone in on a February house share in Waitsfield. The group that organized it gradually drifted apart. Age, work, kids, you get the idea. Two years ago, I'd raced App Gap, but immediately following the race, I had to get our daughter to sleep away camp in Massachusetts. This would be my first opportunity to hang out in this part of the world in a long time.
On Sunday morning, I had to clean up some loose ends for a story on the App Gap race for a rival publication. I left Bristol — one of my favorite places in Vermont — later than I would have liked, driving over Appalachian Gap from Bristol to Route 100. There are a dozen possibilities for a route to the summit of Mansfield, but I had to drive home Sunday afternoon. So chose the most direct route, on the Long Path south from Route 108.
At 11 AM, I set out from the Barnes Camp visitors' center. The low clouds that impeded visibility while I was driving had dissipated, and it was a bright, warm day. Walking through a wetland with a stunning view of Smugglers' Notch, you cross Route 108 and the ascent begins. After the race, High Peaks Cyclery owner Brian Delaney told me he'd hiked Mansfield in trail running shoes, so I opted for my Salomon Speedcross kicks, leaving my 28-year-old Scarpa boots in the Subie.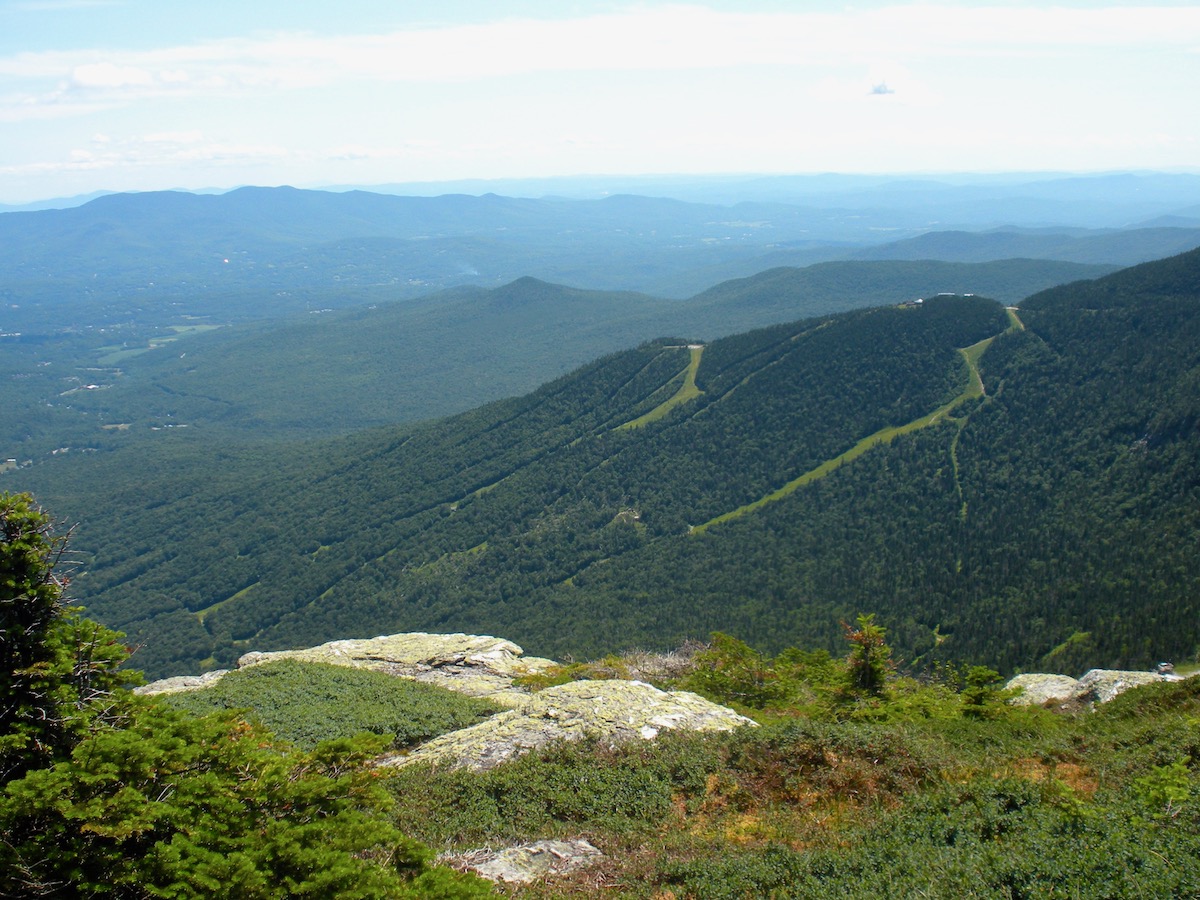 The lower part of the trail is double track and well maintained. There are some short sections that run along contour lines, but primarily you're following a drainage uphill. The lower part of the mountain was almost all hardwood and thickly forested. As I climbed, the sound of cars and motorcycles faded, replaced by an occasional weird hum.
The trail narrowed as I climbed, and evergreens began to elbow the hardwoods for space. I caught some tasty views through the trees.
At around two miles, I turned on to the Profanity Trail. Largely sheltered from the wind, it's a bad weather alternative to the Long Trail. While there was no wind, at least lower on the trail, shit got real as the pitch increased. There were several places requiring three- or four-point contact. The breeze picked up, and after one last rock step, the trail flattened, with a boardwalk leading to the summit trail.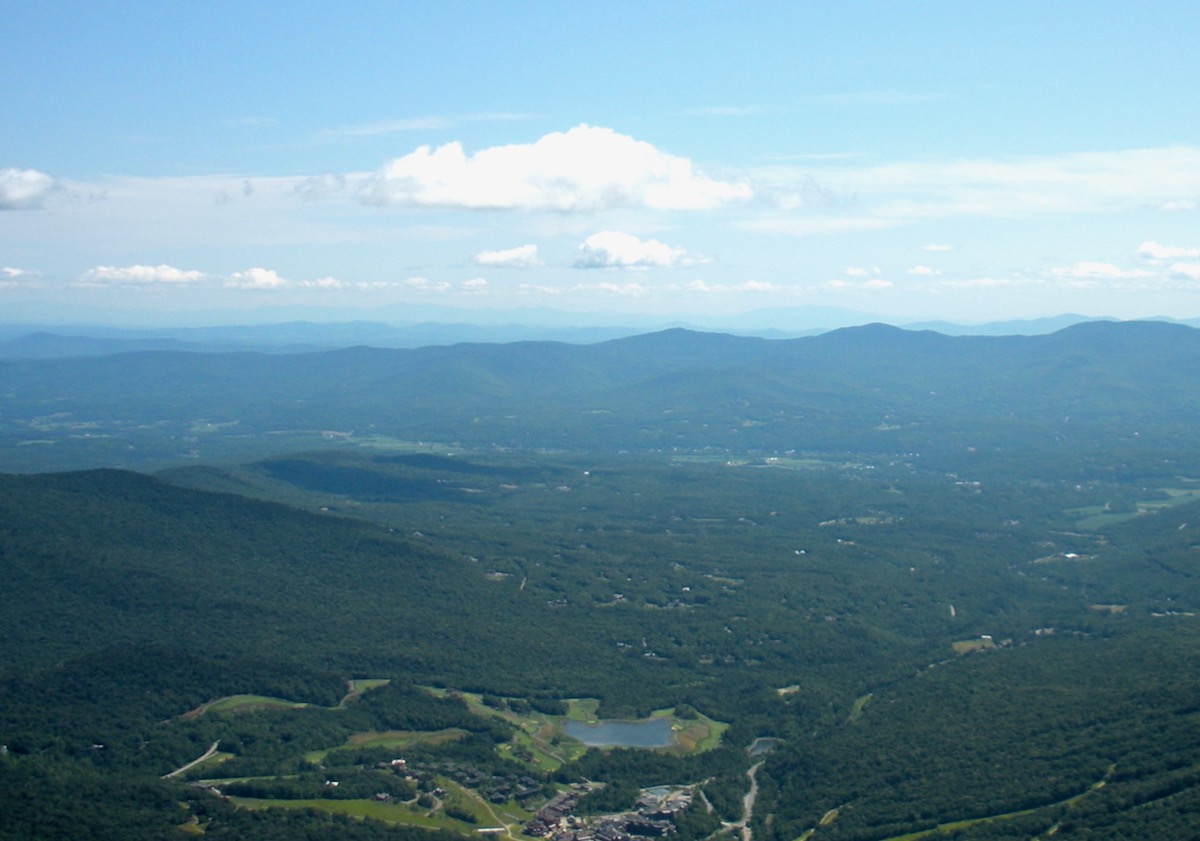 Those last few hundred meters are all above treeline, with spectacular views in all directions. Shucking my daypack, I plunked myself down on on the highest part of the summit to grok the view. Although I hadn't seen many people on the Long Trail, with so many approach options, I wasn't surprised to see three to four dozen on the summit. It was all good; still much less crowded than Cascade, or the last time I was on Algonquin in the Adirondacks. I looked down at the Spruce Lodge; and over to the White Mountains. Farms, ski trails.
Basking in the sun, I ate lunch, drank some water, and chilled. One family asked me to take their photo. I complemented someone's well-behaved dog. A shirtless guy rocking gold-mirrored aviator sunglasses, pierced with a large tat of the Buddha on his ample abdomen was doing a t'ai chi routine.
With my late start, I bagged the idea of exploring more of the ridgeline. After 15 minutes, I shrugged my pack on and headed back down. On the Profanity Trail, I resorted to five-point contact as I scooted down a couple big ledges on my backside. The crux spots were all manageable, even if I was going slow.
Back down to the Long Trail, a woman with two teenage or early 20-something daughters accosted me. "Do you think they'll let us return down on the gondola?"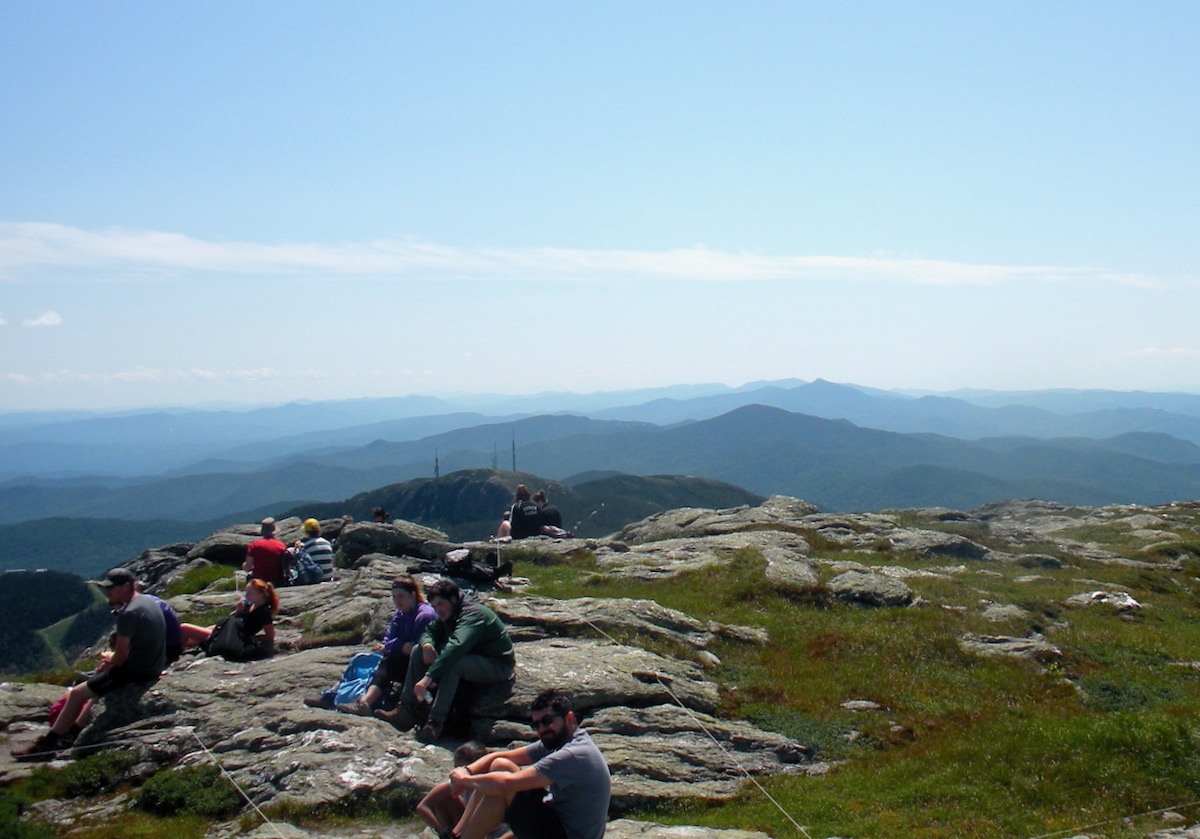 I looked at their sneakers, which had less support than my bedroom slippers. They didn't project the vibe of experienced hikers. It was around 2:45, and they were looking at another hour at least to the summit, before they could head over to the gondola. We discussed their plans and preparation, and they agreed that it was better to turn back and return another day. I hate raining on someone's parade, but what if they missed the last gondola? I didn't want to see them in that position.
As I continued down, I heard that weird humming noise again. Was it logging? No; it didn't sound like heavy machinery. Finally I sussed that it was the vibrations of the gondola cable, buzzing and humming like some giant metallic mosquito.
By the time I returned to my car, it was 3:30. I texted my wife, changed clothes, and started driving. Along Routes 7 and 22A, I glimpsed Lake Champlain and the rippling layers of the Adirondacks. Warm, relaxed, totally emptied out. One of the best trips I've done in a while.