Spending Christmas Week in Johnsburg NY is a family tradition. It's a logical time to take time off, and rack up some ski days. Holidays in the mountains are always good.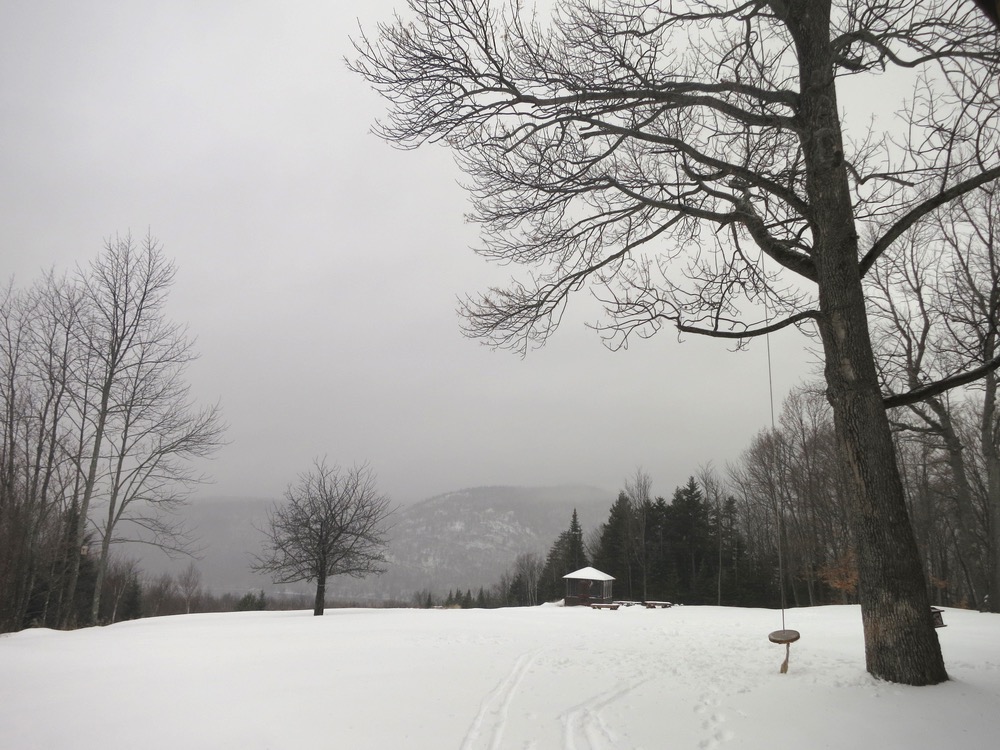 Good skiing at this time of year is somewhat reliable. As much as we know that, we also know that one or two times in ten, we'll get skunked. We dream of natural snow, but as East coast skiers, we're always ready for the possibility that conditions will be marginal.
Regardless, we come and ski what we can. This season, after record warmth in November and December, we had a lot more fun than we expected. I'd actually call it a great time.
It was still warm when we arrived on Sunday. On Monday it dropped below freezing long enough to put a chill into the ground. Early Tuesday morning it began to snow as five or six inches fell. That was followed by several hours of sleet, that notably was mixed with little or no freezing rain.
What remained after the storm was still about five inches deep, but it was extremely dense. We skied our woods and didn't hit bottom. In the afternoon, we headed to Garnet Hill and skied Old Faithful to Blue Jay Way, to the Lodge for lunch. Those main trails had been rolled, but it was game on everywhere, if you were willing to break a little trail.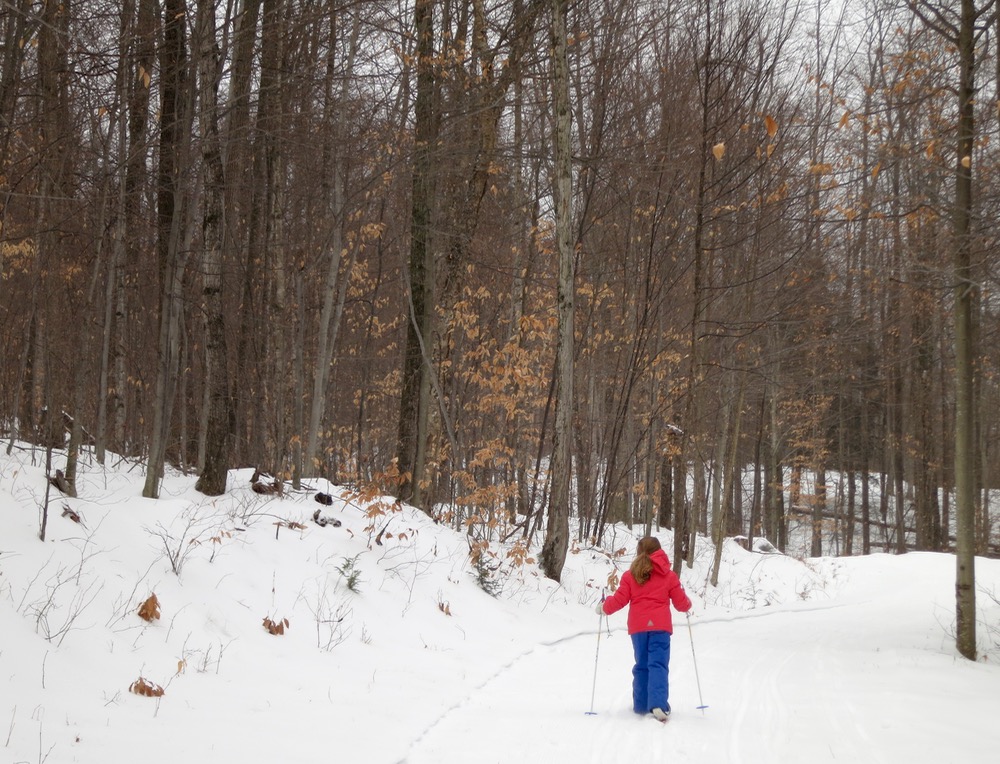 The difference at Gore on Wednesday was pretty dramatic. Conditions were much softer, Showcase now looked wall-to-wall, even if some spots were thin. We skied the morning and came back to camp for our own home cooking woods.
Neve, our nine year old, kind of blew me away. "Dad, will you take me into the woods and teach me how to ski this snow?" I wondered, is this a dream? "Hey it's a little bit crunchy back there. You got to wear your helmet and do everything I say. OK?" Yes.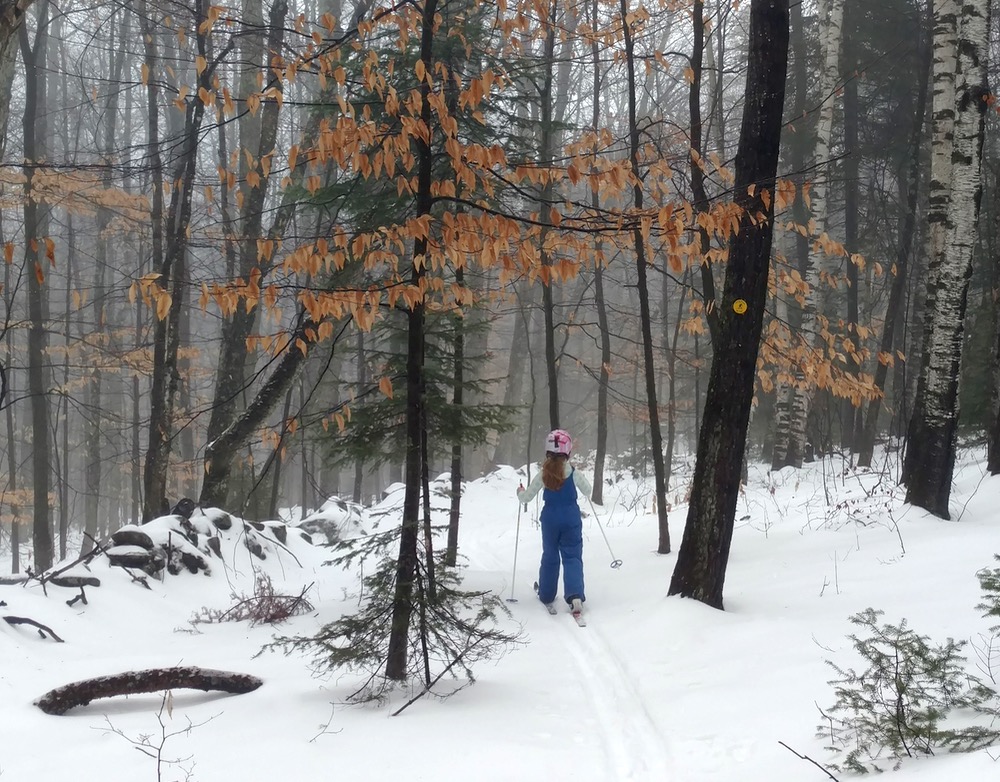 It was a dream.  We glided and herringboned and side-stepped our way to the top of six-turn hill.  The descent on the other side is relatively steep, when compared to the skinny skis and light bindings we were skiing.
I taught Neve the most important move for descending in a breakable crust; the step turn.  She was keenly focused and kept to her feet except for a few tumbles. When she did fall she tried to get up quickly to prove she was up to the task.  The whole experience was an unexpected joy.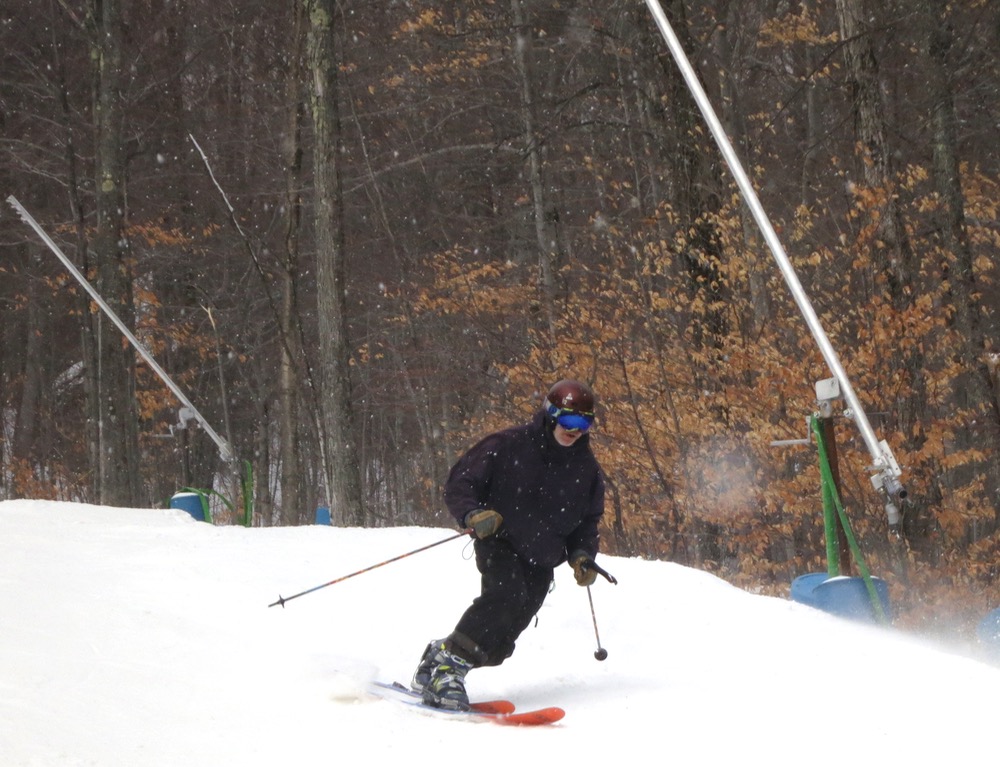 Wednesday Neve and I skied Gore in the morning and our woods in the afternoon.  After 5 or 6 runs at Gore, we came back, ate lunch and did over 3 miles of nordic, both up and down.
Thursday morning when the alarm went off, Neve wasn't feeling it, so I headed to Gore myself. I made some new friends and once again we lapped Showcase. One thing seems certain, my new 4 buckle boots, have upped my game.
Friday conditions were even better. Even more exciting, Neve was ripping, skiing with me, Linc and DP. Keeping up for the most part, and if she was behind or ahead, it was no big deal.
On a more personal note we welcomed Penny to our family.  She's a rescued stray, two years old, whose already had puppies. She is so very chill.  And small too, which really works for us.  She's from Georgia so she didn't quite know what to make of the snow and cold, but she seems love the cabin and the woods.
On Saturday morning before we left, I got up early to ski some nordic in the 3 inches that fell overnight. The rest of the team was asleep, or so I thought. As I was about to close the door, behind me Neve peeps, with eyes still closed "save me some tracks Dad." Wow.
Dreams take many forms. I dig Johnsburg because, in Johnsburg, it seems my dreams come true.