We were on our way north when my preferred social media network alerted me that Glen Plake was bringing his Down Home Tour to Plattekill this weekend. I heard just in time too — right before we had to make that Freedom Pass call: Plattekill or Magic.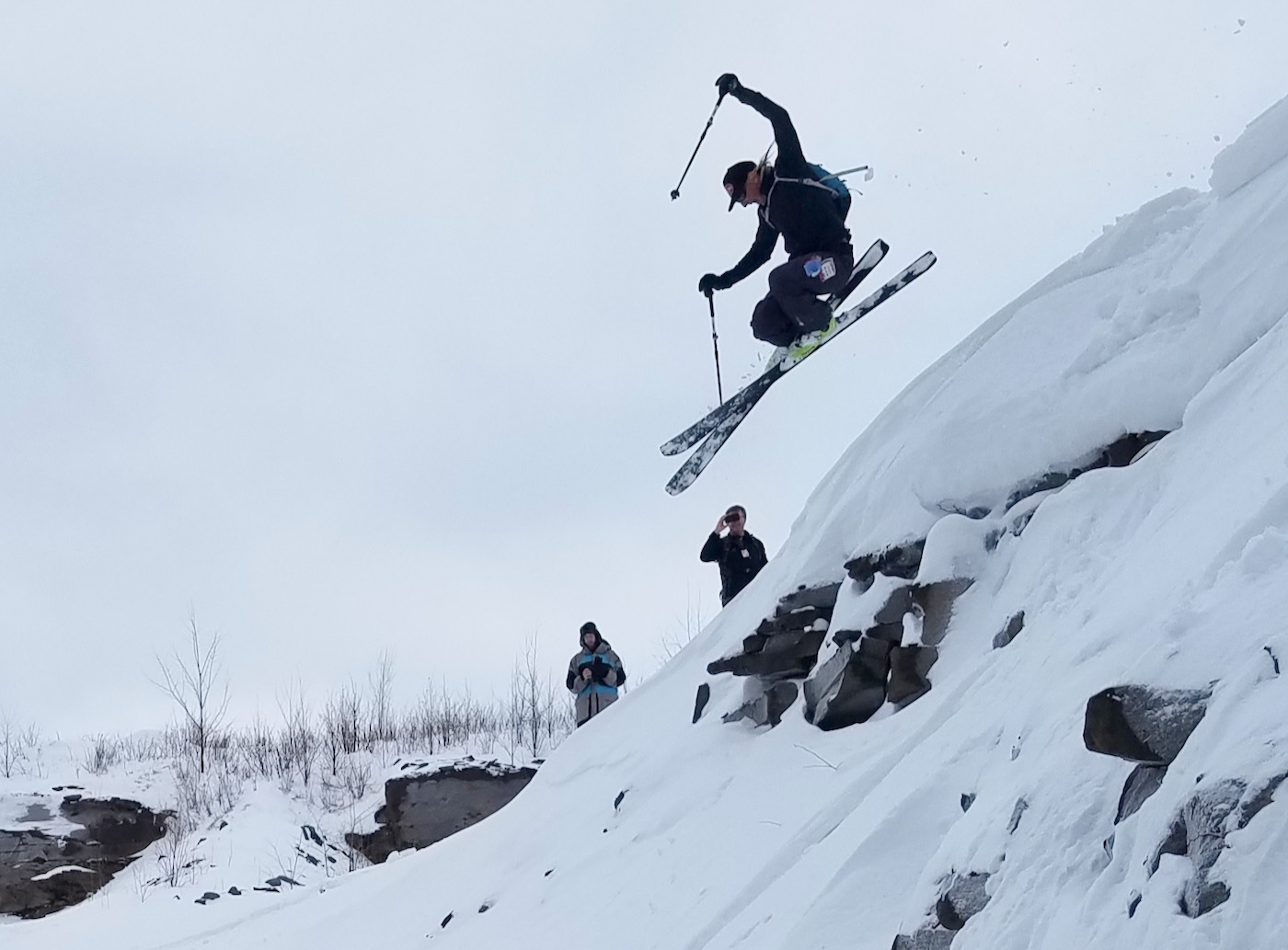 There was no way I was gonna miss the chance to meet the star of the "Blizzard of Aahhhs" —  Glen has to be considered one of the legendary pro skiers of all time.
Plattekill is always fun, and even if it turned out that Plake's visit was a photo-and-handshake publicity stunt, I knew we would have a great time. We turned onto Route 28 and headed west.
I parked in the lot above Plake's custom RV, recon'ed the lodge (no Plake yet).  We booted up by 8:10 or so, well before the lifts started loading. I let Junior choose our first run. A short line had formed for the double, so he chose first chair on the triple.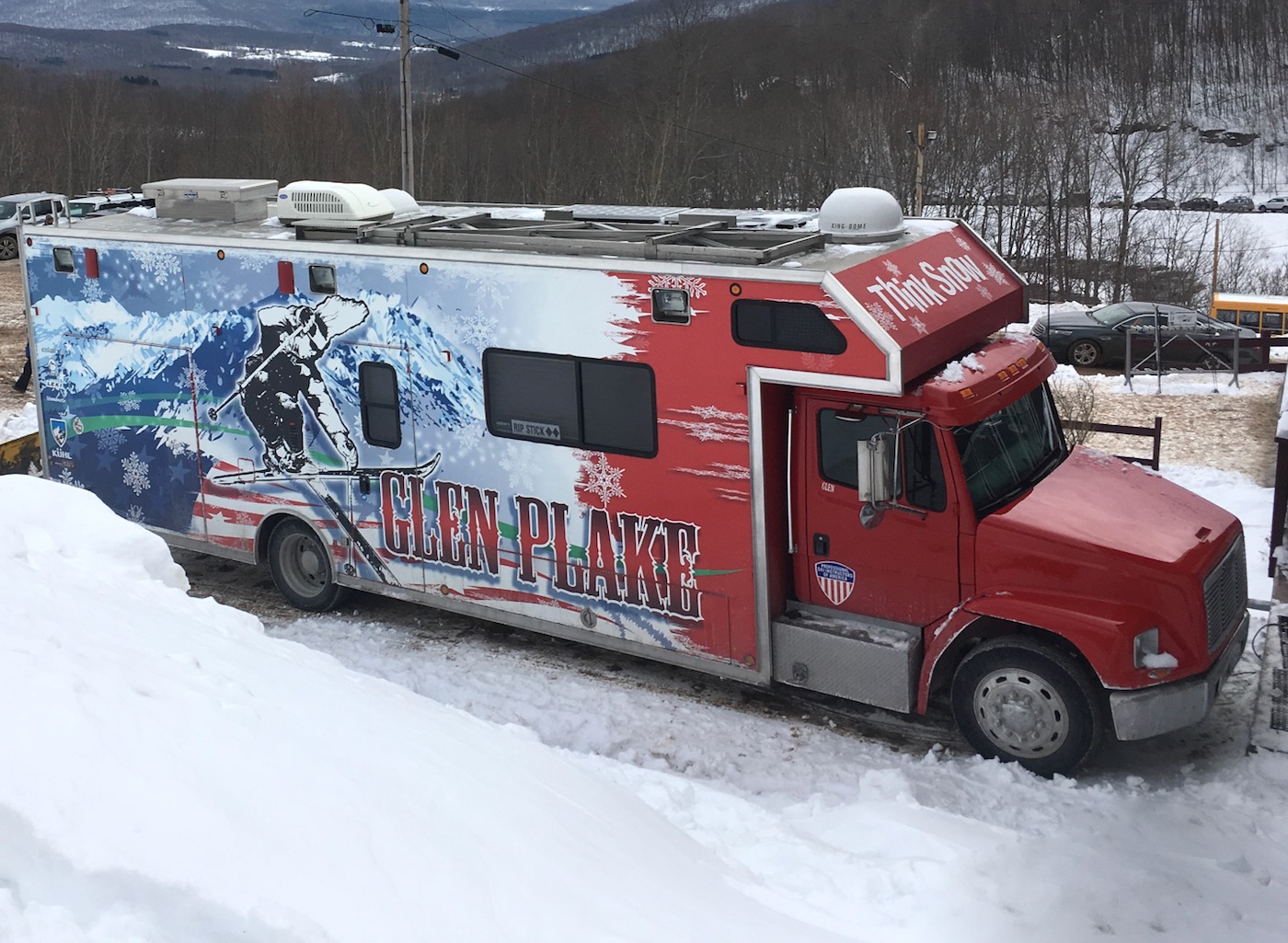 The first runs, ripping the fresh corduroy, were all kinds of awesome. We started with Face, then made our way over to Blockbuster and Plunge.
Junior is really stepping it up this year. Several times, while going all out on something steep, I glanced over my shoulder, expecting him to be behind, and found him right on my ass. Later in the day, he confessed he scared himself a little on our first run down Block. I couldn't fault him. Conditions were perfect for opening up the throttle. I was probably overdoing it too.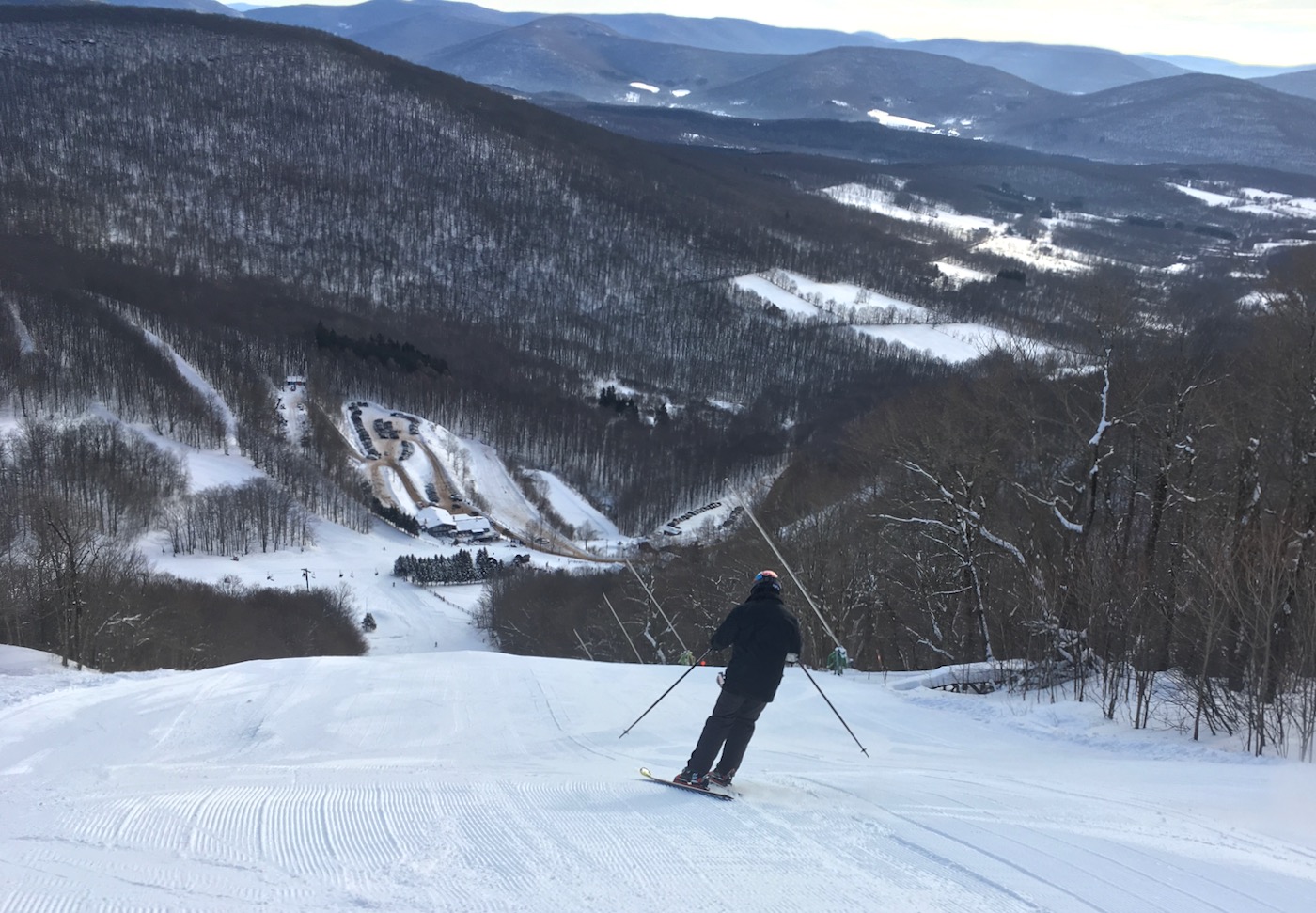 Around 10:00 am we headed into the lodge to give our legs a break, hydrate and warm up a little (it was maybe -1 F at this point). As we got to the door, we saw the man himself. "I was wondering when you'd show up."
"Hi, my name is Glen!" he said, offering his hand. I introduced myself and my son and asked if he'd been skiing yet.
"No, we kind of take our time on Saturdays. I love to watch a mountain wake up and come alive."  We chatted about Tahoe and the weather for a couple minutes. I asked if we could take some pics. Of course we could.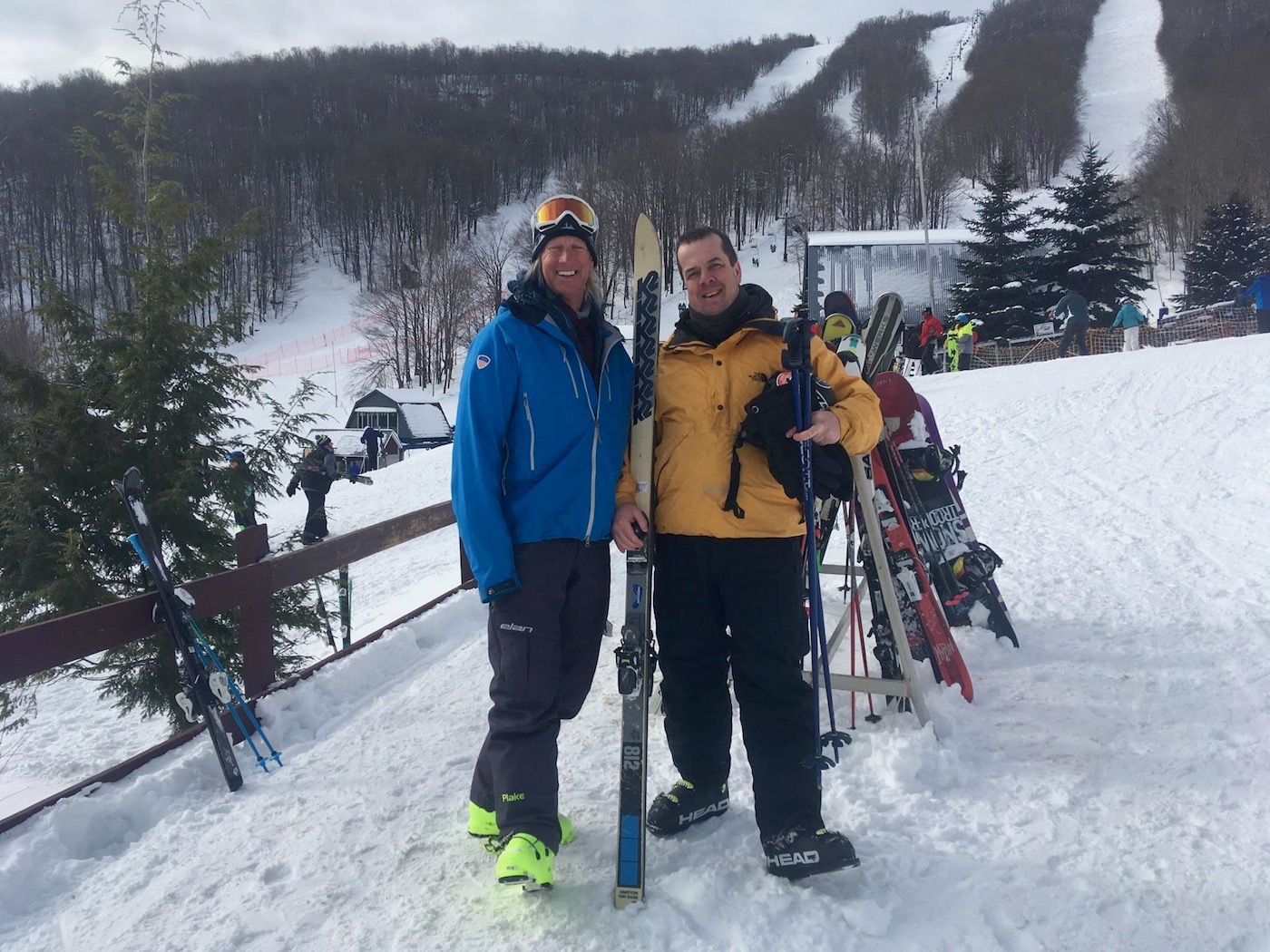 "Would it be weird if wanted to get my skis in the pic?" I asked. I happened to be skiing my 1980s vintage K2s that day.
"Sure, especially if those are your 710s over there." Plake answered, pointing at the ski rack. Apparently he'd spotted my skis when he came out of the lodge.
"Yup," I said, "but they're 812s."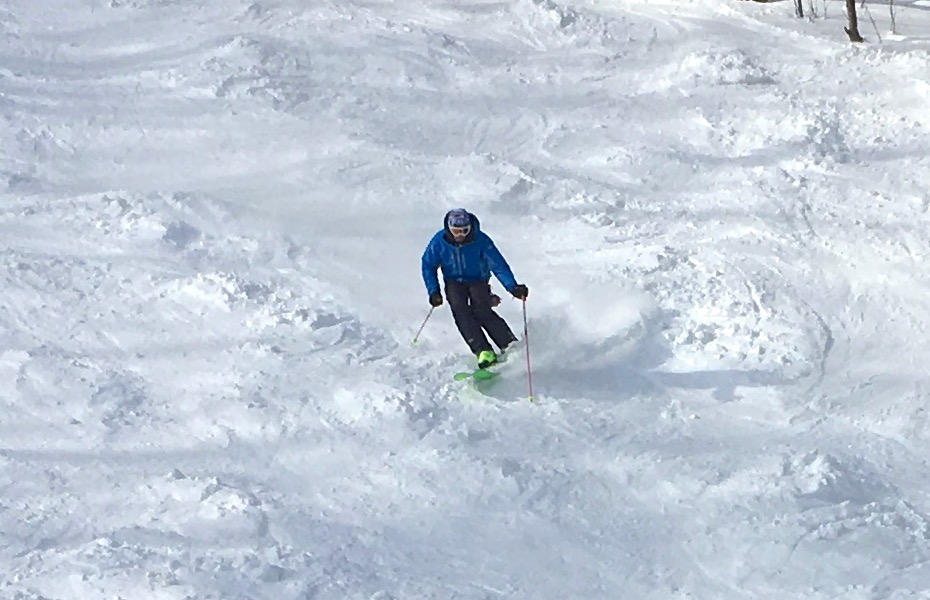 "Wow check that out," He said, looking them up and down, "195s huh," He preceded to tell me about an upcoming project to produce a limited run of some old-school straight skis. He said they would probably be 200s "cause it's just cool to say they're 200s."
In the end Glen gave us a good ten minutes of BS'ing about Alpine Meadows, straight skis and home mountains. Nicest, most down-to-earth guy you could hope to meet.
We let him go, with a promise that he'd be out for some runs soon. Junior and I warmed up for a bit and then headed back out. A few runs later, after getting back on the double chair, we looked up the line and saw a huge gaggle of skiers zig-zagging down Plunge.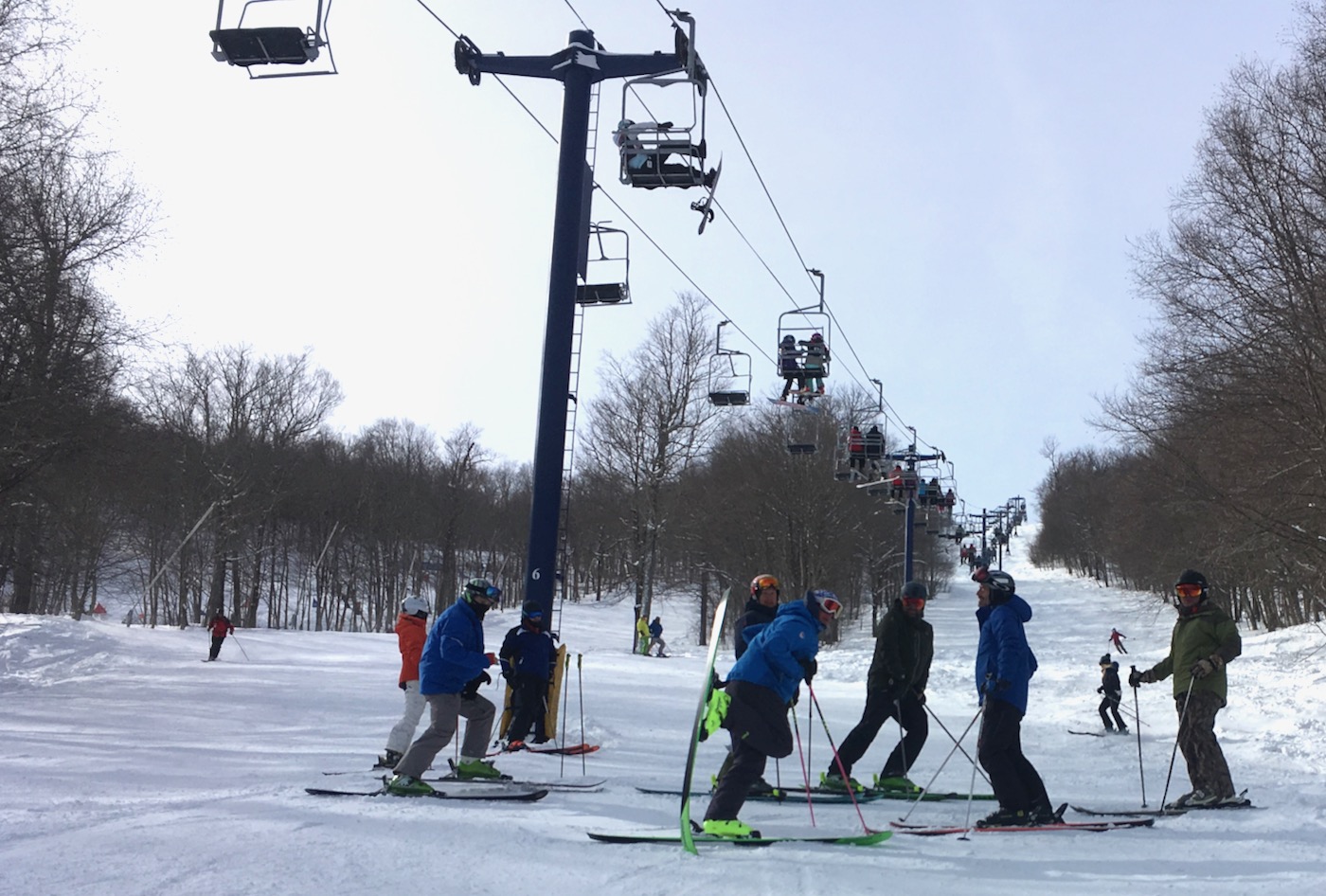 Sure enough there was Plake right out in front, zippering down the baby moguls on skiers' left like they weren't even there. We did another run, rode back up and then waited. Junior was wanted to get moving. "Just give it a minute. This will be fun." I promised.
Sure enough, Plake was getting off the lift, followed by a bunch of fans, mostly middle aged guys like me. For a few minutes it was like Plake was holding court there at the top of the double, talking about where they might go next, memories and stories of some of the little hills he's visited in the past.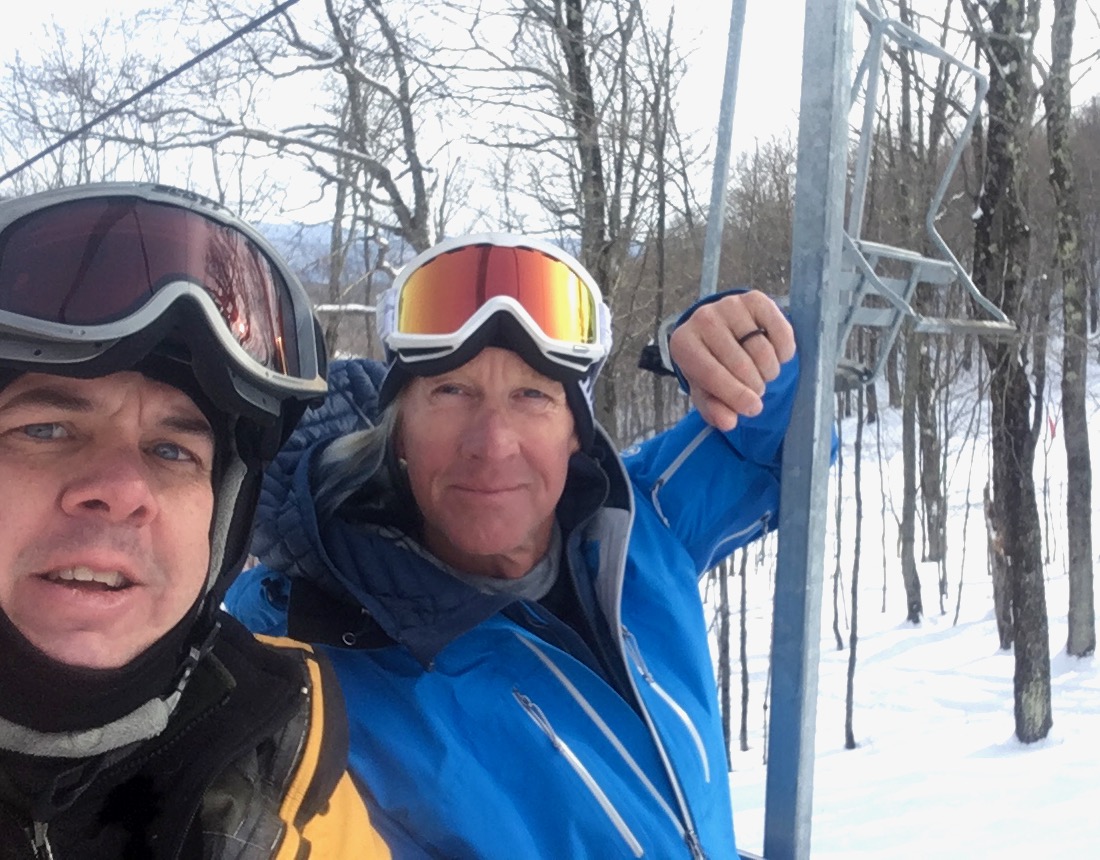 He lingered long enough for everybody to catch up and then we were off, everybody skiing fast in a big group. It was a lot of fun, not just because we were skiing with a star but just because everybody was in that same state of mind, having fun doing the one thing that is more fun then anything else. In that way it was just a typical day at Plattekill.
We spent most of the afternoon that way, chasing Plake around the hill with his fans. Somewhere along the way I shared a chair with him, which was exceptionally cool. He really is a great ambassador for skiing, in touch with the small mountain, recreational side of the industry.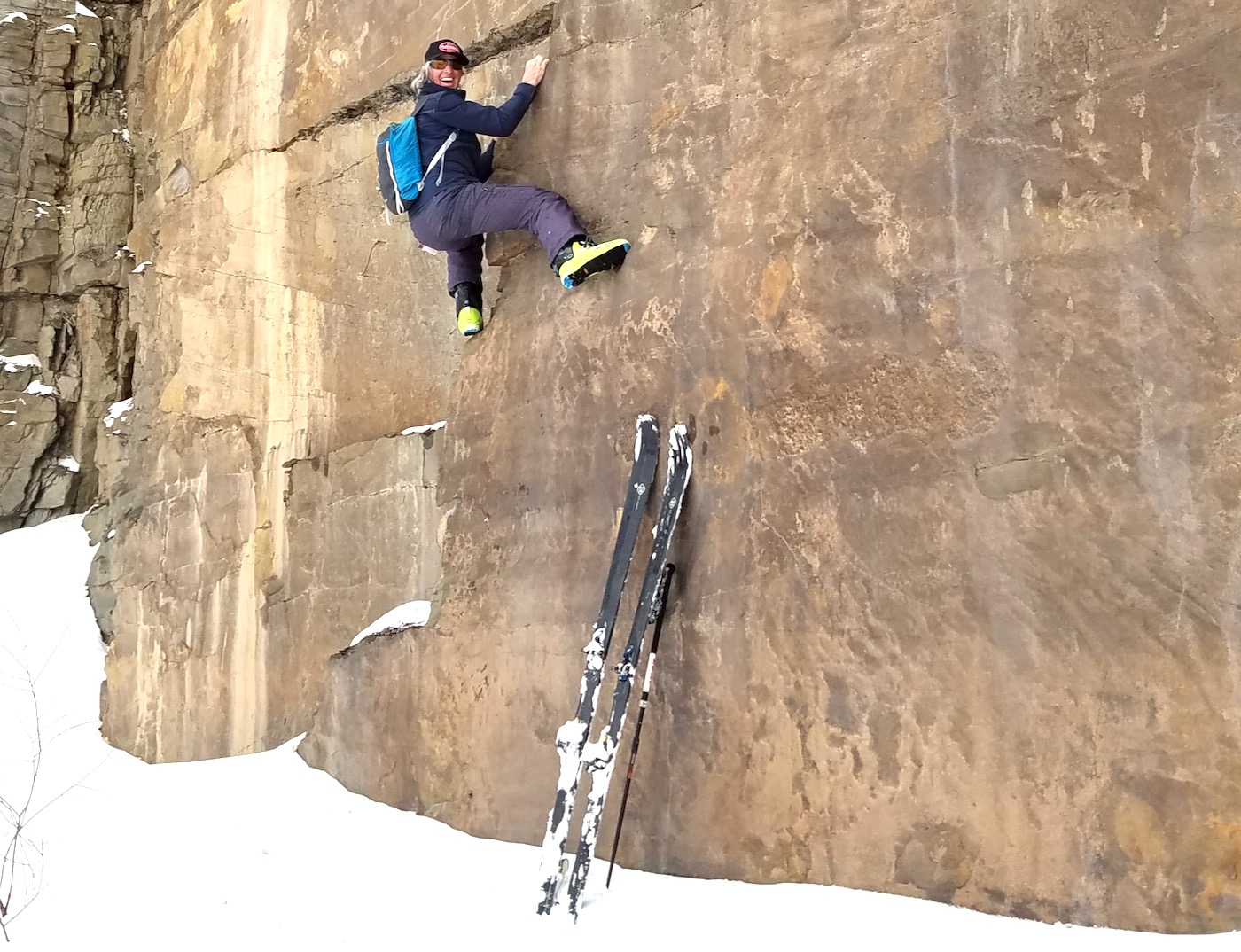 I asked which movie was his favorite. Without really picking one, he mentioned "Dr. Strangeglove" and "A Fistful of Moguls."
It was incredibly cool to meet Glen Plake. He stuck around after the lifts closed, for the whole weekend really, to sign posters and just be Plake.
I was happy that Junior kept up with the group. He's always been a cautious skier so seeing him develop his skills and evolve into a minor ripper has been rewarding.
All in, what a day.