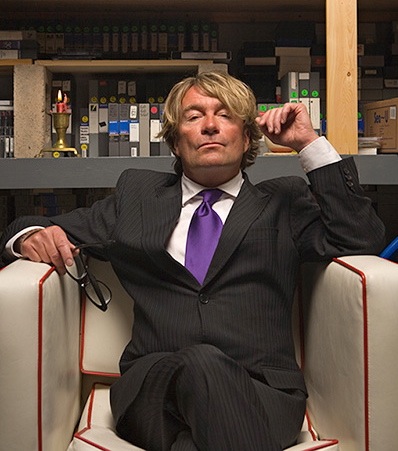 Greg Stump was an accomplished skier who starred in films by Dick Barrymore and Warren Miller. Inspired by the two legendary filmmakers, he began to make his own films in 1983. His sound tracks featured distinctive music by established artists and his narrative style was compelling.
His most well-known film — The Blizzard of Aahhhs — is credited by many with putting the sport of extreme skiing into the public consciousness. With his new retrospective The Legend of Aahhhs, Stump puts his original game changing ski film — and those of many others — in context. The film is currently screening nationally. Our interview with Greg follows.
---
NYSB: After a string of movies in the 80-90s, you disappeared from public view.  What have you been up to?
Greg Stump: I didn't disappear as much as I started creating work that you wouldn't know I made. I made two promotional films for Whistler, one for Colorado Ski Country, and two for Aspen. I also made several ski movies that did not tour that nobody saw… "Siberia" which is one of my best films and "Fistful of Moguls" with Glen Plake who predicted the rise of mogul skiing again and Jonny Mosely's Olympic win. I also made the first mountain bike movie in 1993 "Pulp Traction."
But my focus was working in Hollywood doing commercials and music related stuff. I directed and edited Tony Hawk's 2001 Super Bowl commercial for Disney, music videos for Seal, Willie Nelson, Art of Noise and Dinosaur Jr. I was quite busy, but none that stuff had my name on it so the ski movie crowd thought I vanished.
I stopped doing the yearly ski movie after "Groove Requiem: In The Key of Ski" and purchased a condo in the creekside of Whistler. I took some time for myself and started really skiing again. You don't get to ski for fun when you are making ski movies. My backpack with an Arriflex SR, an Angeniex 12-240 lens, batteries, film, tripod all weighed 75 pounds… carrying all that weight and producing, directing, writing, narrating, and raising sponsors was a ton of work and I never skied for fun. Once in Whistler in 1990 it was a dream come true. The resort was still in transition from crazy ski bum town BC Style and it was a blast. I needed a break from the yearly ski film and started working in Hollywood and windsurfing in Maui.
I haven't skied too much in the last decade. I was living on Maui, being a beach bum, playing poker at Willie Nelson's house and spreading joy and confusion everywhere i went. In the last seven years I moved to Idaho near Grand Targhee and promptly blew out my acl at a mad party at my house… not bad enough not to walk or even jog but bad enough not to ski so I waited until last year to have Dr. Steadman repair it. And after a decade of skiing every day at Whistler where you can walk to the lifts… I found it hard to get in a car to ski. But my knee is good again so this year I'll ski.
Scot Schmidt was an important skier when you connected. How did you get him to star in your movies?
We were all fans of Scot of course, so when I got the idea for Blizzard, I just called him and bugged him until he said yes.
How did you swing the budget to take a crew to Chamonix?
Blizzard was my fifth movie in a row and we were getting traction and had built up the trust of our sponsors. They bit, and away we went.
How did you get Seal and Propaganda to give a green light to use their music? What tunes are you into these days?
I developed a friendship with Trevor Horn and his wife Jill Sinclair of ZTT in London. They loved that I was this kid underdog in the beginning and just kept supporting me and my films in the form of killer deals on music. Seal was not even aware he was in my movies until every kid in the ski and snowboard shops began complimenting him on "Groove Requiem." He finally asked his manager, "What fucking ski movie are we in?" seal told me once that "groove" broke him in North America.
I'm into internet radio, hearing new stuff. I listen to Deep House Promo Trax out of London, a French jazz station called Radio Ste-Do, and of course the greatest radio station in America and maybe the world, KCRW out of Santa Monica.
What is Rasta Stevie doing these days?
Selling legal medical weed in Durango.
You grew up in Maine and your skiing roots are in the east. Do you still ski in the east?
I rarely get back east and when I do, I end up hanging with my old friends in the Old Port in Portland and, no offense, but again after a decade in Whistler I just can't get motivated.
If you could keep one copy of only one your films, which one?
Probably "Siberia" because it is so intense… Craig Kelly kind of prophesies his own death… it is very real and rather disturbing.
Have you talked with Glen since the avalanche on Manaslu? What is he thinking?
I haven't spoken to him. He's in a very intense space right now losing his buddies and only by the grace of God surviving himself. I got an email from Kimberly (his wife) the morning of the accident telling me he was alive. That was a dang close one… so glad he made it but heartbroken for the others… that avalanche dragon… you never know when that beast will strike.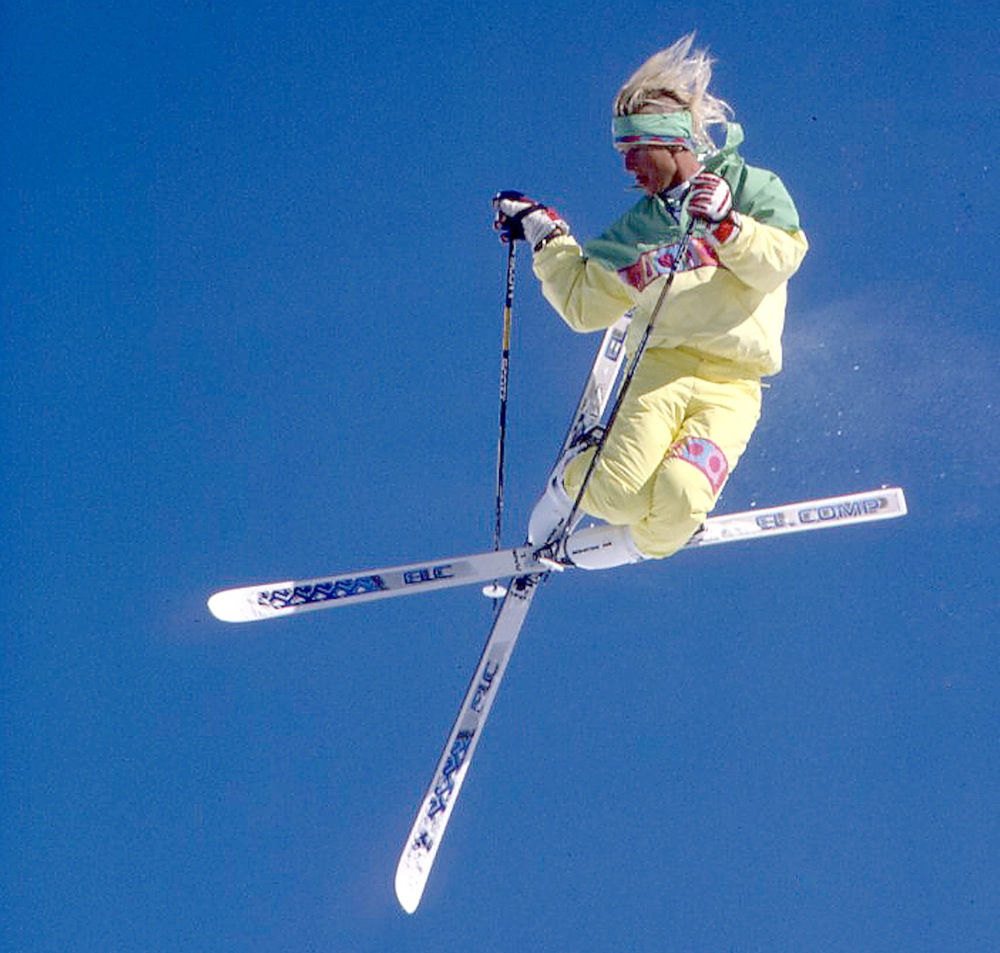 Did you "discover" Plake?
I didn't. He discovered me. More on that in "Legend."
How will the personal video explosion affect the future of adventure sport film-making? Will quality films get lost in the noise or will the good stuff rise above?
I love it… the GoPros, everything. It's just like when the video camera came out. You don't have to ask permission to make a ski movie. You can just go try and that is great because the cream will rise to the top… like it always does.
Everyone knows you've had a crazy life. What's the craziest thing that has ever happened to you?
Probably becoming good friends with Willie Nelson. That one still has me shaking my head. He's a gem. I love to brag that I have only been to Texas once and it was with Willie… stayed at his house. I played guitar all night once with Joe Strummer from The Clash… that was wild too, but Willie…he is something way bigger than life and now I work with his son Lukas who is going to be a mega-star… a chip off the old block.
How do you compare working as a cinematographer and directing ski movies to making commercials?
Ski movies are difficult because typically you are under-manned. You have to be a great skier to lug that gear around, but the biggest difficulty is that ski movies are weather dependent. Hollywood is way easier, but on the big gigs like the Super Bowl the pressure is unreal. You have so many chances before the actual shoot to get fired. In Tony's spot I had $600k to make a 30-second spot and I had Tony for exactly 48 hours. Intense.
Any newer ski production companies whose work you like? Meathead, Steep or Dogtown?
I like them all. Nothing really moves me like the films i loved as a kid… Barrymore, Warren, Joe Jay Jalbert. The athleticism of today's stuff is unreal and the camerawork is so great these days, but no story or sexiness, so I don't know. I kind of get bored watching just skiing. I need some "secret life of sleeping bags" or something. Don't get me wrong, the skiing and filming is way beyond anything I ever did… so kudos to the new.
Would you ever make a film in the East?  Daks, Greens, Whites, or Chic Chocs? Maine?
Not a ski movie — the weather would kill me. Now a comedy? You better believe it!
Did the work of Hunter S. Thompson influence your work? Did you ever meet him?
I love Hunter and Jonny Depp's "Fear and Loathing in Las Vegas" is one of my favorites. I never met Hunter… one night in Aspen this sketchy dude came up to me and said Hunter sent for me. But the guy seemed like a wacko so I declined. Turns out it was a true offer from HST. I did hear after his death from his attorney that "Maltese Flamingo" was his favorite ski movie.
You turned down a lot of offers to go to college. What'd you study and where?
I went to USM in Maine. My dad taught theater there for 35 years so that's where I went. I changed my major a bunch and never intended on graduating. I just studied things I loved and dropped out my junior year to make a ski movie. Communication, English, History then I settled in Theater.
What do you do in the summer? Change hemispheres or pursue other interests?
I live on a mini-farm in Idaho so I garden, work in my studio, play music, have sex, party, run, hike, bike. In Hawaii, I was always surfing, windsurfing or playing poker at Willie's.
What are the differences between skiing and how it's portrayed in movies?
In the movies you get vapid bro speak ski stars where in real life all the people I know are normal and just ski.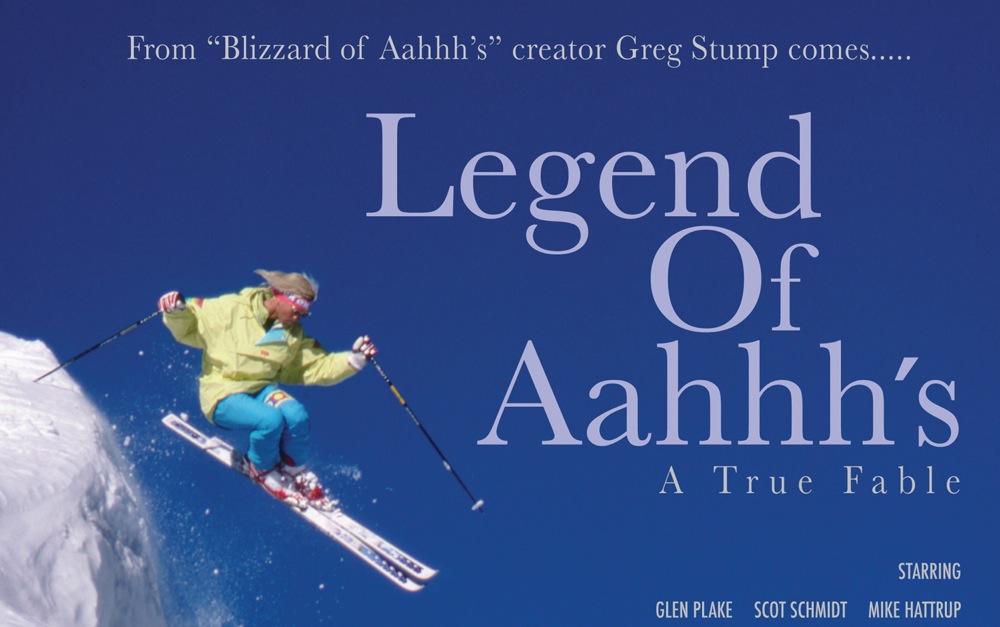 What drove you to make the Legend of Aahhhs?
I am the only person alive who could make this movie because I lived it. I had to make this film so I could move on. It is my swan song.
In your dreams are you the best ski filmmaker or the best freestyle skier? Any tales to recount from the North American freestyle championships at Edelweiss Valley?
I don't think I am either, although I did win the first ever Nor-Ams at Edelweiss Valley. I would usually win ballet, come in first or second in bumps and about 30th in air. It was enough to win the combined.
You've appeared in front of the camera for Dick Barrymore and Warren Miller. When did you get the idea of making your own movies?
Barrymore took me around the world and that was where I really got the bug. Check out "Legend" for that story.
Any backstory to share about the 1991 Fox Series: "Greg Stump's World of Extremes?"
It was one of my first Hollywood gigs and I had a weekly five minute bit in a half hour show. It was fun. Good chance to get your feet wet in Hollywierd.
---
Interview written and produced by NYSkiBlog Staff.