Looking for cool water to jump into, ways to force kids outdoors when camps are closed and some fun for ourselves, witenoize and I packed up a few days worth of food, gear and our canoes and headed to 13th lake, tucked behind Gore Mountain in the southern Adirondacks. It's a classic Adirondack setting, a little to the south, easy logistics and there are trout and land-locked salmon if you know how to get at them.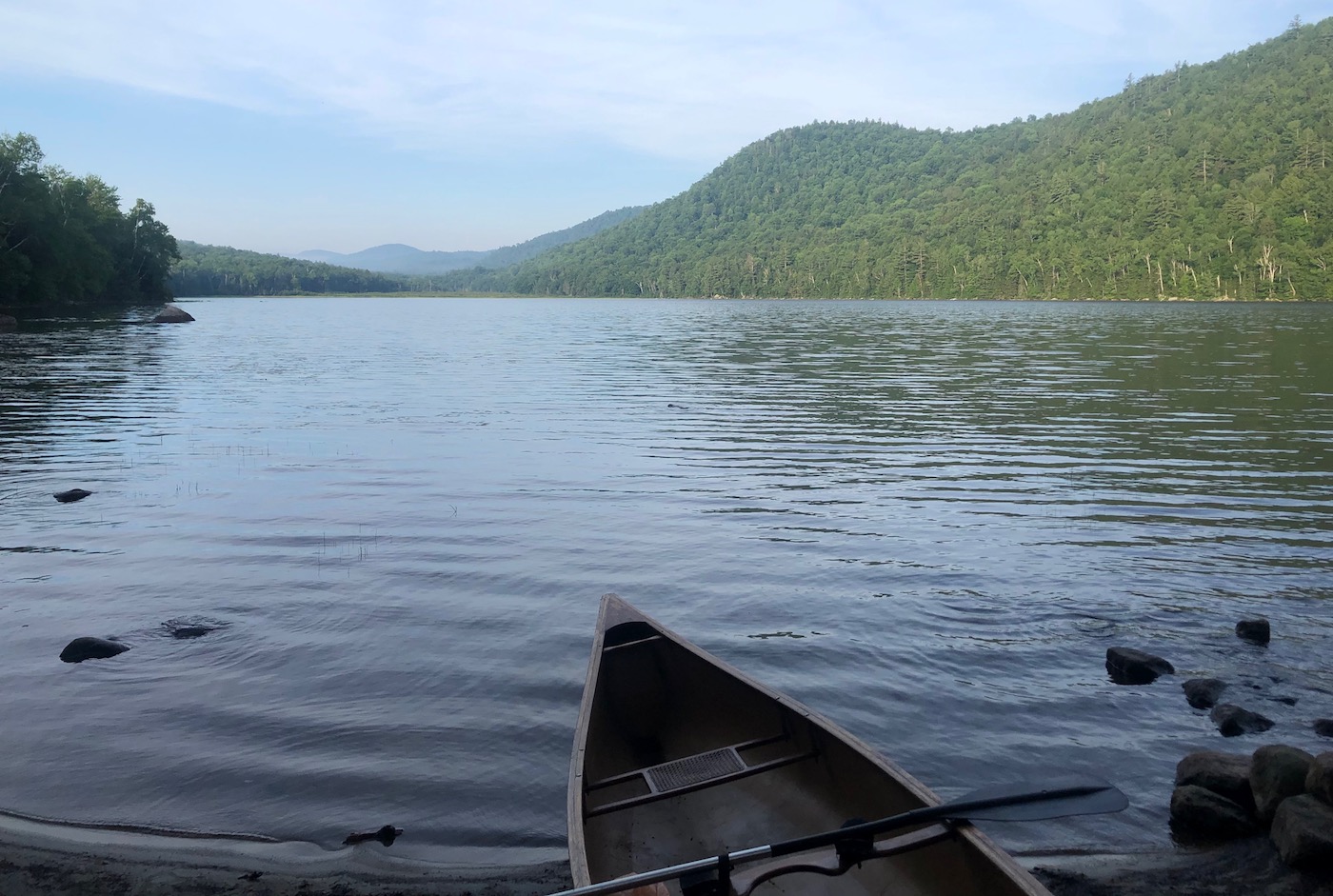 The forecast was looking volatile with a thunderstorms called for our third day, and though I have some unresolved childhood trauma from camping trips in downpours with canvas tents, we had to project positivity to our kids and go for it.
We arrived late morning at the lot, got our gear to the beach 100 yards away and had lunch, hoping we would find an open campsite among the ten that dot the shore. A few of the sites are at right at the parking lot, a few are hike-in and the rest are boat-in. We figured our best chance for a vacant spot in July was with the latter so headed towards them.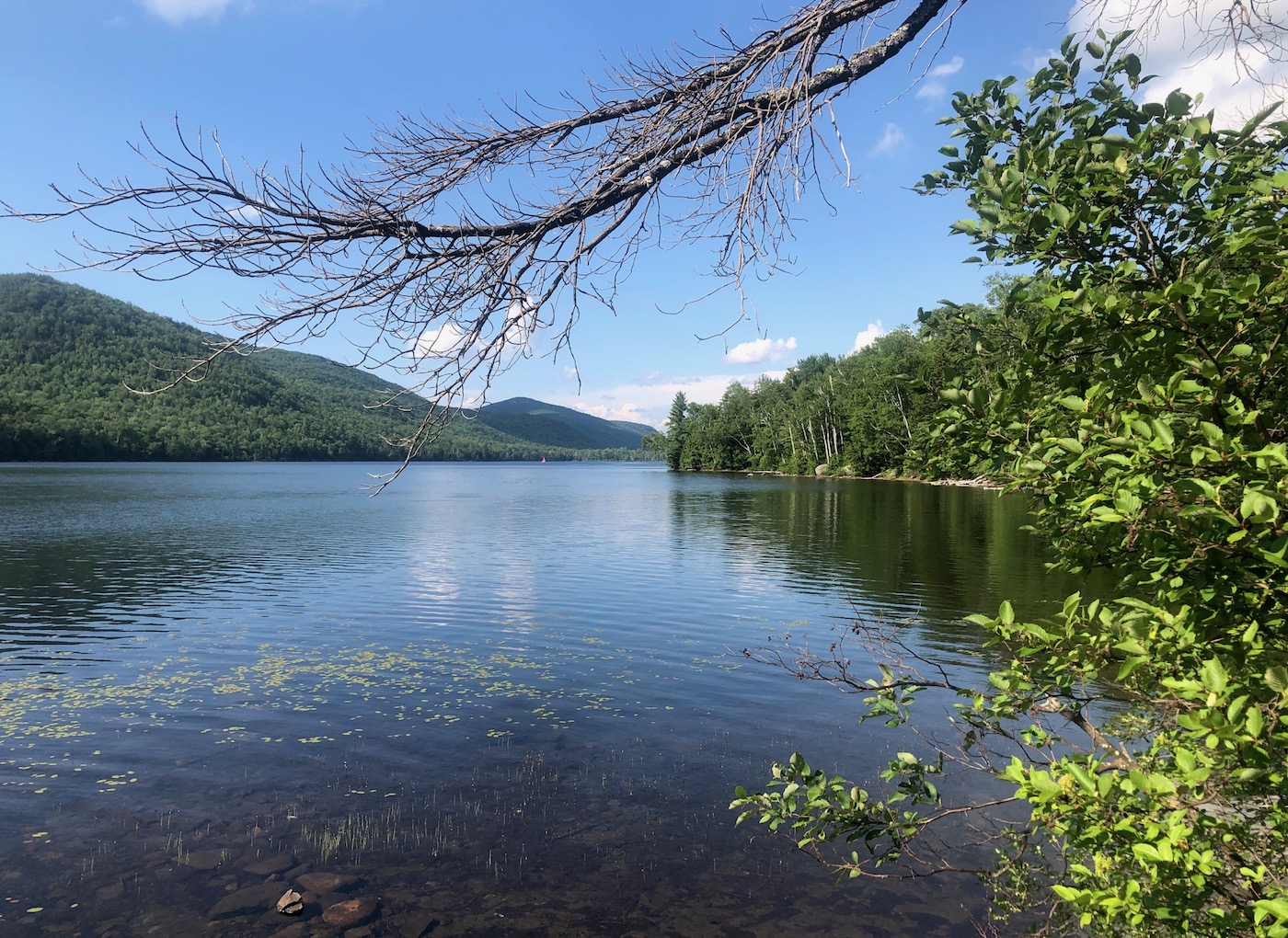 Paddling along the north shore of the 1-1/2 mile long lake we found that a couple were free, and #5, at the end of the lake was really nice, with a few big rocks that looked to fun to swim out to and jump off of — a prime consideration if you happen to be eleven years old.
We unloaded our gear, set up camp and got to it. After an early night of fresh-ish food and cold-ish beer and we were off to sleep to the sounds of loons and bullfrogs.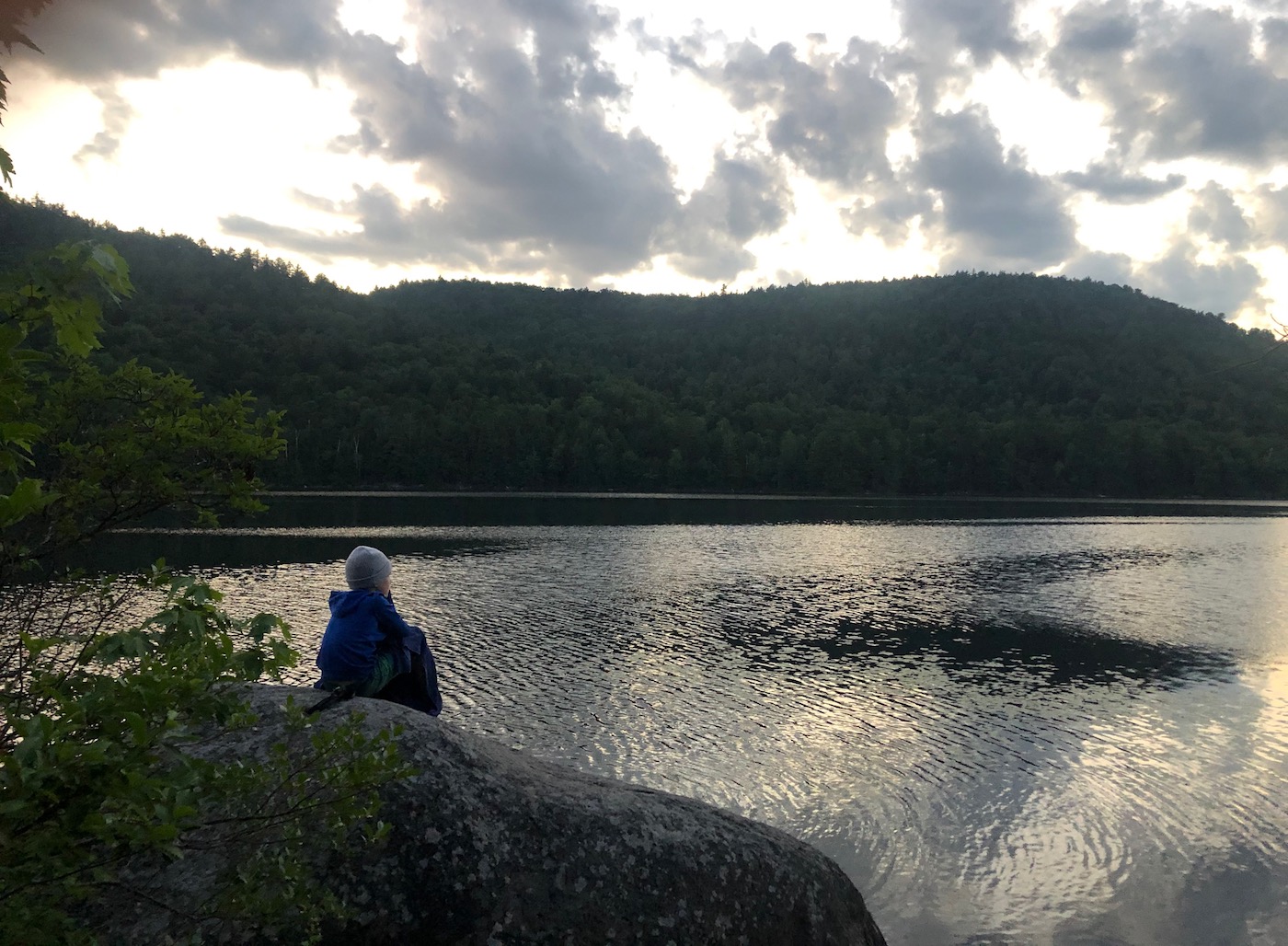 The next day, after a relaxed morning, we thought we would paddle around the south side of the lake and see the other campsites, scouting for a return visit. Crossing the lake, we passed one site that was uninspiring, and then found site #3, — the nicest on the lake — vacant.
After a heated debate, the dream of upward mobility prevailed and we dashed across the lake, tore down camp, and paddled furiously back, to find the site… still vacant.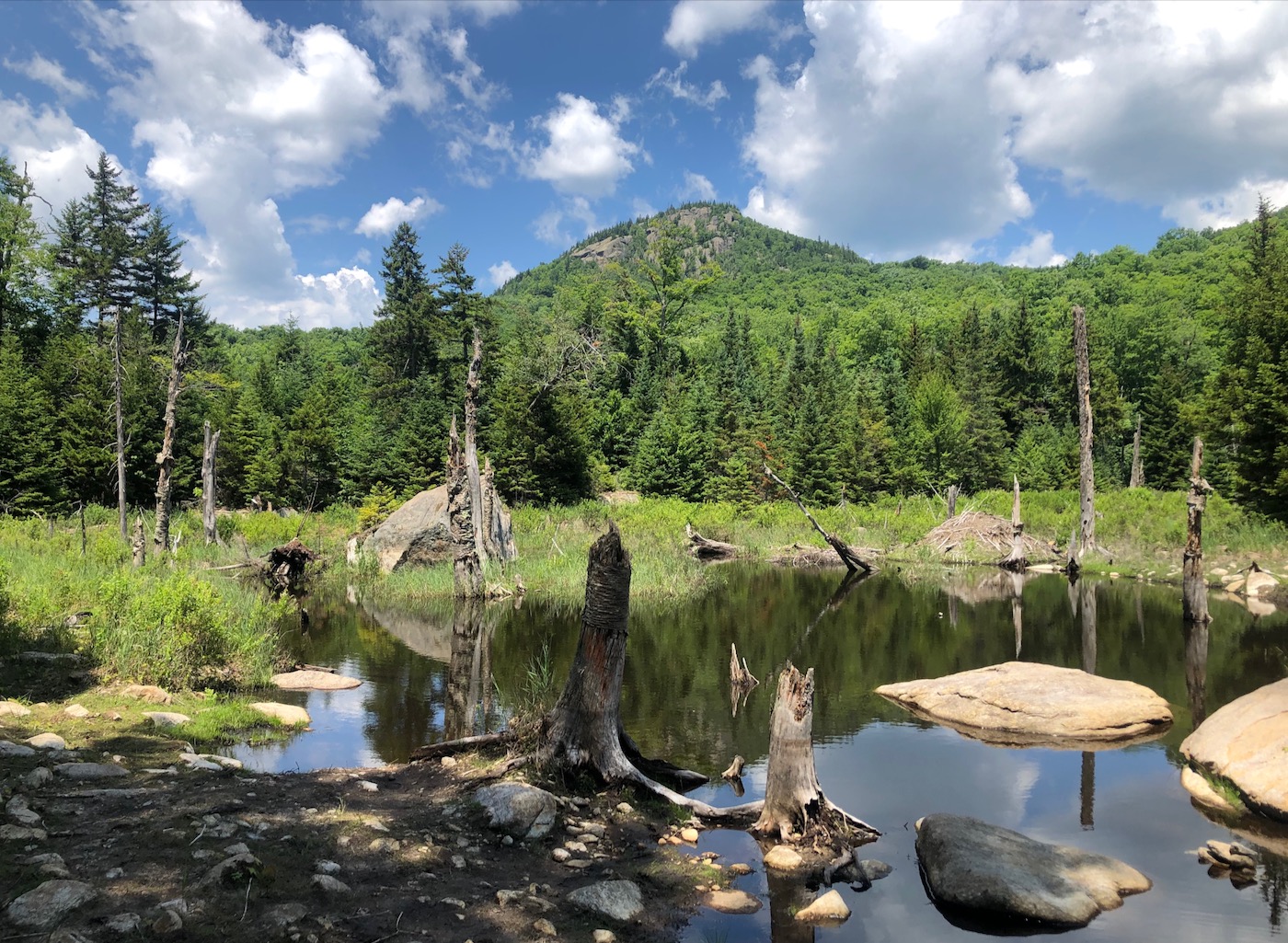 Site #3 was more open, more places for a hammock, and even better rocks to jump off into the lake. We re-set up camp, took a swim, had a warm-ish beer and again fell asleep to the sound of loons and now distant bullfrogs.
On day 3, the weather looked pretty good, so we packed a lunch, paddled across the lake and hiked to Peaked Mountain, a five-mile round trip from the lake. The trail heads up from the lake, follows a brook up past some small waterfalls and through some bogs to Peaked Mountain Pond, a beautiful spot. We had lunch while we watched brook trout jumping, and after the rest, clambered up to the top.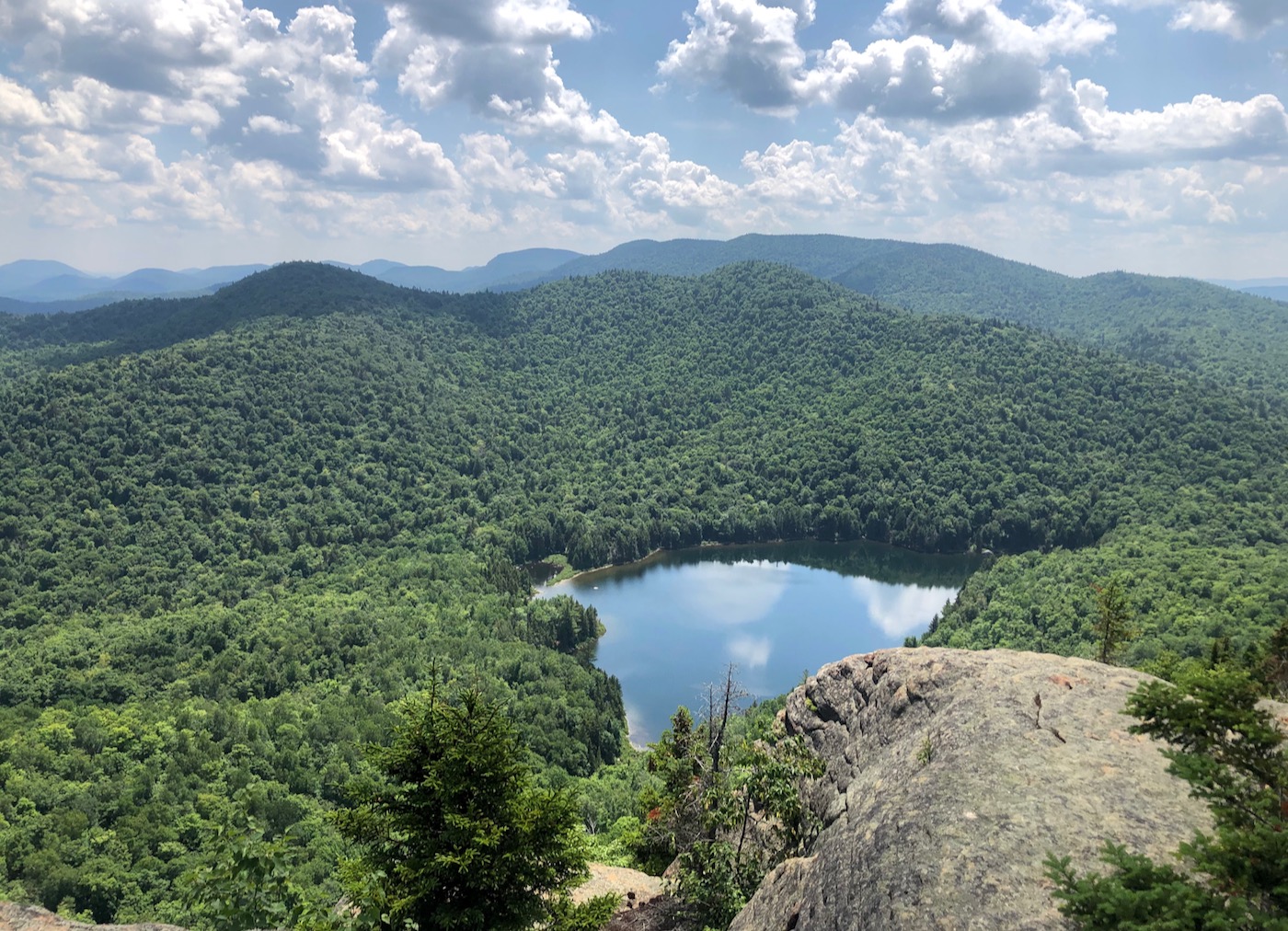 Peaked Mountain is like a miniature Adirondack High peak with a sense of adventure and summiting packed into a few hundred vertical feet. Tough enough that it warranted slipping into the cold brook on the way down. Back at our site, we had some ramen and freeze-dried food, a couple fully warm beers before calling it a night.
On our last of four days, we made an unsuccessful try at enticing the big fish, down deep, where they must lurk during the summer. Then we packed up camp, loaded the canoes and headed out, to find that a giant storm was headed our way that afternoon.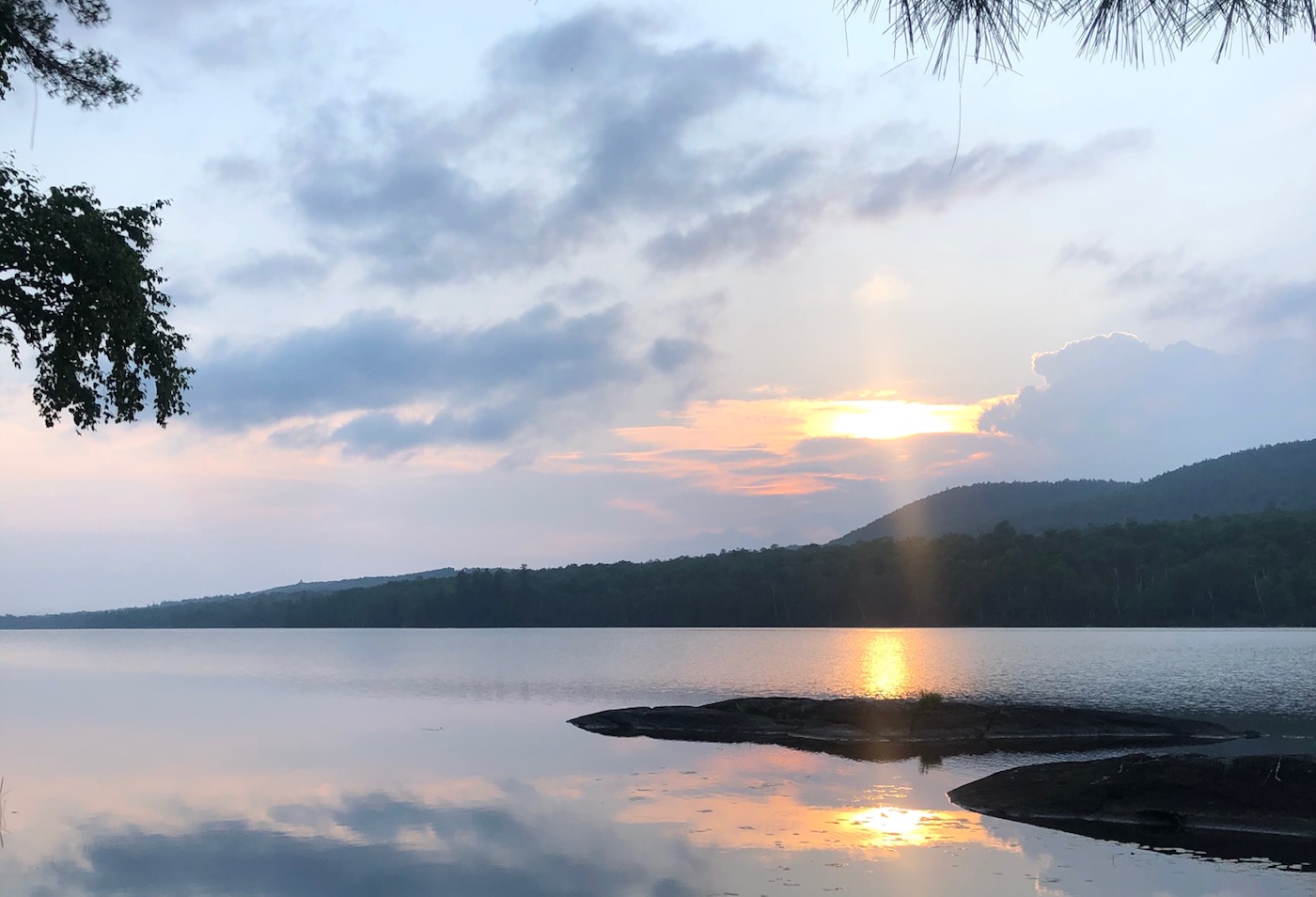 After a big lunch and milkshakes in Chestertown we got on the Northway to darkening skies and whipping wind.
Thirteenth lake is a gem for this kind of simple trip that I would recommend to anyone, as long as they are willing to share one of my favorite campsites anywhere.