Sometimes, you don't get the big day you want, but you get the day that you need.
At 10 AM on Saturday morning, I slipped the clutch on Rheinhardt, my faithful shooting brake, in what may be my latest start ever. The pandemic has cratered the personal training business, so I've been loading trailers for a package delivery company. One isn't supposed to blog about one's job, so I won't name the company with the ubiquitous brown trucks.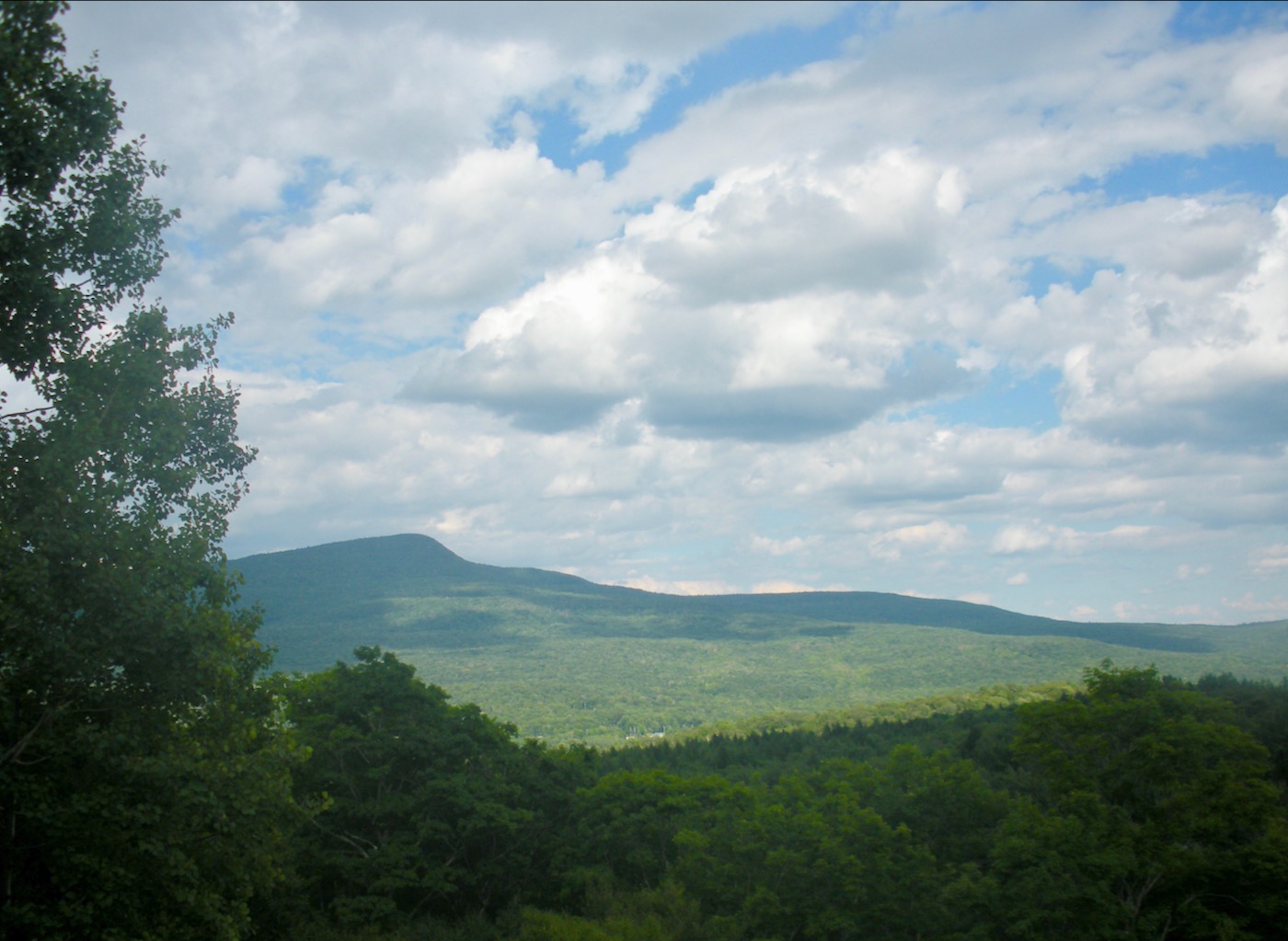 The money is acceptable, but the job is the hardest physical labor job I've ever had. It's played havoc with my training regimen. You're constantly fatigued, and after two days off, when you're sort of recovered, it's time to get back at it.
Originally, I'd planned to run Slide, Cornell and Wittenberg. But with bad weather on Sunday, and leaving work at 11 PM on Friday night, there was no way I would get an early enough start to complete that loop.
I took a left in the middle of Tannersville, and following my nose, found Elka Park Rd, and finally, down a dirt lane, the Roaring Brook trail head.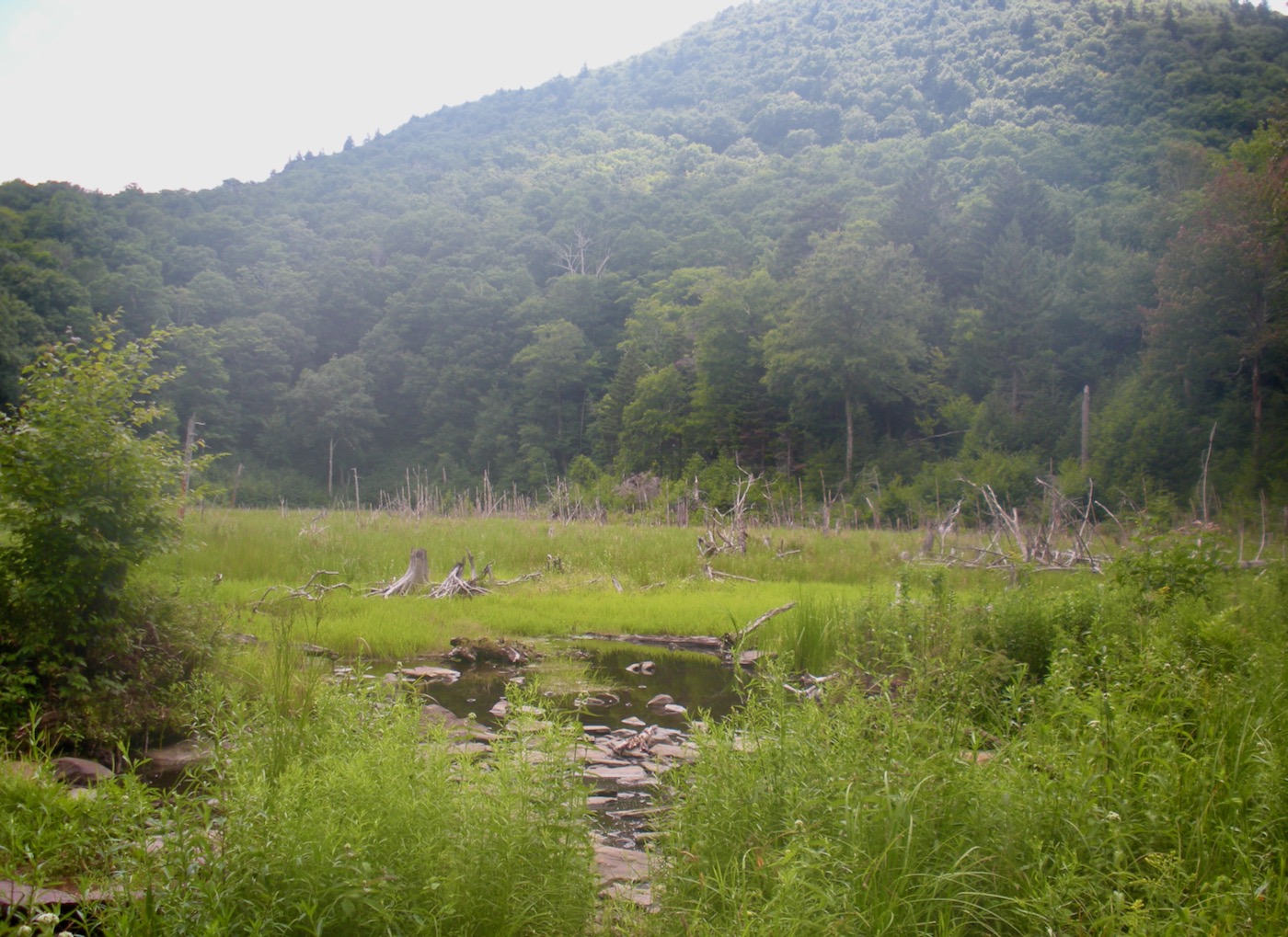 One thing I appreciate about the Catskills is the variety of the forest. The knee-bashing boulders on the Escarpment Trail; the old road vibe of Mink Hollow; the grassy plateau that I remember from the top of Belleayre.
Leaving the Roaring Brook trail head, down low: Mature deciduous trees, the forest floor carpeted as far as you could see with stinging nettles. The first mile was an easy grade to Dibble's Quarry.
The first time I saw Dibble's Quarry, I was descending from a loop around Sugarloaf Mountain 10 years ago. Modest slate cairns here and there, then piles of slag. Finally, a clearing with what could have been the Elven King's psychedelic throne room from The Lord of the Rings.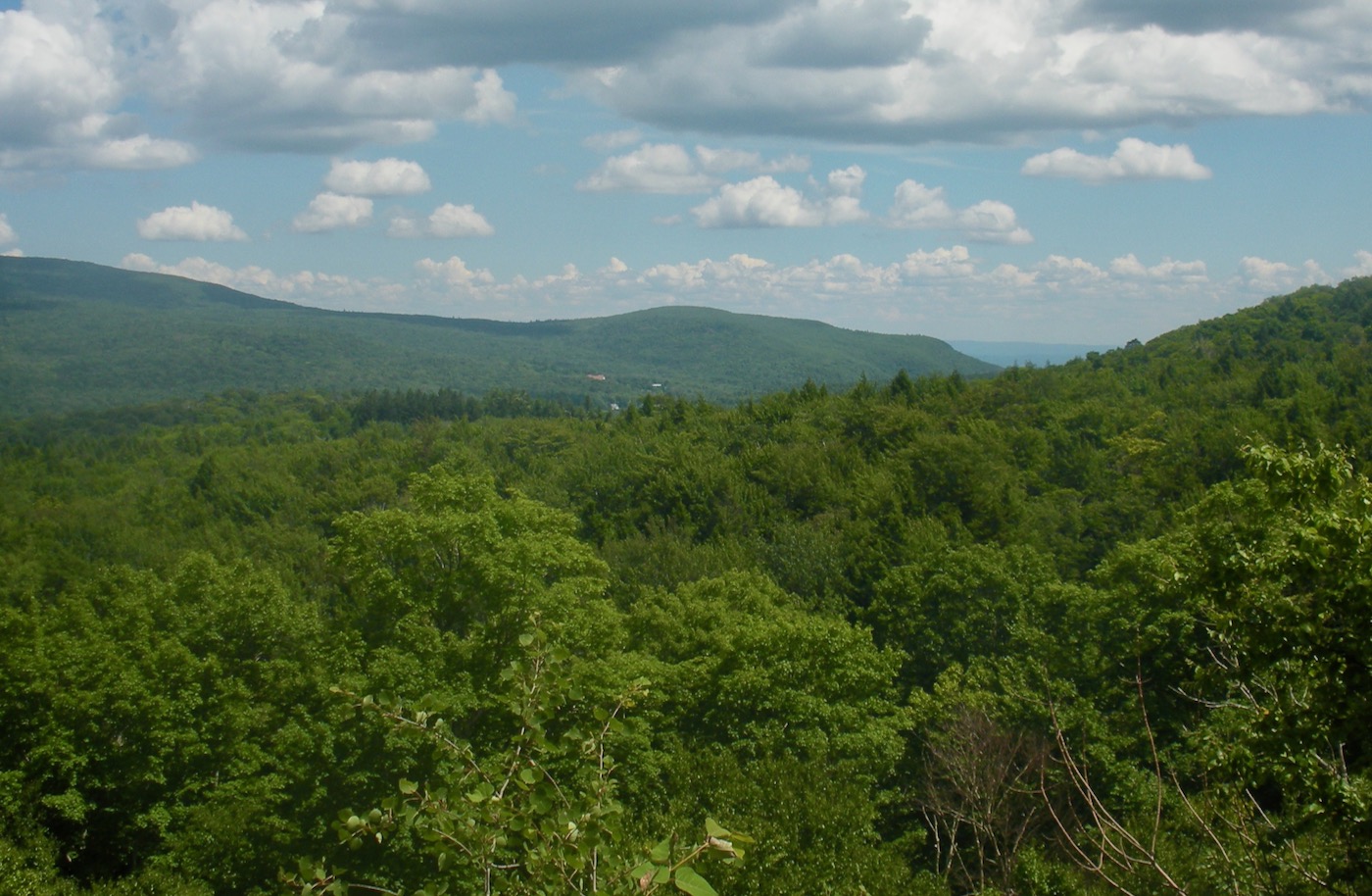 Dibble's was an operating quarry some time in the 19th century that provided rock for New York City sidewalks. How they got the rock to Tannersville, I'll never know: you're walking pretty much on single track rather than an old road.
Five thrones and elaborate parapets offer tremendous views to the north; I fancied I could see the Hudson River. There's no record of who built the throne room. It could haver been miners from back in the day or maybe some hippies.
After the quarry, the trail got steeper. Like the woods back home in NJ, the trail was more crowded than I've seen. Fortunately, with my late start, most of the people I encountered were on their way downhill. There were people who know what they were about, and people who didn't. One group of twelve guys coming down the trail with full packs. Did they have a permit? One with Speedo water shoes, his feet are probably still cursing him.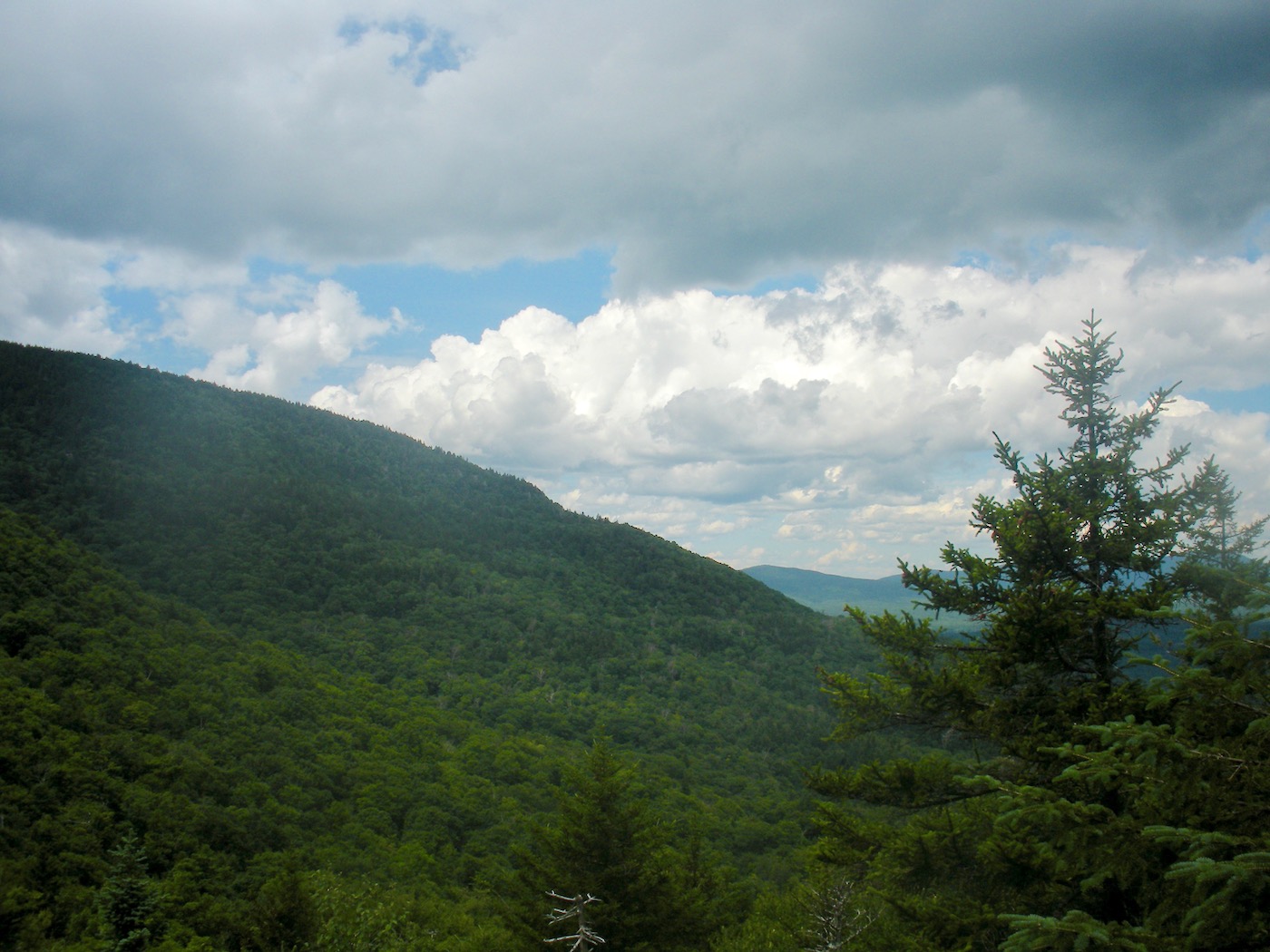 Finally, I arrived at Pecoy Notch and the Devil's Path. Left was Twin Mountain, seven-tenths of a mile; right was Sugarloaf, 1.2 miles, which I'd missed my last time out. It was already 3 PM. I decided on Twin; if I had any gas, I'd go for Sugarloaf afterwards.
Twin was easier than the ascent of Plateau on my last trip, but ease is relative. Several big rock steps slowed me down. I chatted briefly with three women carrying full packs; they'd been out overnight. Unlike those I'd seen earlier, they had it together. Again, I thought about runners in Manitou's Revenge. Those in the back of the pack would be coming through here at night.
Twin's summit outlook was crowded by a group of eight 50-something guys, sitting in close proximity, without masks or appropriate footwear. I hung out long enough to take a photograph of clouds scudding in over Sugarloaf: the vanguard of the coming tropical storm. Then it was back down.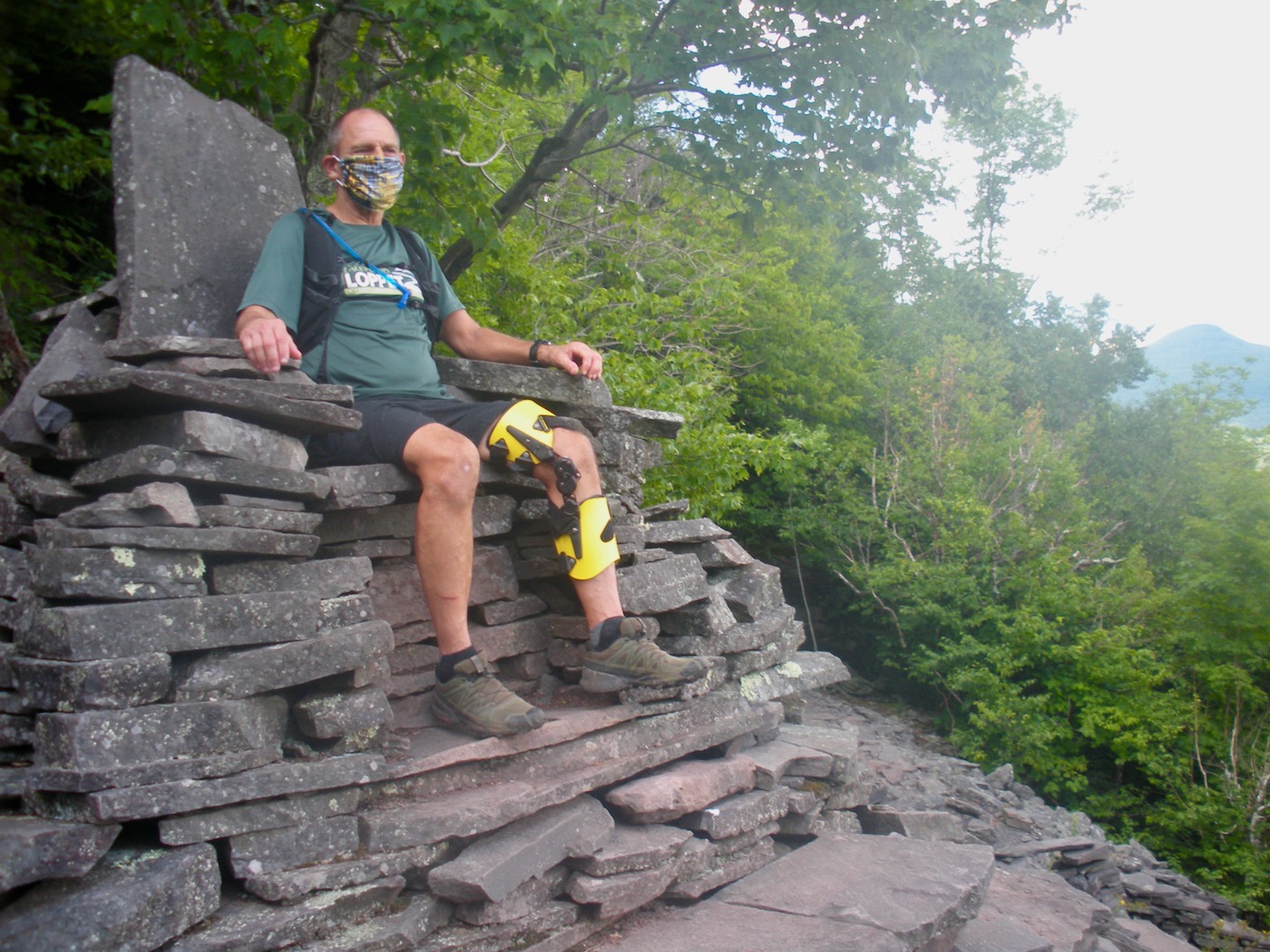 By the time I returned to Pecoy Notch, it was 3:15. The three women I'd seen earlier were taking a break. An hour to summit Sugarloaf, another hour to descend, a third hour to get back to Rheinhardt. I headed towards Sugarloaf. Fifty yards in, the trail kicked up, steep as the return up Plateau Mountain three weeks earlier. I looked up. Today, I couldn't face it. I returned to the junction.
With the decision to bail on Sugarloaf, the wind sort of went out of my sails, and I took my time descending to the quarry. I chose one of the thrones and sat, grokking the view. Thought about all the decisions I've made in my life, and how many of them had been bad. Sitting on this throne, had I but a sceptre, what would I change now? Too much thinking on a beautiful day… I hopped off the throne and got down to the trail head.