It has been a good winter for skiing. In the grand scheme of things, that may be a trivial thing but there it is. I've been a nomad this winter. I skied more then ten different hills, including four new ones. Of course nothing lasts forever. The seasons change and we must move on. With the warm weather and impending rain, giving up on the ski season this weekend would have been understandable. But I wasn't ready to throw in the towel.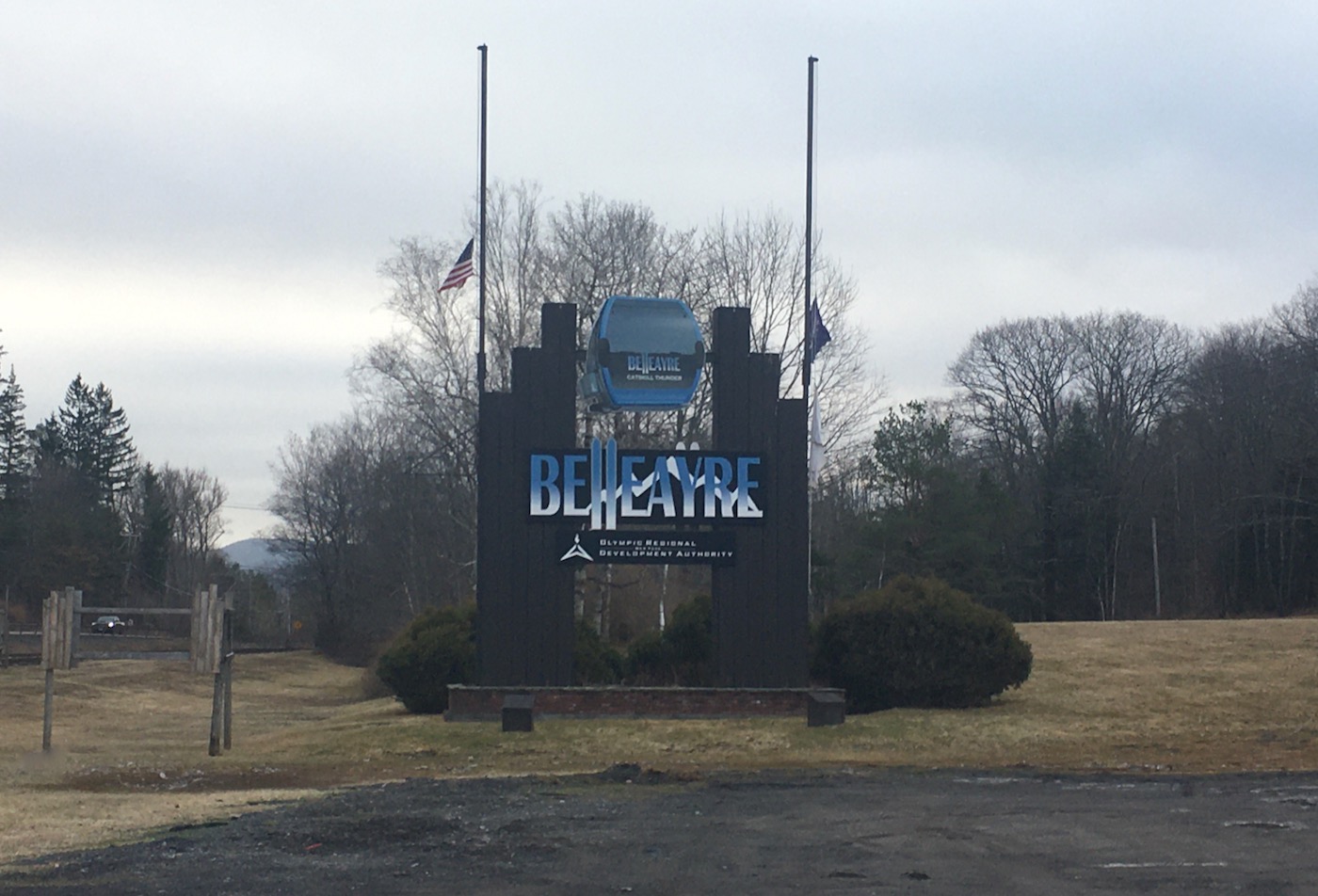 I wanted to keep skiing. Until Saturday, I hadn't included any ORDA mountains in my '20/'21 ski odyssey so I figured it was a good time to take a break from exploring and retrace the well worn path to Belleayre Mountain in the Catskills.
I made it to the hill in plenty of time to be booted up and ready to go when the Tomahawk Quad started loading at nine. My sons were both occupied with other things so I was on my own for the day. Because I wasn't sure how cold it had gotten overnight I did not know what conditions to expect. I had no expectations except that I would get to ski.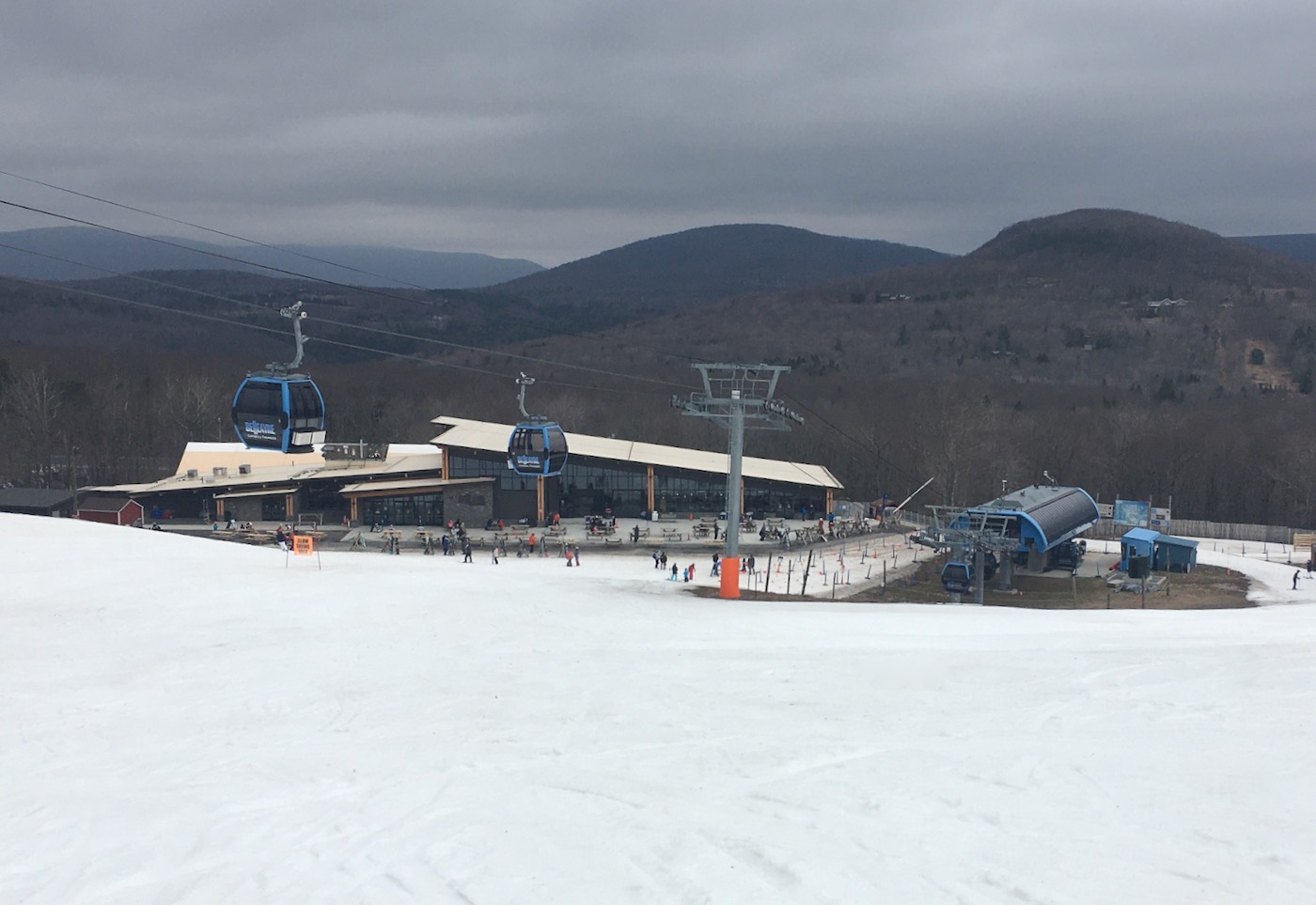 The hill was shrouded in mist when I reached the top. I figured there would be corduroy to carve up, whether it was hard from an overnight freeze or pre-softened. On the other hand, if the whole mountain was an ice rink I would make do with that and have a good time.
What I found on my first foray down Deer Run was something in between. The hill had not come through the week unscarred but Belleayre's groomers made the best of it. There was some dirt and there was some boiler plate but I found decent corduroy too.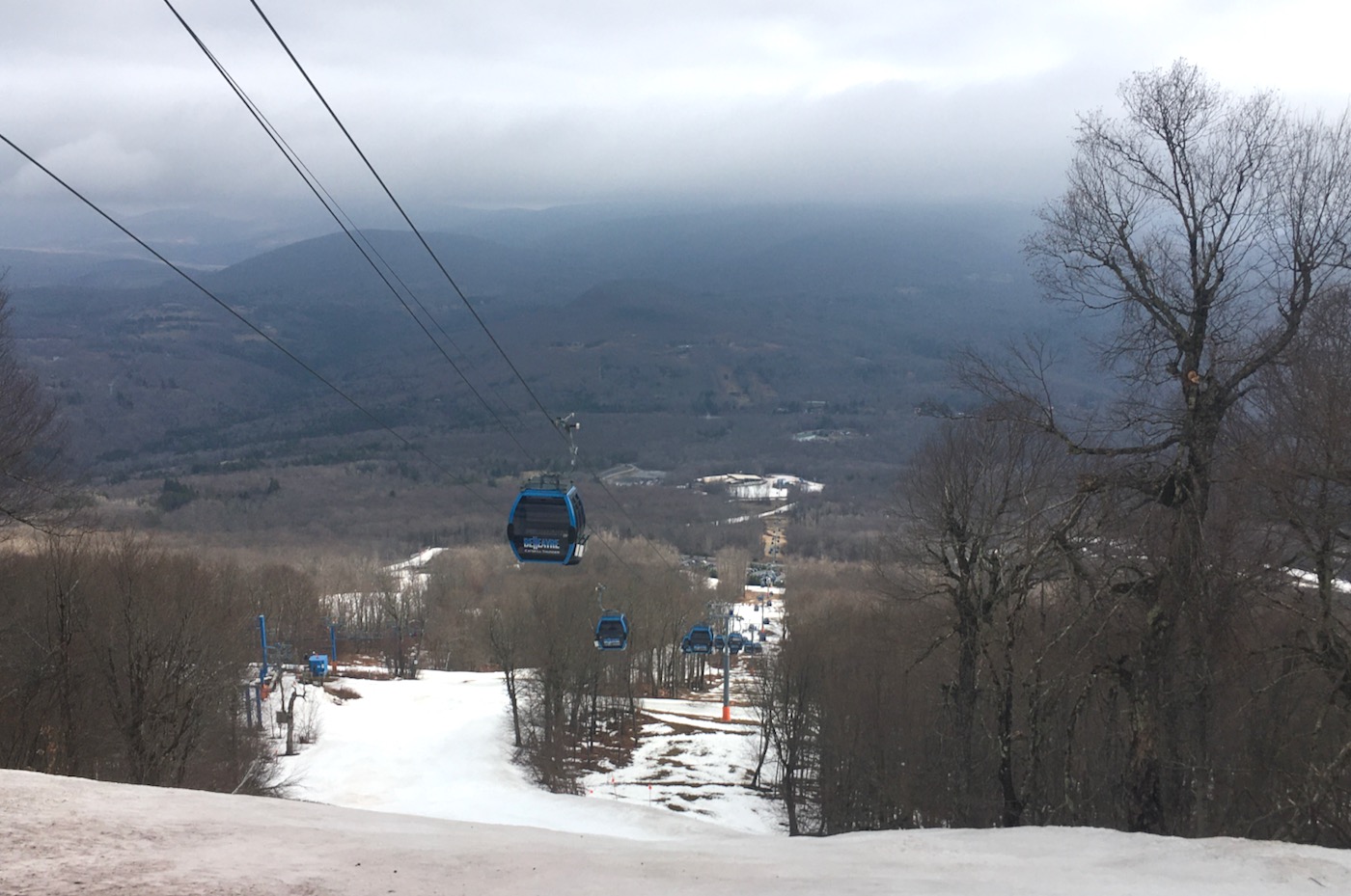 I zoomed to the bottom of the Tomahawk and hopped back on, then spent the morning skiing around that end of the resort. There were plenty of sporty spots. The top of Peekamoose was melted out almost entirely with only two narrow entrances still connected on either side of the trail. I guess it must have deterred others because the snow below remained good all morning. I returned there for multiple runs.
Late in the morning, as the patches of boilerplate softened to puddles of slush, I made my way over towards Belleayre Run, where there are usually moguls to be found. I had to get out of my skis on one of the connector trails so I could cross over some running water but I made it. Lift seven was not running so I continued down past the Overlook lodge to the Superchief Quad.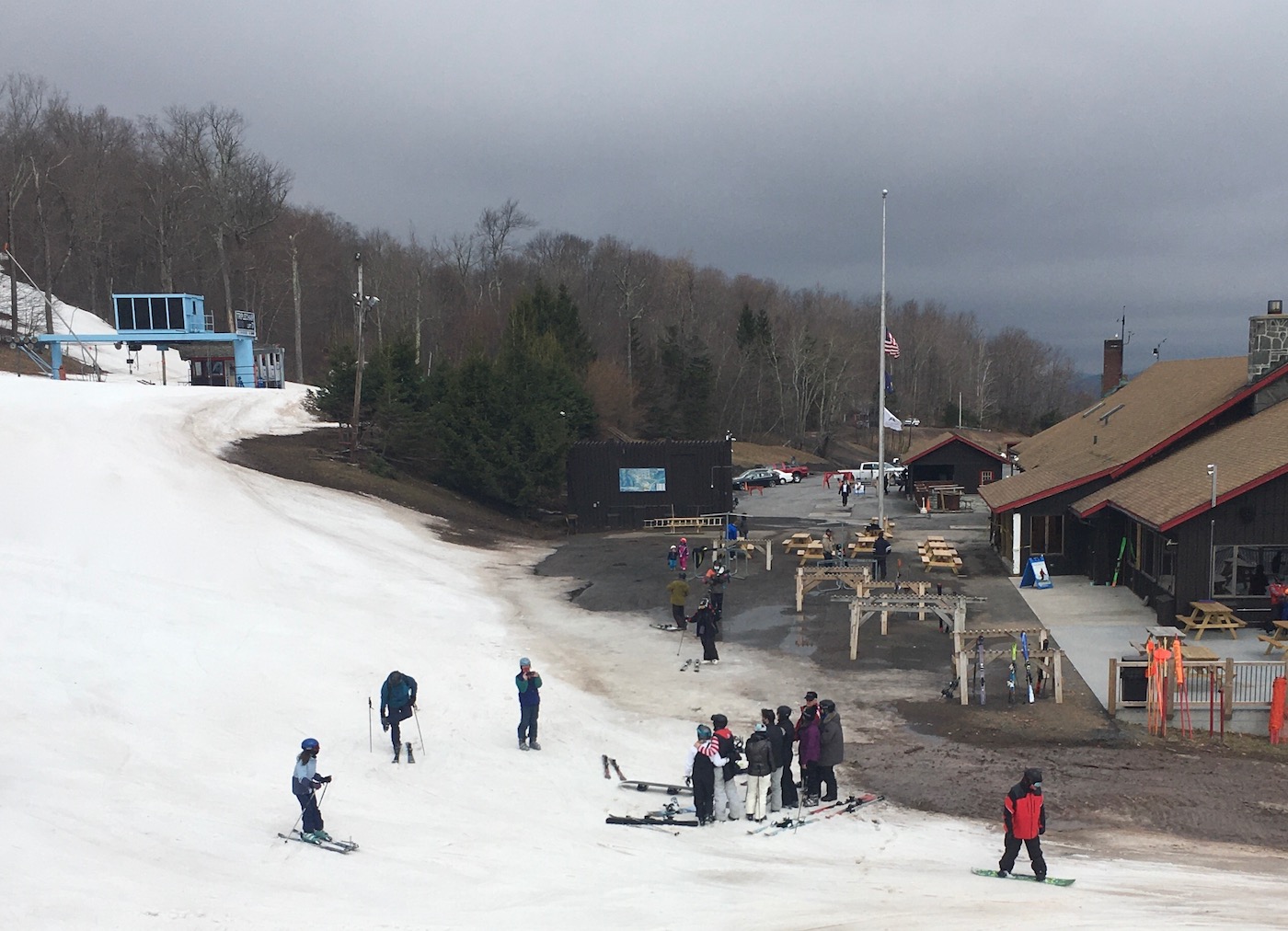 The chair ride up revealed that there were indeed bumps to be found on Belleayre Run. Many of them showed dirt in the troughs between them but they looked skiable. Belleayre Run was fun but I enjoyed Watanuska more- I'm not sure why.
I did a couple more runs on the Super Chief and then made my way down to the bottom of the gondola to catch a ride back to the other side of the hill. I had to click out again for another water crossing. After another run down Peekamoose, I took a break in my car in the Tomahawk lot.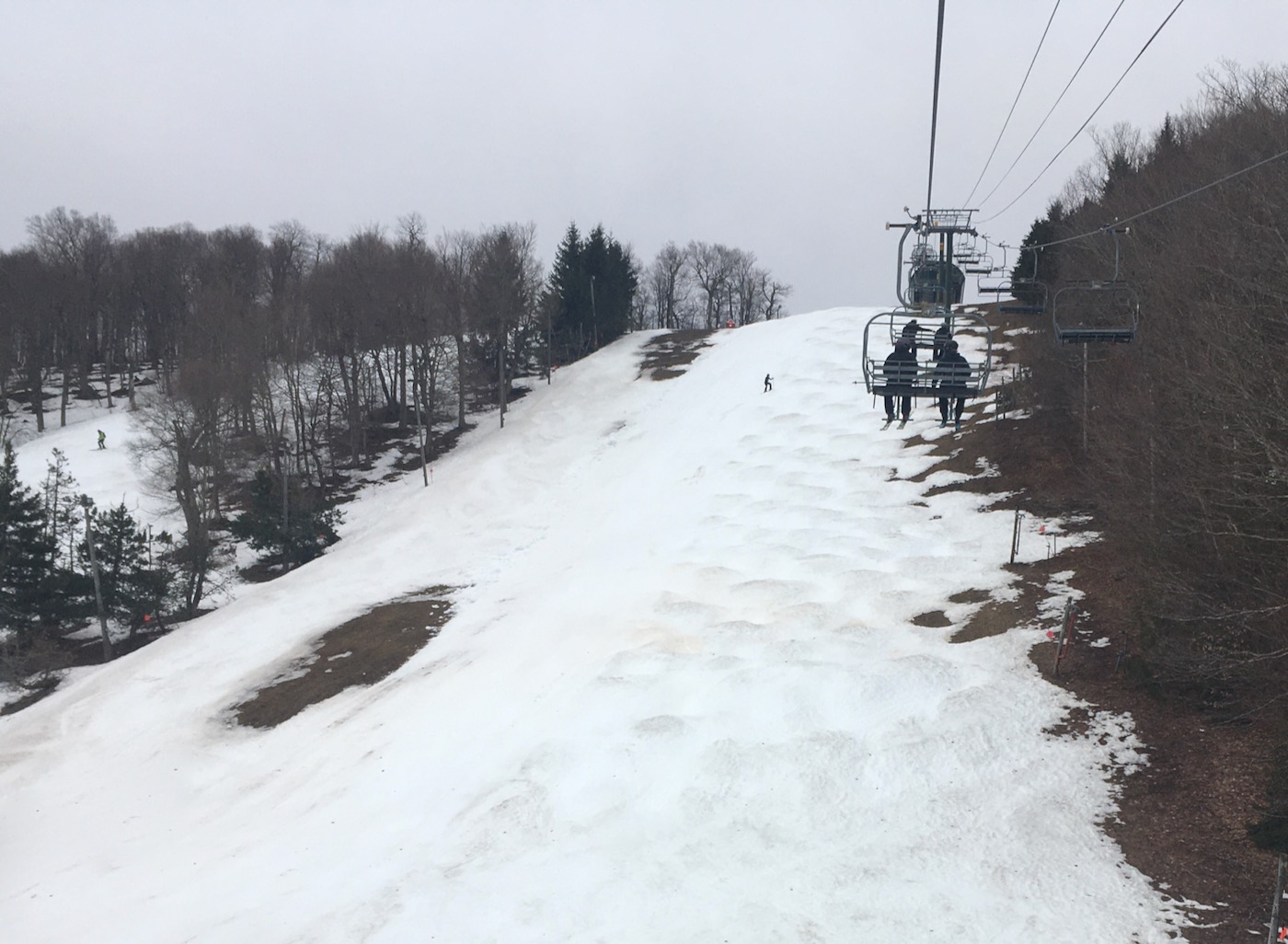 The recharge did me good. I spent the rest of my day back where I'd started, skiing off the Tomahawk, with a couple cruiser runs down Deer Run to the gondola for variety. Mostly I skied Seneca and Peekamoose. It was adventurous skiing for sure.
I am actually impressed that Belleayre left as much open as they did, given the weather challenges. This time of year, I try not to be critical. I consider myself lucky to still have snow to ski on, lucky to be a skier really. Maybe Saturday was my last day of the year. If it was I have no complaints.