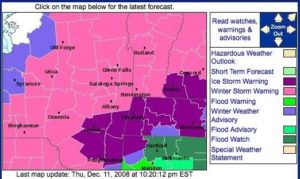 If you're a skier from MASH — aka Midatlantic Ski Hell — you've done some white knuckle storm chasing on I-87 and other routes through the Hudson Valley.
This afternoon was a challenging drive. Before leaving, I knew I had to drive through freezing rain. All through the drive, there was ice on the trees and my antenna. But somehow the road never really got slick. The ground was warm enough and the air temp was not that cold either. On the NWS ALY county forecast map there were two counties I had to pass through with freezing rain warnings but Warren County — my destination — was right in the center of the Winter Storm Warning. It's a classic type for me.
It all started for me on St Patricks Day of 2007. That season I drove up in three consecutive storms to get some great skiing.  If there is going to be potential for significant snow in the Adirondacks, it's likely that Atlantic or Gulf  moisture is involved.
It's also likely to be pouring a cold rain in the New York metro area. Somewhere those two points there's a transition zone. Sometimes the precipitation will go from rain to a rain/snow mix and then over to snow. That's really no problem.  Other times that transition can be a bit "exciting." Sleet can really jam up your windshield if you don't have a strategy for keeping it clear. Freezing rain can mean really long delays or worse.
---
Post Script: In this case, I made it, and the next day was excellent.
---