My becoming a "46'er" started innocently enough.
I have done a good bit of hiking over the years, mostly in the Catskills and downstate. A few years ago we were able to extend our range with a little place in the capital region opening new and more consistent opportunities for outdoor endeavors. While our place is not near any particular destination, it is almost equidistant between the Catskills, Southern VT, the Berkshires and the Adirondacks.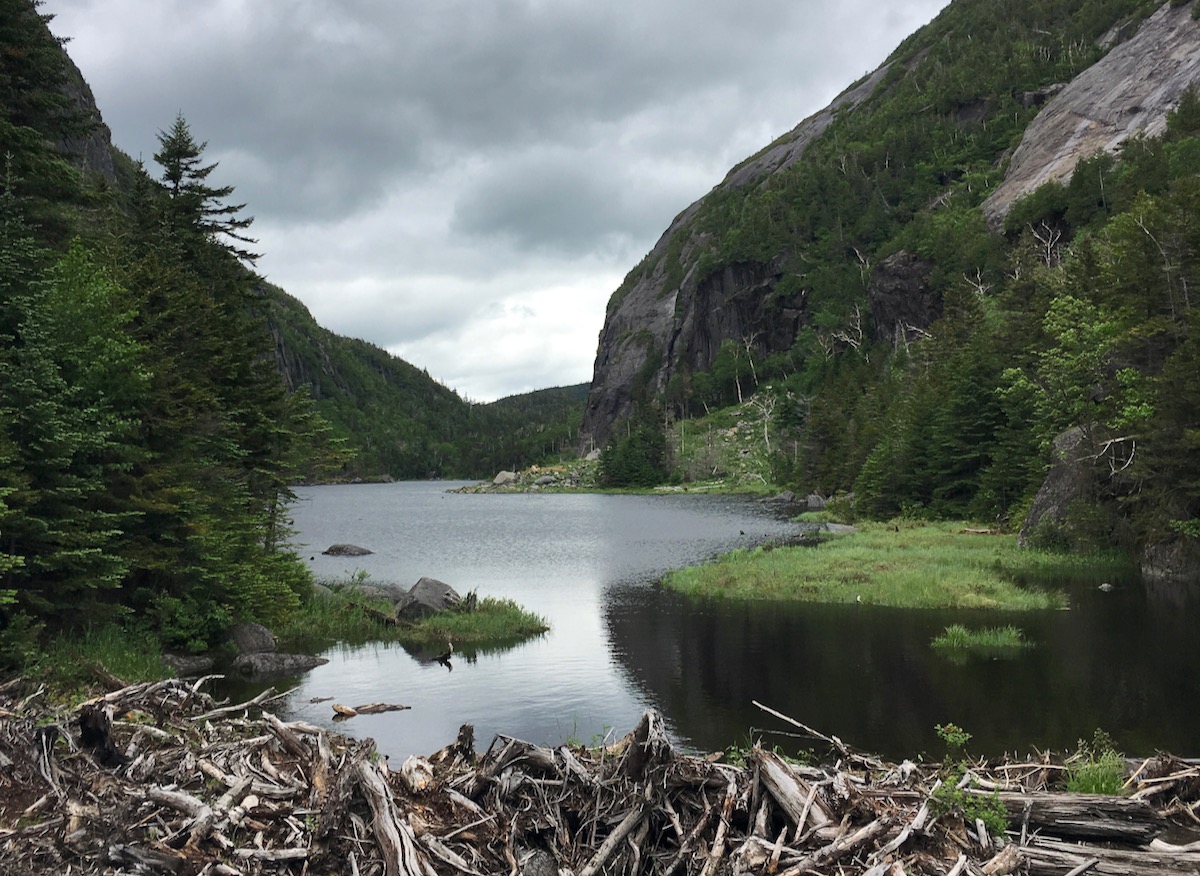 Without a grand plan, in the Summer of 2017, after a little research, I got up early and day hiked over Mt Colden. I was curious to see if it felt too far to drive up and back and if it was as great as I remembered from prior trips.
It was a beautiful, cool June day. The hike was fairly tough — 14.5 miles, with 4350 vertical feet of elevation. The view off the summit is one of the best around. To the west is a panorama across Wright and Algonquin, to the east is Marcy, and you really feel like you are in the center of the high peaks. I approached along Avalanche Lake which is worth the trip in itself. It had many of the telltale features of a good Adirondack hike: traveling through several different landscapes, the sensation of emerging above treeline and giant ladders across avalanche slides.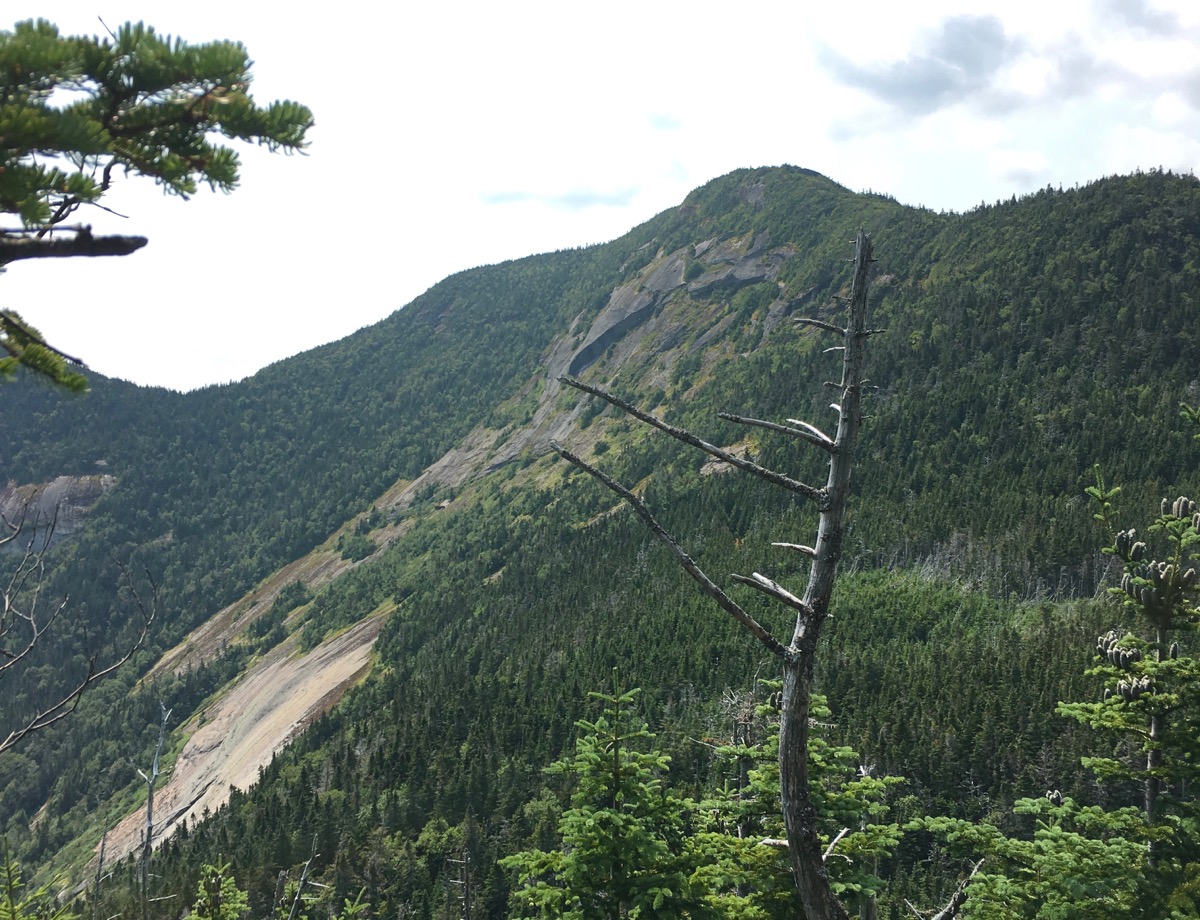 While the Heart Lake Loj trailhead is bustling, 30 minutes in, you are really in a wilderness of a different magnitude than downstate. Still, afterwards, I came back and did not think much about it. For a month or so.
I came to realize that Colden was also a provocative choice. It is another one of the 46 peaks in the Adirondacks with summits above 4000 feet. Colden is also one of the few peaks that is often summited on it's own by day hikers as it is difficult to link with other peaks. I found myself thinking "you've already done one, and one of the tough ones, why not 45 more?" For a while, I dismissed the thought and went on with my summer.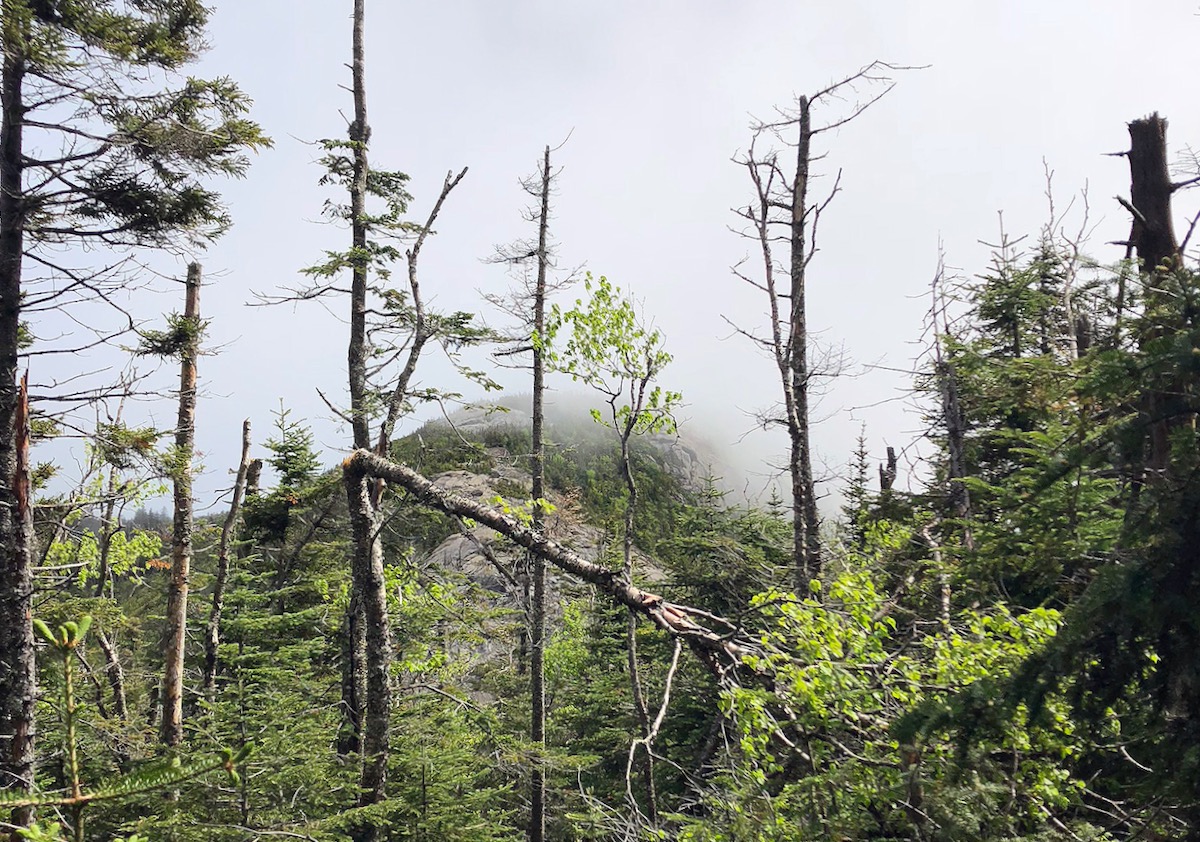 In August, however, I planned a hike that was more ambitious. Leaving from a trailhead near St. Huberts, I linked together the Lower and Upper Wolfjaw, Armstrong, Gothics and Sawteeth (15.9 mi, 5600 vert). I wanted to climb some of the "classic" peaks on the spine and plan the route myself. My notes recall "the up was not bad, the ridge was amazing, coming down was fine, Rainbow Falls was awesome but the way out was a real slog."
I didn't get back north until ski season but once underway, found myself skiing at Gore more than I had in the past. Now the Adirondacks felt more accessible. In spring, when the skiing is winding down for me, fly fishing season takes off. Again, I found myself getting up very early to fish some of the rivers up north. Then it began to get warmer, my schedule loosened up a bit and I began thinking about hiking. In the Adirondacks. A lot.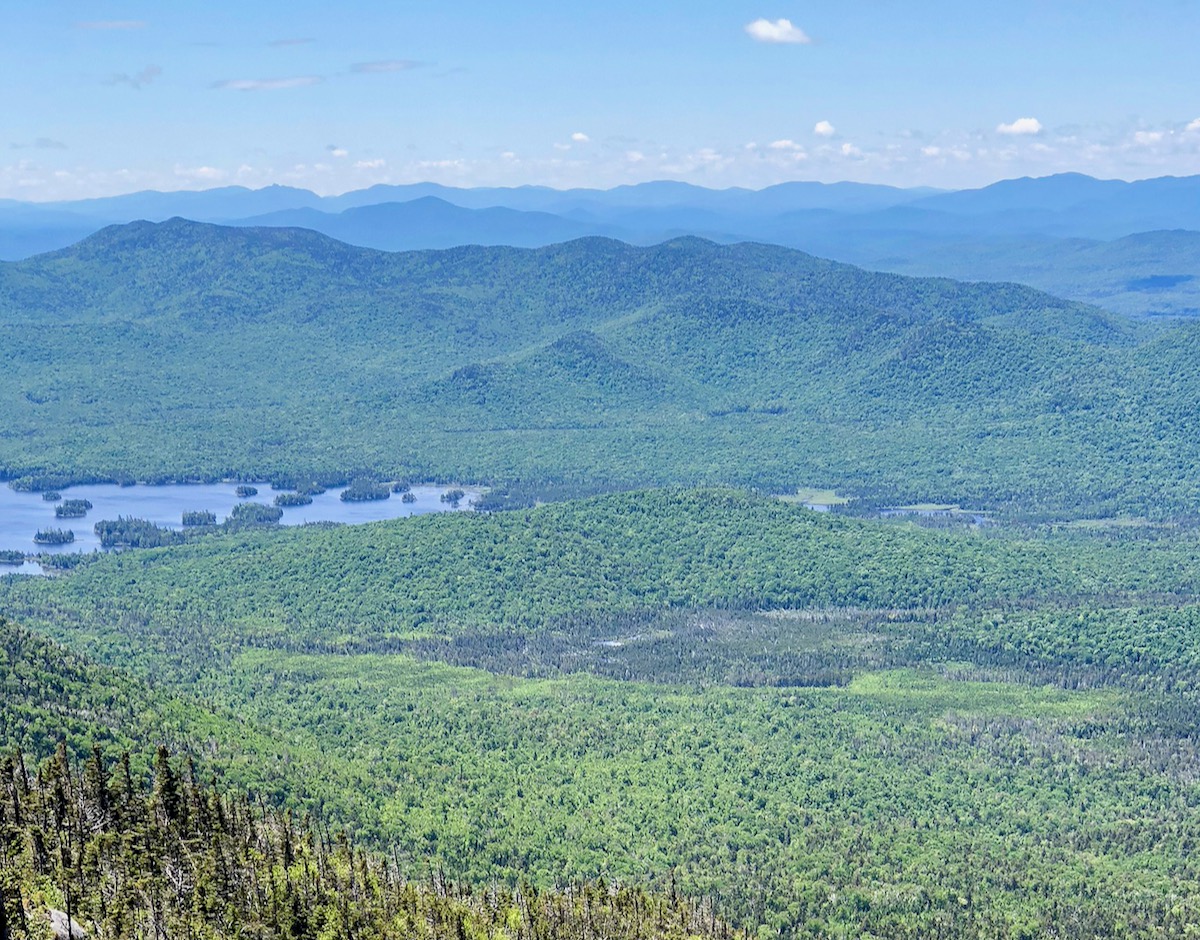 After resisting it a little, I realized that I had opened the lid to something that, while maybe not huge in scale, requires strategy, training and determination to actually finish. Doing the 46 is a  project with history. The climbs were first conceived by the Marshall brothers, and their friends Herbert Clark and Theo Hopper who completed the then 42 peaks on the list in 1924. The official registry began in 1936 and currently over a hundred people complete it each year. Overall tally is close to 11,000 finishers.
So I broke down and did what I do when I have a project at work: I made a spreadsheet. Harvesting data from several sources and reading many posts from many places I strategized a series of day hikes that would get me where I needed to go but also give me the opportunity to get to know the different areas of the region.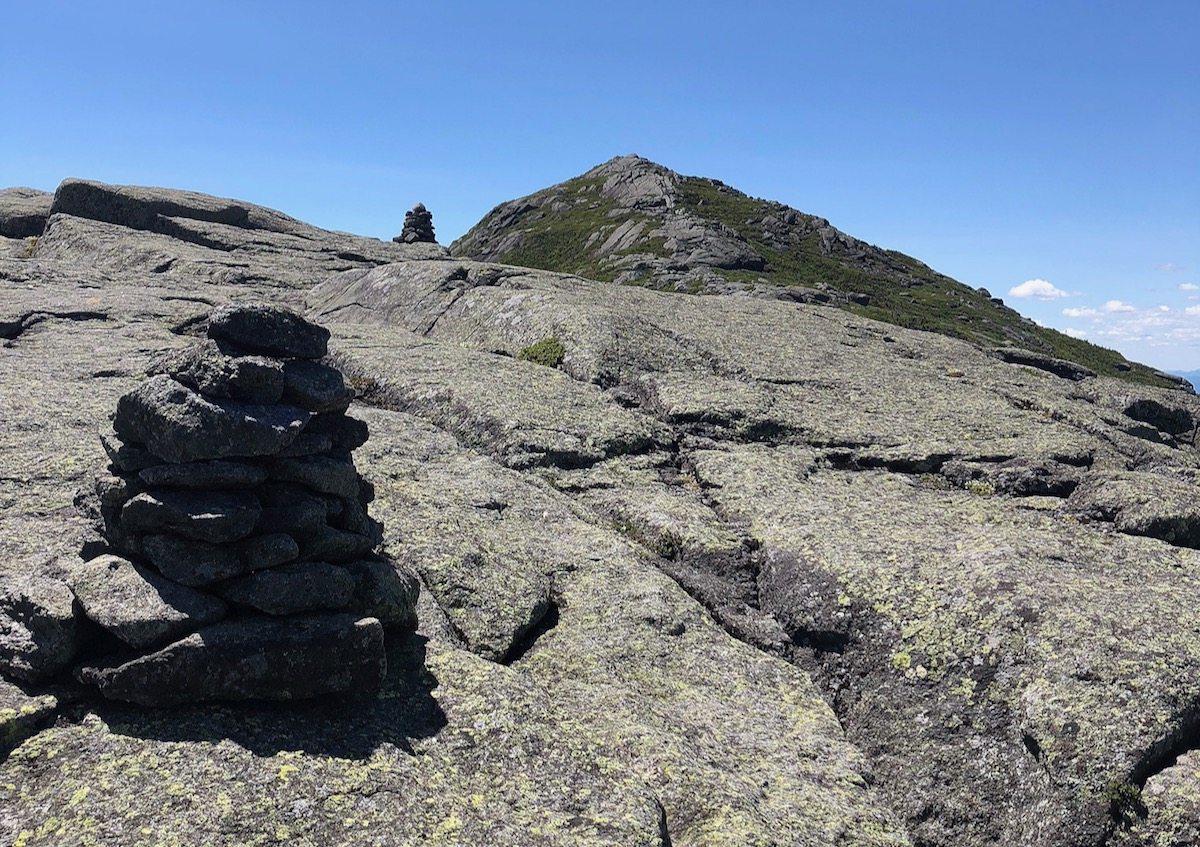 By spring of 2018, my family was sick of hearing me talk about mountains in the Adirondacks, alarms going off at 4 am, and me shirking my family responsibilities. In June, I did the beautiful Dix Range as a loop (14.7 mi, 5100 vert). My spreadsheet says that I "did it from Elk Lake up the Macomb Slide. It was strenuous but not too painful, 10 hours with some good rests.
The Beckhorn Trail "would not be fun to ascend and I was a zombie walking to the car." Then in July I went up for a few days and back on the spine, I did Haystack, Basin, Saddleback (17.0 mi, 5100 vert) "tough but doable, Haystack first then North, definitely the way to go."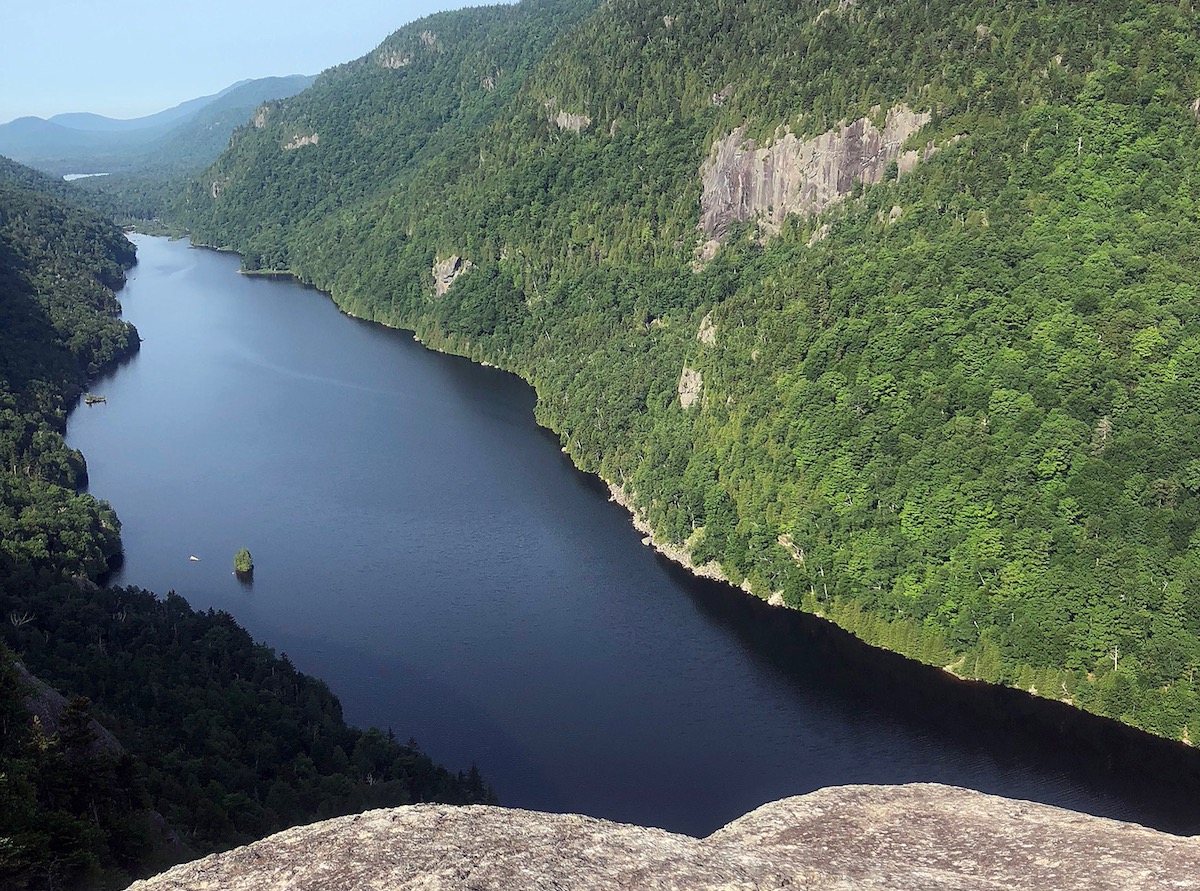 Then on a rest day, Cascade and Porter (5.3 mi, 2250 vert) and in my notes: "crowded, flew through it, under 3 hours."
Next came Colvin, Blake, Nippletop and Dial as a loop (17.8 mi, 6600 vert). "Did all four at once, far but doable with a slog out. Got done with the first half and then went for it, the ascent up Nippletop was one bit at a time. Apple health said 20.2 miles, 578 floors."
In August, I looped the isolated and difficult Seward range of Seymour, Seward, Donaldson and Emmons (19.5 mi, 6050 vert), "did all four as a day hike but this felt like my limit." It was hot and humid which did not help. Coming up the north side of Seward was rough and trails were very scrambly and slow. It took 12.5 hours with some extra rests. Apple health called it 22.4 mi, 481 floors, it was hard and viewless.  "Punishment, penance or fun?"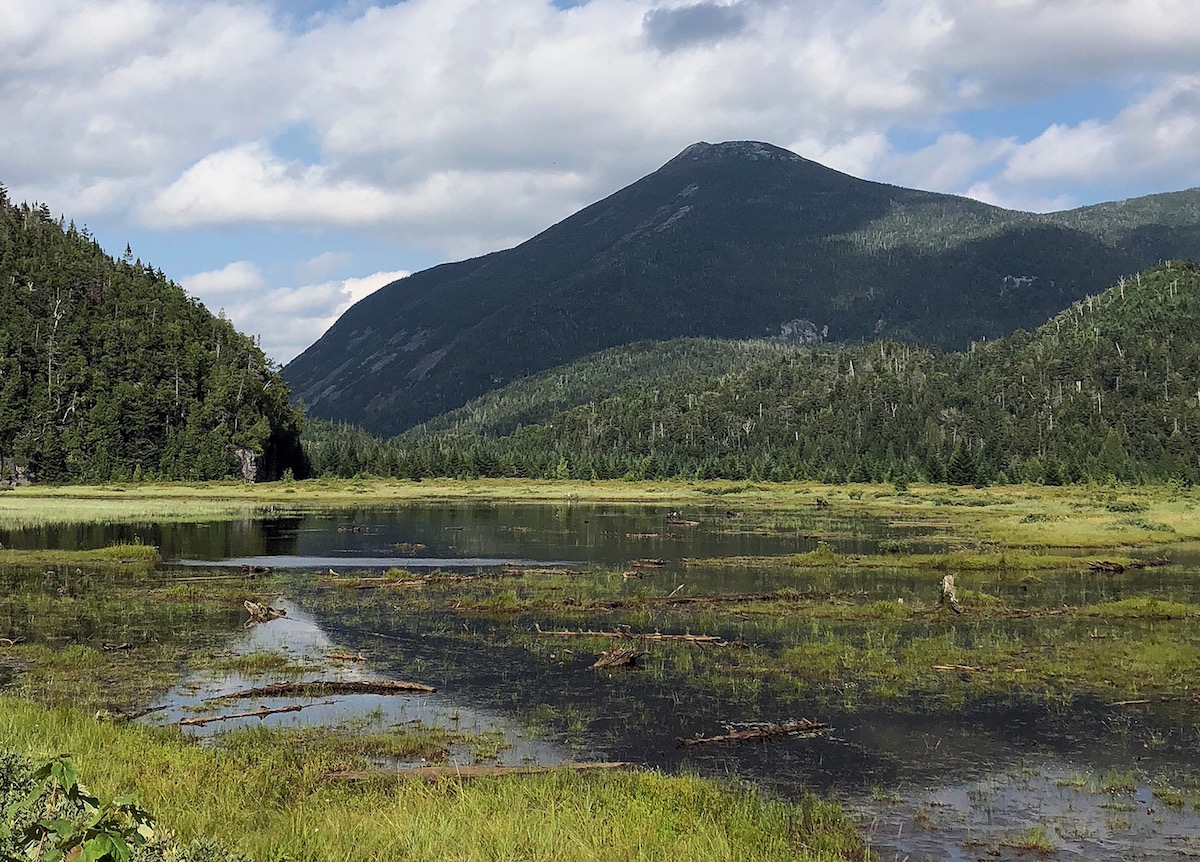 A few weeks later I did Redfield and Cliff (17.7 mi, 4300 vert). "Did Redfield first which was the right move, totally fell in a giant black mud pool. Apple health said 20.6, 332 floors. Almost thought I could have done Marshall too, not bad, 9:40 hours of hiking, 1 hour of breaks, lunch and a great swimming hole. Nice trails, long approach."
By late August, my hiking was done for the year. I tried to get north in the fall, but it was not in the cards. I was just too busy and we were moving to Italy for 6 months. Rome however, is built on 7 hills, and as I ran over them training for the following summer. I imagined the Aventino as Algonquin, the Esquilino as Esther, and the Gianicolo (the highest) as Marcy. We came back in June and dropped our son off at camp. I had 20 to go.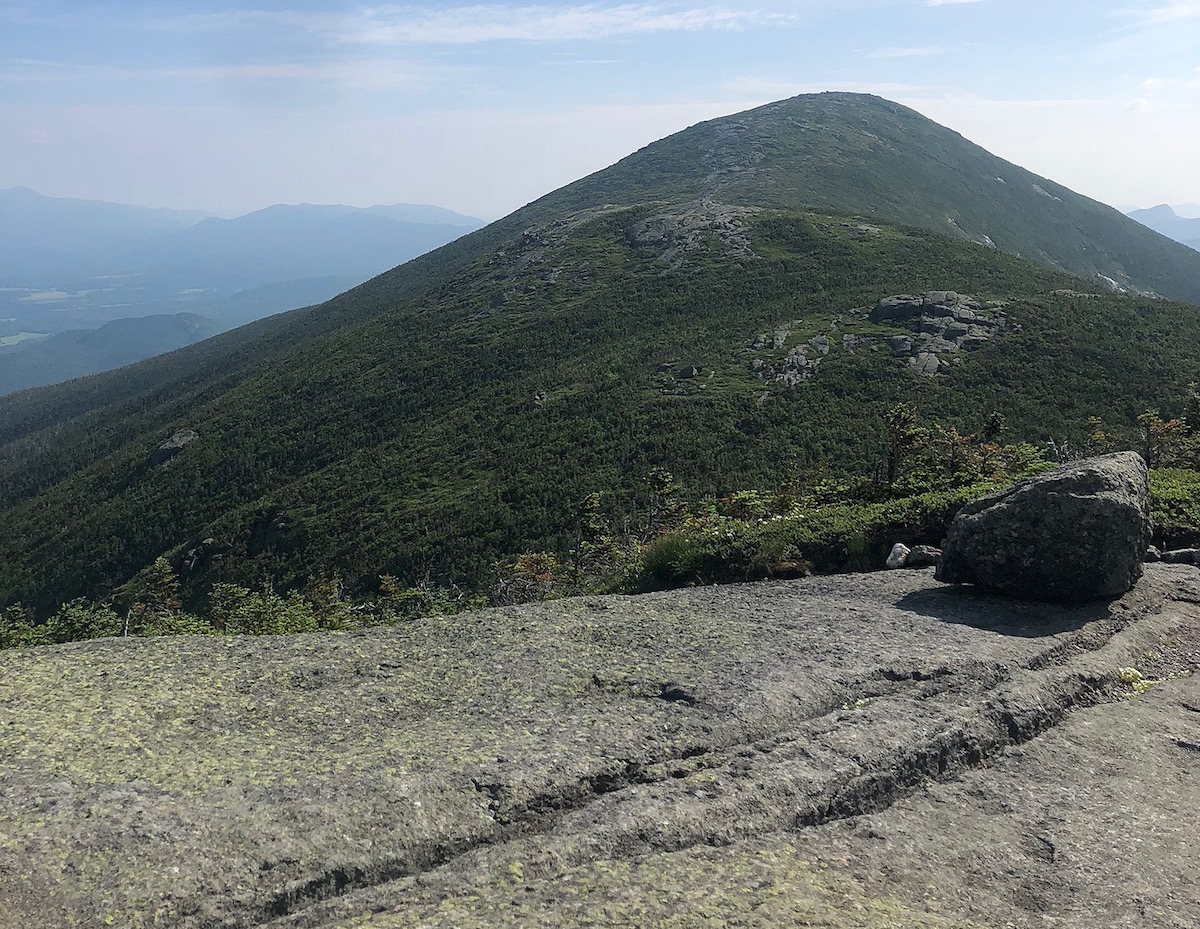 A week later, stationed at Heart Lake for a few days, I hiked Phelps and Tabletop (12.1 mi, 3800 vert) "not bad, first Tabletop summit was not so interesting but going out to the others was key. Apple health said 14.7 mi 306 floors."
The next day, Wright, Algonquin, Iroquois and Marshall (16.1 mi, 6150 vert), "I did these four all at once, I felt good, up the Macintyre spine, back down that crazy trail, over and up Indian Pass with the side jaunt to Marshall. Indian Pass and that link trail are basically bushwhacking. I had Wright summit to myself at 7:00 am and it was awesome. Apple health says 18.9 mi 499 floors." Then to the west, Street and Nye, (8.2mi, 2800vert) were "harder than I expected. I was worn out from the day prior, but not too tired to enjoy the amazing moss forest near summit of Street. I went slowly, 5 hours, Apple health said 10.2 miles and 206 floors."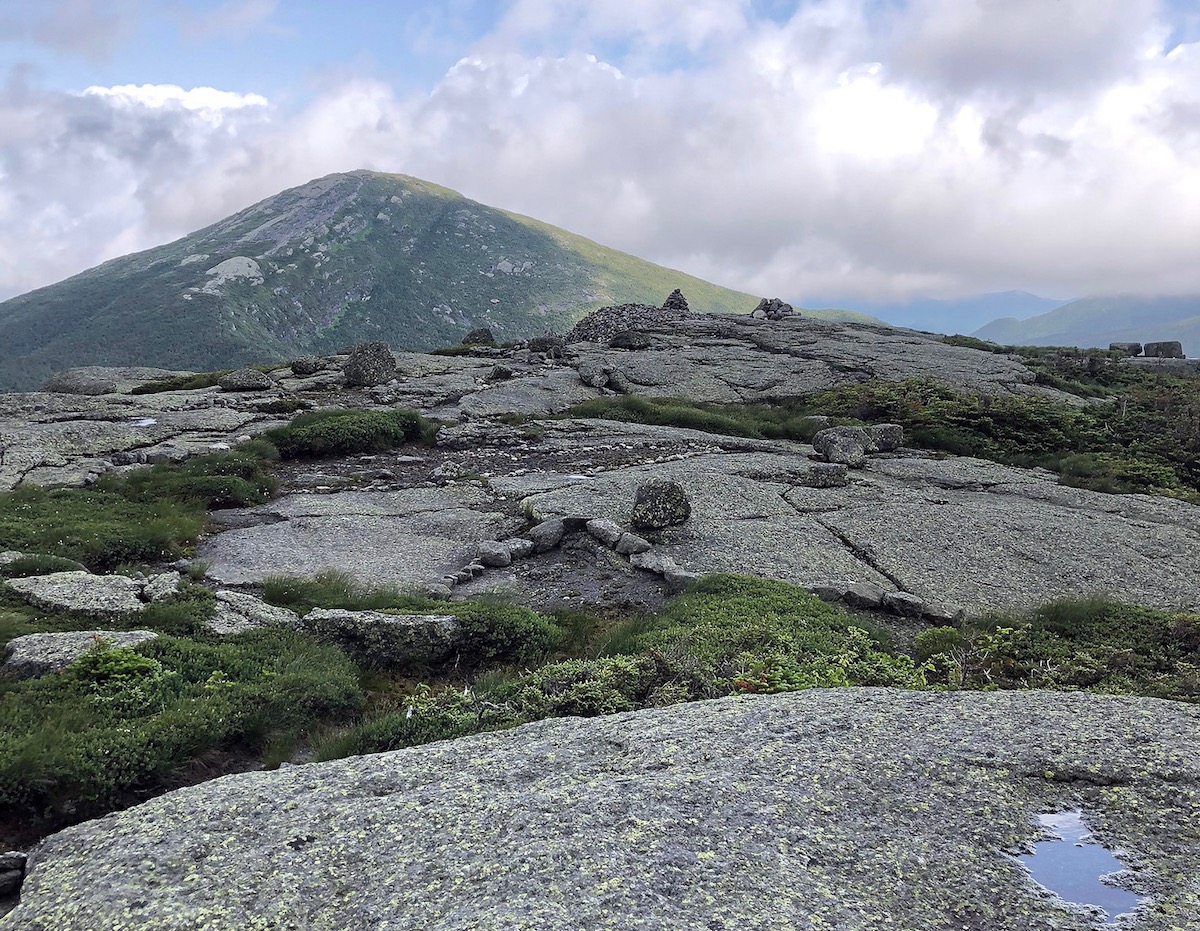 A week later I did a loop across Gray, Skylight and Marcy (15.1 mi, 4800 vert). "Started at the Loj, the trail down from Marcy to Johns Brook felt abusive, maybe chose the wrong trail. The Skylight summit was best of the three but the approach up Marcy from Skylight was amazing, with 1000 feet in the alpine zone. Apple said 17.5, 380 floors."
I stayed the night at the Johns Brook Lodge and the next day did Big Slide and Yard. Yard is not one of the original 46 but according to modern surveying equipment, actually should be. "From Johns Brook Lodge — interesting ascent, Yard summit was a bit of a letdown, Apple health says 10.6, 203 floors."
By August of 2019, I had done many of the peaks, but had some outliers left. I had tried to mix in some of the harder and less glamorous summits as I went, but had procrastinated on a few of the ominous or remote peaks.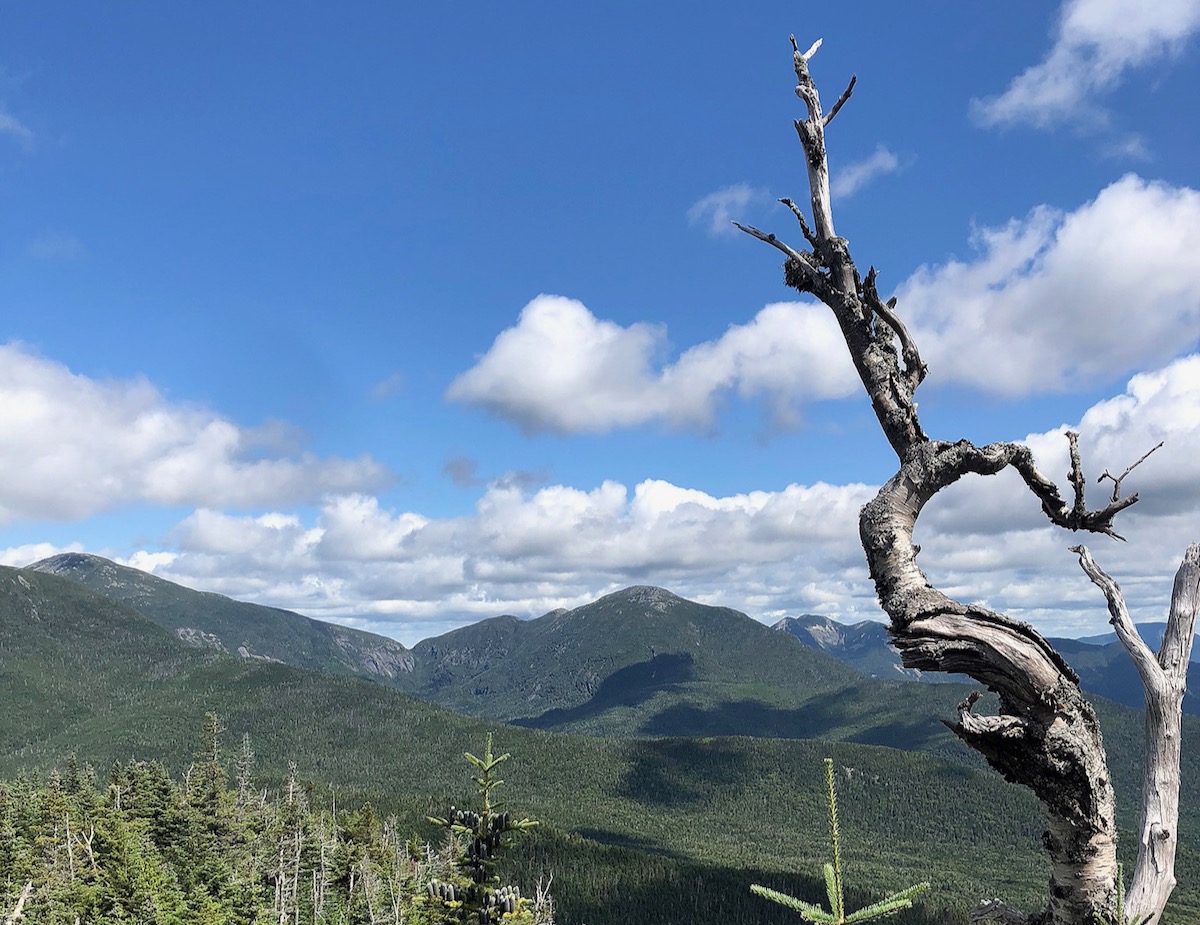 A couple of weeks later I did the Couchsachagra range (14.9 mi, 4800 vert) "a long day hike via the shortcut path to Santanoni, then Couch. The notorious bog wasn't too bad. Panther had mud everywhere, but the view was nice but weirdly crowded. Apple health said 17.1 mi and 357 floors."
A month later, I went after the lonely Mt Allen (17.9 mi 3700 vert) "9 hrs total, far but flat approach, slippery ascent but not too bad." Then moving into the Fall with just four left, Big Slide and Rocky Peak Ridge (7.3mi, 4400vert) "5.5 hours, went pretty fast. Apple health said 9.5mi and 414 floors. There were lots of people who seemed out of their element, great views, would be fun to do across with 2 cars."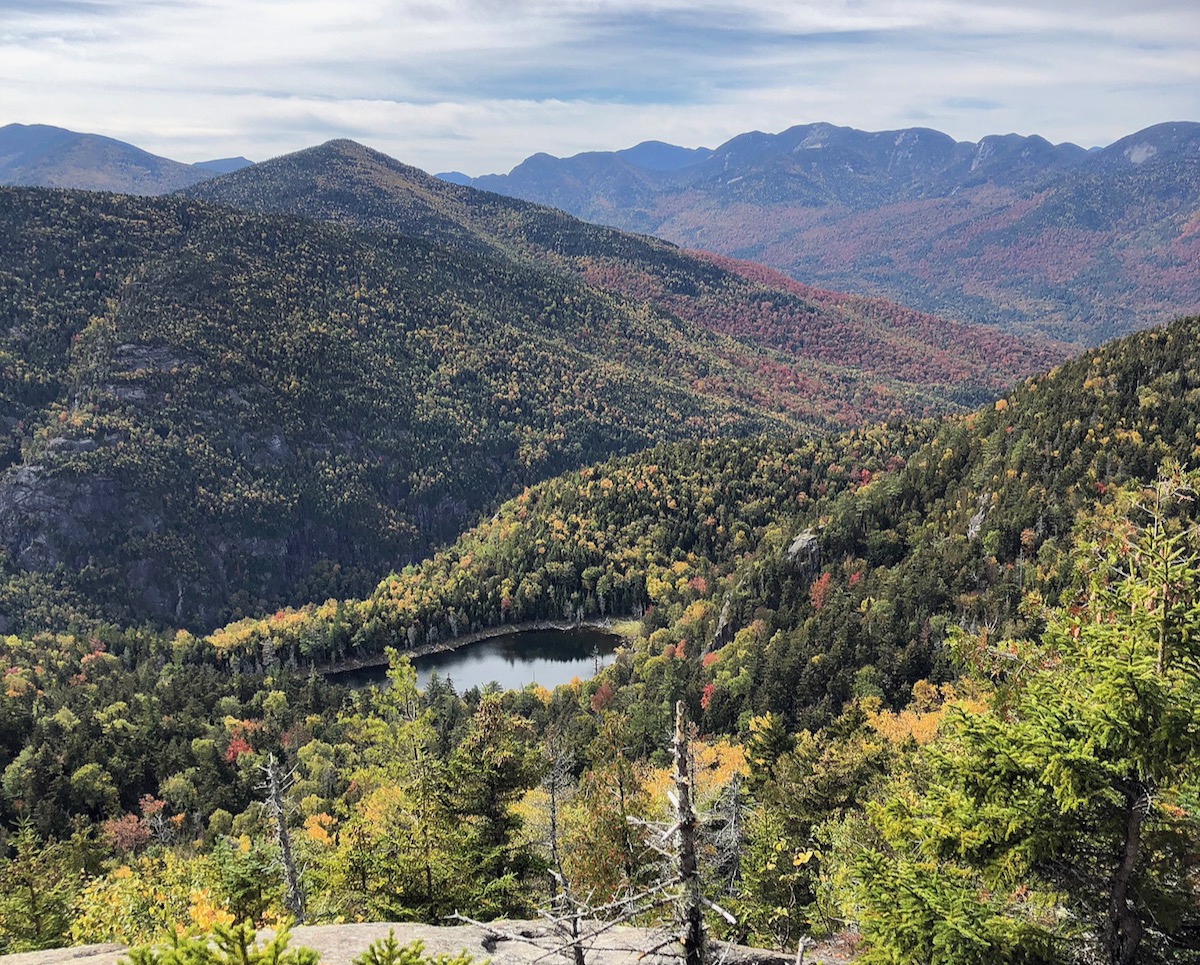 Finally, under a heavy frost, I completed Whiteface and Esther, actually the first one climbed by the original 46ers — the two Marshalls and their friends Clark and Hooper (11.4 mi, 4100 vert). "Whiteface began as icy – then muddy, out to Esther" and just like that the list was complete.
Or was it? At some point early on, I started to ask myself why. Why am I doing this? After watching so many people in Italy walk up to an incredible piece of art or building, take a selfie and take off, mission accomplished, I was dismayed about the question. Doing the entire 46 solo, I thought about it a good bit. "Did I let these places I had come to deeply admire become something to simply cross off a list?"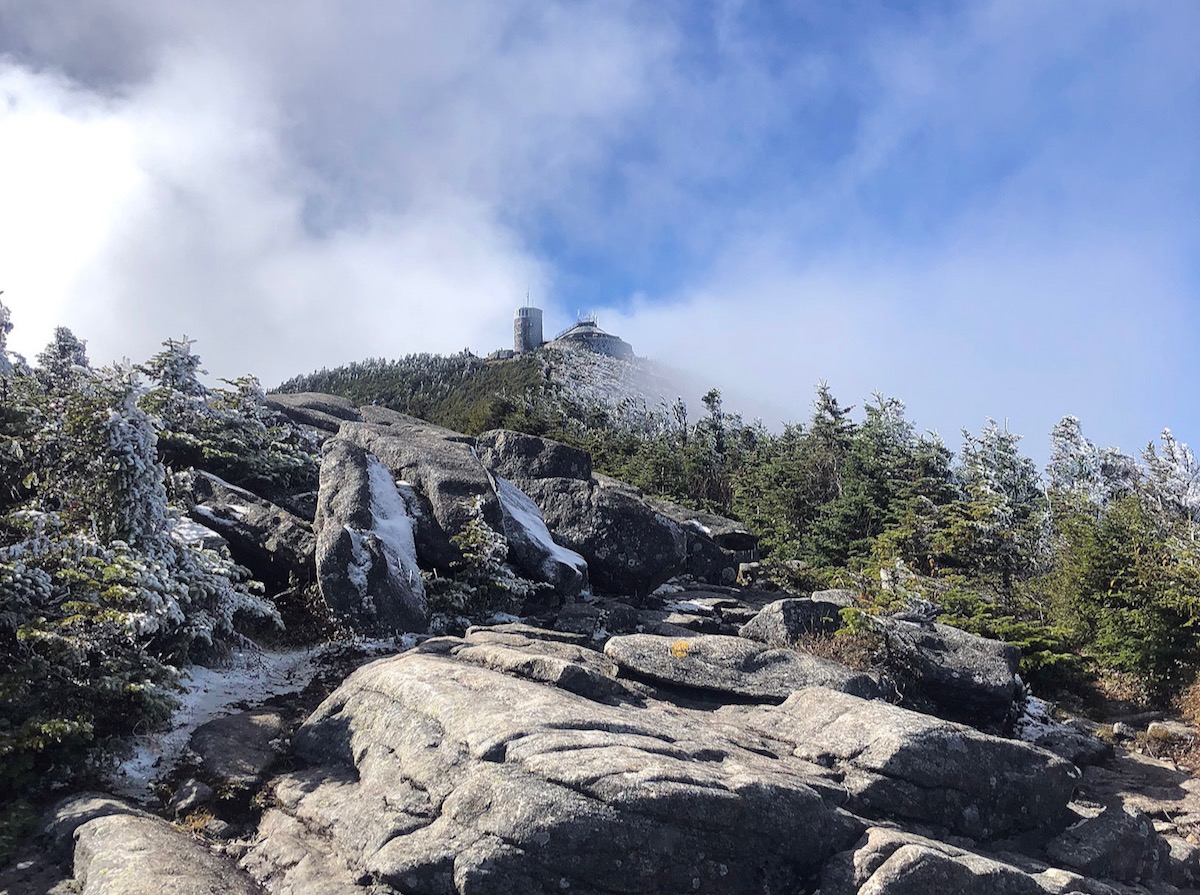 There is something very human about these kinds of accomplishments. It seems to me they are inevitably, partially about control and mastery. However, I also found that they can be more than that. From the beginning, with each hike I made sure to take a side trip to see or do something off the route, to use them as an opportunity to have an experience I would not otherwise have.
It can be hard to remember when you're on the move, but forcing oneself to stop for 20 minutes, to sit in the silence and really experience the place, to take the less efficient but more picturesque or eventful route is what I will remember the most. Those times have made this landscape for me — not something that I have completed — but a place I realize I just barely know.