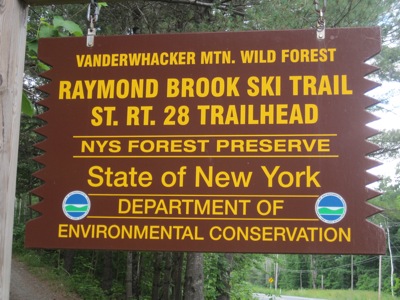 With the recent DEC clearing and marking of the Raymond Brook Trail, it is finally time to tell the story of The Secret Ski.
It's no coincidence that I posted precise ski data for North Creek just recently. No longer a secret, the route is just another part of the history of Gore Mountain.
I started skiing at Garnet Hill in 1989. Before I came to the Hill, I thought cross country skiing was something that you did in the flats. I had no idea that you could go up hill, down hill or link turns.
Garnet Hill has an extensive groomed trail system that, in the beginning, seemed limitless to me. I skied the trails happily for 2 or 3 years before I started to eye the "dotted lines" on Garnet's map that indicated routes into the backcountry. Eventually I started to wonder about arrows that pointed off the edge of the map and were labeled "to 11th Mountain" and "to Puffer Pond." With the help of Barbara McMartin's guidebook, my friend Linda and I started to pack lunch and make daylong trips deeper into the backcountry. Over time, we gained a reputation for showing up late for dinner, encrusted in snow, with a tall tale to tell.
I met Rand when he was working at the Lodge, at a time when I was a regular there. He was a talented skier who started to take an interest in our exploits. One night after dinner we started to talk skiing and the Siamese Ponds Wilderness. He wondered (aloud) if we might be ready for "the secret ski." He was being funny, but we went with it… what is The Secret Ski? Could you take us?
Rand and Linda and I started to ski together. Each of us with different strengths, we formed a pretty good team:
Rand

was an amazing route finder. He was incredibly good at the northwoods art of reading a topo in the trees. Without dramatic terrain, matching what you see to a topo is no easy trick, especially when you can't see far ahead. And Rand could look at the topo in his living room and IMAGINE where the best routes were, or where there was bound to be a hunters path.
My talents

were more about preparation. I'm fairly sure that Rand and Linda thought I was insane with the amount of gear I'd carry for a day. I always imagined having to spend an unplanned night out and wanted to have multiple options for survival. I even considered how I could "save" my lesser prepared partners. The truth is I'm that odd guy that LIKES to ski with a pack. I was also the compass guy, correcting Rand's heading on the rare occasion when his instincts weren't precise.
Linda

is an accomplished nurse. She brought rationality and prudence to the whole operation. "Hey guys, remember it's only December. How thick do you think that ice is?" She also would monitor our turn-around time, which Rand and I were known to stretch.
The Secret Ski wasn't really a secret as much as it's a route that had been for the most part forgotten. It was originally part of Gore's trail system in the 1940s in the "ski and ride" days. In 1964 when the lifts were installed, the route was left off the trail map and many skiers forgot about it.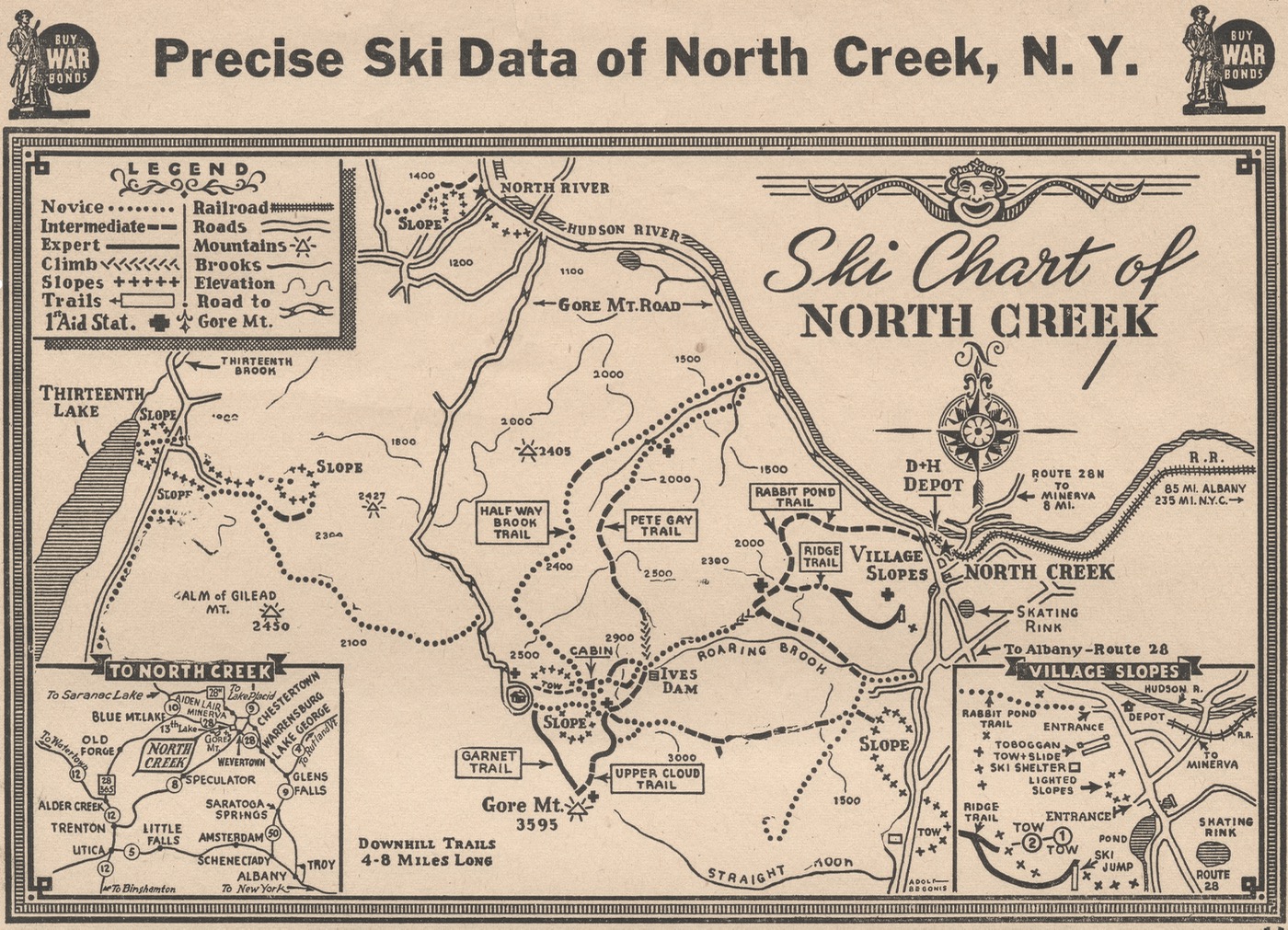 But not Rand. Using a variety of old maps he determined that after a short climb from Barton's Road, you should be able to find the old road and take it all the way down — 1300 vertical feet — to the Hudson River. One cold day, in February 1994, we set out to do The Secret Ski. The story is a classic that could be used to teach backcountry skiers precisely what not to do. Looking back we made SIX mistakes that day. I believe that if we had only made any THREE of them I think we would have been out before dark.
MISTAKE 1: We didn't start out early enough. In the morning we woke up at 6am our usual time. The difference was that we had a car shuttle to arrange. While the distances are short as the crow flies, it's hilly and circuitous, and the driving took some time. It was really cold and cars had to be convinced to start and allowed to warm up too.
A little before 10, we were back at the Garnet Hill Ski Shop ready to set out. We skied up past William Blake Pond an over the Halfway Brook trail and got to the Vly at around noon. We had a leisurely lunch without a care in the world. We continued past the Vly into uncharted territory. Trying to avoid private property added time as we were forced navigate the alder swamp. (It's an easy ski up the ice if you have permission to cross the private land.)
When we got to Barton's road it was 1:15. At this point, I think we knew we'd never get to where we'd need to be by 2pm — our turn around time. But this was the exciting part and we certainly weren't turning around yet. We arrived at the place that came to be known as the "point of no-return." At 2250′ there is a steep drop into the upper reaches of the headwaters of Raymond Brook. Dropping that edge quickly takes you down 400 feet. After that point, it's much shorter to continue forward than to back track up that steep slope.
MISTAKE 2: We didn't honor our turn around time. At 2pm, we sensed we were close to the edge. At 2:20 we came to the ledge that was the point of no-return. And we went for it.
MISTAKE 3: Each skier didn't make an individual decision about his/her abilities to handle the terrain. When we came to the edge, Rand and I ruthlessly snagged lines and took off. We'd left Linda at the top, struggling to find an angle through the trees she could handle. She ultimately got down the pitch, but did a lot of side stepping. By the time we got to Raymond Brook, we knew that remaining daylight was going to be an issue. We hoped that after we cleared the steepest part, Linda would get more comfortable and we'd start making better time.
---
---
MISTAKE 4: We didn't account for the effect on elevation on the conditions. A few nights earlier there had been a eight inches of snow mixed with the smallest amount of sleet. That was at 2000′ and above. As we descended lower, the amount of sleet that had fallen was significantly more, and in the cold temps following the precip, a significant crust had formed. Earlier in the day it was the pitch that had intimidated Linda. Now that the pitch had eased, the surface was causing problems. More side stepping. Rand was getting anxious with sunset approaching. We were following traces of the old Raymond Brook trail. It was faint, but you could follow it, intermittently. There really wasn't any possibility of getting lost as continuing down hill in any direction would take you to the river. But it was getting dark.
While I was concerned for our group, I was actually having a great time. It was perfectly clear and very cold. The stars were out, but no moon. I've got good vision in low light and I wasn't having any problem determining which way to go. Also I'm a good enough skier that I don't feel the need to see my feet to ski. My heart was pounding from the exertion and I was warm and almost content.
MISTAKE 5: Our gear wasn't in top condition. Rand had an antique pair of Asolo boots that he loved. They had seen years of use, and the three-pin holes were pretty rounded out. At times his binding would pop open due to the loose fit. Rand had amazing balance, and I never saw him crash while skiing on a single ski. But this time, when Rand's binding popped open, it was dark, the snow was deep, and…
MISTAKE 6: We didn't have a headlamp.  Yikes. This is a lesson that has never left me. Don't go ANYWHERE without a headlamp. To compound the issue, Rand's skis were WHITE. We spent 20 minutes, looking for a white ski, in deep snow with matches. Eventually, Linda found it.
By 9pm the terrain had flattened to the point where we knew we were down in the river valley. At this elevation, we were making a serious racket punching through the crust. Eventually we saw a light in the distance and skied to it. It was the parking lot of The Riverwood, where we had left our car. We put our skis in the car and headed in for a beer.
Dick Carlson, who ran the Garnet Hill ski shop at the time, was at the bar and his eye's popped when he saw us. He'd seen us leaving from the ski shop in the morning, and he knew where we were headed. "You guys CAN'T be just getting out now!" It was pretty ridiculous.
It's amazing, all these years later, how much of the day I remember. While I wouldn't really call it a close call, the day's events made an impression on me. I'll always remember the 6 Lessons of the Secret Ski.