Something is in the water this year, up in Lake Placid, at ORDA.  Maybe it's Snowmax. At all three mountains, the snow was deeper than any time in recent memory, and maybe deeper than ever.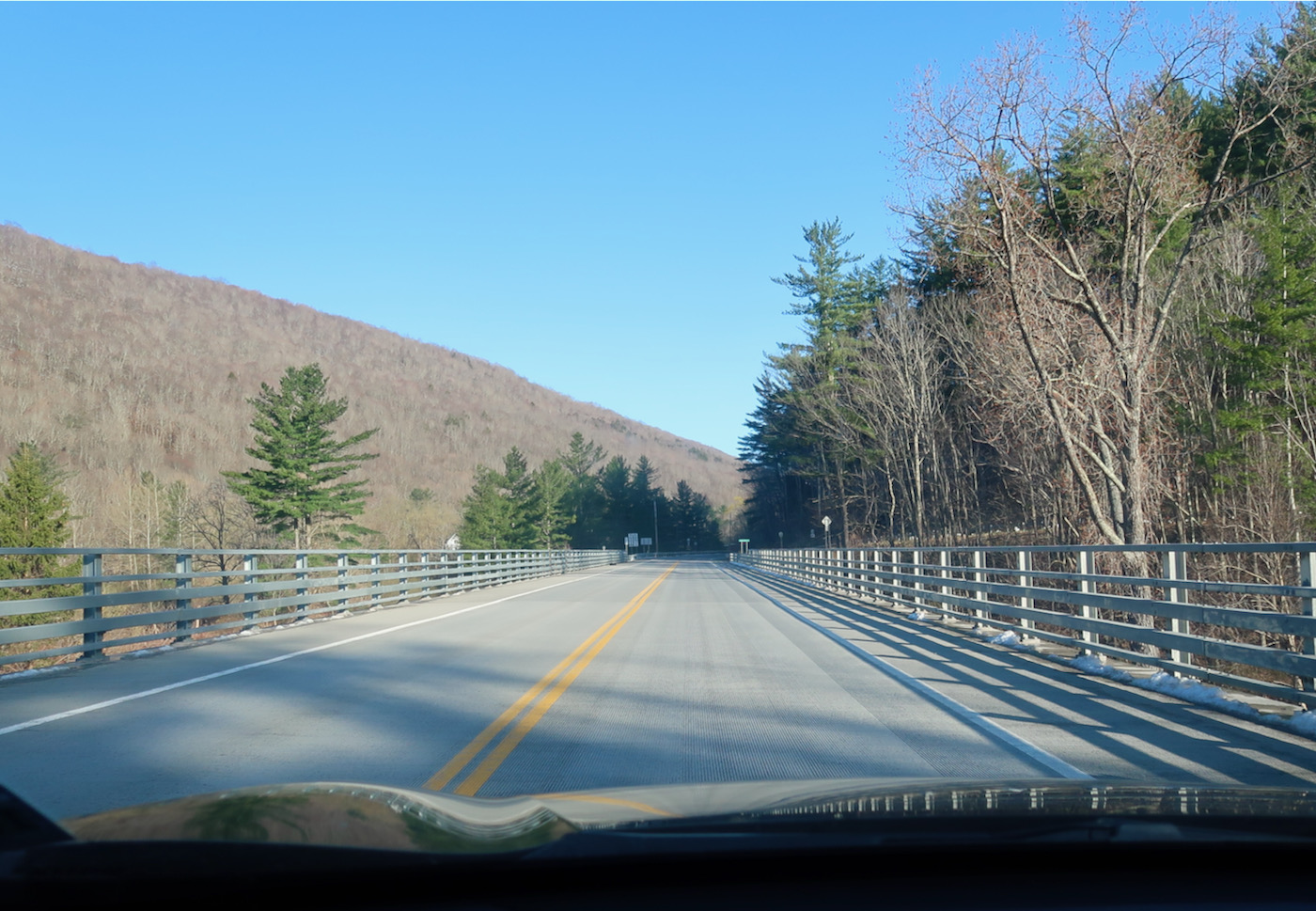 This season, the three state-run hills were the last to operate in NY, and it wasn't even close. Belleayre closed for the last time on April 23, while Gore and Whiteface are still shooting for Sunday May 1.  This year a new closing date record is being set at Gore.
Most years there's at least a chance that a private area will rival Whiteface for latest closing.
This year there were five NY areas that made it until April 10 — Bristol, Holiday Valley, Holimont, Hunter and West Mountain — leaving only Whiteface, Gore and eventually Belleayre, operating after that date.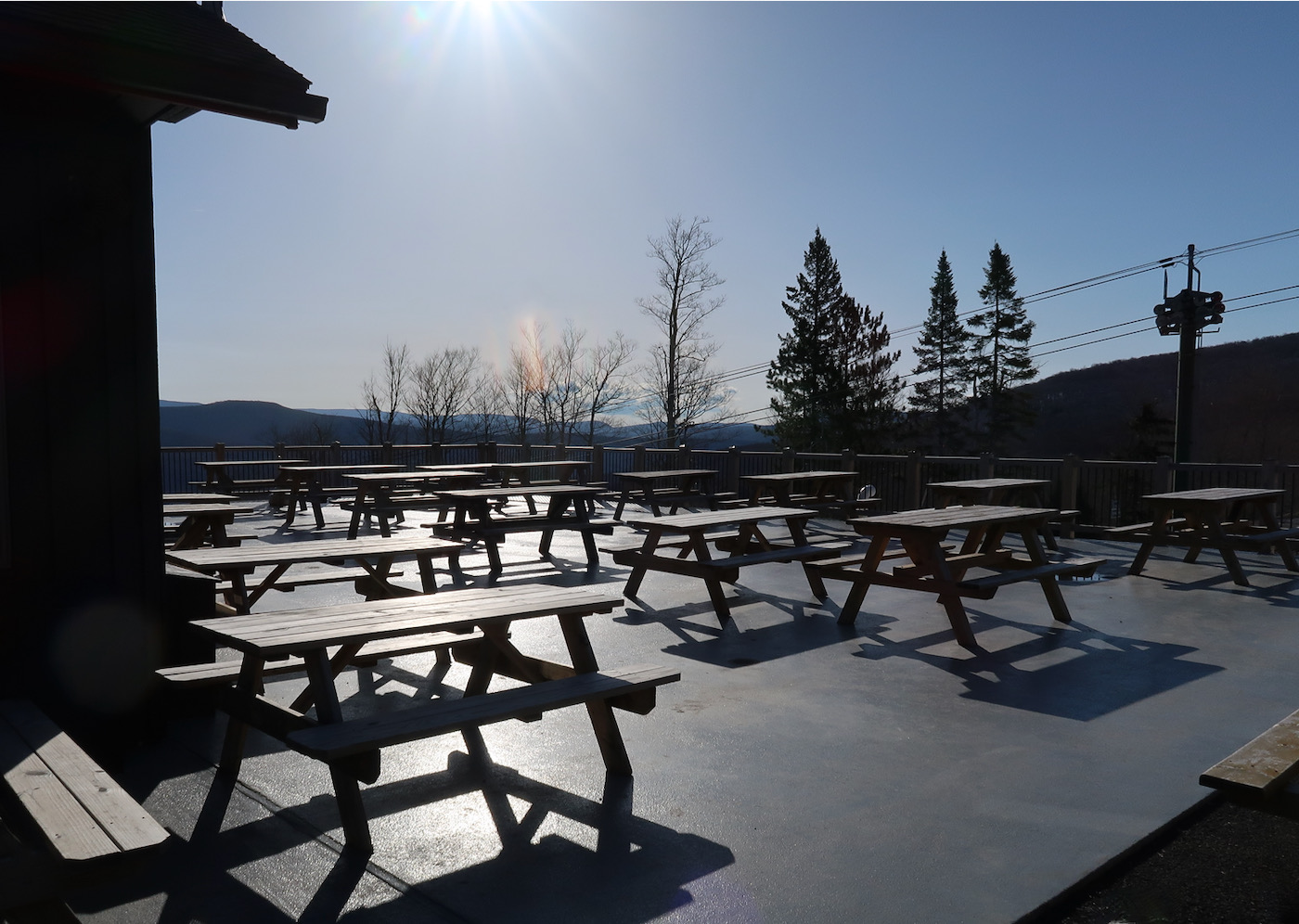 April 10 was Belleayre's originally scheduled closing, but after a late season storm dropped more than a foot of snow on the hill, ORDA announced a bragging-rights reopening for Belleayre on Friday April 22. The forecast for Friday was sunny, and it lined up for me. I took the day off and got up crazy early to drive to Pine Hill.
I arrived an hour before first chair, which isn't quite as insane on a morning after a night without a freeze.  The forecast was sunny with temps in the upper 40s, and no one knew how long it would all be skiable.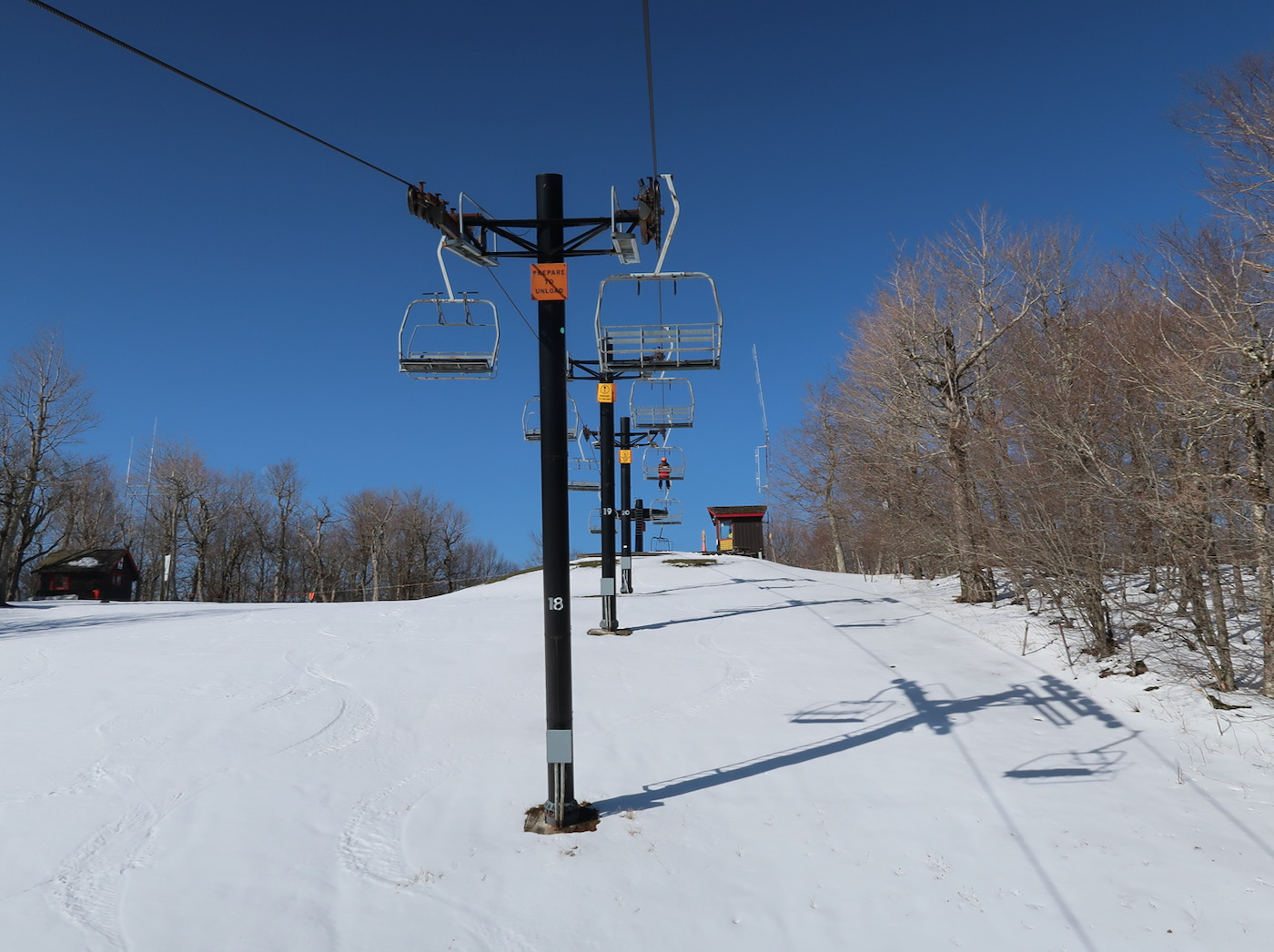 I was looking for Roman, who'd texted his plan to be there too. I was with a dozen other skiers in line at 8:40 when Lift 7 began to load.  Patrol told us to follow the corduroy… "it's a lot easier to ski where it's groomed." The trail report called for the opening of Wanatuska, Mohawk, and Onteora.  Since I was first public, I figured I'd go left at the top, and drop in on the first cord I saw.
That was Onteora, except that the cord just led up to the top of the headwall and stopped. I plowed ahead realizing a bit too late, that I was dropping in on who knows what. I will say when I first saw it, it looked beautiful and tempting.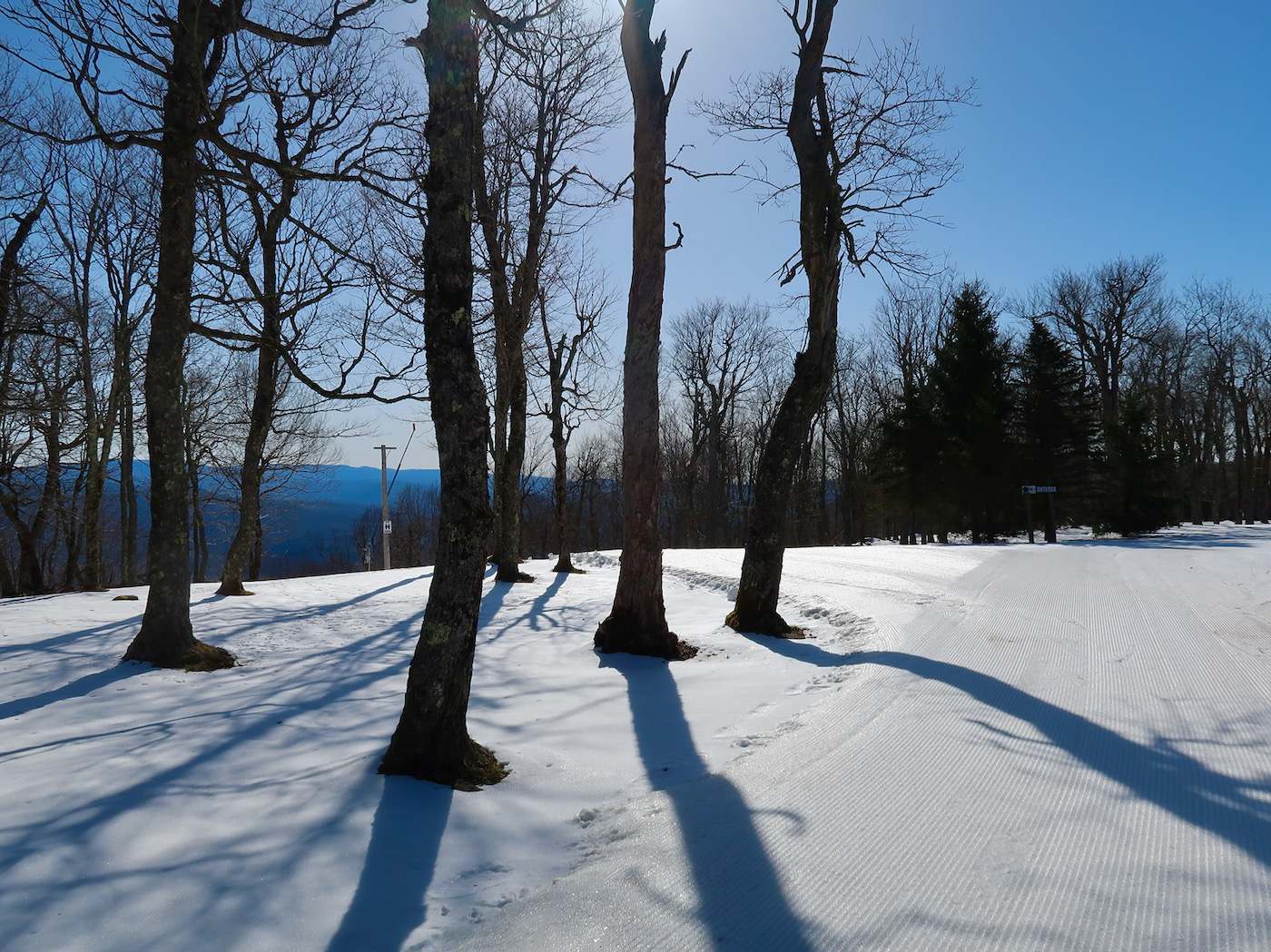 The grabby was almost off the charts. The smart thing to do, would have been to stop after one turn, side step back up, and look for some corduroy extending off to the horizon. That didn't happen.
I battled it all the way to the bottom. Since I came back from that pulled hamstring, I've been trying hard to keep my skis waxed and avoid grabby snow. As I dove in, I hoped I wasn't frittering away that successful effort.
In Belle's defense they did warn me. The ungroomed snow was "whiter" and in the end was much better after a modest amount of skier traffic. The best skiing was on Mohawk, after it was skied in.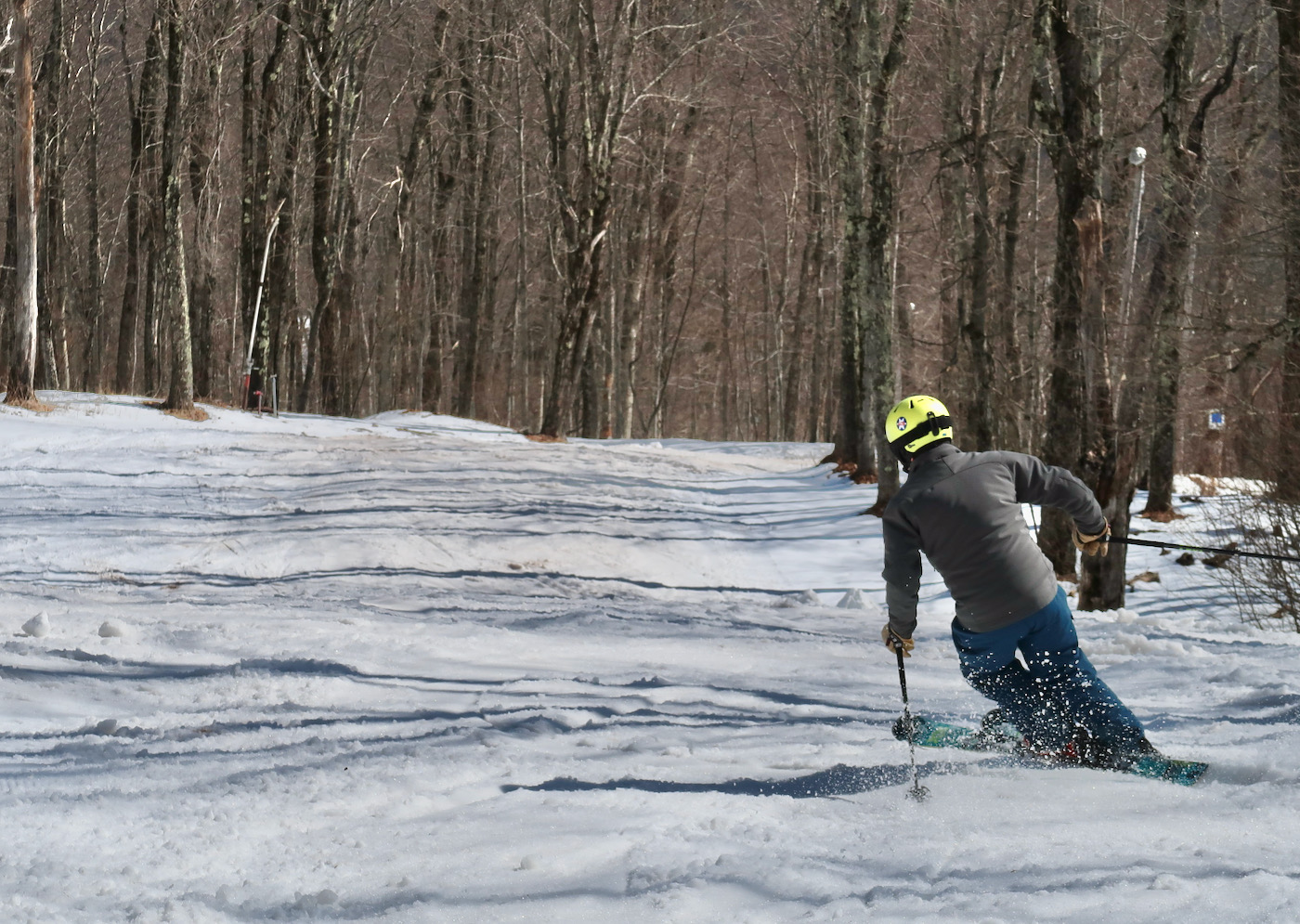 Roman arrived and we headed up to SKI3: Wanatuska, Mohawk, and Onteora.  We focused on Wanatuska most of the morning. It had some dicey thin sections at the top, but it was soft, and deep enough for some nice mud-colored bumps to develop on the lower half of the run.
From Wanatuska, we spied Belleayre Run through the trees. It was groomed, without a ski track and it was almost lunch time. We found our way through and made a mental note about the fat layer of manmade snow that hugged the edge of the trail on skiers right.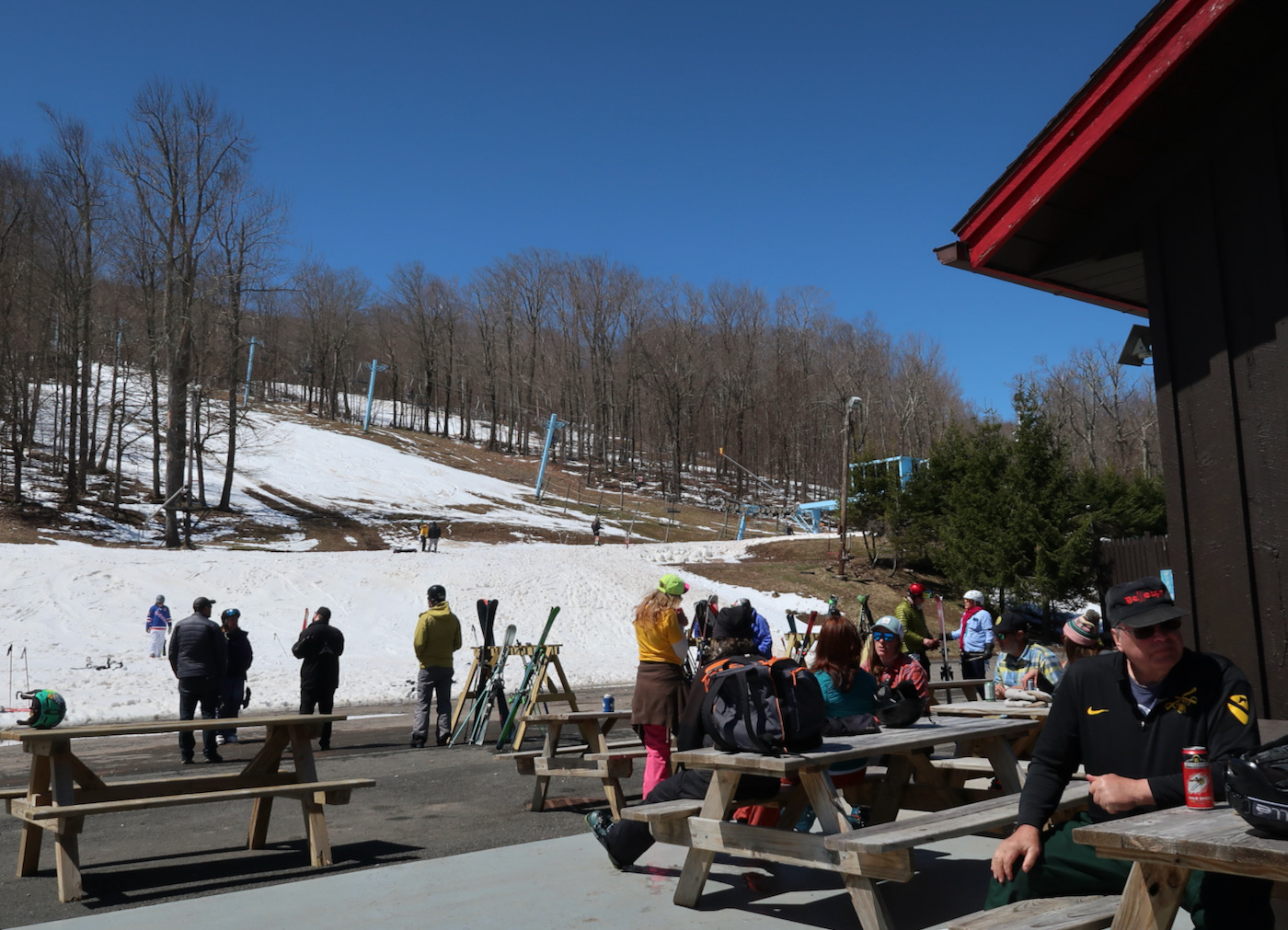 Roman had afternoon commitments, yet I shamefully pushed him for two more. Belle was serving a limited menu on the deck — hot dogs and beer — I figured after Ro split, I'd get a dog and see if I could bang out a few more runs solo before finishing up for the day.
Before that happened I ran into Jason and Paul traversing along the top.  They had a few runs left in them and they wanted to finish the day in the bumps on Wanatuska. Two runs and we called it, grabbing a hot dog and chatting on the deck.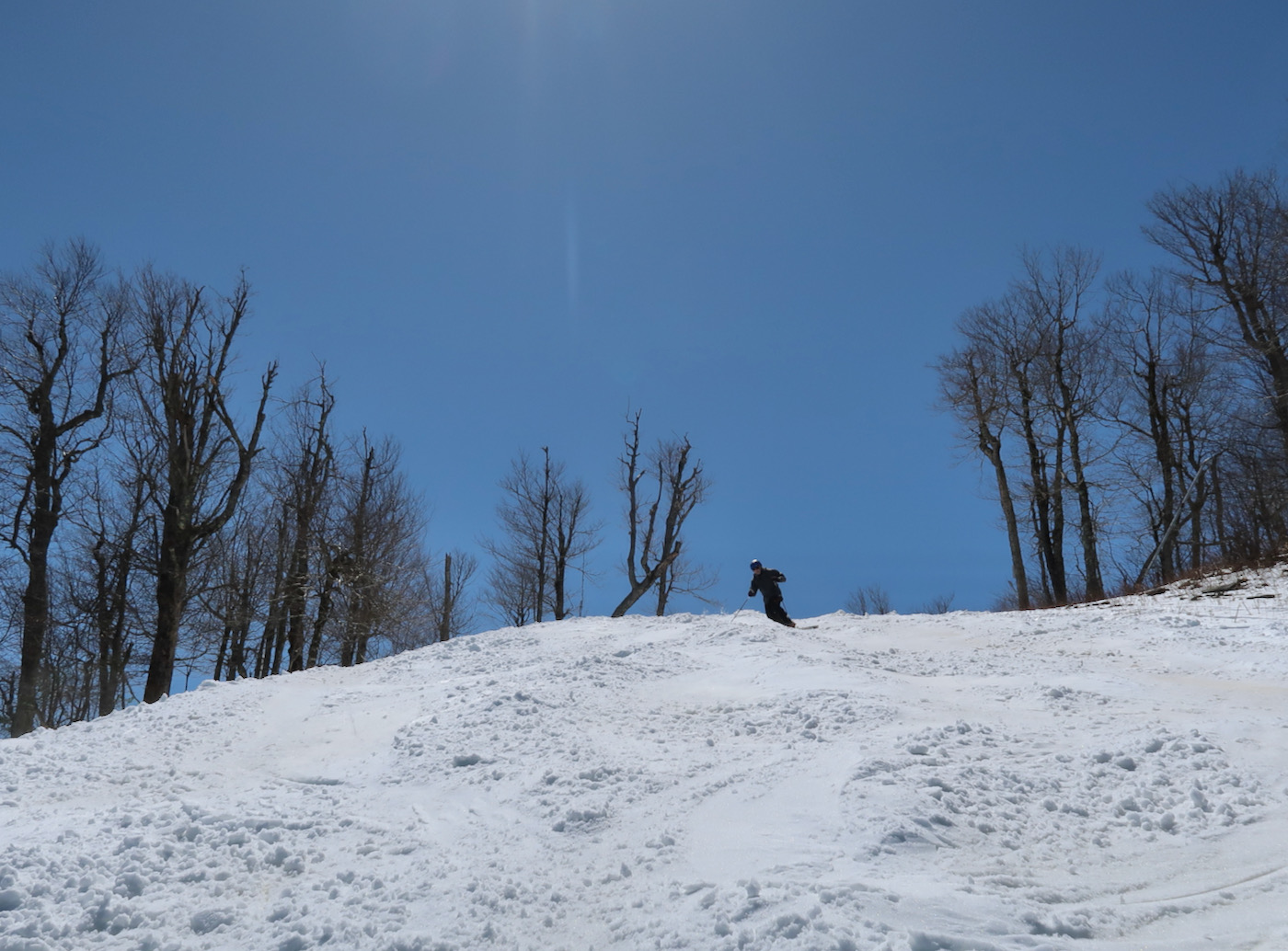 Soon enough I was alone.  I hung out in the sunshine mustering my energy to put together some kind of afternoon.  Up to the top and over to the Sunset Lodge.  We'd been skiing Wanatuska almost exclusively by Mohawk was looking especially white.  I skied over and wondered why I'd been ignoring it for the last few hours. I guess it was the bumps.
There weren't many skiers on the hill, I'd be surprised if there was more than 50 at any given moment.  There was on teleguy leading a small posse, and they were all Mohawk all the time.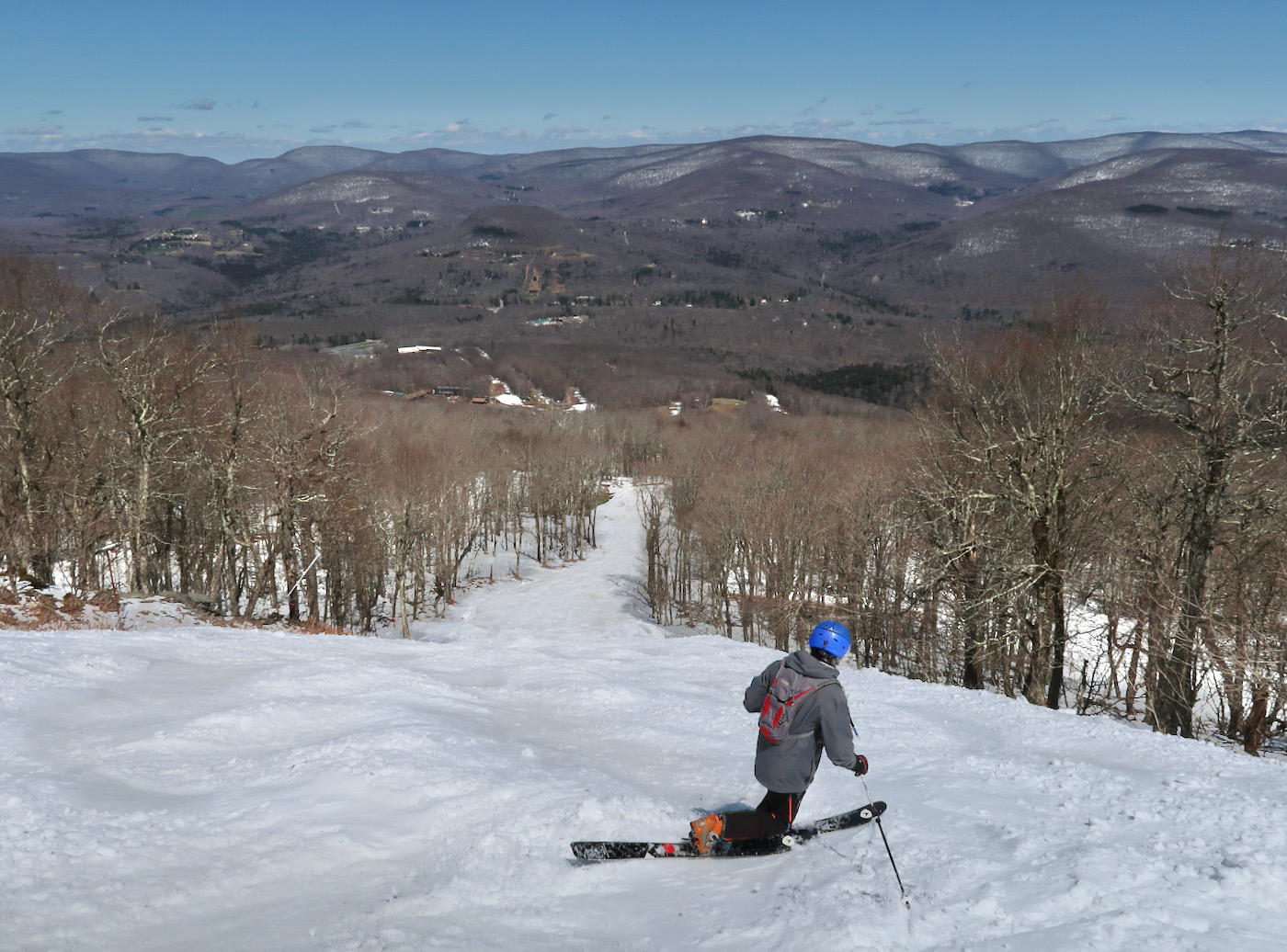 I banged out three soft runs, and then called it a day.  I couldn't get my skis around anymore. Actually it's my ski around anymore, it's always my left leg that gives up first.  I remembered what Jason said "I want to end on a good note."
I've come so far in this season since my injury and was feeling good that I've gotten so much good skiing without incident.  I'm hoping get to Killington once or maybe even Gore again, to be part of that history.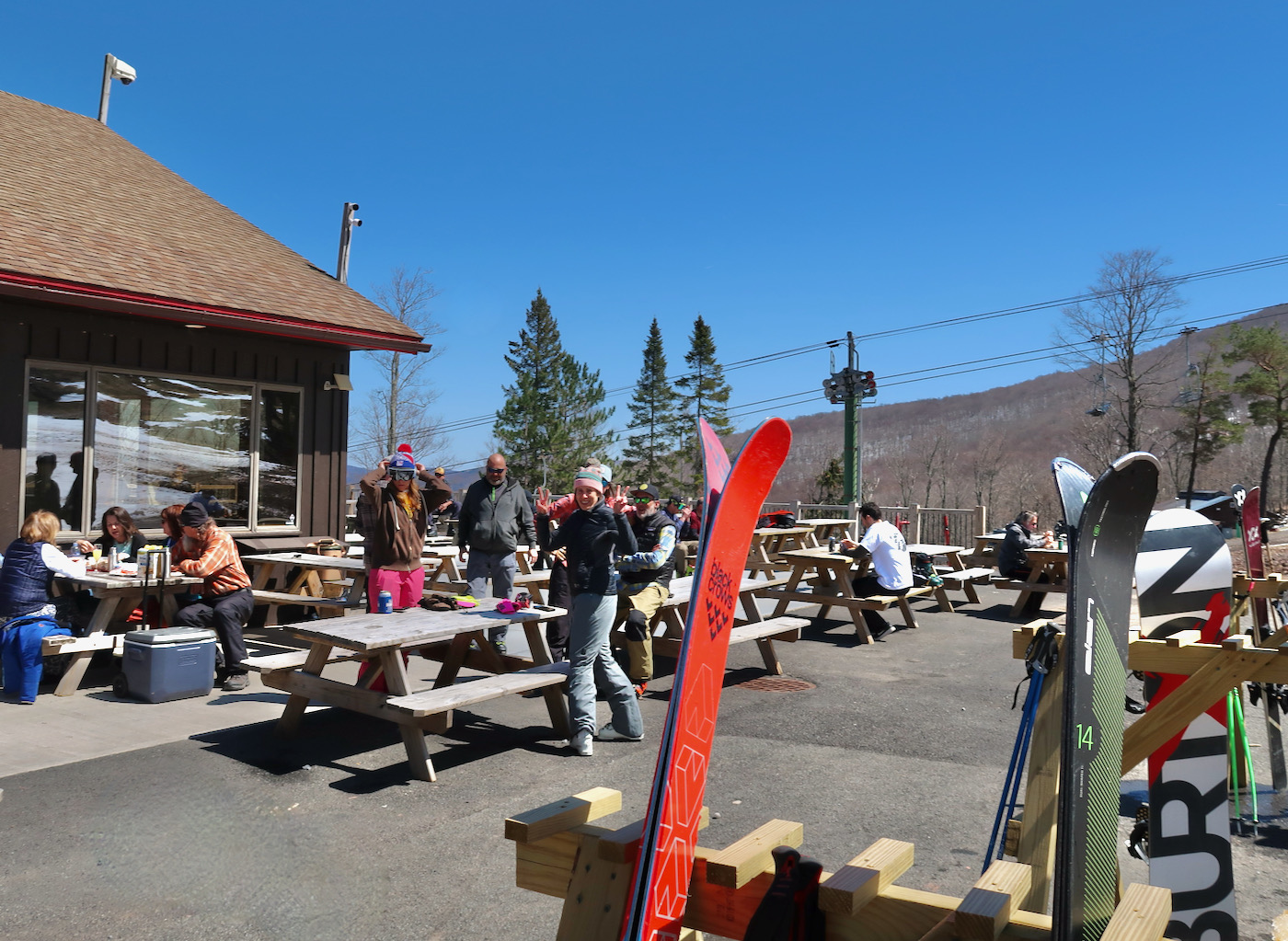 Back down on the deck, I took my time changing my boots in the sunshine, and drinking some water. I'd had a beer with lunch a few hours ago, now it was time to prep for the drive home. It was mostly uneventful aside from the Catskill school bus convention I encountered.
Props to ORDA for extending the season. As a SKI3 skier and a Johnsburg resident, I hope it is a permanent change in thinking. If it is, and as Ops learns from the experience, I bet they could extend the season with a bit less snow. I hope we will see.