When Gore is one of NY's last men standing — and you have a season pass, and a beautiful day off, and you're a wannabe ski writer — you're going to ski it and write about it. That's how it goes. More Gore.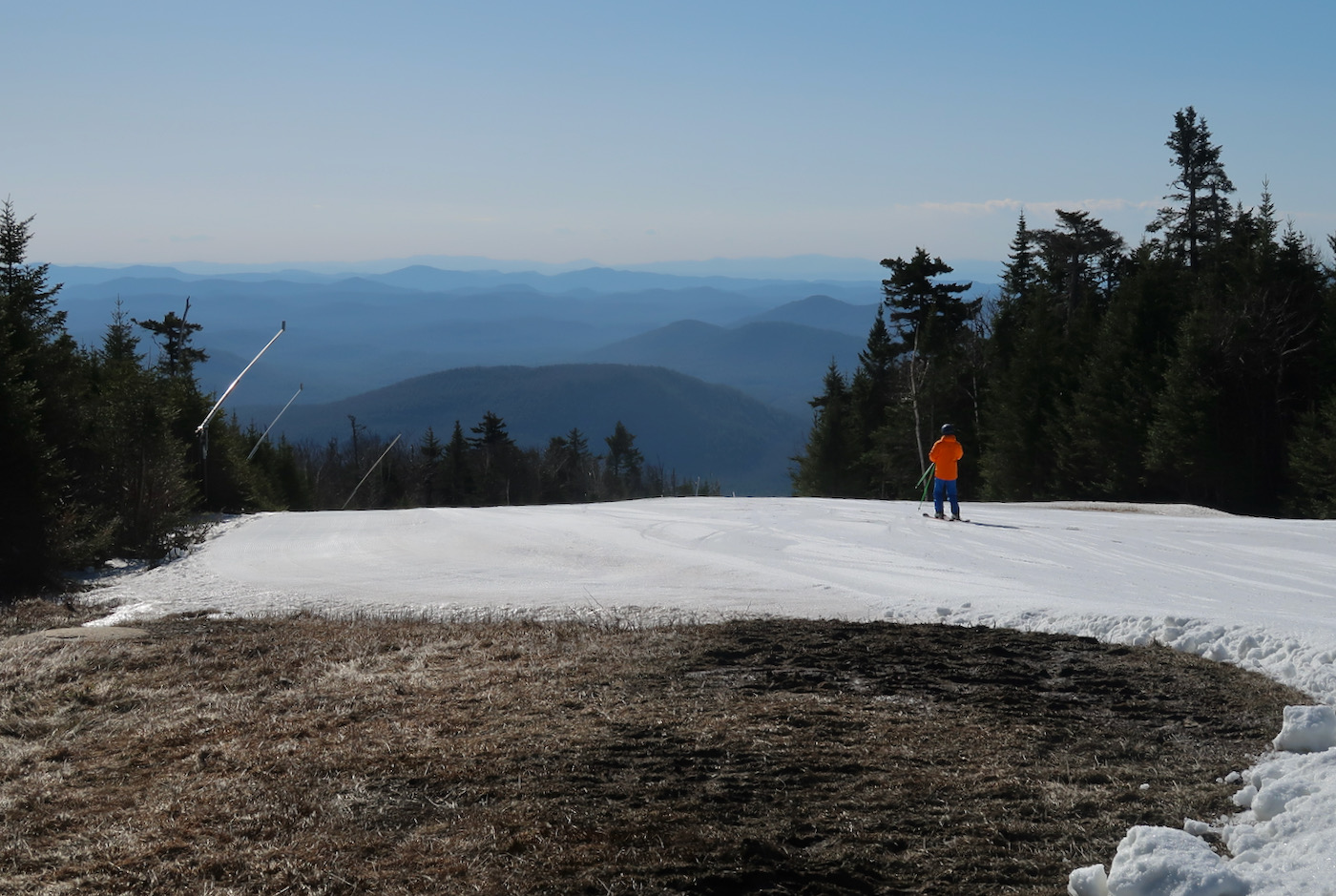 This spring there have been rumors at Gore about pushing the season to the first weekend in May. I haven't seen this done at Gore, since 2008, when I started keeping track. Then evidence of a conspiracy circulated on the internet. There it was, a digital reality, closing day, Sunday May 1.
Gore has blown a lot of snow this winter and it has extended the season.  Most obvious is "Mount Gondi" — the snowmaking remains of the trial run for next year's University Games.
That artifact pile has allowed the gondola and the quad to be fully functional, longer into spring.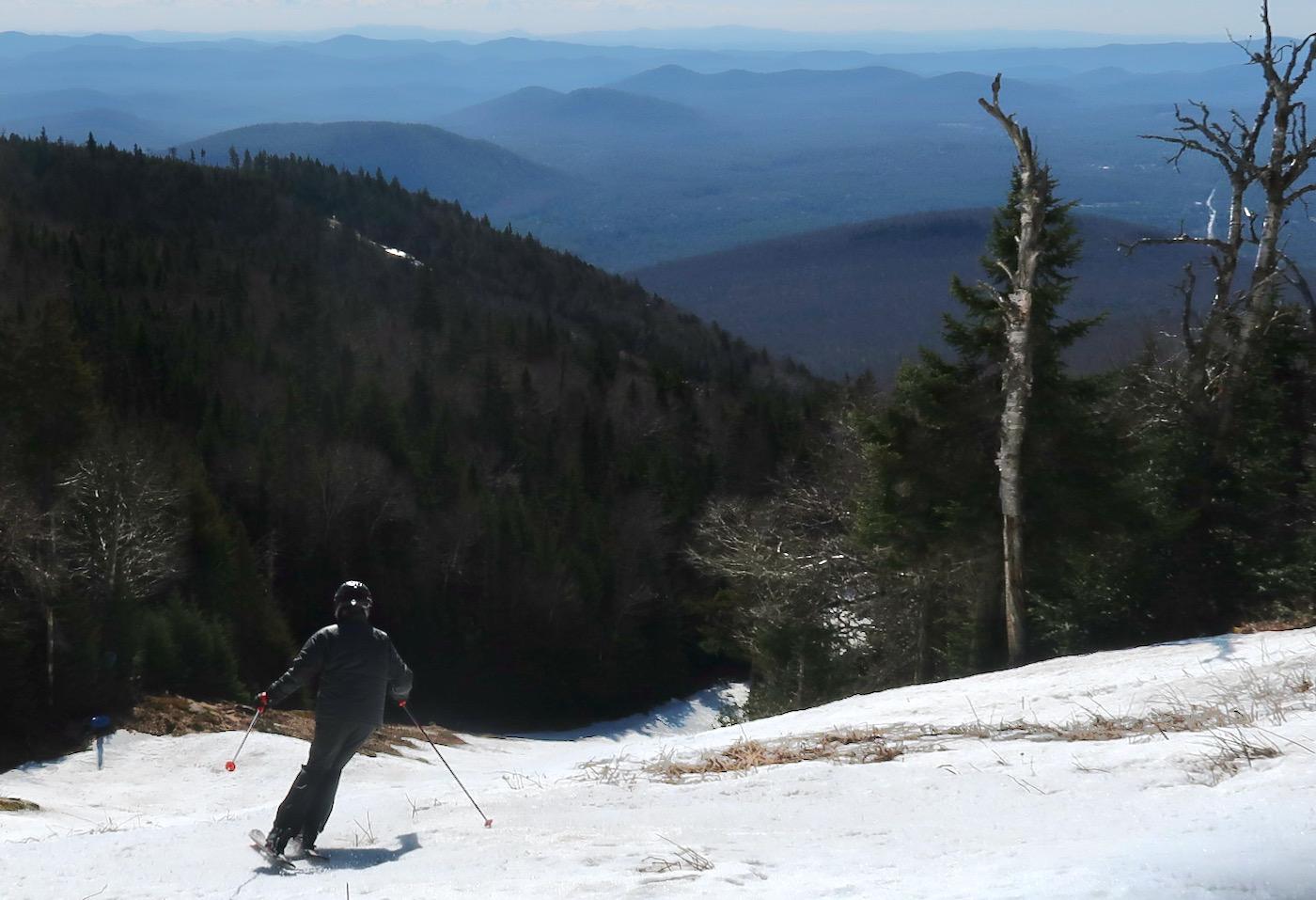 I reached out to Duck in advance. At the same time both Sig and Roman messaged me: "Are you at Gore Friday?"  The Gore forecast looked like cold rain and snow much of the week, an overnight low near freezing Thursday night and then full sun on Friday, high of 45.  It was hard to miss that.
First, Duck and I skied on the East Side cord; Sunway to Wild Air and Sunway to Sunway.  Sunway was fat with snow and Wild Air was a collection of thin strips you could ski without stopping. The bottom was surprising good all day, we skied it once for lunch and again at last chair without any sticking.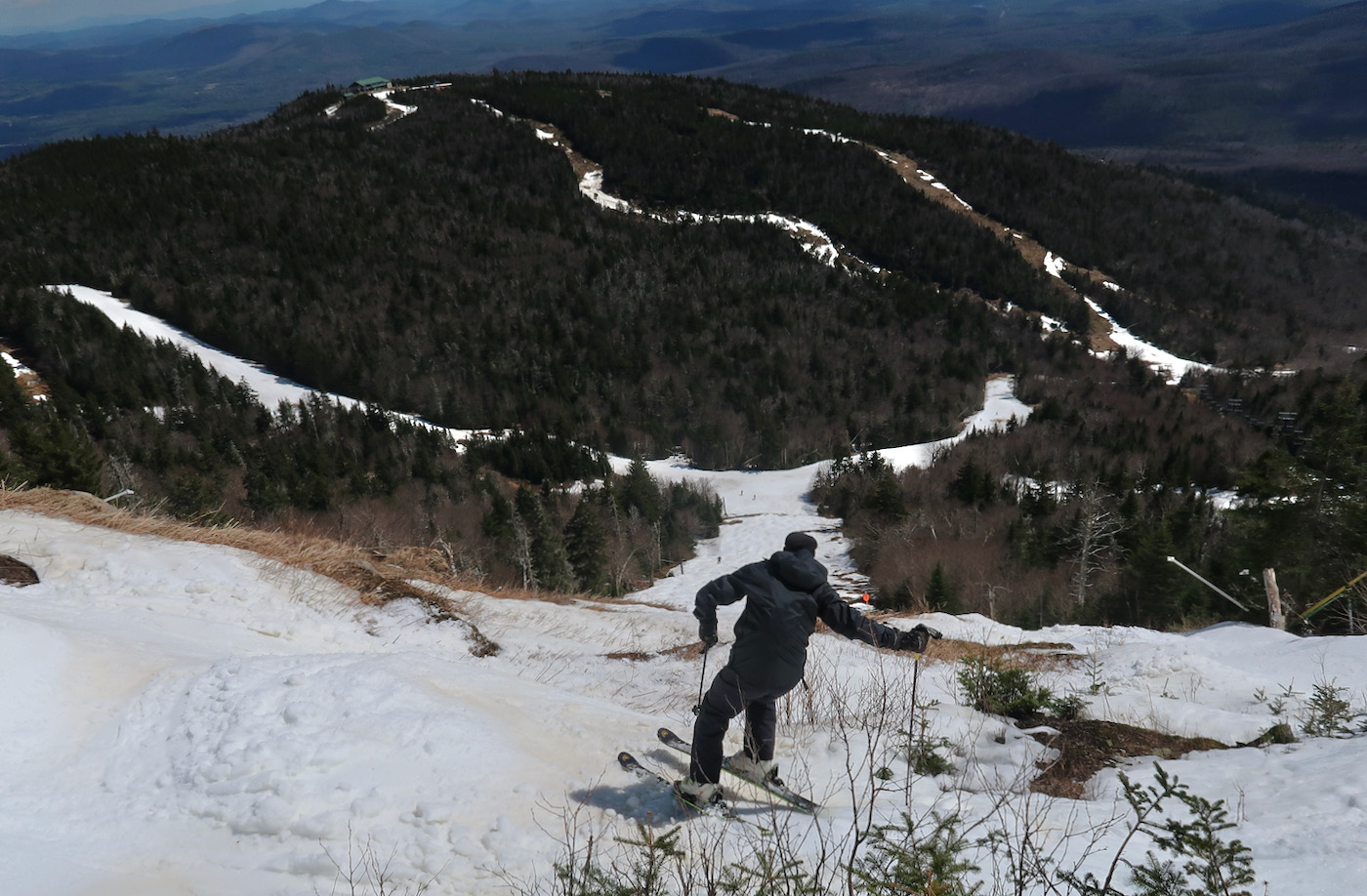 Topridge was soft and we skied it multiple times. We rode the lift each time with an eye on the summit, looking for skiers on Rumor. In the process, we found Sig skiing below us as we rode the chair.  That was good luck for me, as Duck was heading out by noon.  It was great to find somebody I know I can ski with for the rest of the day.
I'd noticed the depth of the base on Topridge when I skied Gore in early April and it remained one of the best covered trails on the mountain. Chatiemac and Hawkeye were also very solid two weeks ago, so I was optimistic.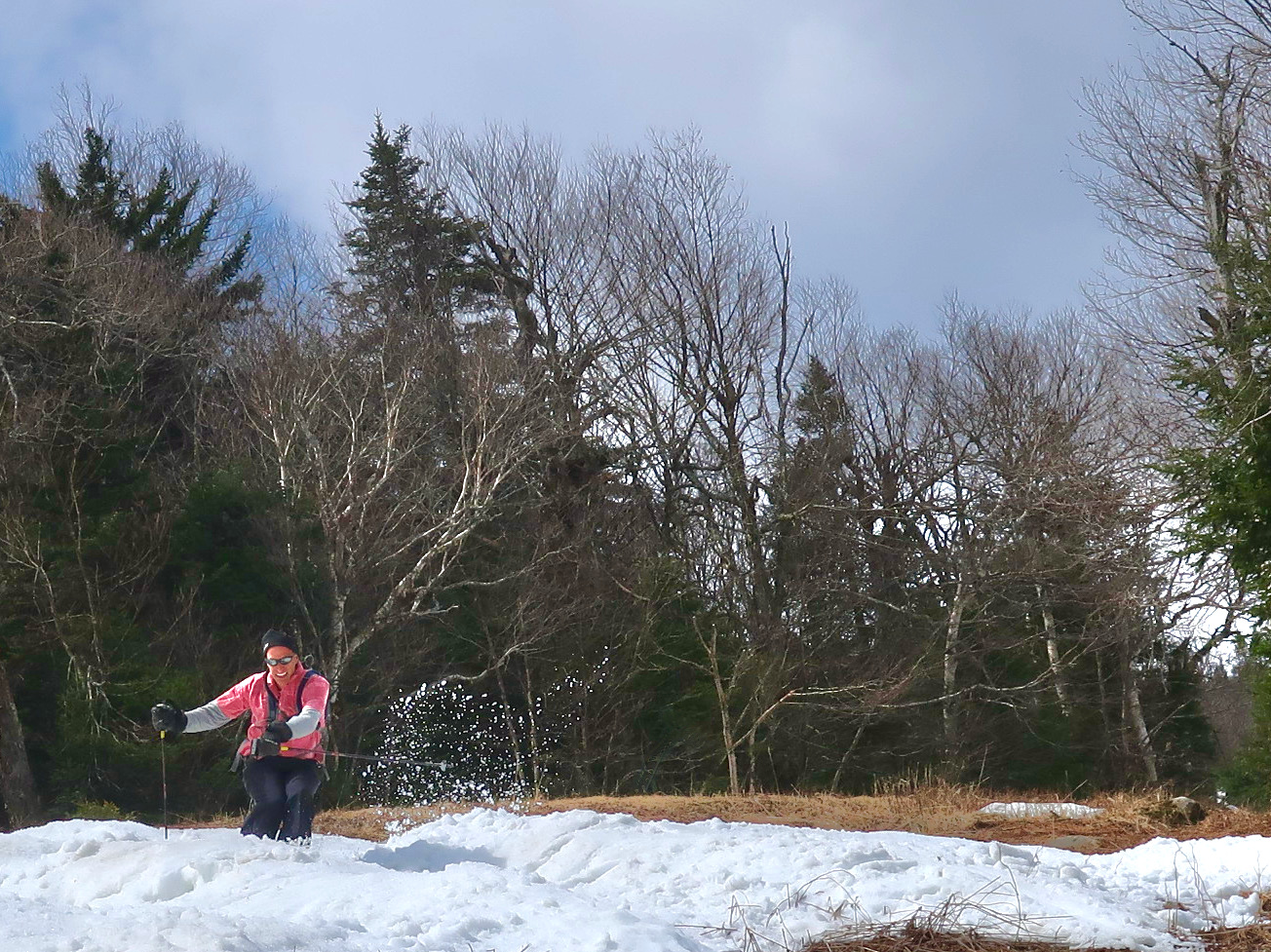 At first it was just Open Pit from the top, but eventually, with full sunshine, the ropes dropped on Rumor and Chatiemac. Both trails had bare spots to contend with, but both had long sections of deep, soft bumps that were grin inducing fun.
At 10:45, Roman texted, he was in the gondola heading to the top of Bear Mountain. The director of the ski school at Plattekill, he's also a friend. We haven't skied together much this year. When I was at Plattekill this year, the instructors were busy teaching all day.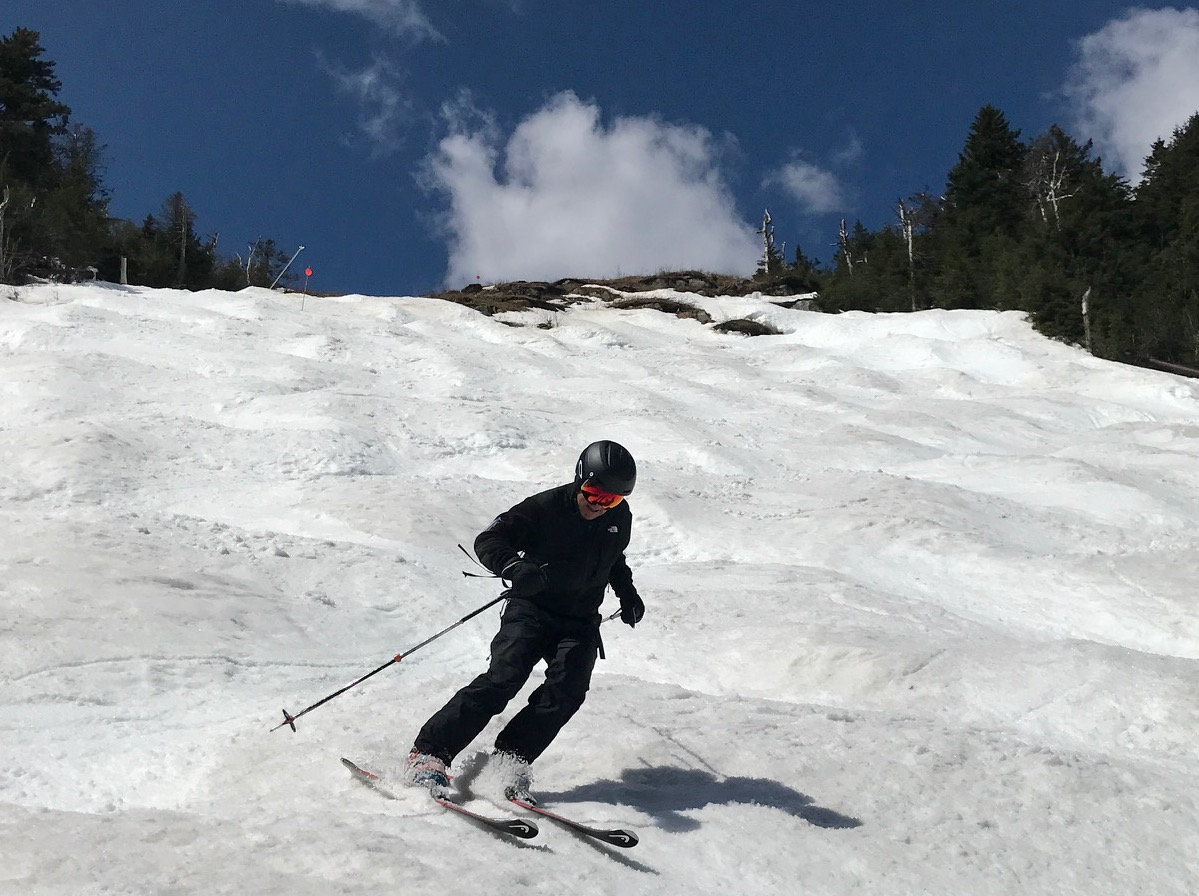 We were on the same peak headed up the Topridge Chair.  We connected at the top and checked with patrol. The summit was open, so the three of us tucked our way down Ruby Run and on to the High Peaks Chair, headed to the top.
Rumor was very deep, but that's not all that unusual. There was thin cover on the headwall, but it was 100% skiable. If you wanted to stay on the snow there were 5 or 6 required turns, turns made in the same spot, by every skier, all day long. Sporty but manageable.  Below the headwall were huge edge-able bumps, that made you appreciate an NTN binding and the titanal in your skis. These were largest bumps I could handle.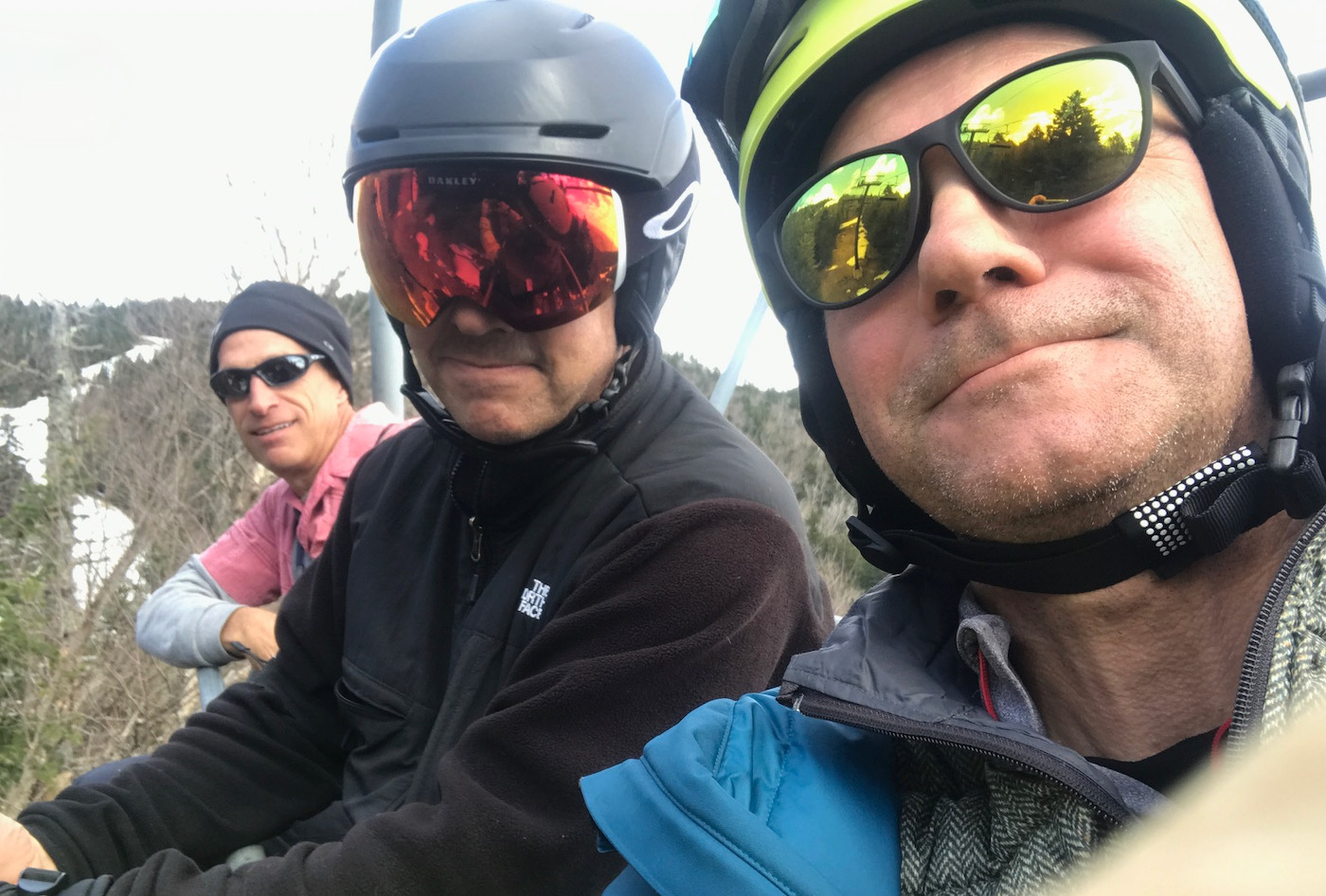 For me, Chatiemac was even better.  The trail is properly rated for experts, but it has a good amount of blue-black pitch. Many years, including this one, the trail manages to avoid the groomer for most of the season. (Plattekill skiers: this is Gore's version of Ridge Run.)  Second only to powder skiing, there is nothing I enjoy more than nice, soft bumps on moderately steep terrain.
By 1:30 we were famished, with no supplies of our own, so we skied down the base for a burger and a beer. It clouded over during lunch and all around us skiers were calling it a day. We lingered, and saw some blue sky potential. This was not an official "Reboot" but mentally we'd already prepared ourselves to quit. Back from dead we rode the gondola for two more runs up on Topridge; great skiing at 3pm.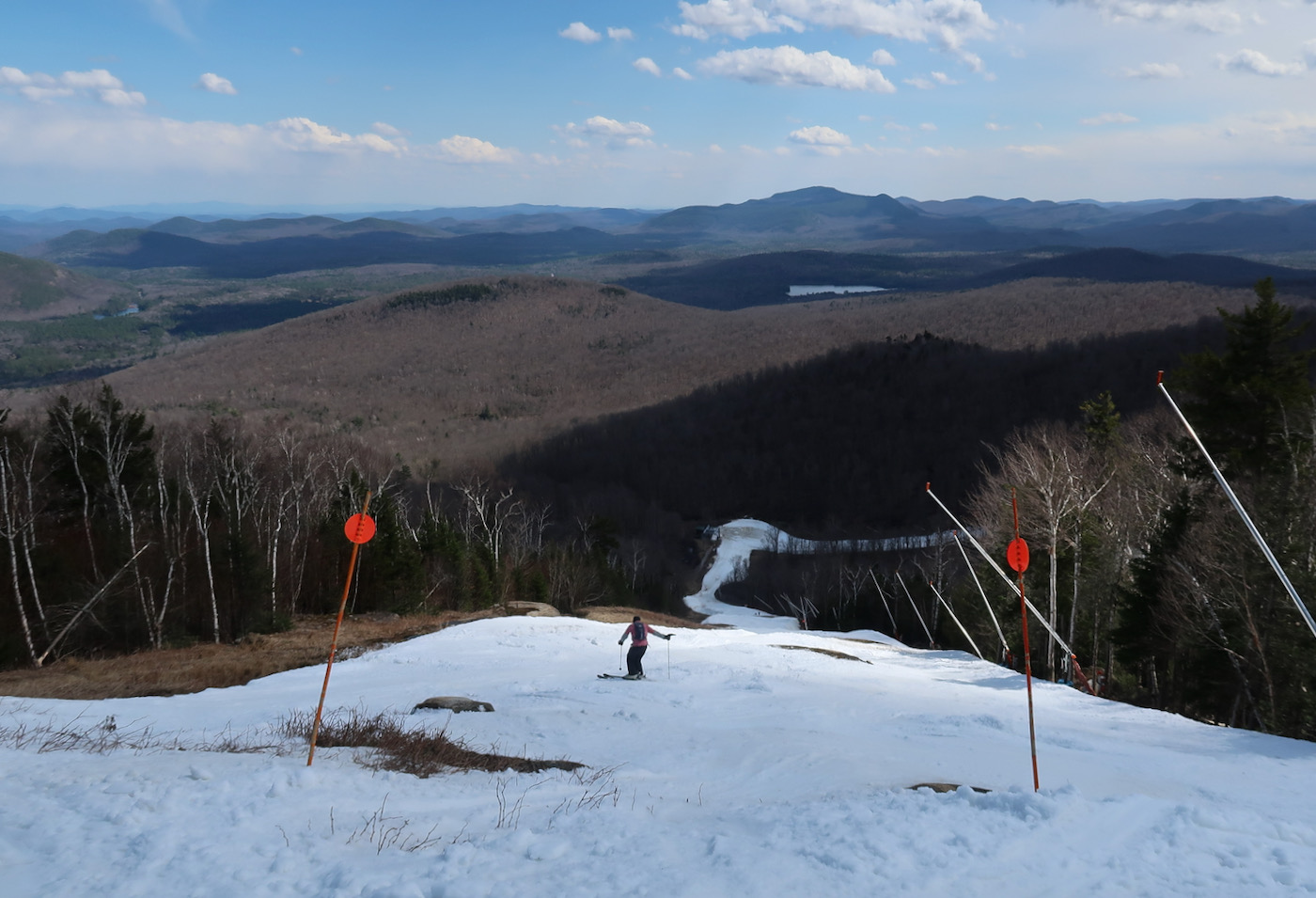 Back at the bottom to call it a day, we were surprised that the snow wasn't sticky. I convinced those guys to take one more ride. The last time Roman was at Gore was six years ago, before the new quad. I thought he should ride the AE2 to see Snoopy Rock and environs. We ended up doing three laps on the bottom and closing the lifts at 4pm. So stoked at days end!
---
A month ago Duck and I were first in line for the AE2 on a powder day. Another skier asked if he could join us. On the ride up, he made it clear he didn't appreciate the attention we've brought to Gore. He wasn't happy and I was going to hear it for the full lift ride. (I grant this advantage of a high speed lift!)
I asked him if I should tone it down. Maybe try to have less fun, or don't write about the fun parts. Did he want me to stop writing altogether? No More Gore?  He never answered.
News alert, this is my attempt to tone it down.  🙂  Fifteen years ago, every post on this blog was about Gore. Now I write about the mountain three or four times a year. Gore is going to be part of my life into the future. At this time, I don't see a way around it, I'm going to keep writing.