In March, when I first heard rumors of Gore's plan to spin lifts on May 1st, I didn't think it would happen. The base looked deep and the forecast was cold, but May Day was a far off destination. If nothing else, the now famous leaked ops calendar convinced me of ORDA's commitment to the effort.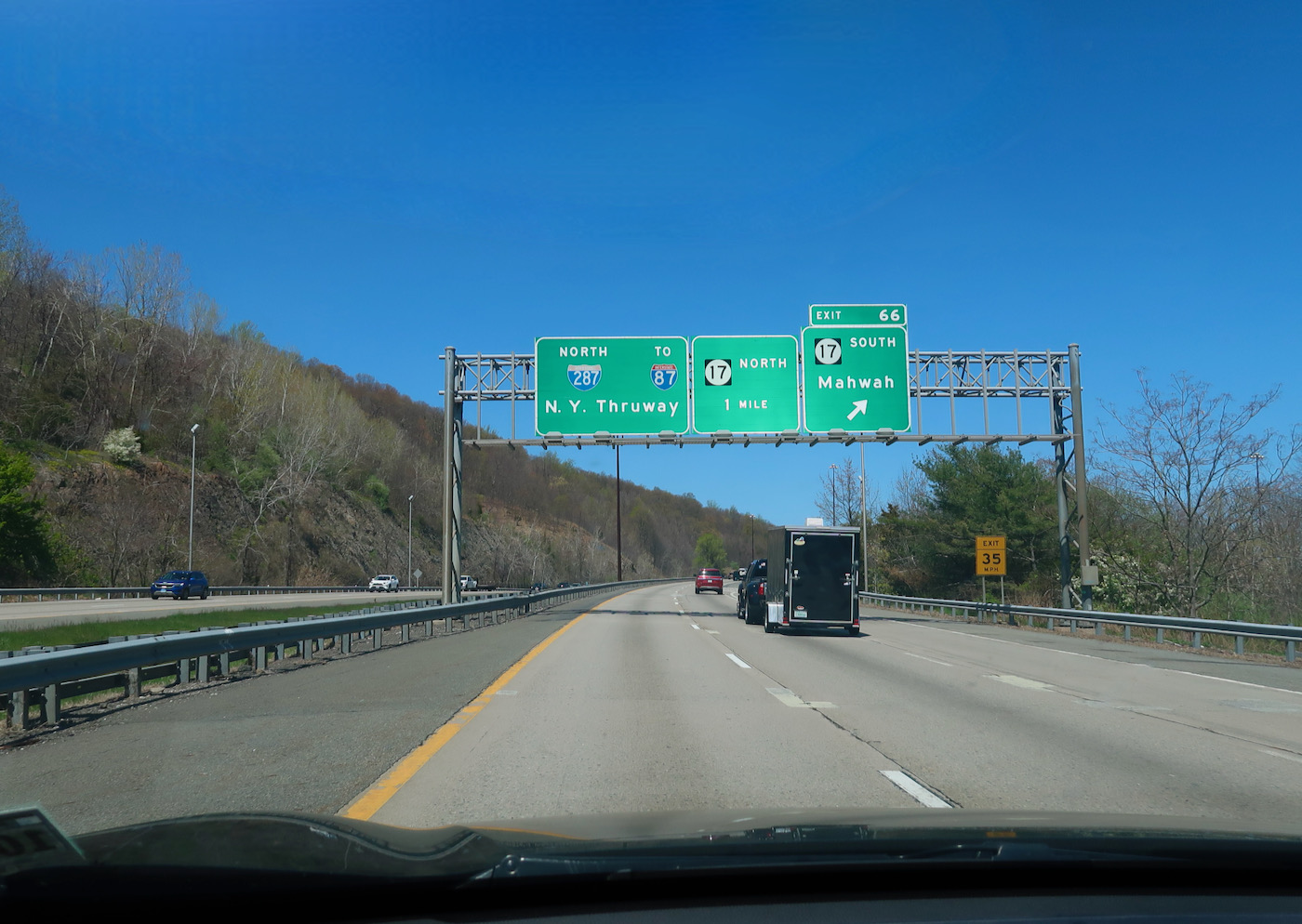 Holding up my end requires some commitment too. It's a challenge to get up for a long drive north, whether it's the middle of the night or the middle of the day. It's especially hard to get into the right mindset when I'm packing the car in shorts. Either way, it all makes sense after I arrive in the mountains.
Friday I went for a bike ride after work. On Saturday morning, I took another ride, grabbed a shower and headed north. It was almost 70 degrees. I drove into New York under a warm sun, trying to wrap my head around skiing Gore in May.
One of my favorite stops on I-87 is the Sbarro at the first rest stop on the northbound side, just over the border into New York.  It's been closed the last two years, and to my delight, it just re-opened. The food is mostly prepared in advance, but somehow always looks fresh and tastes great. For my money, it's second only to Scotty's, right off Exit 16 on the Adirondack Northway. Both are essential when hungry.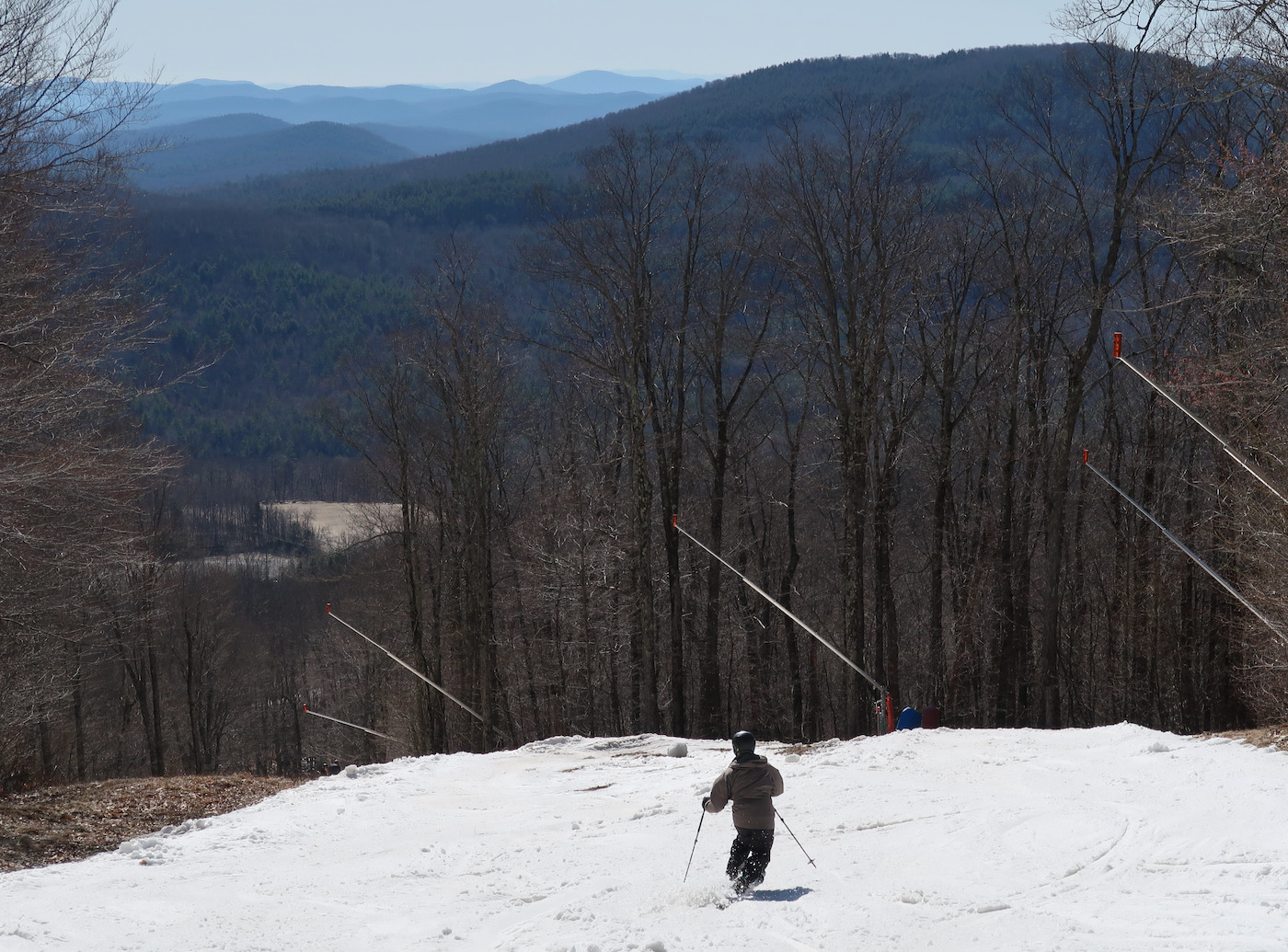 As I ate my Sbarro slice, I texted Scott and Brownski. I still hadn't found a ski partner, but I knew both were thinking about closing day at Gore.  Scott decided to drive up in the morning. I'd make first chair, Scott figure'd he roll in after 9, and I wasn't really sure of Brownski's final plan.
I drove up the Hudson Valley to our cabin near Gore, arriving around five.  I have some decisions to make about where to put a building, and the more time spent on our property the better.  I walked around with loppers and a hand saw, trying to look at things from a different angle.
I crashed at 11pm with my Gore alarm set for six. Not a powder day, yet somehow I still woke before the alarm. After oatmeal and coffee for breakfast, I headed over to the mountain.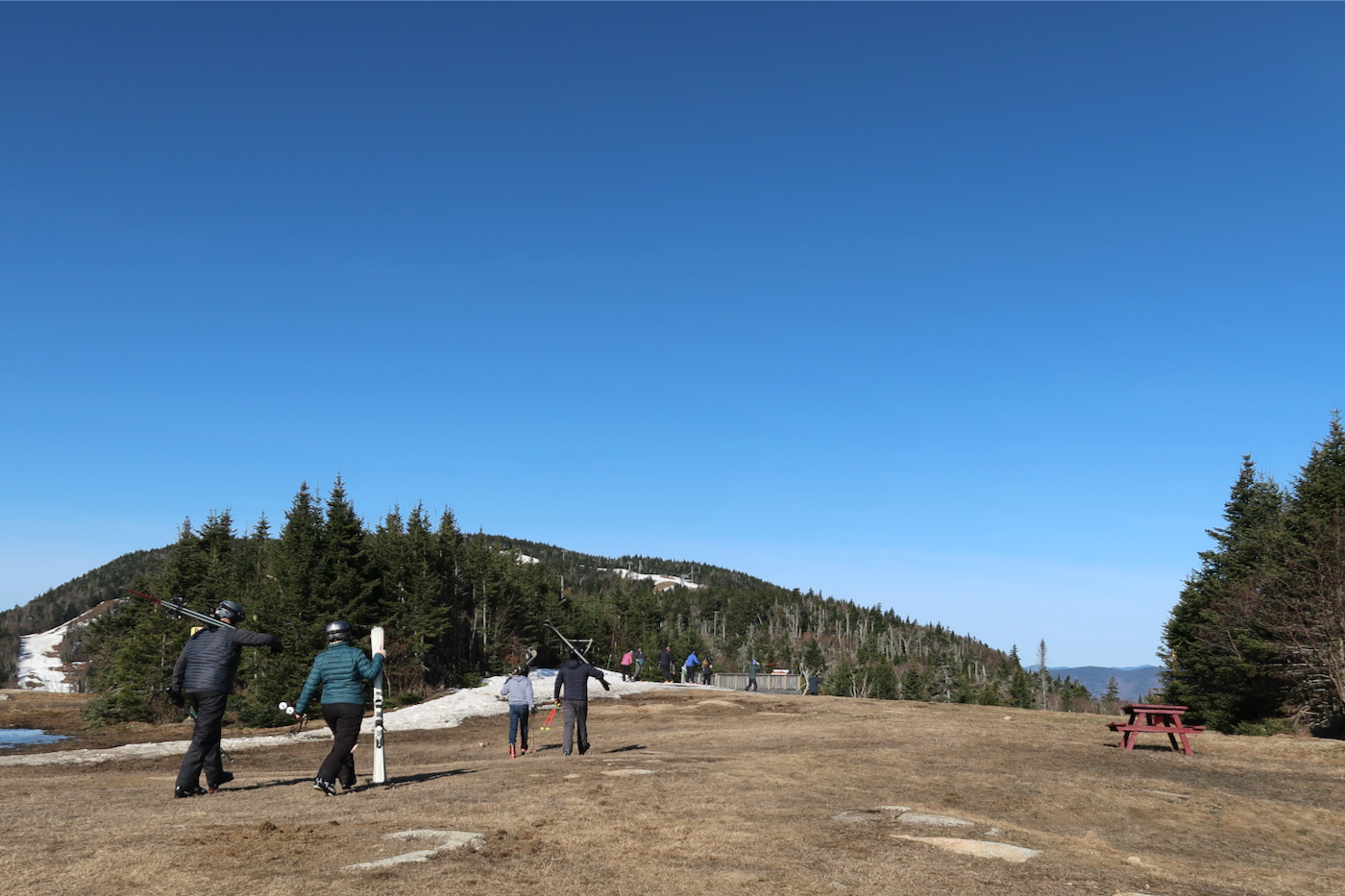 I was first in "line" at the gondi, there were maybe 20 people gathered for opening. Jake recognized me from a time we skied together two years ago, and said hello.  This was fortunate. It's fun to ski with Jake, a tele skier who's just a bit faster than me.  He's one of those guys who makes tele turns every run, all day long.
Generally I'm the opposite, adding tele turns like spice, sprinkling them in. To keep up with fast fixed-heel skiers, I generally do alpine turns unless there is powder, true packed powder, soft bumps, or trees. One thing is sure, when I'm skiing with another freeheeler, I'm more inspired to make more tele turns.
We knew the top would ultimately be the place to be, but it wasn't fully open yet and we figured the bottom was as good as it was going to be all day.  The trails off the gondola, Foxlair and Fairview required walking. Because your skis are already off when you come off the gondola, it wasn't even a minor inconvenience.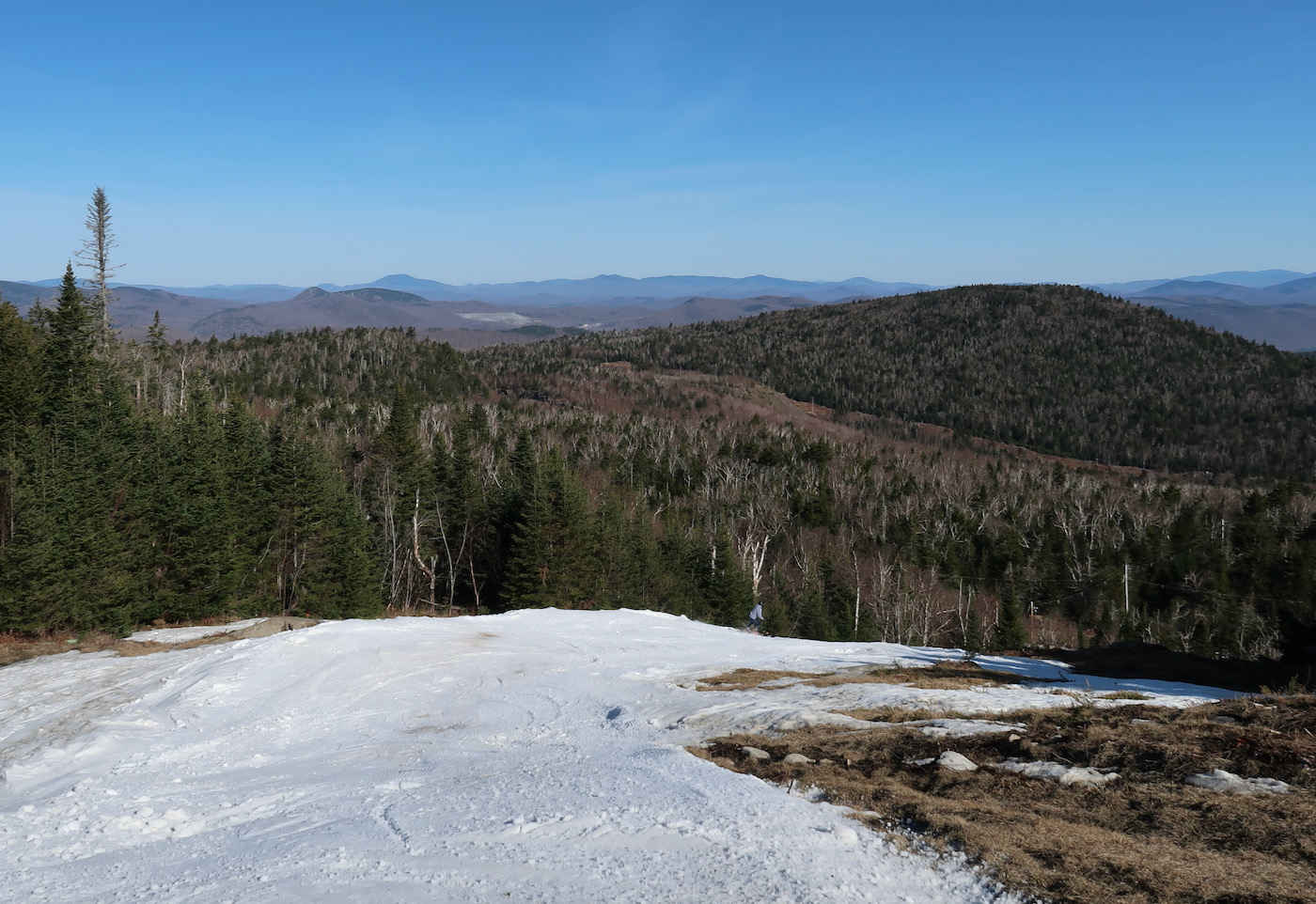 There were only two ways down the front, Foxlair or Fairview to Sunway and Quicksilver.  Quicksilver was thin at Chocolate Corner, but there was solid cover most of the rest of the way down from the top.  There was something exciting about making continuous turns for 1500 vertical feet in May.
The manmade snow left over from the University Games trial was put to good use. There was a crazy long traverse at the bottom of the Arena, made possible by the huge pile of snow made for the games.
After three runs on the front, we headed back up on the gondola, took Fairview down to the Saddle, and went into our tuck on Wood In.  Wood In is the newest crucial-flat-spot at Gore. Yea, it's flat, and narrow, and on the north side of the mountain. It's shaded and seems to holds snow very well.  By keeping Wood In open late into the season, Gore can get more use out of the reliable new quad on the Dark Side. It would have been difficult to count on the old double in this kind of role.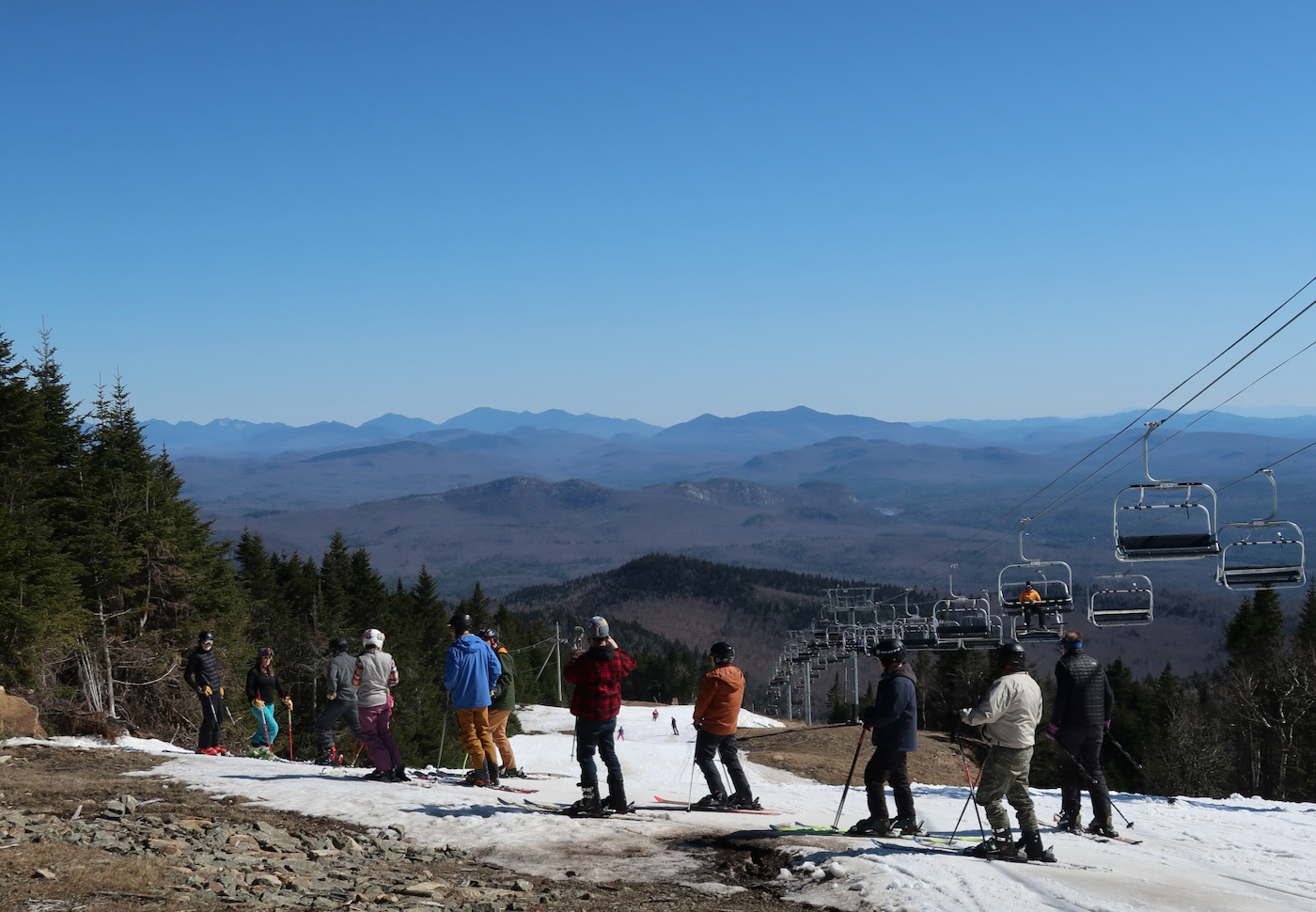 Also important, the High Peaks Chair — compared to the Straightbrook Chair — requires far less snow to stay connected to the base of the mountain. From what I've seen, Fairview and Wood In are easier to keep covered then Uncas or Pine Knot.
The longest lasting snow on the mountain can be accessed directly from the High Peaks Lift without a traverse, once you're up there. This season showed it dramatically, the Dark Side preserves snow. Topridge was blown insanely deep, but the Dark Side lasted longest.
Fairview is short and steep, getting you from the Top of Bear down to the Saddle on a black rated trail. Dubbed "Scareview" by some skiers, during the season the trail is often windblown, icy and/or closed.  The runs I took on May 1 were some of my best on that trail in years.  Thin strips of soft skiable bumps, with some hard snow in the troughs.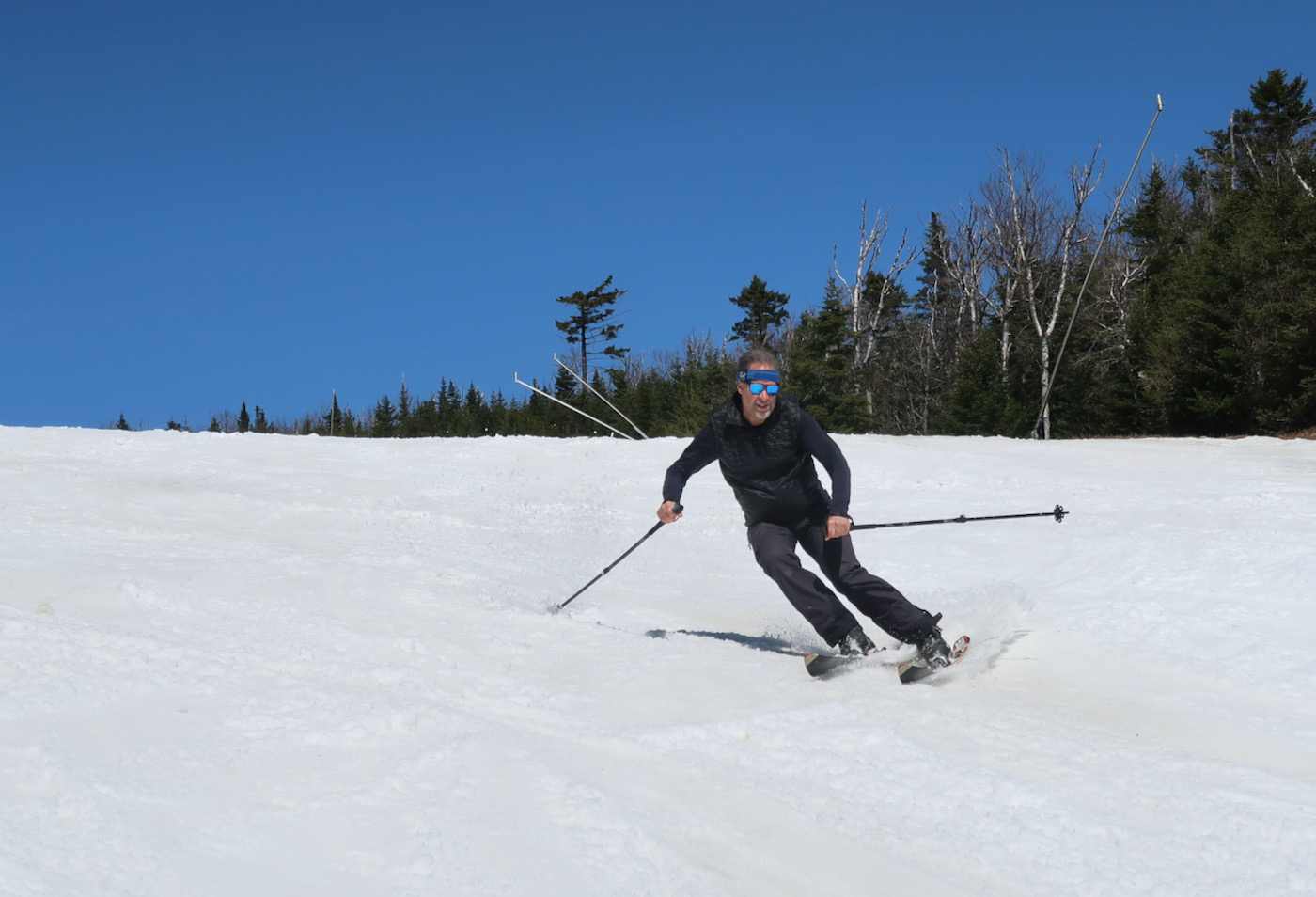 Tucking down to the quad via Wood In wasn't as simple as it is midseason. Normally you're trying to carry as much speed as possible.  On closing day there were multiple spots where a calmer approach seemed prudent for both skier and skis alike.
Up top the only real options were Cloud, Hullabaloo and Lower Darby, and then Headwaters, if you were willing to make a big traverse loop. Our first runs on the Dark Side were decent if a bit crunchy.  I got a text from Scott he'd arrived, so Jake and I went down Headwaters to ride the Topridge chair. That lift was spinning just to get skiers back up Bear Mountain and down to the main base. It served no open terrain underneath.
Like magic, as Jake and I got off the triple at the top of Bear, there was Scott, getting off the gondola.  I was a little concerned that he might think he'd driven a long way for a lot of traversing, because well, he did. In the end, he was up for it all, like a true Gore skier.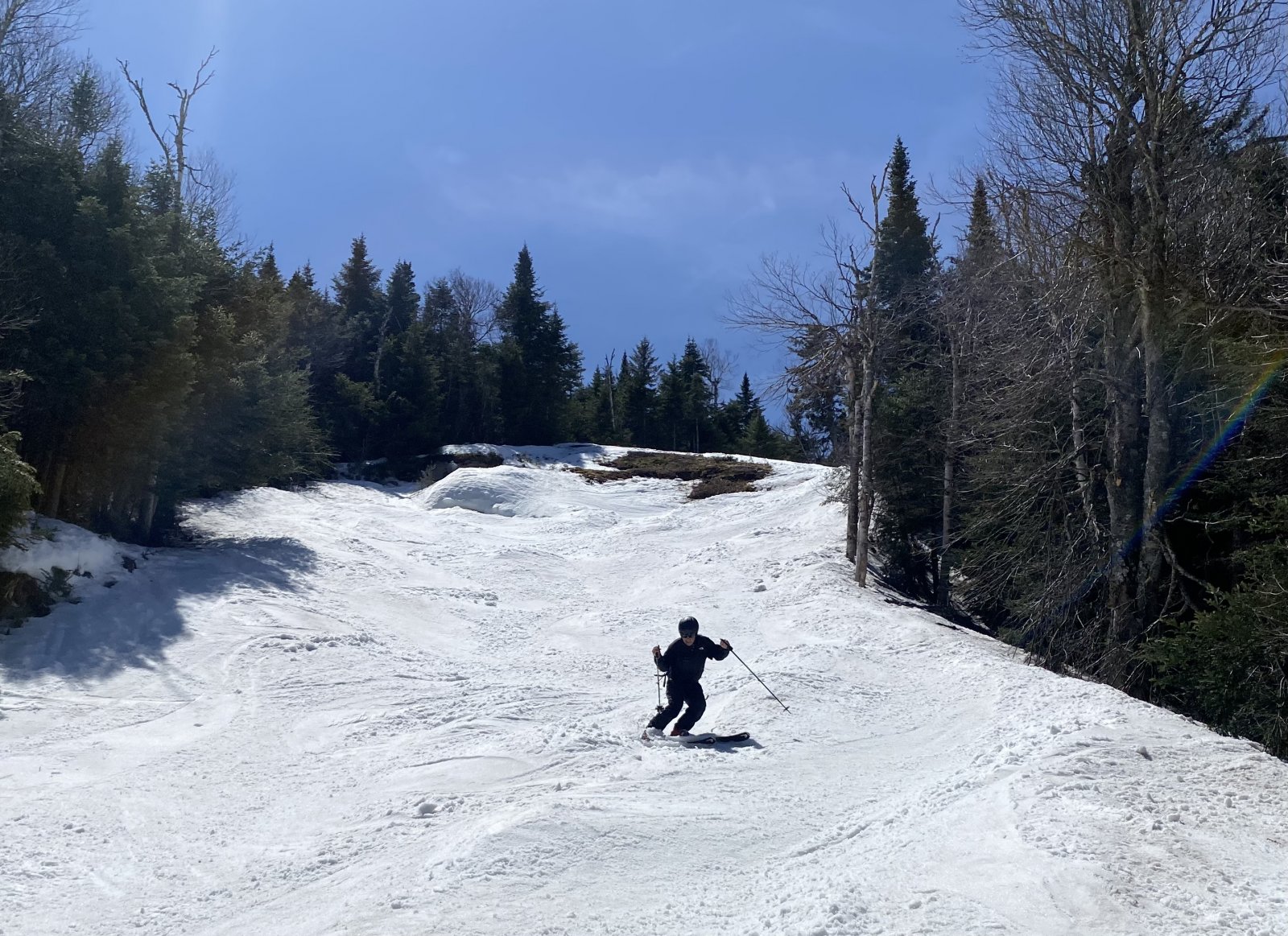 We skied the Dark Side until we got hungry and then skied back to the bottom for lunch.  It was pretty clear that if we were going to come back out after lunch our final decent to the base would be extra sketch.
After a burger and a beer we did head back up the hill.  In the afternoon, everything that was marginal in the morning, was burnt out.  Lower Darby especially had a mandatory mini-huck at the headwall, if you were committed to keeping your skis on snow.
After missing him all day, we finally ran into Brownski loading the High Peaks Chair.  An emeritus liftie himself, let say old habits die hard.  One of our most prolific writers, I don't get to ski with him often, so it was great to crank out several runs with him at Gore.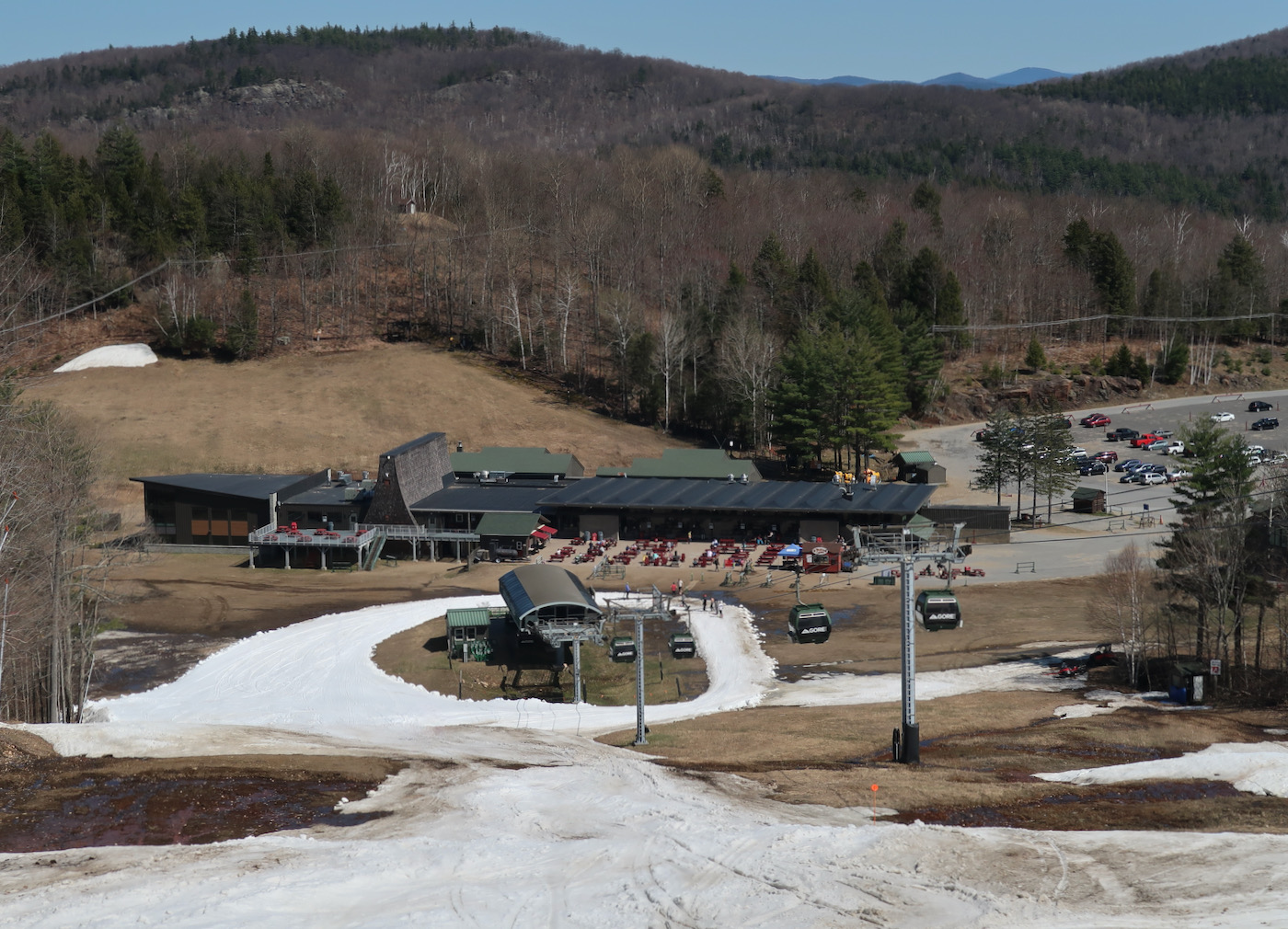 I love to see my home mountain go so deep into the season.  Gore was buzzing with a contagious excitement about May 1.  The people who skied NY this past weekend — at Gore and Whiteface — took to social media posting about "the end of a great season."
In the long run, the season is what you remember and to some extent ORDA, at Gore and Whiteface and Belleayre, took control of the narrative at the end. Gore's longest season left a lasting positive impression at the end of another challenging year.
Is this a new approach for ORDA, or will things return to the old normal after the University Games next season?  In two years we'll know. No matter what, I'm looking forward to next year. For now cheers to all, at the close of the season in New York.