We've been thinking about replacing our 2006 Honda CRV. While I have always been a "drive it into the ground" kind of guy, our last two mountain cars, both CRVs, have shown more rust than I'd like after six years. Both cars looked fine, but upon close inspection, it was evident that to get value on the trade-in, it was time to sell.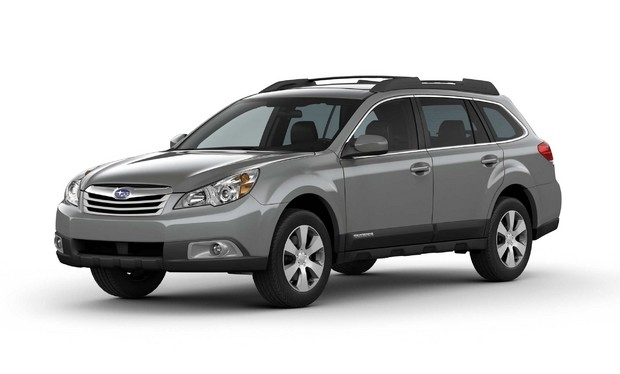 After owning six consecutive Hondas, we've been considering switching to a Subaru Outback. While I'm not a fan of the styling, the Outback would fit our need for a high-mileage highway car, with the traction to negotiate our steep driveway, and a state-of-the-art automatic transmission to make Sunday night traffic more tolerable.
I contacted a dealer to discuss pricing and equipment. I was told that the base model, the 2.5i, is hard to find without options that push the price to approach that of the Premium model. I've always been frustrated with the packaging of options, and this was no exception.
When we bought our 2006 Honda CRV EX, the only option we willingly paid for was backup sensors. For $500, we got a system that beeps more insistently as you get closer to an object behind you. While expensive, one fender bender would pay for it, and of course you can't put a price on the safety of kids.
We asked about backup sensors for the Outback and the salesman was evasive. He pushed us towards the backup camera that is packaged with a sunroof for $1500.  I'm especially bothered by the packaging of safety features with luxury items: safety should be standard. Although from what I could tell, it's the only safety feature offered in the Outback line that isn't standard on every vehicle.
We drove a red Outback Premium one night after work. I'd read about issues with vibration in the steering wheel at speed, so I wanted to find a piece of highway where I could get up to 68mph – my standard highway cruising speed. Not an easy thing to do at 5:30 pm in our part of the flatlands.
When I got into the car, my initial impression was lukewarm. I faced a dizzying array of controls. Silver, chromelike surfaces surround the central panel for radio and climate control. I fiddled with various knobs and found them vague and unsatisfying.
I was excited to drive my first automatic transmission in more than 30 years.  On paper, the CVT is impressive, pulling a 22/29 EPA rating from a 170 hp engine mated to a 3600 lb car, beating the numbers for the six-speed stick. If ever there was a reason for me to forgo my lifelong commitment to manual transmissions, this was sure to be it. While it's possible that my own inexperience was a factor, the transmission seemed lost at times, under-reving when I was accelerating.
I moved my way through traffic, heading towards a stretch of four-lane that would allow me to try the car at highway speed.  The car feels very substantial, heavy without being ponderous.  I changed lanes with good control, and stopped quickly, in a straight line and without drama.  I noticed no major shaking at highway speed, but wouldn't say the front end was rock solid.  While this could be the function of cheap OEM tires, the front end should, in my opinion, feel perfect in a new car.
I brought the car back and handed the keys to Zelda.  While she was driving,  I spent time inspecting the interior and engine compartment of a vehicle on the showroom floor.  The workmanship of the engine compartment was just so-so. The cloth upholstery didn't seem substantial and I also found the headrest to be uncomfortably angled.
As we headed home, I asked Zelda for the keys to the Honda so that I could make a comparison between the two vehicles while the Subaru was fresh in my mind. Getting back into the CRV, I was struck by the understated dashboard and the simplicity of purpose of the controls. Once I pulled out of the parking lot, I remembered why I love Honda's so much — the quiet smooth revving engine and flawless manual transmission.  The Subaru just couldn't match the dignity of a six-year-old Honda drivetrain.
I may still end up buying the Outback.  While I found it uninspiring and loaded with features I don't want, it does make sense for our family. Still, it's a bit of a let down to bring home a new car without a trace of excitement about it.  Or, I may decide to drive my rusting Honda for another year.