Sturgeon Pool is another paddling spot that has been on my list for a long time. It is a relatively wide section of the Wallkill River, just above its confluence with Rondout Creek, where the northward flowing water is imprisoned behind a hydro electric dam.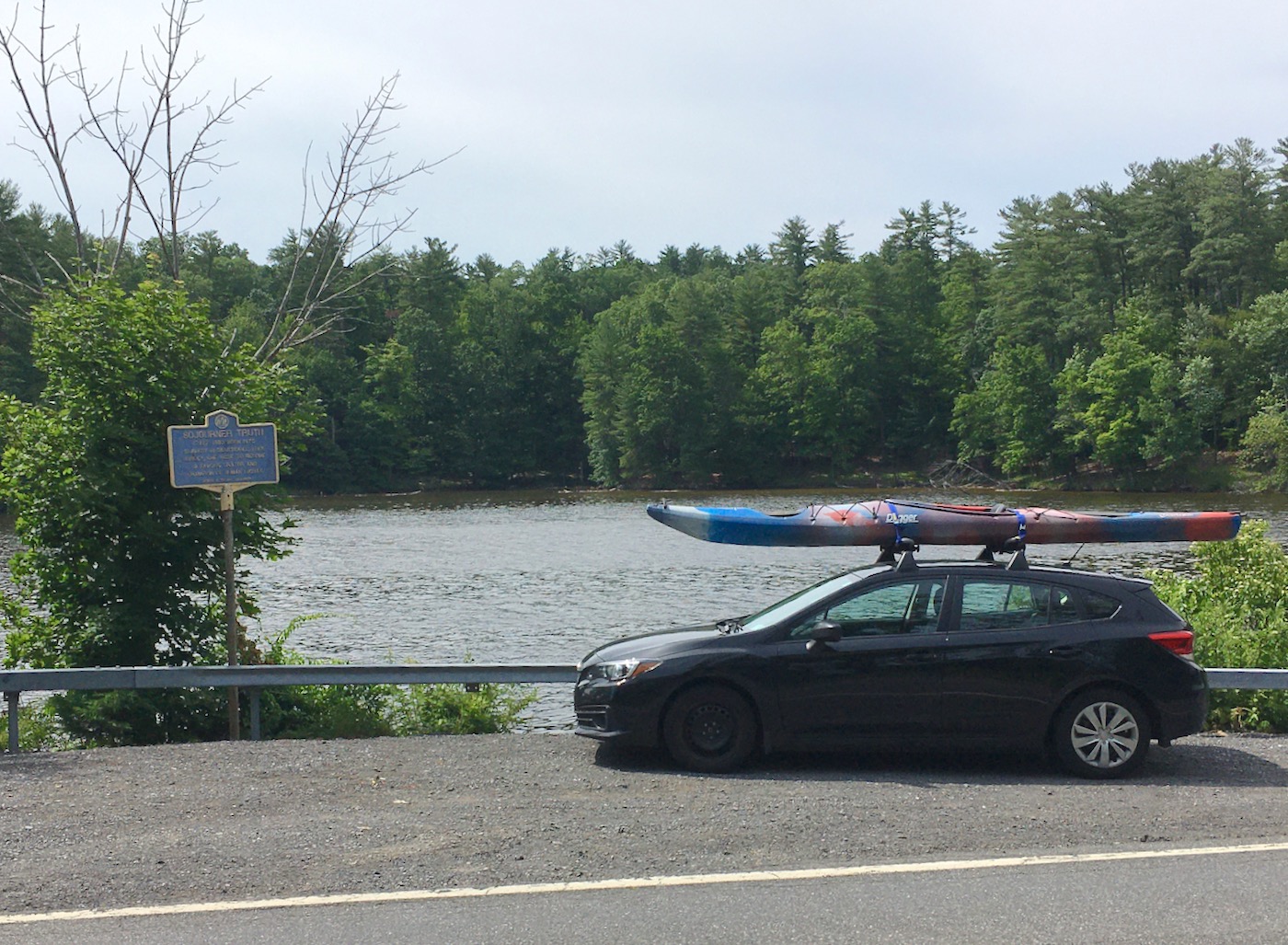 I've paddled the Rondout multiple times, both in the Kingston area up to Creek Locks (a dam built as part of the D&H canal) and above downstream from where the Wallkill empties into it. I've also canoed the Wallkill itself upstream of Sturgeon Pool in Walden, NY.
On Friday morning I had business to attend to in Albany so I decided to carve out a couple hours for exploration on my way home and fill in a gap in my upstate paddling resume.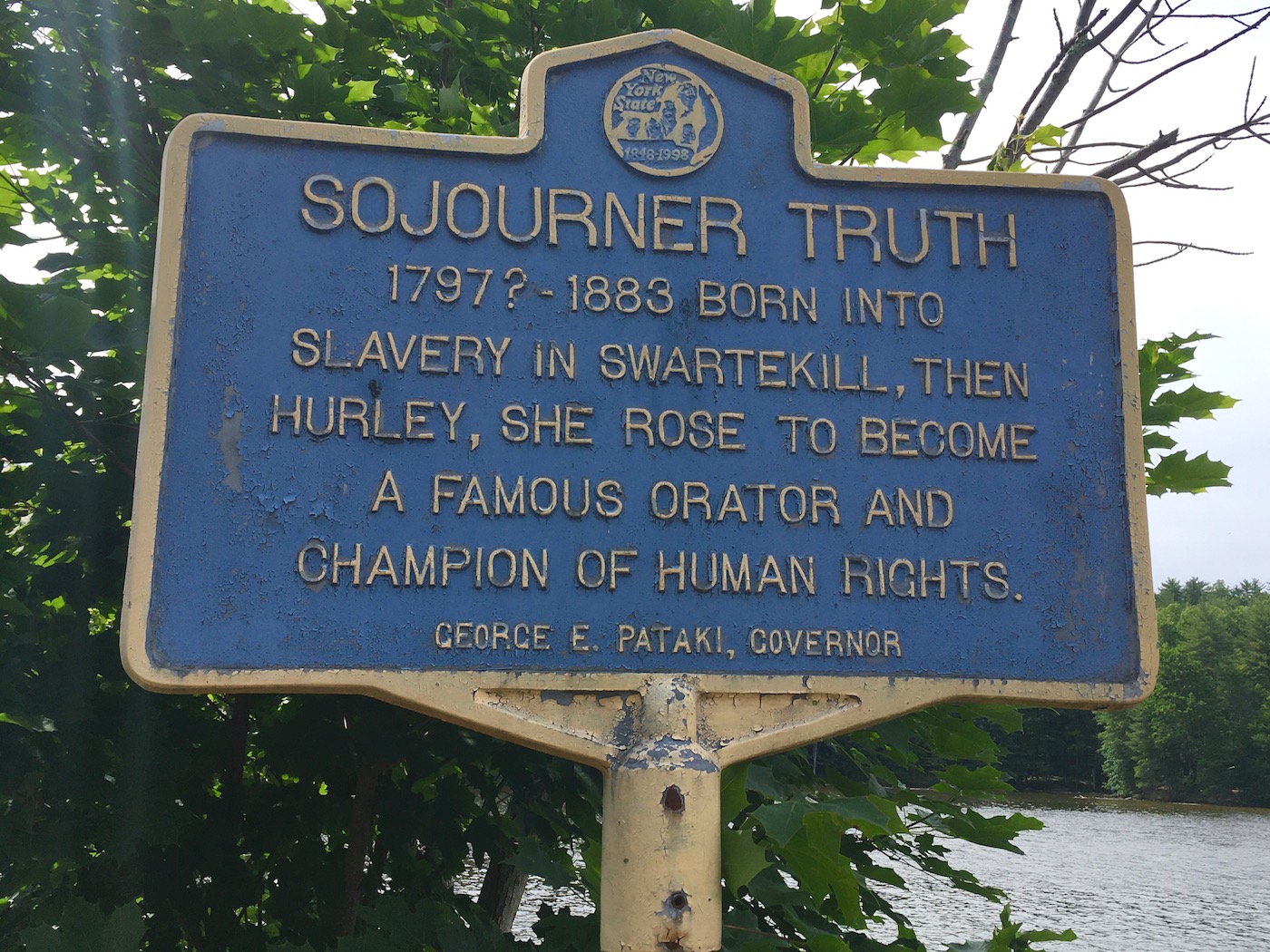 The first thing I noticed when I got out of the car was a historical marker celebrating the life of Sojourner Truth. Upstate New York is covered with these historical markers. Most of them celebrate some arcane bit of local history but this one contained real information.
On one hand it reminded me that slavery existed everywhere, even in New York. On the other hand, it celebrates the role upstate played in abolition and the women's rights movements. I'm not sure why it was placed next to Sturgeon pool.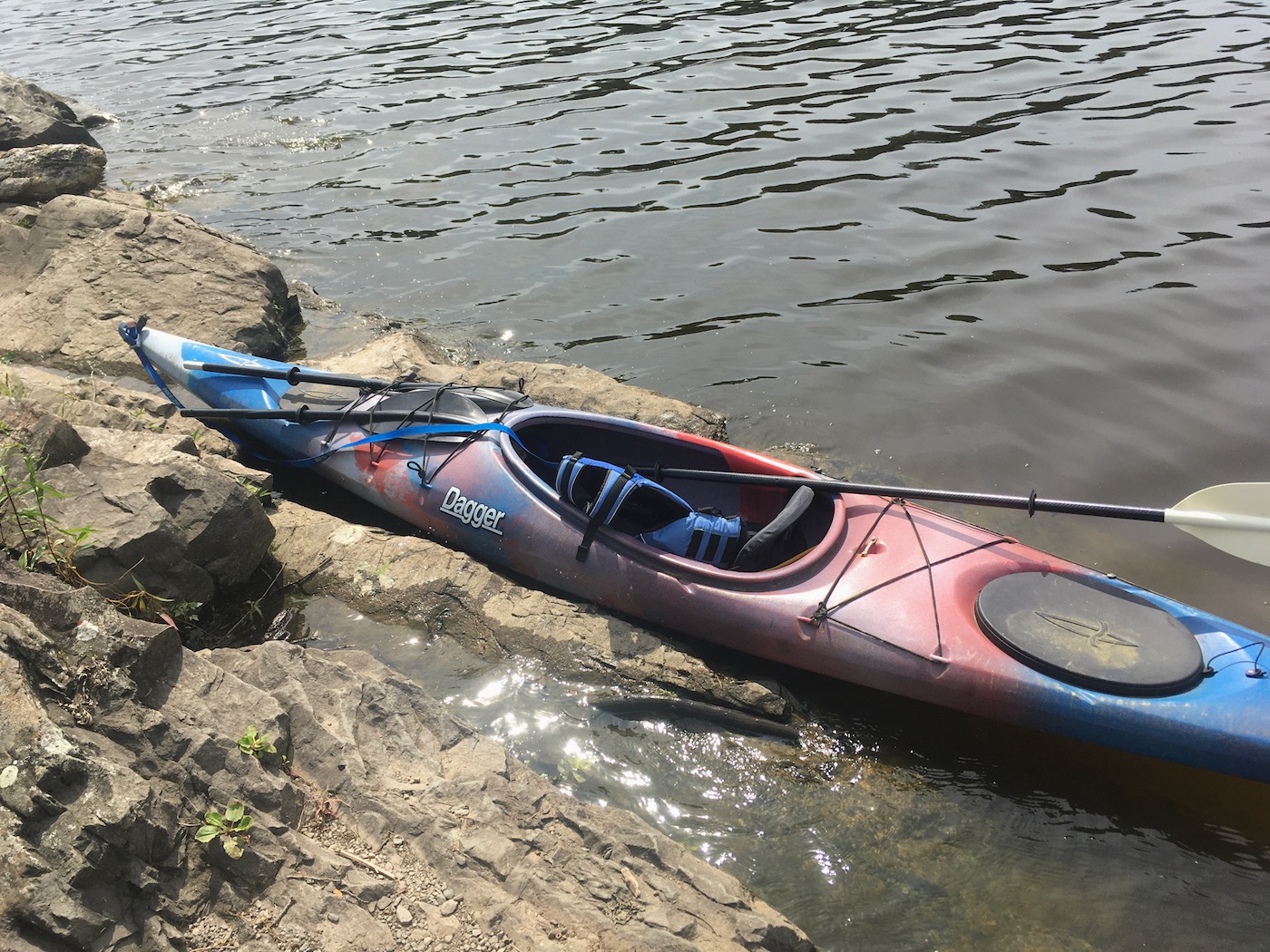 There isn't a formal launch for Sturgeon Pool. Route 213 runs along its eastern shore in the town of Esopus in Ulster County. There are a few spots along the road with room for a car. My plan was to paddle upstream on the east side as far as I could go and then return along the far shore.
I parked in the first pullout I came to right on the pool's northeast corner. I climbed over the guardrail to check out the rocky shore and spotted a little crevice between to slabs of stone that looked like it had been purposefully designed to cradle my kayak. I went back to my car to get my boat down and launched right there without even getting my feet wet.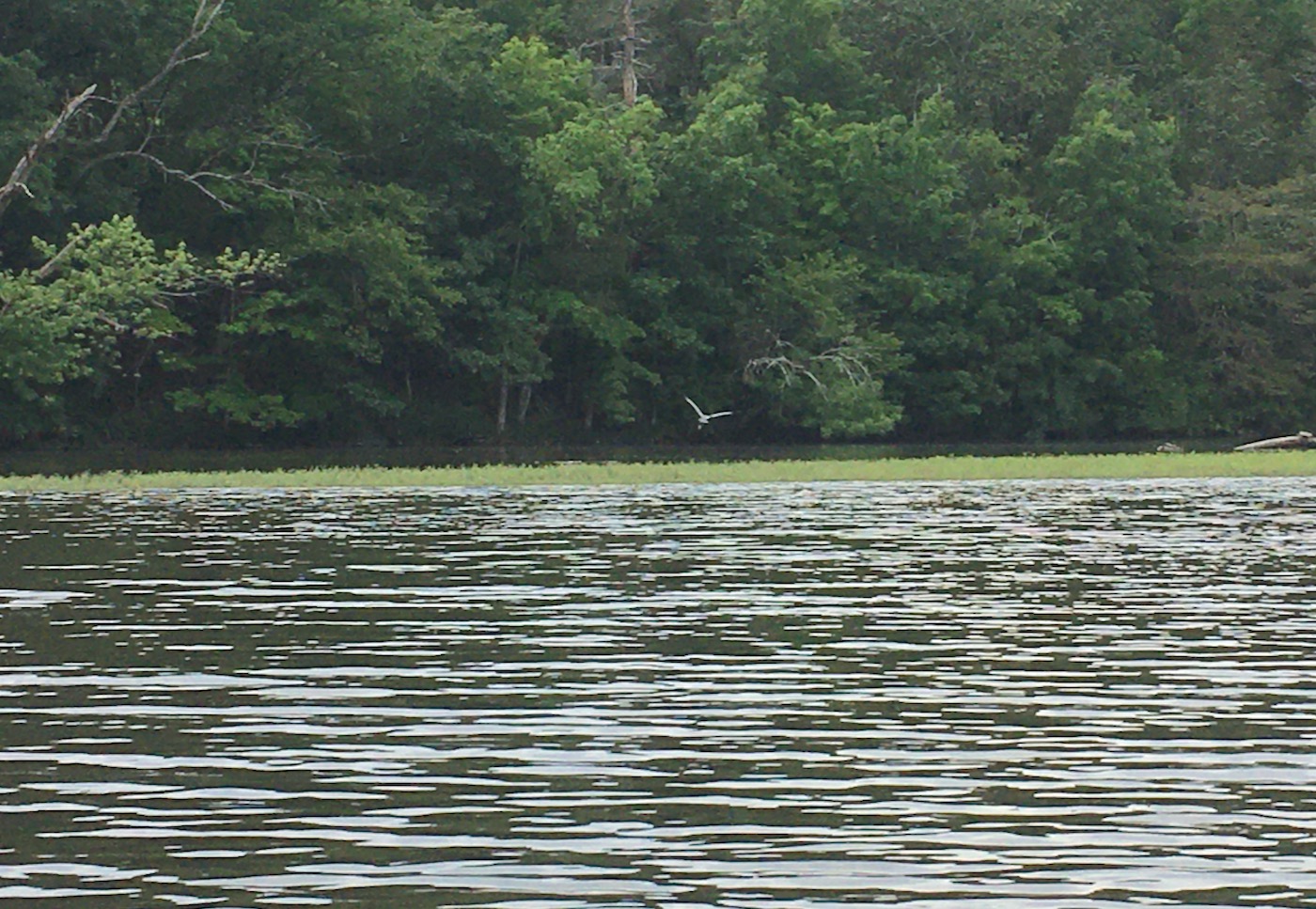 The pool was about what I expected, more like a small lake then a river. The dam's warning buoys were visible on the far shore and the water extended south. There wasn't much of a flow but a stiff northward blowing breeze resulted in a little bit of surface chop. I dug in and headed south.
It was a lot like paddling on any other small lake in upstate, a couple houses were visible on my left and I could hear cars whizzing up and down Route 213 even when I couldn't see the road. The western side was forested but there were high tension power lines running along that side to the power station and the dam.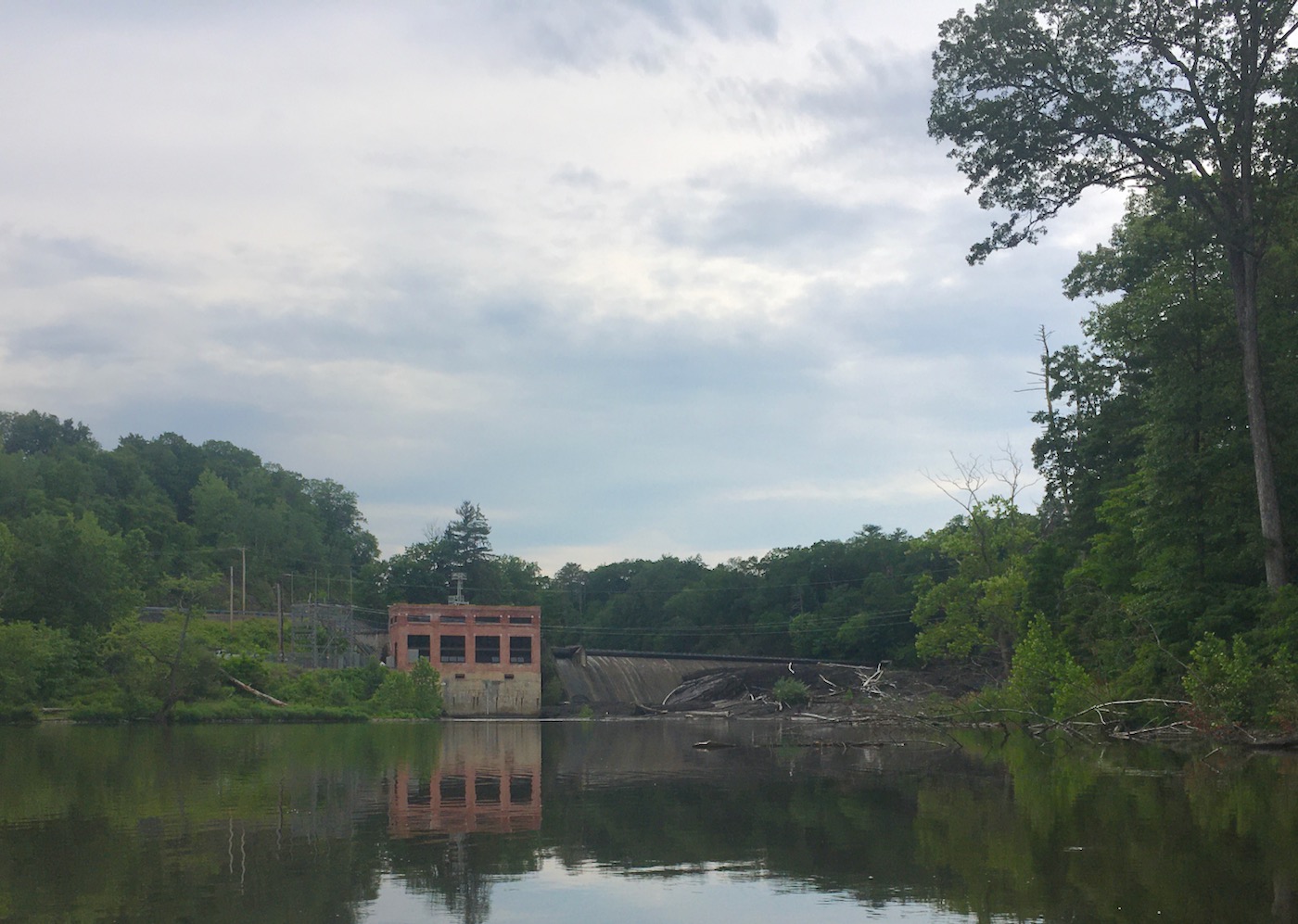 As I paddled I noticed that there was plenty of wildlife around. I saw a dozen carp jump during my time on the water, as well as smaller fish, a couple of herons and cormorants and a meaty looking snapping turtle sunning on a log next to a couple of his smaller cousins.
As I reached the southern end of the wide part, I spotted a bald eagle flying over the trees on the western shore. It was much too far away to take a picture but I noted where it landed high up in a conifer and decided to look for it on the way back.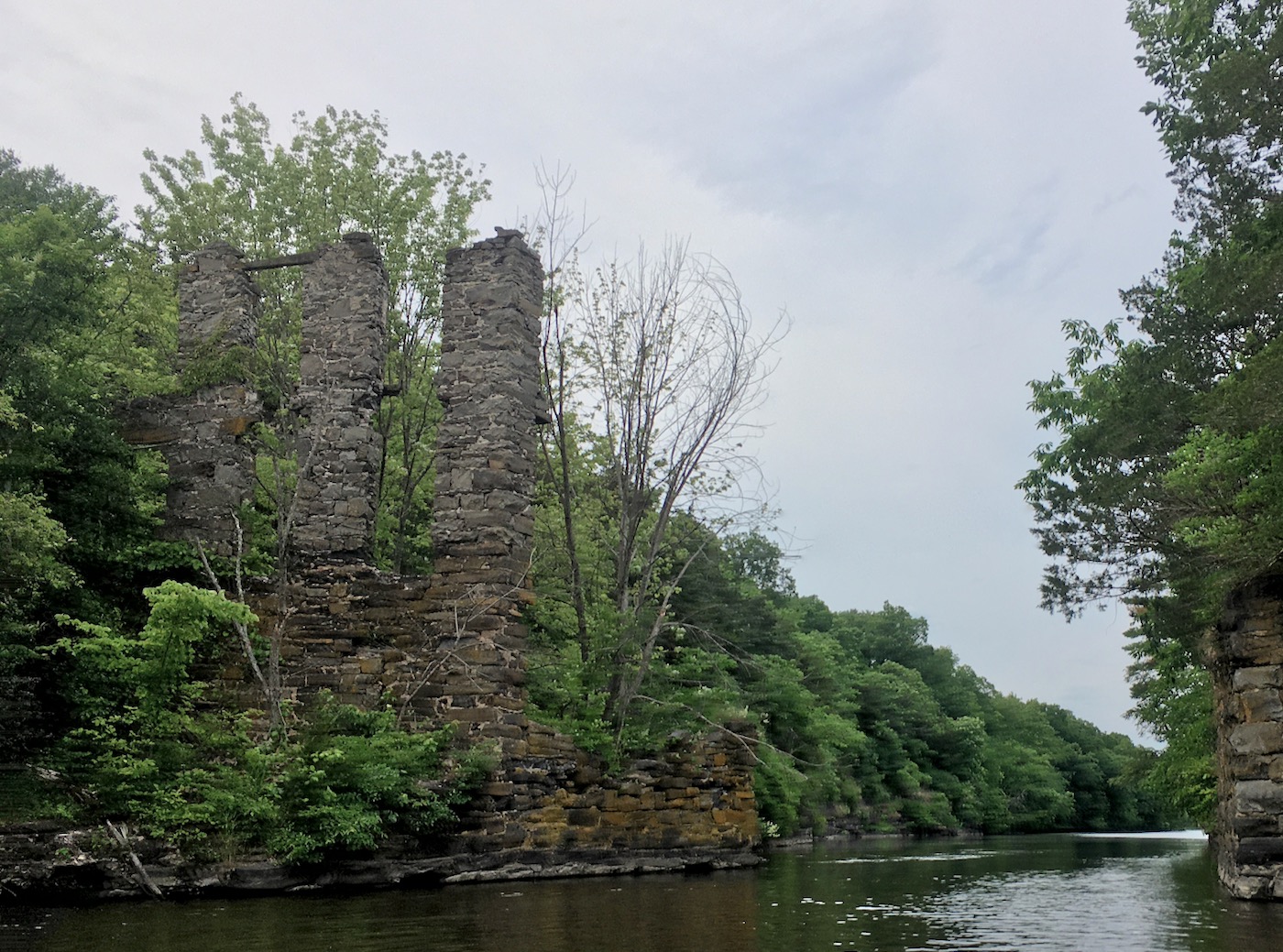 Soon after I spotted the eagle I reached the southern end of Sturgeon Pool where the water narrows back down to the Wallkill's normal width. I kept paddling upriver. I could feel the river's flow now but it was a gentle current, not enough to impede my progress.
I passed some dilapidated stone walls and structures along the side of the water here, the remains of an old bridge or perhaps a mill. I couldn't tell. A little while later I encountered the only other paddler on the water that day, a younger guy fishing from an inflatable paddle board. We exchanged pleasantries and I kept on.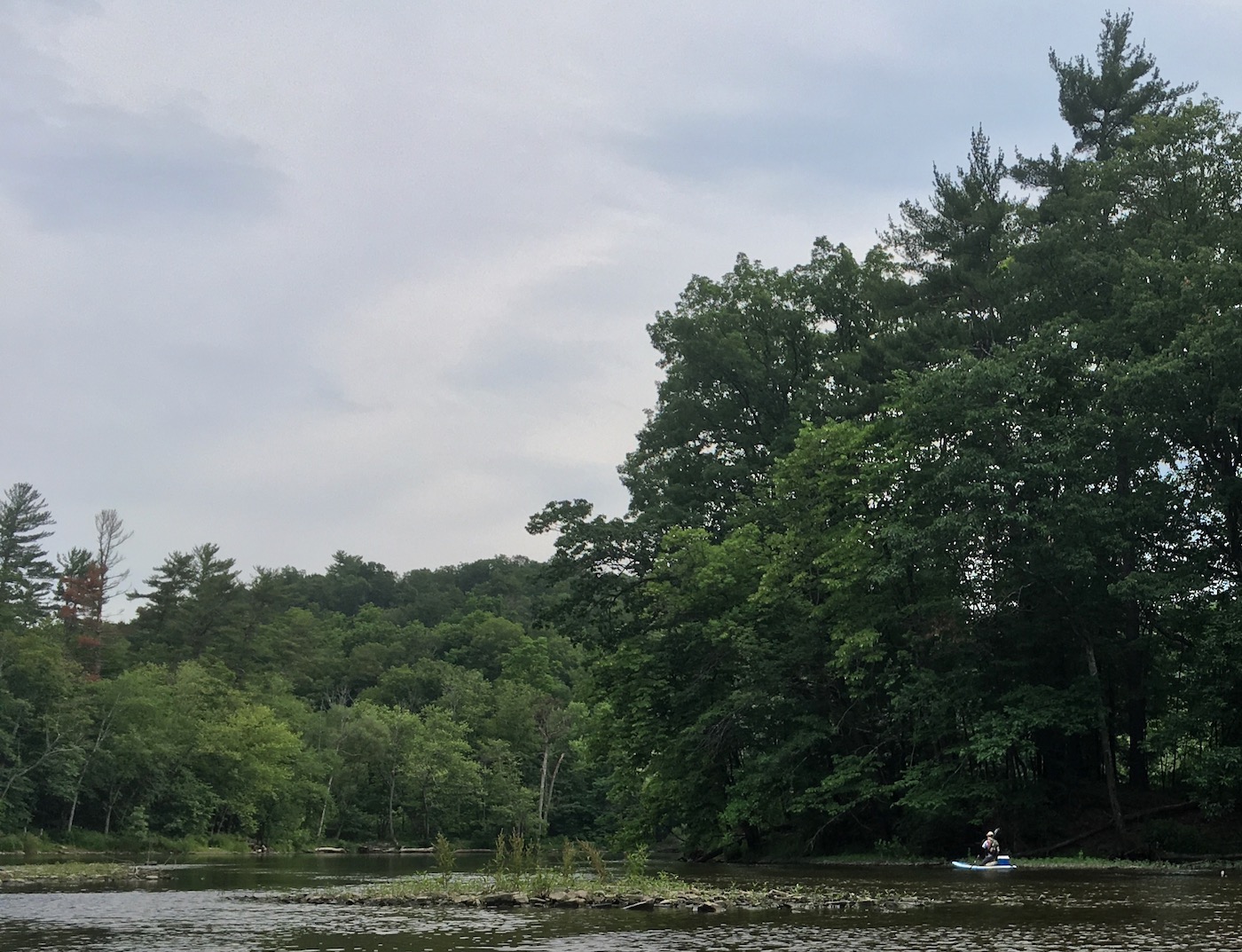 Right after that I turned a corner in the river and found myself under another dam. The top of the dam was dry, no overflow at all. I could hear turbines whirring inside a brick building on one side, and some froth on the water under it, so I didn't have to guess at it's purpose.
I sat in the eddy beneath the dam for a few minutes and drank from my water bottle as I checked the scene out. It was a peaceful spot but I didn't linger. Once I'd rehydrated, I paddled into the dam's outflow and let it push me back north.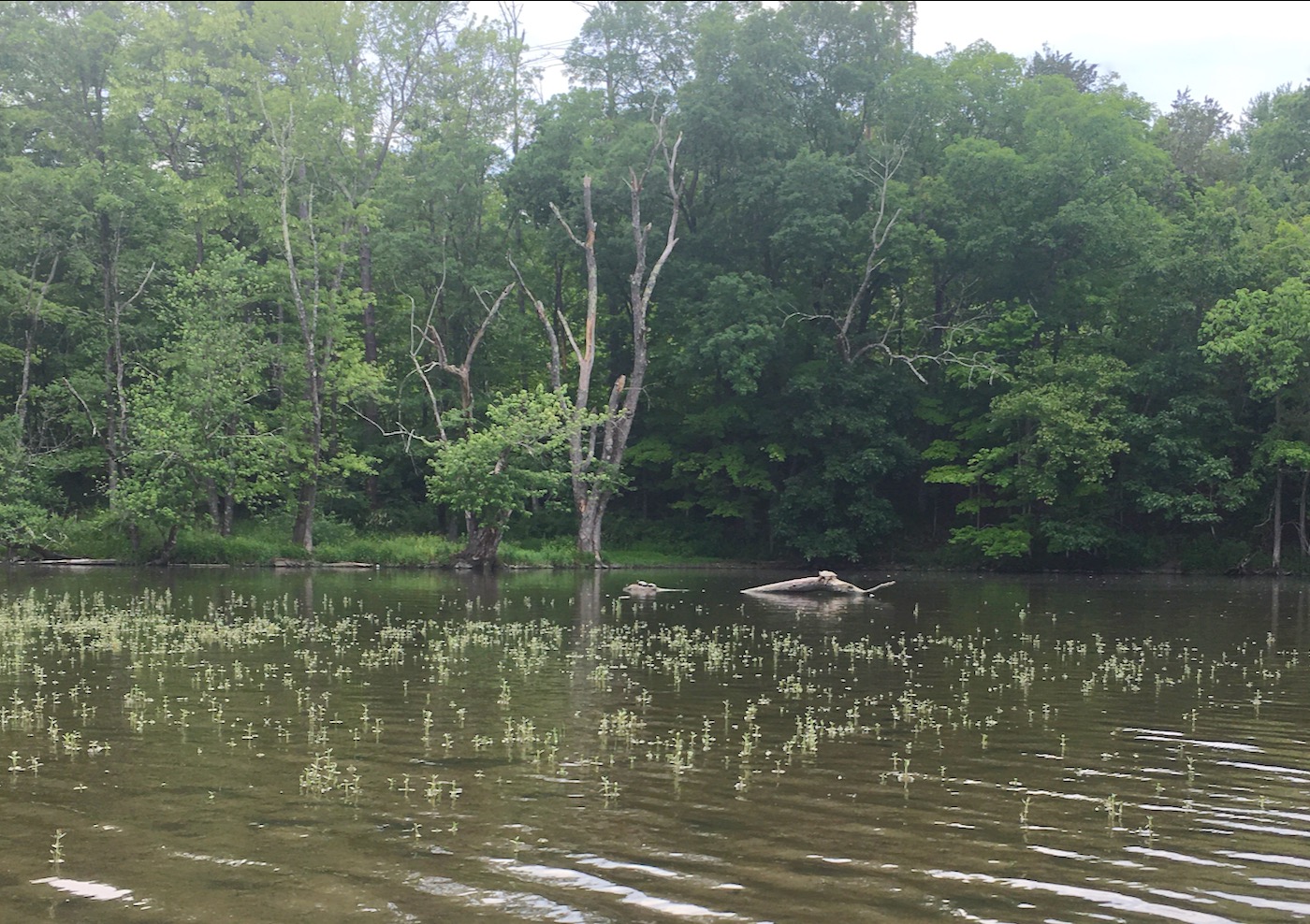 I paddled along the western side on my return. This is where I saw the turtles. I tried to be quiet as I drifted closer but the of course they flopped into the water before I could get close enough for a good picture. When I reached the area where I'd seen the eagle, I started scanning the treetops and, to my surprise, it was still there. What a sight.
I steered eastward well short of the northern dam's warning buoys. The current was not intimidating but I was on the dangerous side of this one and I have a policy of not pressing my luck with dams. When I got back to where I'd launched there was one guy with a line in the water and another swimming his dog.
I climbed out and carried my kayak up over the guardrail to my car. I chatted with the dog guy while I loaded my gear and tied the boat down. Overall, it was a fun little side trip. I'll be back.