In July 2010, I posted a piece about offroad biking at the former Split Rock Quarry in the western suburbs of Syracuse.
Over the next eight years, the piece ended up getting a surprising amount of pageviews from non-skiers in Central New York.
Apparently, they'd stumbled upon it through searches and then posted or e-mailed me several dozen comments about the massive munitions explosion in 1918, mountain biking through the abandoned area, and especially the eerie atmosphere that has reigned there since its abandonment decades ago, even on a beautiful sunny day.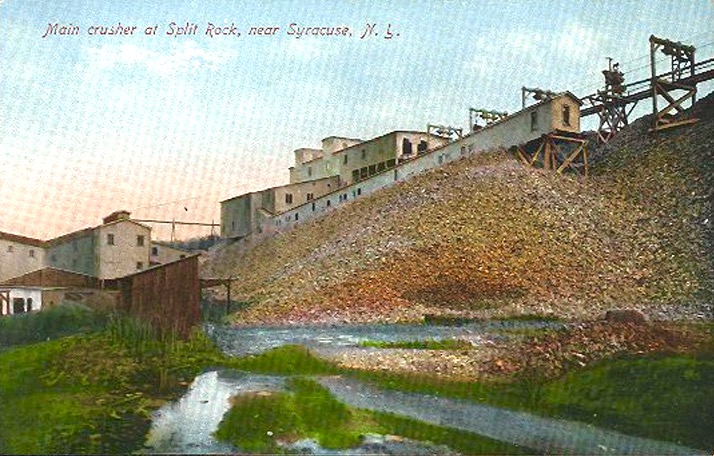 Fast-forward to the recent July 4th holiday week — after arriving in Central New York for a four-day visit, family members showed me articles they'd cut from local papers about how 2018 had been declared the "Year of the Rock" by the town of Onondaga Historical Society and Town Board. Apparently, a number of educational and commemorative events had been held over the previous months to explain the historic nature of the area and honor the memories of those who died there on July 2, 1918, exactly one century earlier.
Despite the centennial anniversary, the only thing different on this visit from many other outings was that my 13-year-old son had joined me on his inaugural ride there, allowing me to experience Split Rock through his fresh eyes.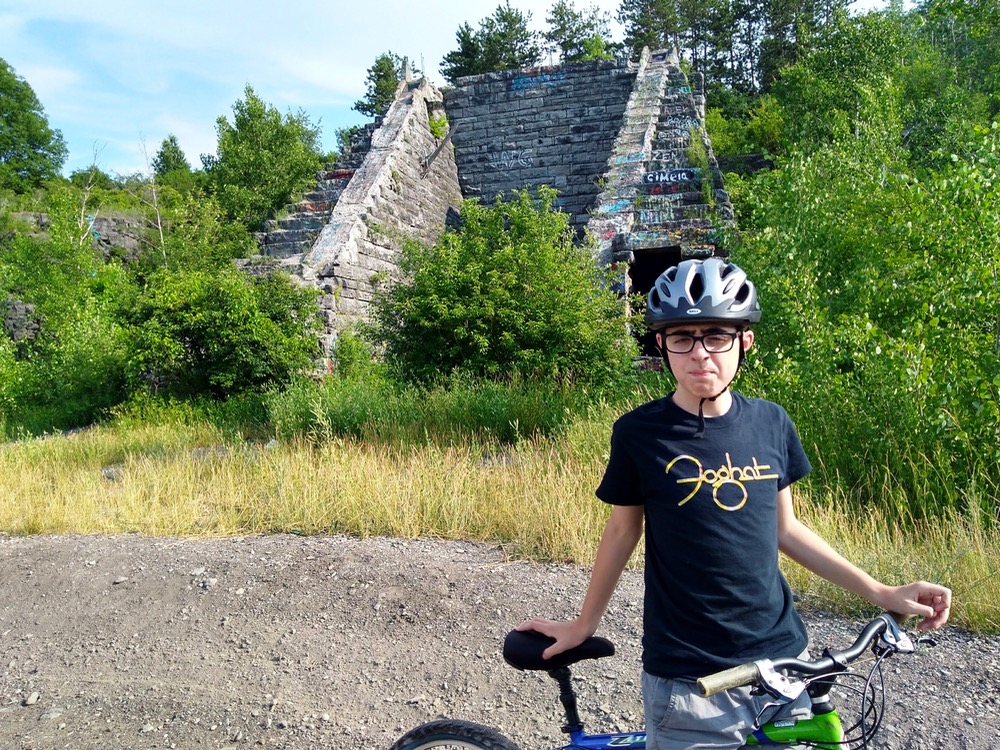 As we rode through wide open fields, rounded gulleys, and lush forest, on trails that had once been railroad sidings designed to transport explosives to Europe for use in World War I, I could see that he was having a tough time grasping the "industrial archaeology" angle that fascinates me and many others.
It's hard to imagine that this had been a site where 2,500 people worked in shifts around the clock handling extremely flammable substances and explosives. The stone crusher from the site's earlier incarnation as a limestone quarry is the only structure that's left. I later showed him a photo of what it looked like a century earlier.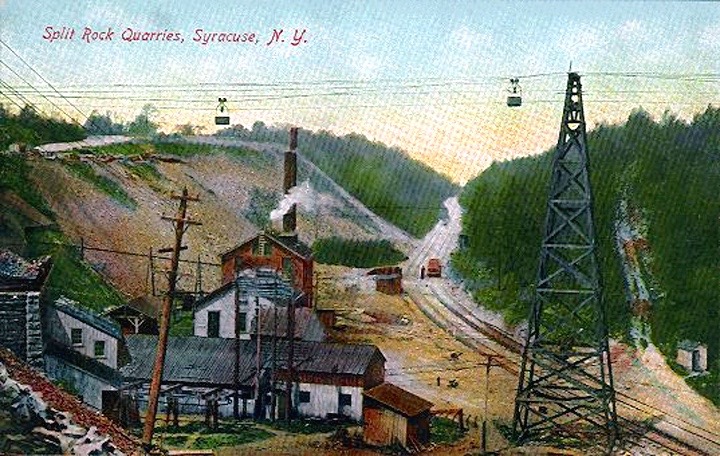 While climbing through the rolling Canada Hill section – where bunkers held more than 1.5 million pounds of TNT waiting to be shipped – I thought about how if the winds had shifted and the fire had spread there, the entire city of Syracuse and the southern part of Onondaga County could've been blown off the map.
Cyclists can often ride there for a couple hours at a time without running into anyone. Even though the trails are mostly in the low-intermediate range, they twist and turn intriguingly enough to keep your attention. With temps that day in the low-90s, natural and manmade caves throughout the property released delightfully cool air (natural AC in the city that was home to Carrier Corporation for more than 75 years). My son particularly enjoyed riding through the many limestone stretches, what some refer to as "Syracuse Slickrock."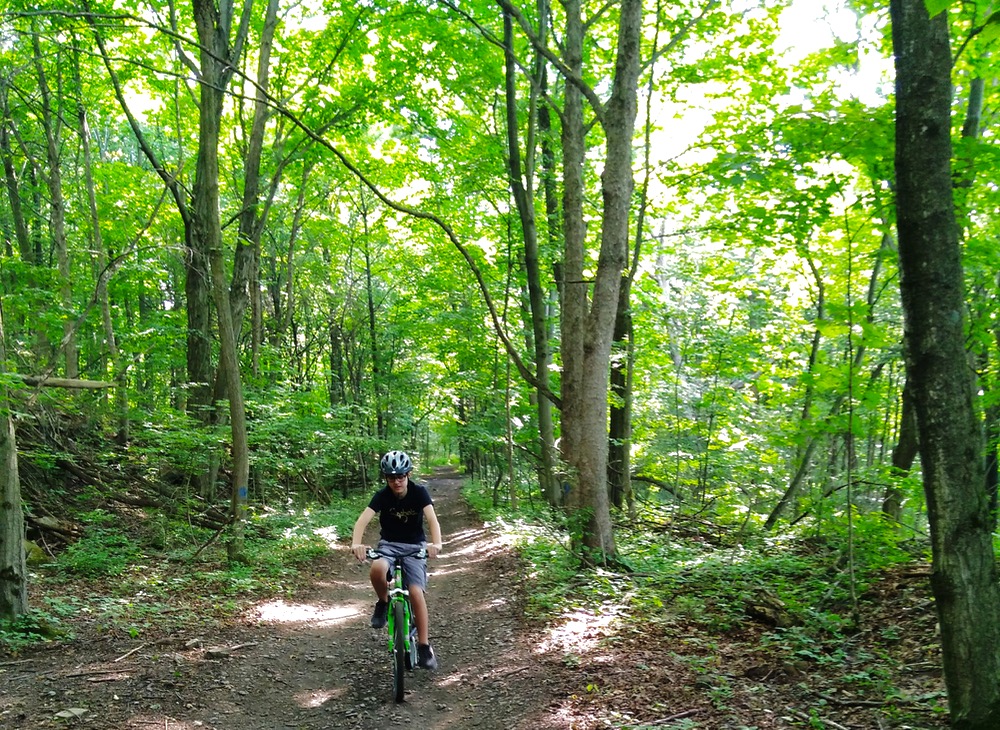 The most interesting news I'd read was that a group of students from Onondaga Community College are advocating for Split Rock (which encompasses private, county, and state lands) to be declared a historic site similar to the beautiful Camillus Erie Canal Park a couple miles away. There are big pros and cons to this.
Pro: the stone crusher could be renovated and rebuilt before it falls apart any further; the property could be cleared of trash and broken glass; existing bike/hike trails could be cared for and new ones cut; proper parking areas could be built; more people would become aware of this fascinating "hiding in plain sight" location in their backyards; signage with photos could point out what formerly stood in a given spot and explain its significance.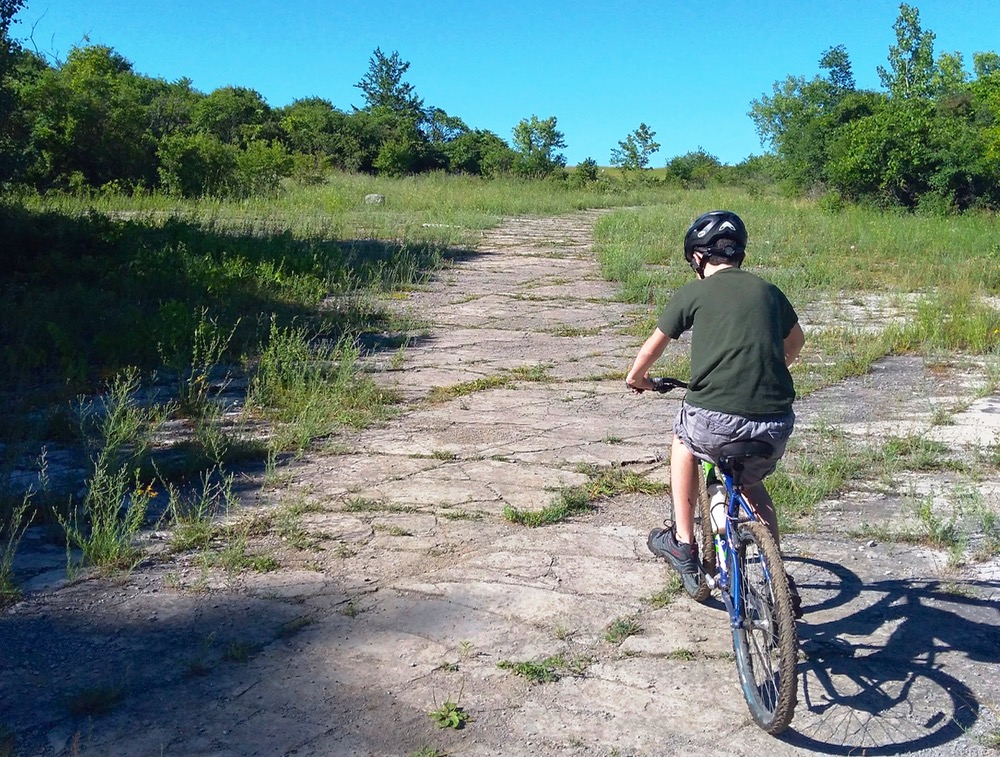 Con: Split Rock would lose its sense of solitude, untamed feel, and opportunity for unguided discovery; someone would have to pay for the renovation and ongoing care while addressing liability issues. Most important for me was what one of the online comments pointed out – "while I want to see Split Rock as safe as possible and its history better interpreted, I am not sure I want it turned into a well-mown park either."
As we enjoyed a well-earned post-ride sherbet, I thought about what draws me and others to a place like Split Rock – and for that matter lost ski areas. The fact that I'm now in my mid-50s (as the cliché goes, "I have more yesterdays than tomorrows") forces me to keep in mind that nothing in this life is permanent. Like the many workers who toiled at Split Rock more than 110 years ago or the families who enjoyed skiing at long-closed and grown-in mountains throughout the northeast, mother nature gets the last say and eventually reclaims all of its people and the things they constructed.