Years ago I picked up a used Coleman pop-up camper. I can say that it was without a doubt, the second or third smartest decision I have made in my entire life. My family has had a lot of fun in that thing.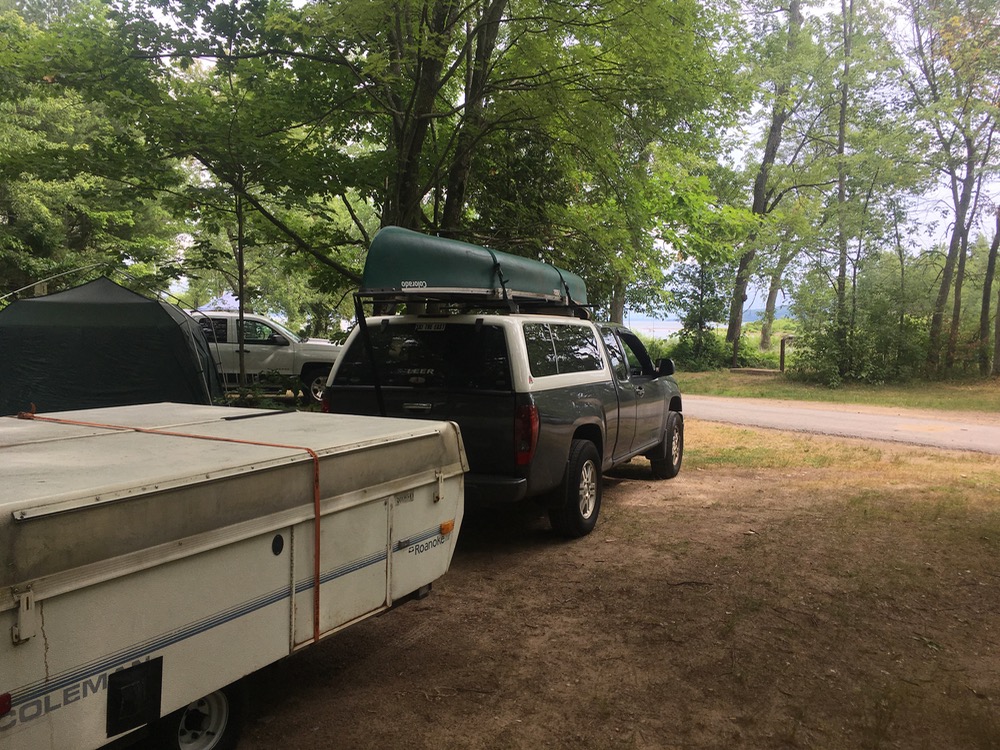 The DEC Ausable Point campground, just south of Plattsburgh on the shore of Lake Champlain, is one of our favorite spots. In spite of our busy schedule I was able to block out three days so I could get back to Ausable Point with my boys.
Schedule uncertainty prevented me from reserving a choice beach or river site, but we were happy to set up across from the small boat launch that would let us put our canoe right into the lower Ausable.
Hot dogs eventually lured them back. After feeding, I enlisted Junior to help me move the canoe across to the river bank. We then coaxed my other son out of the tree he'd decided to climb, geared up and pushed out into the river.
After years of visiting this place my kids know the lower Ausable like their own neighborhood. It's a fun place to paddle a canoe or kayak. Launching from the campground, you can cross to the other side and enter Ausable Marsh, a maze of channels through lush greenery. It's perfect for a short paddle or to throw a fishing line in the water.
Paddling upriver instead of entering the marsh provides the opportunity for a much longer paddle. The flow of the river in summer is generally slow enough to climb it all the way up to its first rapids. The river is full of evidence that it isn't always so gentle. Uprooted trees and other debris are everywhere; each time we paddle here it's a little different.
It's up to you to decide how far you want to go. For a shorter jaunt you just turn around a little sooner. To make a longer trip, you can look for the entrance to the Ausable's South Fork. It's narrower, shallower and more wild then the North Fork, and you can follow it around the other side of the marsh, back to Lake Champlain. We've done this trip several times in both directions; it's a great little adventure.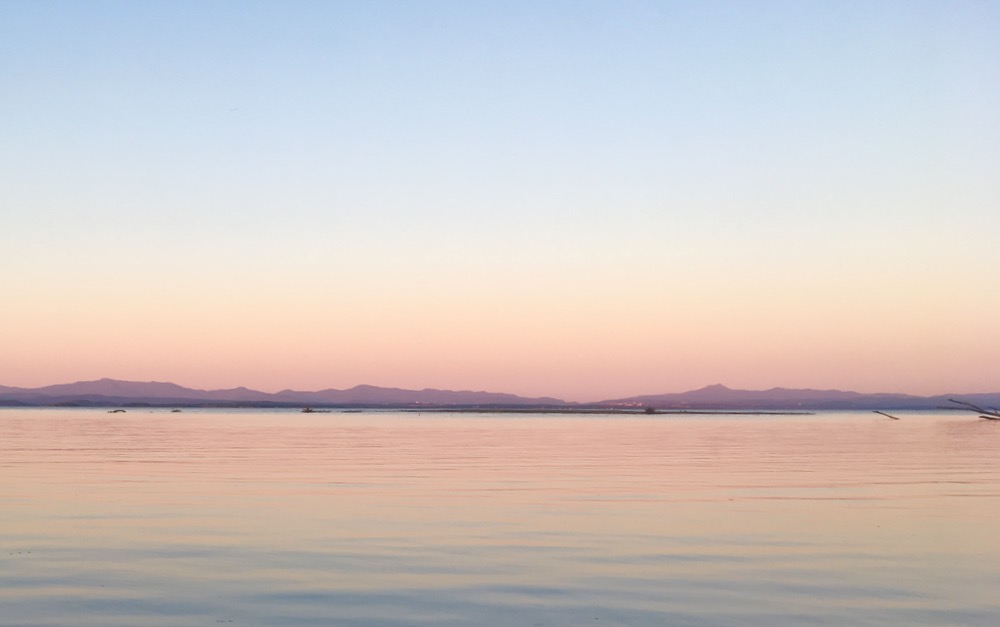 If you turn downstream from the campground, the lake is a short paddle away. Champlain is big and it can be choppy. Some of the winds you encounter started in Vermont or Canada – lots of water out there to push up against the New York shore. If you can make your way past the sand bars and shallows at the mouth of the river and turn south, there's a big, natural beach fronting the lake side of the marsh.
We often land the canoe there to explore around the brush and driftwood and to wade in the lake. A few hundred yards to the south is the mouth of the Ausable's South Fork. We didn't do the South Fork loop this time but we spent many hours in the canoe over our three day visit.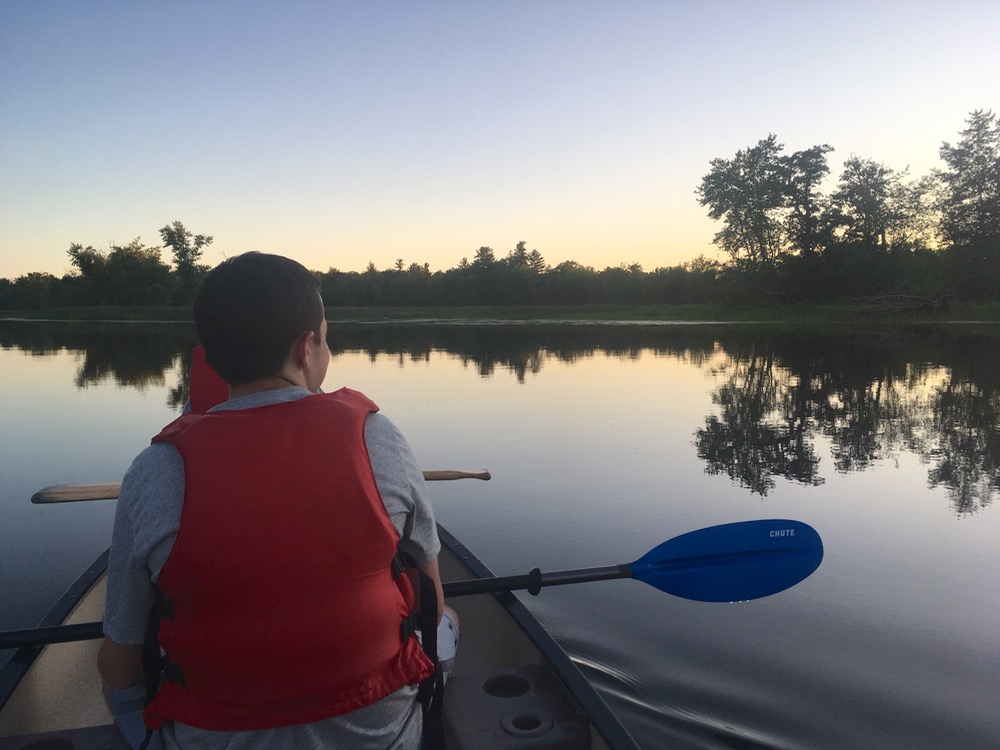 I was gratified to discover that we now have an additional paddler in the family. Prior to this trip my twelve year old was cargo but this time he really pulled his weight.
It's worth noting that we had our first otter sighting, at dusk in the marsh. As we paddled up I thought it was a beaver, which are common, but when it dove down in the lilly pads, we saw a thin, very un-beaver-like tail in the fading light.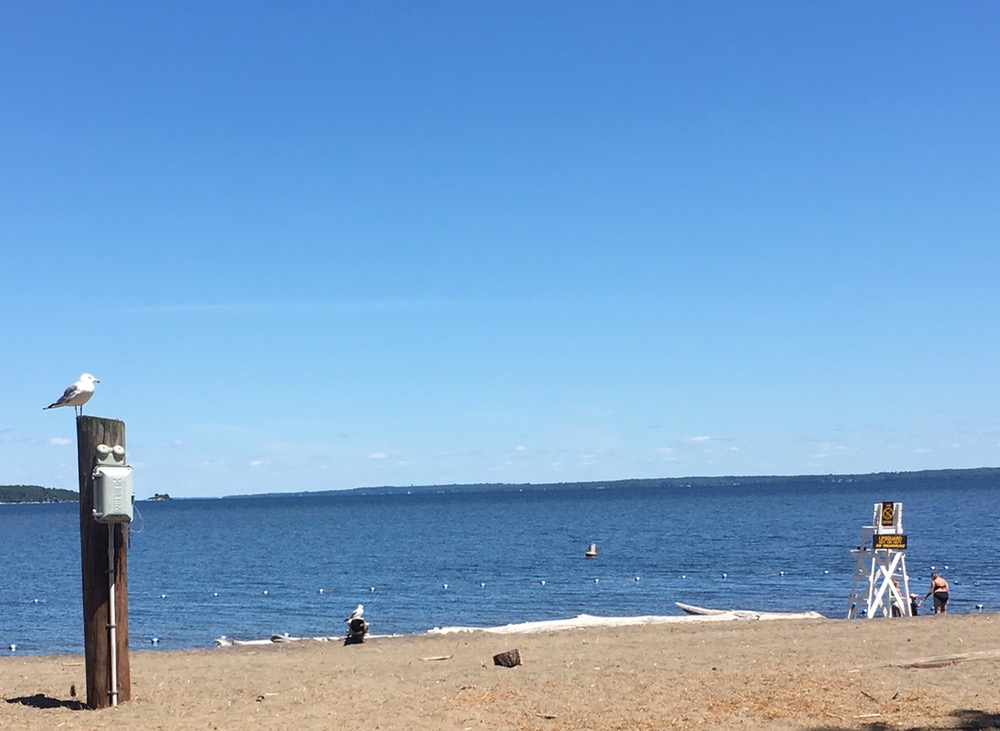 We always spend time exploring the big natural beach. Like the river itself, the beach changes a little each time we visit. Sand bars shift. What was a sandy spit last time we were here might be an island this time or disappear completely.
The water here is shallow enough to wade hundreds of yards out into the lake. I probably shouldn't encourage this, or swimming in the river, since you're only supposed to swim at the day-use area while life guards are on duty but we can't resist.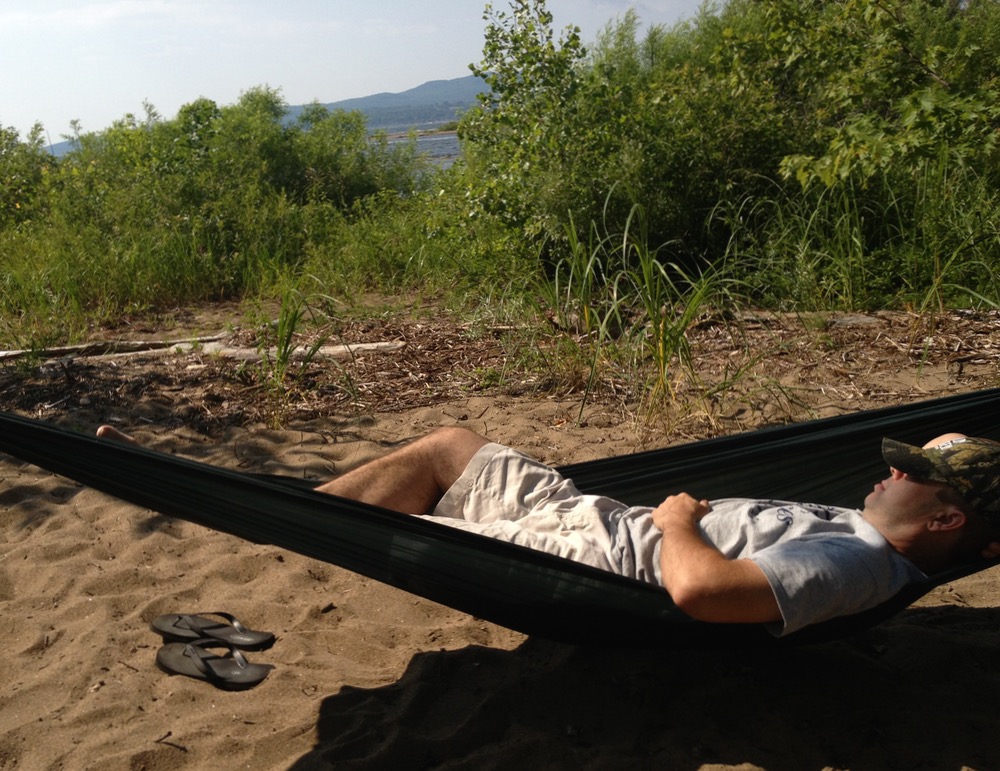 Ausable Point is also a popular destination for windsurfers and kiteboarders. While wading, it pays to keep an eye out for them as they go tearing back and forth in the shallow water.
Predictably it was another great trip. We got as much paddling, s'more-eating, biking and tree climbing as you can squeeze into a three day camping trip. Ausable Point camping never fails to satisfy.