2/25 Update: Looking at yesterday's post, I was inclined to let it stand. But I all I have to do is look into my inbox to see how hungry eastern skiers are for information — so here's the update.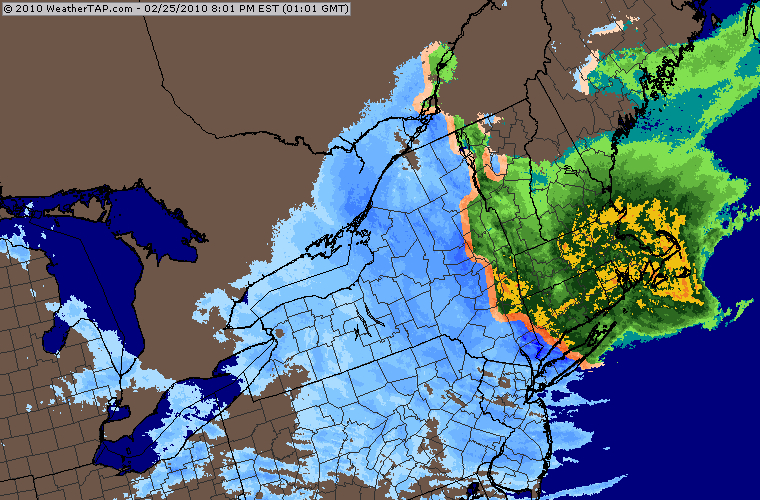 The current storm is currently behaving as predicted … The rain/snow line has set up north/south just west of the NY/MA/VT border. Areas to the west of the Hudson Valley should receive mostly snow.
This is good news for the Adk's and especially the Catskills. There have been reports from the various mountains about multiple switch backs between frozen and mixed precip. Interesting to note that the Igerna HermitCam and the Whiteface Cam are showing snow as of this posting (2pm).
All regions will go back to snow late tonight. This storm will stick around into Saturday. Final changeover times will have big impact on totals. Here's our call for additional snow through Friday:
Catskills: 18 – 24 inches
Adirondacks: 12 – 18 inches
Greens: 6 – 10 inches
I don't think I need to point out that this is a very wet snow… certainly not Utah blower.
---
2/24 Update: This has been an extremely complex event to forecast. What makes this system so troublesome is that it gets captured by the upper air system and stalls over NYC.
This position is good for the Catskills and points west and south. However, I think that the mountains of Vermont and the Adirondacks are at risk for a mixed bag of precipitation.
The Daks, especially western sections may escape with all snow. Current models show the line between mix and snow around the Hudson Valley.
The low goes from east of Hatteras to just south of Cape Cod. At the same time, a strong 500mb low will be dropping down and cut off just south of NYC. This causes the surface low to retrograde (move southwest instead of northeast) and strengthen.
While this is going on, warm air will be moving west on the northern periphery of the storm, causing rain to mix with snow over Vermont, New Hampshire, northern New York, and Maine. Eventually, colder air will filter back in and change any mixed precipitation back over to snow.
Given the complexity of this storm, predicting snowfall totals is tough, but here's my call for additional snow through Friday:
Cats: 10 – 24 inches
Adks: 10 – 18 inches
Greens: 8 – 12 inches
---
Update 2/23: The first low is now looking much wetter than previous model runs and thus will produce more snow for all areas. Somewhere in the neighborhood of 12-18 inches.
The second and stronger low now appears to be headed to NYC. The problem with this is that Vermont and New Hampshire and Maine might receive the bulk of their precipitation in the form of rain or sleet. Areas to the west should be all snow. I still think the Cats, Adks and Berkshires will receive another two feet.
Stay tuned. Next update 2/24 @ 2pm.
---
Update 2/22: Definitely the most complex and potentially the most potent system of the season. I've received a ton of email asking how much, when and where. Let's answer those questions.
FIRST LOW
When: The first impulse will affect the region late Monday.
Where: All of the north country.
Amounts: Generally 1 – 6 inches. Greater amounts to the east, Southern VT, Berkshires and the Whites. This event should be on and off thru late Tues/Wed.
SECOND LOW
When: Thursday – Sunday
Where: Adks, Greens, Catskills and Berkshires. The Whites stand the risk of r**n, but that may change.
Amounts: I'm going all in on this forecast … generally amounts should be in the range of 1-3 feet. I wouldn't be surprised to see someone come in with 4 feet.
As I said earlier, this is a very complex system that is still 24 – 96 hrs out.
---
2/21: A complicated, but potentially bountiful weather scenario this week.
A low in the Ohio Valley will be moving east. Usually lows that start off in the Midwest go to the Great Lakes, but that doesn't look to be the case this time due to a HUGE Greenland block. This will cause the main Ohio Valley low to die and spawn a new low over the Delmarva.
At the same time, a 500mb low will be dropping down from Central Canada. All models now are showing that these two features will phase and become vertically stacked. Basically, "to phase" means to strengthen and develop.
What makes this event extra special is that the lows become vertically stacked and cut off, which prevents them from moving away. As of now, this system will meander over the Northeast until Saturday.
The real question is how much snow will it produce? The latest runs show that everyone gets invited to the party. I'm going to stick my neck out and forecast the potential for 1-3 ft amounts, depending on amount of time the low hangs out.
Stay tuned.
---
Final >> Snowmaggedon 2010 Storm Totals.
---