You may or may not know that Jamesdeluxe is actually a writer by trade. He's also a Belleayre regular and is very interested in the future of the hill.
Linked below is his interview with avid Belleayre supporter Joe Kelly, about the future of the mountain in the Catskills. Even if you've never skied Bell, it's a compelling look at an passionate group of Belleayre advocates that has worked hard to keep the mountain alive over the decades. It should be interesting for NY skiers to note the differences between Belleayre and the other two ski state-run mountains.
---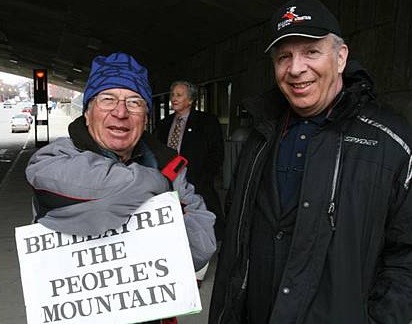 Highmount, NY – While the formation of a citizen's group to help save a local ski area in danger of closing isn't unheard-of, the longevity, enthusiasm, and organizational powers of the Coalition To Save Belleayre Mountain are.
Formed in the early 1980s when New York State threatened to shutter this government-owned and -operated ski operation in the western Catskills, the Coalition has, over more than a quarter century, served as a vigilant watchdog and public-relations advocate for an unspoiled, but economically struggling region.
Read the full piece on First Tracks!! Online.