It was purely by chance that I heard about Jamie and Doug Kennard's recent feat. While searching for a ski touring partner in the Catskills, I was answered with a question: "Did you hear the news?"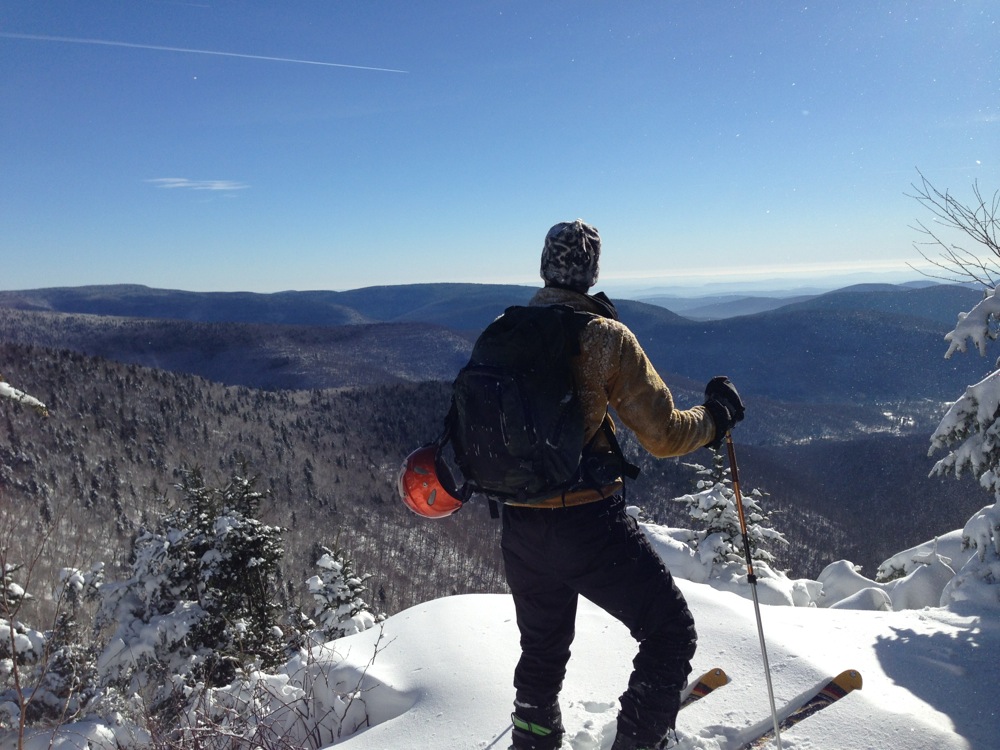 He had to repeat it. Climbing the Catskill 3500 peaks is an accomplishment I've long held in very high esteem. To ski them all, that would take more than a few long days and serious dedication to the fickle nature of the Eastern Backcountry. Perhaps that's the reason that, as far as anyone could tell, this was the first time anyone had ever done it.
What could be sweeter than being the first to do something that was hiding in plain sight of millions? What follows is our interview with the adventurers. (– ml242)
---
When did you ski the 3500s? How did you get the idea? Did you set out with specific objectives?
In the spring of 2012, I made my semi-annual trip to Tuckerman Ravine and spent some time with Drew Zimber of easternbackcountry.com. That weekend, Drew put the bug in my ear about getting a real touring setup. At that point, I had been hiking up the west side of Belleayre pretty regularly, but the lightbulb didn't truly go off until I saw a video of Ron Konowitz touring up and skiing down Slide Mountain.
Halcott was the first 35'er I skied. It was the end of 2012. I got Doug to come down from Rochester the next weekend and we did Peekamoose and Table. The snowpack disappeared for most of that winter, but we got enough snow in March for us to hit a few more before the season closed. We had really fun tours of Sherrill and Bearpen and that's pretty much when we committed to the 35s.
Were you already a Catskills 3500 club member? What kind of outdoor adventuring and ski experience did you have?
I became a 3500 club member in 2010, when I completed my first round. I'm 3 away from my winters (due to the technicality that I skied some peaks before Dec 21 and after March 21), so will finish those in 2015. Doug had been chipping away at his and he completed his regular 35s with the last peak that we skied this year.
As far as experience, I spent high school and college racing gates. Over the years, I've been out to Mt. Washington and Tuckerman's 6 or 7 times. I've also done a smattering of side- and backcountry skiing in Jackson, WY and Chile. I  just like spending time in the woods.
Did anyone in particular inspire you to pursue this adventure?
Ron Konowitz, the first person to ski the ADK 46s, was certainly an inspiration.
What surprised you most on your quest?
North Dome was one of the biggest surprises. Having only hiked it once before in the spring, I was worried about having to navigate the cliff bands. We did Cornell and Wittenberg earlier that morning and didn't start out from the PA until 3pm. But it was also the first day of daylight savings, so the sun was shining. We found a great route up, nabbed the summit before sunset, and had great ski down.
North Dome had a ton of snow, good steeps, and fairly wide open woods, which is somewhat rare on peaks in the Catskills. It's definitely at the top of my list to get back to next year.
The Blackhead Range was tough. It was right after the big mid-February snowstorm, so Doug and I had to break trail for most of the range. That was a long day. But it wasn't as bad as the day we did Sugarloaf and Plateau. My mistake was starting from the PA down on Elka Park Road instead of higher up on Mink Hollow. That added miles and hours to our day. We had to bail on a third peak we had planned on skiing.
Did you leave any great skiing on the table to accomplish your goal of hitting every peak?
I turned down a trip out west this year. Once we got the big snow dump in February I became obsessed with finishing this year. And then I decided I was going to finish them by my birthday on March 10, so things went into overdrive. I took a week off from work and did 14 peaks over 8 days. Doug did 16 peaks that same week. It was a blur of back to back marathon ski tours each day.
Some feel there's a distinct lack of attention paid to the Catskills BC. Do you think there are advantages in promoting the park for that purpose?
Skiing in the Catskill backcountry is not for everyone. There are trees and rocks everywhere – it's not open bowl skiing. But I do think there are possibilities for those looking for a challenge. Ron Konowitz is spearheading the Adirondack Powder Skier Association  in an effort to promote backcountry skiing and maintenance of some natural gladed areas. I'm very interested to see how that develops and if a similar idea could find a home here in the Catskills.
Where did you and your brother start skiing? What is your "home mountain?"
I started in the race program at Bristol Mountain in western New York. A lot of my friends came from ski racing families and had been skiing since they could walk. I was 10 years old when I started, so a bit late to the game.
It was really fun to race. Every Christmas all of the local US Ski Team people would come home and race, which meant I went toe to toe with AJ Kitt, Diane Roffe, Sandy Williams, and Brett Grabowksi.
Weekends, we raced at Swain, Brantling, Ski Valley, Kissing Bridge, and Holiday Valley. For bigger races we'd head east to Whiteface and Gore.
My brother, Doug, is 3 years younger, so we didn't compete against each other growing up. But in college there was one year that our respective ski teams (Skidmore and Northeastern) met up in the Eastern championships. Doug took the opportunity to kick my ass in those races.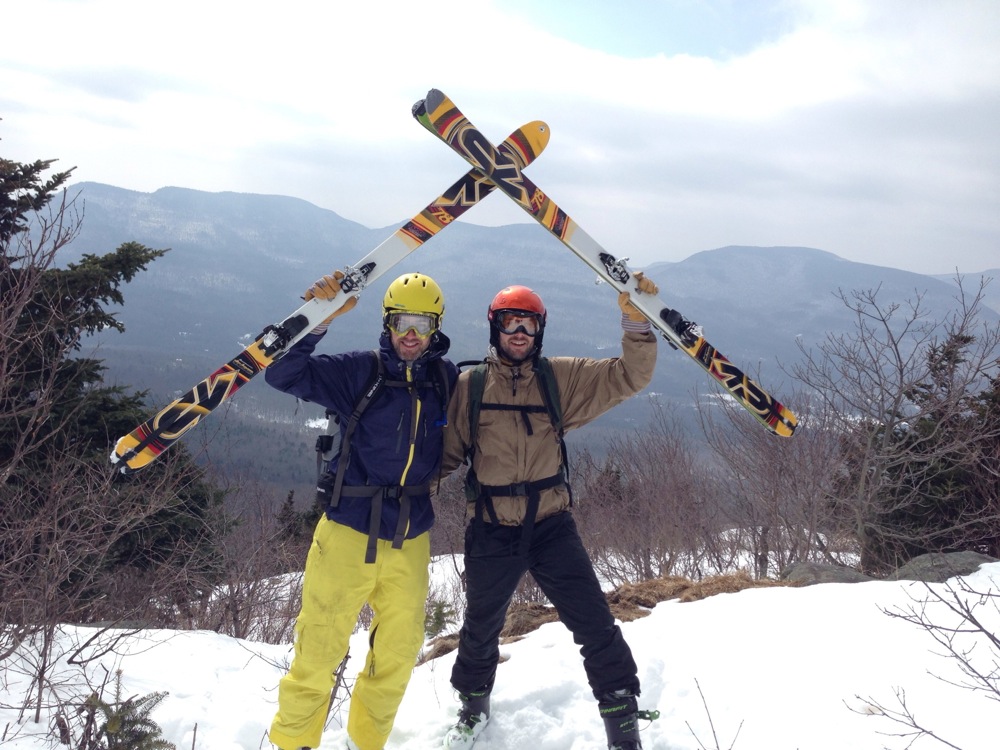 Did you run into any other skiers or surprised climbers?
No, we never ran into other skiers. People were usually pretty surprised to see us, though. Sometimes we'd be having a good run back down and shoot past folks on their way up. Most people had a deer-in-the-headlights look on their face, but some would stop and pepper us with questions. I think we may have planted the seeds in a few of these folks, so I hope we see some of them out next season.
What would you do differently next time?
We were pretty efficient in a lot of our travels and did a lot of things right. But there were times when I should have done more research or had routes plotted out better. I also learned that bushwhack ski tours should always be done with a partner. I like being in the woods alone, but when you're skiing amongst tight trees and rocks, there's a heightened chance for injury. And without cell service, an injury could mean a long night alone in the woods.
At any point did you guys doubt you could do this, and at what point did you feel the most remote to civilization?
I never doubted it could be done. It was more about of mother nature cooperating with our schedules.
The low point for me was my first day out this year. It was mid-December and the first big storm of the season and I was solo. I had gone to a holiday party the night before and didn't get to the trailhead of Fir/Big Indian until 11am on a Sunday. I ignored the lack of sleep and signs of dehydration because I was so pumped to ski the 14+" of fresh snow.
It took me 5 hours to break trail up Fir and reach the summit of the first peak. It was 4pm and about to get dark. I was exhausted from plowing a deep skin track up, didn't have enough food/water, couldn't find my head lamp, and didn't have cell service to text my wife and let her know I was going to be really late. At that point, I decided to bail on my original plan to make it to Big Indian.
Worried that I had no headlamp and would get lost going back out, I decided to drop down into the valley and use the stream as my guidepost. But even getting back down to the creek was difficult. The trees were thick. The snow was really deep and heavy. I was having equipment issues. My skis got wet in one of the stream crossings and I had to spend way too much time chipping ice off the base. I ran out of water. It took me 4 or 5 hours to get back out. I didn't leave the woods until 9:30pm that night.
Looking back on the whole experience, what was the highlight — the one thing — that stays with you?
The entire last week will stay with me. Doing this with my brother and having him as a partner to power through an exhausting, but rewarding, 8 days was great. And finishing the last peak together on my birthday was really special.
Have the two of you talked about your next adventure?
Not yet. We're heading up to Mt. Washington later this month, so I'm sure we'll start hatching some plans.